It's been famously said that it takes a village to raise a child. Jonathan and Thomas believe it takes an entire country, seen up close and personal. That's why these Airstream Ambassadors are taking their two kids on the adventure of a lifetime - an open-ended road trip across America.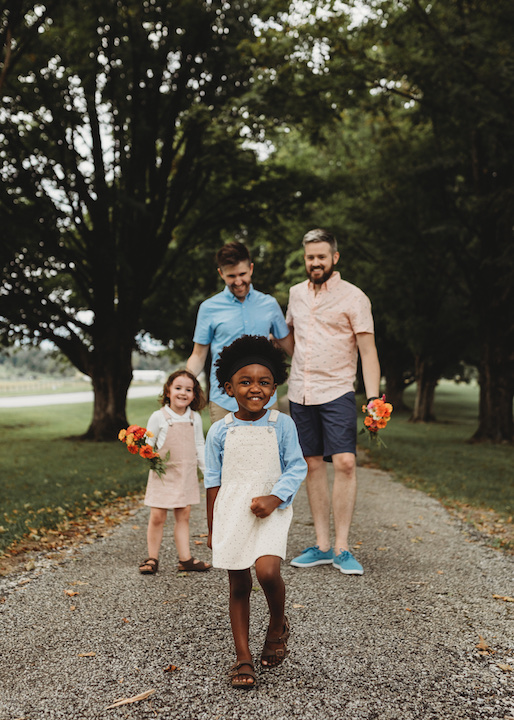 "We want to give our daughters an experience that is like no other," says Jonathan. "We want them to experience all these different things throughout the country - things that most four-year-olds would not experience. We want to do that with a message of acceptance through visibility."
While their remarkable journey got underway this past autumn, Jonathan and Thomas' adventure really began four years ago. At the time, they were living in Baltimore, one of Thomas' many postings in his military career. Life was good, with one exception. The couple was ready to start a family but had been hampered in their efforts at private adoption. 
At a neighbor's suggestion Jonathan and Thomas signed-up for Baltimore's foster parent program. To their surprise and delight, they were promptly asked to foster and subsequently adopt the new-born Grace. And then something truly remarkable happened.
"Five weeks later, we were asleep on a Friday night with a five-week-old, and we got a call from the director of Baltimore's social services, who says 'Hi, we have a girl who is ready for adoption. We wanted to know if you would like to adopt her.' We're like, 'Sure!'"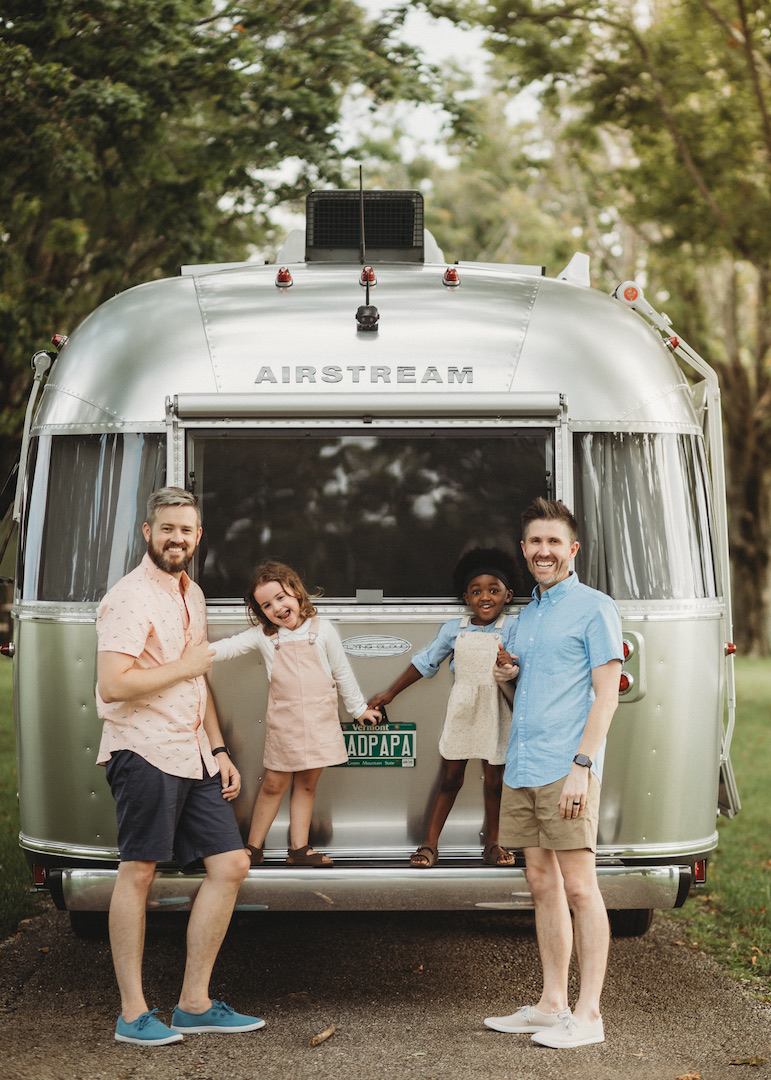 Jonathan and Thomas raced to the hospital, where the nurses handed them Charlotte, who was four-hours-old. The couple took the baby home that night. Nine months later her adoption was finalized.
For Jonathan and Thomas, this "instant family" status seems like a miracle. And the couple is determined to give Grace and Charlotte a memorable childhood filled with love and learning.
The barnstorming clan is currently in the middle of a loop route that will take them from Florida across the southern U.S. border, and up the Pacific coast. Summer should find them traveling east across the northern regions of the country. Jonathan, Thomas, and the girls are making this noble journey in Ariel, a brand new 27-foot Flying Cloud FB. Jonathan says the available living space shapes their lives from how they cook to bedtime rituals.
"We have a procedure of getting their bed out every night," says Jonathan. "That's part of the process of going to bed, and we just make it part of our routine."
 Ariel travels behind a Nissan NV3500 van. 
"It's basically a Titan truck with a van body," says Jonathan of their tow vehicle. "The van allows us to carry all of our kids' stuff. We also installed solar, so we have backup power. If I need to work away from a hook-up, I can do it without draining the Flying Cloud's battery."
And there is lots of work to be done. Jonathan is the Chief Technology Officer for a software company. The couple is also busy building their Daddy & Papa brand, which has a 20,000-plus Instagram following that has earned steady support from marketers. The couple had Airstream Connected installed in their new FB to ensure connectivity wherever their hearts take them.
Their brand, and this trip, have something of a mission statement: Acceptance through visibility. 
"When we talk to a mom at the next site over whose child doesn't sleep very well at night, that's a moment when you make a connection, and that mom can recognize that our family is no different than hers," says Jonathan.
Jonathan and Thomas aren't sure when their current mission might end. They have no set date to close their current loop or return to their home in Vermont. They have, however, talked about visiting every National Park and military base in the country. Thomas' status as a veteran inspired the latter goal. Canada is also under discussion.
When well-meaning strangers ask where the girls attend pre-school, one of their fathers smiles and says, "The school of the road."
The journey is also open on the family side. While Jonathan and Thomas would very much like to have their own child via surrogacy, they still believe deeply in adoption.
Learn more about the features inside and out of the Flying Cloud trailer.