How far would you go in pursuit of your passion; to fill your heart's true desire?  
For Airstreamer Ryan Tree, the answer is halfway around the world. 
So far.
This animal welfare activist and artist is currently in the middle of his own Endless Caravan, which has already taken him and his dog Nixie from Phoenix to China via Europe and Russia. The epic journey is more than a personal adventure. It's one man's attempt to bring attention and support to the plight of the world's animals, from dogs and cats to horses and endangered species.
"My heart is with animals," says Ryan. "I'm an artist. I'm a musician. I'm a writer. I want to use my art to support both animals and people. My dream has always been to pursue that 100% – to help animals and, in the process, inspire people to live the life of their dreams."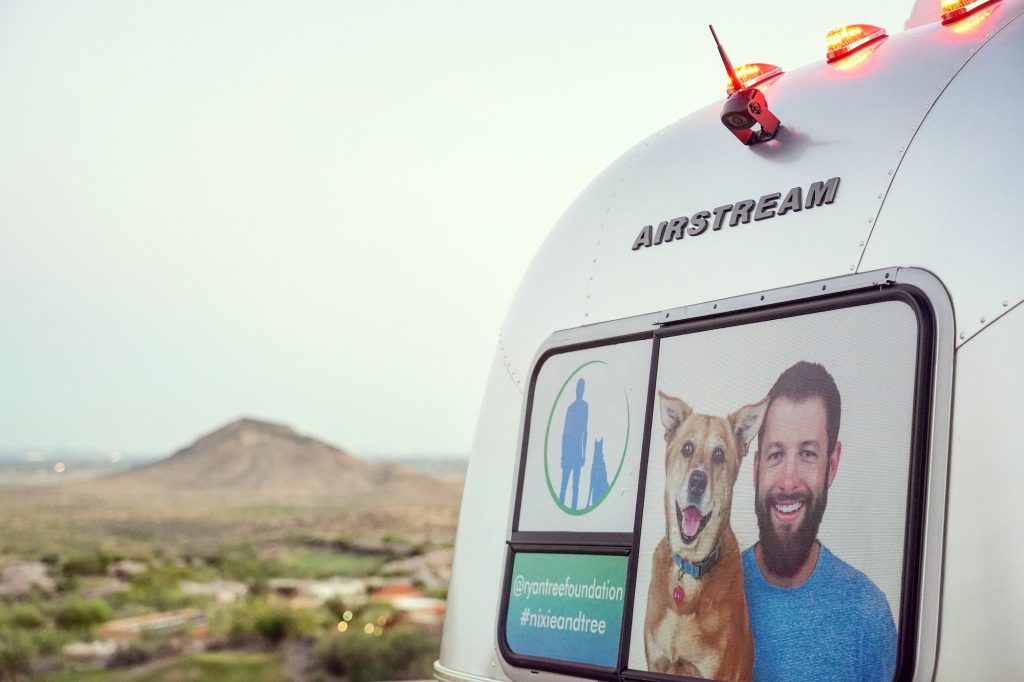 Ryan's dream life began in July 2019. He left his marketing job, parted ways with most of his belongings, and hitched a brand new 16' Airstream Sport RB to his Jeep 4x4. The North American leg of the tour took Ryan and Nixie northeast across the US and into Canada. At Halifax, Nova Scotia Ryan shipped the Airstream to Belgium, the starting point for a circuitous journey through Europe, Russia and China.
Along the way, Ryan stopped to visit numerous animal welfare groups, some of which are benefactors of the Ryan Tree Foundation. His organization is currently contributing to 20 non-profits ranging from Phoenix area animal rescues to the Dian Fossey Gorilla Fund and Berlin's Tierschutz shelter.
"We spent a whole day Tierschutz Berlin," says Ryan. "They gave Nixie and me a wonderful tour. It's the largest animal rescue in all of Europe."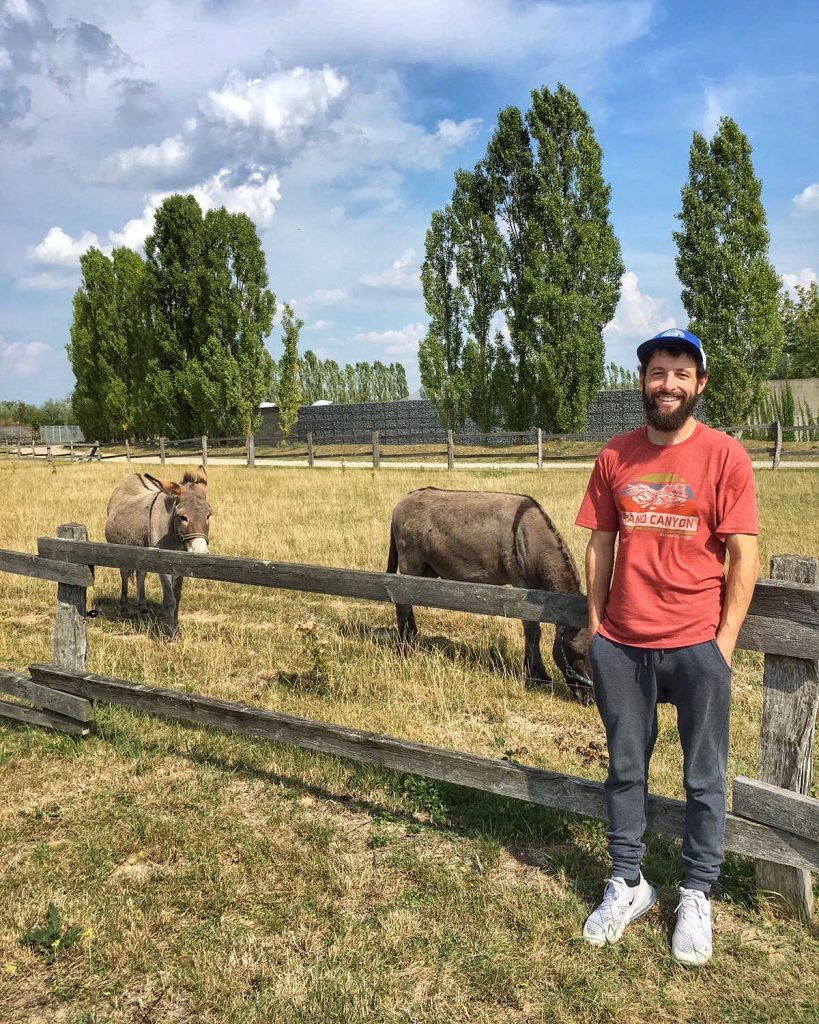 The Sport proved an excellent choice for a journey across the Old Country.
"If you are traveling through Europe, I would probably go for a leaner-body Airstream," says Ryan. "There are some narrow streets and roads throughout Europe. We had a little scrape in Switzerland on one of the buildings. I am grateful that I have the Sport. It's really easy to drive. It's smooth, it's tough."
Ryan and Nixie spend most of their nights in parking lots or on rural roadsides. He often finds these safe, permissible spots using the Park4Night app, which was recommended by fellow travelers in France. 
Though he appreciates his Sport's galley, Ryan doesn't do much cooking. 
"I want to eat local fare," he says. "I'd say half the time I'm invited by people to eat. They say, 'Come over, we'll make you dinner. We want to make you authentic local cuisine.' It's a testament to how love translates around the world. If you open your heart to people, they'll open theirs to you. They are just so hospitable and welcoming to total strangers."
Ryan was left cooling his heels for a month at the Estonia-Russia border while waiting for a visa to get processed. The delay may have upended his scheduled October arrival in China, but Ryan was unfazed. 
"I firmly believe everything happens for a reason," he says. "We were intended to stay longer in Estonia and build incredible friendships there and explore what nature has to offer there. I wouldn't change a thing."
While Ryan has only been on the road for six months at this writing, his journey truly began six years ago at a dusty, sun-baked intersection outside Phoenix, AZ. That's where Ryan found Nixie, loitering in the middle of the road.
"I opened my door, and while stray dogs typically run away, she sat there in the middle of the street and just wagged her tail," says Ryan. "I walked up to her, patted her, and she was just the sweetest thing ever. She was dirty, covered in ticks, and very underweight. So, I did the one thing that felt right. I picked her up and put her in the car."
After a lengthy attempt to find the dog's owner, Ryan made the life-changing decision to keep her. 
"Finding Nixie is the spark that led me to pursue animal welfare as my passionate life," he says.
Soon after adopting Nixie, Ryan began making nightly trips to feed stray dogs and cats. In short order he became a volunteer at a local shelter. His ah-ha moment came while producing a promotional music video for that organization. He realized he would be happiest living at the intersection of all his passions. 
I just thought, I love traveling. I love art, music. I love filmmaking. I love animals and people. And everything sort of came together.
Everything meant the creation of the Ryan Tree Foundation, his grand trek, and a new outlook on life.
"I've been inspired by people who don't live a traditional life, who don't live your typical nine to five, working in an office," says Ryan. "I'm a very creative individual, and for me to sacrifice that much of my day to not fulfilling my dream felt like I was holding back on my life's purpose. I think it's important to do what you love – what you believe in. If you follow your passions, other people will understand that. Just follow your heart, and everything else will follow along."
Airstream's heritage of fostering adventure and personal freedom helped fuel Ryan's determination to remake his life.
"I love the lifestyle that Airstream promotes," he says. "I had been following families on Instagram who travel with their kids. People who travel with their pets. People with the most impractical scenarios, who still find a way to pursue their love for traveling. I think that's what Airstream is all about – pursuing the thrill of adventure. If you have the determination, you can do it."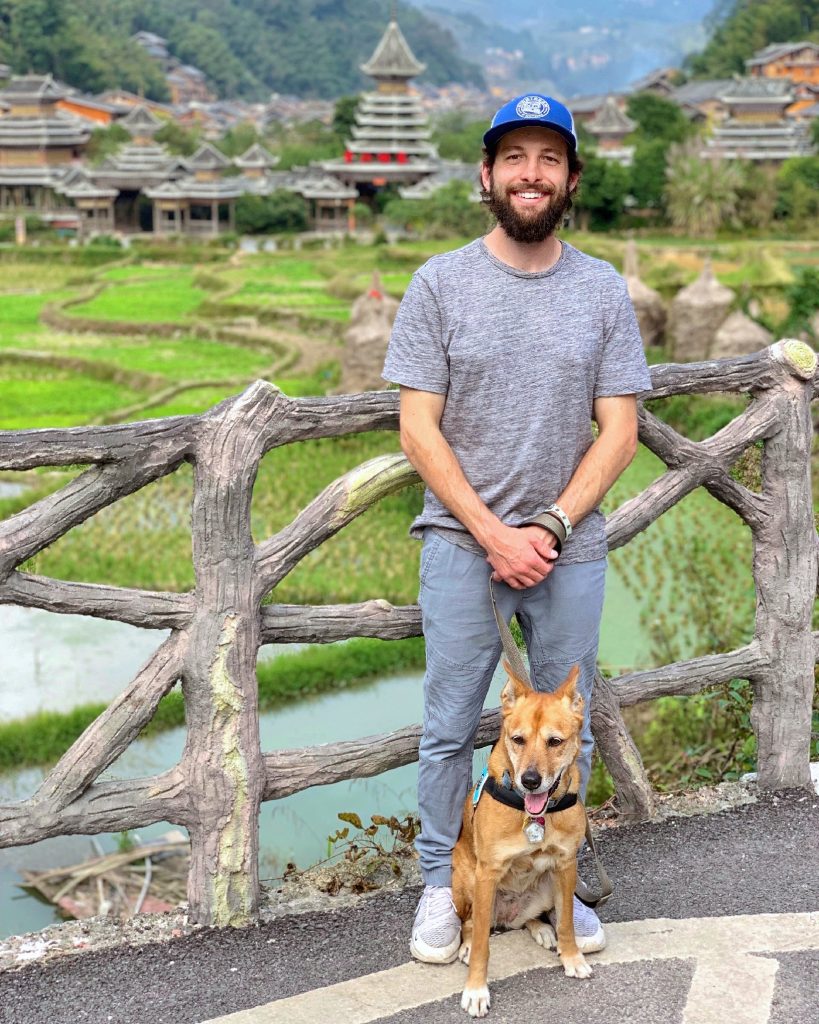 Indeed, Ryan feels a connection to Airstream founder Wally Byam,
"I get asked a lot, what does traveling have to do with helping animals? I'm sure Wally was probably told a million times, you're crazy, you can't do that. But what a beautiful result from all his hard work to create Airstream, and his legacy lives on. I have already met countless people who look at animals and wildlife differently because of what we're doing. It's all about finding a way to do what you love and sharing your passion with the world."
Ryan refers to his current globe-trot as his foundation's "first initiative." He plans to launch additional awareness and fundraising efforts when he gets back to Phoenix. But right now, his timetable for that return is, well, flexible.
"I don't have a plan to come back just yet," he says. "I'm looking to see if it's possible to continue our journey after China. We could drive through Southeast Asia and Africa. I want to see how this trip plays out. It's already a success no matter how you look at it because I feel like I'm pursuing my dream. That's my definition of success; finding your purpose and pursuing it fully."
Somewhere, Wally Byam is offering a tip of the beret.