Heading out with a new baby and a toddler in tow can be one of the most overwhelming, exhausting, and challenging experiences for any parents. Whether it's a trip to the grocery store or a dinner out, there's diaper bags to pack, weather to consider, and snacks and toys to bring along so everyone is happy. And that's just going across town. Imagine taking your new baby and toddler up a mountain.
A lot has changed in the last seven months for Airstream Ambassadors Roberto and Bella Gibbons – collectively known as The Expeditioners. With two new family members, their adventures are evolving – but they aren't slowing down at all.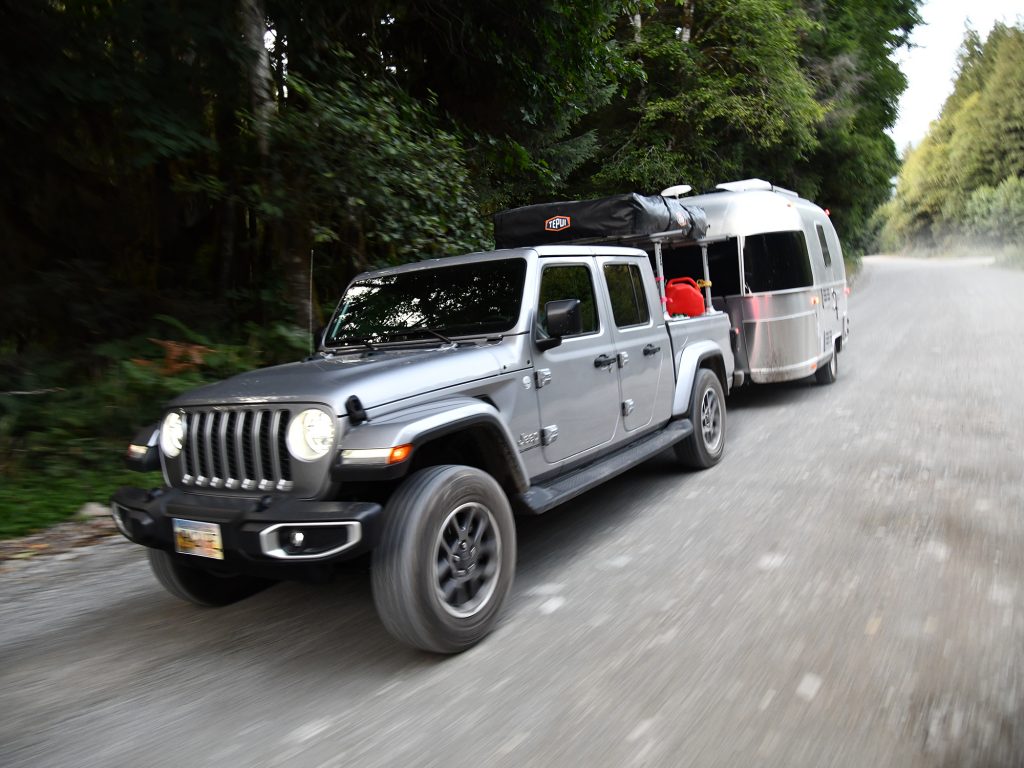 Nothing gives these two adventure-seeking spirits greater joy than sharing their expeditions with their children. Seven months ago they welcomed daughter Catalina Sofia into the world. They also added a 2020 Jeep Gladiator pickup to their fleet, and the new ride gives the family even more flexibility and range to pursue their adventures.
Hiking to British Columbia's Wedgemount Lake is a grueling task even for experienced hikers. With an elevation gain of more than 3,000 feet over four miles, the ascent to the breathtaking views can take more than seven hours. It's known as one of the hardest hikes in Whistler. Add a toddler and a baby into the mix, and the hike becomes a supreme test of logistical aptitude – not to mention physical and mental strength.
"Some people do an Ironman," says Roberto, laughing. "I take my kids up Wedgemount – same thing."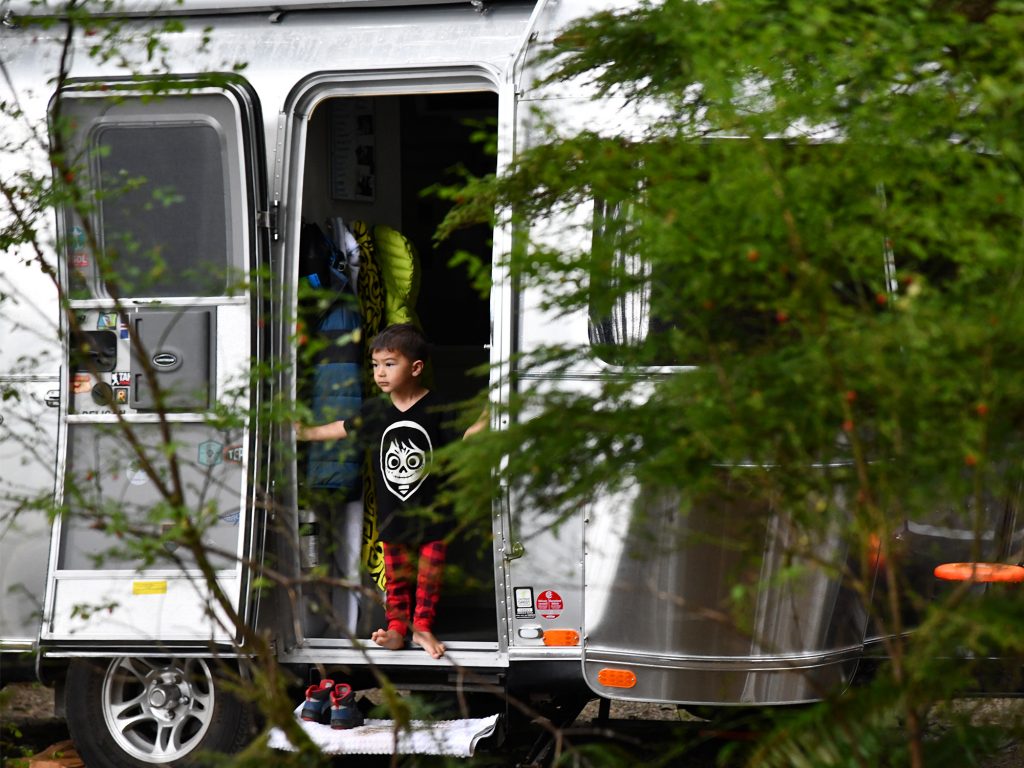 Hiking in the past without packs, Roberto and Bella have been able to reach the summit in two hours. Last year with Mikio, their toddler, it took six hours. This year, hiking to Wedgemount Lake included an overnight stop halfway up.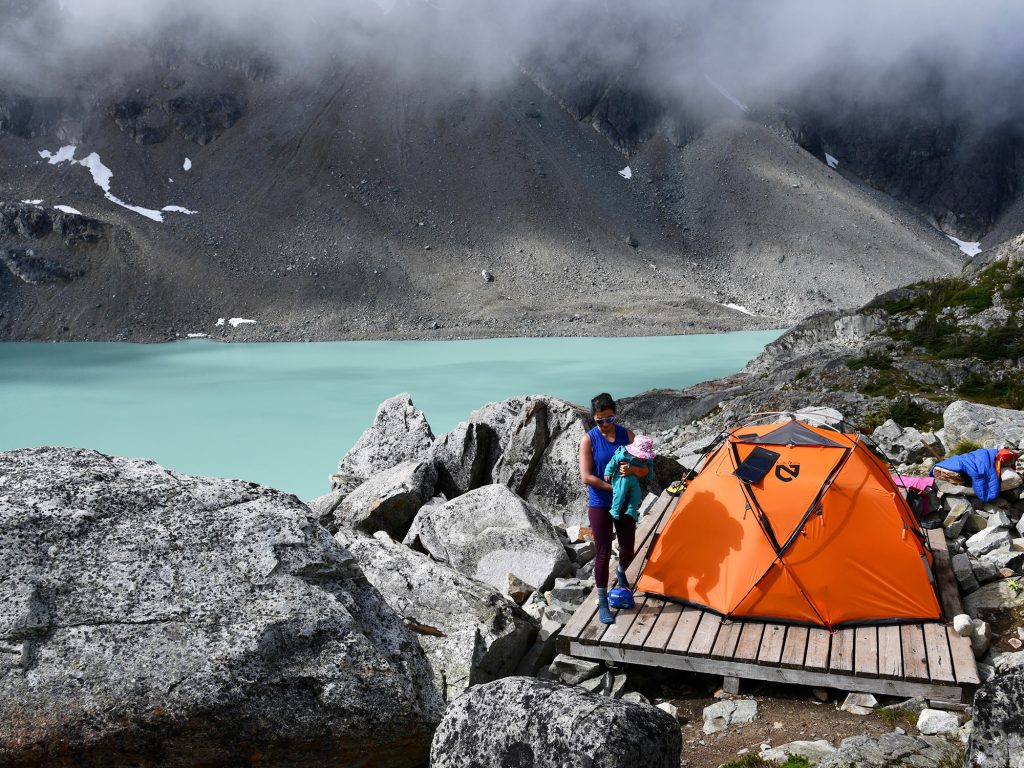 Extreme adventures are nothing new to Roberto and his family. But summiting Wedgemount this time with his little family required some super human strength. Carrying an 80-pound pack with all the essentials necessary for his family of four for their five-day alpine adventure, Roberto resembled a pack mule. Bella, his wife, carried both children – one on the front and one on the back – plus an additional 10-pound pack, for a total of over 50 pounds.
When the climb intensified, the crew set up a mini camp so the kids could rest while Roberto carried his pack to the summit. He dropped the pack, came back down and picked up Mikio, relieving some of the weight from Bella. Then together they climbed the mile up to the summit. 
"Whenever there were arduous sections I would take my pack up, drop it and come and get my toddler," Roberto remembers. "I did that three times on the way up. It was a He-Man effort."
"The reward of knowing I was getting my family up this mountain was spectacular," he says. "I pretty much crashed for about 12 hours after that." 
The descent was the same, although much easier because the added weight and doubling back was done on the decline.
In true adventure seeking fashion, the climb up Wedgemount wasn't without misadventure. Before departing, keys were accidentally locked in a storage unit, hiking poles were left behind, a credit card was lost – but they pushed on.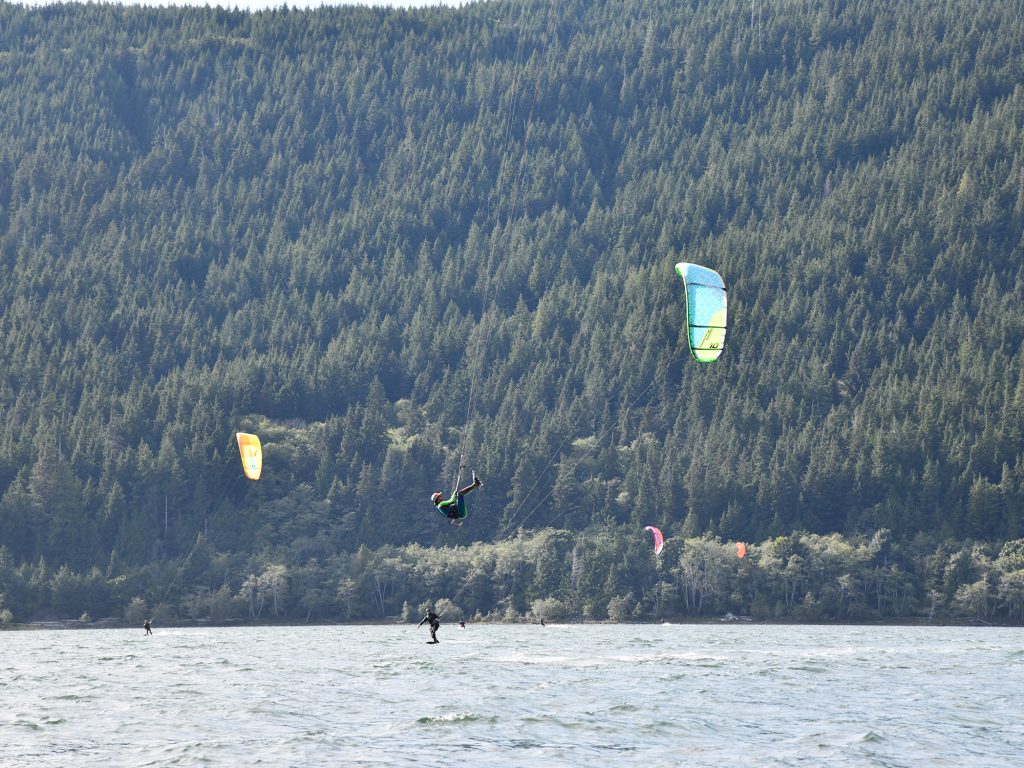 One boy, one girl, an Airstream and a Jeep – any adventuring family would call this clan complete. After climbing to Wedgemount Lake, their journey together as a party of four across Canada continued with a ferry ride to Vancouver Island. There they set up at Nitinat Lake for some kitesurfing in their new Naish gear and spent time learning to Wingsurf.
While Catalina Sofia hasn't slowed the crew down, their seven-month-old has demanded some changes to their setup.
"She's taken over the Airstream," Roberto said about the smallest member of the family. "Lately I've been delegated to the Tepui (a tent) on top of the Jeep."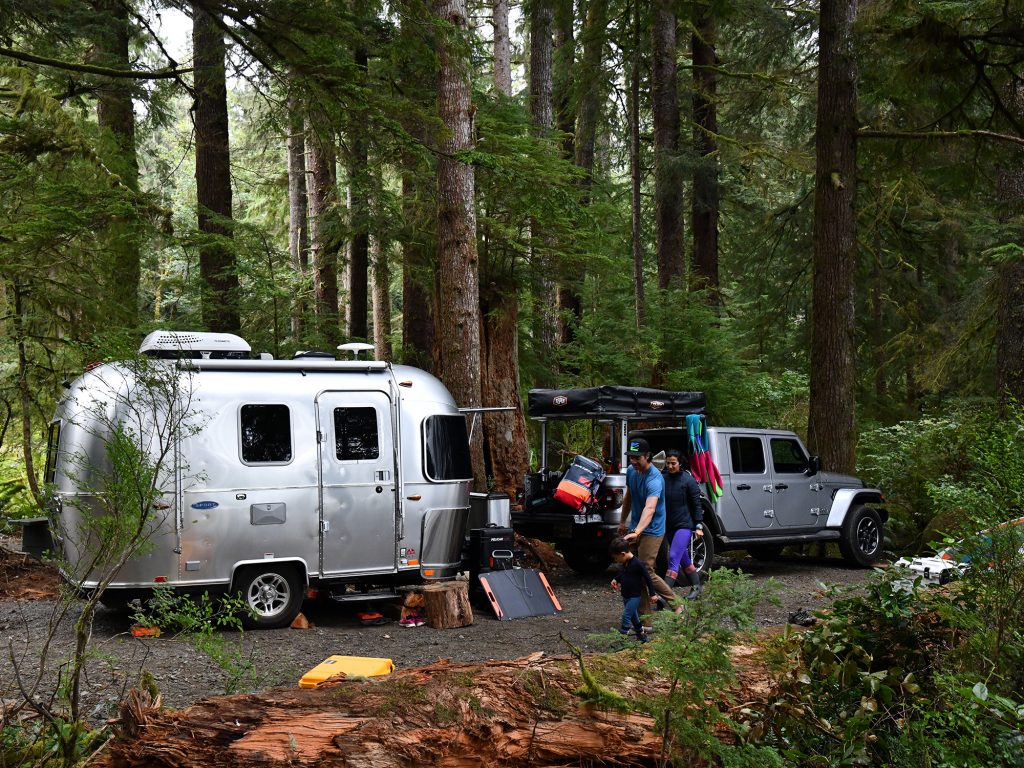 Roberto says having the Jeep has allowed them to reach places they can't access with Happy, their 16-foot 2017 Airstream Sport, in tow. The pickup gives them more room to store their gear and allows them to go deeper into the bush.
When you're standing on top of a mountain looking out on a vista with your whole family – it's very rewarding.
"I tell a lot of people that I used to get a big kick out of my adrenaline-filled adventures like climbing mountains, and in a big way, I think I get a higher intrinsic reward from getting my little family to some of these places," Roberto said. "It's a beautiful but selfish feeling to do something challenging on your own. It's the opposite of selfish to get your family to those locations. But when you're standing on top of a mountain looking out on a vista with your whole family – it's very rewarding."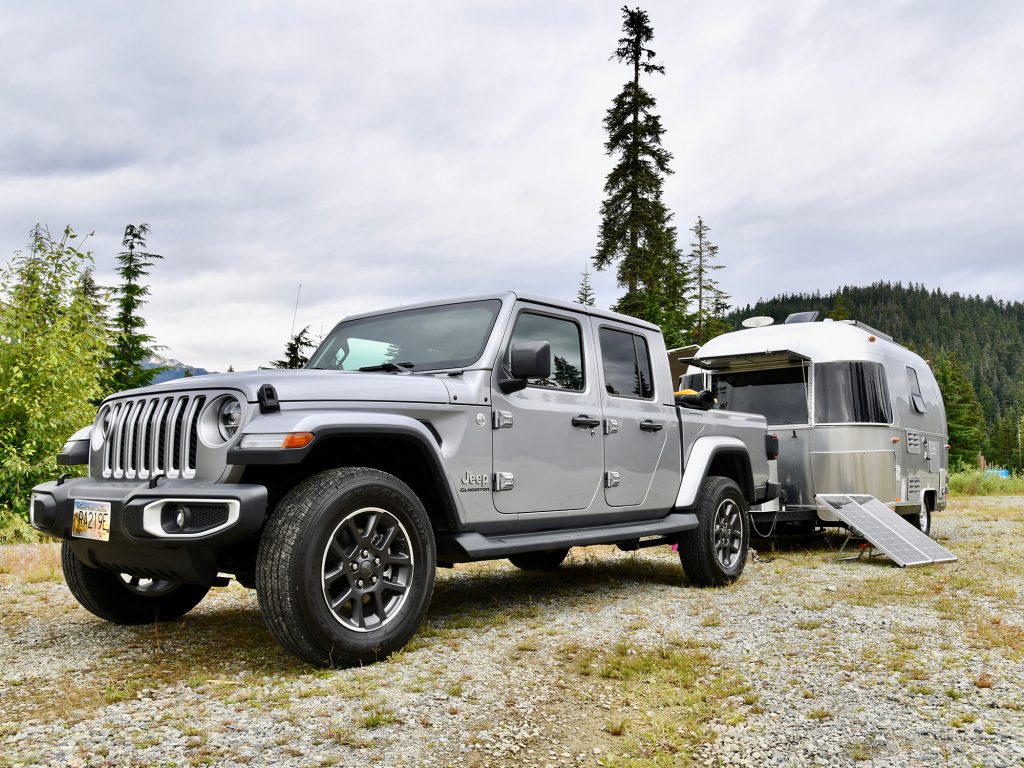 As rewarding as the adventures are, the Gibbons family is always ready to return to their Airstream.
"He associates Happy as being at home," Roberto said about Mikio. "He's spent more time in the camper than he's ever spent in our one bedroom in Whistler."
Already Catalina has been on four flights and more than a handful of extreme adventures. She has some catching up to do to reach Mikio's 46 flights, though. Together this brother-sister duo is seeing more of the world than most adults ever will.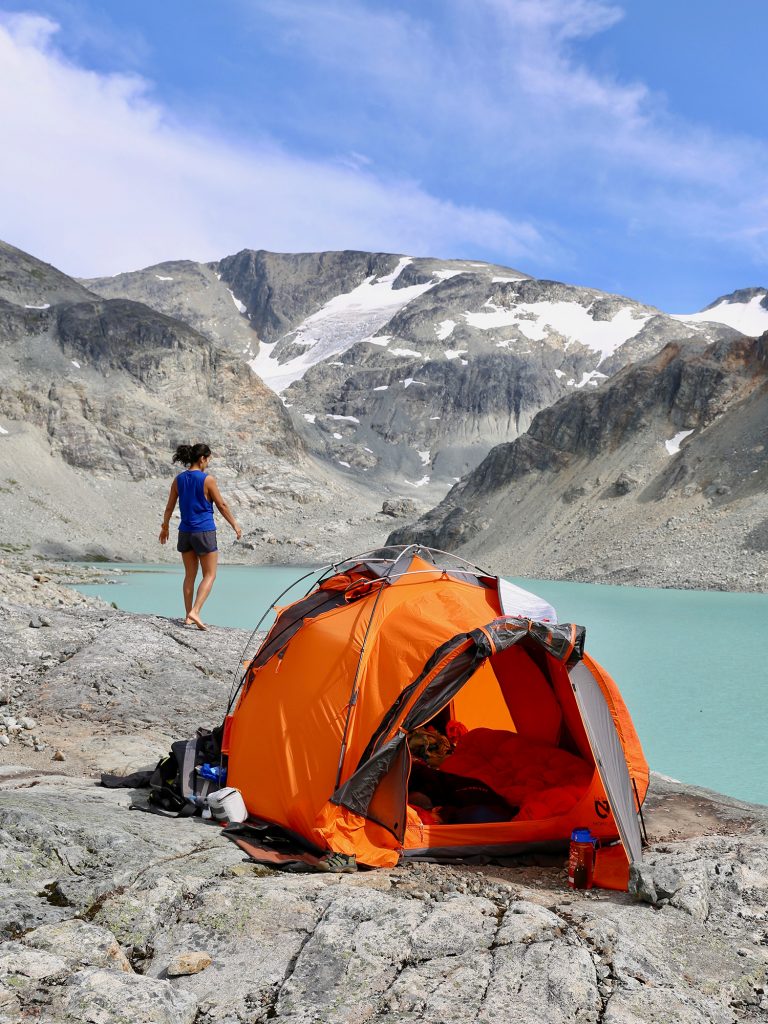 "We had our second one in the hopes of entertaining our first," Roberto said. "We spend so much time away from people."
So far, their strategy has worked. "He's head over heels in love with her," Roberto said about Mikio's adoration for Catalina. "He's so caring and entertained. He wakes every morning and the first thing he wants to do is 'see bebe.'"
Upcoming adventures include a trip to the Rockies, a solo adventure for Roberto on Maligne Lake for four days of paddling and then back across Canada to do some canoeing on the east coast.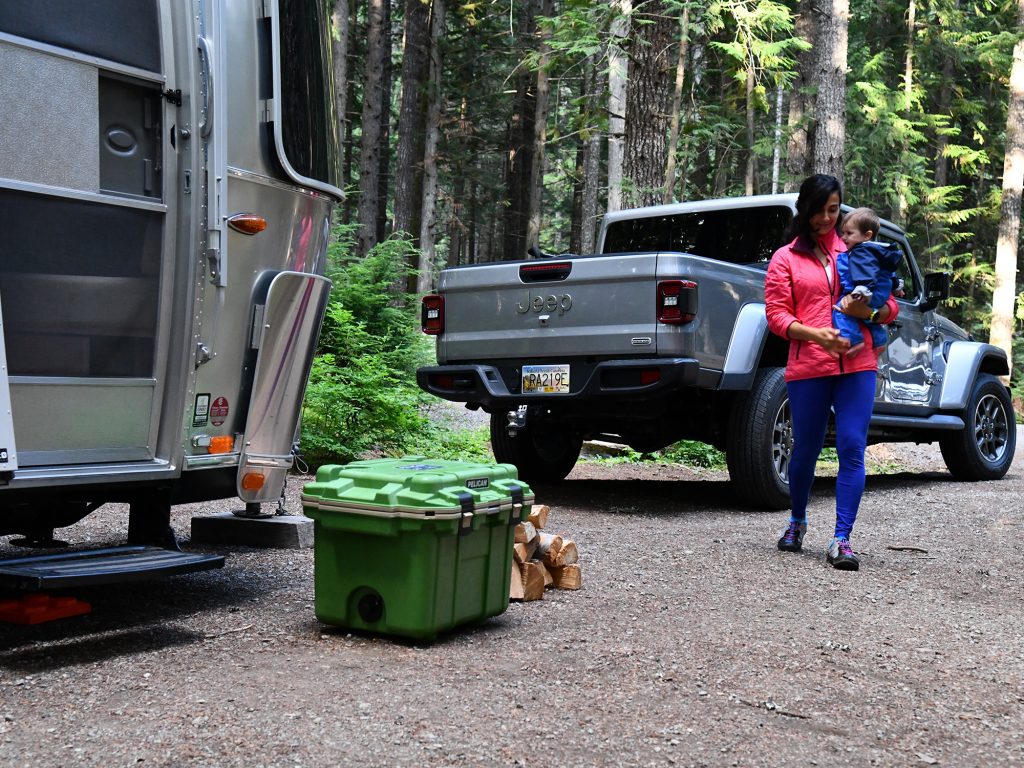 Roberto admits, there are defiantly more logistics involved in making sure the whole crew is content no matter what adventure they are undertaking.
 "It hasn't been as difficult as we imagined it would be," he says with a laugh. "Maybe we'll make another human in a year or two!"