Fluidity. Curiosity. Simplicity. These are concepts that drive how Aaron Gulley and Jen Judge choose to live life, traveling throughout the desert Southwest with their much-loved Flying Cloud, Artemis.
The couple named their Airstream Artemis after the Greek goddess of the hunt and wilderness. "She embodies what the Airstream means to us, how it helps us to get outside and get to places that we wouldn't necessarily go otherwise," says Jen.
Making the transition to living full-time in an Airstream is a big jump for most adventurers, but for Aaron and Jen, renting out their house and hitting the open road matched their already nomadic lifestyle.
When these two travel journalists (writer Aaron and photographer Jen) aren't on assignment internationally or somewhere in the US, they are basking in the wilds surrounding their former home base of Santa Fe, taking in all of what the area has to offer. Their professional lives have always been fluid, requiring them to be on call for last minute assignments, and with Artemis, "there's no sort of fixed plan. The Airstream made us a little less tied down to a house and it has let us be more fluid with our plans," says Aaron.
Aaron and Jen have been traveling with Artemis since April of 2016. At first, Aaron was skeptical about a life lived out of a travel trailer. He felt there would be too many barriers, like difficulty staying connected for work or getting to the airport on short notice.
Jen remembers, "My parents actually live in Tucson, and I went down to visit for my birthday and decided to rent an Airstream. Aaron was somewhere else on an assignment. When he got back in town I said, 'Hey, guess what I've done, I've rented an Airstream for my birthday, why don't you come down to Phoenix. I found this awesome spot and we're going to have a great week.'" The trip was a tipping point for the couple.
They found a beautiful little spot on state trust land and settled down in their test-run, 1972 Airstream. "We spent a week in it and just fell in love with the idea of living in one," says Jen. They returned the rental on March 21, and, on April 12, bought Artemis.
Aaron learned during that first trip that any barriers to Airstream living were self-imposed. "When Jen got us out there, I realized all we need is 4G and we can have that anytime – we have unlimited data. It really hit me that we can go anywhere we want," says Aaron. "The thing is, we are travel journalists, I grew up overseas, we've traveled together for forever. I like being on the road."
During their time exploring the US, Aaron and Jen bring the curiosity and fresh eyes they have when overseas.
"People sometimes have this sense that domestic travel is boring compared to international travel. We have preconceptions that it's not that glamorous or interesting. I think the Airstream has made us more open-minded about our domestic travel," says Aaron.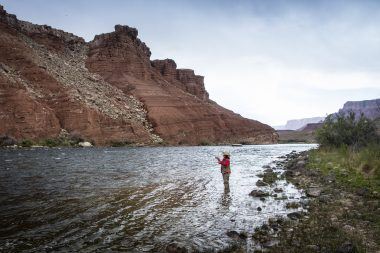 The two still travel to exotic places across the globe, but they don't overlook the wonder back home. "Suddenly we're finding these cute little state parks and big mountain hikes we've never seen. We have discovered all sorts of things that are just a few hours from Santa Fe," says Jen. "Having the Airstream gives us the option to explore new places in a new way – to delve into the areas that are familiar to us in an unfamiliar way."
Today, Aaron and Jen live a minimalist life. "I like the idea of simplicity and, I like being in a small space with only the few things that I need and that I use every day," says Aaron. Adds Jen, "Having the Airstream has made us branch out beyond our comfort zone."
This wilderness-loving couple has no intention of returning to their lives before their Airstream. Being with Artemis is grounding for them. Instead of staying plugged in, they unplug after work. They hike. They go mountain biking. They sit by the campfire. They cut out the digital noise and truly experience the world. "I'd much rather sit outside and just listen to the birds," says Jen.