Stephanie and Gus are impromptu adventurers, small town explorers and revelers in flexibility. These two don't let reservations and strict schedules determine their travels; they go wherever the weather takes them.
Their 2015 Airstream 23D International, named "Tin-Tin," gives Stephanie and Gus the freedom to explore as they please. And that's exactly what these former motorcycle wanderers have been doing for the past four years.
While the couple owns a home in Sacramento, they spend as much time as possible out exploring with Tin-Tin, kayaks, mountain bikes and fishing gear in tow. Because Stephanie is a nurse who works a week-on, week-off schedule, and because Gus is a mortgage lending professional who can work on the road, these two have built regular roaming into their schedules.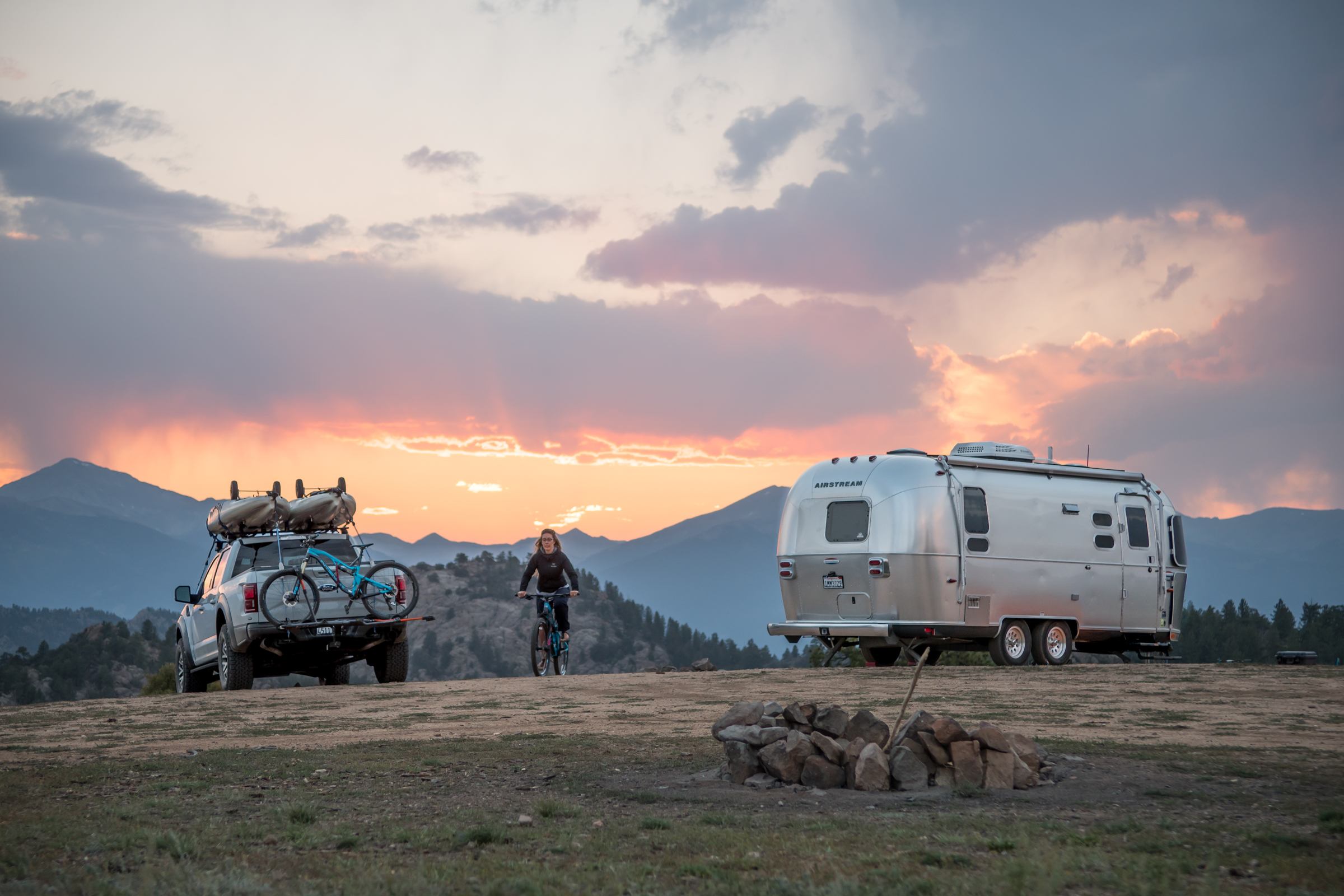 Their new life of impromptu exploration grew out of a stay in a small town they happened upon while on a trip on their Ducati motorcycles. "We made a trip up Highway 1 all the way to Victoria, Canada. We passed through all these small towns, like Winthrop, WA and others. We just really enjoyed ourselves. We didn't want to go home. Usually at the end of a vacation or a trip, you're like, 'Okay, let's get home already.' On this trip and others like it, we didn't have that feeling," says Stephanie.
"We discovered all these little towns, and we wondered how we could physically get our motorcycles to destinations quicker so we could explore more. We said, 'Let's get a travel trailer.'"
And they did. In June of 2013, Stephanie and Gus got their first Airstream, a 16-foot Bambi.
When they bought it, the couple already had their first trip planned. They ventured out to a serene place along the California coast. "We pulled into our spot, had our camp fire and took in the area around us and knew this was for us. From that very first trip we saw ourselves doing a lot more," says Stephanie.
"We were out in our first Airstream as much as we possibly could be. We loved the ability to find little spots in the middle of nowhere or in the middle of the woods. That first trip was just a short weekend trip, but it changed everything for us."
A month later, Stephanie and Gus traded their 16-foot Bambi for a 19-foot International and embarked on a longer excursion. "We left from the dealer straight out onto our three-week trip. We traveled all through Utah and then down to Southern California," says Gus. "Before, our travels had been shorter. This particular trip was like the gateway for how we live and travel now.
"We saw things we had never seen before, like red canyons and the sprawling Utah landscape. We spent long spans of time on the road. For us it was mind blowing; it was fantastic. When we came home, we both had this realization that our house could have disappeared, and we wouldn't necessarily have missed a whole lot. We had everything we needed there in our Airstream. That was an eye opener for us."
After a year and a half in their 19-foot International, Stephanie and Gus got the bigger version of Tin-Tin, their 23D International, and have been traveling with it since. The couple can't really say how they came up with that moniker for their trailer. But they can tell you that they always call their Airstream by its name.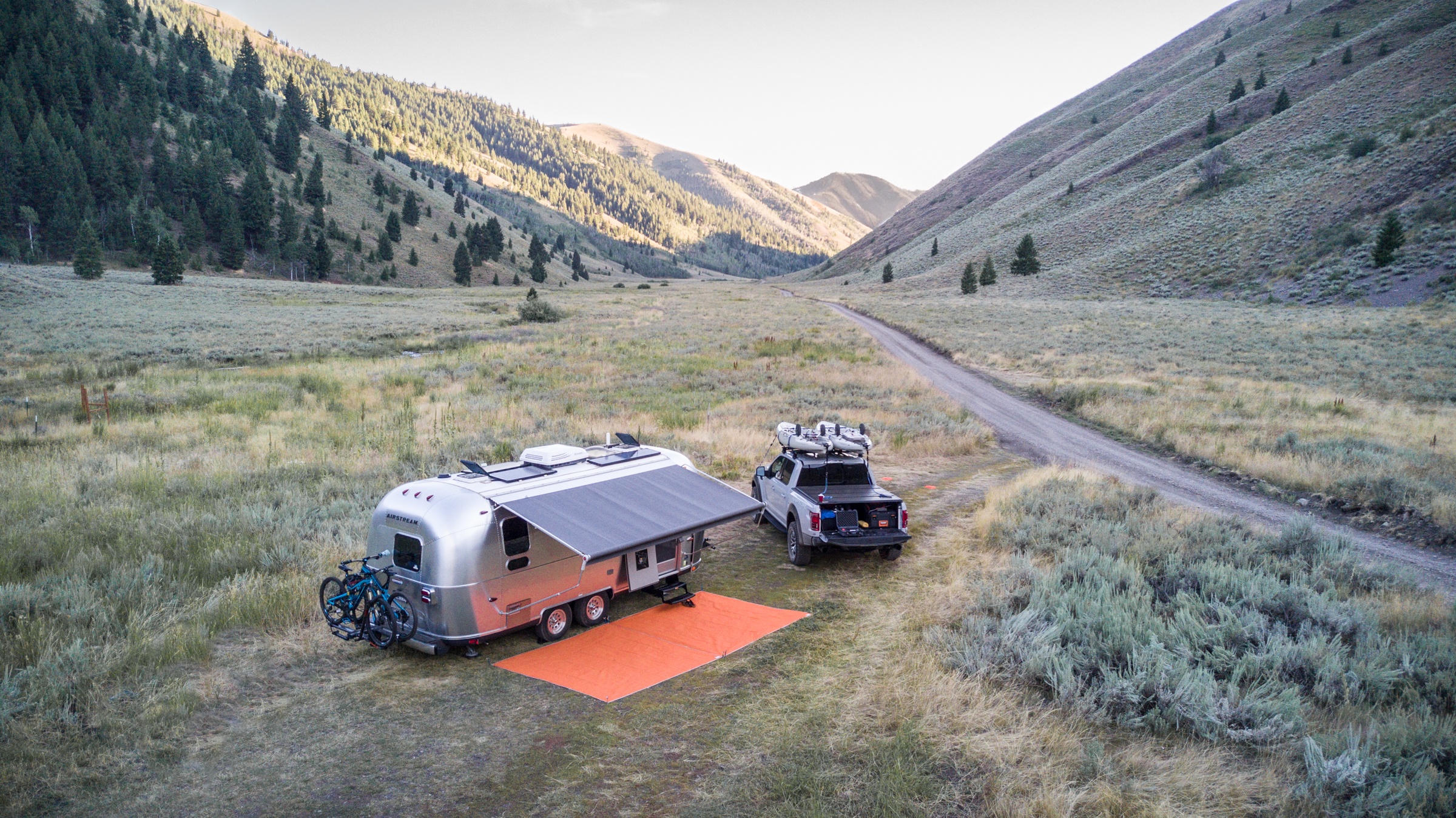 "There's more of a personal relationship with Airstreams. I think it's because there's a certain beauty to them, to the actual trailers – an iconic look. There's more of a visual bond with the trailer and a certain pride of ownership in them, so maybe that's why people name their Airstreams," says Gus.
These days, Tin-Tin is ready when Gus and Stephanie are. The two don't make plans in advance. Instead, they stay flexible and see what the weather will be like. If it's hot, they escape to the mountains. If it's cooler, they may head to the desert.
Gus says, "When we left this last time, we started in Idaho and didn't know where we were going from there. For the most part, we go somewhere and when we've had enough, we move on. We never have plans, we never have reservations, we just go as we please."
"Now, we are seeing things, doing things that we never would have done before," says Stephanie. "We have great pictures and great memories. They are new and they are different. No regrets, the life we are living now is the best decision we ever made."