Nest 16FB Premier Floor Plan
Dinette
Enjoy a meal or get caught up on emails from the convertible dinette with a comfortable lounge.
Storage
The kitchen cabinets give you plenty of room for dishes, pots, pans, and food. There's even a spice rack. Nest's closet has room for your hanging clothes and larger items. And overhead compartments offer up space for anything else you need to stow away.
Dinette/Bed
The roomy U-shaped dinette gives you plenty of space to enjoy every meal. And when it's time to turn in for the night, simply remove the storable table top, then convert the bench seating into a bed.
Kitchen
With a microwave, a two-burner stove, a large stainless steel sink, and a refrigerator with an icebox, Nest's kitchen has everything you need to whip up anything from a light snack to a full gourmet meal. The counter space across from the sink gives you more room to prep, with cabinet storage below.
Wet Bath
The onboard wet bath has a shower, a toilet, and smart extras like built-in soap dispensers and an enclosed storage shelf keep you tidy and organized. Plus, there is a separate shower hookup outside the trailer.
Fun, Bright, and Flexible
The Nest by Airstream 16FB Travel Trailer was born from the idea of trying to capture the hearts and imaginations of today's outdoor enthusiasts who long for something to match their contemporary design sensibilities. Sleek, modern, and approachable, Nest sets a high standard for good design while opening a new door into the joy of outdoor adventure. The Nest Premier 16 Front Bed features a fiberglass shell that certainly sets it apart from the silver bullets Airstream is known for, however, it's what's inside that makes it unequivocally part of the Airstream family. With all-wood furniture and cabinetry, windows everywhere, plentiful storage, high-end fixtures, and a queen size Tuft & Needle Adaptive Foam Mattress, Nest provides the ultimate travel and camping experience in a compact and easy-to-tow travel trailer.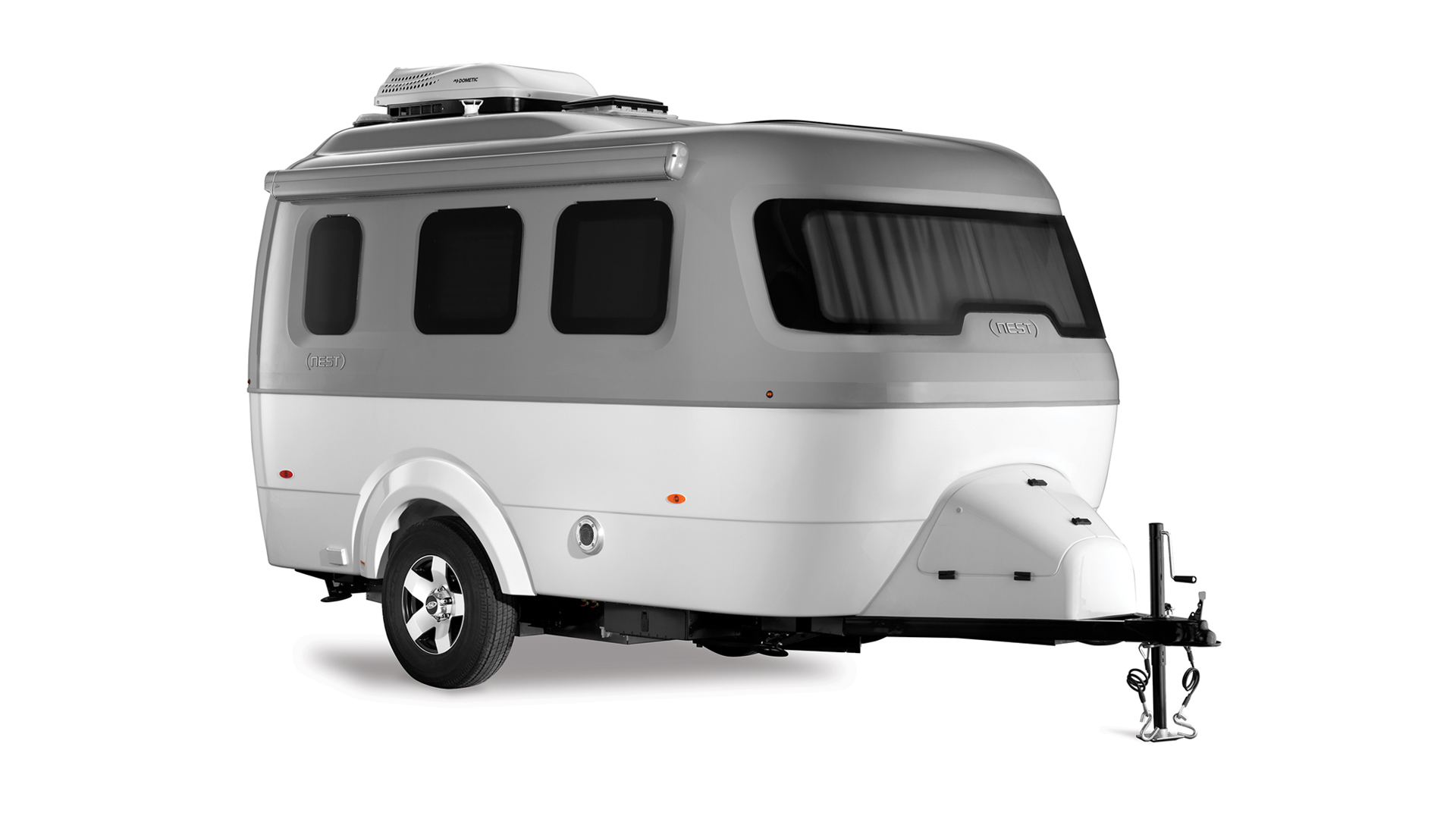 Innovative Design in a Contemporary, Simple, Single Axle Travel Trailer
Nest's advanced design amenities make it the perfect, personal escape pod from which to explore the world, without sacrificing the comforts of home. As with every Airstream travel trailer, the 16 foot Nest is built with the same level of quality and incomparable durability which will last for generations to come.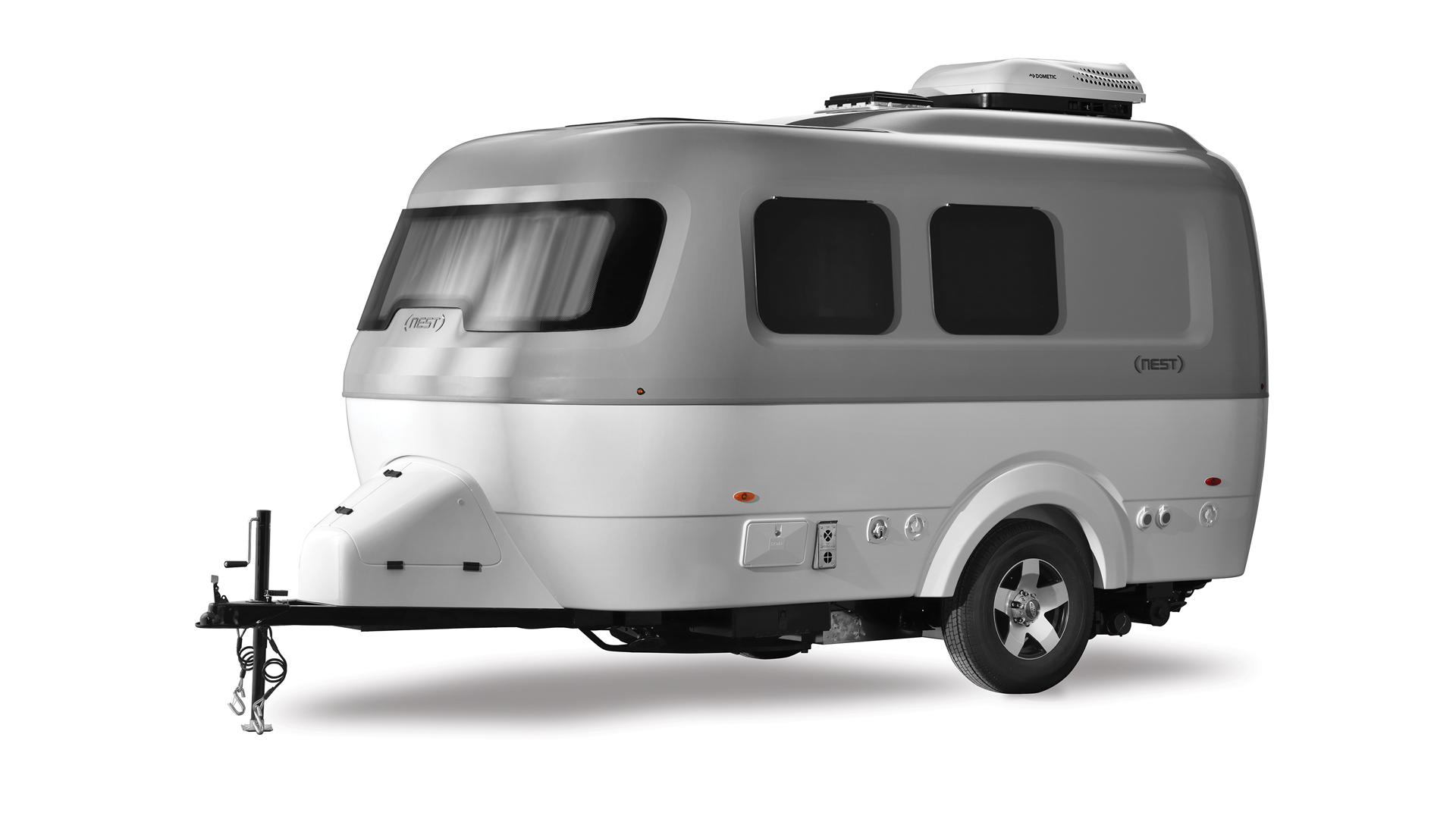 Built With Decades of Feedback
Today's Airstream travel trailers are a testament to our promise not make changes for the sake of making changes, but to constantly make improvements. Since 1931, Airstream has been pioneering innovative RV technology like refrigerators, toilets, screens doors, and showers in travel trailers which have led the industry for innovative solutions that improve the travel experience. With all the comforts, technology, and convenience that makes anywhere feel like home, our trailers are thoughtfully designed and crafted to spark an adventure. Our ever-growing community is happy to tell us what real Airstreamers need, want, and love, and that helps us create travel trailers with floor plans that feel right to all sorts of campers and travelers across the world.