When taking a quick look at the iconic aluminum shell of an Airstream travel trailer, it's easy to get the model names mixed up because they're all relatively similar. While this is what makes an Airstream, well, an Airstream, it may lead you to assume that they all look quite similar inside — this couldn't be further from the truth. 
A Quick Glance to the Past
Each model name is actually derived from a previously manufactured model and has since been brought back to life in the form of new features, fresh décors, and a whole new set of modernized floor plans. Where would we be without our storied history of journeys around the world?
Flying Cloud was first introduced in 1949 and became popular throughout the 1950s for its comfort and features. It was also the very first travel trailer to come off the production line in Jackson Center, Ohio! Being a great travel solution and family-friendly option, Airstream unpackaged the name from the archives in 2009 and started manufacturing the iconic trailer again.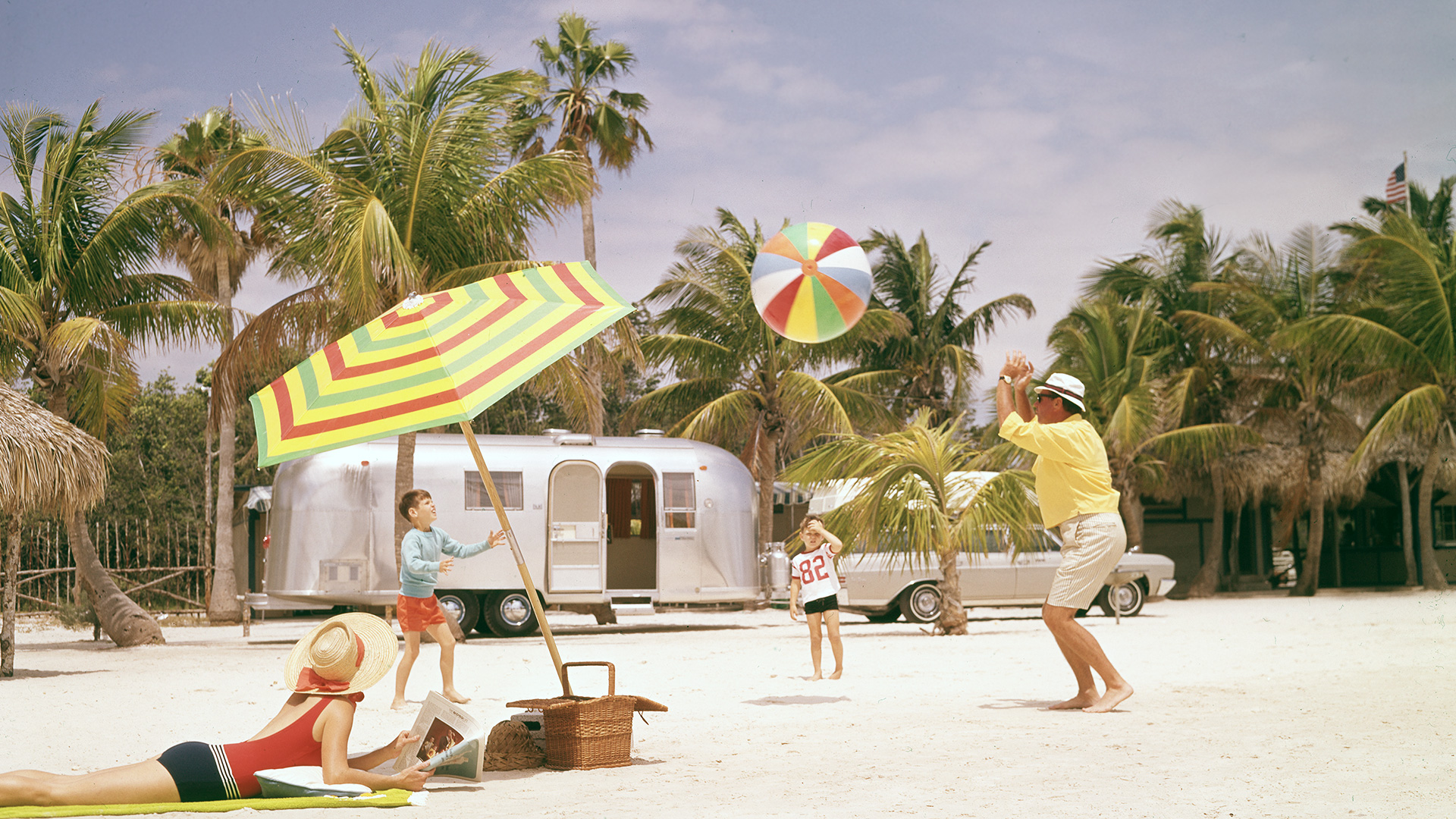 The International has taken on several shapes and has earned its place in RV history as the first ever self-contained travel trailer. Since that pivotal moment in 1958, the International has done more than free itself from the constraints of campground hookups – it has also continuously evolved as the needs and desires of travelers have changed.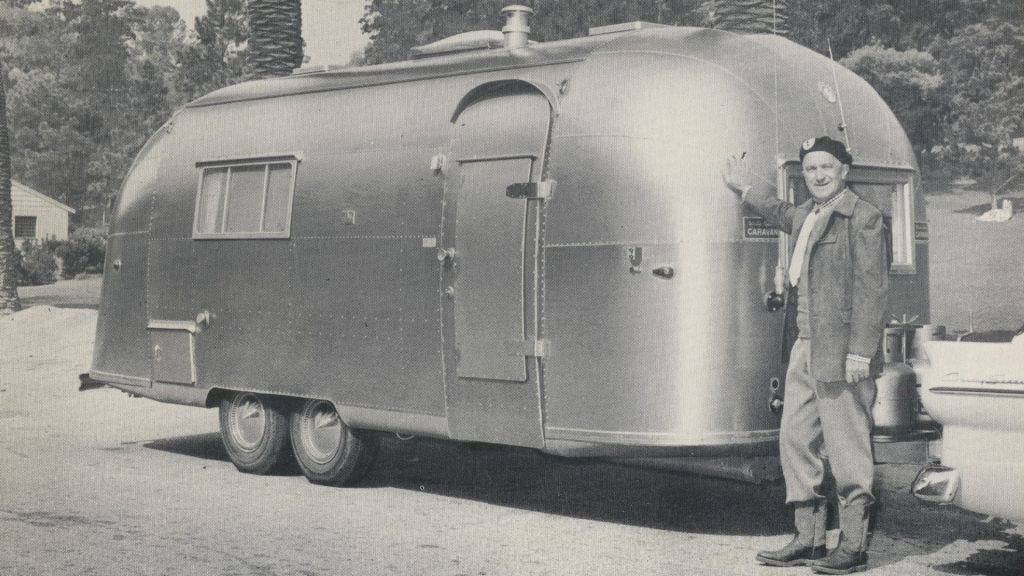 The name "Globe Trotter" appeared on the 22' Liner that Wally Byam and Cornelius Vanderbilt, Jr. used on their 1948 European Tour. This was the first of many trips to Europe for Wally where he was often inspired by European trailer design and innovations. Airstream launched the first Globetrotter in the late 40s as a 22 foot model that could "go anywhere an automobile can go and still have the facilities of comfortable living."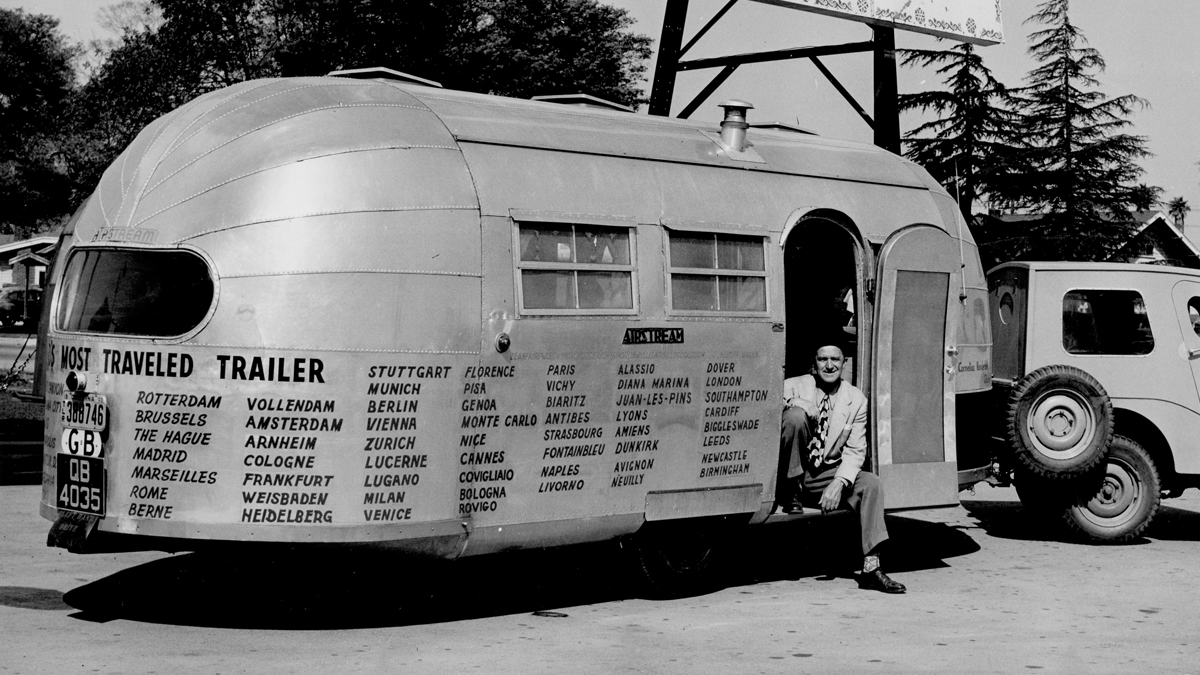 Did you know that almost all Airstream model names come from boats? As a young man, Wally Byam was drawn to the seas and when he joined the Seaman's Union he sailed the South Seas. Over the years, the company has often used nautical names in our product lines. A few names are Clipper, Land Yacht, Liner, Caravel, Trade Wind, and Flying Cloud. Even the interior structure walls are referred to as "bulkheads."
Fast forward to 2022, and we're comparing three current models that bear these legendary model names and are all built on a dual axle chassis. From 23 to 30 feet, these travel trailers include a large portion of the products that are hand-crafted in our Jackson Center, Ohio headquarters. Made for making memories, exploring the open road, and doing it with all the comforts of home — that's what these travel trailer models were designed for decades ago and what their purpose still is today. But how are they different? What makes them unique? 
The simple answer is what's inside — like the "trim" levels on automobiles, the decors, materials, finishes, and fixtures are what sets each model apart. For the longer, more detailed answer, let's keep going. 
An Overview of the Differences
The Flying Cloud is light, bright and comes with a contemporary interior. It's comfortable and accessible, and we find that families in particular really love it.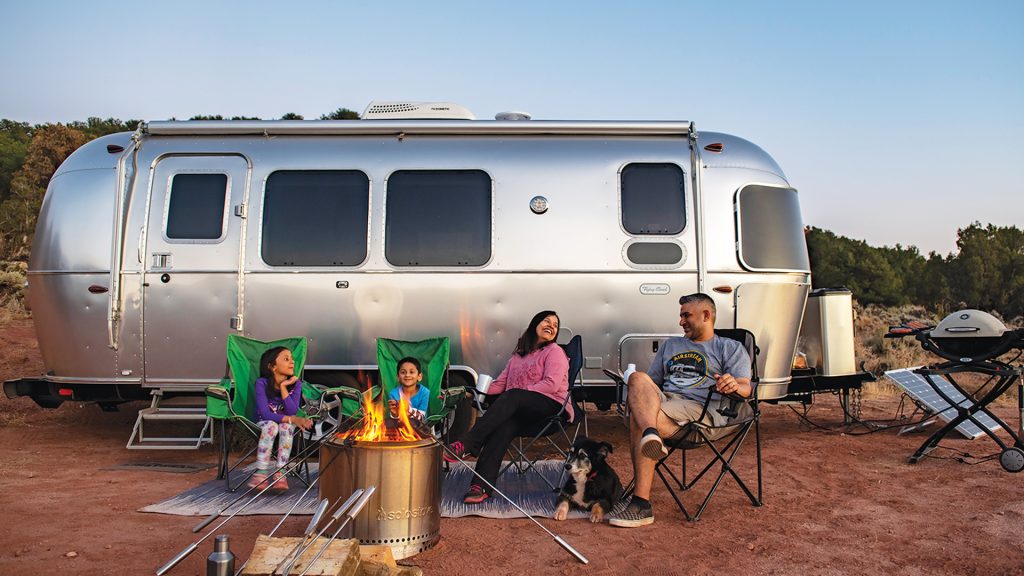 The International is our silver sanctuary. It has peaceful, purposeful touches that bring design to the forefront from the moment you first step inside the door.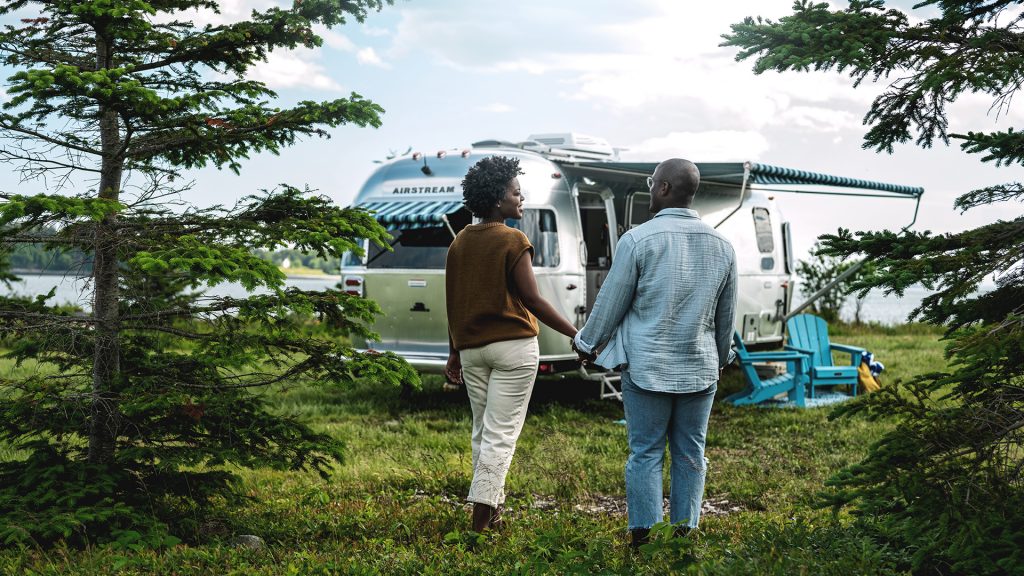 The Globetrotter is for all the ultra-modern design lovers. It's European-inspired and super sleek from top to bottom.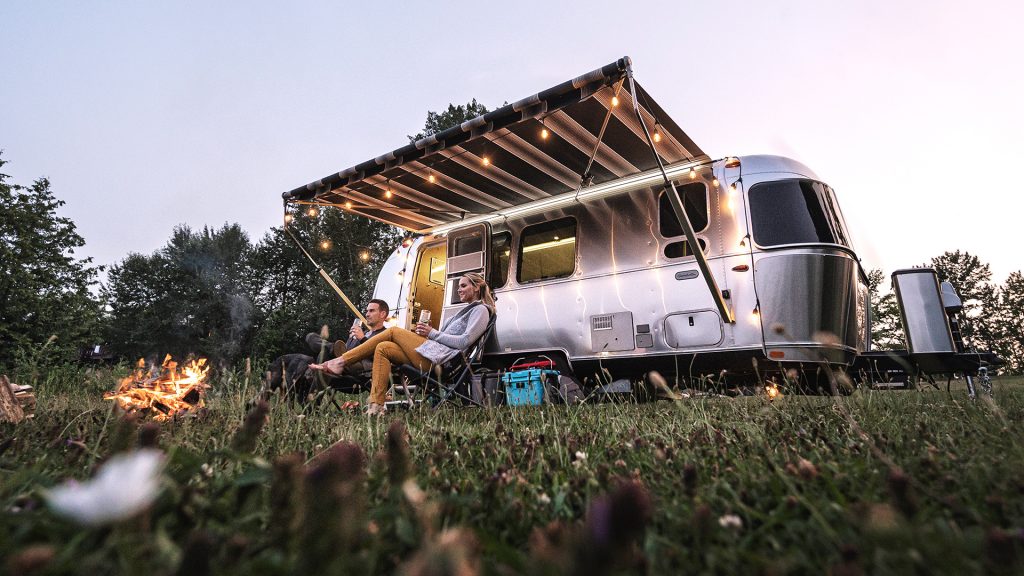 Let's break down the finishes, fixtures, and color choices by model line. 
Flying Cloud: Family-Friendly and Ready for Adventure
In the Flying Cloud models, you get warm blonde woods on the walls and reflective white upper cabinet doors. Along with the iconic aluminum walls, the Flying Cloud interior is bright and inviting. The neutral pallette is made for putting your own spin on things, working well with a variety of complementary colors and patterns if you want to upgrade your bedding and soft goods. 
While it looks like leather, the Ultraleather® stands up to so much wear and tear while looking good as new for years to come. Choose from Carolina Clay or Seattle Mist to complement the Sunlit Maple décor to fit your style. The appliances are stainless steel, as are your sinks in the kitchen and bathroom which maintains that clean, shiny feel throughout. The flooring is a seamless vinyl which is durable and easy to keep clean.
International: A Beach-Inspired Vibe with High-End Fixtures
Step inside the International and right away you'll notice the wood has a light, beach-inspired vibe and the large overhead storage cabinets have our classic sliding translucent panels, lit from the inside.
The seating fabric is Ultraleather, this time with a choice of Seashell or Aqua. The countertops are DuPont Corian® solid surface, which stands up to your cooking tasks and really levels up the appearance and performance when compared to the Flying Cloud.
The appliances and sinks throughout the kitchen and bathroom are all stainless steel, but with upgraded Moen® faucets and brushed nickel cabinet handles. 
Similar to what you'd find in a high-end home or store, the beautiful chevron pattern flooring pulls your eye through the travel trailer and perfectly complements the calming beach design touches.
Globetrotter: The Epitome of Modern Design
On the walls and cabinets, you get your choice of a light beechwood or a darker, richer, almost burl wood. The lighter wood option comes with solid grey kitchen cabinets.
The Globetrotter features large, curved, fingerprint-resistant overhead storage compartments that perfectly match the contour of the aluminum shell. Automatic lights illuminate the cavernous space after opening the doors, hydraulic hinges keep them fully open, and they softly close without even needing to use a grab handle — because there aren't any! 
The lounge seating fabric is unique to the Globetrotter model line and is extremely durable while being comfortable for long periods of time. Depending on the décor package you prefer, you can choose between Barcelona Blue, Copenhagen Cream, Dublin Slate, or London Grey. 
Similar to the International, you'll also find a Dupont Corian countertop in each Globetrotter, this time in shiny solid white that invites you to be the chef you always wanted to be.
The stainless-steel sink follows the rounded corners of the lower cabinets, and the stainless-steel appliances and Franke faucets follow in true modern fashion. To maintain the sleek and minimal design approach, the cabinet and drawer handles are neatly placed on top.
The floor is a beautiful, neutral, woven vinyl that truly grounds the entire design experience inside the Globetrotter. It's easy to clean up, feels soft with each step, and was chosen for its longevity and durability. 
Floor Plans: Similarities & Exclusive Offerings
A floor plan is the reference to the general layout or configuration of the interior furniture, walls, and amenities. Identifying the differences between floor plan names is one thing, but understanding which floor plans are available for specific models is another. 
For the most part, these three models are available in the same floor plans with the exception of a few exclusive offerings. 
Flying Cloud Floor Plans

30FB Bunk

— Exclusive: Created for families and offers the most sleeping spaces of any Airstream

International Floor Plans
Globetrotter Floor Plans
30RB

— Exclusive: A unique floor plan among the pack, this layout includes a large galley space that is perfect for socializing, a long versatile tabletop surface, tons of space for storage, and the most windows of any Airstream. 

Exterior Features: Notable Resemblances and Distinctions
The Globetrotter is a premium model with exterior features such as - 
Powered Zip Dee Awning with Sunbrella Fabric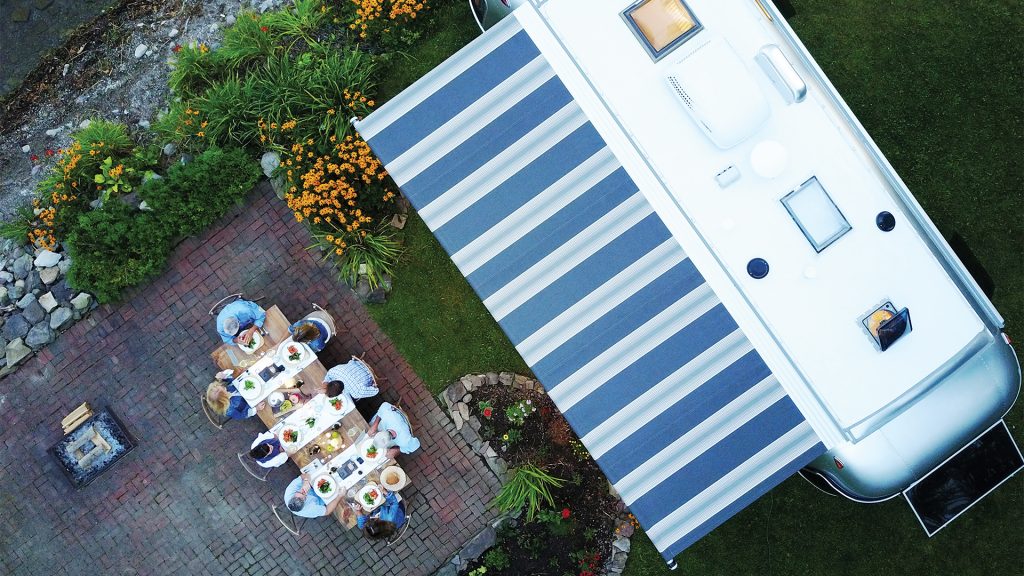 Powered, Heavy-Duty Stabilizer Jacks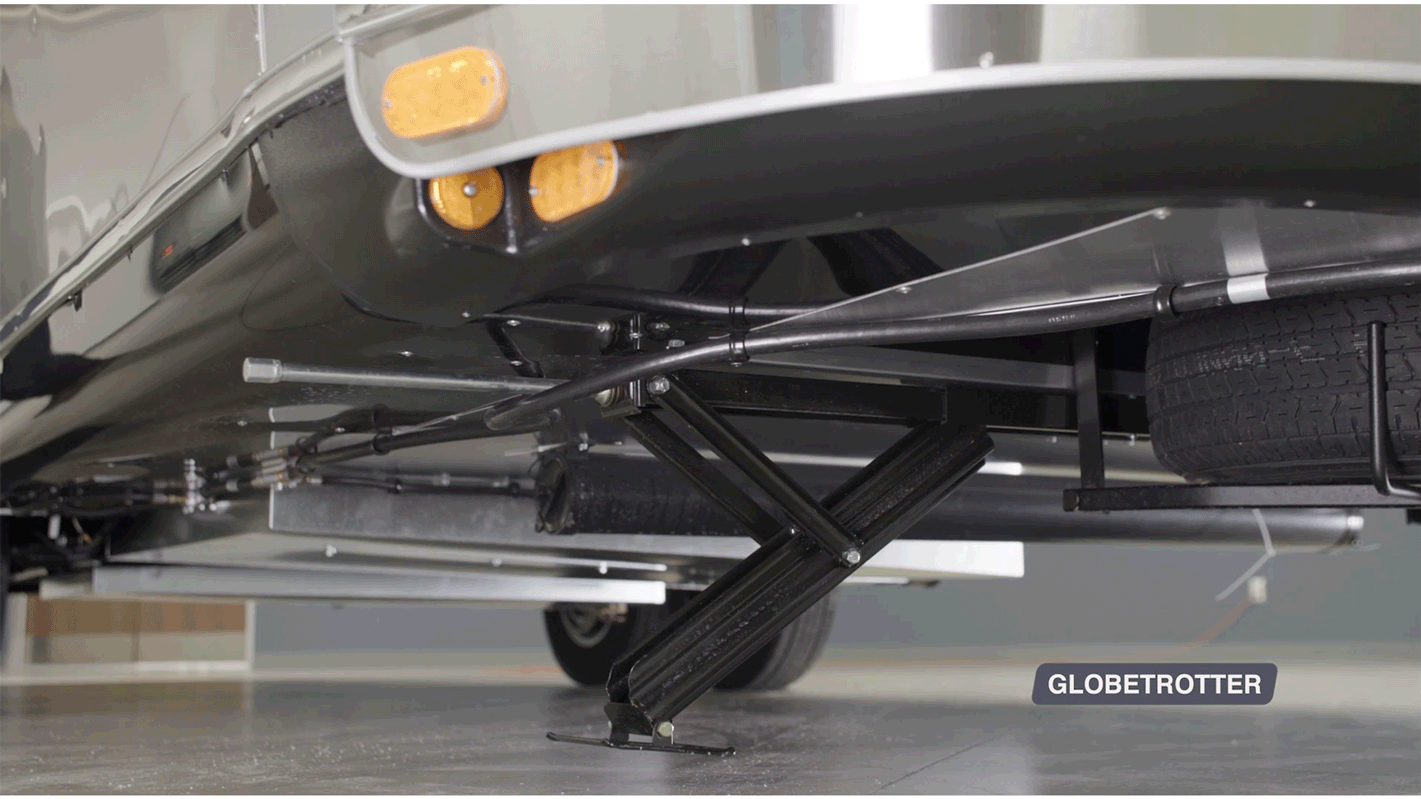 Cast Aluminum Tail Lights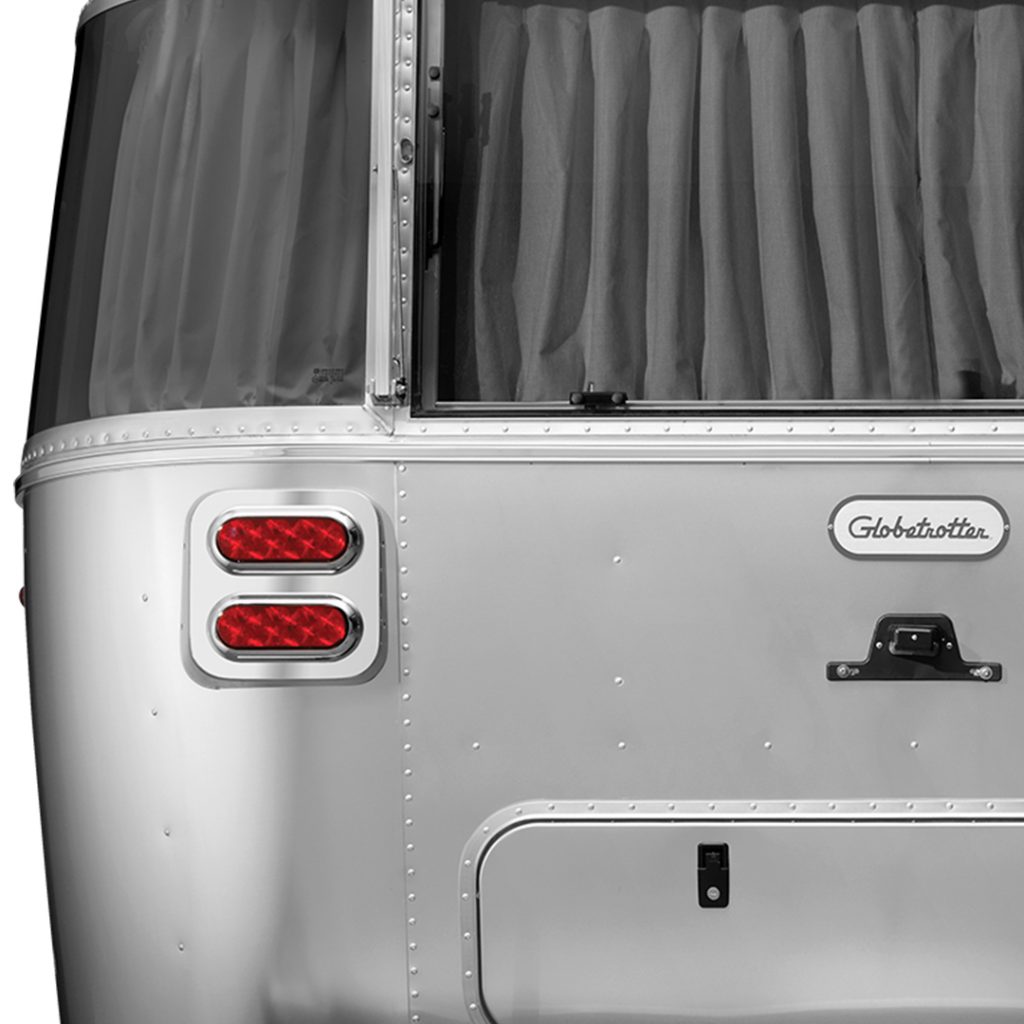 Stylized Aluminum Wheels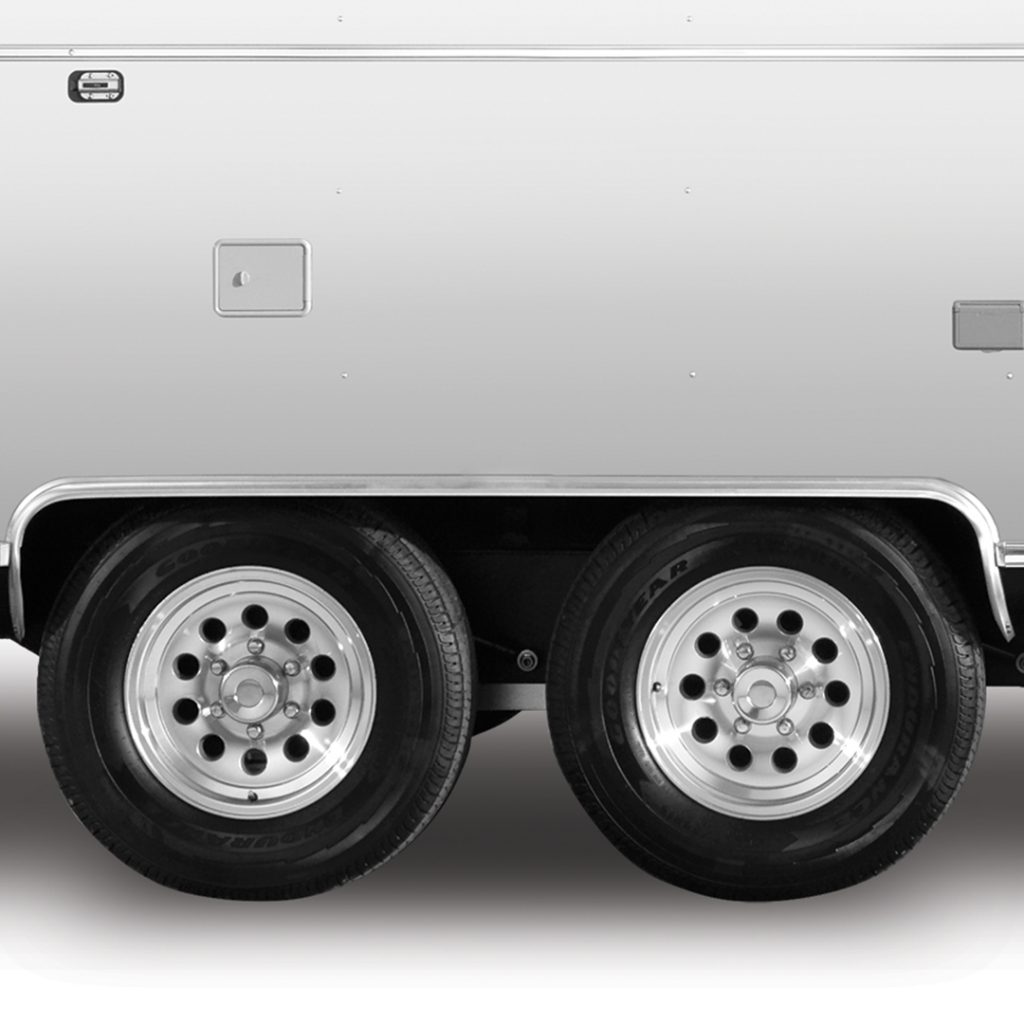 The International includes: 
A unique, powered Zip Dee awning with Sunbrella fabric. Four, manual, heavy duty stabilizer jacks and the same stylized aluminum wheels as Globetrotter.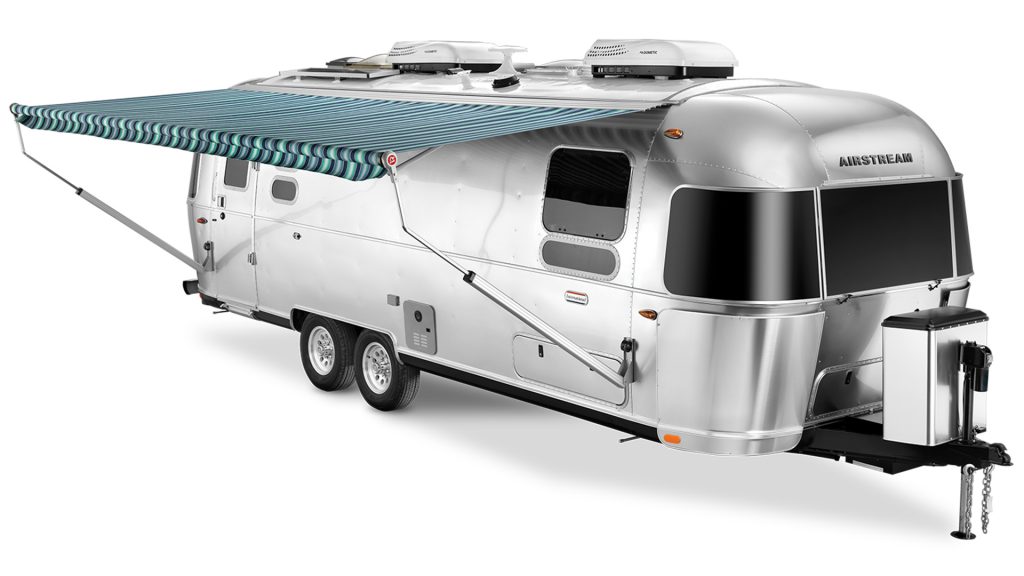 Flying Cloud comes with: 
A manual, Zip Dee awning with Sunbrella Fabric. 4 Manual, Heavy-Duty stabilizer jacks. Unique, stylized wheels.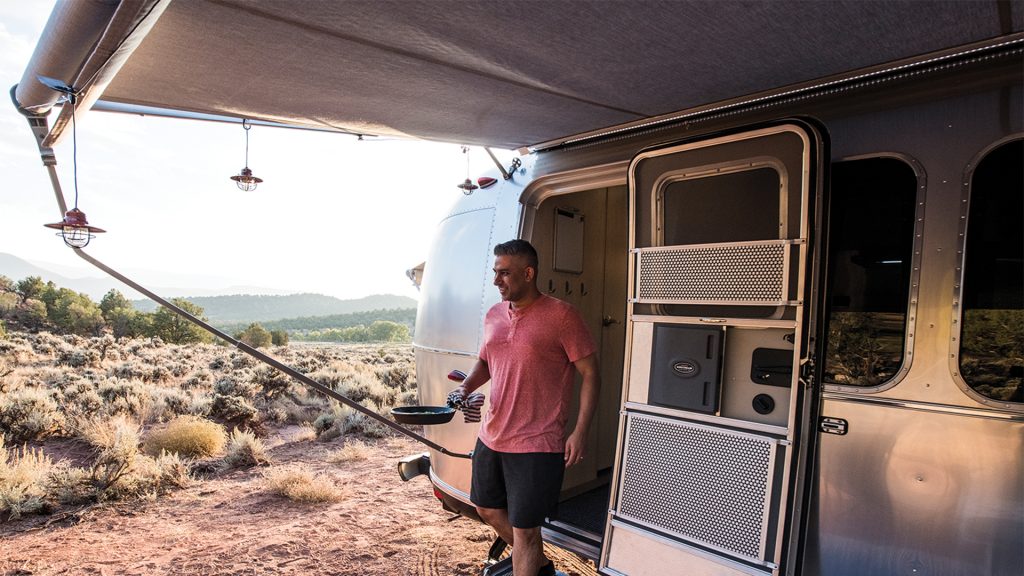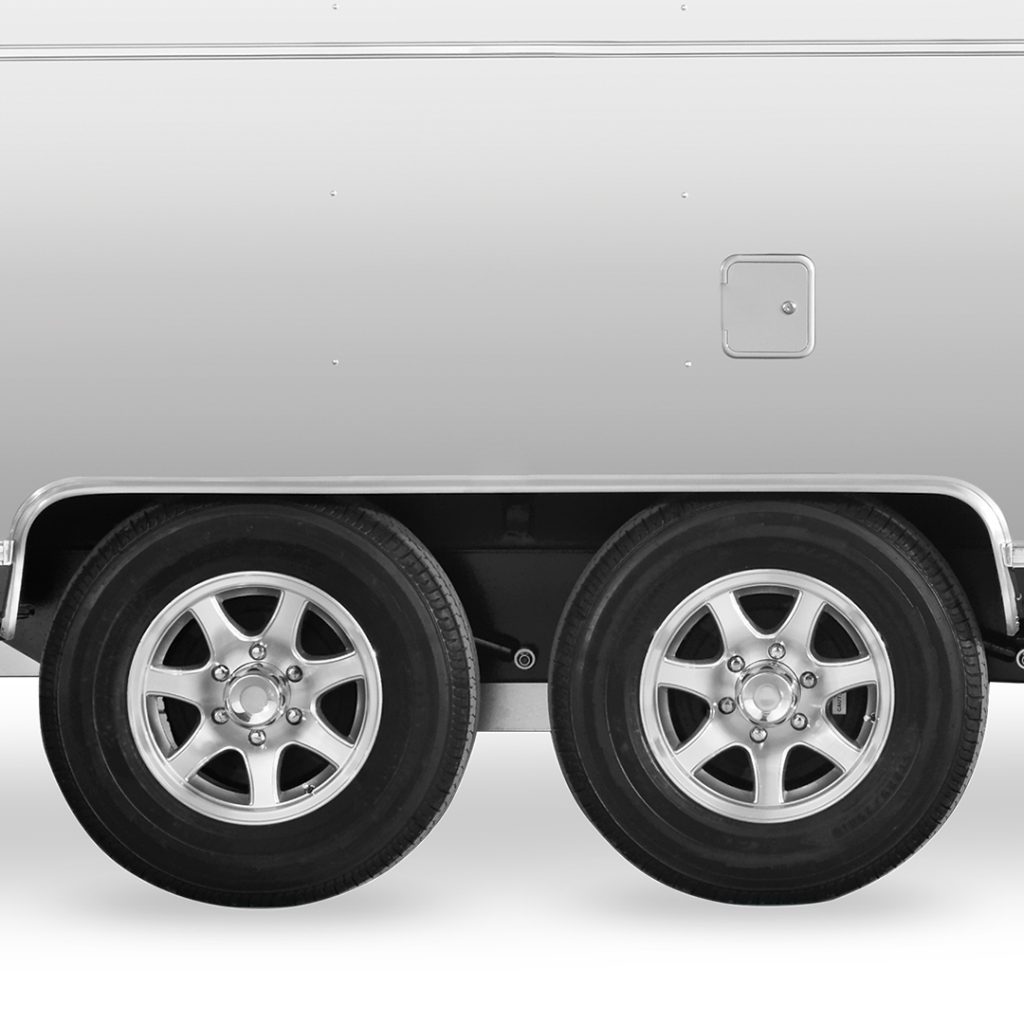 How Are They Similar?
As described in the simple answer of how these models are different, it really comes down to the "trim level" of what fits your style and budget. Step inside the same 27FB floor plan of each model outlined here and you'll immediately see and feel the difference because of the intentional material and appliance selections.
All three model lines feature ample interior storage, including sliding pantries, under-bed storage, and built-in wall cubbies. There are purposefully placed USB ports throughout to keep your devices charged while traveling and 110V power outlets — several which are inverted circuits — to utilize the included 1,000W power inverter when you're not connected to shore power. 
They also all include quality components and materials, the iconic semi-monocoque aluminum shell, and are hand-built with the same level of attention that Airstreams have been known for since 1931. 
Optional Features to Enhance Your Experience
Rear and Street Side Awnings
Great for extra shade, privacy, and weather protection, the street side and rear window awnings come standard on Globetrotter and International and are an optional feature available for Flying Cloud models.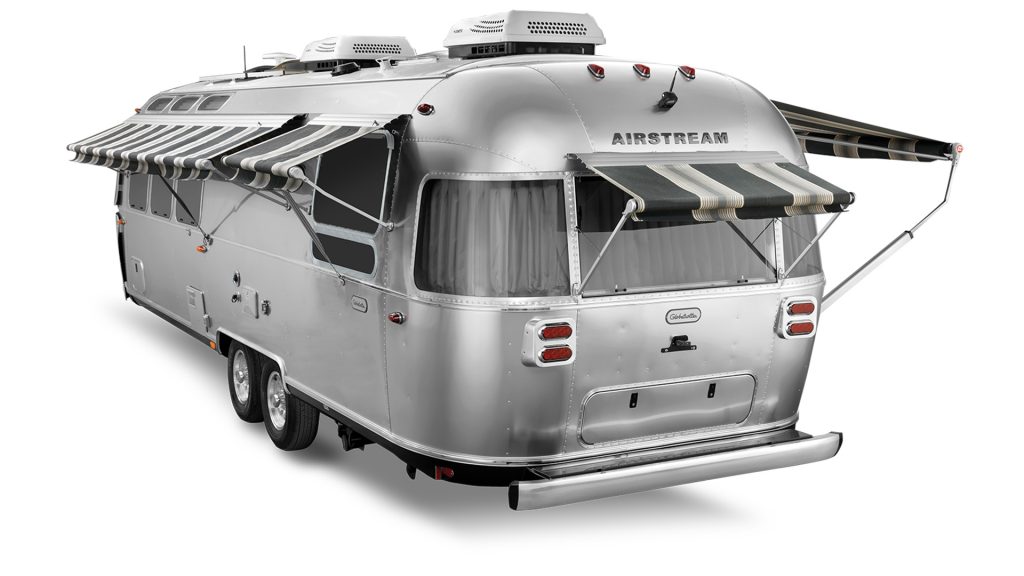 Choose Your Bed
Airstreams come in all shapes and sizes which means the sleeping capacities also change quite a bit depending on which floor plan you choose. The smallest travel trailers sleep up to 4 people while the longest floor plans can sleep up to 8 based on the available beds and lounge/dinette conversion spaces. Regardless of the total number of sleeping spaces, the primary master bed sleeping arrangement is for 2 people and you get the choice between a queen or twin mattresses.
Convection Microwave
All models mentioned in this article have the option to upgrade to a convection microwave oven, but it depends on the floor plan whether or not the standard microwave is removed or if it replaces the standard oven.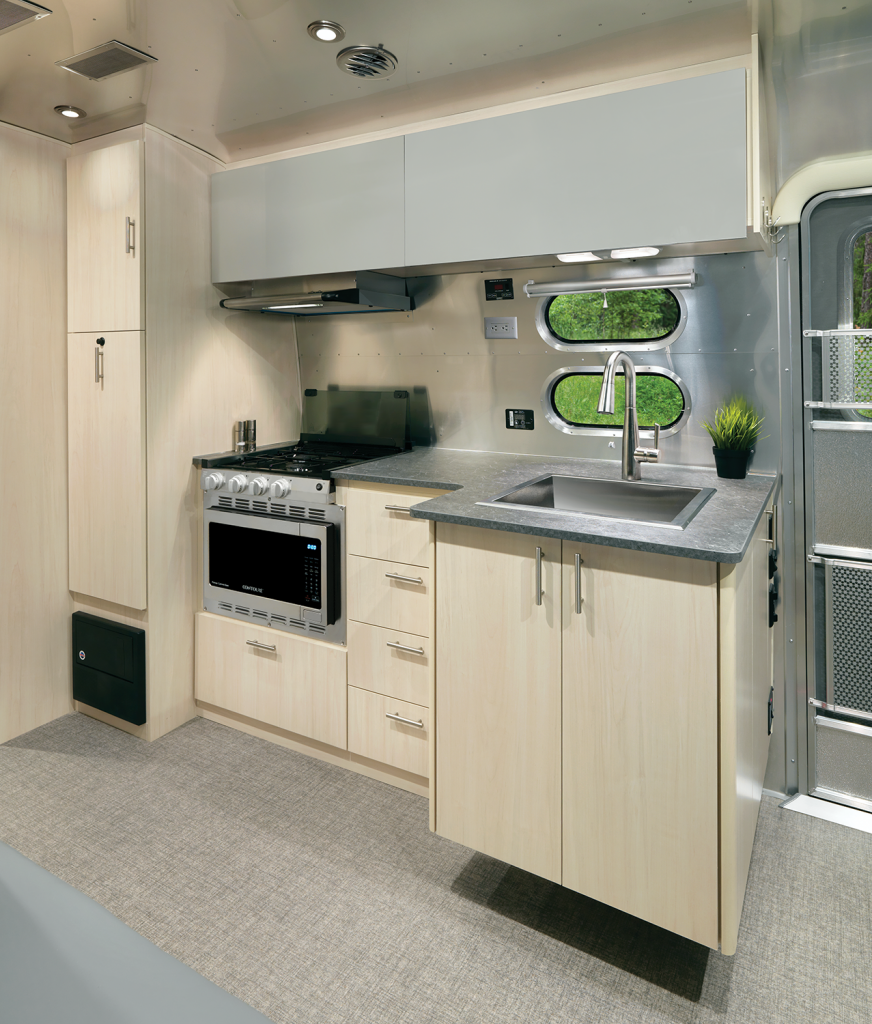 Add Another Air Conditioner
For specific floor plans over 25', there's the option to add an additional air conditioning unit to the roof. The reason it's optional for some floor plans is because the additional A/C comes as standard on all 30' floor plans. By upgrading to dual service A/C, you gain an additional heat pump and the electrical system is bumped to 50-AMP service.
The Rear Hatch
Available for the Flying Cloud and International 25FB and 27FB floor plans, the rear hatch not only gives you the option to have a large door at the rear of the trailer, it opens up opportunities to experience Airstream life a little differently from the inside out. From creating a beautiful vista during an afternoon nap or while catching up on work during the day, to being the perfect solution to loading and unloading larger gear for every adventure, the rear hatch is truly a game changer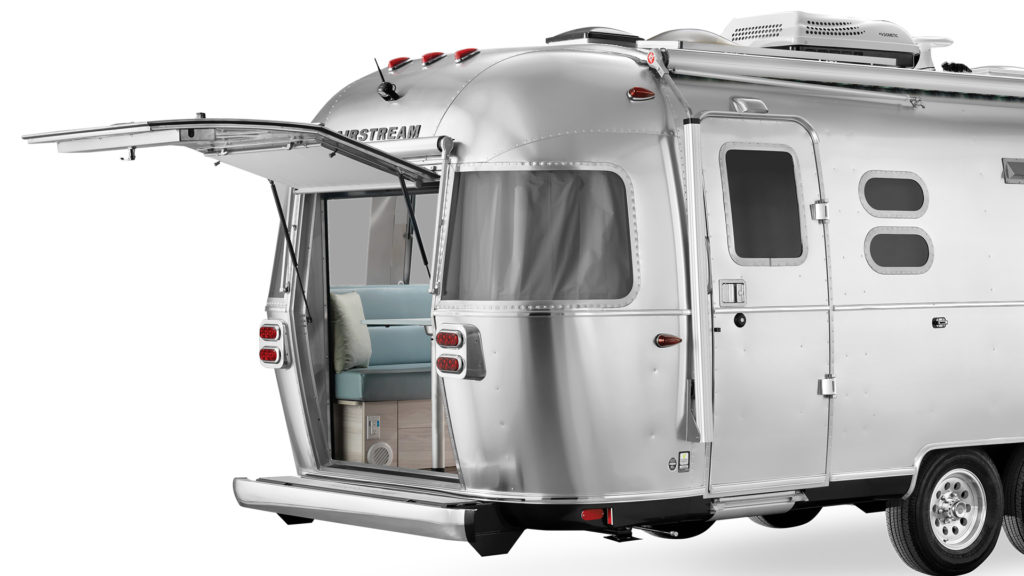 The Addition of a Front Bunk
25FB and 27FB models of Flying Cloud and International each have front bunk options. This option positions the bunk in the front end cap where there is usually an overhead storage compartment installed.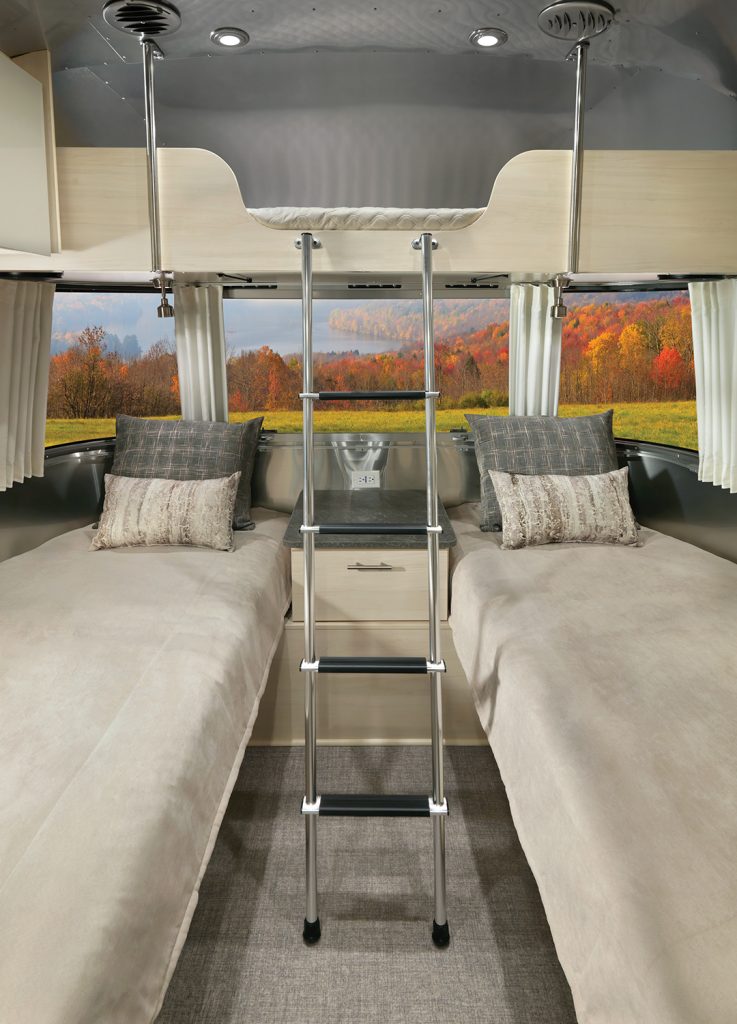 A Powered, Standing Desk: Exclusive to Flying Cloud
The integrated desk option features a powered sit/stand desk, additional electric outlets, a desk chair, and more features that make it easy to take modern life on the road.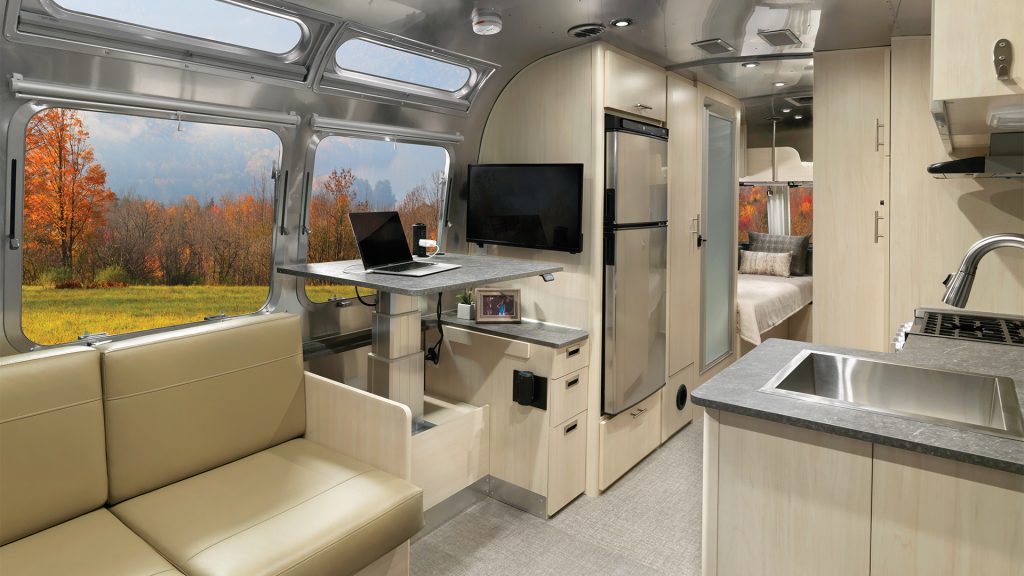 Now that you know each of the unique differences between Flying Cloud, International, and Globetrotter, take the next step by configuring your dream Airstream.