Get ready to explore the new frontier of travel with the all-new Airstream Rangeline Touring Coach. Built on the proven RAM ProMaster® 3500 chassis, Rangeline features a modern, European-inspired interior that puts a premium on versatility. Whether heading out on a long road trip or simply heading across town, this 21-foot handcrafted van turns road travel into a seamless experience where you relish the journey to and from as much as you do the destination. Simplicity and functionality are built into its design DNA, with all onboard systems powered by the fuel in the gas tank, and an optional pop-top that provides an additional living and sleeping area above the van.
"We're in a new travel reality, where freedom and flexibility are top of mind for more and more people," said Bob Wheeler, Airstream President and CEO. "Rangeline is the result of extensive research and dedication to understanding the van life movement and what customers want from their experience. It's a thoughtfully-designed, highly capable, multi-purpose van that handles like a daily driver, and it'll open a new world of Airstream adventures to one of the fastest growing segments in the RV industry."
A Simple Way to Power Your Travel Dreams
Airstream's expert design and engineering teams set out to create the perfect interior space with enough flexibility to accommodate family trips, solo excursions, or couples who want to head out for a weekend together. More than 90 years of building iconic recreational vehicles informed every choice along the way – starting with an exceptionally powerful electrical system that not only makes it a breeze to get set up at the campsite, but also enjoy the benefits of off-grid boondocking.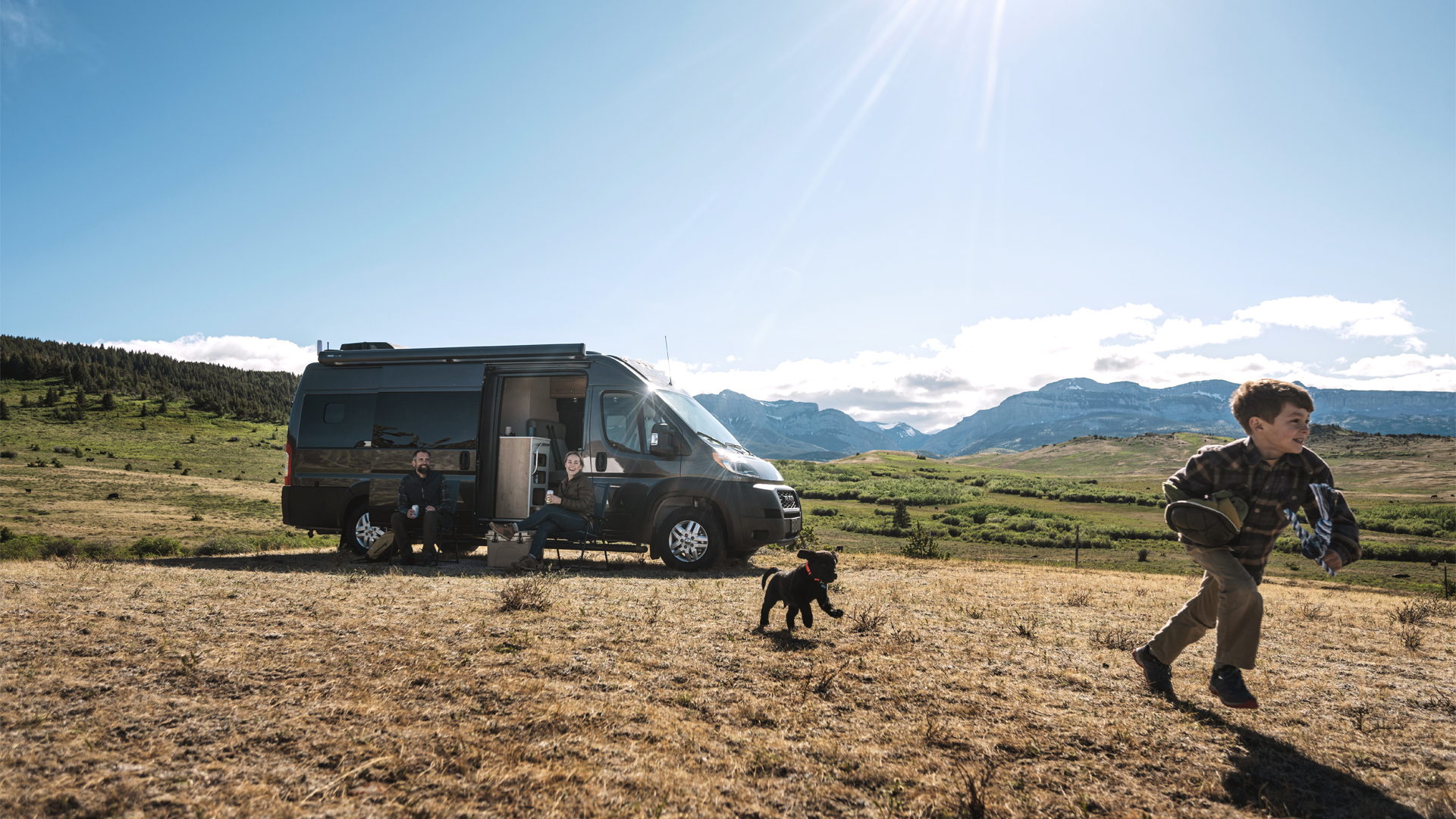 High-Capacity

Battery

and a Simple, Single-Fuel-Source Comfort System
The heart of Rangeline's camping experience is the 270-amp-hour lithium battery that comes standard and enables off-grid stays that bring you closer to the adventure. For simplicity and ease of use, a hydronic heating and hot water system delivers on-demand hot water and interior heat — all powered by the gasoline in the fuel tank. Likewise, the 2.8 kW generator also draws fuel from the vehicle's gas tank, keeping everything charged and allowing for operation of the air conditioner when away from shore power.
An Optional Pop-Top Expands
Rangeline's
Living and Sleeping Area
In its standard configuration, Rangeline has belted seating for four passengers and sleeping space for two. The optional roof-mounted pop-top expands the sleeping capacity to four, making room for the whole family to join the adventure. But the pop-top is about more than simply expanding the sleeping space. The pop-top adds additional living space where you can take a nap, read, journal, or bed down for the night. Configuring your model with the optional rooftop space means couples and solo travelers can leave the rear bed in its folded, stowed position, simplifying the experience and dedicating that area to gear storage and space to spread out. The pop-top can even serve as additional storage space for stowing smaller gear while you're camped. Simply put, the pop-top is a game changing addition that Rangeline owners will love.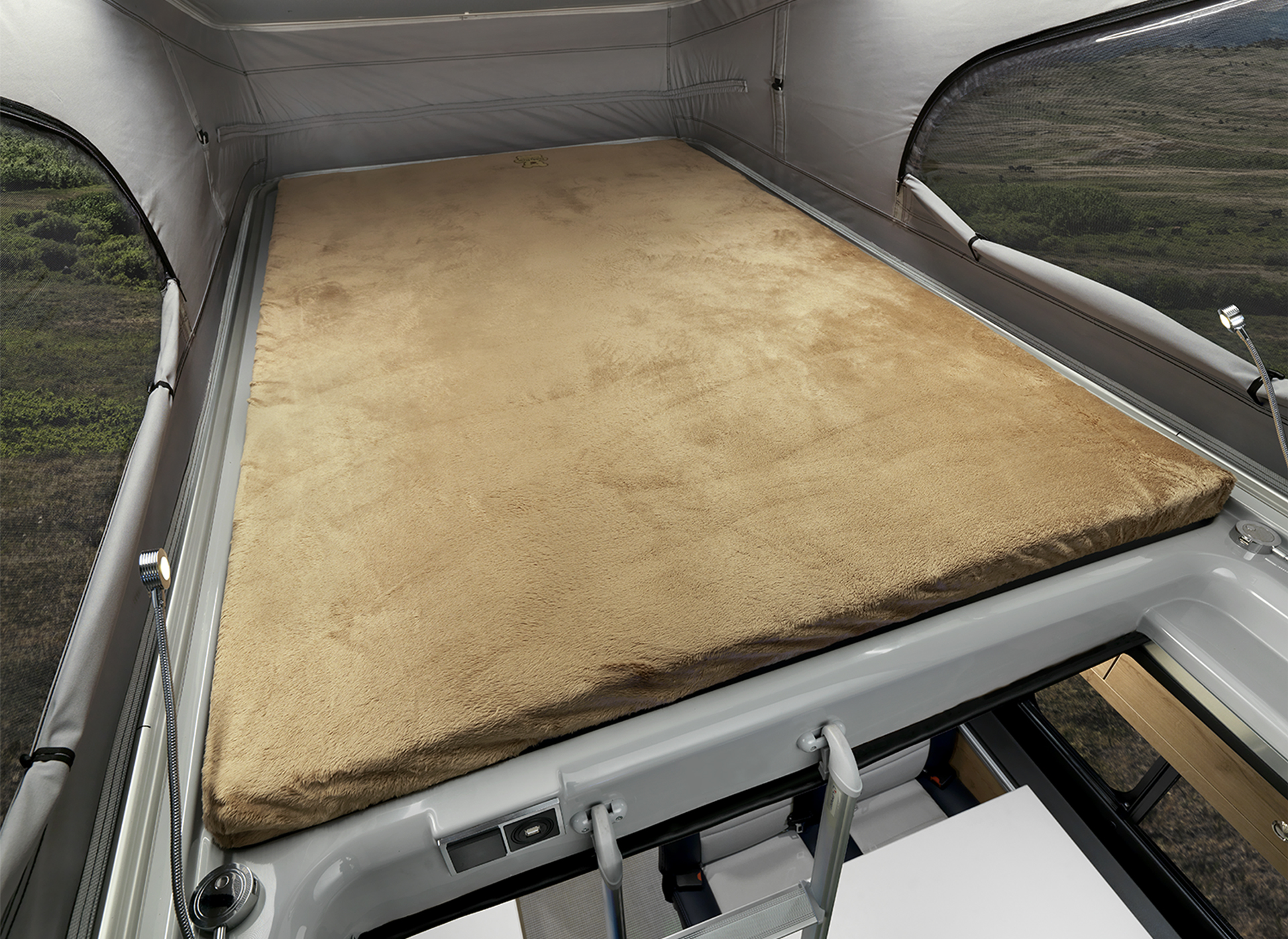 Durable Design and

Highly-Capable

Performance on the RAM

ProMaster®

Chassis
Rangeline is the first Airstream touring coach built on the RAM ProMaster® 3500 chassis. Featuring a fuel-efficient 3.6L Pentastar® V6 engine with 276 horsepower and a TorqueFlite® nine-speed automatic transmission, it's ready for long road trips, the scenic route up into the mountains, or a run to the beach. The front-wheel drive system provides excellent traction in nearly all conditions, while the low floor height makes loading and unloading easy. Standard RV hookups for sewer and 30-amp electric are tucked below the vehicle, while water hookups are concealed behind the sleek automotive exterior design, which also features a painted black grille.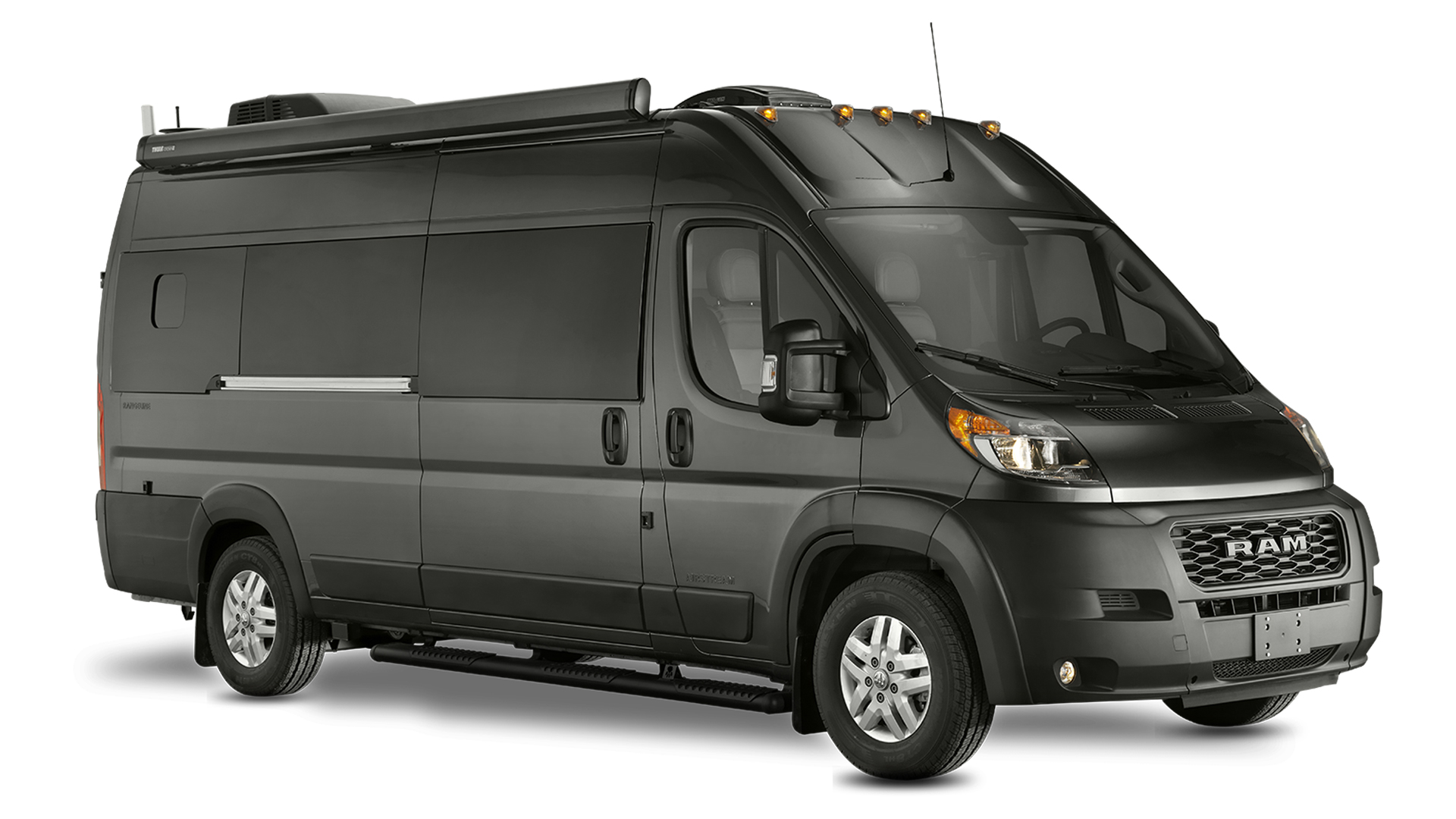 Safety, Security, and Peace of Mind Let You Focus on the Journey
Airstream chose the RAM chassis not only for its durability and reliability but also for the numerous safety and security features that help keep drivers safe and the nimble size that makes navigation a breeze. Get behind the wheel and you'll instantly find an exceptional driving experience. Throughout the well-equipped chassis, safety features provide drivers with all-encompassing awareness and navigational information that lets you enjoy the journey as much as the destination.
Numerous comfort and safety features come standard, including a digital rearview mirror, blind spot monitoring, rear cross path detection to help avoid accidents while backing up, and intelligent instrument display options that keep you informed on driving conditions. Front, side, and side curtain air bags keep all passengers protected, drowsy driver detection alerts the pilot when they should take a break, and the electronic parking brake ensures safe vehicle departure with the tap of a button. View the full list of specifications here.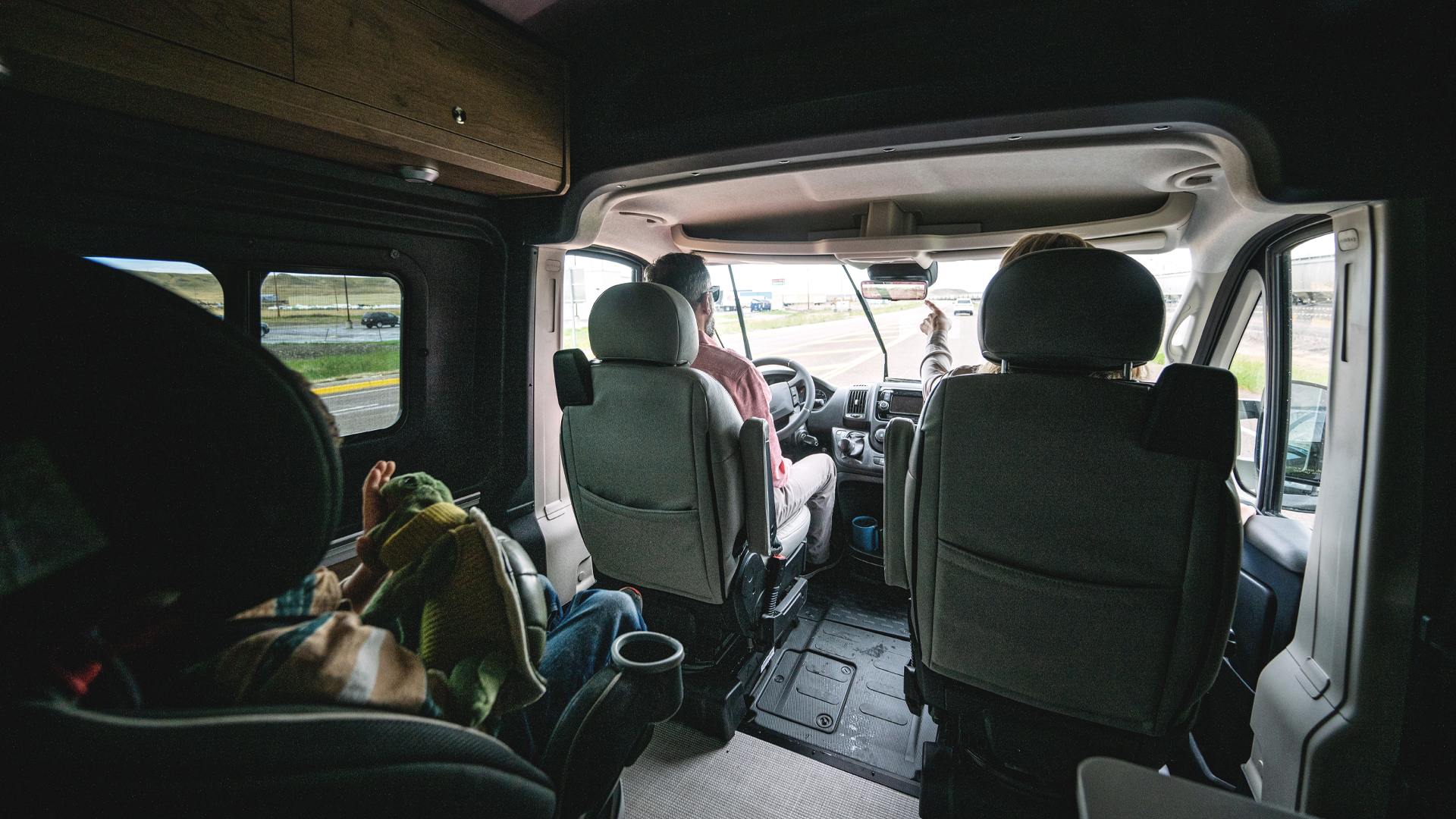 And for added comfort and road-noise mitigation, an environmentally safe spray-on insulation throughout the chassis dampens vibration and sound and prevents moisture or condensation from gathering when camping.
The Perfect Size for Ultimate
Flexibility
At 21 feet, Rangeline sits in a travel sweet spot: Enough space to bring along the comforts of home but nimble enough to easily maneuver through parking lots, down backroads, and into driveways. Whether you're sliding into a parking spot to grab supplies for the trip, heading up the hill to catch first chair at the ski slope, or maneuvering your mobile guest accommodations into a driveway for a weekend of fun with friends and family, Rangeline sits in the RV Goldilocks Zone: Just right for any road adventure you can imagine.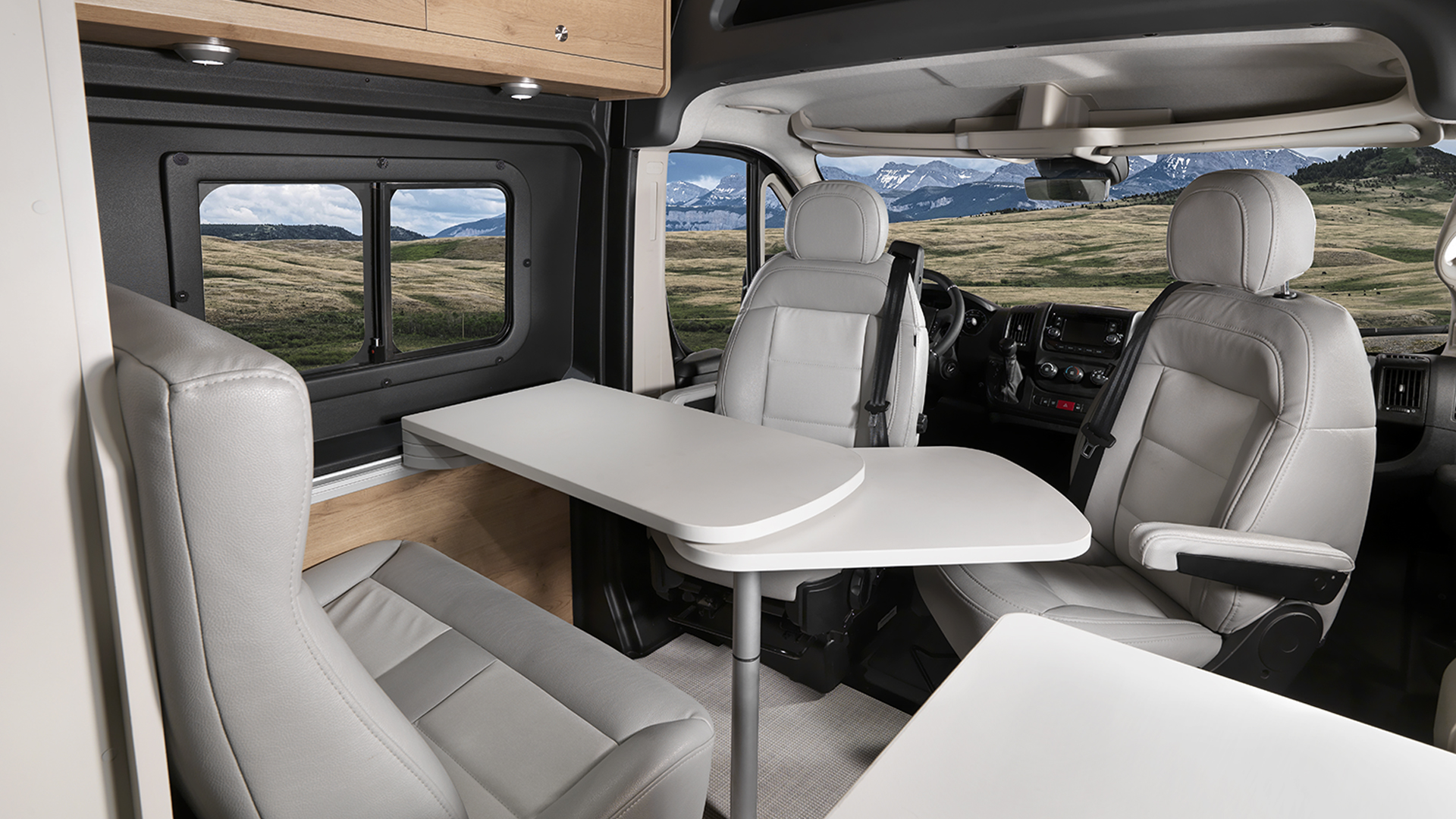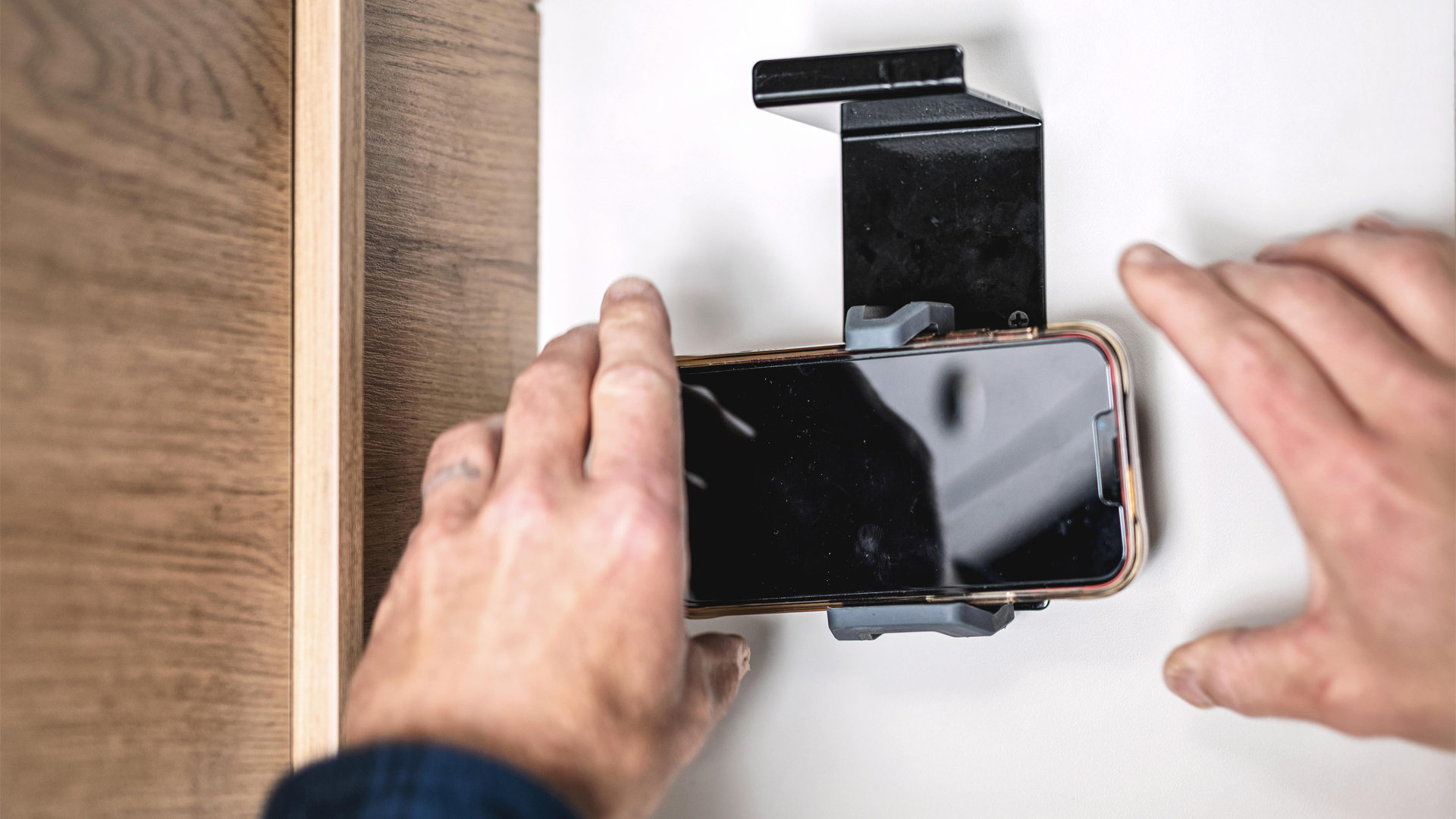 Beyond safety, drivers will find cockpit features that elevate the driving experience. Two captain's chairs with 6-way adjustment and 2-way lumbar support let the driver and passenger ride in comfort. A phone shelf allows for easy wireless charging of mobile devices while rain-sensitive windshield wipers automatically adjust speed based on windshield moisture levels. And because no road trip is complete without the perfect playlist (and route planning to get you from point A to B) the 10-inch U-connect® touchscreen features voice command ability and Apple and Android compatibility for streaming music, GPS navigation, and more.
European-Inspired Interior Design
Step through Rangeline's sliding door and you'll find an expansive interior with soft wood tones and elegant lines inspired by the very best of European RV design. Flexible storage and multi-use functionality are key components to a comfortable, efficient use of space, and Rangeline decidedly delivers on all levels.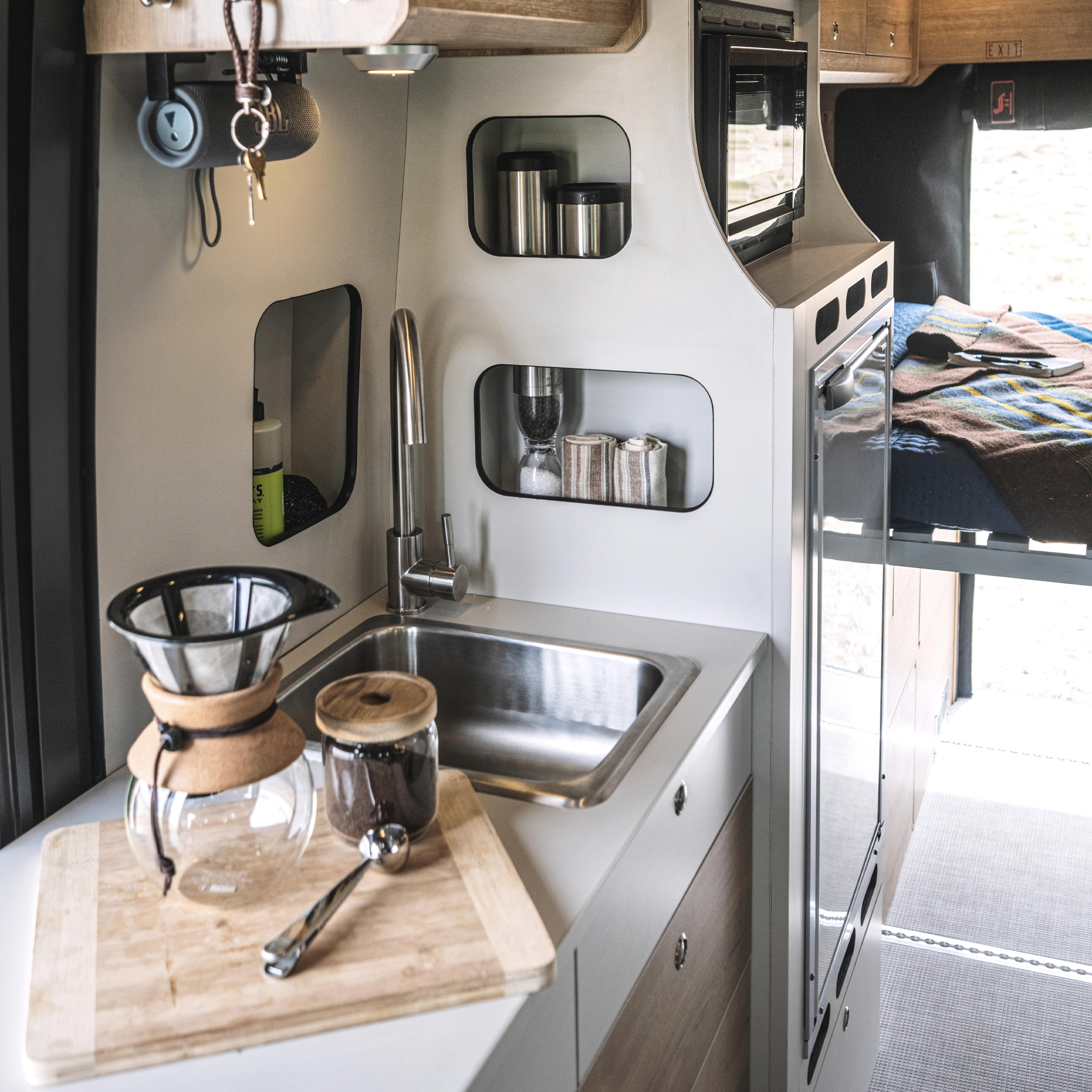 A Flexible, Expandable, Removable Table System
Just inside the door and directly behind the cockpit you'll find a dynamic living space, with a flex table system that expands for family meals or for a wide workspace. The removable table swivels and slides, making room for passengers, car seats, or simply more space for gear. The captain's chairs up front swivel to face the bench seating across the table, where passengers will find belted positions for two and child safety anchors for exceptional safety. Behind and below the bench are convenient storage spaces, and a power outlet near the table provides additional USB outlets for keeping devices charged. Overhead, two 180-degree swivel LED lights illuminate the space whether you're reading, eating, or working.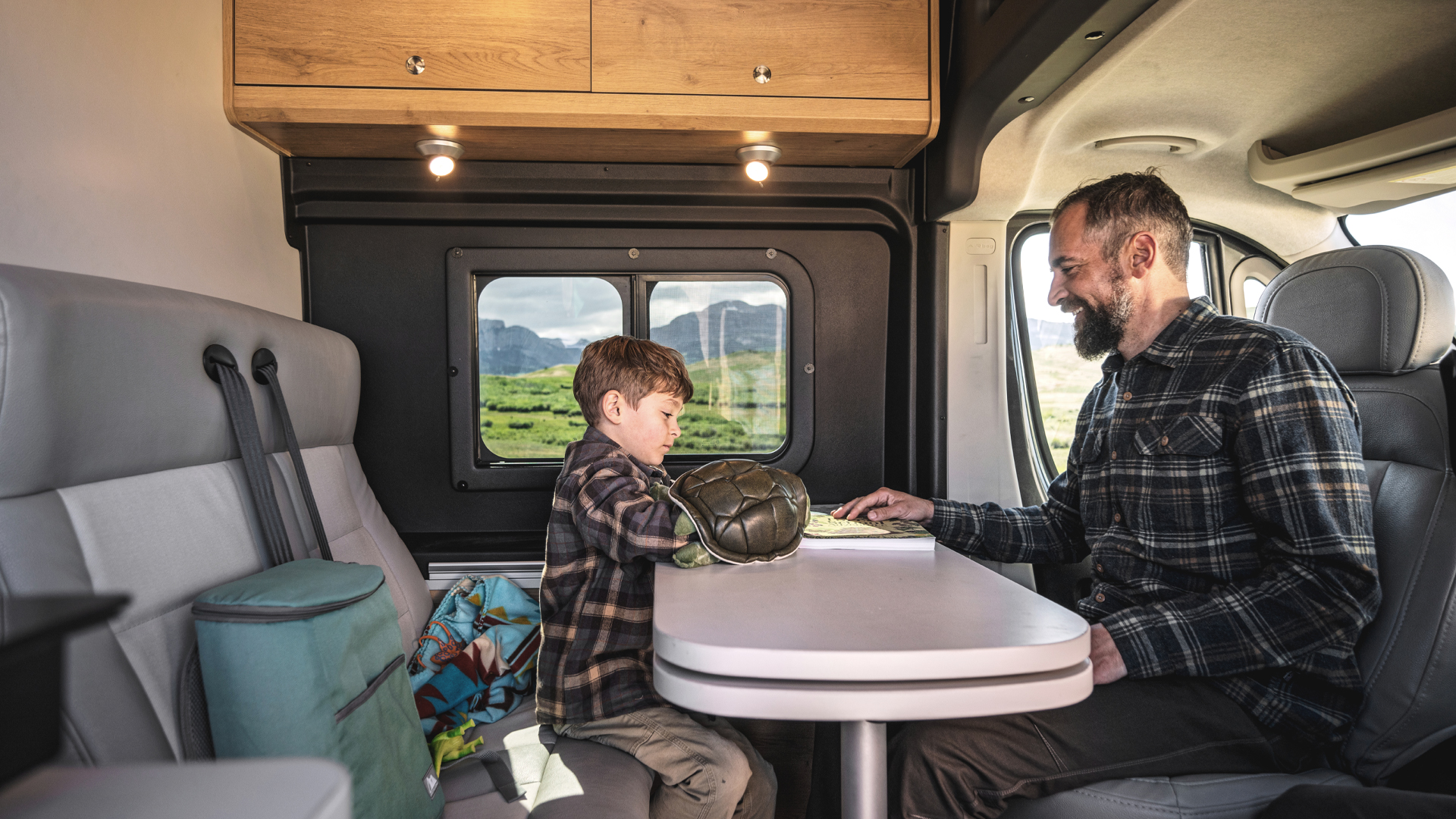 Galley and Bathroom
Across the hallway from the seating area is the galley, featuring an all-electric refrigerator, a stowable electric stovetop, sink, microwave, and ample storage inside soft-close drawers. These features deliver one of the most important elements we hear from owners about their Airstream experience – the convenience and functionality that make road travel a joy and ensure the journey is as incredible as the destination. Pit stops become more efficient with a well-thought-out food prep area that's conducive to both on-the-go snacks and family meals. Keep healthy road trip snacks close at hand in the 3.2 cubic-foot fridge (including a .4 cubic foot freezer) and quickly heat up meals in the convenient microwave. The stowable electric stovetop hides away when you need prep space on the counter and comes out when you're ready to heat water for a pour-over cup of coffee. And the soft-close storage areas feature locking mechanisms to ensure everything in your pantry stays in place while rolling down the highway.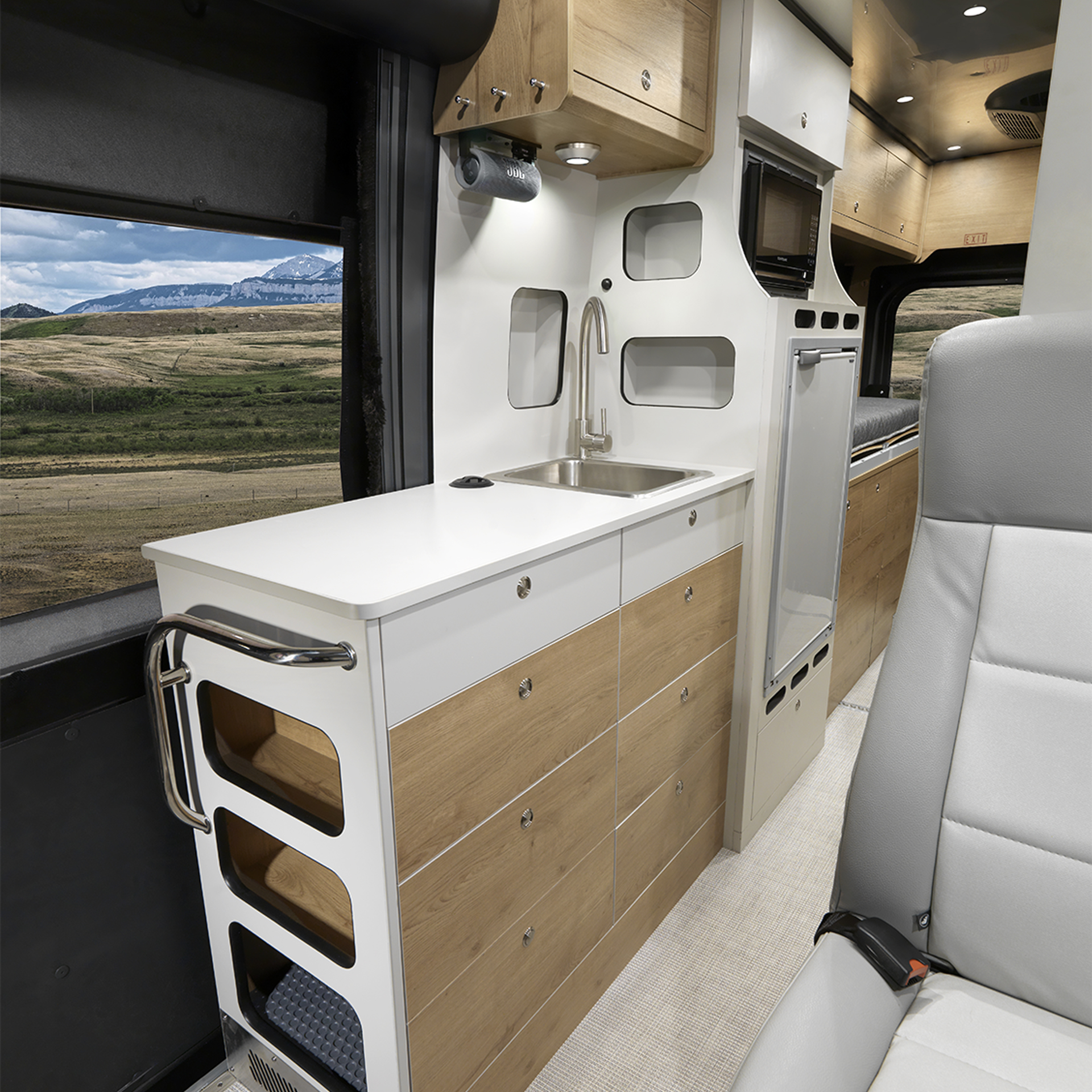 Rest and Recharge for Tomorrow's Adventure
When it's time to rest after a long day of hiking, cycling, kayaking, or whatever your excursion requires, Rangeline's clever bed system lets you recharge for tomorrow. The versatile, elevated bed design sleeps up to two people while allowing for a generous "garage" space below for storing gear. When not in use, the bed area folds away to make room for larger gear like bikes, fishing poles, kayaks, or luggage – all safely secured by the ingenious L-track storage system embedded in the floor. The optional roof-mounted pop-top provides an additional sleeping area for two more people, making room for the whole family to come along.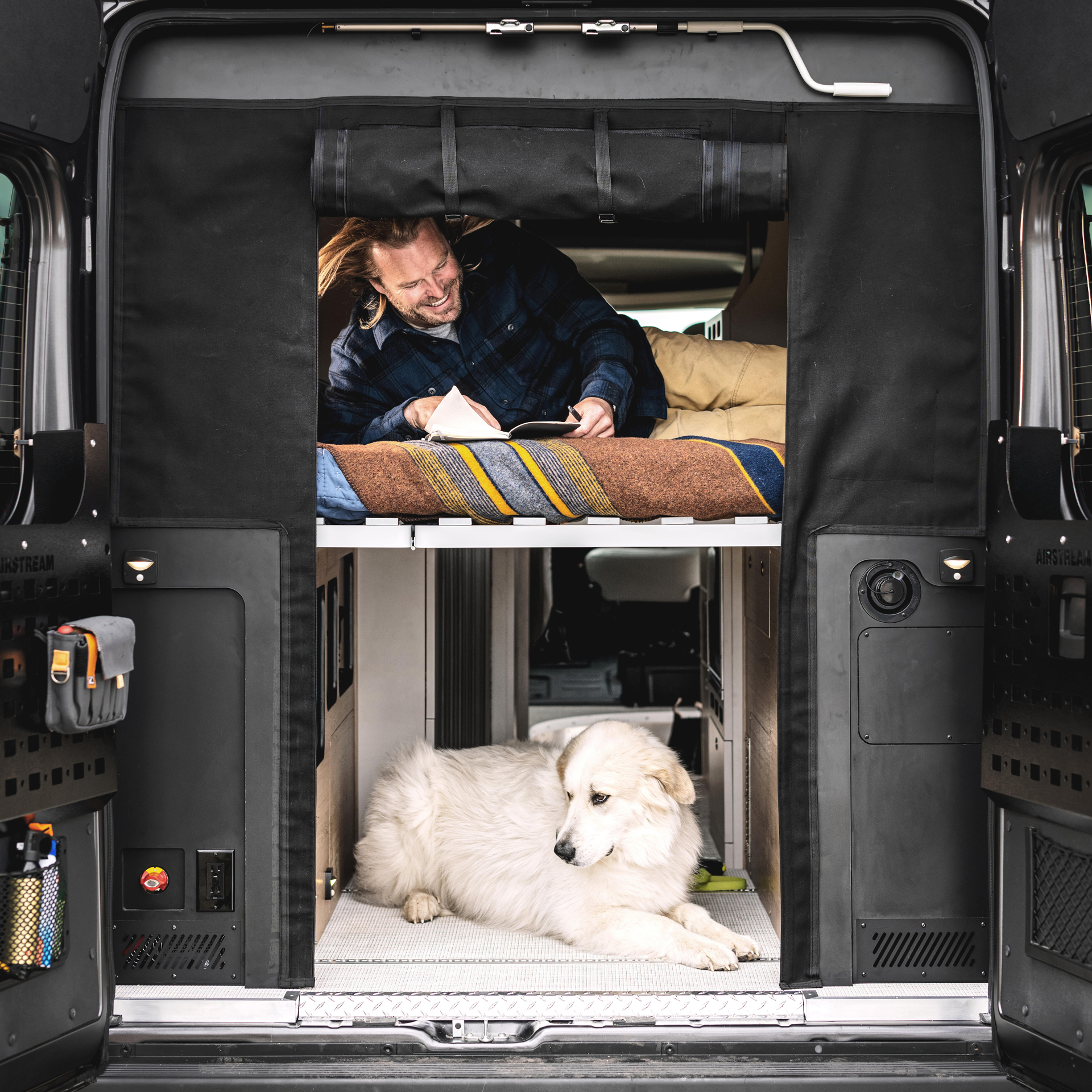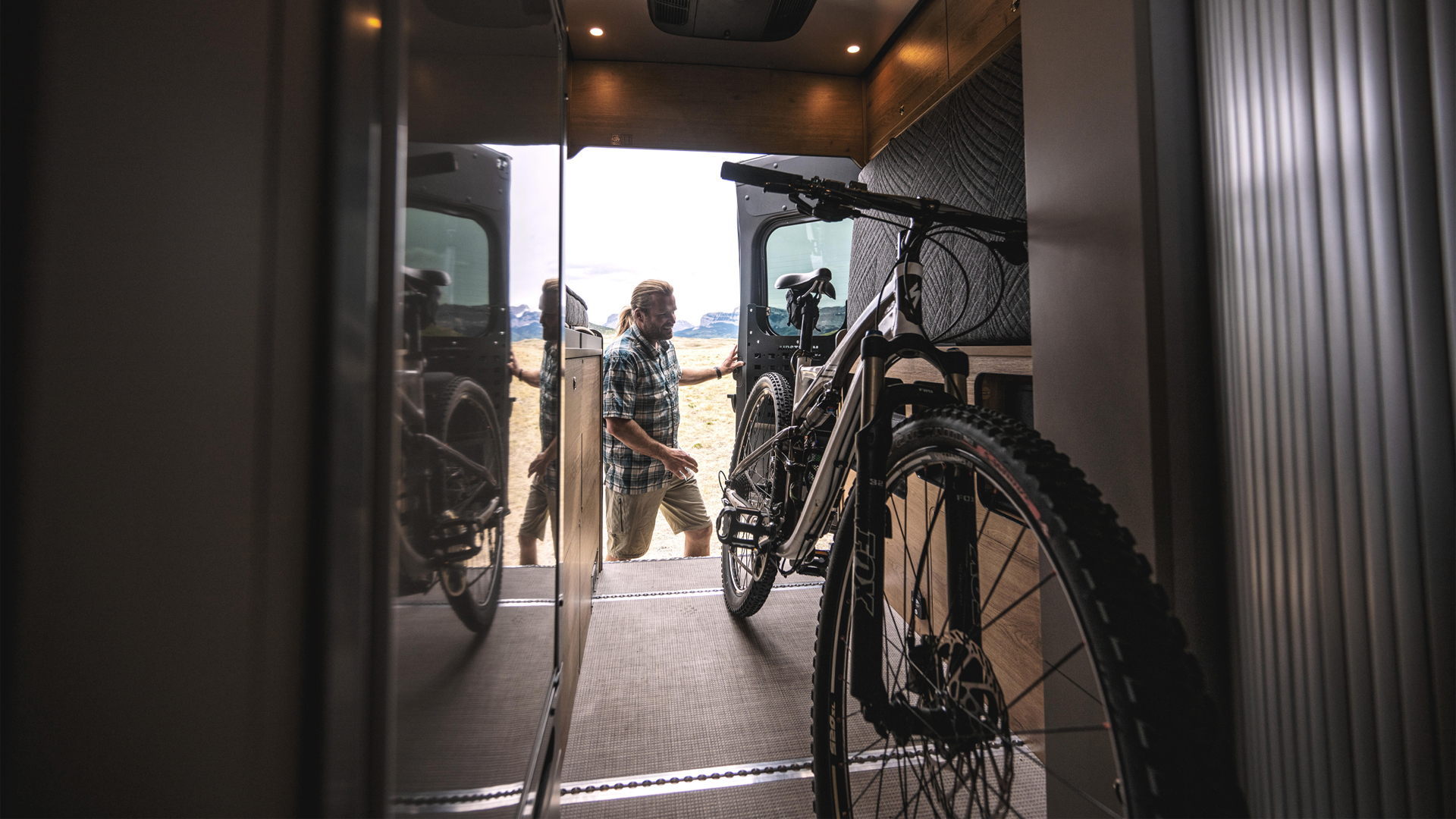 Gear Storage Galore and a Versatile MOLLE System
After more than 90 years building the most iconic recreational vehicles and continually improving the use of space inside, we'd like to think we understand a little bit about what owners want out of their travel experience. That's why our design team incorporated a variety of super-functional elements that make travel life easier and give you the freedom to focus on the moment.
Innovative Storage for Your Gear
Modular Lightweight Load-carrying Equipment (MOLLE) panels are incorporated into the rear doors. These versatile storage devices allow for easy stowing and even easier access to your gear. Whether it's climbing harnesses, bike tools, backpacks, or snowshoes, this functionality is a thing of beauty for those accustomed to throwing everything in the trunk before hitting the road. Like all the design choices that went into creating this flexible, functional van, Rangeline makes planning and loading preparations easy so you can focus on the road ahead.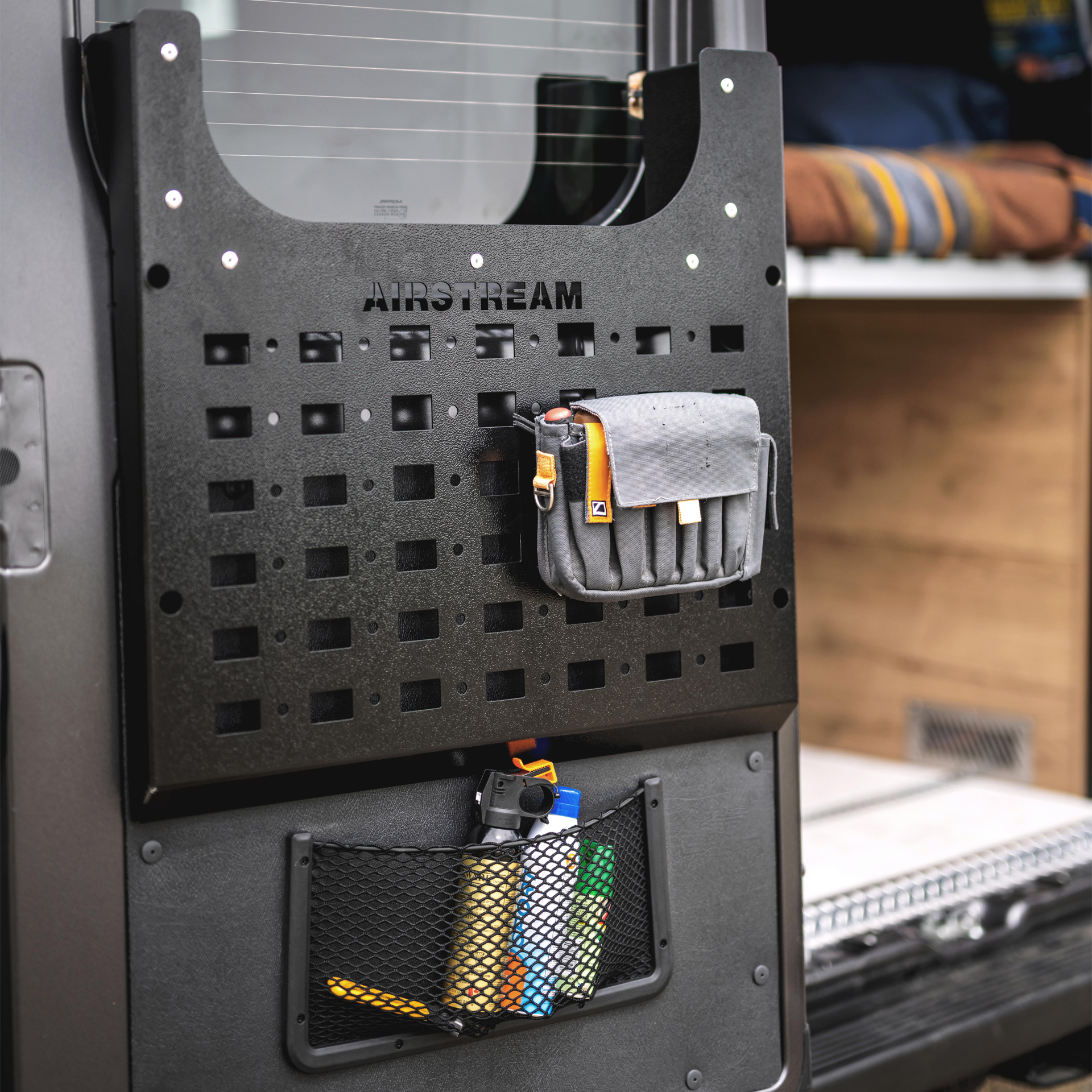 Bring Along Your Furry Friends
To the delight of pet owners – and their four-legged friends who come along for the ride – we've built in several inventive features that are as convenient as they are clever. On the road side running bar you'll find a built-in pet leash attachment that keeps Fido close while you're enjoying outdoor moments under the awning. And inside you'll find a pull-out drawer that includes removable pet bowls that slide out of sight when mealtime is over.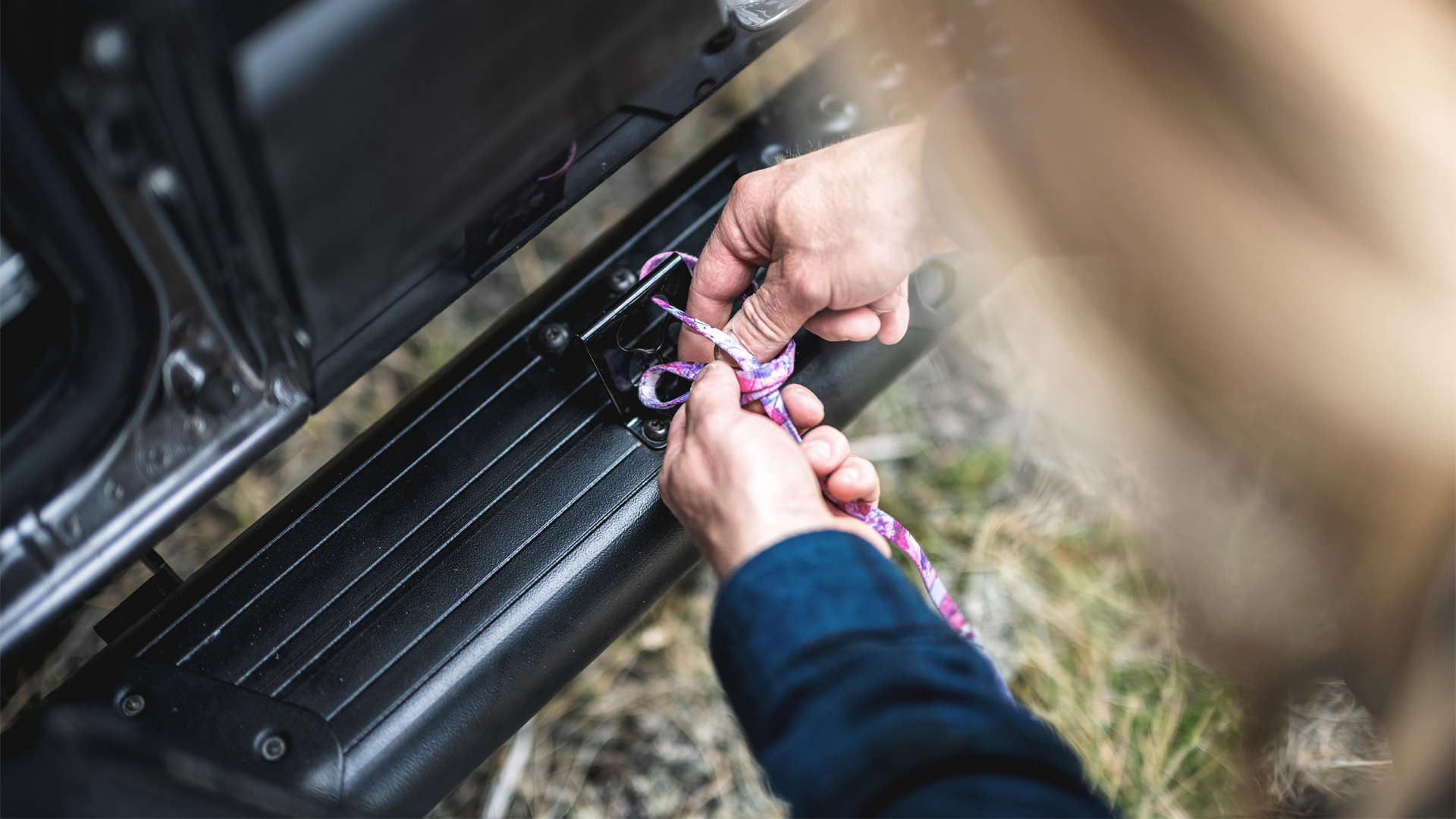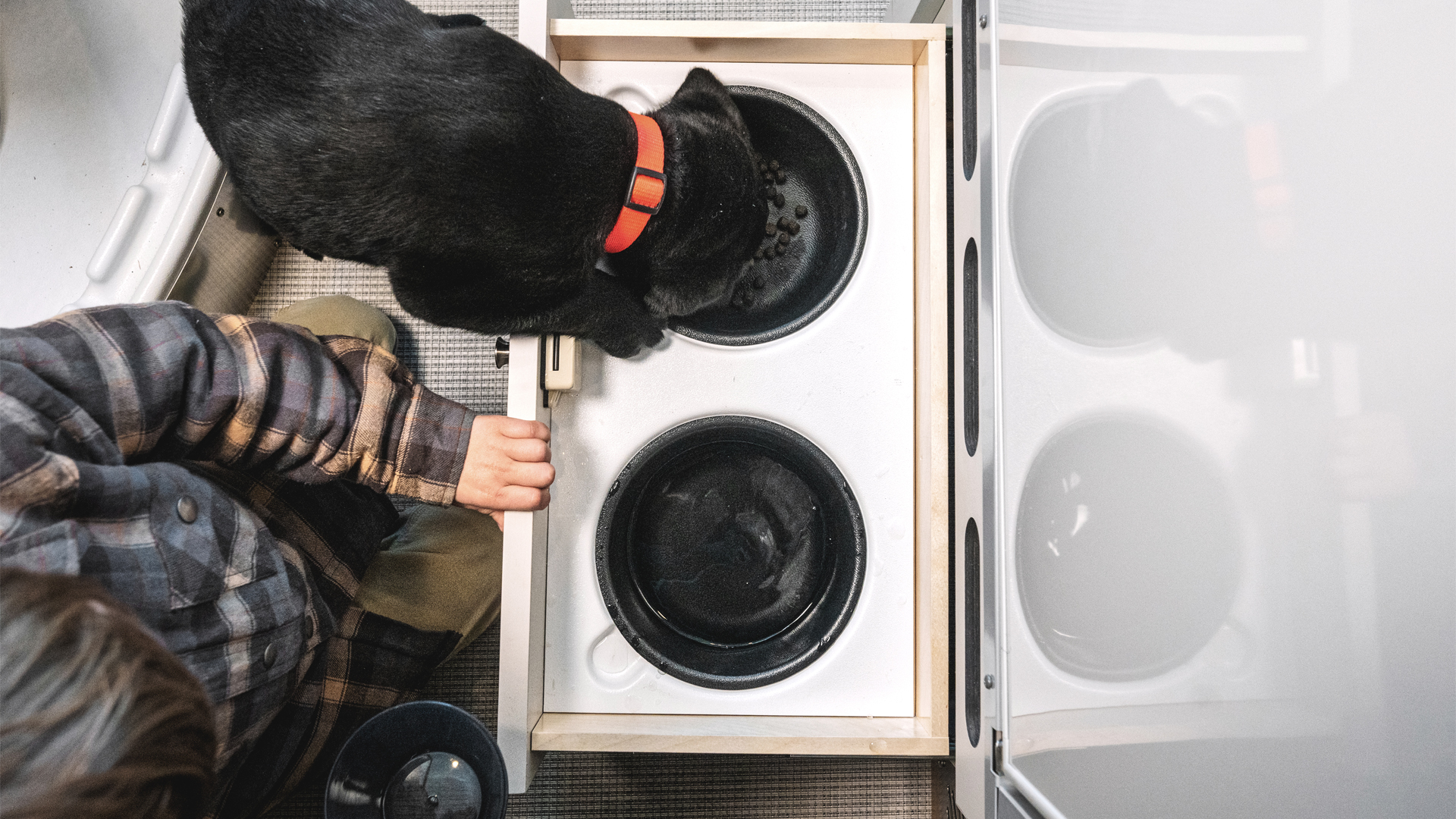 Built for a New Travel Reality
With numerous functional features and comprehensive comfort amenities, Rangeline delivers everything you need to hit the road with confidence – and travel in comfort and style. If you're ready to stake your claim on the new frontier of travel, watch the walkthrough video with VP of Sales, Justin Humphreys and visit your local Airstream dealership to see Rangeline up close.