Interstate 19X
Starting at $199,940
Bench Seating & Bed
The flexible living and sleeping space can accommodate all types of adventures. Bring several people along for the ride, load it up with gear, host a tailgate party, or convert it into one of several configurations to fit your needs.
Captain's Chairs
The driver and passenger seats from the cab of the Sprinter RV swivel around to face the interior space, and offer two more seats for hanging out or entertaining inside.
L-Tracks
Effortlessly load up bikes, kayaks, fishing gear, and more, ensuring everything stays securely in place with the L-Track system.
Kitchen
The kitchen has everything you need to prepare a delicious meal. A microwave, 2-burner stovetop, sink, and plenty of storage. Plus, the efficient all-electric refrigerator is quick to cool and keeps your food fresh.
Wet Bath
The entire European-style bathroom is designed to get wet, with a shower, toilet, and sink all in one efficient, versatile space. Plus, extras like a waterproof toilet paper cover and a clothesline make all the difference.
Capability to Go, Flexibility to Stay
Driven by the growing love for off-grid-capable motorhomes and the adventure lifestyle, with the ability to bring along gear (like bikes, kayaks, snowboards, and more), Airstream added to its Class B adventure van offering with the Interstate 19X. Built on the same Mercedes-Benz® chassis as its big brother (Interstate 24X), the Interstate 19X hits the road fueled by power and performance – and nine decades of adventure expertise. The Interstate 19X is an easy to drive, nimble adventure-ready Airstream van that considers even the finest details.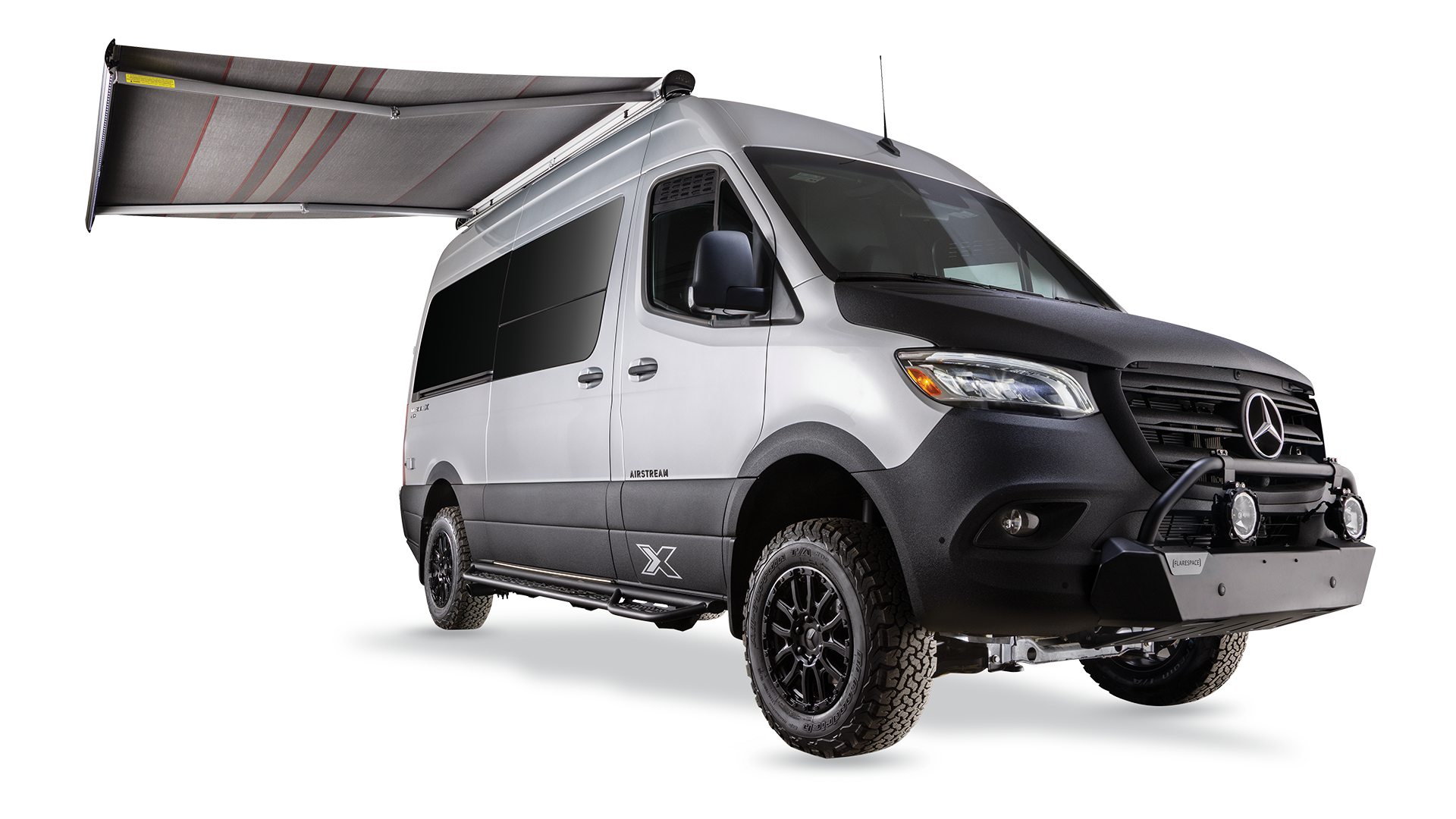 Best-in-Class Comes Standard
Airstream and Mercedes-Benz® are two brands who never compromise. That's what makes our partnership so seamless. It's also why we build more than 50 best-in-class features into every single touring coach – as the standard, not the upgrade. We include every Mercedes-Benz safety and performance feature, and add our own proven convenience, design, and luxury features from 80+ years of RV experience. We know every single choice makes a difference in helping people have a life-changing travel experience. And that will always be our first priority.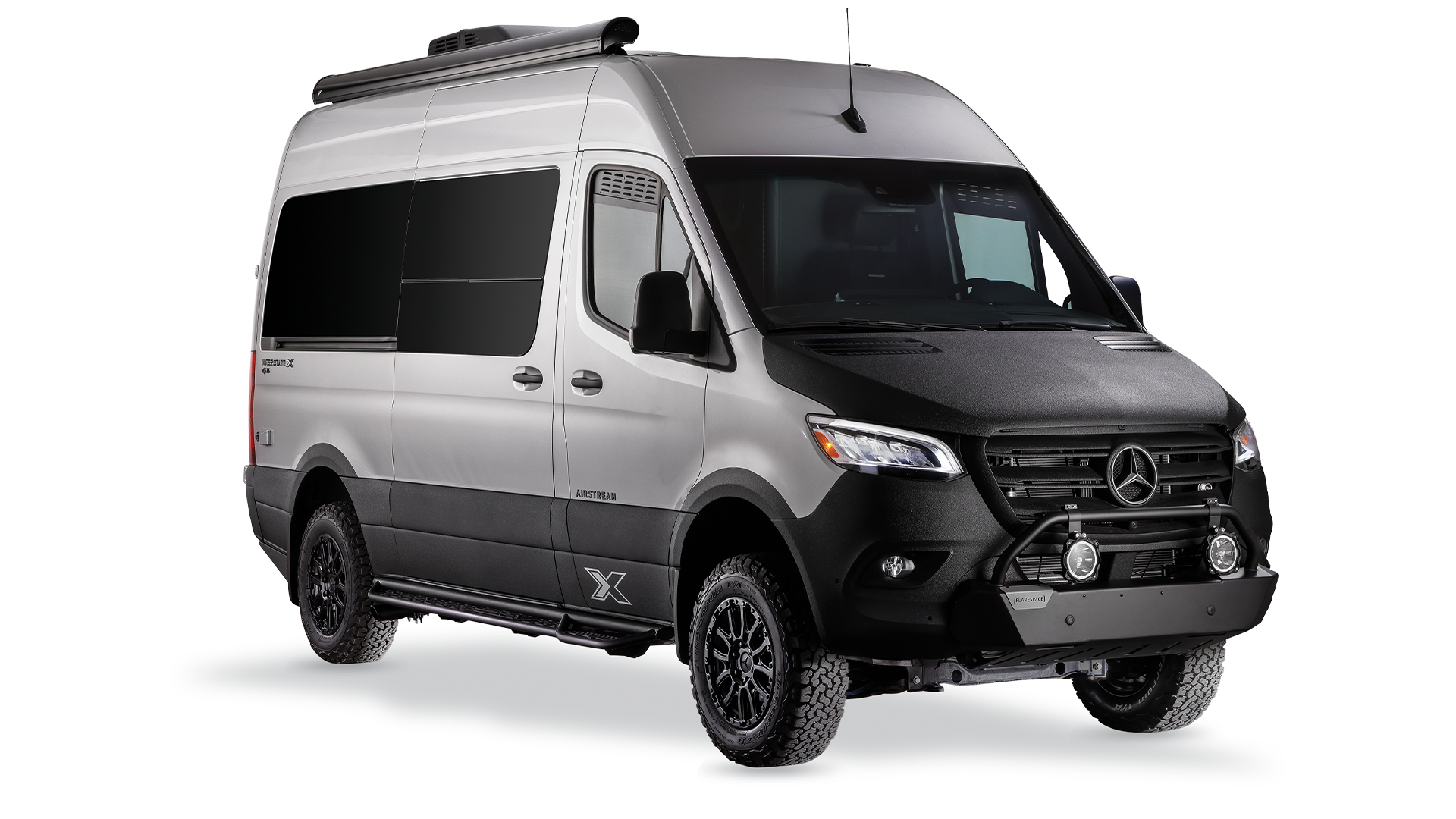 The Interstate 19X Floor Plan's Unique Features
What sets the Airstream Interstate 19X's floor plan apart is the flexibility of the cabin. The large seating areas combined with multiple table mounts make for the perfect gathering space for a meal or even a meeting and then convert to the largest bed in its class. The addition of aluminum aircraft L-tracks on the floor and walls gives you ample ways to store the camping and adventure gear you need in conjunction with expansive storage space under the bench seating and in the open upper storage racks. The impressive split galley and countertop allow the most demanding cooks plenty of room for meal prep, with a large fridge, microwave, and induction cooktop that stows away when not in use.
The Interstate 19X Floor Plan is a Great Fit For:
Solo explorers or outdoor-loving couples who also want to bring along all the gear they enjoy will find the Interstate 19X the perfect blend of best-in-class and adventure features in a smaller footprint than our 24-foot offering. If you feel more at home off the beaten path than on it, then the Airstream Interstate 19X Touring Coach is your passport to adventure.