It's a design enthusiast's dream. From its crisp, clean lines to its delicate neutral colors – the Globetrotter Travel Trailer is the epitome of modern style. The interior draws influences from all across Europe, and the exterior is the ever head-turning aerodynamic aluminum shell that's made Airstream an American icon. It's the perfect statement-making complement to any unforgettable adventure.
Choose your floor plan
The Globetrotter comes in four spacious floor plans. Choose between a queen bed or twin beds in the front of the travel trailer.


Globetrotter Spotlight Video
Take a closer look at the Globetrotter, both inside and out. See the design choices, technology, and modern appliances that make the Globetrotter feel like it was made just for you.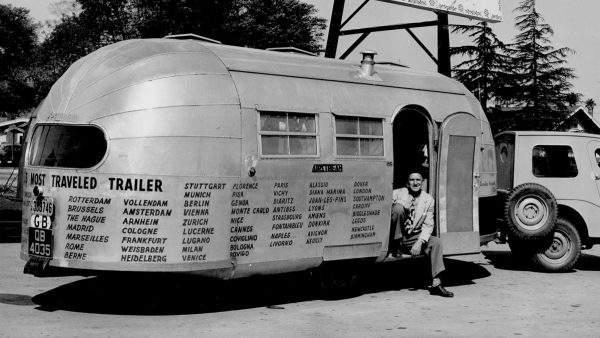 A modern revival of a 1960s Airstream favorite
In 1948, our founder, Wally Byam, and his friend Cornelius Vanderbilt painted the words "Globe Trotters" on the side of their Airstream and headed for Europe, which inspired the original line of Globetrotter Travel Trailers in the 1950s. Today's Globetrotter captures the spirit of adventure and the tradition of European design, all in a travel trailer that's built entirely here in Jackson Center, Ohio, USA.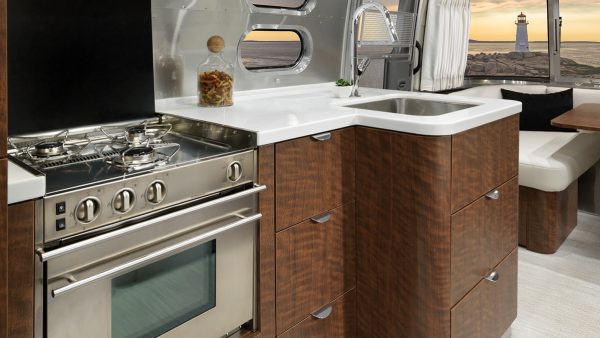 Modern fixtures and appliances
The kitchen makes an impression as soon as you step inside the Globetrotter. High-end, stainless steel appliances feel like home and inspire you to make something amazing, and a Franke faucet fits perfectly into the modern design.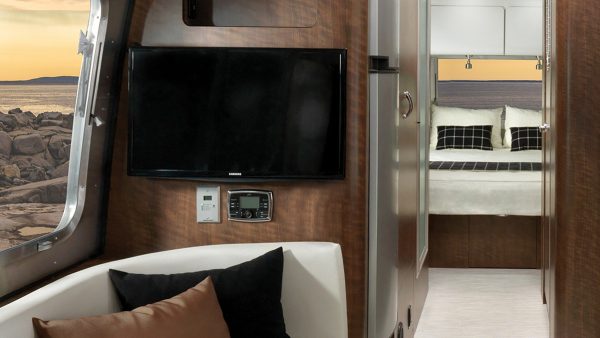 Entertainment in every room
With the Globetrotter, the great indoors is just as entertaining as your outdoor adventures. The Polk® audio system speakers blend seamlessly into the upper locker design, yet project sound throughout the trailer. Samsung® LED HDTVs are mounted in both the lounge and the bedroom, and a Blu-Ray™ player is on board for movie nights.
Polk Factory-tuned Stereo
Bluetooth®, Satellite, CD, and AM/FM
European Franke Faucets
In the kitchen and bathroom
HITCH™ Woven Seating
Supple and soft, yet durable and strong
Handcrafted Cabinetry
Keeps clutter out of sight
Quietstream™ Climate Control
Quickly and quietly cools the cabin
USB and 110V Outlets
Charge devices and use appliances with ease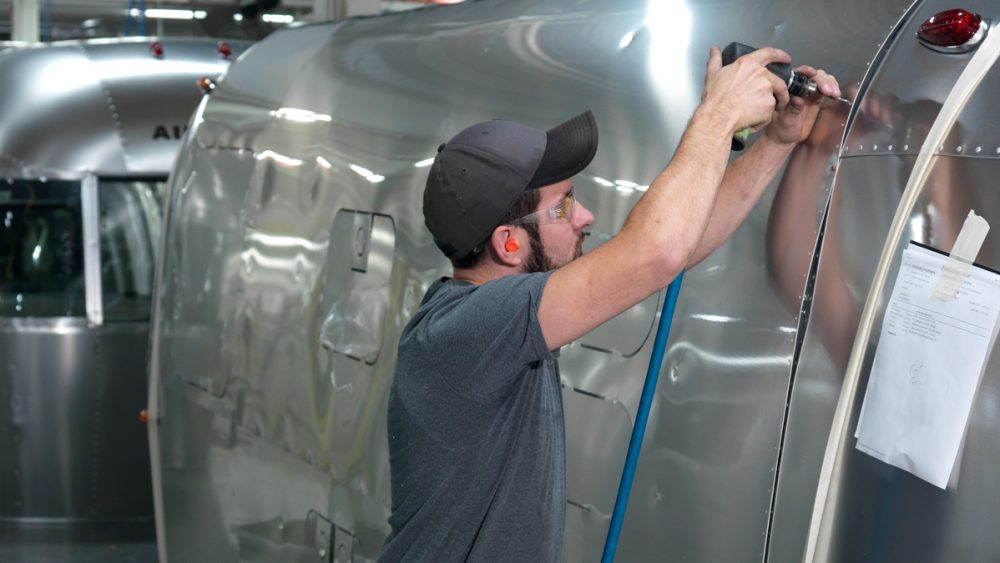 Quality that lasts for generations
Airstream travel trailers from the 1930s are still on the road today. How? Because we build our products the right way – not the easy way.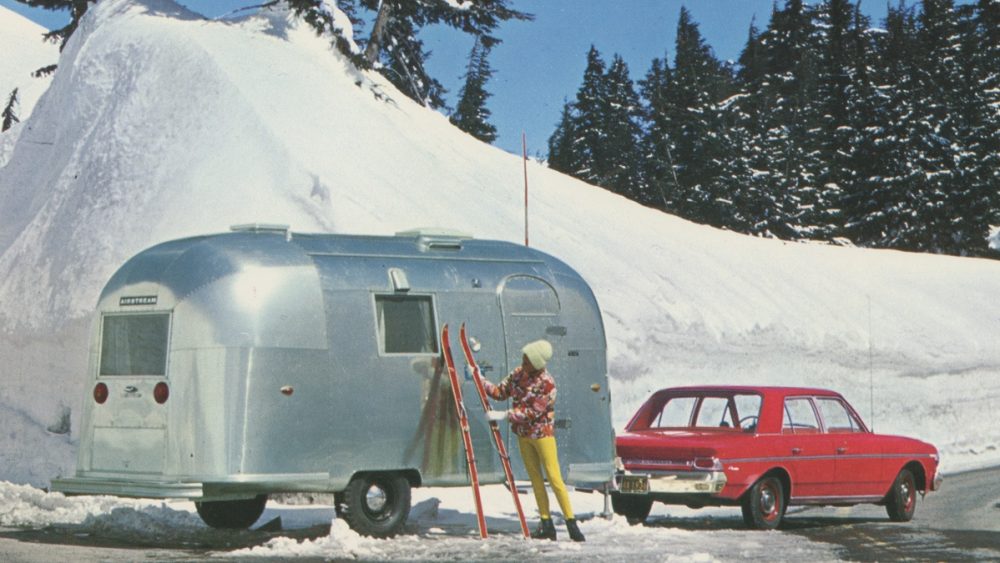 Timeless modern design
Airstream travel trailers have long been an icon of clean, streamlined design that turns heads on the highway.
The Love of Airstream: Hear Airstream CEO Bob Wheeler talk about why people fall in love with Airstream travel trailers
Airstream Comfort: CEO Bob Wheeler talks about how our travel trailers help you re-energize for the next adventure
Luxurious Design: Bob Wheeler talks about the high-end, quality choices that go into each Airstream travel trailer
Environmental Consciousness: Bob Wheeler talks about the ways we conserve resources in our factory and beyond