Pottery Barn® Special Edition 28RB
Starting at $168,700
Lavy
The toilet and the vanity live together in a half-bath with a shower across the hall. The Pottery Barn-inspired bowl sink and matte black faucet are complemented by wall sconces.
Kitchen
You'll feel always home in the residential-style kitchen, where a stainless steel apron sink, black pull-down faucet, and a cutting board sink cover give you plenty of room to prep the perfect meal. Upper and lower cabinets in the kitchen area let you store dishes, pots, pans, and food.
Dinette
The oak hardwood dinette adjusts to create the perfect place for catching up on emails, enjoying a meal, or setting up an extra bed so you and your guests can relax for whatever adventure tomorrow brings.
Queen or Twin Beds
Sink into a luxurious and comfortable queen or twin bed, complete with custom Pottery Barn bedding and pillows. Mood-setting lighting and overhead roof locker storage make the space as functional as it is gorgeous.
Storage
There's room for everything your travel requires. Airstream's iconic design and expert use of space means convenient storage in the side tables, overhead, under the bed, and in the closet. Custom Pottery Barn soft-sided storage solutions make it easy to keep things organized.
Sofa
Recline in the luxurious comfort of a sofa inspired by Pottery Barn's best-selling Big Sur furniture line. Hidden in the armrest is a delightful airline-style flip-up table.
Feels Like Home.
Comfortable, connected, and capable of letting you travel anywhere while feeling like you're "always home," the new Airstream Pottery Barn Special Edition Travel Trailer is outfitted with all the beautiful furnishings and cozy details you'd expect from Pottery Barn. Combining over 160 years of design expertise, the partnership brings together two iconic brands with one goal: To redefine what it means to travel in comfort and style.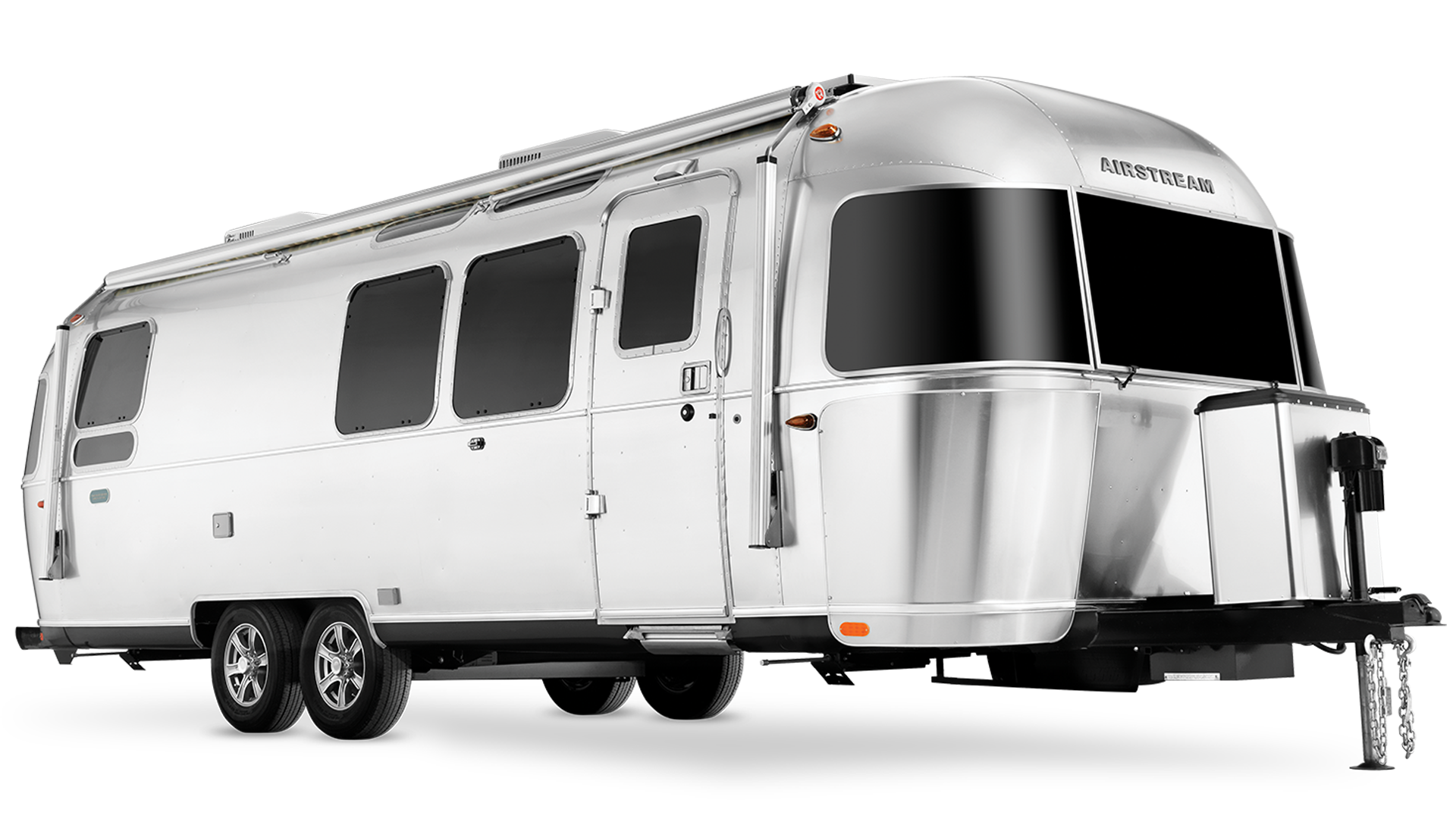 Airstream Amenities and Timeless Pottery Barn Style
With a spacious galley, intimate dining area, dedicated space for sleeping, relaxing, living, and working, and a gorgeous onboard bathroom, the new 28-foot Airstream Travel Trailer is finished with hardware, soft goods, fixtures, and other surprising touches crafted with Pottery Barn's design expertise. Every detail has been considered, from the custom-made sofa and seating in performance boucle fabric – with some of the most comfortable cushions ever to grace an Airstream – to window coverings made with Pottery Barn's oatmeal linen Emery Curtain fabric.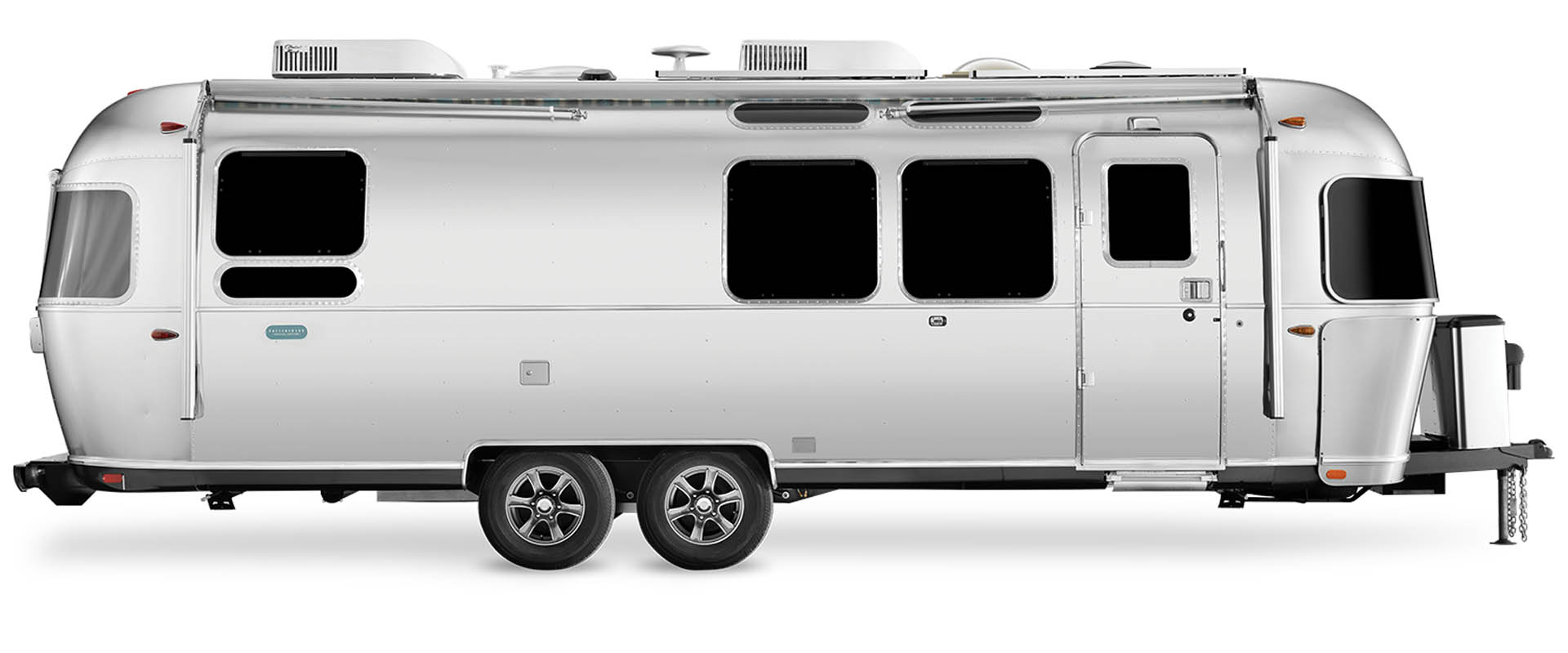 Innovative Technology for the Modern Travel Life
At the heart of the new travel trailer is the full complement of Airstream's innovative technology solutions – improvements and amenities that take the Pottery Barn Special Edition Travel Trailer one step closer to the future of travel. Airstream Smart Control Technology lets you monitor and control primary onboard features like the awning, lights, thermostat, and more from your smartphone while powered stabilizers and a powered awning allow you to set up your campsite quickly and start your adventure – whether that's relaxing in a camp chair or hitting the trail. The result is a travel trailer made for the modern era, where work, play, life, and learning blend at home and on the road.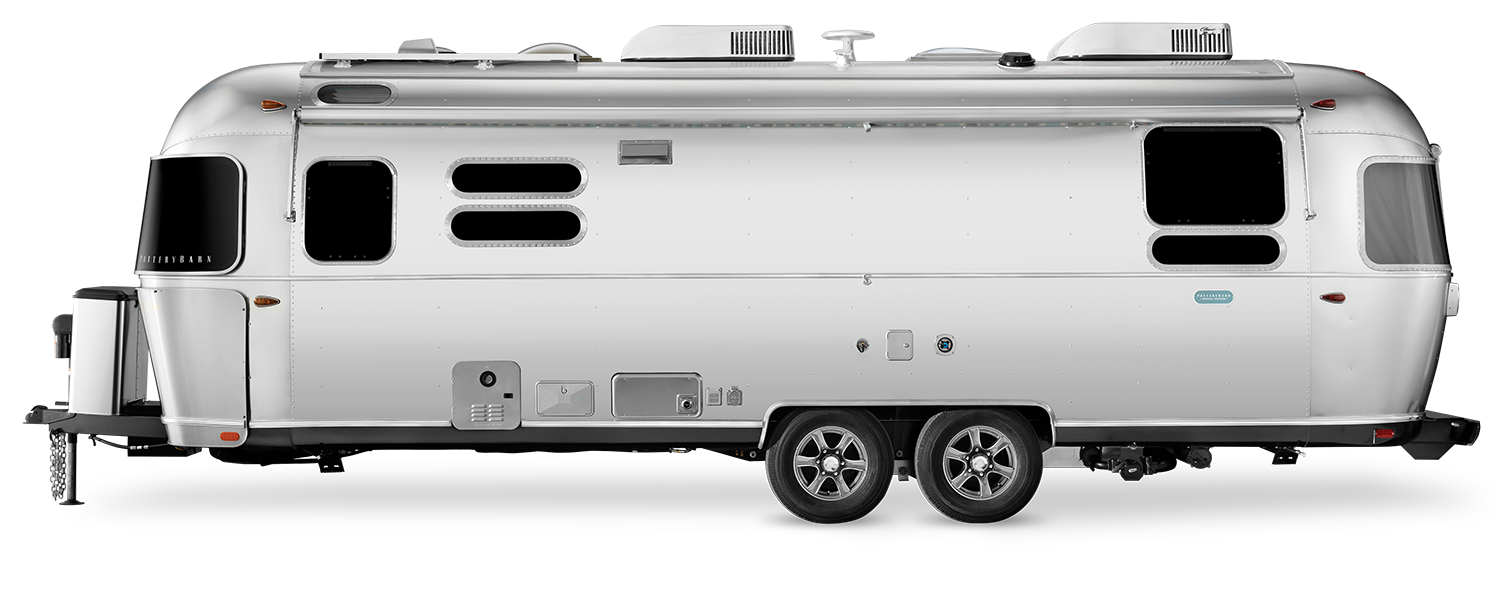 Choose a Twin Mattress Bedroom Configuration
By opting for the twin bed configuration, the center aisle is completely opened up — creating more physical moving space throughout the interior. Twin beds also create the illusion that the floor plan looks much longer. With a few pillows and blankets, the separate beds can also function as day beds or lounges while watching TV or enjoying a book. Wondering if you might be too tall for the 75" queen bed? With the twin mattress measuring 5" longer than the queen, it may be a great option for you or other campers.