It started with an entrepreneur. Robert Johans saw an opportunity to do something exciting with fiberglass. He had a concept, and a design styled by expert automotive designer Bryan Thompson. He had the prototypes. And he had ten years of experience renovating fiberglass travel trailers.
All he needed was a partner.  
For Robert, teaming up with Airstream was a natural fit. He saw the iconic industry leader as a curator of good design, with the means to make his concept a reality. Airstream saw an opportunity to work with an innovative designer and introduce a new audience to the independence and excitement made possible by a travel trailer. For months, Robert worked with Airstream engineers, fine-tuning his design.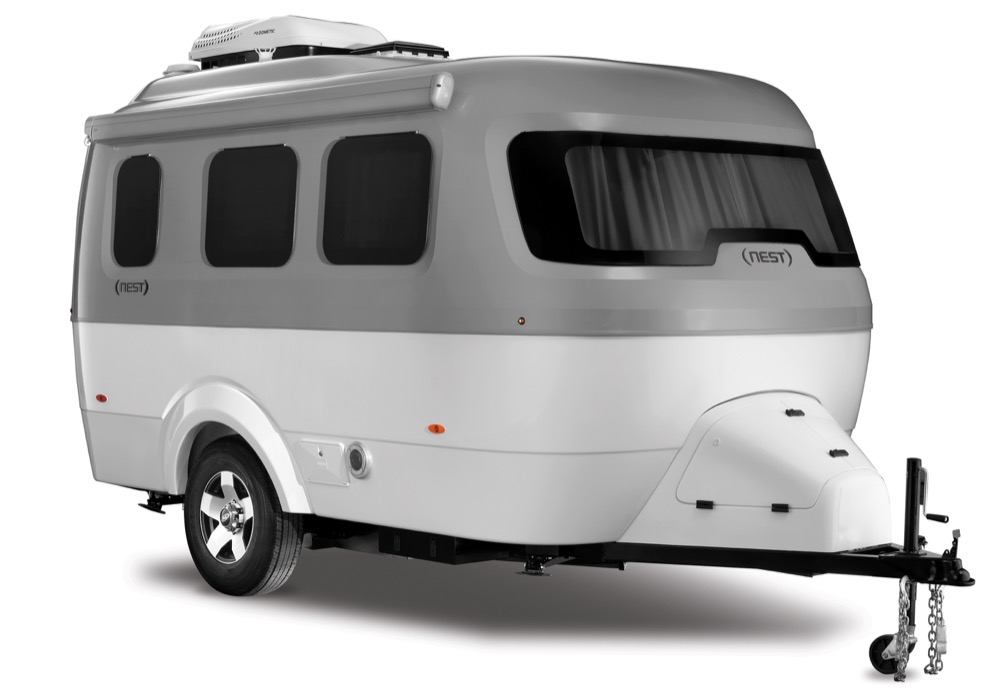 On April 12, 2018 the world will get to see firsthand the results, when Airstream officially presents Nest.
Nest is Airstream's first foray beyond aluminum since the early 1950s. Back then, fiberglass was a relatively new material, and Airstream founder Wally Byam toyed with using it to build a travel trailer. While his experiment never stretched beyond the prototype phase, Nest is poised to take flight.
You'll have to wait for interior shots and detailed specs, but we're excited to share a taste of what you can expect from Nest when the full details are made available in April.
Aerodynamic, sophisticated, and distinctly modern, the 16-foot Nest perfectly balances Airstream's dedication to endless adventure and expert craftsmanship. It's a far cry from the fiberglass travel trailers of yesteryear, made specifically for those who value both contemporary design and time spent outdoors.
Step through Nest's rear-entry door and you'll immediately see why it's different than anything produced today. The nearly panoramic view blurs the line between interior and exterior. Six windows up front, plus a skylight and an innovative vertical window in the doorway, fill the interior with light. Whether you're preparing breakfast in the full-featured galley, reading a book after lunch, or settling down for the night, Nest gives you a breathtaking view of the world outside.
Form and function are the hallmarks of modern design and the cornerstones upon which Nest was built. Premium fixtures, plush Tuft & Needle bedding, and simple, stylish window treatments anchor the sleek, minimalist interior. Creative, efficient use of space means every bit of Nest is utilized to give you ample room to relax, cook, sleep, and store your gear. And, you'll be able to choose from two interior floor plans to customize Nest for your particular needs.
Since 1931, Airstream has manufactured travel trailers that are recognized the world over. Our products embody a tradition of innovation, artistry, wanderlust and imagination. Simple, modern, and ready to place the wide world at your doorstep, Nest is a contemporary and compact travel trailer that channels decades of Airstream quality into a new dimension of design.
We can't wait to introduce you to the newest member of the Airstream family.
Nest by Airstream. Coming April 12, 2018.
---
Want to be the first to know the latest Nest news? Sign up for Nest updates here, or share the link with your friends so they can stay in the know, too.