There's no doubt that outdoor experiences, camping, and road trip travel have experienced a boom in the last several years. With growing public interest comes an increased desire to find unique ways of traveling – and often more planning and preparation if you want to stay in traditional campgrounds. For those who want to go further afield (or further into the city where campgrounds are rare) and escape the need for full hookups and traditional camping amenities, a capable, dependable – and above all else, versatile – recreational vehicle is a must.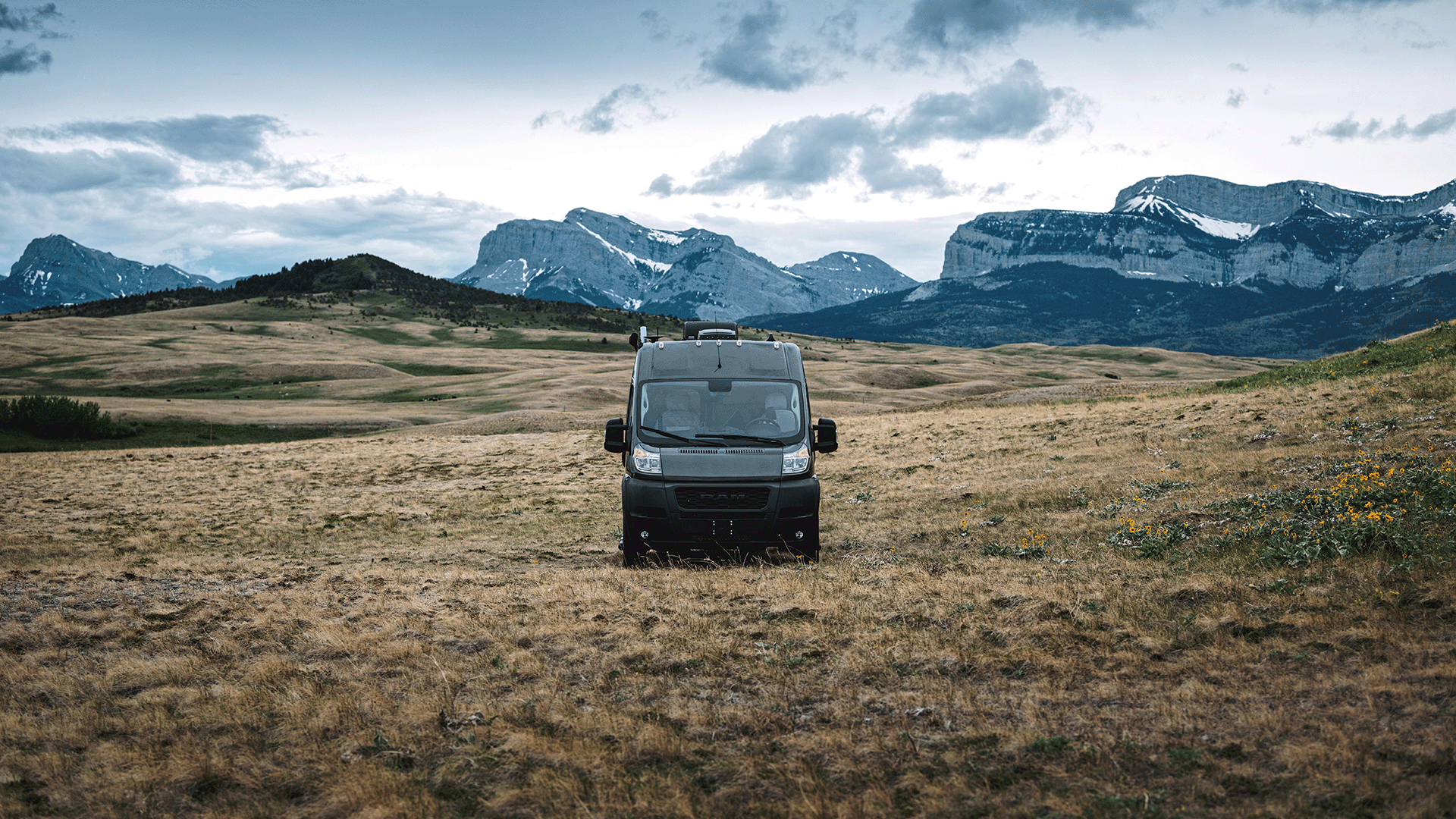 While Rangeline is at home in the campsite along with other travel trailers and motorized camper vans, where Rangeline shines is off grid. While that term may inspire visions of boondocking on public land without another soul in sight, Rangeline is like your favorite multi-tool: ready for anything. That means camping off-grid in remote locations as much as parking downtown – or even in the driveway of a residential neighborhood. From traveling to spend time with friends (and bringing along your own guest room) and finding urban adventures in concrete jungles, to lingering among rock formations in remote boondocking locales, Rangeline's game-changing features make it one of the most versatile, beautiful, and functional recreational vehicles available today.
Battle Born's Lithium Ion Gamechanger 3.0 Battery
Any discussion of Rangeline's game-changing features starts with its powerful (and aptly named) battery. The Battle Born Gamechanger 3.0 (BBGC3) lithium ion battery is exactly that: A game-changing battery that provides industry-leading power and performance.
One of the most powerful and versatile Lithium Ion (LiFePO4) batteries to date, the BBGC3 was designed specifically for providing ample power where space is a premium. Perfect for Rangeline, the BBGC3 delivers 270 amp-hours (Ah) of power and weighs only 80 pounds. It's the only LiFePO4 battery in the industry that can be mounted in any orientation, allowing Airstream's engineering team to wisely utilize Rangeline's interior space – meaning more room for amenities, living space, and other powerful features.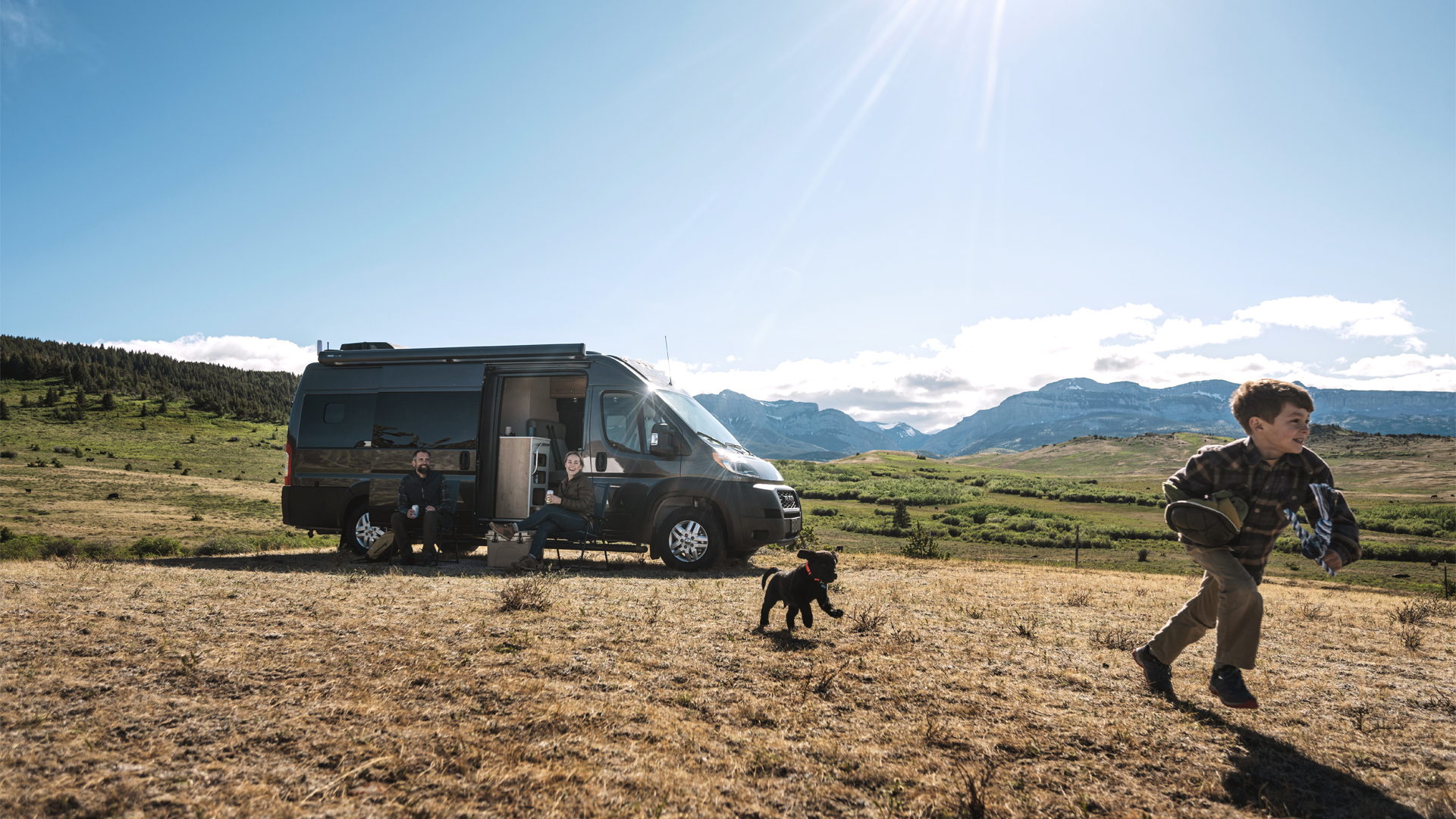 Built to last between 10 and 15 years, the BBGC is capable of being discharged to a 100 percent depth of discharge, can charge five times faster than standard lead-acid batteries, and includes a built-in heater. For those who want to escape the crowds in search of the ultimate adventure, the BBGC makes Rangeline one of the most versatile travel vans you'll find on the market.
Hand-Built Cabinets
Every Rangeline is a combination of RAM's dependable power and performance under the hood and Airstream craftsmanship through and through. We start with a RAM 3500 ProMaster chassis – essentially a cockpit, engine, and empty shell – and then outfit the interior with hand-made furniture, cabinets, and amenities. Rangeline cabinetry is assembled by hand in our woodshop before installation by our expert production team.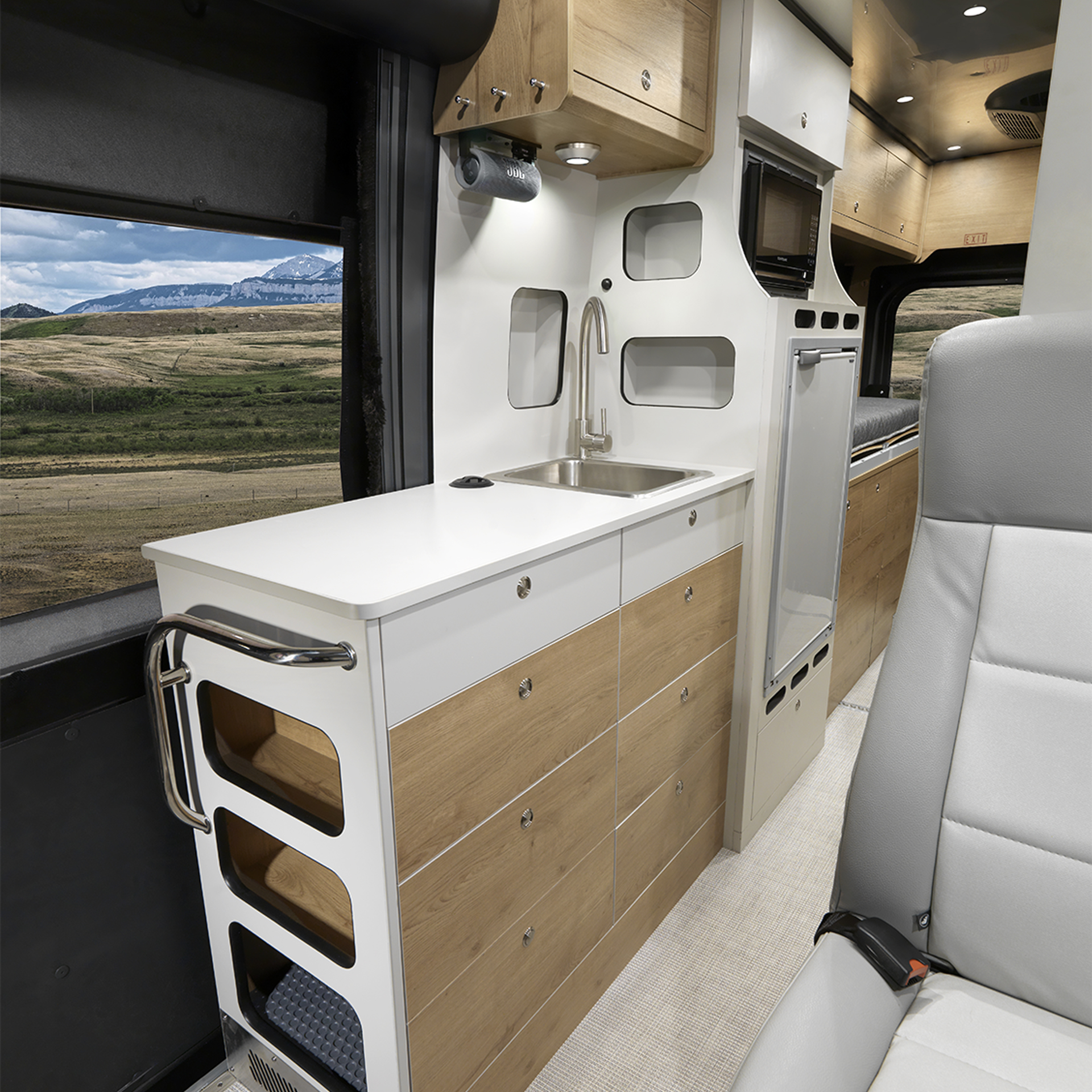 Inspired by European RV design, Rangeline's cabinetry was designed in partnership with Genesis Interiors – a leader in luxury residential and marine interior design. Their innovative space-saving design maximizes every inch of storage in Rangeline's cabin, eliminating wasted space and creating a seamless look through Rangeline's interior. Form and function are worked into every detail, with chamfer edges on all cabinetry, seamless framing, and a subtle raised edge that helps keep items secure inside. Cabinet joinery is designed in a mortise and tenon style, allowing installers to ensure the right fit and create extra strength at each joint.
Most of all, the hand-built cabinetry in Rangeline maximizes the interior space so owners have more living space, expansive storage options for gear, food, pantry items, and travel essentials, and secure latches that keep everything in place during transit.
Optional Pop-Top
Unique among Airstream's lineup of motorized camper vans, Rangeline is available with an optional Pop-Top. This optional feature creates numerous benefits inside the van – not the least of all being extra sleeping space. With a dedicated sleeping area in the rear of the van, the Pop Top option gives owners the ability to bring along kids, grandkids, or friends.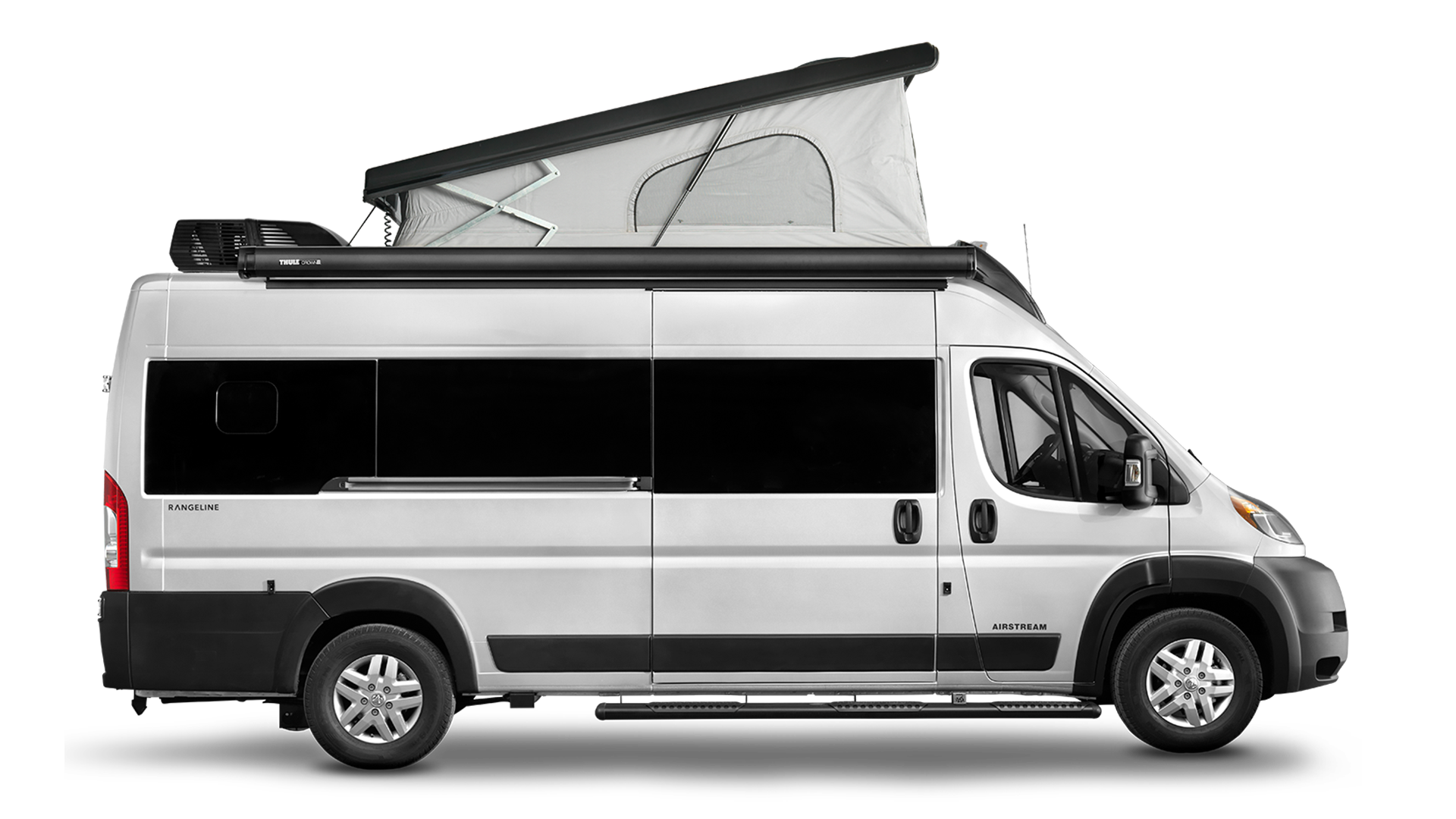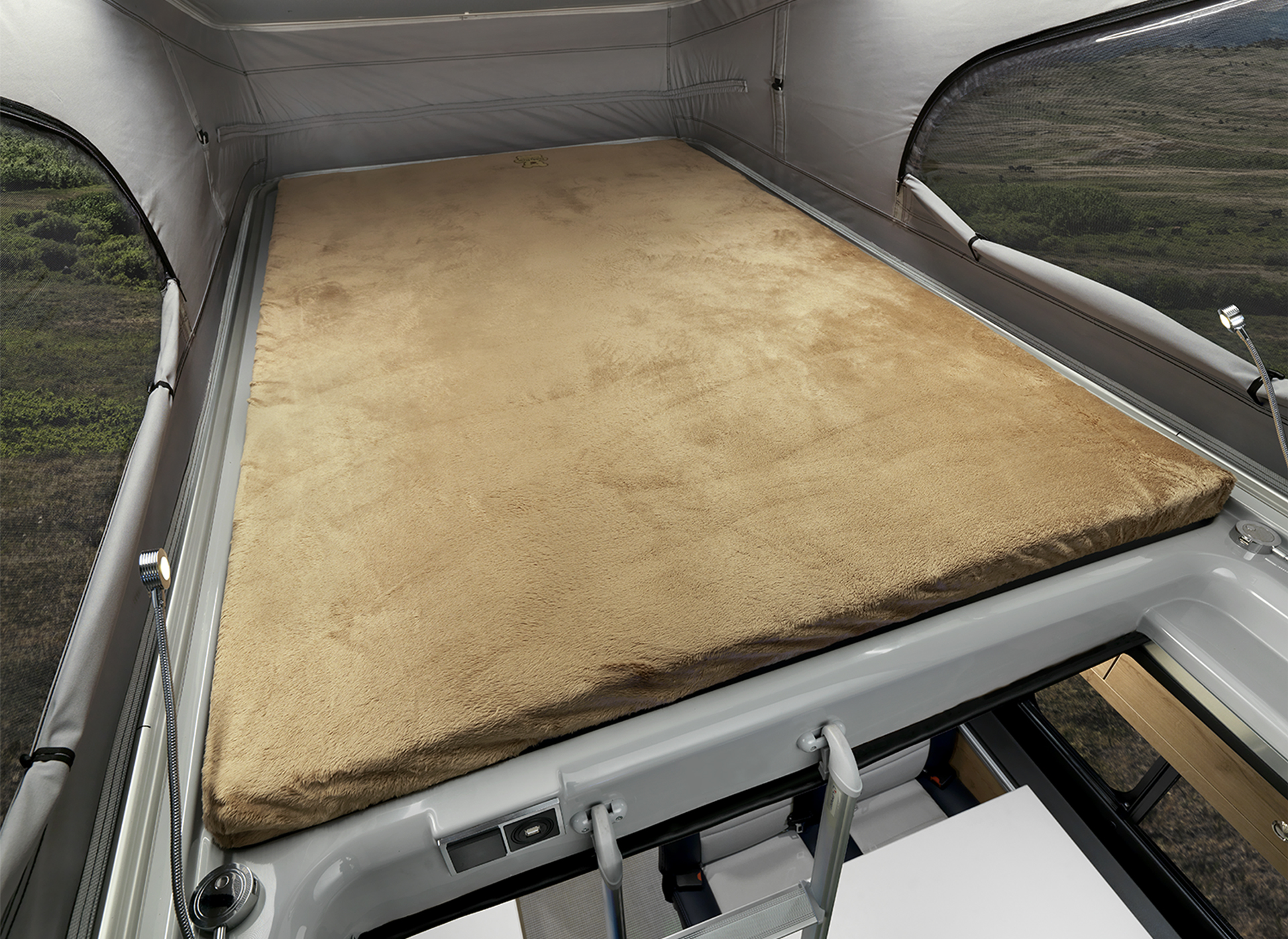 But the Pop Top isn't solely about bringing more people along on the adventure. The Pop Top allows owners to leave the convertible sleeping area in its folded-up position, allowing for more interior "garage" storage for gear or bikes during the day. Reading lights and USB charging ports make the Pop Top a great place to crash after a long day of adventuring or grab a nap and recharge before an afternoon hike. Like many of Rangeline's features, the Pop Top is another game changer.
Easy Operation
The BBGC battery provides ample power for off-grid adventuring, and it works in conjunction with Rangeline's powerful single-fuel source heating and comfort system that eliminates the need for propane. A gasoline-fueled Timberline heating and hot water system provides on-demand hot water and heat for chilly nights, while the same gasoline fuels the onboard generator for extra power while boondocking. This powerful, versatile system is topped off by efficient all-electric appliances and is controlled by a multi-plex system with touchscreen operation. With Rangeline, you're traveling with all the comforts of home no matter how far you travel.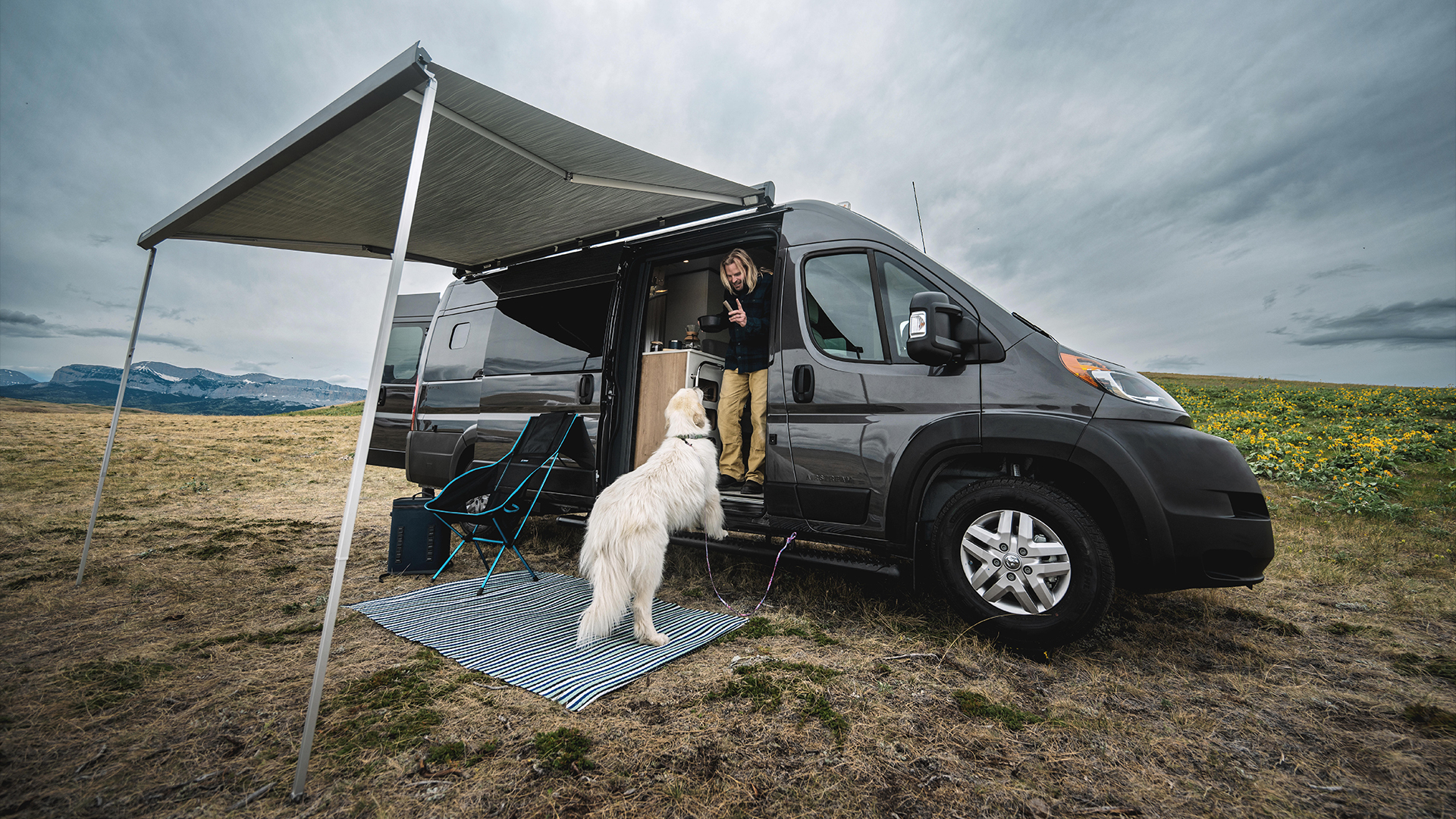 Pet-Friendly Features
For those who feel the best adventures happen with our four-legged friends by our side, Rangeline incorporates several delightful pet-friendly amenities. Set up the awning and secure dog leashes to the pet leash tether point integrated into the aluminum running boards. Inside the van, a clever pull-out drawer under the fridge hides pet food and water bowls. When dinnertime is over, simply slide the drawer out of the way until the next meal. And because pets and messes often go hand in hand, Rangeline's seamless vinyl flooring and upholstery fabrics are easy to clean.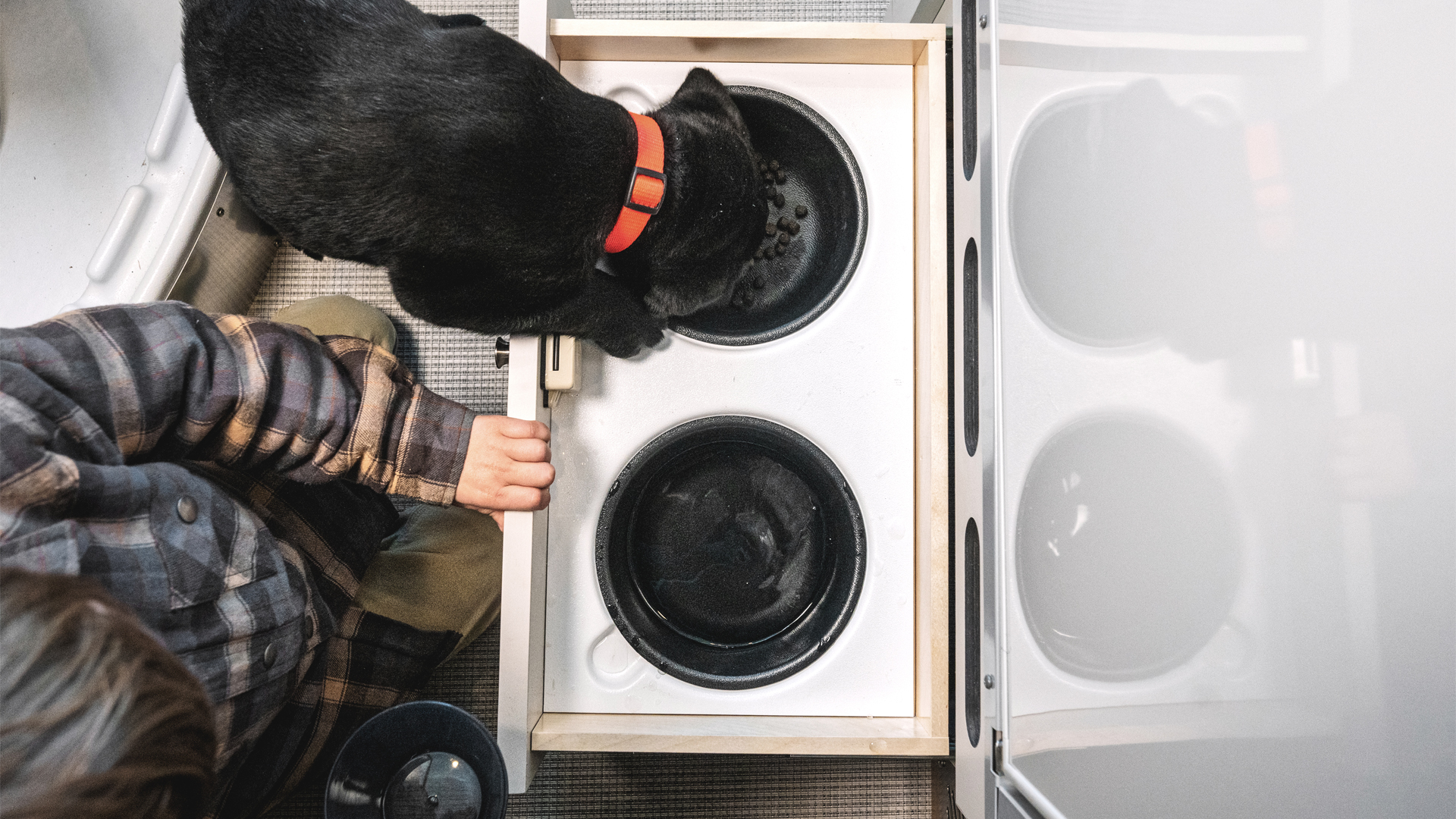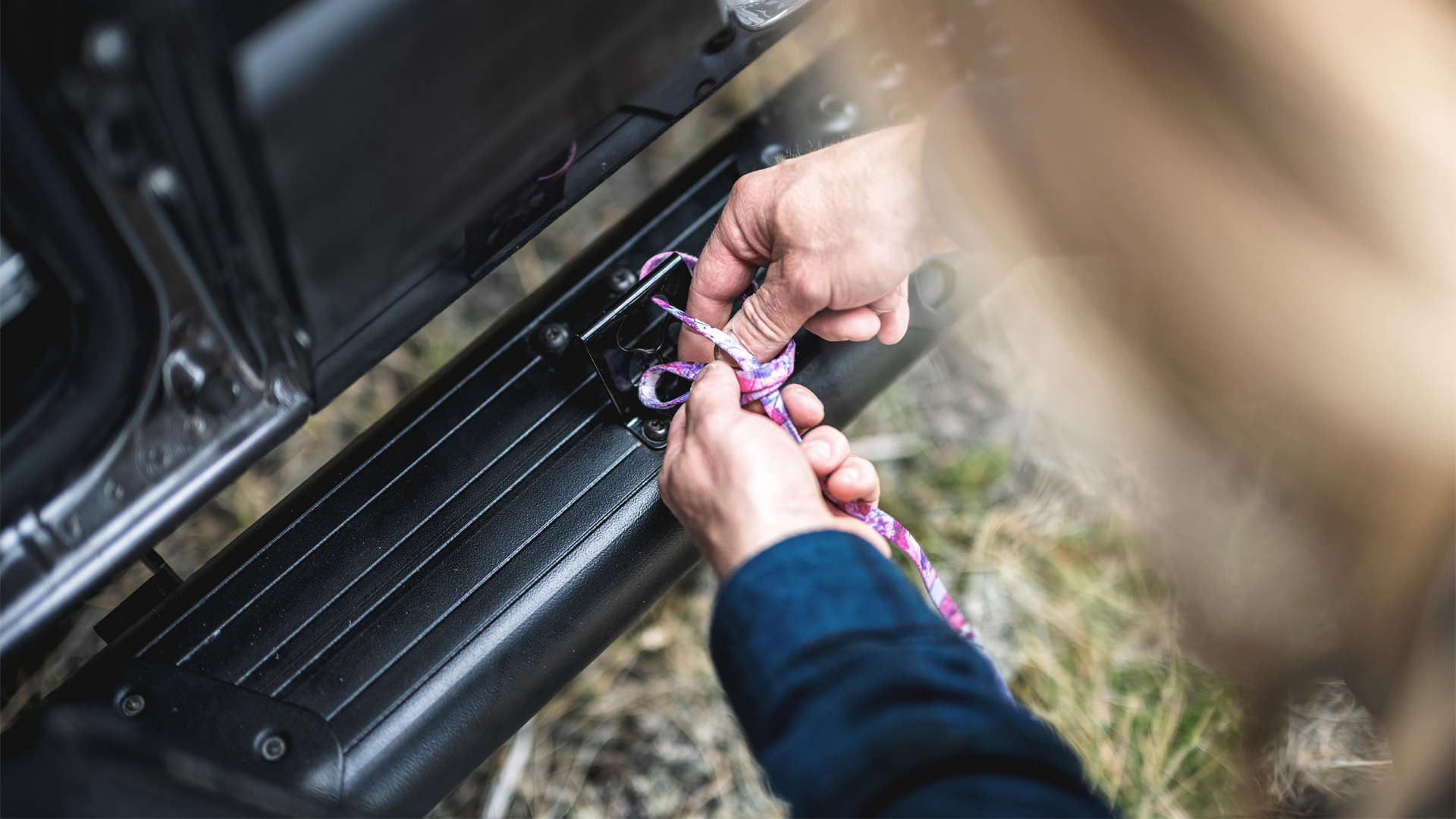 High-End Décor
For those upgrading their adventure from tent or car camping, Rangeline's interior design is yet another game-changer. Getting out into nature can be dirty work, but Rangeline's interior design and high-end materials make it easy to keep dirt outside where it belongs. Seamless luxury woven vinyl flooring makes it easy to sweep up dirt and dust, while the Vissimi vinyl upholstery (available in two décor options, Navy or Gray) on the seating cleans up spills simply with a wet cloth. And the multi-adjustable table adjusts for everything from a family meal to an expansive work-from-anywhere desk.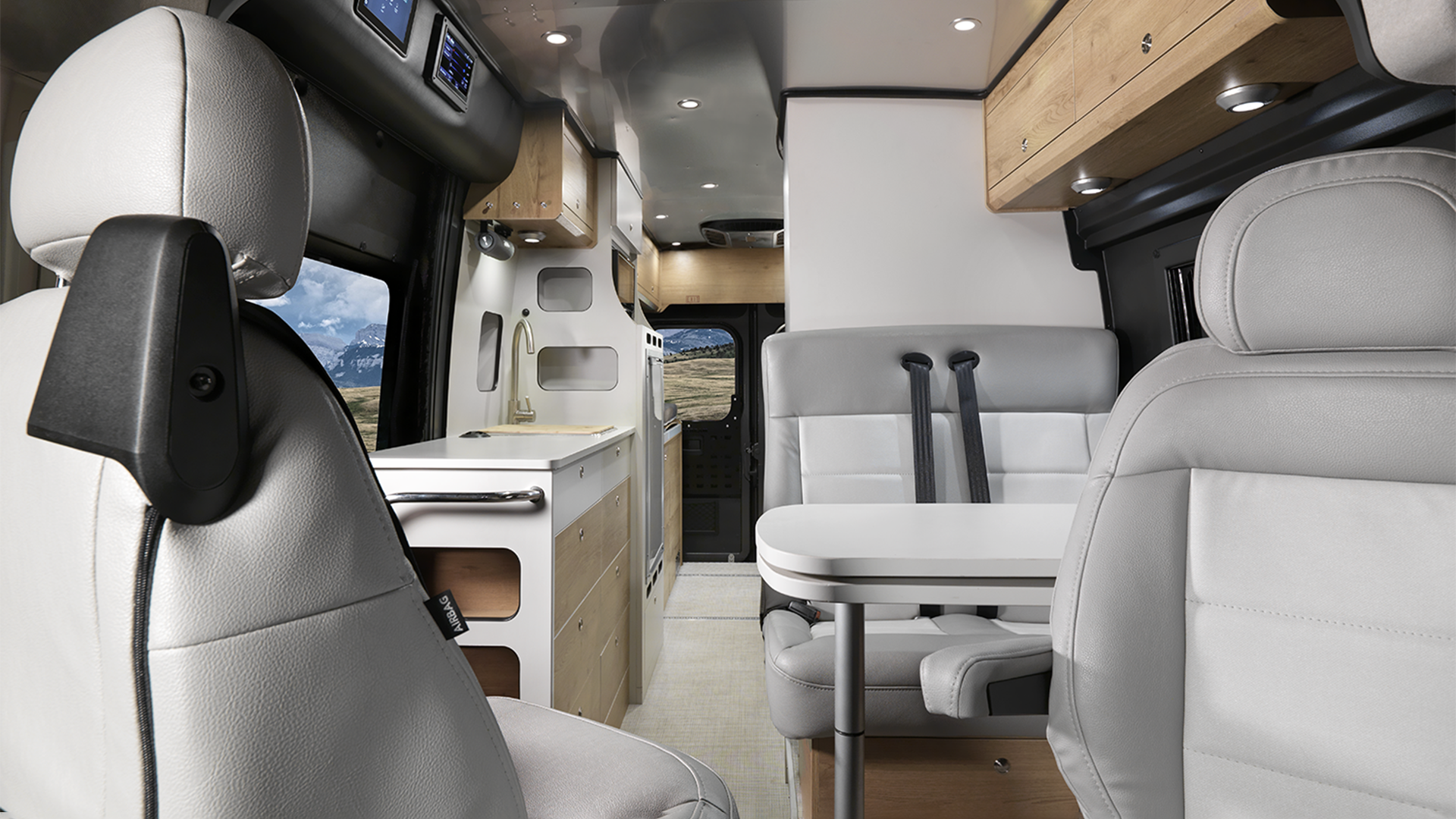 Sleek Automotive Exterior
While Rangeline's interior is packed with game-changing features, gorgeous design, and versatile, functional engineering, we'd be remiss to leave out Rangeline's exterior features. The painted front grille blends seamlessly into the sleek automotive styling, and modern badging and silver accents complement the bold, black trim. Rangeline is available in two vivid exterior colors: sleek black and modern silver. The automotive design extends to standard water hookups that are hidden in an exterior compartment – no cut-outs or external boxes break up the design.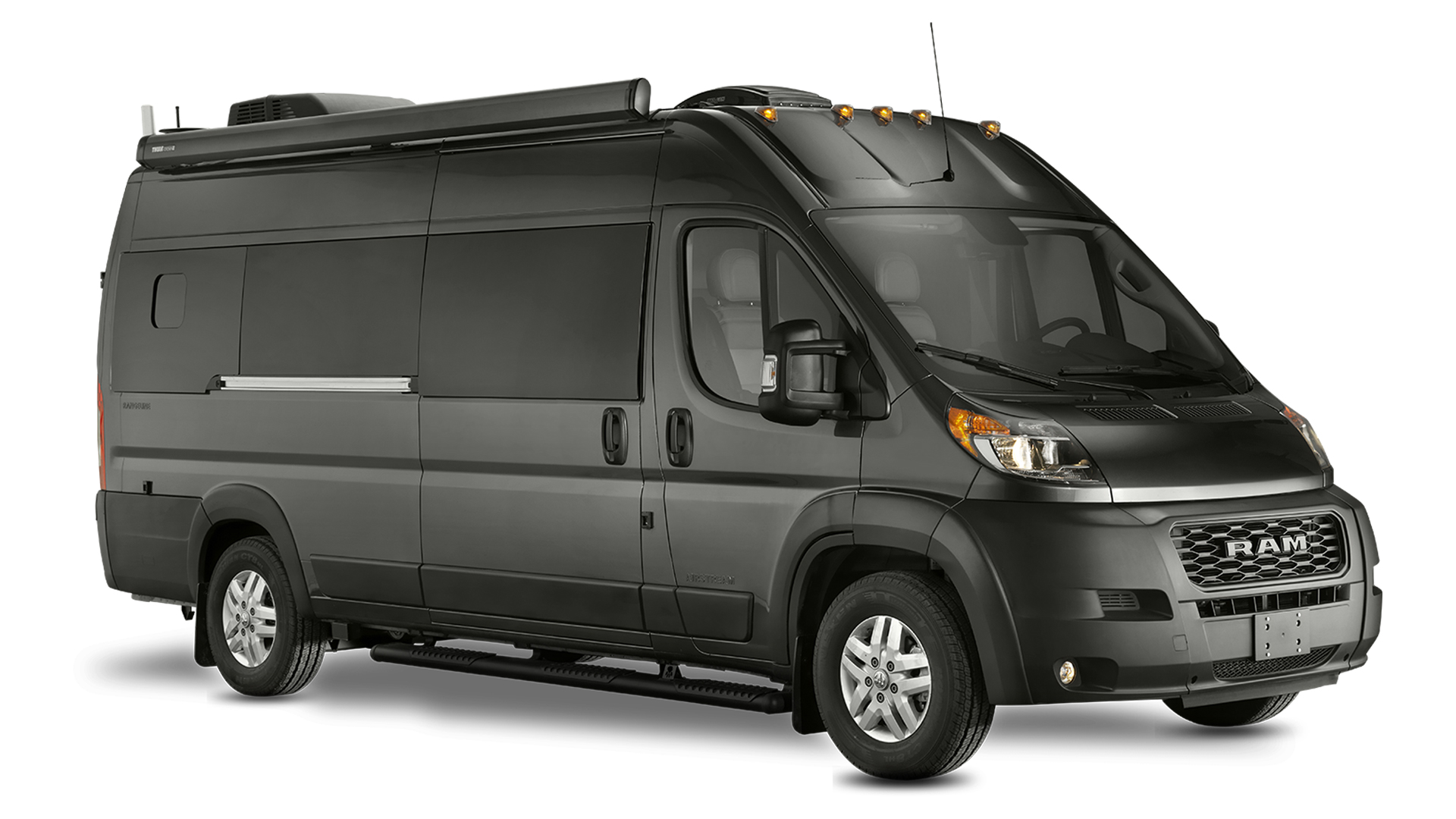 Ready to Change the Game
With its modern, European-inspired interior design, family- and pet-friendly features, and powerful electrical and single-fuel source comfort system, Rangeline is here to change the game. Be bold, explore beyond expectations, and go further than ever before in the all-new Airstream Rangeline Touring Coach.
Want to learn more about Rangeline's game-changing components, on-board amenities, and adventure-seeking features? Download our Rangeline brochure.
Ready to see Rangeline firsthand? Locate your nearest Airstream dealer and schedule a visit today.