When selecting a motorized Class B RV, interior design aesthetics and longevity are among the top considerations. Travelers desire luxury accommodations and the assurance that materials can withstand the rigors of the road — as well as the thrills of off-grid campsites or remote beaches.
It's not easy to achieve a perfect balance between form and function when designing the multi-purpose interiors we craft inside each Mercedes-Benz® Sprinter Van. But the expert craftsmanship of Airstream's dedicated team of associates in Jackson Center have elevated this skill to a fine art. This process starts with selecting premium grade materials — for seating, flooring, countertops, cabinets, frames, finishes, and ceilings — and then integrating them into a cohesive, practical design that checks all key travel requirements:
Travel-friendly

 

Easy-to-clean

 

Durable

 

Aesthetically pleasing

 

Long-lasting

 
With more than 90 years of experience designing RVs that meet these criteria, Airstream pours over every detail about what goes into the construction of the interior living spaces. See what sets us apart.
High-Performance Ultraleather Fabrics
Luxurious style meets ultimate comfort with elegant, easy-to-clean Ultraleather from Ultrafabrics. Most Airstream touring coaches are outfitted with premium-grade Ultraleather on every seat and convertible lounge — and feature best-in-class memory foam for form-fitting comfort. Soft and supple to the touch, Ultraleather delivers classic, natural-grain styling with proven high-performance and road-tested benefits.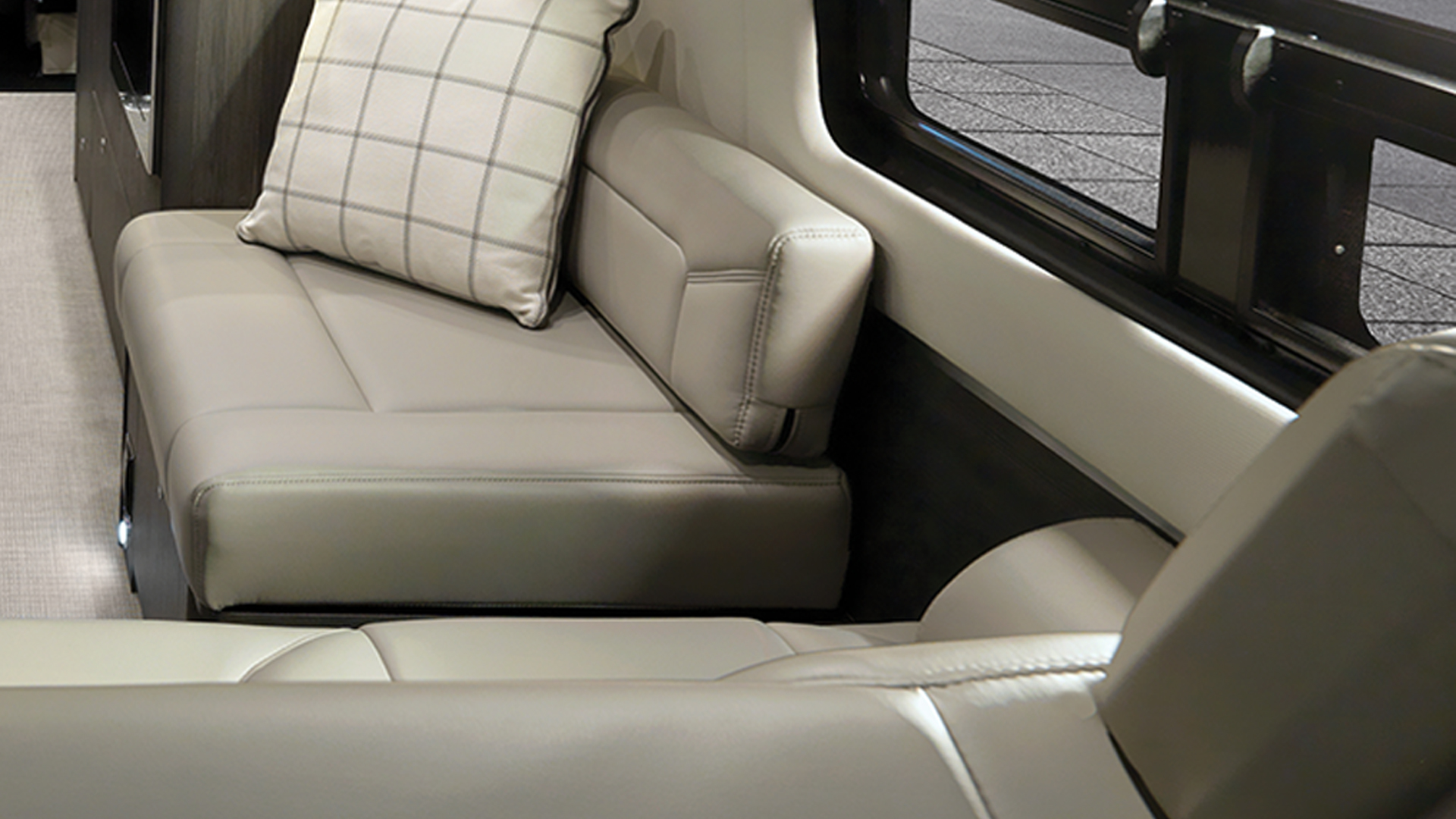 Luxury Marine
-G
rade Woven Flooring
Cheap flooring and luxury travel simply don't mix. It may come as a surprise to some shoppers that many motorized Class B RV manufacturers use economy automotive carpeting in high foot traffic areas. This inferior flooring wears faster, stains easily, and holds odors that are better left as distant memories. Likewise, some manufacturers use lower-grade vinyl flooring materials that are simply not built to last. Airstream refuses to compromise on flooring materials, opting for an ultradurable, woven vinyl flooring that is designed for yachts and for use in heavily-trafficked areas. Its durable construction is pet-friendly, easy-to-clean, and resistant to wear and tear, while its woven texture delivers comfort under foot. Airstream adds an additional layer of foam sub-floor backing to give it an even more cushy feel — even for bare feet.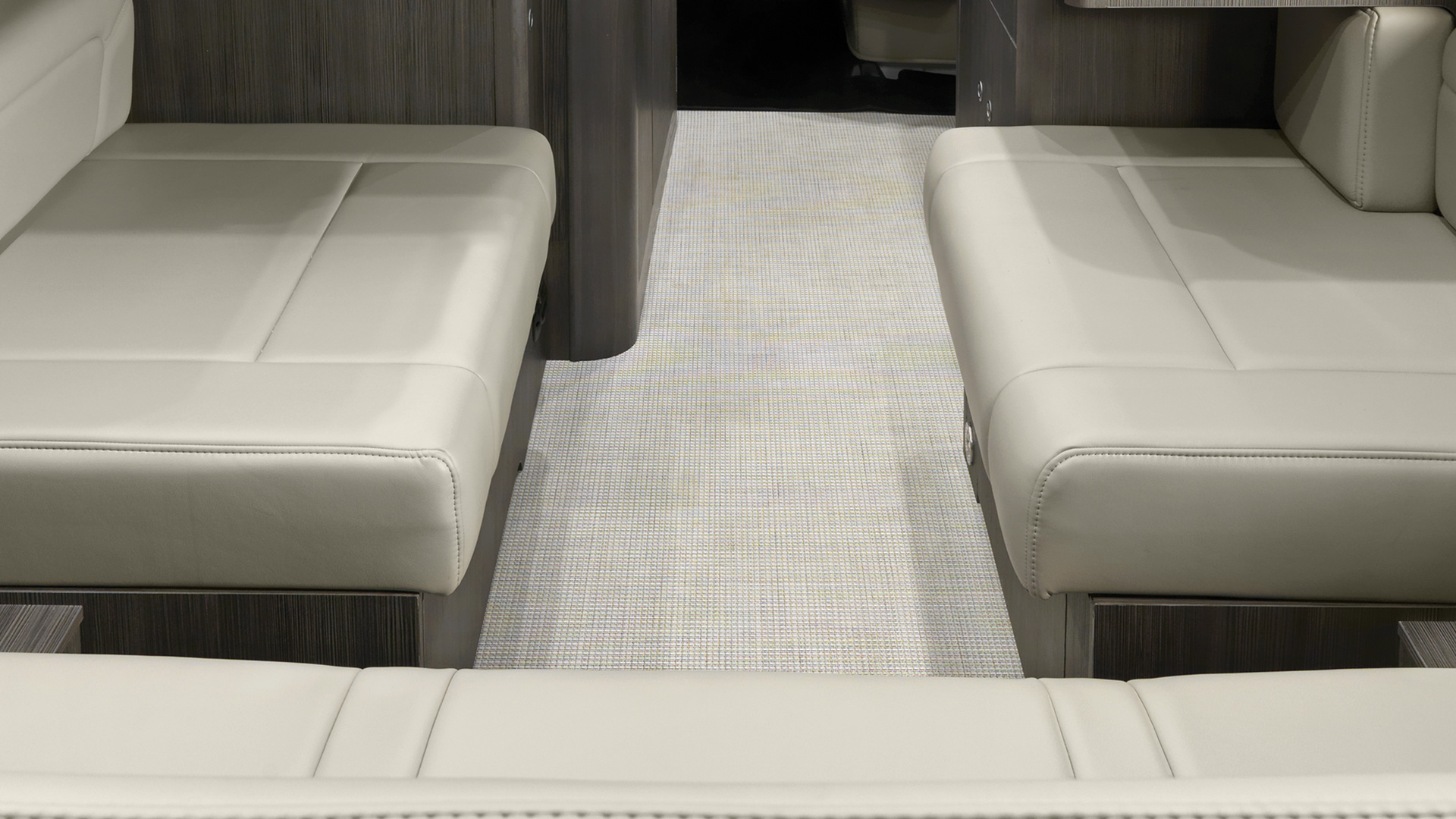 Premium Italian P

ly

and Hard

wood

Cabinets
Nothing captures the feel of home like real wood cabinets. Airstream touring coach cabinetry is handcrafted and assembled in our in-house woodshops and custom fit to the exact specifications of each model and floor plan. We source sustainable, high-quality Lite-Ply or hardwood to construct the solid-wood assemblies — just like the cabinetry you'd find in your home. To protect them from scratches, dents, and fading, our premium cabinets are finished with a durable, high-grade laminate. Their interior carpet lining adds a touch of luxury while also serving as a sound-dampening barrier from the outside world.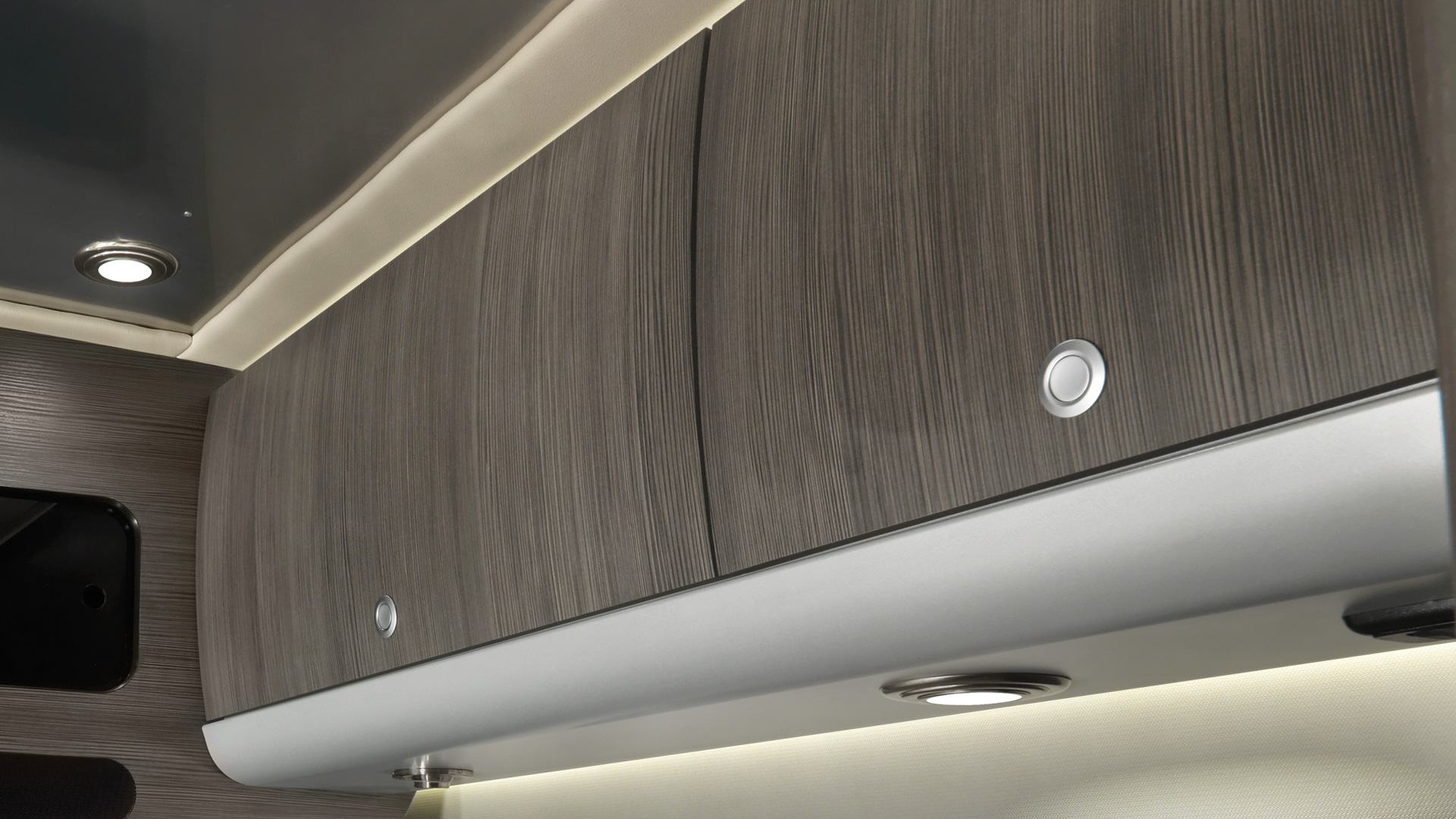 Aluminum
-E
xtruded Cabinet Framing
Quality construction is timeless. To complement the interior design aesthetics and support the handcrafted wood cabinetry, we utilize custom-built, stamped aluminum framing. Unlike the staple-and-glue wooden framing techniques used in many other Class B vans, these frames won't deteriorate with everyday use. Solid brushed nickel cabinet struts add strength and complete the seamless look.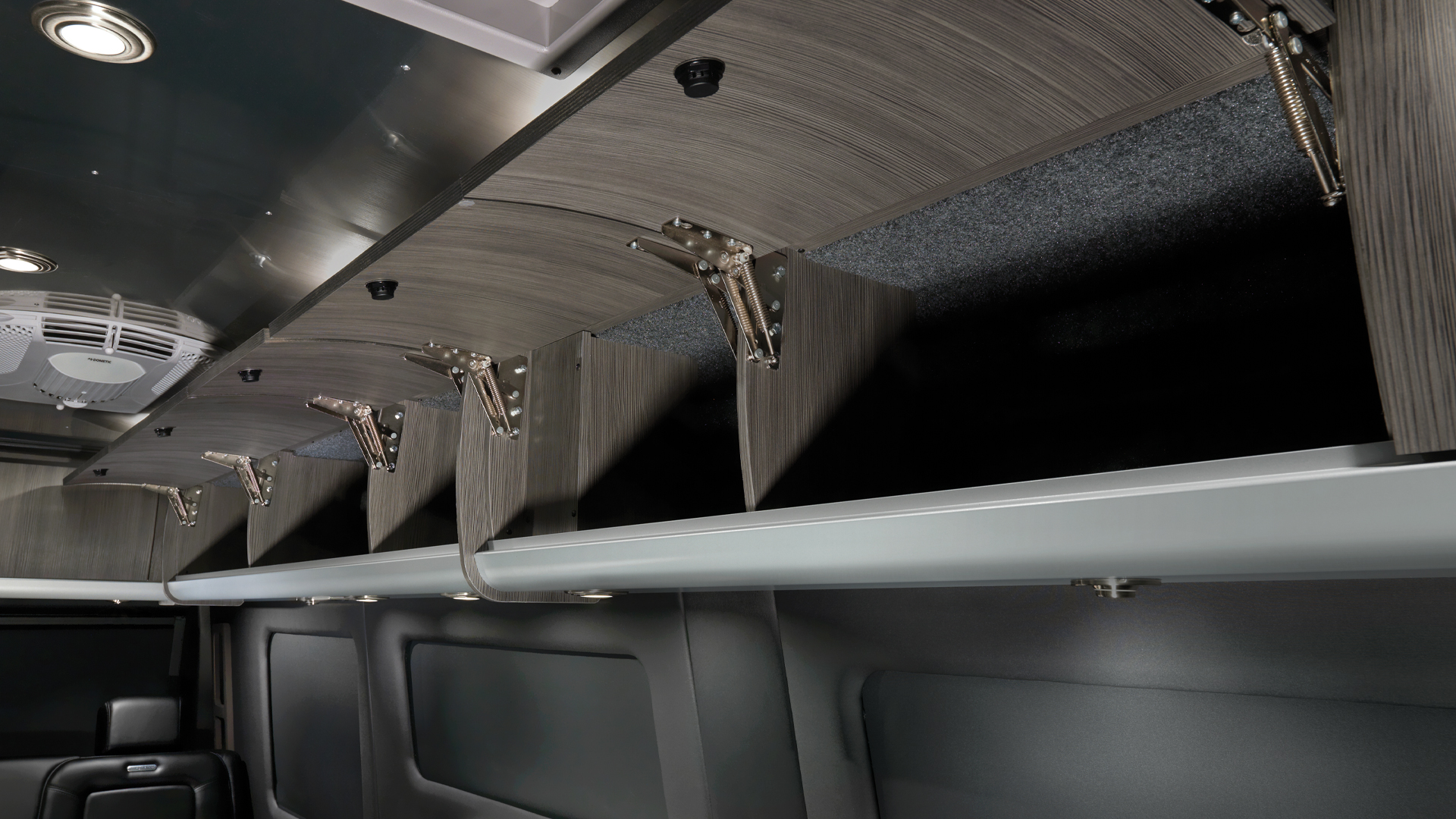 Dupont Corian® Counter
tops
Rise above the RV status quo. Plywood and laminate substrates are standard countertop materials in most motorized Class B RVs. Airstream touring coaches are equipped with residential grade Corian countertops and backsplashes in our kitchen galleys. These solid surfaces offer an unparalleled combination of high-end form and hard-wearing function.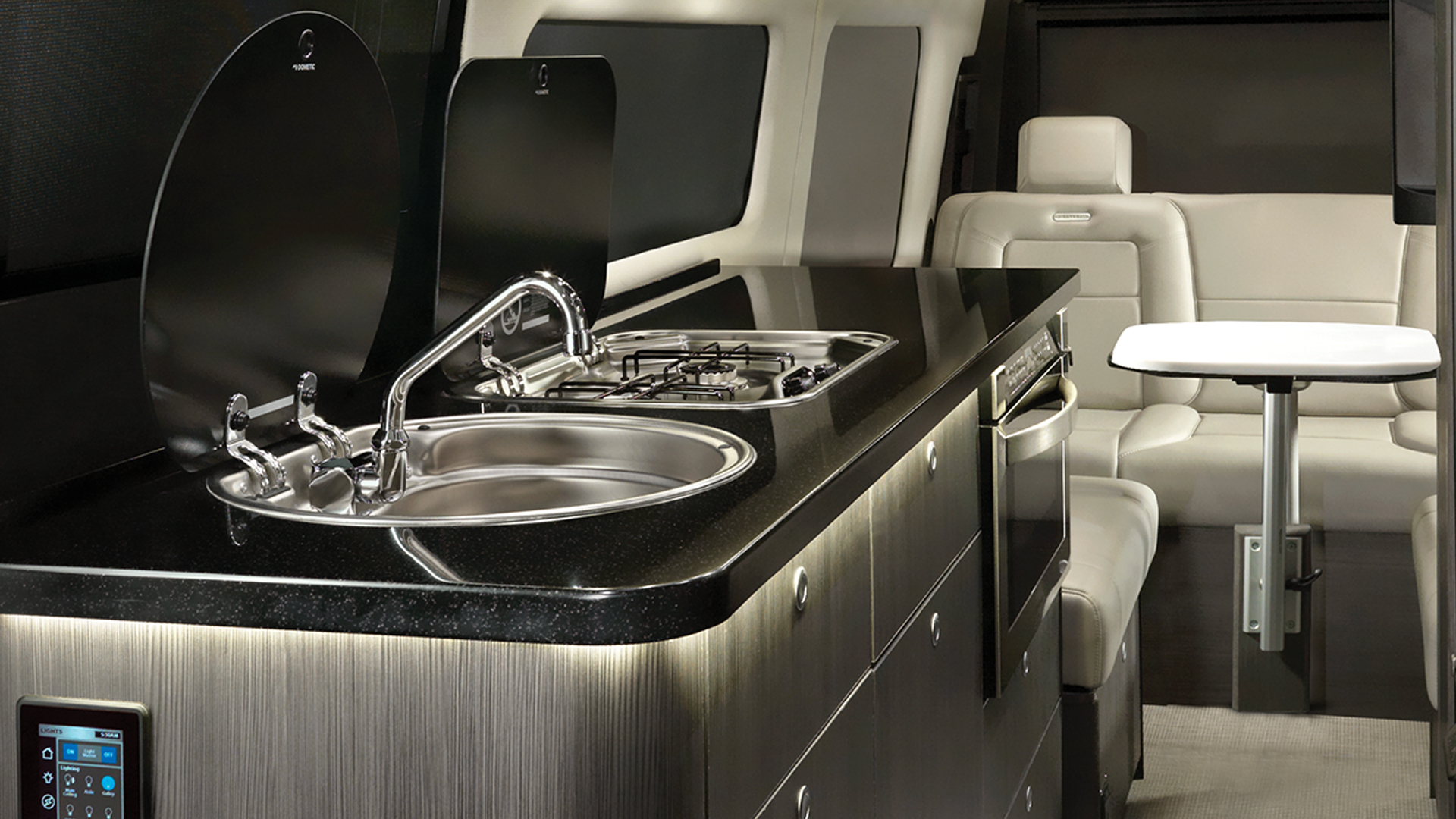 Aluminum Ceilings
Don't underestimate the importance of what's over your head. You'll find that most Class B RVs are designed with fabric ceilings that absorb moisture, retain cooking odors, and quickly show signs of wear and tear. Airstream knows all-too-well about the benefits of building with aluminum. Our touring coach ceilings are constructed with the same aluminum used to form the shells of our iconic travel trailers. Not only is it designed to last for generations, but it also lends an upscale interior design element to brighten up the touring coach interior.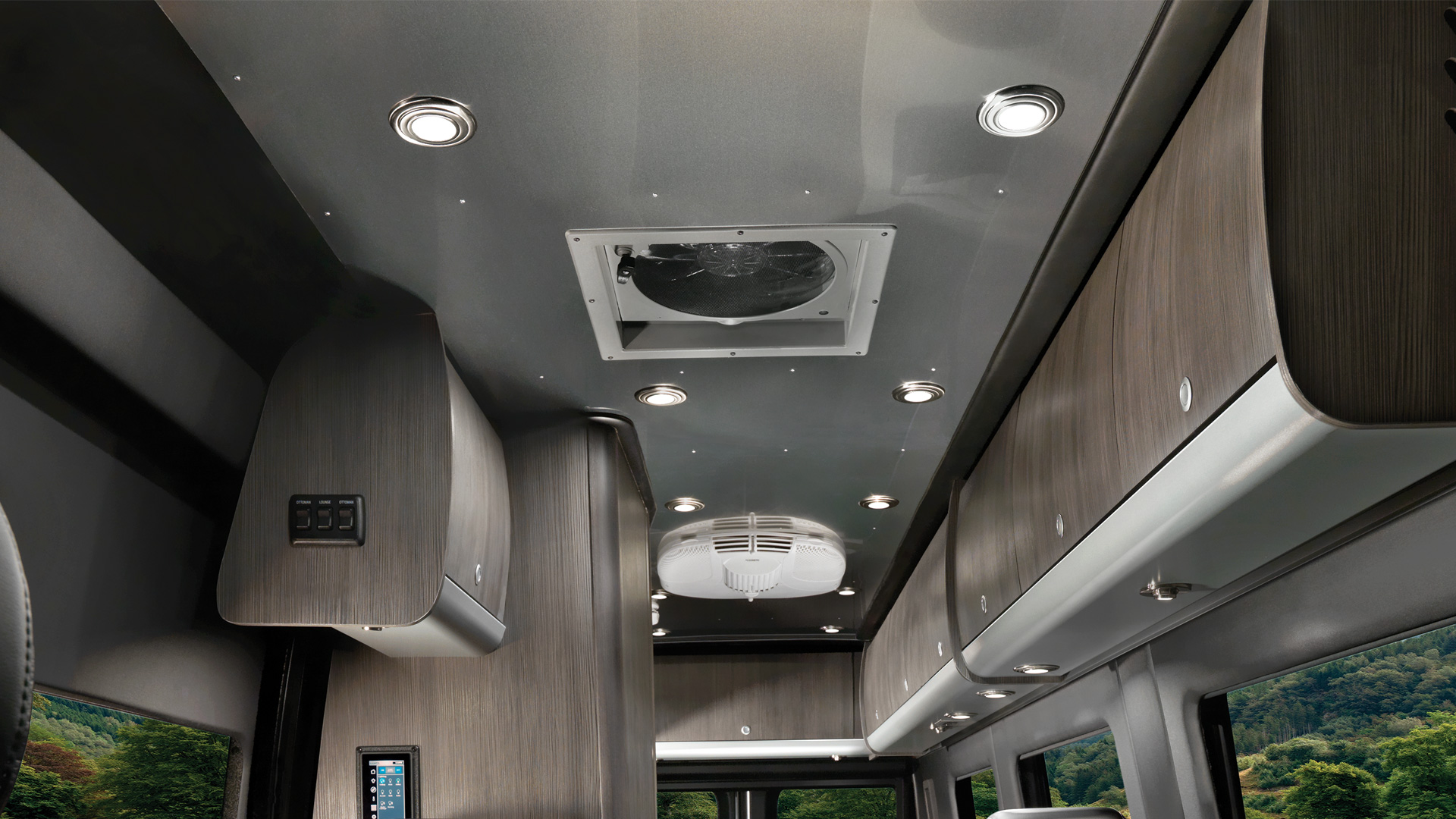 Choose Your
Interior Décor
Because our customers have unique tastes and a variety of design preferences, our core motorized lineup of Interstate 19, Interstate 24GT, Interstate 24GL, and Atlas are all available with three distinct interior décor choices. Each interior décor features beautifully coordinated countertops, cabinets, finishes, flooring and upholstery. You're sure to find an option that suits your personal style.
Modern Greige
Perfect for adding personal touches, Modern Griege features neutral earth tones on the seating that complement the gray window shades, black countertop, and dark brown laminates.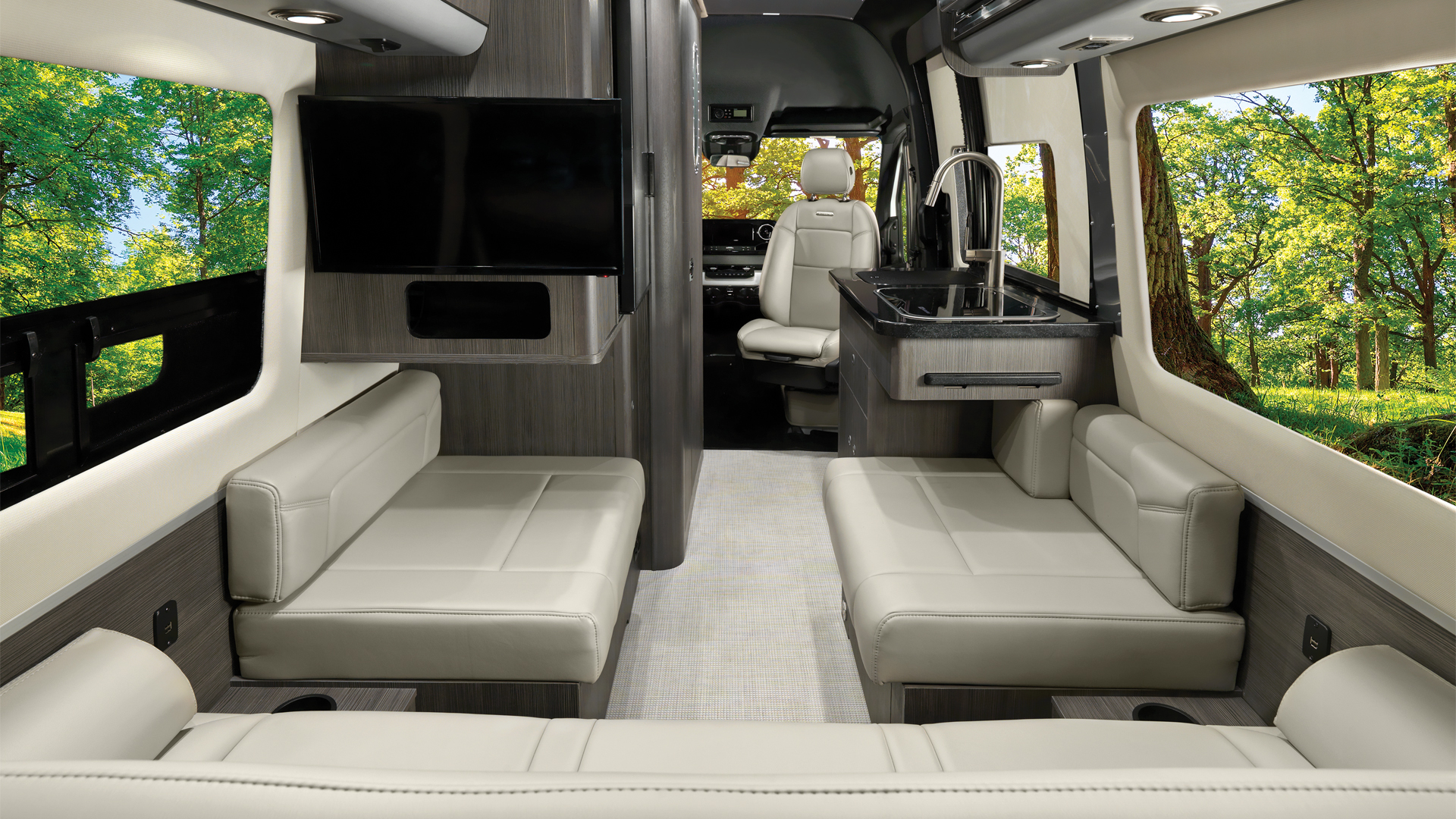 Formal Black
Formal Black is true to its name, with dark seating, laminates, and window shades that exude elegant luxury.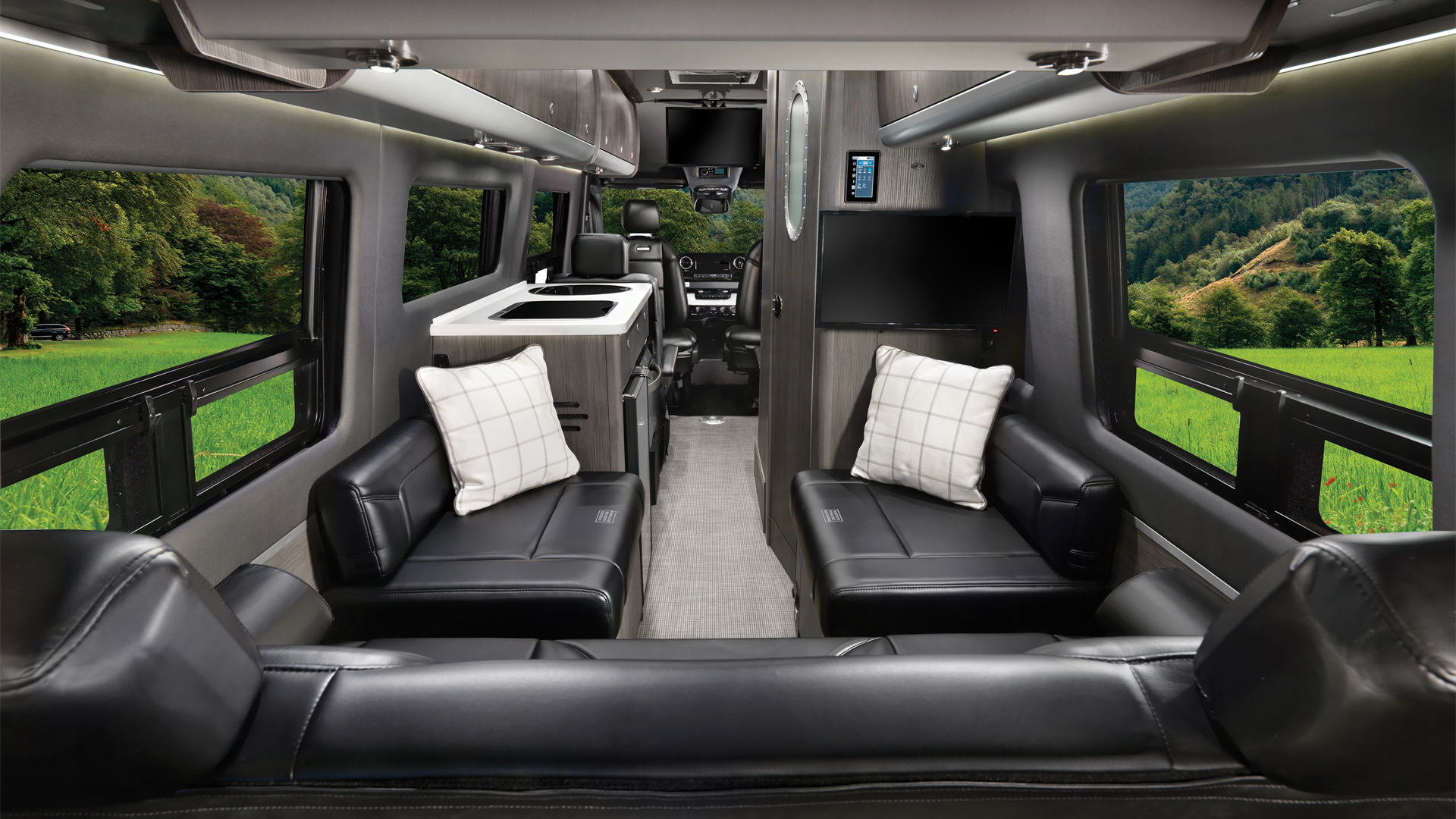 Tommy Bahama Special Edition
Specially designed warm cabinets, tropical graphics and fabrics, and light and airy tan seating bring island style to life.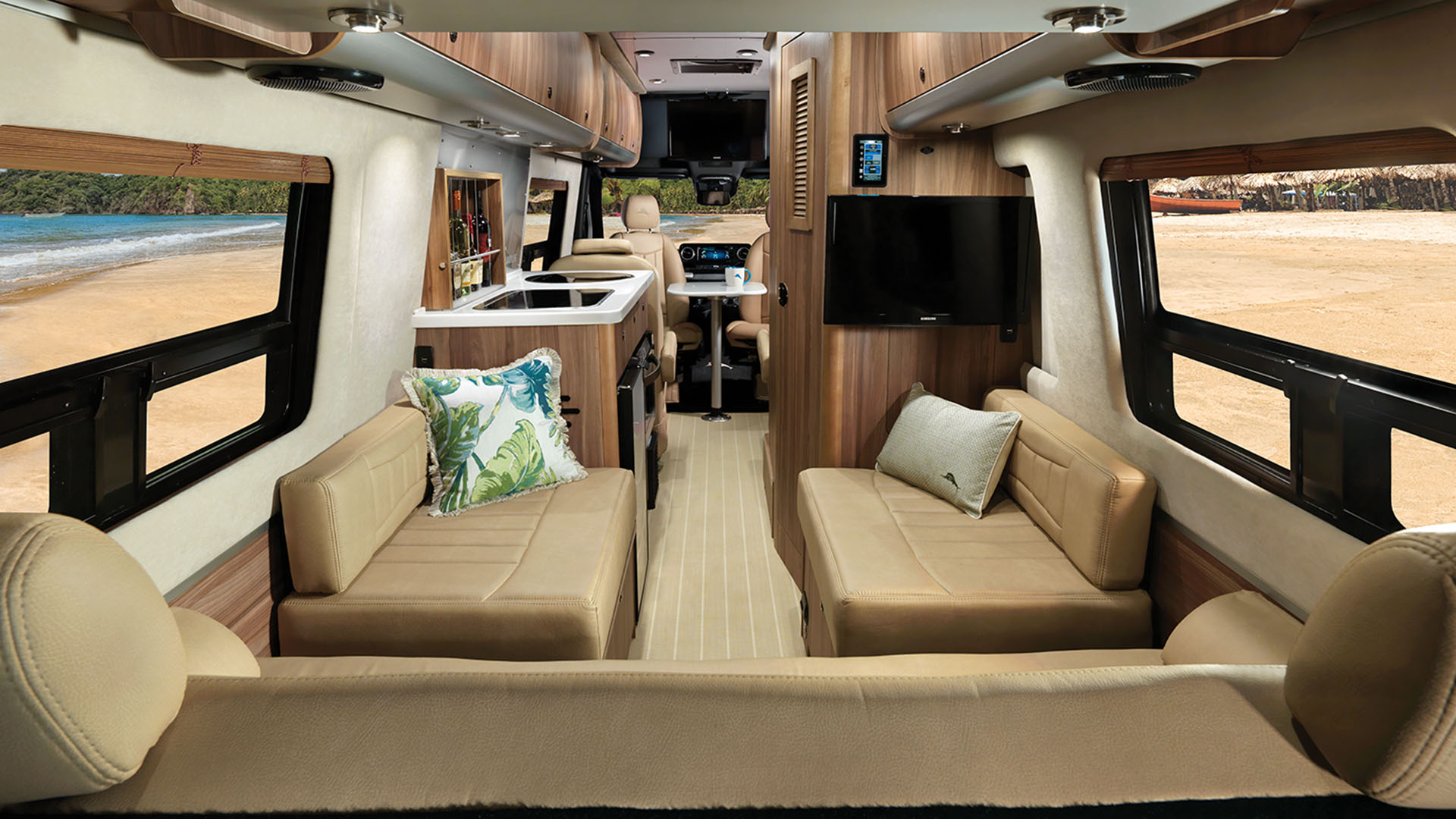 Red Rock (Available Only in the Interstate 24X)
The adventure-ready Interstate 24X features the rugged luxury of our Red Rock interior décor, which draws inspiration from our best-selling Basecamp line of travel trailers.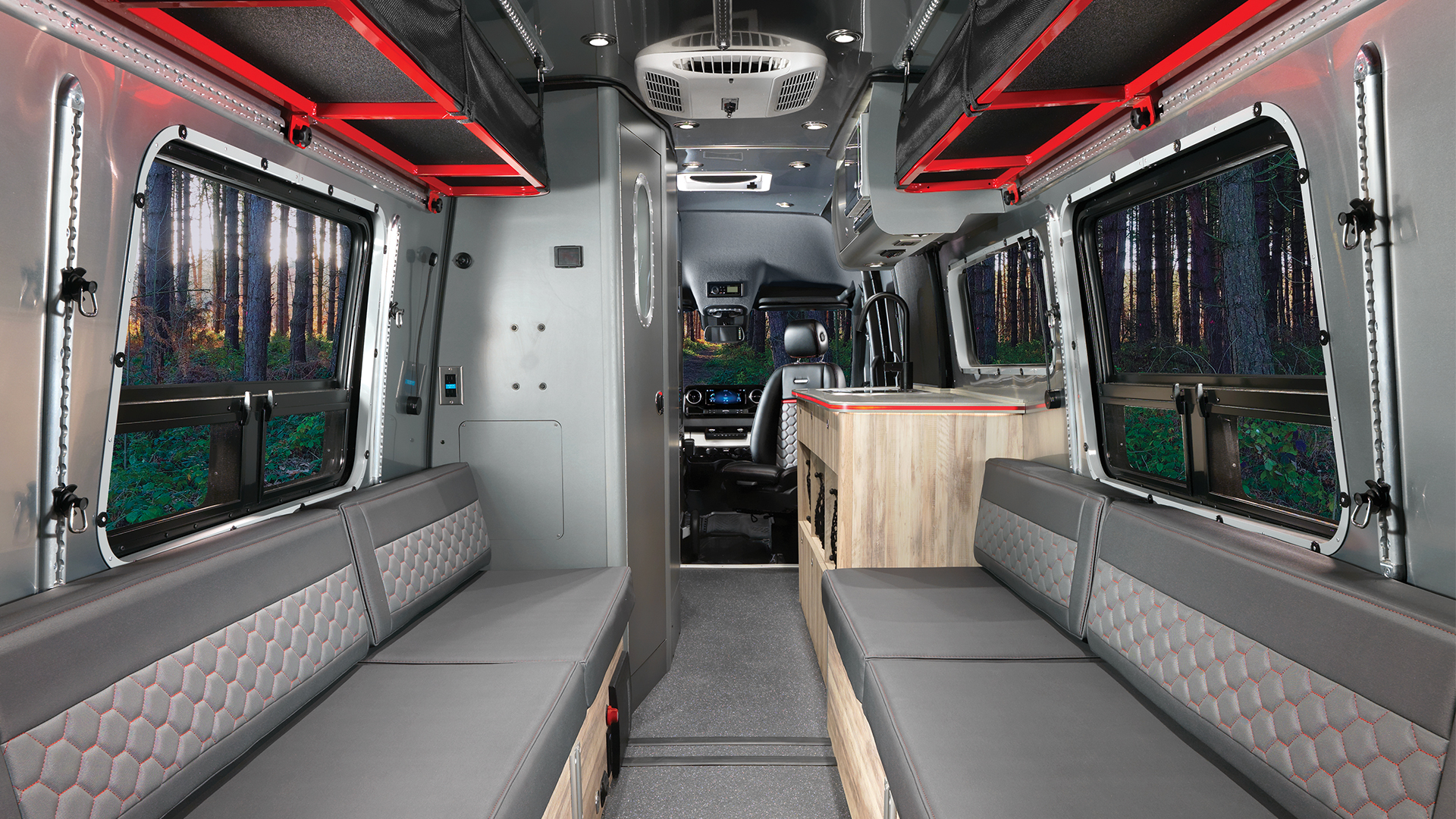 A Cut Above the Rest
Designed with meticulous attention to every detail, Airstream touring coach interiors give you a cut above the rest of the motorized Class B RV competition. But don't take our word for it; see for yourself. When it comes to creating luxury interiors with high-end features, Airstream touring coaches are in a class by themselves. Built with our legendary craftsmanship and premium-grade materials, Airstream is committed to giving you the longest-lasting, most comfortable and pleasurable traveling experience possible. Step into what a Class B RV should be. Step up to an Airstream touring coach.
Learn more about the design choices and materials that make Airstream touring coaches stand out from the crowd in our downloadable Best in Class Guide.
Discover how Airstream touring coach interiors deliver the perfect combination of comfort, design and durability. Configure your interior.