Like other kids his age, ten-year-old Max Bowen loves Halloween.
Max also loves recreational vehicles. Whenever his family heads to a campground with their travel trailer in tow, Max gets excited pointing out all the RVs they pass on the highway. For the Bowens, camping offers many of the same adventures and time together it does for other families.
But unlike most other families, camping gives the Bowens – Josh and Keyla, and their children Chris, Emily, and Max – a precious sense of normalcy and freedom amid an abundance of uncertainty.
Diagnosed with cerebral palsy, Max's life is punctuated by hospital visits and doctor's appointments. He's legally blind, suffers from a seizure disorder, and is mostly confined to a wheelchair. While Max can crawl, the Bowens found that unless they stayed on the bottom floor of a hotel when they traveled, they would often get complaints from those around them about the noise.
"We don't stay in hotels anymore because of Max's condition," says his father, Josh. "We camp wherever we can now."
Max's love of campers and the generosity of a community of volunteers in the greater Louisville, Kentucky area led to an extra-special Halloween this year.
"The last couple years our family's built Max a wheelchair costume," says Josh.
Two years ago Max was a school bus. Last year he was a fire truck.
Looking for inspiration this year, the Bowens came across Magic Wheelchair, a non-profit organization that builds costumes for wheelchair-bound kids. Josh got in touch with the Oregon-based organization and sent them a video featuring Max.
Christine Getman, Development Director for Magic Wheelchair, says the organization identifies local volunteers who design and build the special costumes.
"It's so effective when we can build the community around the child," she says. "It's more meaningful and powerful."
In August, the Bowens learned that Max had been paired up with volunteer builders Louis and Nate Peters.
"Louis was really eager and pretty proactive about building for this Halloween," says Christine. "His persistence really drove the build."
Fittingly, the Bowen family met up with Louis and Nate at a campground outside Louisville. The father and son duo measured and took pictures of Max's wheelchair.
"They asked him what he wanted for a costume, and Max told them he wanted to be a camper," says Josh.
Louis had the idea to build not just any camper, but an instantly recognizable Airstream Classic. They built the frame of the costume from PVC pipe, and covered it in silver foil tape. The duo used a 3D printer to create the Airstream emblems and the mini propane tank. Sixteen-year-old Nate's experience on his high school robotics team led him to incorporate lights and a horn, much to Max's delight.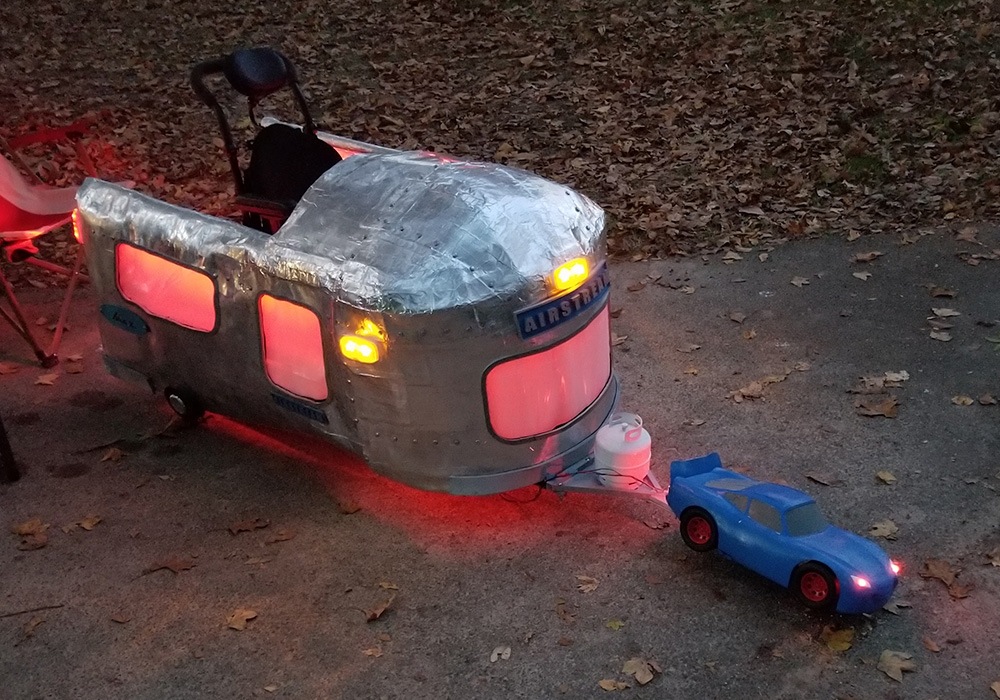 "There are three yellow lights on the front and two red lights on the back," says Josh. "He's got a little horn button on the inside and he can turn the lights on and make them blink."
The Airstream costume was unveiled at the Louisville Zoo's annual Halloween Party in mid-October. Louis and Nate attached the costume to Max's wheelchair and Max joined the other kids in a fun night of trick or treating at the zoo.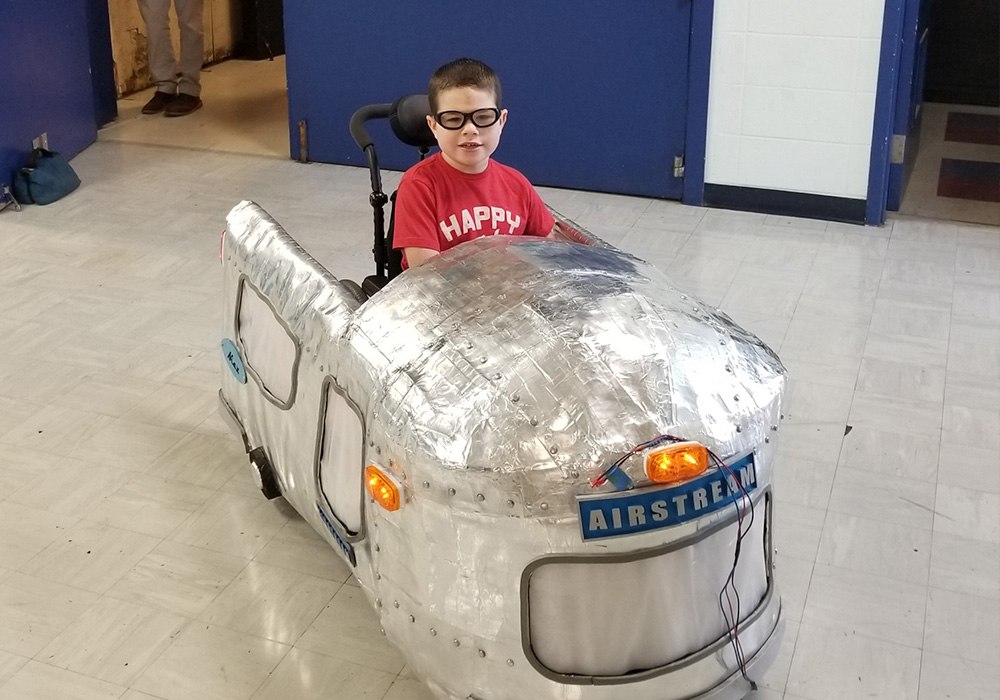 "He loves it," says Josh of the costume.
What the Bowens love even more, though, is giving their son a memorable moment to enjoy a holiday tradition just like any other kid. This year the Bowens celebrated Halloween at a nearby campground, trick or treating through the campsite and enjoying their time together.
"We've discovered that it's really powerful once they put that costume on," said Christine Getman of Magic Wheelchair. "They're no longer a kid in a wheelchair – they're a kid in a really cool costume."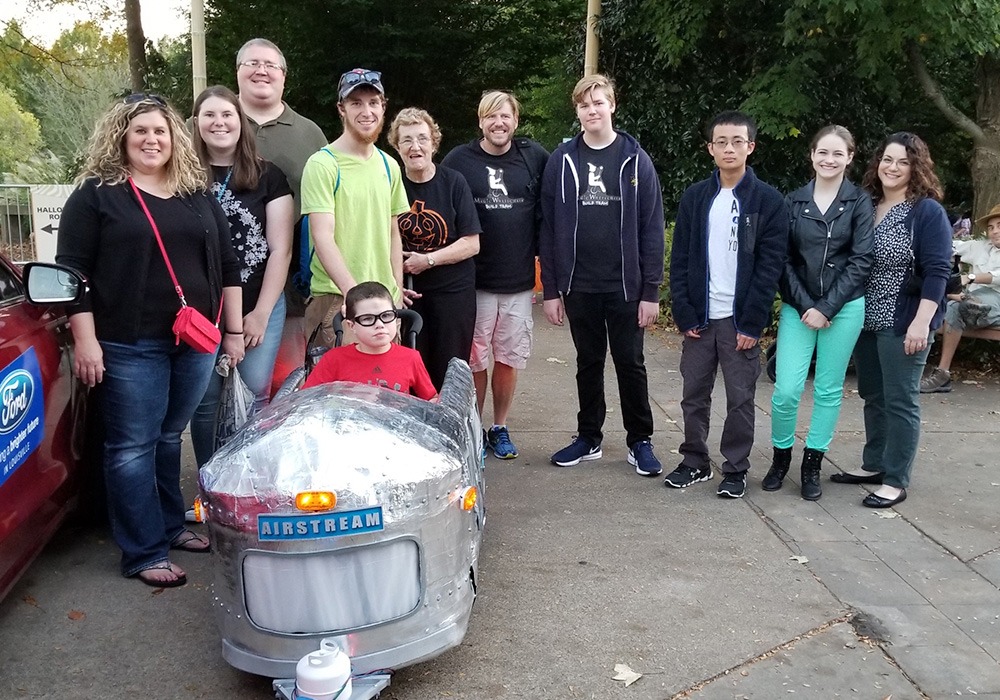 Magic Wheelchair is a 501(c)(3) non-profit organization. They rely entirely on donations to help pay for materials, and they provide each build team free tuition to the online Stan Winston School of Character Arts.
If you would like to join Airstream in supporting the efforts of the Magic Wheelchair organization, visit their website:
Visit MagicWheelchair.org          Donate
---
*All photos courtesy of Josh Bowen