At first glance, an Airstream and an telescope may not seem to have much in common.
But dig into their respective histories, says Airstreamer Scott Roberts, and you'll see one major similarity.
"The basic premise of a telescope was laid out a long time ago by Galileo," says Roberts. "The same is true of what Wally Byam was doing with Airstream, and the company was so smart to keep that legacy alive. They've stayed with the basic monocoque design."
What has changed in both telescopes and Airstreams, says Roberts – founder of telescope company Explore Scientific – is the way technology has been utilized to improve the experience. Furnaces, water heaters, and air conditioners in Airstreams have gotten smaller and more efficient in the same way that GPS navigation and camera equipment have improved stargazers' experience of the night sky.
"When you get to a point where you've made something so well, do you make radical changes to that just because you can?" asks Roberts, who has over 35 years of experience in the telescope industry. "Or do you make ongoing improvements?"
After two decades at a major telescope manufacturer, Roberts founded Explore Scientific. The company is formally located in Springdale, Arkansas, but more often than not you'll find Roberts out on the road towing Barbara Jean the Vintage Airstream – a 1968 Overlander that Roberts named after his mother.
When he bought Barbara Jean, the travel trailer was a true relic of the era, with shag carpet and original furnishings. He's since renovated Barbara Jean into a stargazer's dream. Part mobile showroom, part mission control for stargazing events, Barbara Jean has been updated with a number of features that make it the perfect basecamp for a telescope enthusiast. The upgraded electrical system is perfect for powering computerized equipment and a marine stove ensures warmth on chilly nights. Tons of counter space accommodate star charts and ample storage allows for transport of bulky telescopes and computer equipment.
But the most interesting upgrade is the way Roberts dealt with the issue of lighting.
"Light is the enemy of the astronomer," says Roberts. "In dark conditions the pupils dilate, opening to allow more light to get into the eye and allowing the astronomer to see more and more stars."
Even the briefest exposure to light means waiting at least 20 minutes for the eyes to return to a fully dilated position. Traditionally, astronomers have used red filters over flashlights and headlamps because red light does not dilate pupils and ruin night vision. In Barbara Jean, Roberts has full control the brightness and hue of the LED lights, both inside and outside the travel trailer.
"It's really the ultimate camping vehicle for stargazing," says Roberts. "It sets the stage for people to understand that exploring the night sky is a great outdoor activity."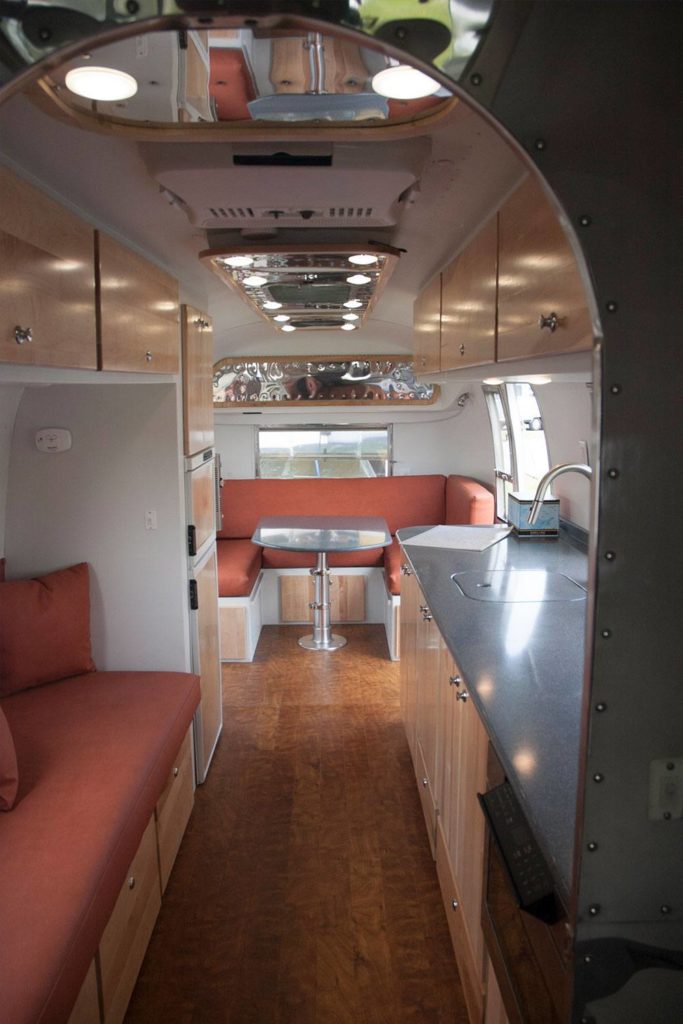 Traveling the country in Barbara Jean, Roberts takes products on the road to numerous skywatching events. Using the Airstream as a mobile showroom, he set up telescopes and binoculars and give hands-on demonstrations to both enthusiasts and newcomers alike.
"It really helps to try it out, put your eyeball to the glass and look at a galaxy that's millions of light years away," says Roberts. "You have the confidence to correctly operate the scope."
From May 29 through June 3 of 2018, Explore Scientific set up at the ninth annual Alumapalooza® at Airstream headquarters in Jackson Center, Ohio. Every night, dozens of Airstreamers visited Explore Scientific's setup outside Barbara Jean and looked into the depths of space to see something wondrous – a galaxy, or a nebula, or a globular cluster.
"It was a great event," says Roberts. "I think we'll be back!"