I am still pinching myself in disbelief. Of all the artists in America, they could have chosen anyone, and they chose me.

- Elizabeth Jose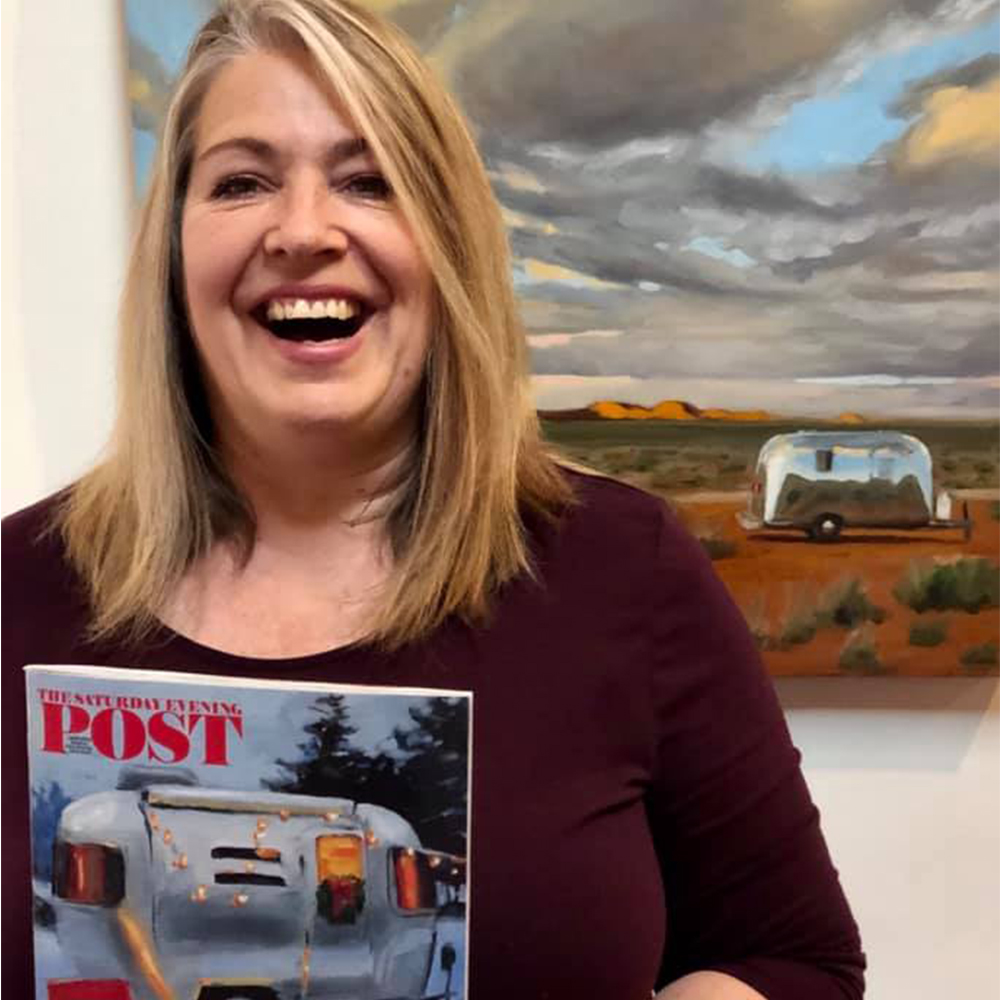 Elizabeth Jose grew up just east of London where she attended art school to train as a portrait artist. Later on, in her twenties, she shifted her focus to music and spent several years working as a full-time singer and vocal teacher. After moving to Taos, New Mexico, in 2005, Elizabeth rediscovered her love of painting. Traveling in her vintage Airstream, Jose captures the enchanting beauty of a shiny aluminum exterior framed by picturesque southwestern landscapes.
Elizabeth first discovered her love of Airstream while preparing to embark on a great American road trip with her ex-husband. Searching for the perfect vehicle for their trip, they visited an RV dealership but nothing seemed to be the right fit. At long last, Elizabeth spotted an Airstream from across the lot. "Instantly, I found myself asking, 'What is that?'," she recalls. "I walked towards it like a Zombie; my Airstream obsession was born."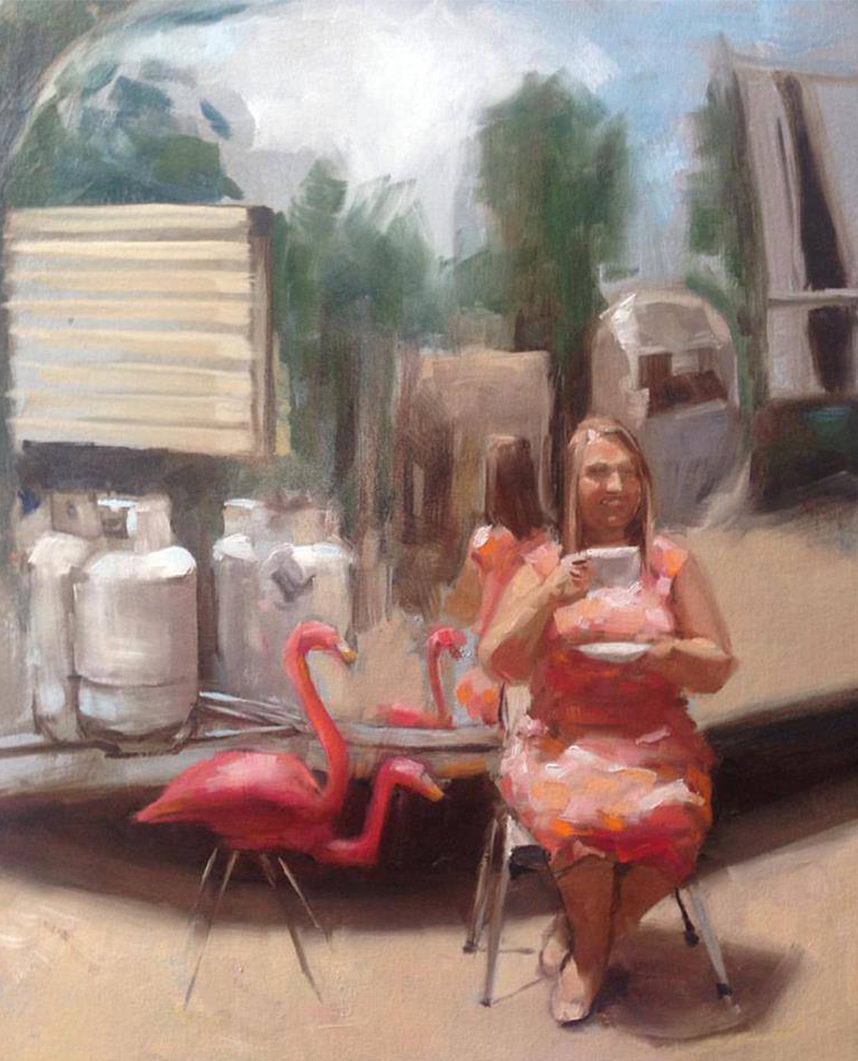 Soon after, the pair purchased a 2004 22' International CCD in Tucson, Arizona.  After stocking up on trip supplies in Sedona, the couple set off on their journey. A few weeks into the trip, they wandered into Taos, New Mexico. It was there that the stars aligned and Elizabeth stumbled upon her dream home. "That is one of the big benefits of Airstream travel, your plans can change at a moment's notice," Elizabeth says. 
Closing on the house while still on the road, they eventually sold the Airstream to a new owner in Seattle before returning to their new home. "We enjoyed the trip to deliver the Airstream to its new owner, but it was incredibly hard to walk away," Elizabeth remembers.
Several years after selling her first Airstream, Elizabeth met her now husband Ray. "Ray loves vintage cars so I suggested that we buy and restore a vintage Airstream," Elizabeth says. "He thought about it for about 30 seconds and replied with an enthusiastic yes. We had only been dating 10 months and working together on the trailer was a blast and we became a team."
After some searching, Elizabeth discovered a 1966 24' Tradewind online and the pair drove 15 hours to take a look. "I knew that this was the one," Elizabeth recalls.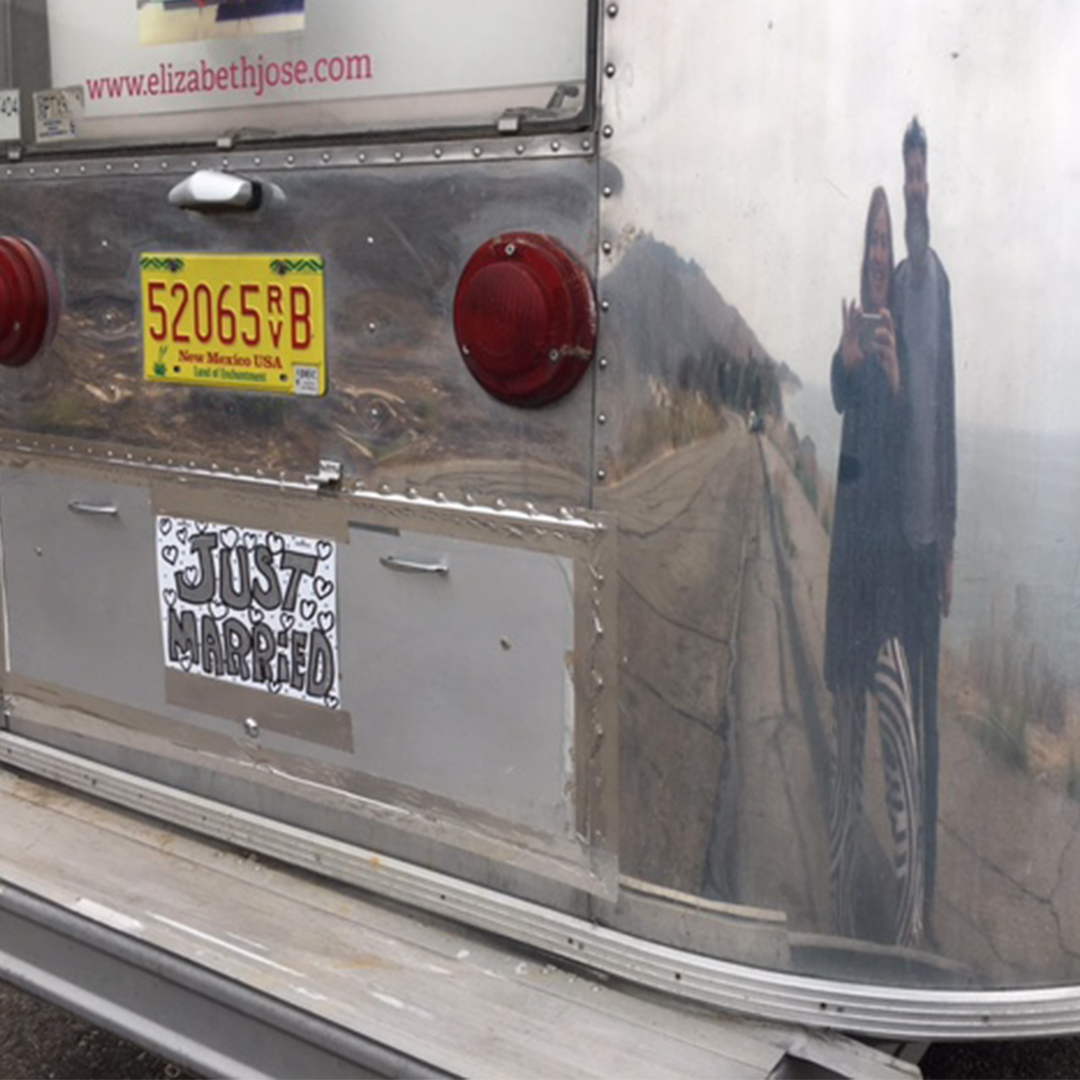 Elizabeth and Ray spent a year restoring their beloved Airstream named "Silver Palace." Outfitted with a cozy dark wood interior and new appliances, they were ready to hit the road. The couple celebrated their honeymoon in true Airstreamer style, visiting the Redwood Forests, traveling along the California coast, and exploring Route 66.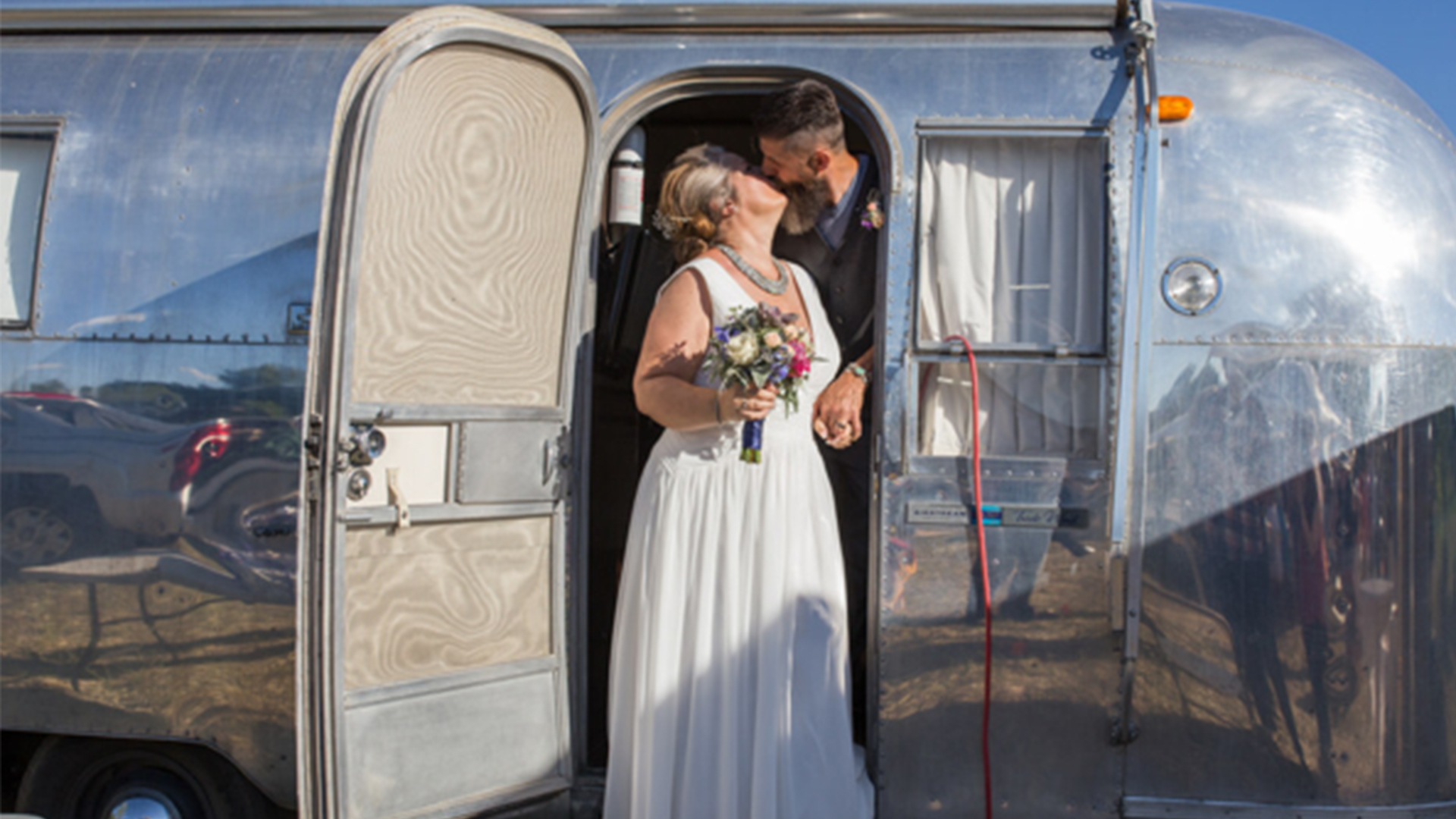 Working as a full-time artist for over a decade, Jose beautifully captures the spirit of wanderlust in her paintings inspired by her own travels as well as photographs from other Airstreamers. Jose has completed several commissioned pieces and each year she offers a limited edition holiday card inspired by images sent to her from fellow Airstreamers. Elizabeth also encourages the community to vote on which images will appear in her calendar and which one will be the cover. "I love sharing my work with the community," Elizabeth remarks, "their enthusiasm and excitement is contagious."
When one of her pieces was selected for the cover of the Saturday Evening Post, Elizabeth could hardly believe it. In addition to having her art and name introduced to more than 230,000 people, Jose gets the quiet pride of knowing she is standing alongside some of the most iconic American artists of the historic twentieth century publication. 
"So many fantastic artists have been on that cover, and now they are only making six editions a year. I love Norman Rockwell's work and Andrew Wyeth's. The people they've had on there are incredible."
To learn more about Elizabeth and her artwork, visit her gallery page.
See more of Elizabeth's collection