Jim and Carmen Beaubeaux, along with their spirited chihuahua named Pico de Gallo, began traveling full-time in their 2001 30' Airstream Excella named Beauty in 2016. Over the past few years they have traveled nearly 40,000 miles and visited over 260 overnight locations; learning along the way what it truly means to travel light and live freely.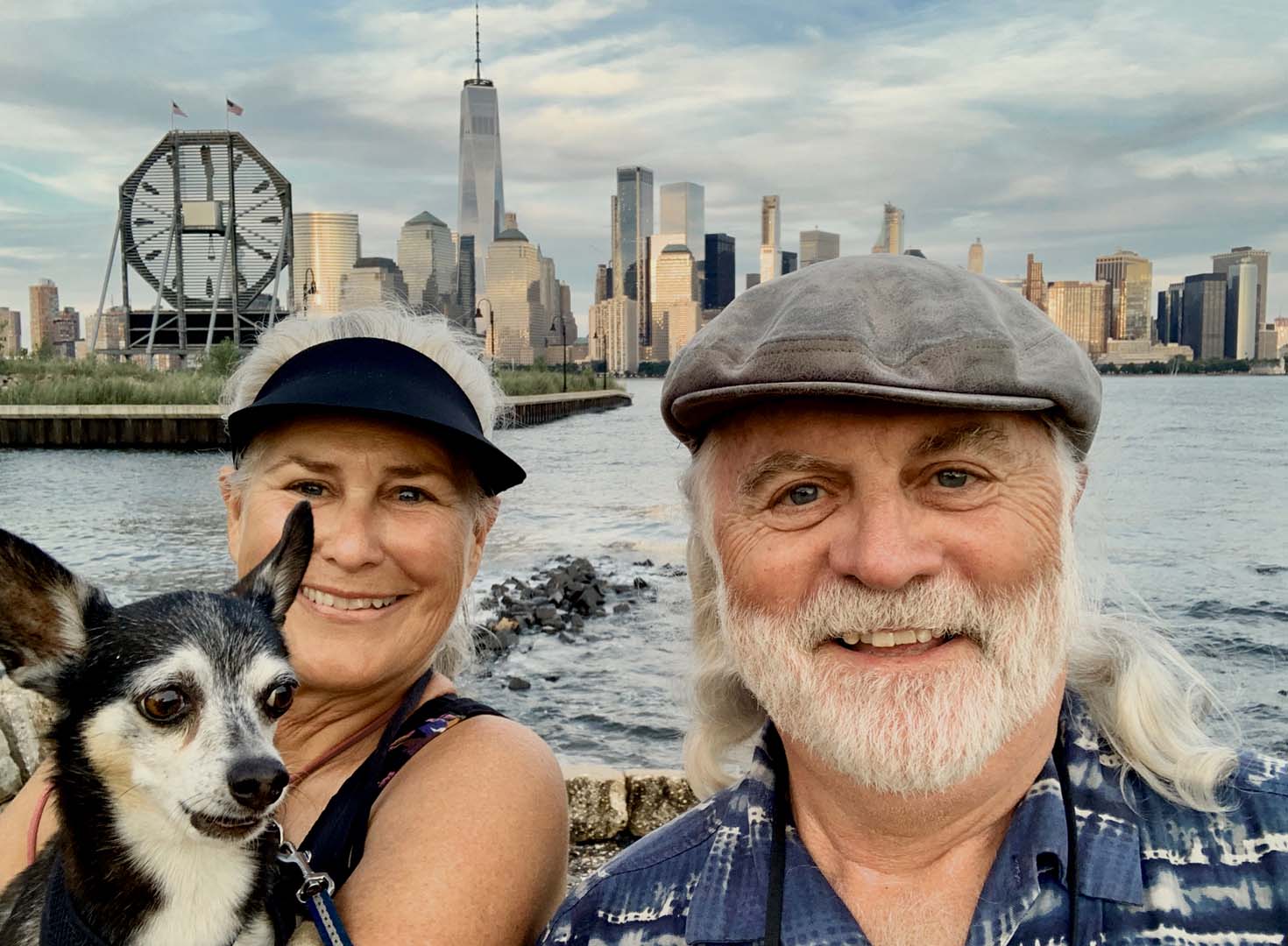 Carmen was no stranger to Airstream growing up. Her father, a navy flight engineer and aviation pioneer, had always admired Airstreams. Whenever the family saw an Airstream on the road, he'd say, "Kids, that's the best trailer in the world." So, when Jim and Carmen began searching for an RV to travel in full-time, it was no surprise that Carmen's father recommended an Airstream.
The pair began shopping online and within three months they found a 30' Airstream in Alabama perfectly suited to their needs. A former playwright and theatre administrator, Carmen continues to do voiceover work so she needed a model that could easily be soundproofed. Jim also needed the flexibility to work remotely as he serves on several healthcare boards back in San Diego. The layout in the 2001 Airstream Excella allowed for his and her offices with a window seat. It was meant to be.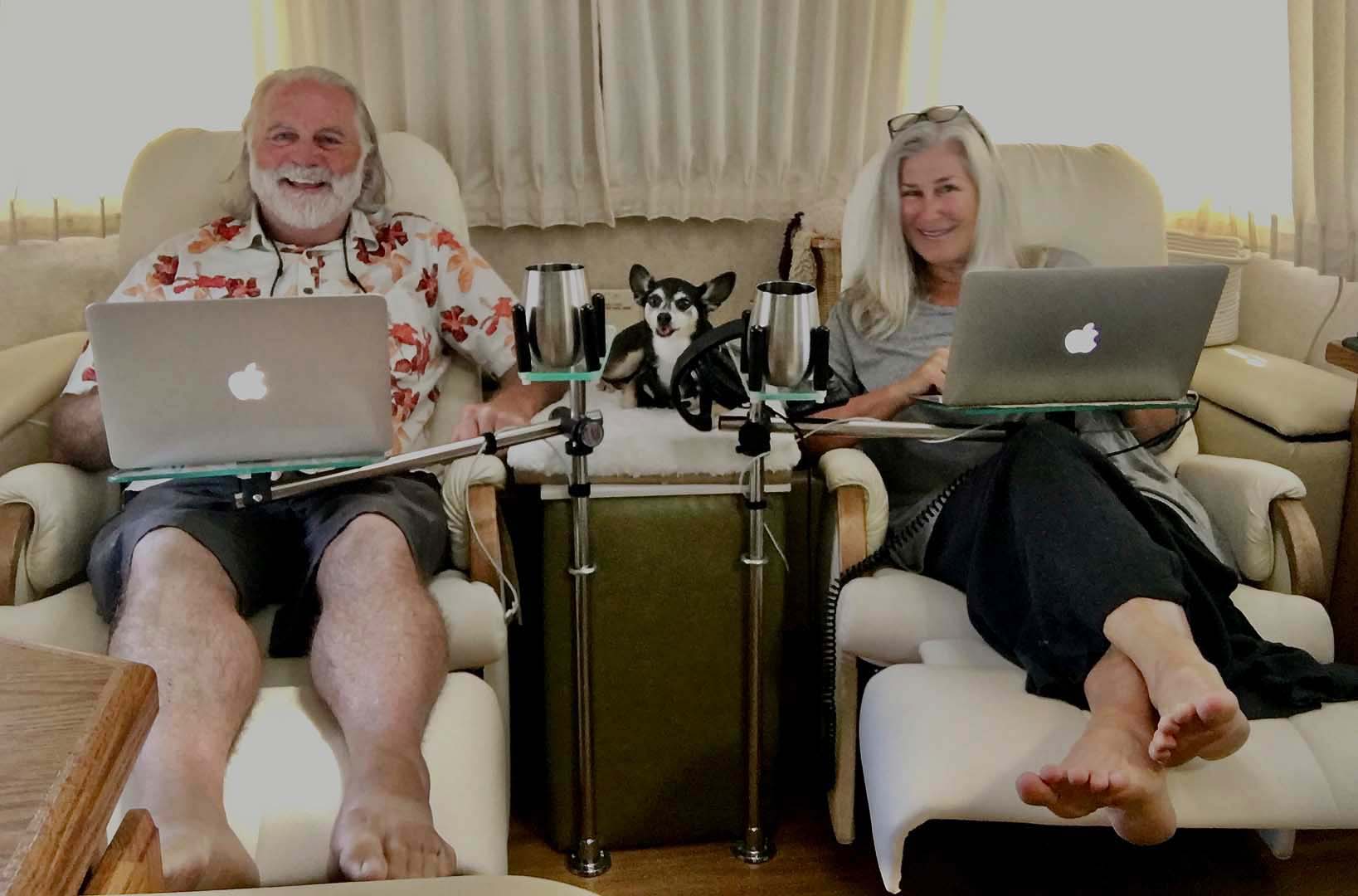 Carmen's father drove from Mississippi to inspect the travel trailer and declared that she was a beauty. They immediately closed the sale and her father towed their new Airstream, Beauty, back to his home in Mississippi. He also began shopping for their tow vehicle, aptly named The Beast.
A few months later, Jim and Carmen flew down to pick up Beauty and The Beast. After some towing lessons and stocking up for their maiden voyage, the pair left for New Orleans to celebrate their 40th wedding anniversary. Carmen says, "We'd never been happier in our lives. In our mid-sixties, we've had many achievements, but the most transitional moment was when Dad handed over the keys to our new Airstream."
After their anniversary trip, Jim and Carmen put Beauty in storage for a year while going through the intense process of selling homes and getting rid of possessions. True full-timers, the Beaubeaux's have nothing in storage and no home base.  If it's not in the Airstream or tow vehicle, they don't own it. Although the clearing and purging was not an easy process, they ultimately found that it allowed them to feel lighter and freer.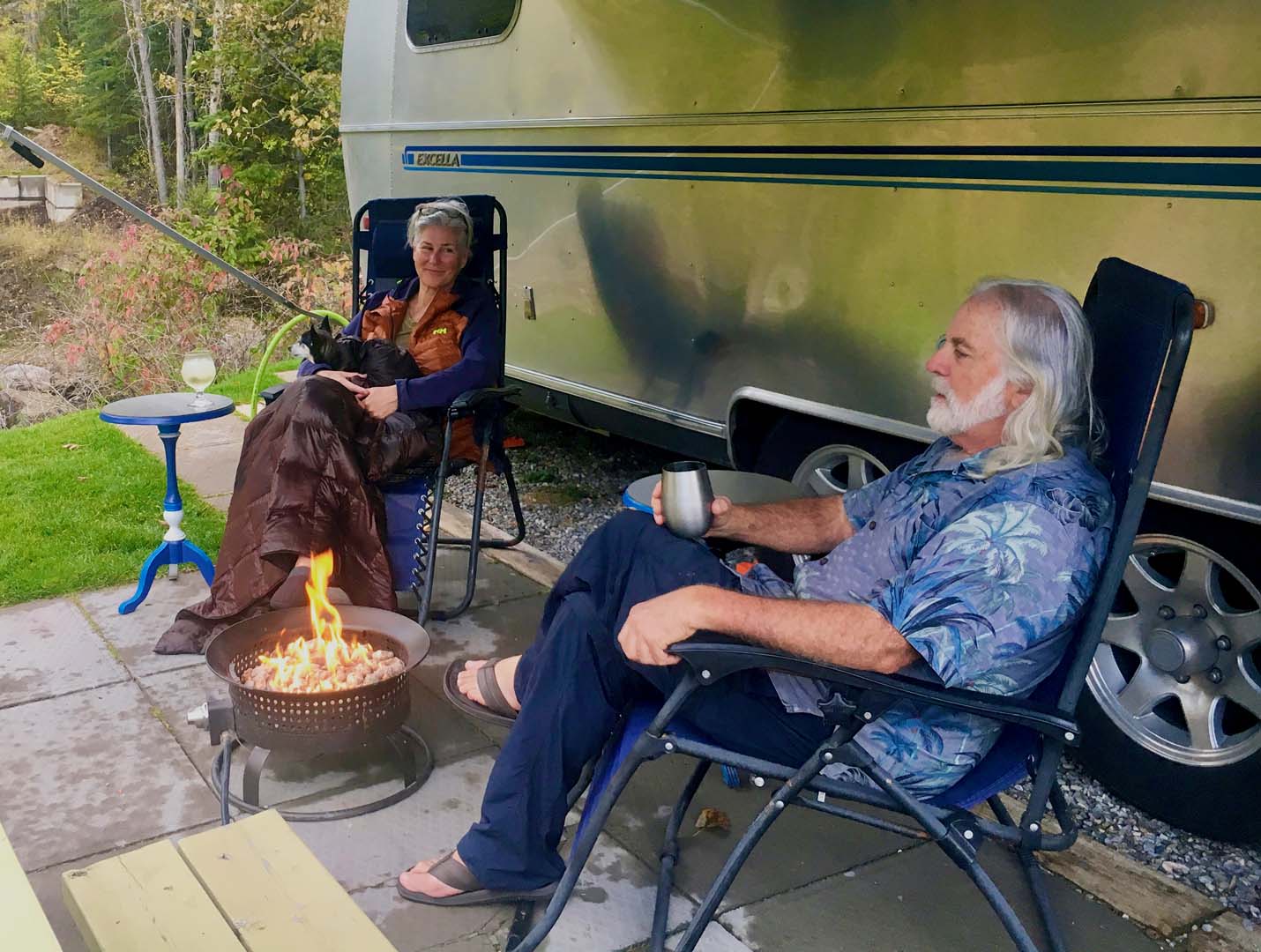 Four years later, after countless adventures in 46 states and 4 Canadian provinces, Jim and Carmen have found that Airstreaming has extended their lives in new ways. They eat well, consciously choosing a healthy diet while stocking up on groceries that will last. They also enjoy hiking, kayaking, and biking at each new location.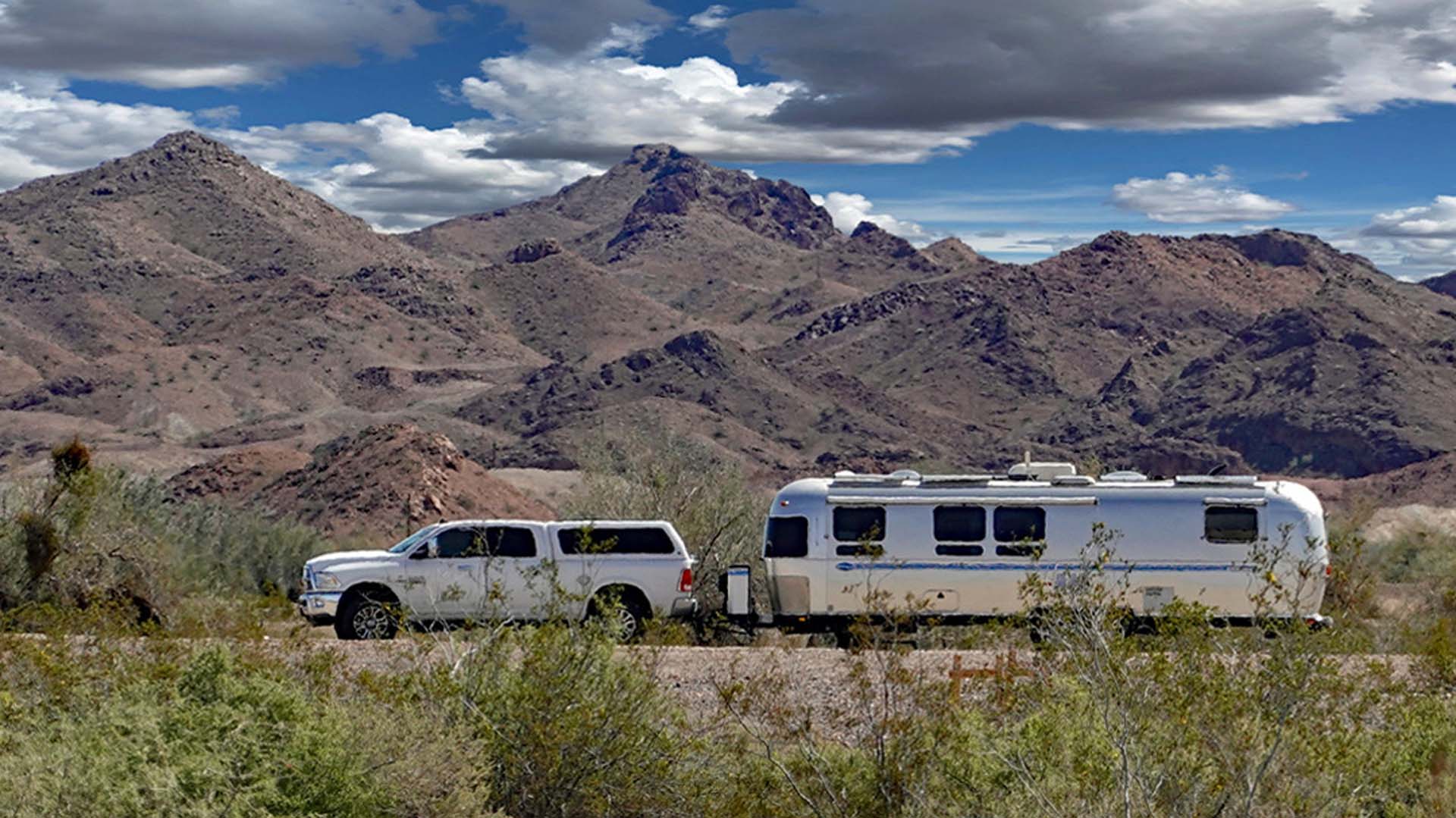 The pair certainly has no plans to stop traveling. "Airstream is a perfect thing for us," Jim says. To those aspiring to travel full-time, Jim says, "The dream is even better than you imagine. Do it now."
The Beaubeaux's follow Jim's "4-3-2 Rule": drive for no more than 4 hours a day, stop by 3pm, and stay for 2 weeks. They find that this rhythm prevents them from feeling rushed and prevents boredom from setting in. For Jim and Carmen, nothing compares to the joy of having a new backyard every 2 weeks that someone else maintains.
Watch this 2-minute documentary about the Beaubeaux's 4-3-2 travel philosophy produced by Wunderman, Best Buy, and Drive Thru, Inc.
Two other important rules for the Beaubeaux's are: "No fake deadlines" and "No reservations." Jim and Carmen enjoy embracing the unknown and keeping it simple. They have camped at a variety of spots including boon-docking, urban camping, state parks, and Harvest Hosts. Along the way, they make sure to stop for craft breweries, farmer's markets, and dog-friendly activities.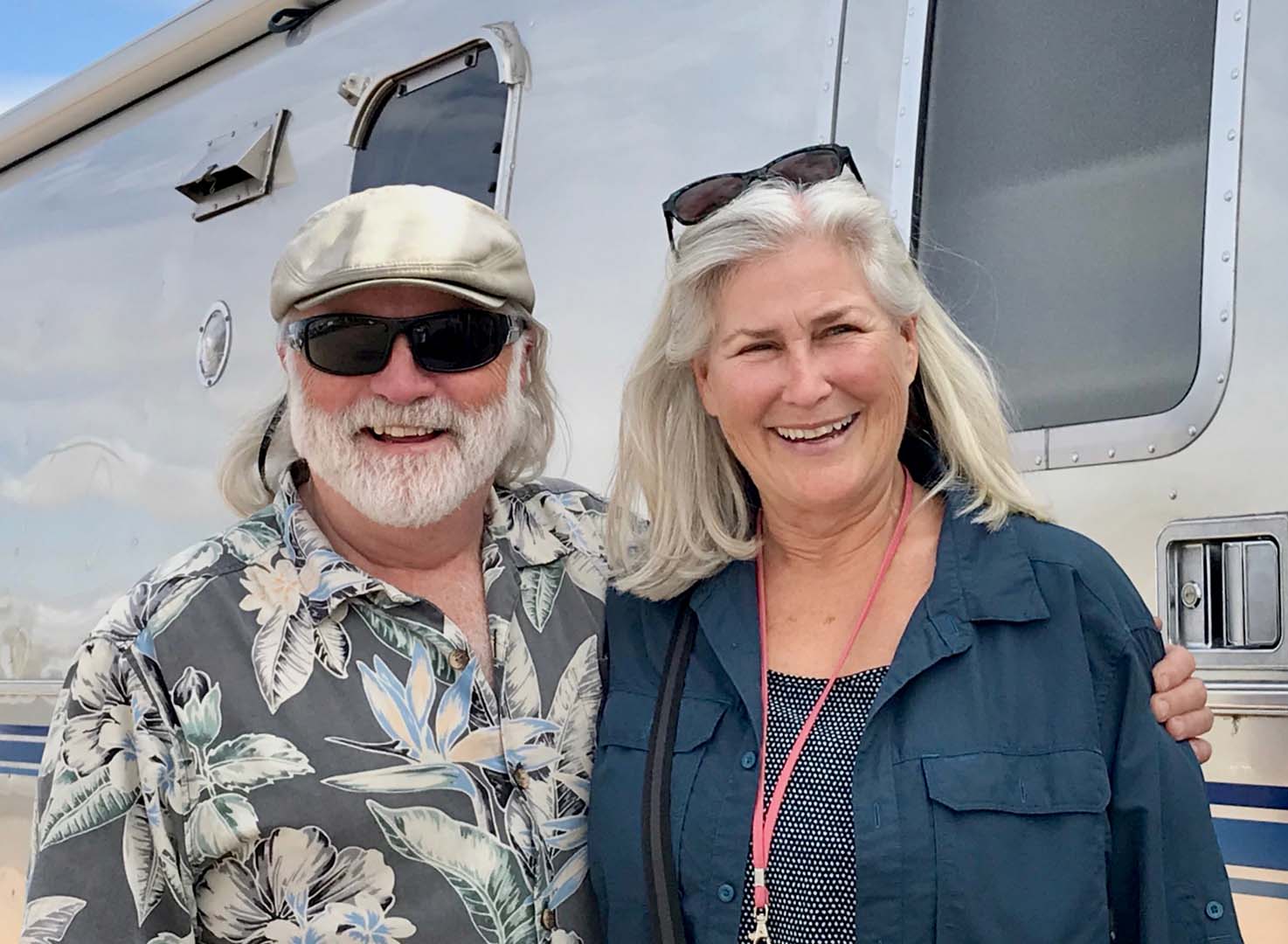 Jim and Carmen record their adventures on their blog Living in Beauty. The blog was started as a travel log to help people back home understand their new lifestyle. The Beaubeaux's share travel tips, campground reviews, advice on camping gear, and more. Carmen points out that Airstreaming has made them feel more connected and in touch with the world. "We met some of our closest friends because of Airstream," she says. Former navy brats,  full-timing also allows Jim and Carmen to see friends and family from all over, "it brings life full circle."  
At 85 years-old, Carmen's father still loves camping and often drives long distances to join the couple on their adventures. But they are looking towards the future and a way to escort him to the things he loves like golf events, casino resorts, and aviation museums. It will require a creative solution but as Carmen says, "The only thing we know for sure is that for my Dad, only Airstream will do."