Do you know the distance from Earth to Mars? Or what Mars' atmosphere is made of? Are you wondering why we're even asking?
For the past 18 months, we've been working on a project we're very excited about, but one we haven't been allowed to discuss – until now. But first, a little history.
Airstream has played a role in America's space exploration efforts since 1969 – the year Apollo 11 made the first moon landing. When astronauts Neil Armstrong, Edward "Buzz" Aldrin, and Michael Collins returned to Earth in July of that year, they spent several days in quarantine in case they had been exposed to any contagions in space. The site of their quarantine? A converted Airstream trailer called a Mobile Quarantine Facility (MQF).
Airstream went on to produce three more MQFs for the crews of Apollo 12, 13, and 14.
Then, from 1984 to 2011, another special Airstream – the Astrovan – shuttled astronauts to and from the launch pad at NASA's Kennedy Space Center.
Now, in 2017, humankind is gearing up for the very first manned Mars mission. And because of Airstream's history with the space program, paired with our legacy of quality and durability, we were contacted to help make the mission a success.
In partnership with some of America's leading aerospace engineers, we're creating a very special version of our iconic travel trailer – one that can sustain human life on Mars. We're calling this initiative Project Mars RoVer.
The Project Mars RoVer space trailers will be specially outfitted and equipped to serve as temporary housing until permanent living arrangements are established. Each unit can house three people for up to five years, and they include many of the features you'd find in our regular trailers – contemporary décor, full bathrooms, kitchens with Corian® surfaces, flexible sleeping options, durable marine-grade flooring, entertainment centers, and plush UltraLeather™ seating.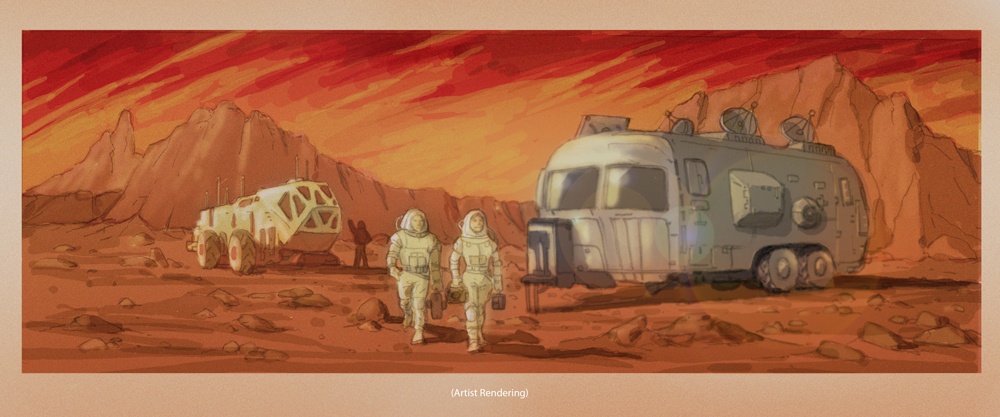 Of course, the space trailers will also have a slew of options you don't need here on Earth, including:
oxygen generation and artificial gravity capabilities
roomy spacesuit storage areas with special shelving for helmets
trash compactors powered by energy from the stars
Asteroid Intercept Systems to vaporize dangerous incoming space debris
panic rooms with a direct link to the primary spacecraft, in case of an encounter with unfriendly lifeforms
freeze-dried ice cream supply (one flavor per unit)
jet propulsion
Plus, a special double-sealed, dual-compartment door area will allow for safe entry and exit. This means residents can move between the units to socialize, attend meetings, or even just borrow a different flavor of freeze-dried ice cream. And with the push of a button, the space trailer autopilots itself back to the primary spacecraft for routine maintenance or other repairs.
We can't wait to share more about our progress on Project Mars RoVer. But before we do…
Happy April Fools' Day from Airstream!
It's time to come clean: we're not really designing a new space trailer to help colonize Mars. But we do build a lot of other pretty amazing products. Check out the Flying Cloud, our most popular trailer, to see how Airstream can make your (terrestrial) travel dreams come true.