Usually, this time of year Airstream associates look forward to the company's annual Christmas Breakfast. But over the course of the Autumn of 2020 – with the breakfast on hold until at least 2021 – a group of Airstream associates got together to ensure the tradition of coming together during the holidays stayed alive in spite of the pandemic. Working on their own, a team of Airstream associates created a drive-through Christmas extravaganza in the parking lot of Airstream's new travel trailer production facility for both the Airstream associates and the Jackson Center community.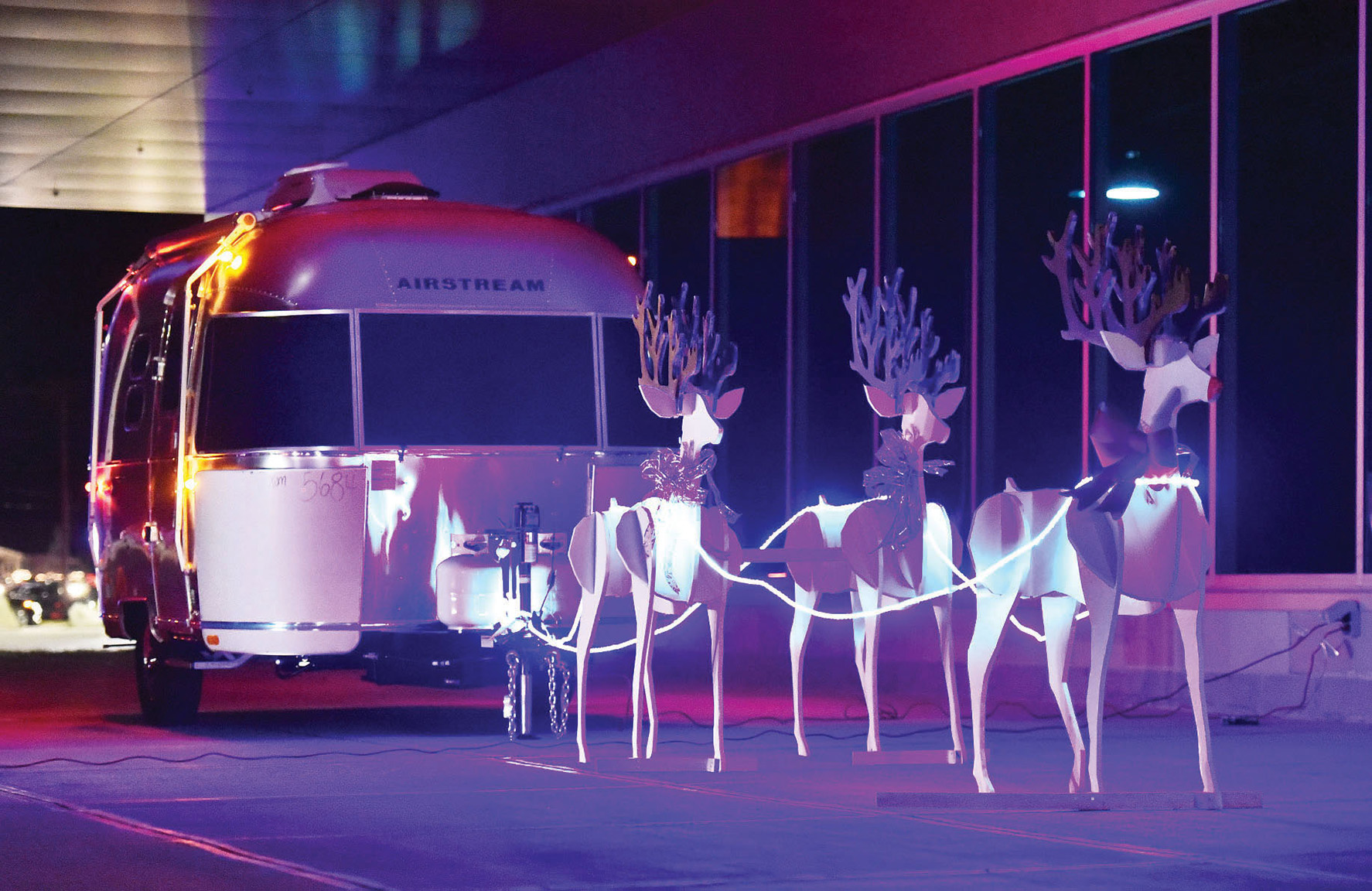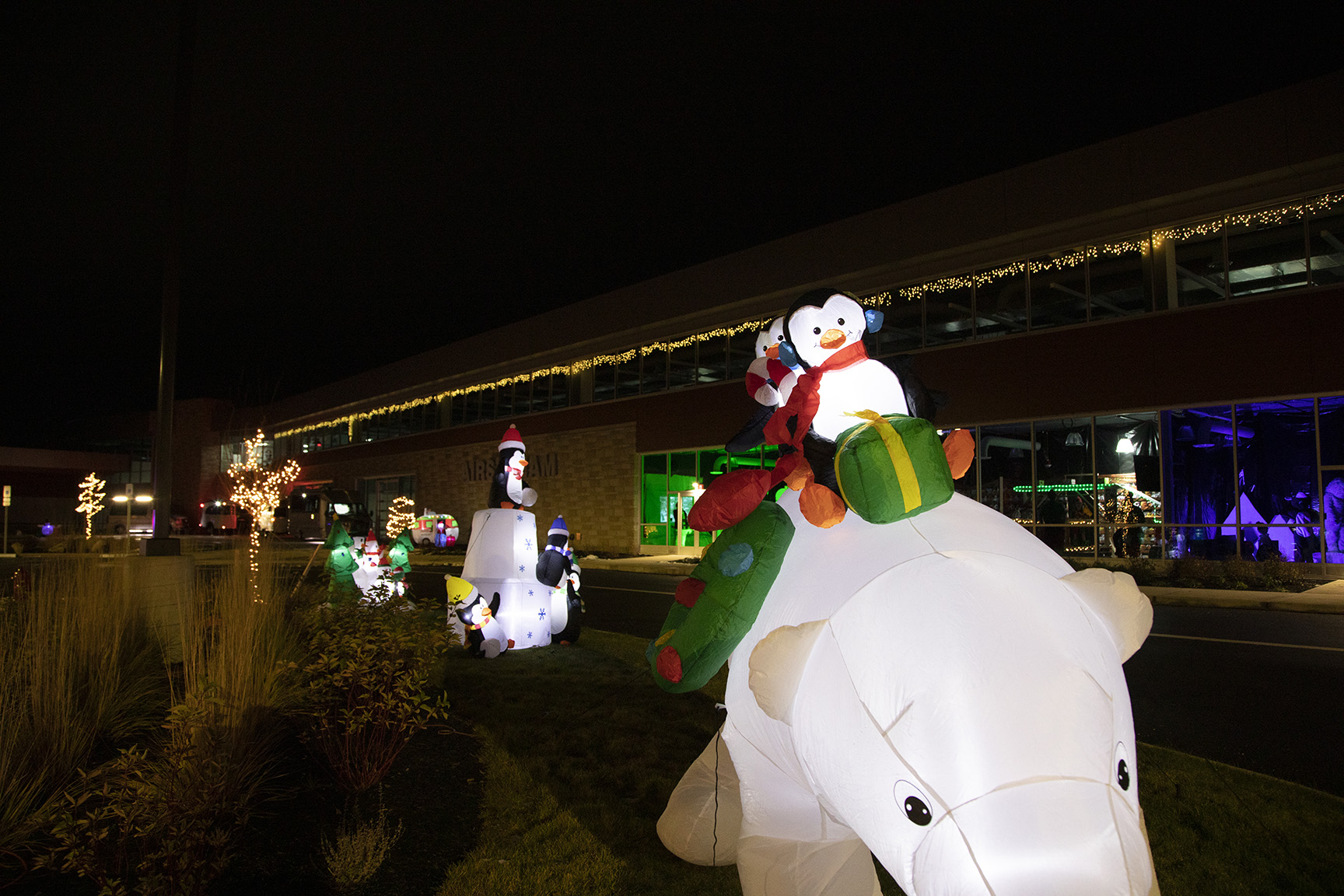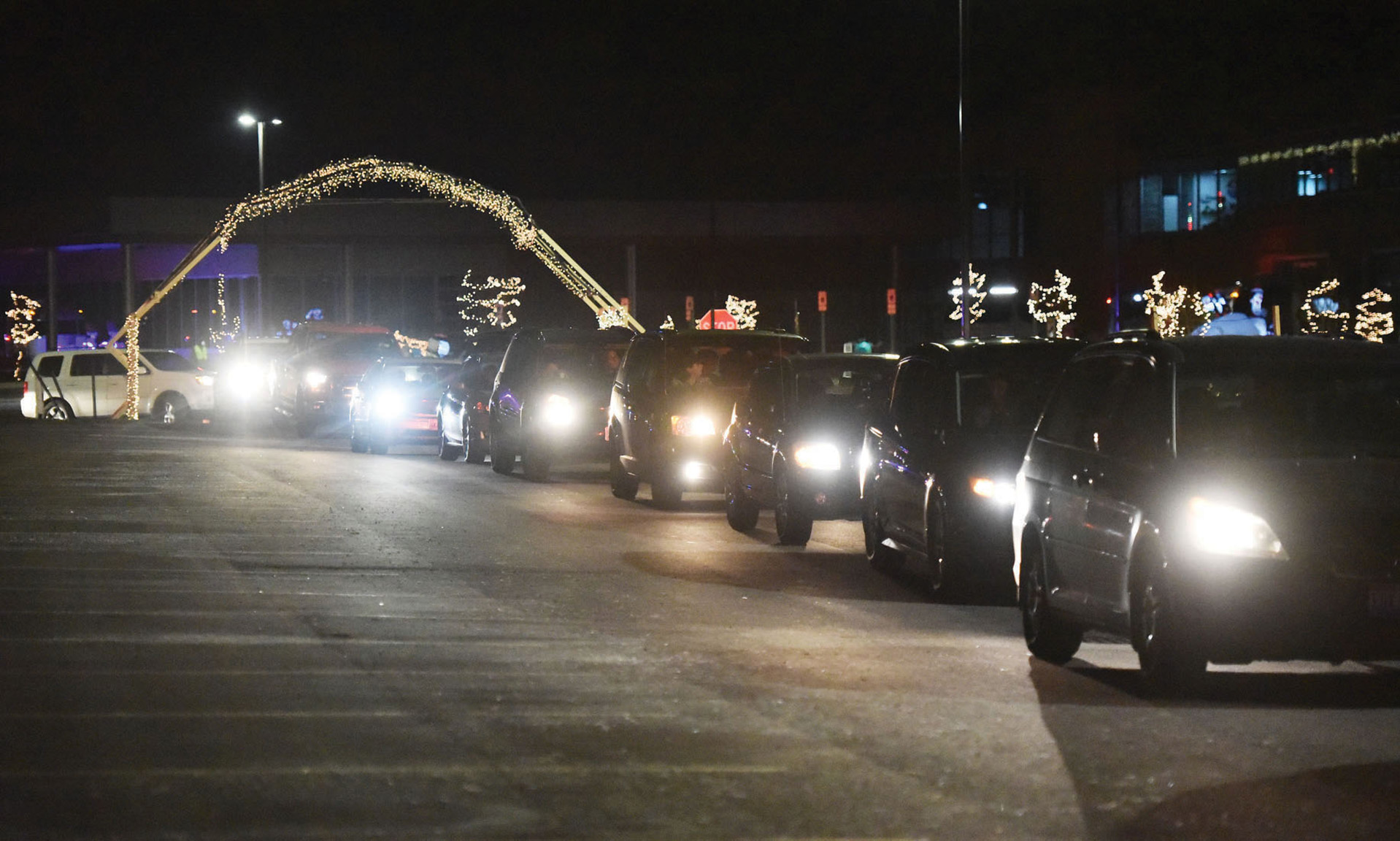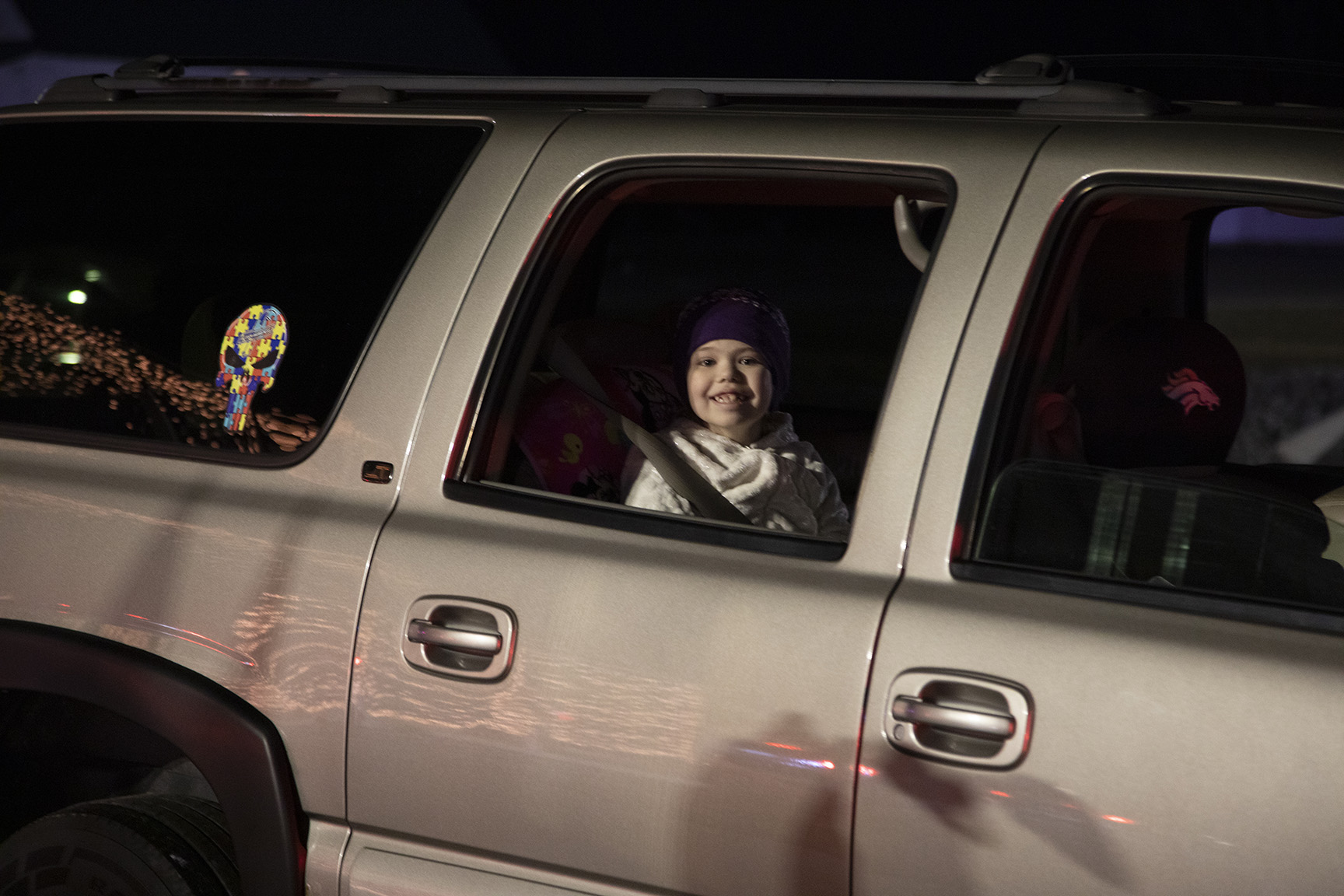 An Unprecedented Year
With everyday life upended across the country, Airstream and its Jackson Center, OH, community have faced many challenges in 2020. Nine months after the onset of the coronavirus pandemic, Airstream associates are still coming into work every day with social distancing protocols in place, along with mask requirements and other procedures aimed at minimizing the chance of an outbreak and ensuring a safe and healthy work environment. Like many businesses across Ohio and the country, Airstream weathered a halt to production, furloughs, and then eventually layoffs at the start of the pandemic. As the early days of quarantine wore on, Airstream worked hard to ensure the company's nearly 1,000 associates could come to work, maintain steady employment, and maintain access to quality benefits including health care. And all while weathering a crisis that has affected every aspect of the business – from production rates to the supply chain, to dealer inventory and the customer experience. 
Part of what makes Airstream an icon is the fact that it has stood by its founding principles. Quality, craftsmanship, and community remain the foundation upon which every Airstream travel trailer and touring coach are built. Hardworking women and men come to work every day at the sprawling Airstream campus in Jackson Center, Ohio and build an American legend by hand. They work with the knowledge that they are building someone's dream come true, someone's retirement, someone's life savings. The Airstream production floor is a place where you're greeted with smiles, where everyone knows each other and friends and relatives work side by side. Generations of western Ohio locals have come to Airstream for years knowing that it's a company that values and appreciates its employees. Every Thanksgiving, associates leave for the holiday with a turkey in hand. At Christmas it's a ham. 
A Holiday Tradition Unlike Any Other
And every Christmas since 1999, Airstream associates have looked forward to the annual Christmas Breakfast. They bring their families to The Mothership on a Saturday morning in December for tradition unlike any other – a communal eggs and pancake breakfast, cooked and served by the executive and management team. Everyone eats together at long tables set up on the production line. Team members introduce each other to their children, wives, husbands, grandparents. They tour the factory, marveling at the dozens of trailers lined up nose to bumper. Elvis always shows up to croon some Christmas tunes, and local choirs and bands soundtrack the morning. Families line up for pictures with Santa and Mrs. Claus, and the kids walk away with balloon sculptures, painted faces, and goodie bags.  Last year nearly 3,000 people attended.
For a global brand with nearly 90 years of iconic history, it's a remarkable thing to see everyone in one place, together for a morning, side by side, celebrating the season and the community who come to work proud to be part of American heritage. But as it's been with almost everything in 2020, the annual Airstream Christmas Breakfast was not to be. 
But that didn't mean Airstream couldn't get together for some sort of holiday fun.
"Everyone looks forward to it," said Airstream President and CEO Bob Wheeler. "We were disappointed that we couldn't make it happen this year, but I'm proud to say a team of creative associates rallied together to create an alternative that brought a little cheer to the Airstream community here in Jackson Center."
Celebrating at a Social Distance
A team of associates led by Executive Assistant to the CEO Christine McKenzie organized volunteers to create a drive-through Christmas display that sprawled across Airstream's office parking lot. Working on their own time, the group gathered holiday inflatables, strung lights in the trees, and built several large structures, including an igloo and a wide arch through which the cars entered the line. Many parts of the structures and displays were created in Airstream's carpentry workshop using scrap materials left over from the production process.
"The team really got creative," said McKenzie. "It wasn't easy, and they worked really hard on their own time. It all came together in the end."
Also on the team were Manufacturing Engineering Director Mark Beckman, Manufacturing Engineering Supervisor Ken Hemsworth, and Manufacturing Engineering Maintenance Assistant Kyler Klingler, who helped ensure the structures were secured, safe, and large enough to inspire holiday awe. 
Extending the community spirit, Airstream invited the community of Jackson Center to visit the display, which culminated in four diorama displays in the front windows of the building. In order to keep everyone socially distanced, families participated together, creating light-hearted Christmas scenes in the windows to delight the passengers driving past. 
The first window was a live Nativity scene staged by Production Associate Bruce Watkins and his family, which included an actual baby as part of the cast. 
In the next window, Production, Development, and Engineering Director Karla Paul and her I'm family brought to life the classic Rudolph the Red Nosed Reindeer special, complete with an abominable snowman.
A busy elf toy factory bustled with elves creating toys on a sprawling workbench in the next window. The scene by Hemsworth and his family featured a moving conveyor belt that carried packages across the room.
Finally, the Grinch shook his green finger at the cars passing by. Safety Manager Larry Roberts and his family dressed up as a Who family and the Grinch's dog Max.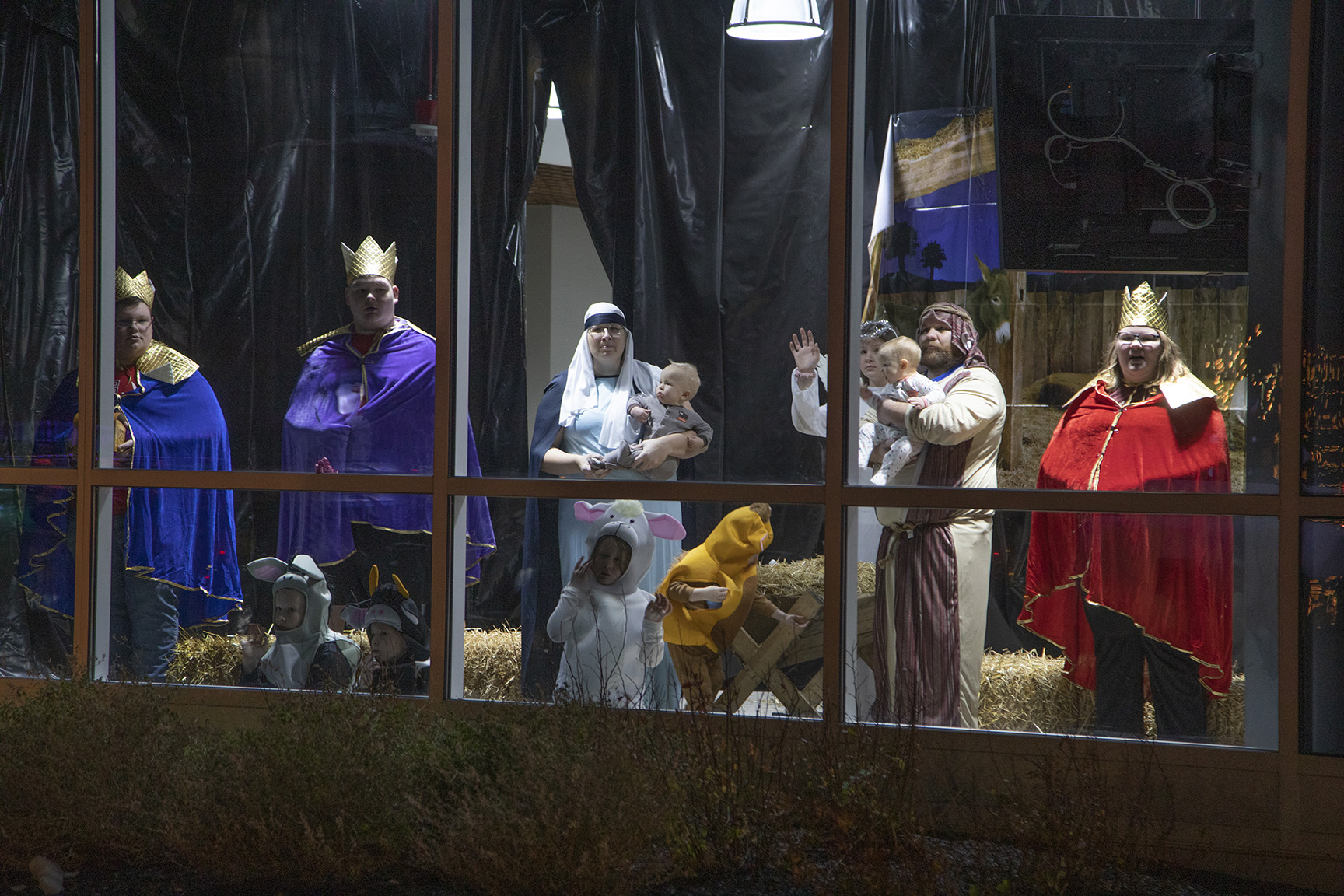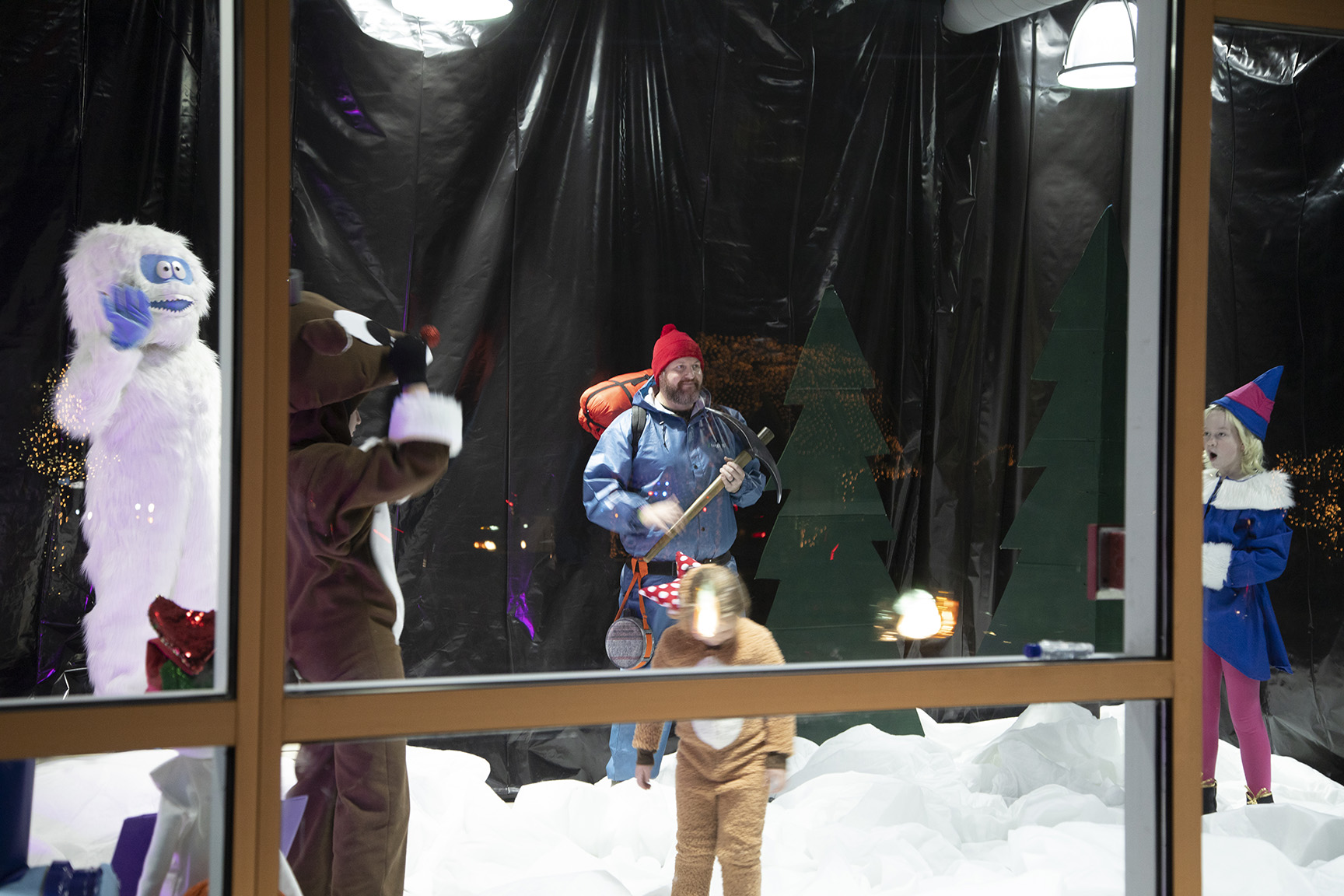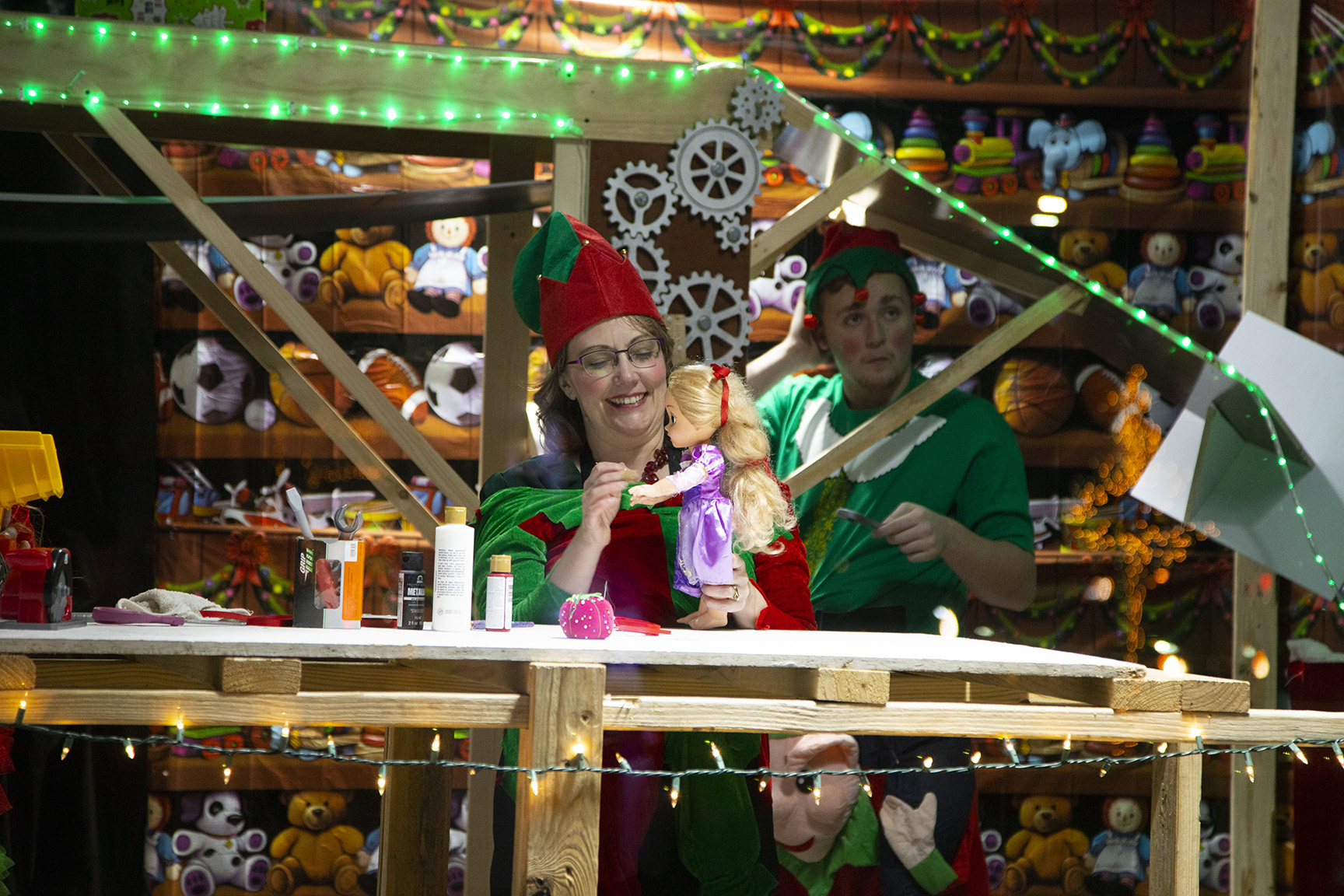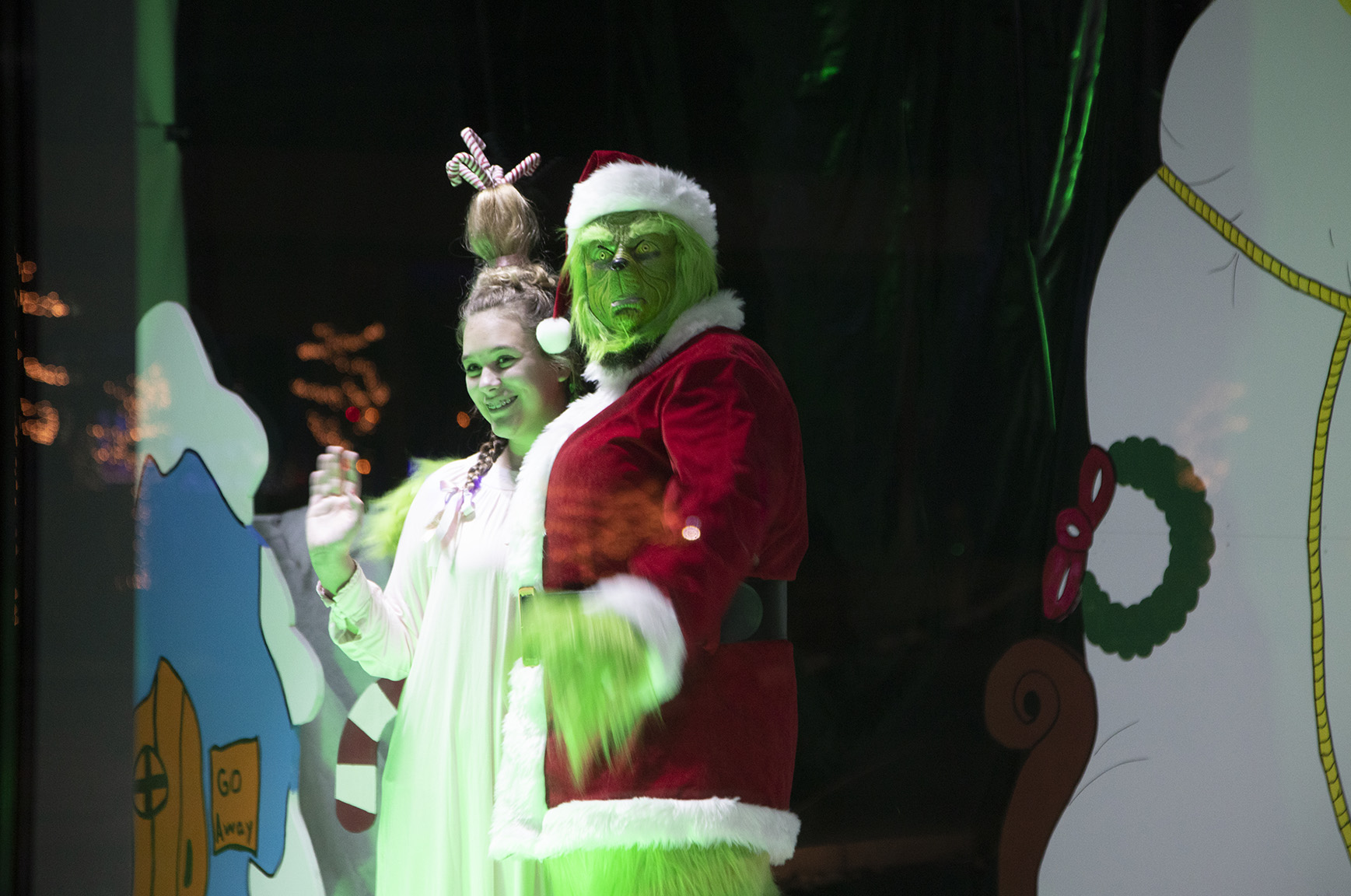 Before leaving Airstream, Santa and Mrs. Claus waved from the windows of what will soon become the Airstream Heritage Center museum. And up on the second floor in Airstream President & CEO Bob Wheeler's office, Elvis delivered a hunka-hunka burning piece of Christmas joy, singing across the airwaves for cars that tuned into the local radio station. And kids got goodie bags full of toys, candy, and breakfast coupons from local Wendy's locations who helped keep the breakfast tradition alive. All in all, the event was a great success, with almost 300 cars with over 450 children there to delight in the spectacle.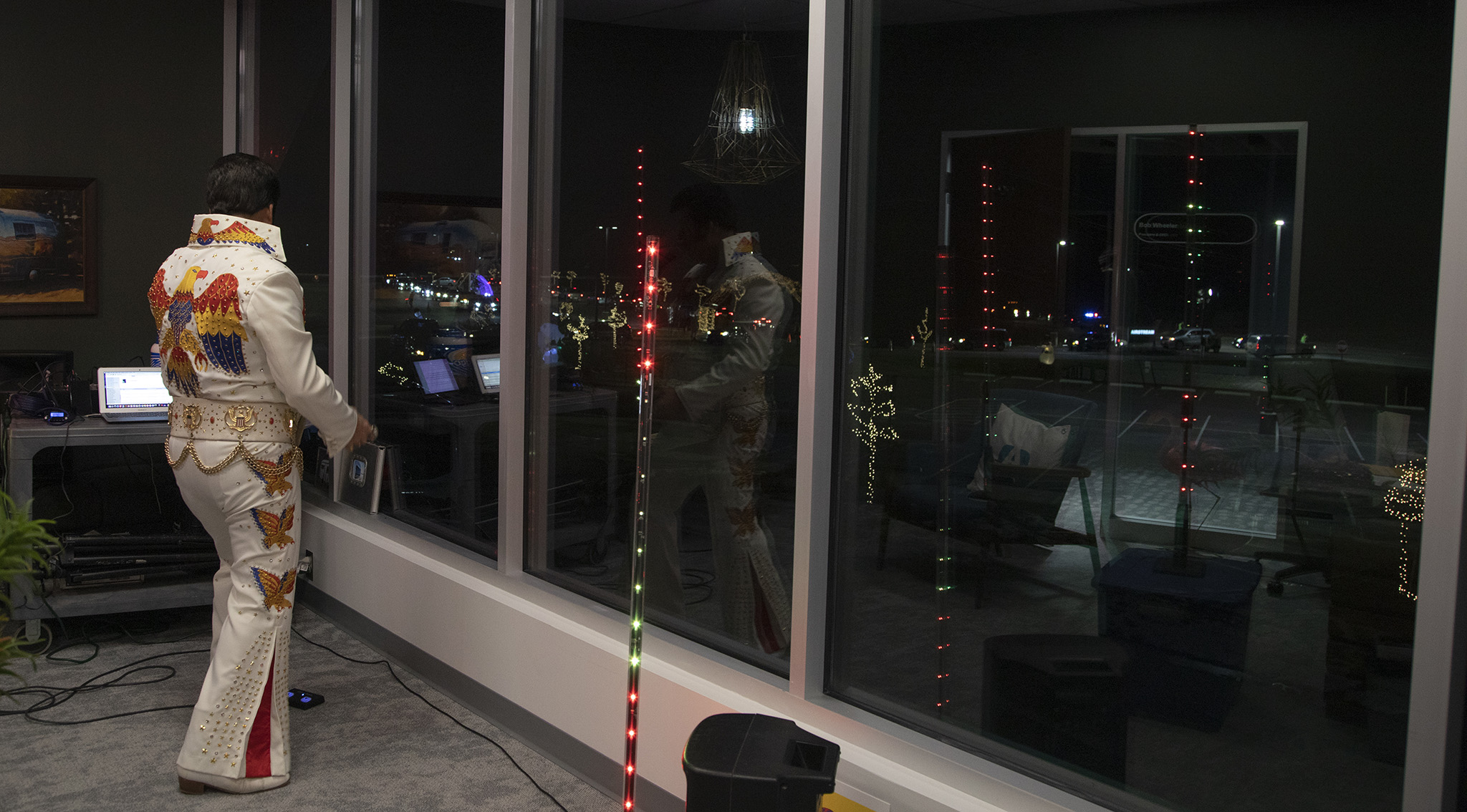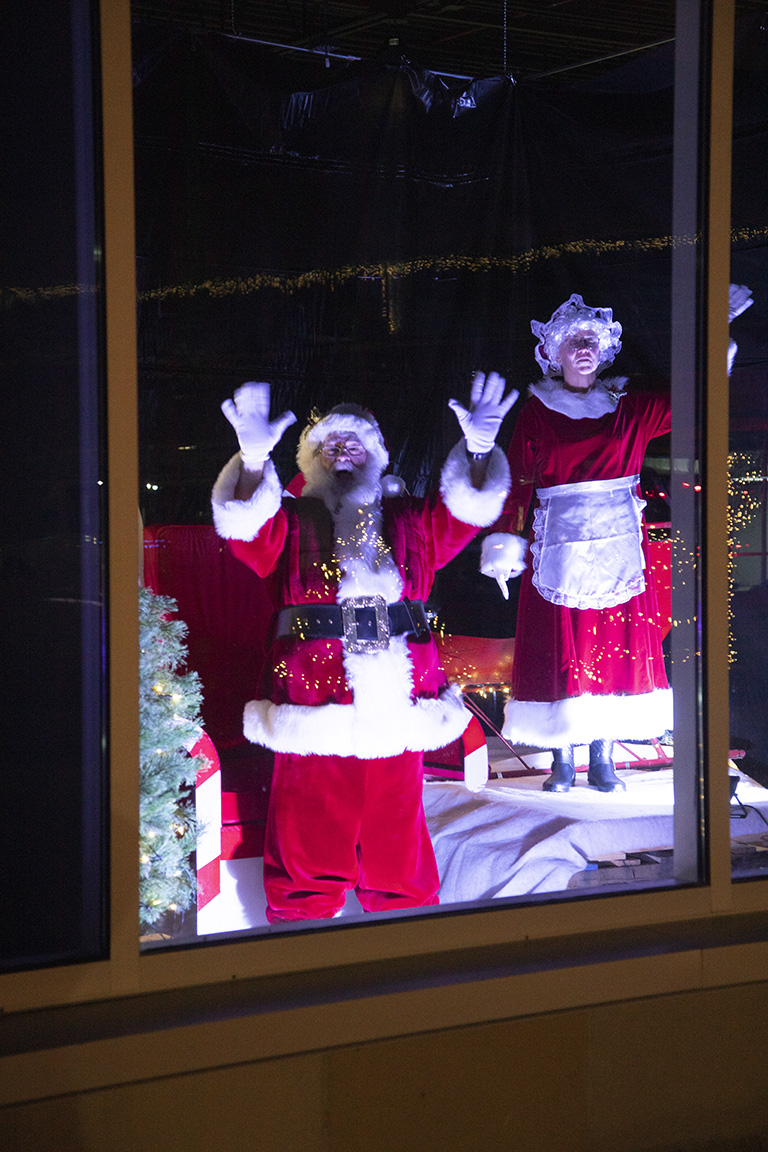 "Hats off to Christine and the whole team," said Wheeler. "They worked hard to create something that could bring our community together during this time when we're all trying to be safe and stay a good distance apart. I think it was a great success."