While an Airstream is equipped with all the comforts of home, we often hitch up and head out to get closer to nature. There's no better way to experience the relaxing power of the natural world than to kick back under the protective shade of your Airstream's awning. For more than 50 years, Airstream awnings have been custom built by Zip Dee in Elk Grove Village, Illinois, where they use high quality fabrics, stainless steel hardware, and aluminum support struts to create an awning unlike any other in the industry. A Zip Dee awning on an Airstream will last for years, providing an excellent shield from the sun (and the occasional light rain shower) and creating an outdoor experience ideal for escaping the elements while still enjoying the outdoors.
Why
Zip Dee
Awnings?
Airstream uses Zip Dee awnings because they are the strongest, most durable awnings available. Each awning is American-made with Sunbrella™ fabric, which is woven from acrylic fibers that give it brilliant color, make it easy to clean, and ensure it will last longer than the extruded plastic sheets that are standard elsewhere.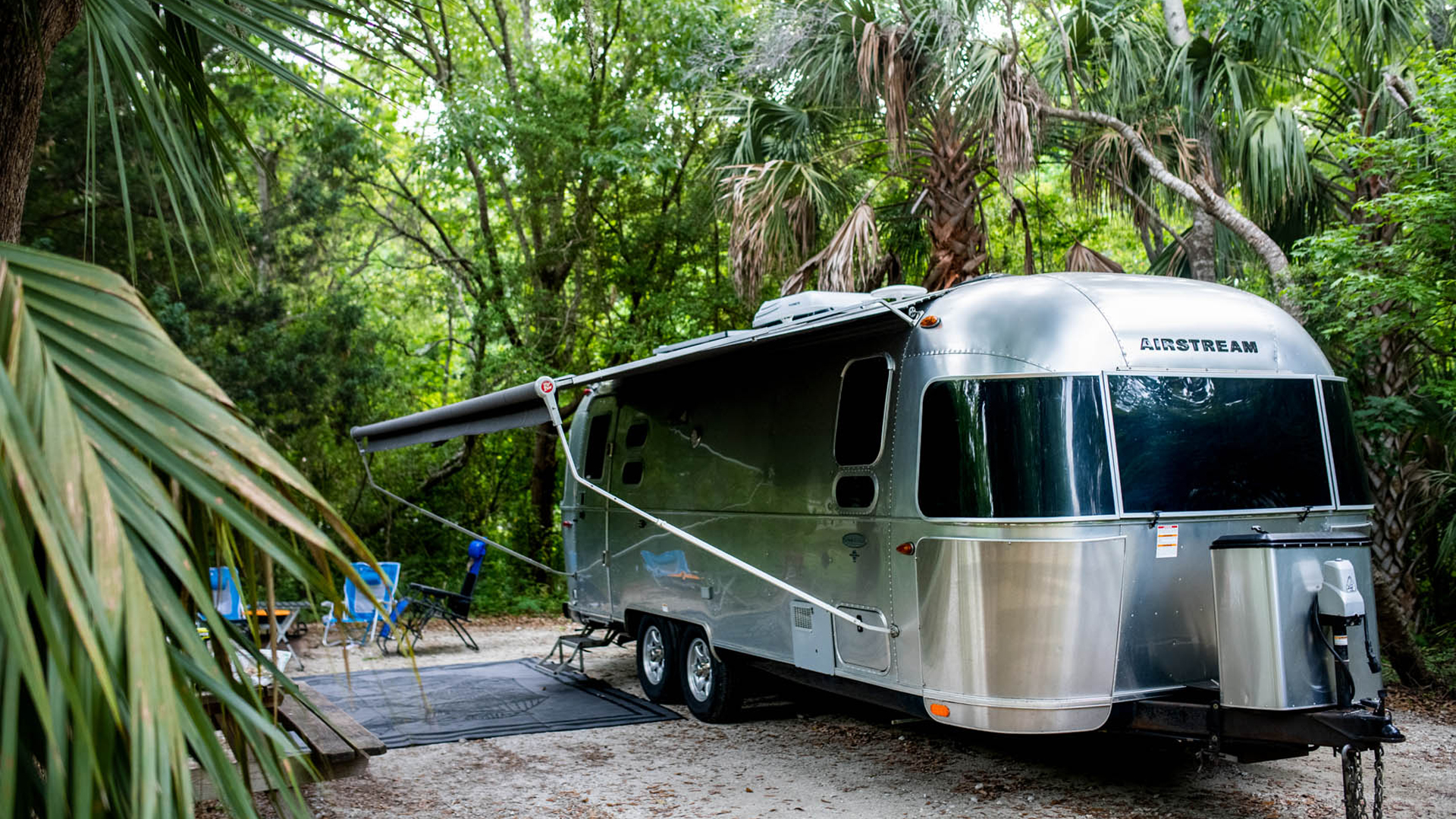 The vertical seams in the fabric give it more stability and prevent sag, while the woven material allows the awning fabric to breathe. A Zip Dee awning dries quickly with only air exposure and won't drip on you when the weather is humid. The fabric is treated with a fluorocarbon finish that makes it water-resistant and needs no upkeep other than normal washing. Where some vinyl awnings on other RVs require frequent cleanings and waterproofing treatments, Zip Dee awnings have been known to last for decades with nothing more than a simple wash now and again.
Beyond the fabric that provides shade, Zip Dee manufactures awnings with high quality structural components. Rust-free stainless steel bolts, nuts, and washers combine with extruded aluminum arms to create a long-lasting system for providing shade from the elements. The springs inside the arms are four times stronger than springs you'll find used by other brands, keeping your awning taut when open and snug against the side of your Airstream while closed. And the exclusive Z-Lock system easily and securely fastens the awning while the Airstream is towed down the highway.
Shade for Sitting – and For More Efficient Cooling Inside
While primarily used to create a comfortable campsite experience outside your Airstream, an awning also shades the exterior walls and blocks sunlight from entering the windows, saving you energy when you're using the A/C to cool off the interior on a hot day.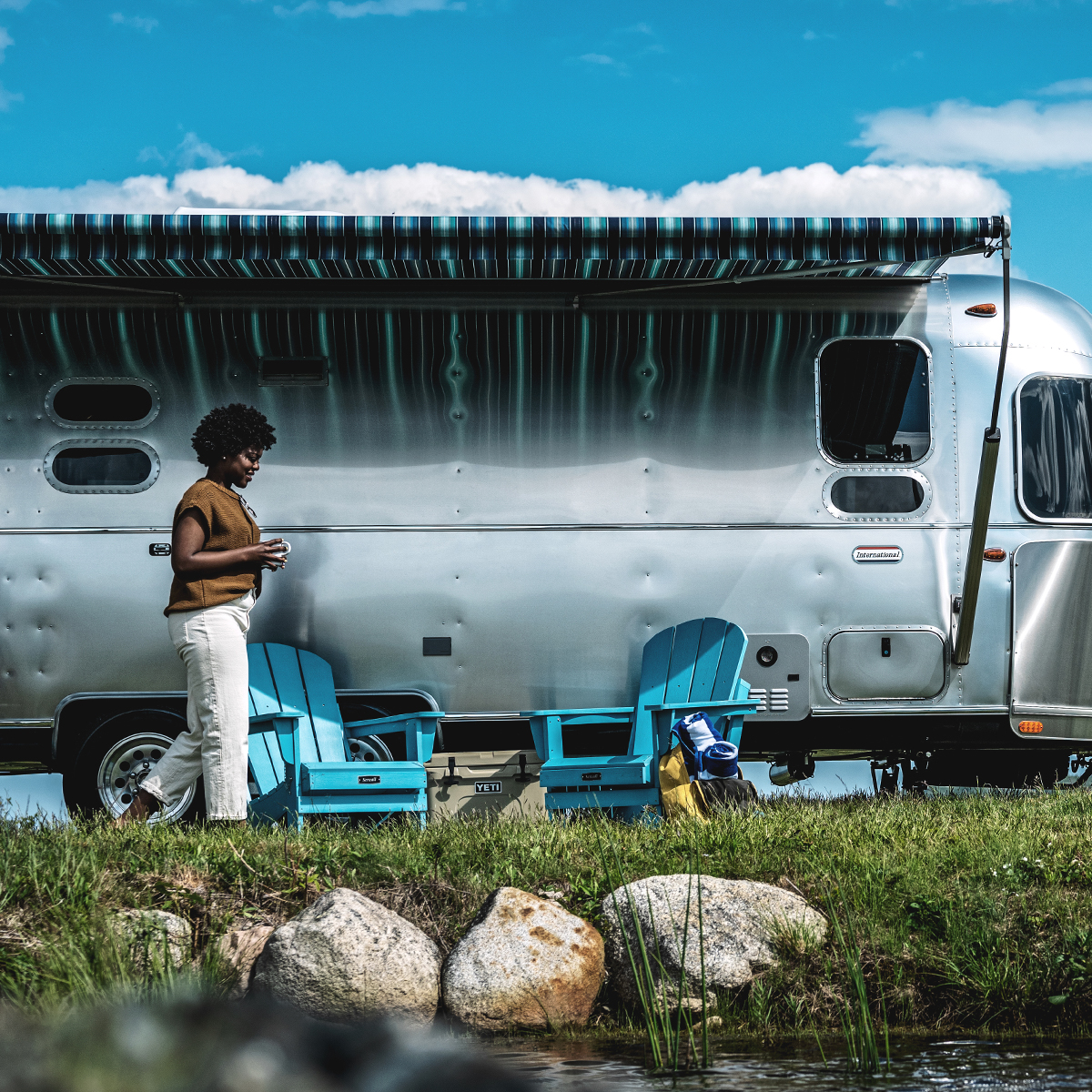 All Airstream travel trailers and touring coaches come with a main awning on the curbside – the side where you set up your campsite. But Airstream travel trailers are available with optional awning packages that add stylish awnings above the rear window as well as on the street side. These awnings shade the windows while still providing excellent views from inside your Airstream. Smaller than the main awning on the curbside, the optional awnings work to block more sunlight from hitting the exterior walls of your travel trailer. In addition to adding a touch of class to your Airstream campsite setup, the optional awnings add extra shade to the cooling equation, allowing your A/C to work more efficiently.
Manual Awnings vs. Powered Awnings
Airstream manufactures recreational vehicles with two different types of awnings – manual and powered. Either way, extending and retracting your awning is a simple procedure. You'll get set up quickly and start enjoying your camping trip. And when it's time to depart, you'll have your awning retracted quickly so you can get on the road on schedule.
Powered Awnings: Shade with the Push of a Button
Powered awnings are currently available on International, Globetrotter, and Classic models, allowing you to extend, retract, and tilt your awning with the push of a button. Though the process is slightly different from model to model, each awning control panel allows you to extend, retract, and tilt the front or rear of the awning with a couple pushes of the buttons. For more information on extending powered awnings, visit our awning guide on Airstream Support, where you'll find step-by-step instructions and in-depth how-to videos that walk you through the process.
Manual Awnings: Do it Yourself

With

Ease
Manual awnings are extended by using your "awning wand" to undo the locks before pulling the fabric out via a loop located in the center. Once the awning has been extended, the lower rafter arms on either side adjust to bring the ceiling to your preferred height. The process has a few more steps than the process for extending a powered awning, but once you've done it a couple times it becomes second nature. For step-by-step instructions and how-to videos, visit our manual awning guide on Airstream Support. And always remember to lock your awning before setting off to your next destination.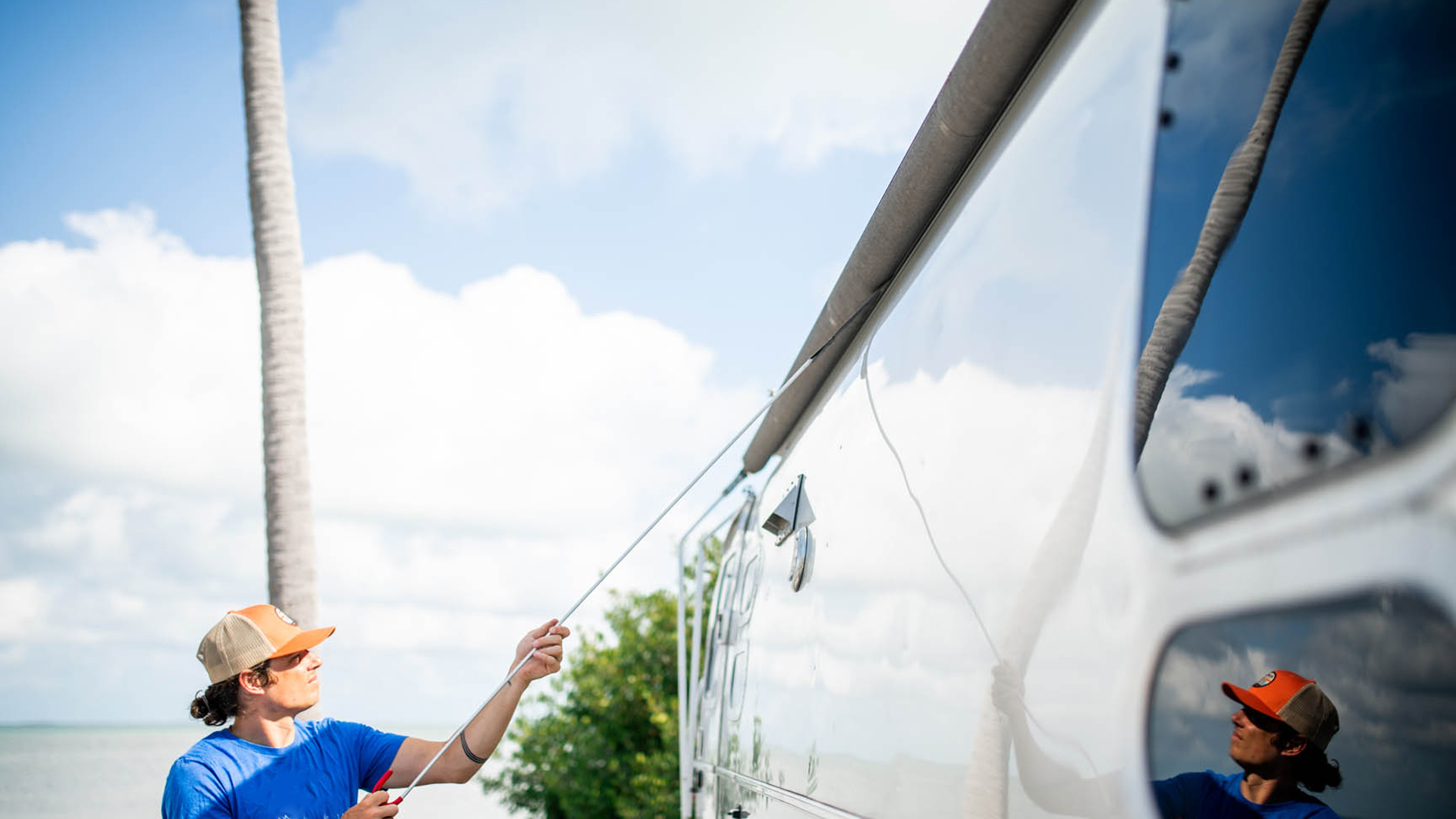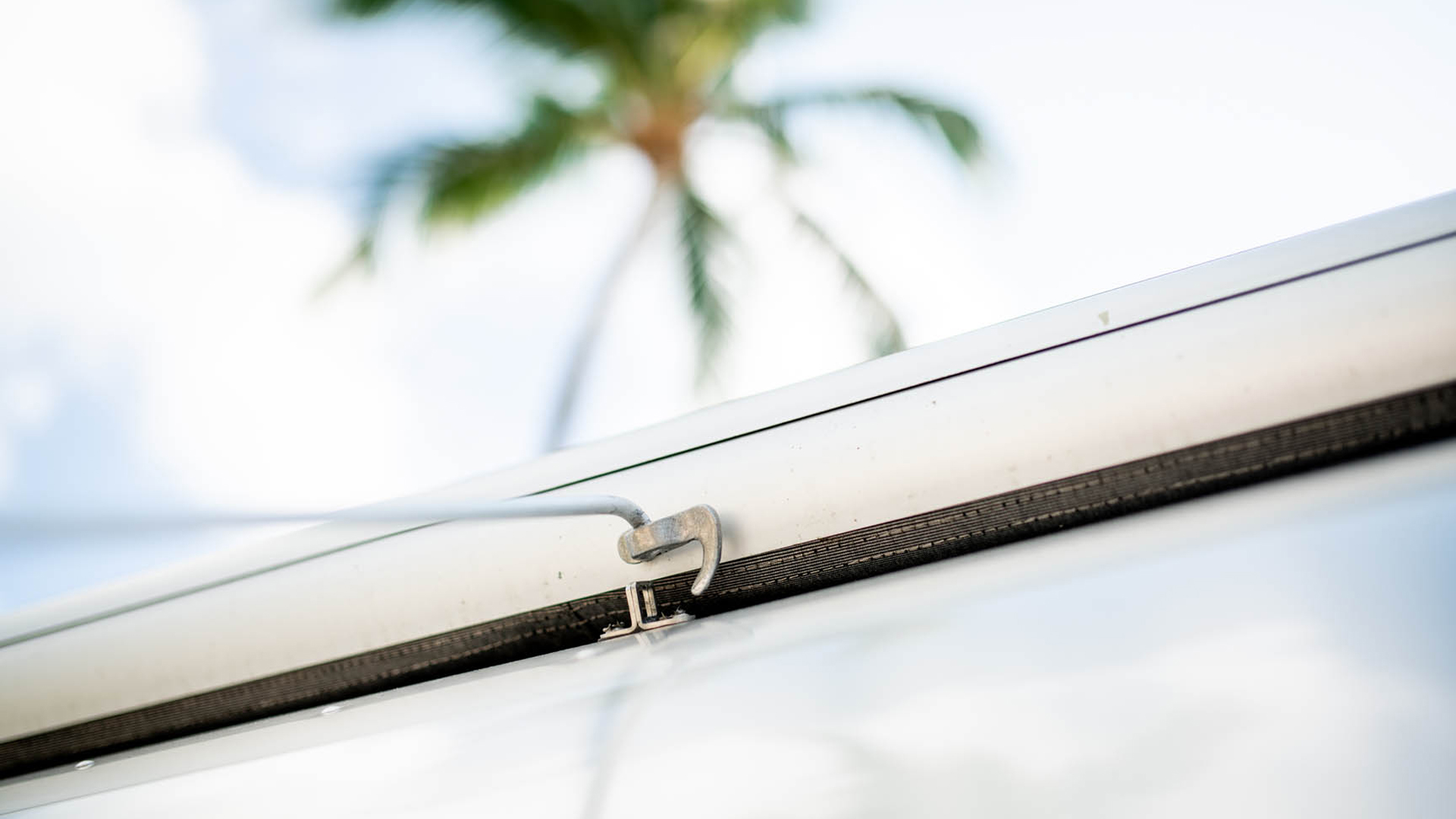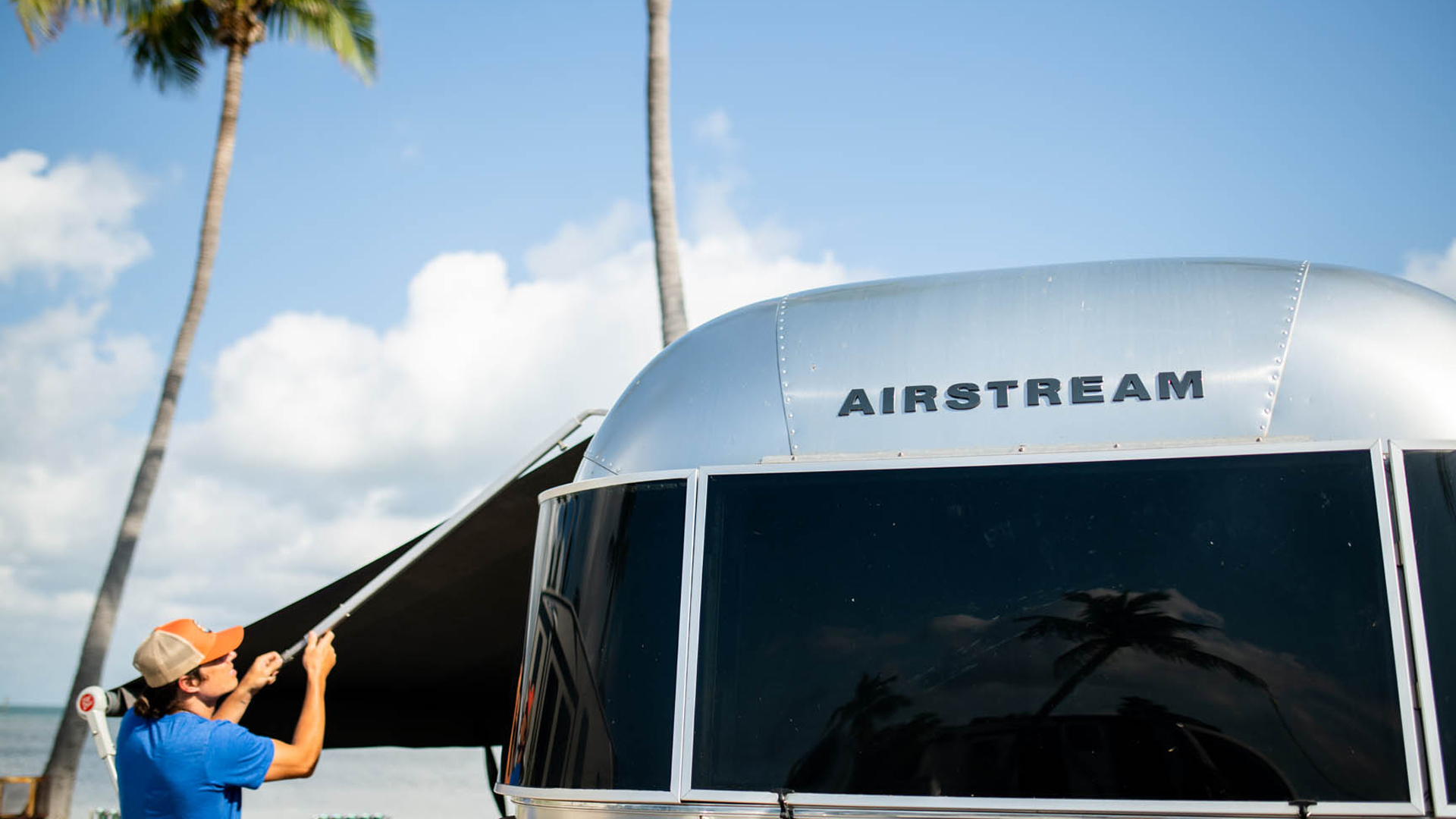 Be Weather Wary When Your Awning is Out
When you head out on a hike or go into town for shopping and supplies, we always recommend retracting your awning in case strong weather crops up while you're away. Though your Airstream awning can withstand a light rain shower, strong winds and heavy rain can cause significant, costly damage to your awning, as well as to the body of your Airstream itself. Broken awning arms can poke, scrape, and scratch the exterior of your Airstream, so we highly recommend that any time you leave the campsite you retract your awning. Remember that stormy weather can crop up quickly even when the forecast looks clear.
Rainy days don't have to mean being stuck inside your Airstream. There's nothing like relaxing to the pattering sound of rain, and your awning lets you extend your living space during light rains. In these situations, we recommend that you raise one side of the awning higher than the other to allow water to flow off the fabric and not pool.
For more in-depth Airstream knowledge, visit Airstream Support where you'll find hundreds of how-to videos, instructions, and helpful tips about your particular Airstream model.