Airstreaming gives you the opportunity to see parts of the country that inspire you, challenge you, and open your eyes to new experiences. Traveling with an Airstream is always an adventure – and it's one of the most exciting things about Airstream ownership. But while many people choose to pack up their Airstream during the colder months, winter camping can make for some of the most exciting, inspiring, and fulfilling adventures you'll take.
Pristine blankets of snow for miles, breathtaking snow-covered mountaintops, trees trimmed with ice, larger than life snowflakes, wildlife frolicking in nature's playground – it could be your postcard perfect winter paradise.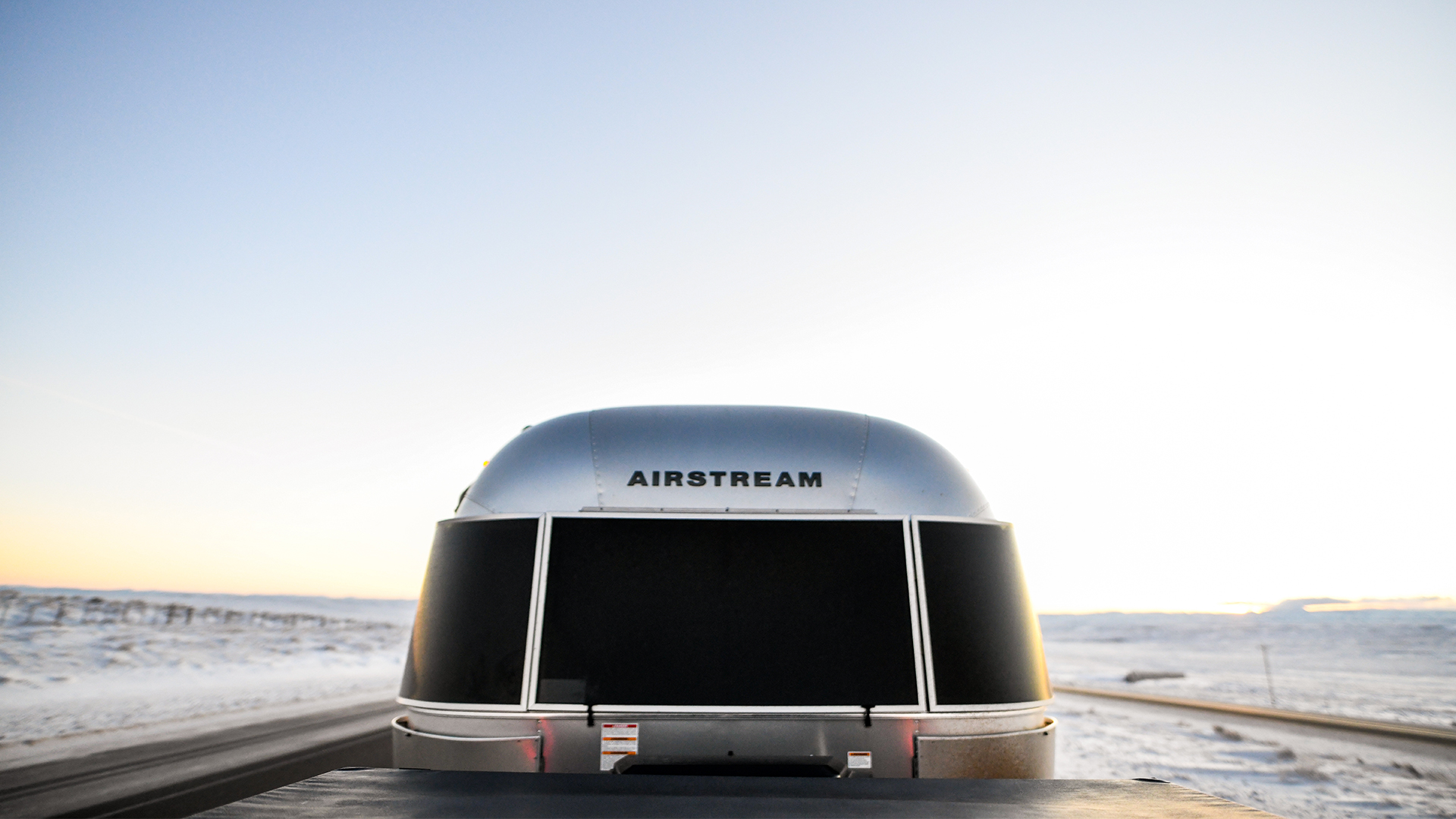 Snow – and winter-weather activities like skiing, snowboarding, and snowshoeing – are within your Airstream's reach. You just need to plan ahead and keep a few things in mind. Before you take your travel trailer into the winter wilds, there are a few things you need to know about planning a winter adventure. From winterizing your travel trailer to packing essential items, winter camping in your travel trailer can be enchanting if you do the right preparation.
Winter camping is all about staying warm and safe. Here are some things you need to know about keeping you and your silver bullet from freezing. 
1. Pack On The Padding
When it's cold outside you put on extra layers. If you're taking your travel trailer out in the cold, it needs bundled up too.
Check Window and Door Seals
It's especially important to make sure the seals on your windows and doors are in top-notch condition. Drafts from broken seals will be difficult to overcome in freezing temperatures. Once you've checked all your seals, add another layer of protection with insulating curtains.
Warm Up Your RV Floor
Floors are another area that can use some extra protection. Thick throw rugs, that are easily washable, will provide another layer of defense from the cold under your feet.
If your winter camping adventures take you somewhere for an extended period of time, you may want to invest in a set of AirSkirts to help keep drafts out and warm air in. AirSkirts is a patented solution for insulating the area below your Airstream and protecting against the potential for frozen equipment. AirSkirts also makes a variety of accessories like skylight insulators that can add additional insulation to your rig.
Remember: If your RV is warm, you will be too.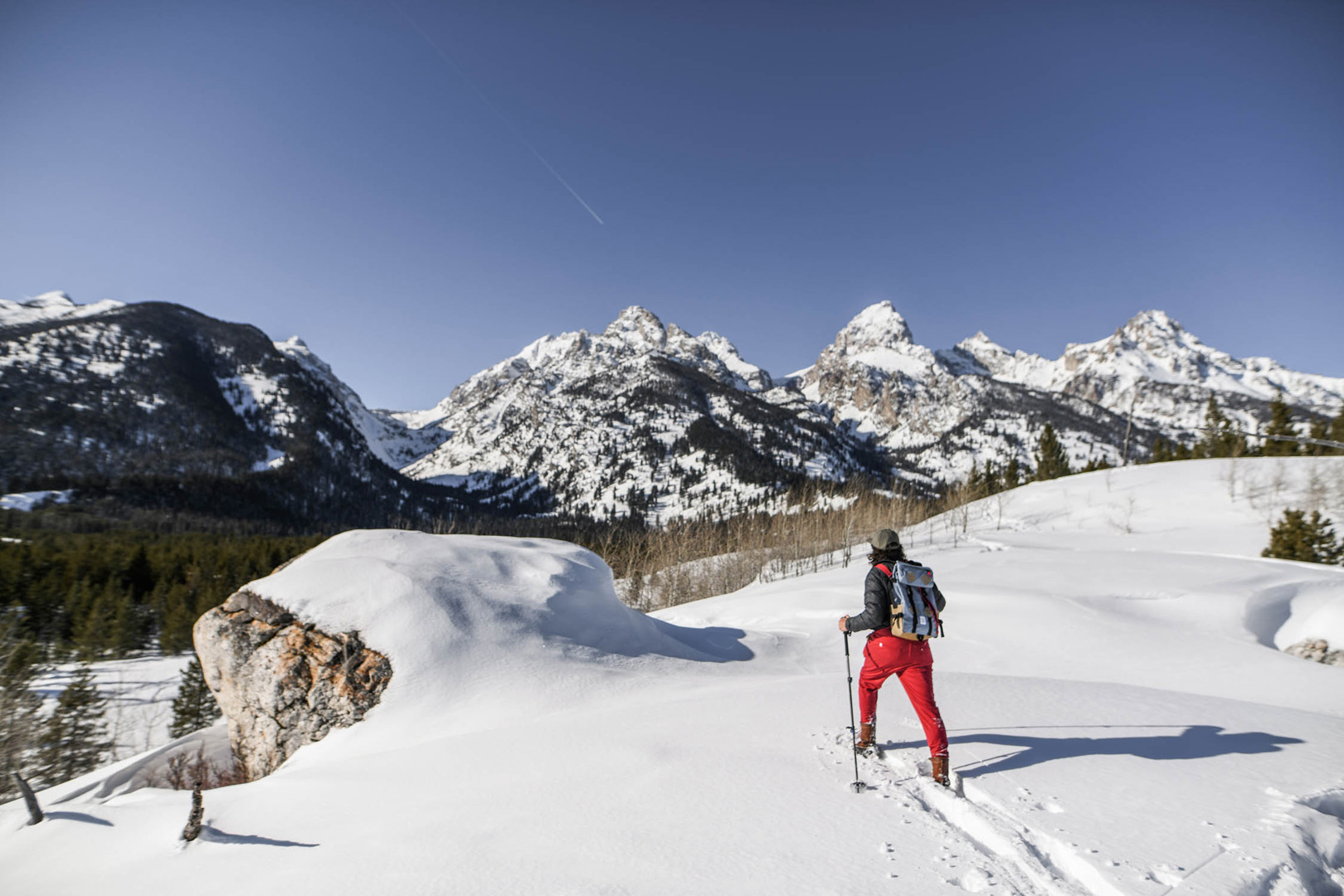 2. Pump In The Heat
Once you've got the trailer sealed up it's time to think about heating it. A temperature gauge with sensors will help you keep tabs on the conditions. Using propane to heat your trailer might seem like the obvious solution, but when you're dealing with freezing temperatures you'll burn through fuel fast.
Space Heaters
Space heaters are an excellent way to take the chill out of the air. Of course with these heaters, you need to be extra careful. Never leave them unattended or too close to items that could cause a fire hazard. Use them according to the manufacturer's specifications, and don't overload your RV's electrical system.
To use a space heater, you'll need a power source. If you're at a campsite with shore power you'll be good to go. If you're more adventurous and boondocking, you'll need a generator or another alternative power supply (like solar panels) to power your space heater. Make sure your generator or power supply can handle your space heater requirements to avoid overloading the circuit. It's also a good idea to crack a window to prevent moisture from building up inside your Airstream while the heat's on.
Propane Tanks
Keeping your trailer warm will likely result from a combination of the two heat sources. Having extra propane tanks for your travels will allow you to have a back up. Propane can run out at anytime. If it's the middle of the night, you'll need to keep warm without having to find a fill station.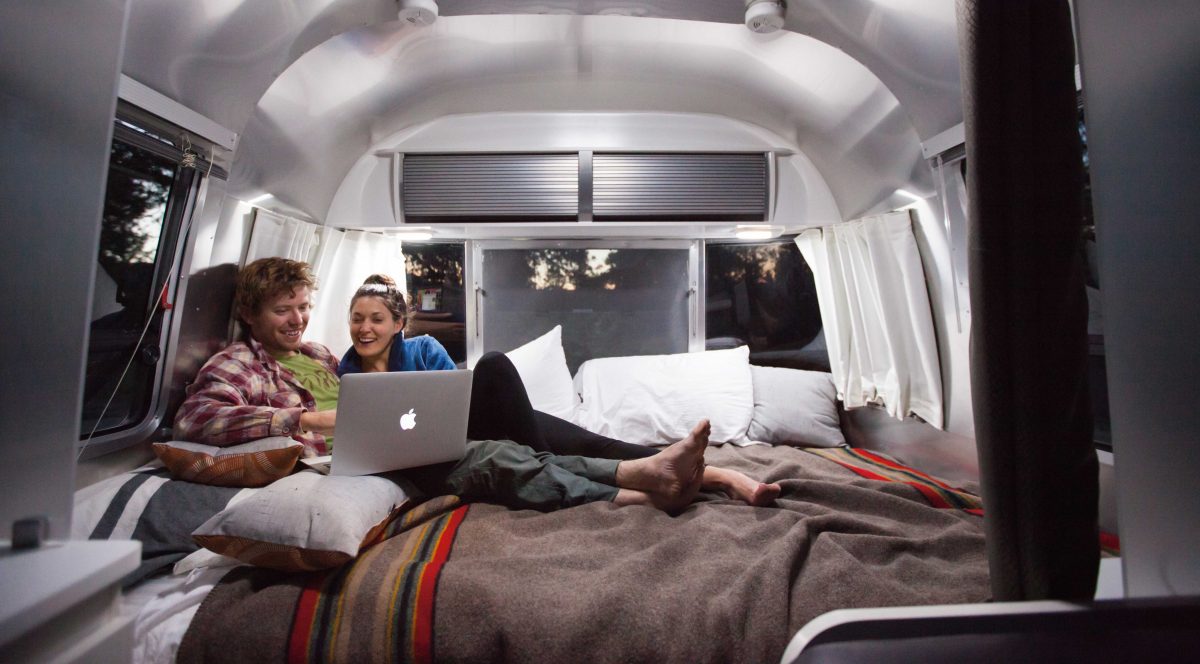 Using propane for heat means you need to take precautions to avoid carbon monoxide from accumulating in your trailer. Your trailer has rooftop vents, but to use them in the winter you'll want to invest in some covers to protect them from the elements. Making sure your carbon monoxide detectors are working and batteries are new is an important step. 
3. Preserve The Pipes
Keeping your trailer warm is paramount to protecting your pipes from freezing, but there are other precautions you can take too.
Keeping your cabinets open and allowing the warm air in the trailer to circulate around the pipes will help prevent them from freezing up.
Another option is to wrap the pipes in insulating tape. If you think you'll be taking a lot of winter camping trips, investing in a heated hose will most likely be your best option.
Pack a hair dryer – in the event something fails and your pipes do freeze, this will help you get out of a bind.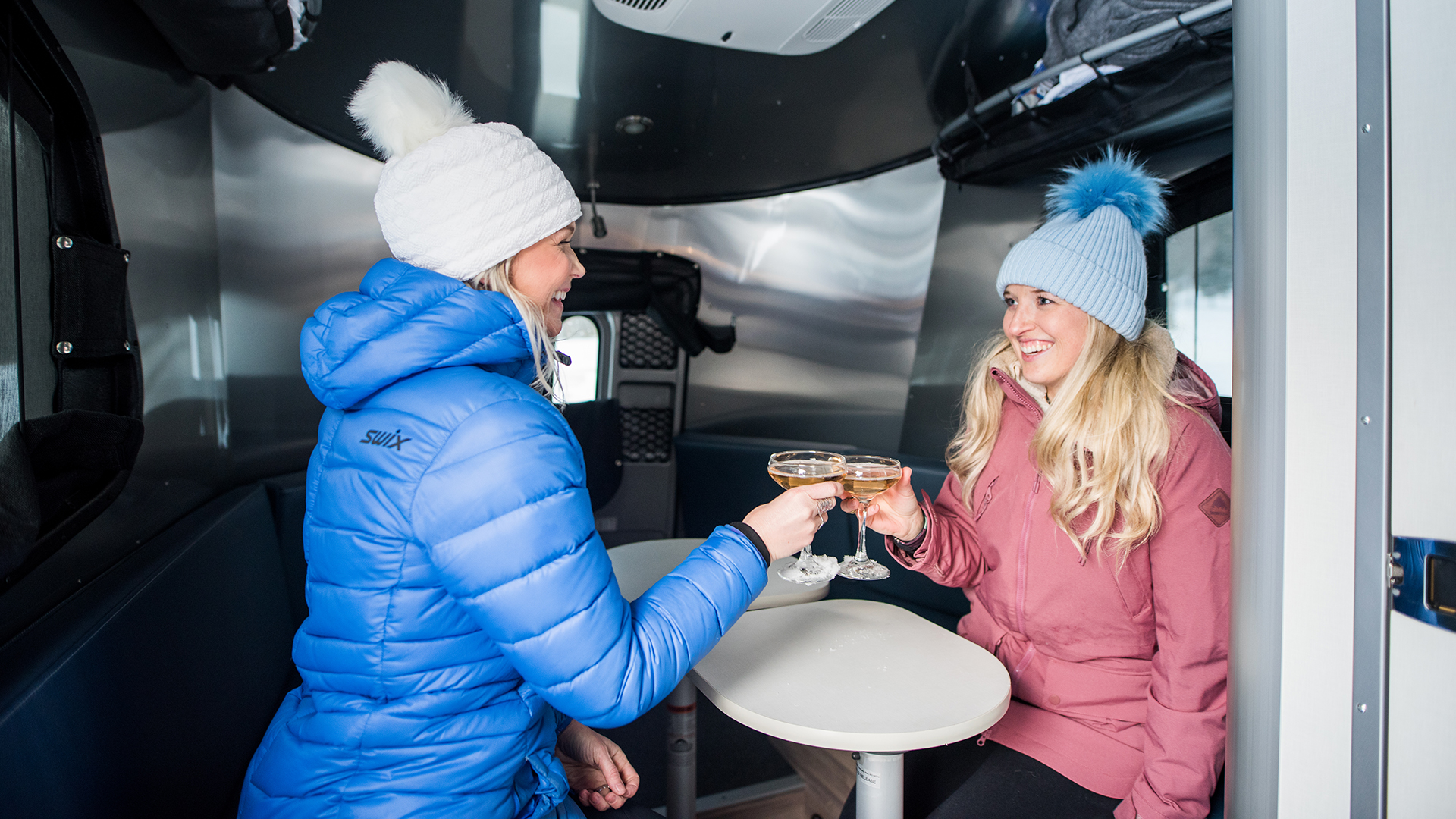 4. Pack Extra Essentials
There are a few things you'll want to be sure you stow in your trailer for your winter adventures that you won't need any other time of year.
Don't forget your snow shovel. Chances are you won't be shoveling a driveway when you're winter camping, but you still might need to shovel yourself out.
Tire chains are also a must. In some areas of the country when snow mounts, local jurisdiction requires tire chains on your tow vehicle to continue your travel.
A headlamp might come in handy if you have to change out your propane tanks in the dark. Holding a flashlight will make the job near impossible.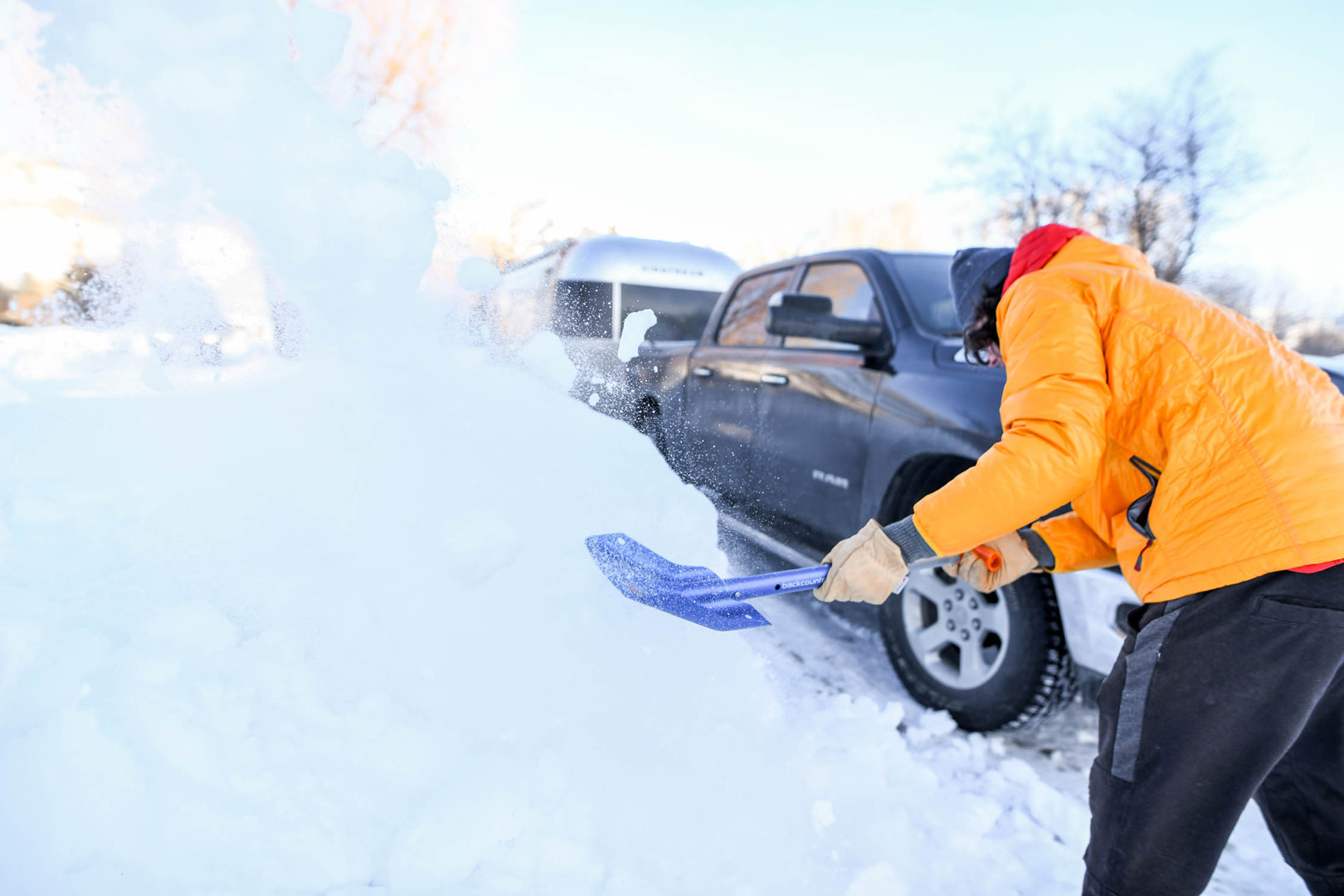 No matter the weather, it's always a good idea to have the essential food and water, but when you're out in the elements having a stocked pantry is a must. Shelf-stable, nonperishable items to get you through if you are snowed in will give you peace of mind as you enjoy the winter wonderland. And don't forget to bring along a warm wooly blanket to wrap up in.                                                                                            
5. Prep For Predicaments
Keeping a few things in mind will help make your winter camping plans a success.
In freezing temperatures and icy conditions, your leveling jacks can freeze to the ground. Using a block of wood in between the jack and the ground will ensure that when it's time to roll there won't be anything stopping you. Remember, plastic becomes brittle in cold temperatures.
Any plastic components will be susceptible to becoming fragile in winter temperatures. Use extra care when handling them.
Take advantage of the sun. If possible, park your trailer in a sunny patch. The UV rays will help heat up your silver bullet. Always remember to account for black ice under your feet or wheels.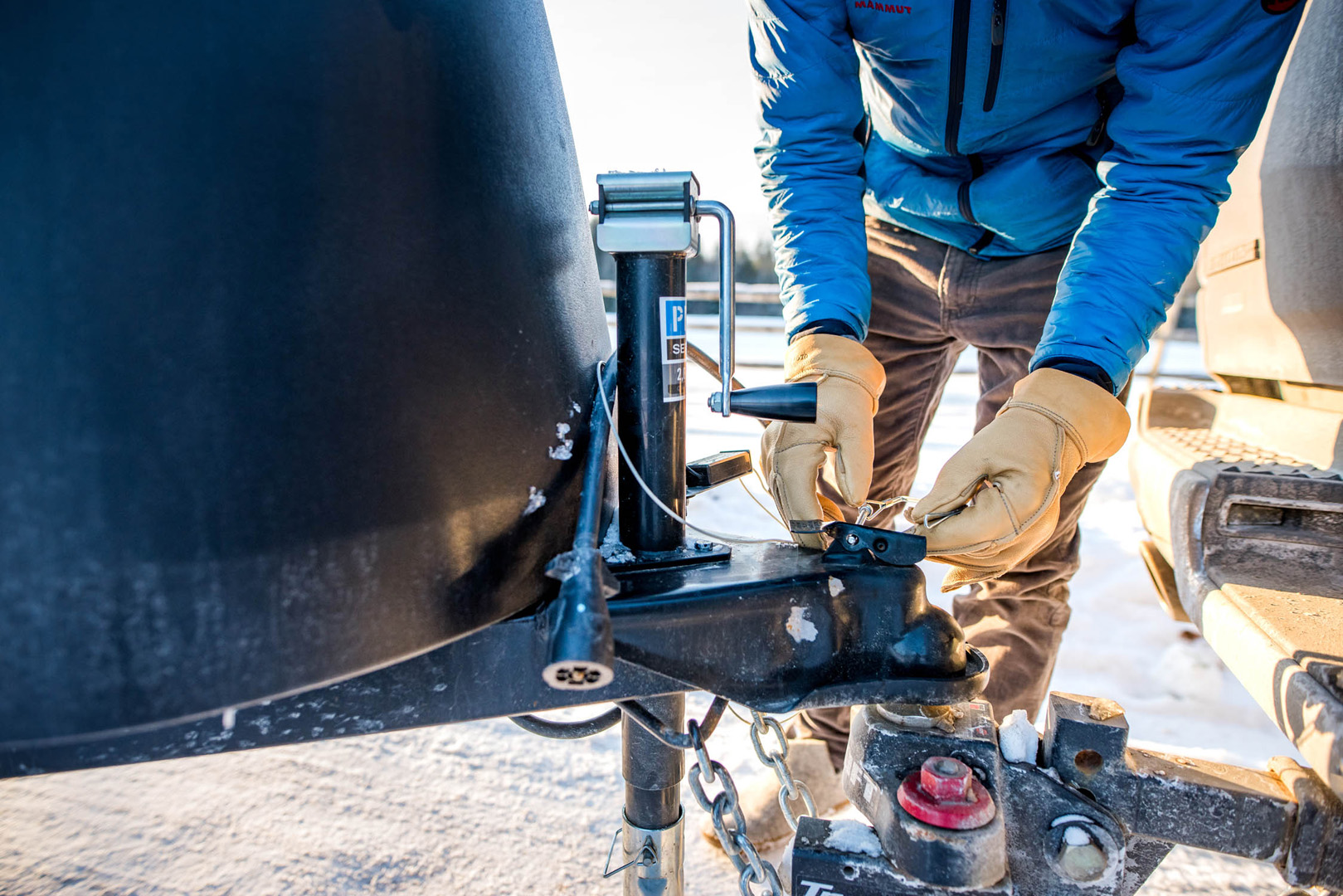 6. Precautions To Consider
Your pipes aren't the only things that can freeze. Your black, grey, and fresh water tanks can also turn to ice, making emptying them impossible.
Many winter campers "winterize for use" – emptying the tanks and forgoing use of the Airstream's bathroom and shower. They take along bottled water, and shower in campground facilities – many of which are top notch.
Another option is to purchase a holding tank heater. If you decide you love winter camping, a holding tank heater will be worth the investment.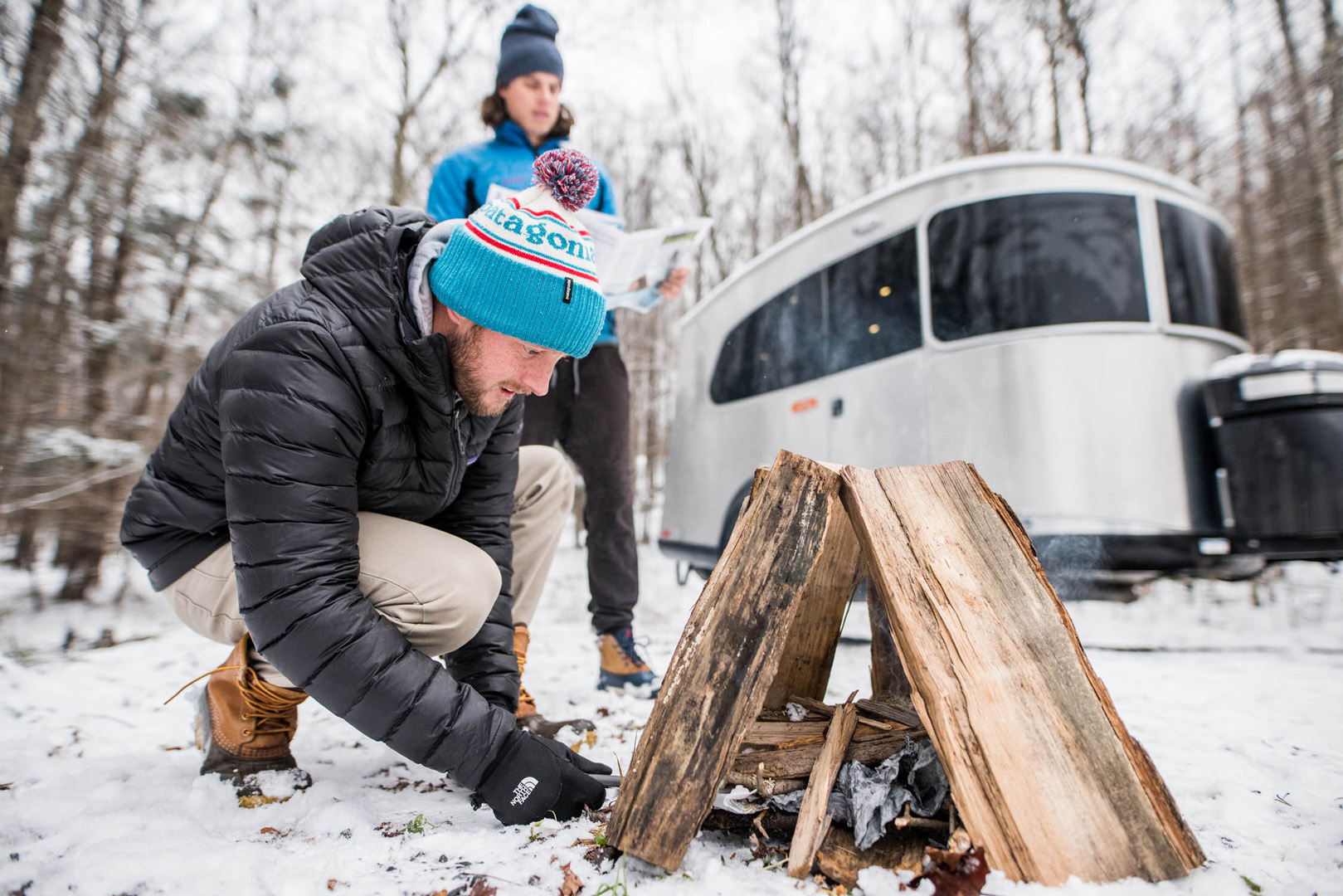 7. Plan Ahead
When you've got all the items on your checklist crossed off and you're ready to hit the road, check and double-check the weather. Knowing the conditions you're heading into and monitoring weather will allow you to make important decisions about what routes to take and how to handle the roads.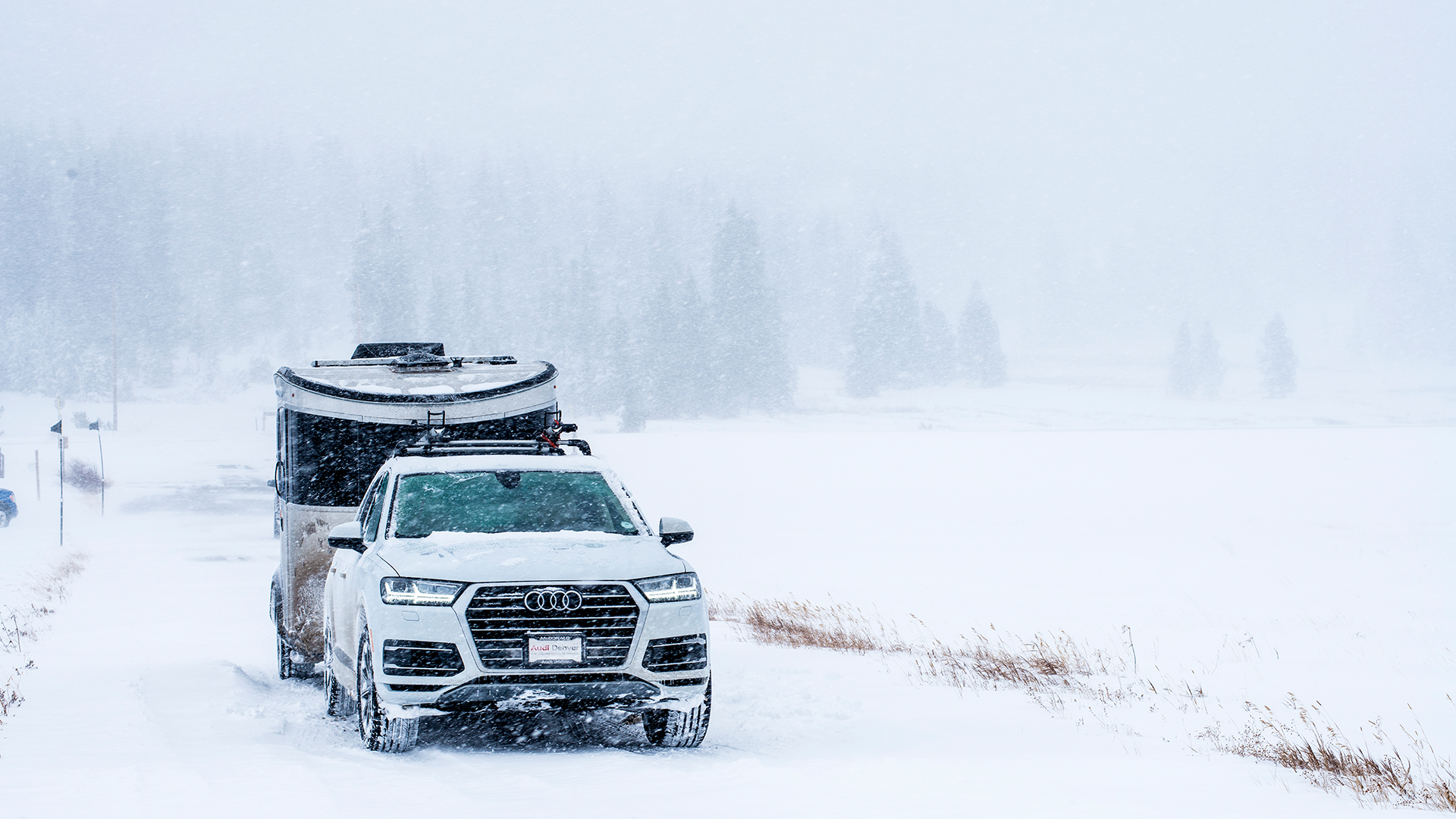 According to the US Department of Transportation Federal Highway Administration, over 70 percent of the nation's roads are located in snowy regions, which receive more than five inches average snowfall annually and nearly 70 percent of the U.S. population lives in these snowy regions.
Once you check the conditions, be flexible. You might not cover as many miles as you had hoped, or you might spend an extra night in your current spot, but it could be better than braving the elements. Keep your gas tank full. Over-extending your travels in questionable conditions can be a recipe for disaster.
8. Protect Yourself From The Elements
Some might say there's no bad weather if you have proper clothing. With the right outerwear you can enjoy Mother Nature anywhere.
Selecting a base layer that will wick moisture away from your skin is important to keeping your body temperature regulated. Adding a second layer of fleece or wool to keep you warm is next. Finally put on some waterproof outer layers.
Don't forget your fingers, feet and ears. Durable work gloves will allow you to use your fingers to perform the functions outside your trailer like hooking and unhooking hoses or tanks. Waterproof boots are a must and a hat to keep the heat from escaping out your head is essential.
If you're planning to participate in some winter sports, you'll want the appropriate gear for your adventures as well.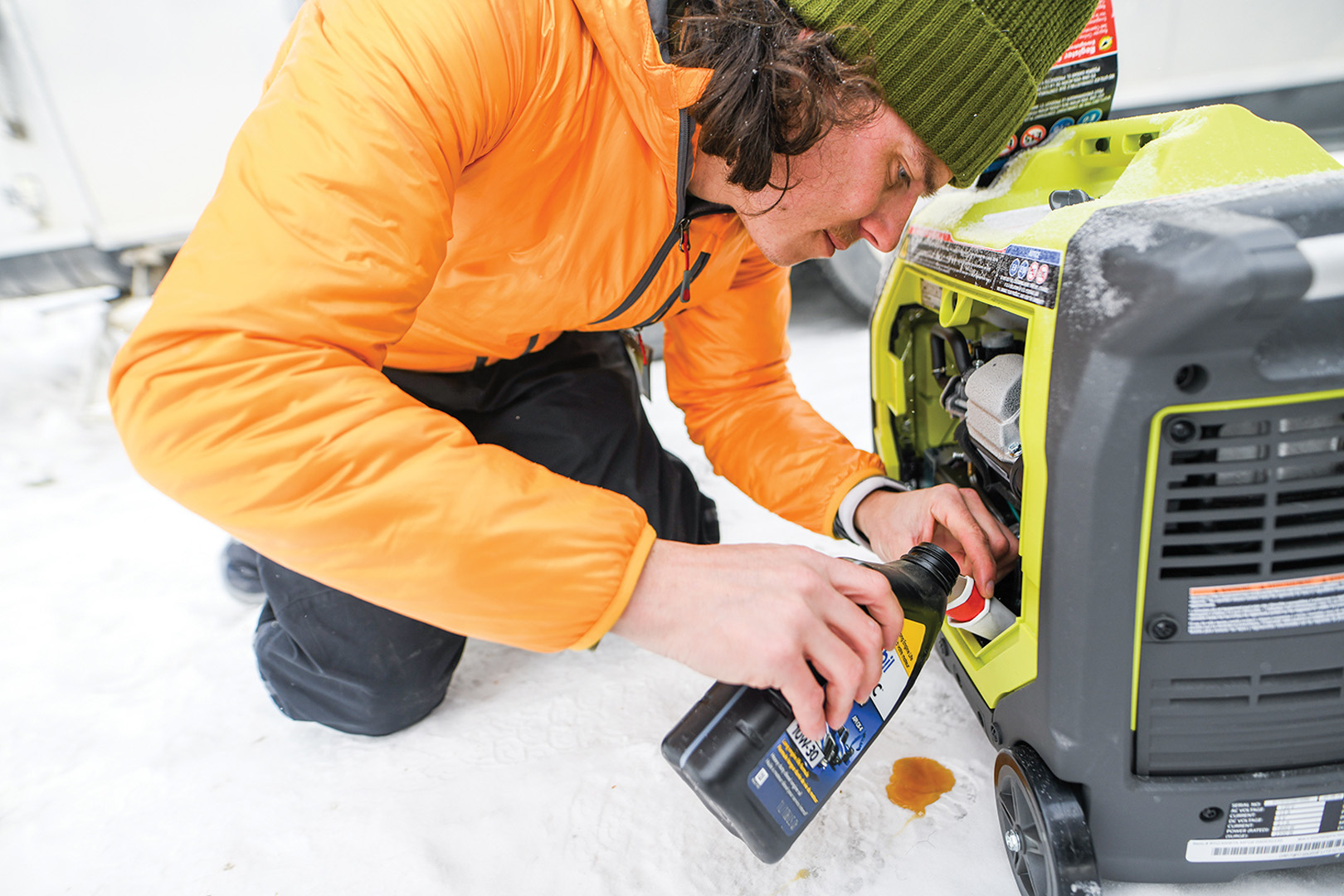 There are plenty of things to consider if a winter camping trip is on the books. While your wanderlust spirit might take you on a trip at a moment's notice under the sunny summer skies, the same attitude during wintery conditions will likely leave you ill prepared. Making the time to plan for a winter adventure will avoid some major misadventures.
Get more trip ideas, tips for winter camping, and tricks on how to stay
comfortable and get the most out of the season.