Maybe you've heard the popular saying — you should try to buy your third RV first. And it's usually accompanied by recommendations from someone who now owns their third RV.
That's because it's often a process of trial and error to determine the size and style of travel trailer that you'll truly want and need for the type of travel you want to do. But you don't have to invest in two RVs before you find your one true love. There are some things to consider before buying an RV that could help save you at least one extra trip to the dealer.
What type of travel do you want to do (now and in the future)?
Do you want to roam for a long weekend, or will your RV be home sweet home for months or even years?
Will you be a digital nomad, working remotely?
Do you want to cook with all of the features of home, or do you get your fill of meal prep from the grill?
Are you going to park once and stay put, or pack up and head out frequently to a new vacation destination?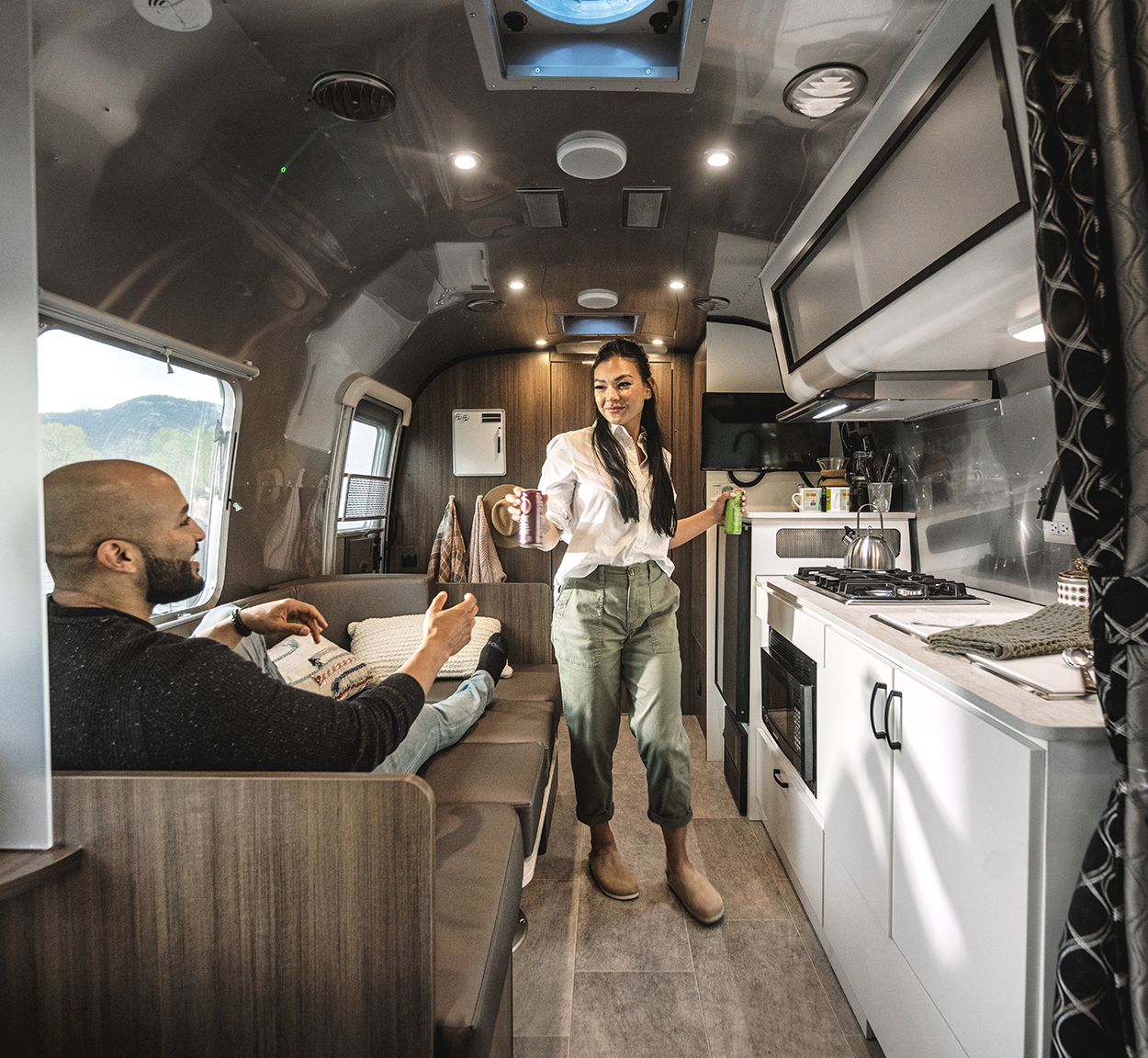 The answers to these questions will guide your decisions on features such as storage space, and tank and battery capacity.
You may decide you want automated setup conveniences such as those that come with the Smart Control Technology of the Classic Travel Trailer, or specific interior features, such as the office space in the Flying Cloud 30FB Office or the stainless-steel flat apron sink in the Pottery Barn Special Edition.
When Tim and Ursulla Elkins (@airstreamvagabond) started shopping for an RV, they weren't looking for their 30-foot Airstream. They wanted a smaller model to enjoy during long weekends in northern California.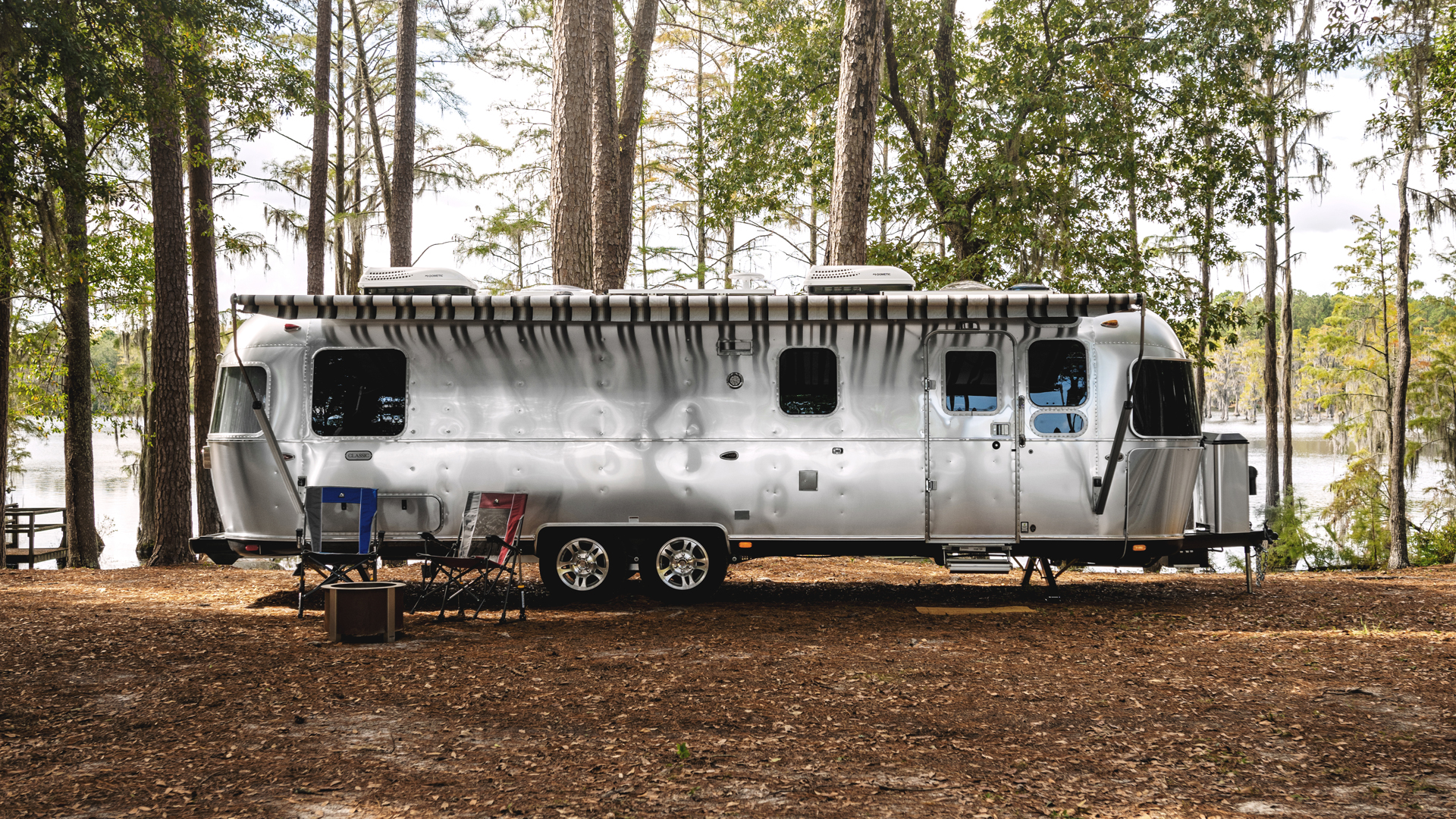 But when they stepped into the Classic, they realized that it could become so much more — it could be home. And when Tim's dad was diagnosed with cancer across the country in Florida, they made that idea a reality.
"I'm a true guy through and through. I love muscle cars. I love American made. I love stuff!" Tim laughs. "And if I had to cut back on muscle cars and stuff, at least I could settle on American made. And the Classic has all the technology that Airstream offers — the internet packages, the multi-face screens that control all the lights in the entire rig, all the sensors that tell us water heights, freshwater quantities, propane … everything is accessible at one touch instead of having to go to multiple places. And it's also the only unit that has the hardwoods, the solid wood cabinetry, the solid-surface countertops.
"I guess it's the rig that matched our sticks and bricks home. It had the same design features and the same finishes, as far as the stainless-steel appliances and everything. It's like we weren't downgrading. We didn't feel like we were taking a step back in what we enjoyed in life. It really paired well and enhanced our life."
Where are you going?
Are you planning to chase good weather, or are you going whether or not the sun shines?
What are the road conditions like in the kinds of places you want to explore — pitted or paved? Sea level or elevation?
Do you plan to stay in private campgrounds, or do you want to camp in national parks?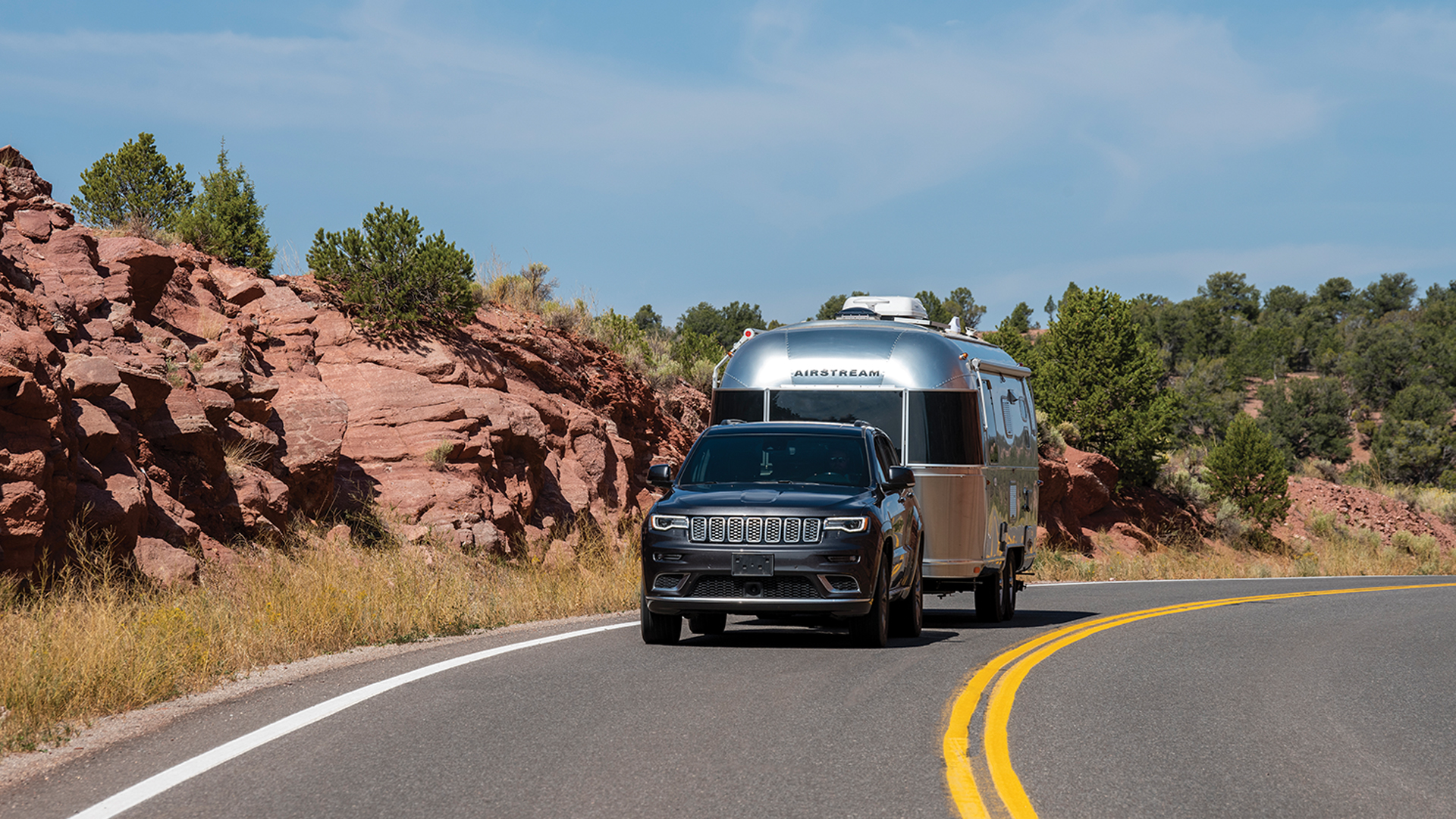 These things to consider before buying an RV will direct your decisions on features such as solar panels or lithium batteries.
The desire for the powerful performance of lithium batteries may lead you to the Pottery Barn Special Edition or Classic, which comes standard with Battle Born lithium batteries.
If you want a seamless towing experience and the ease of maneuverability and parking, you may turn your sights to the nimble, single-axle models like Bambi or Caravel, which include many of same the features and options found on larger in a smaller footprint.
Or you may decide you need a travel-trailer suit to even more rugged off-road adventures, such as the REI Co-Op Special Edition Basecamp, Basecamp 16, or Basecamp 20, all of which maximize a minimal footprint and offer great space for gear. The Basecamp X-package helps keep things on an even keel on the roads less traveled while maintaining Basecamp's popular rear hatch for loading and unloading kayaks, bikes, hiking supplies and other fun toys.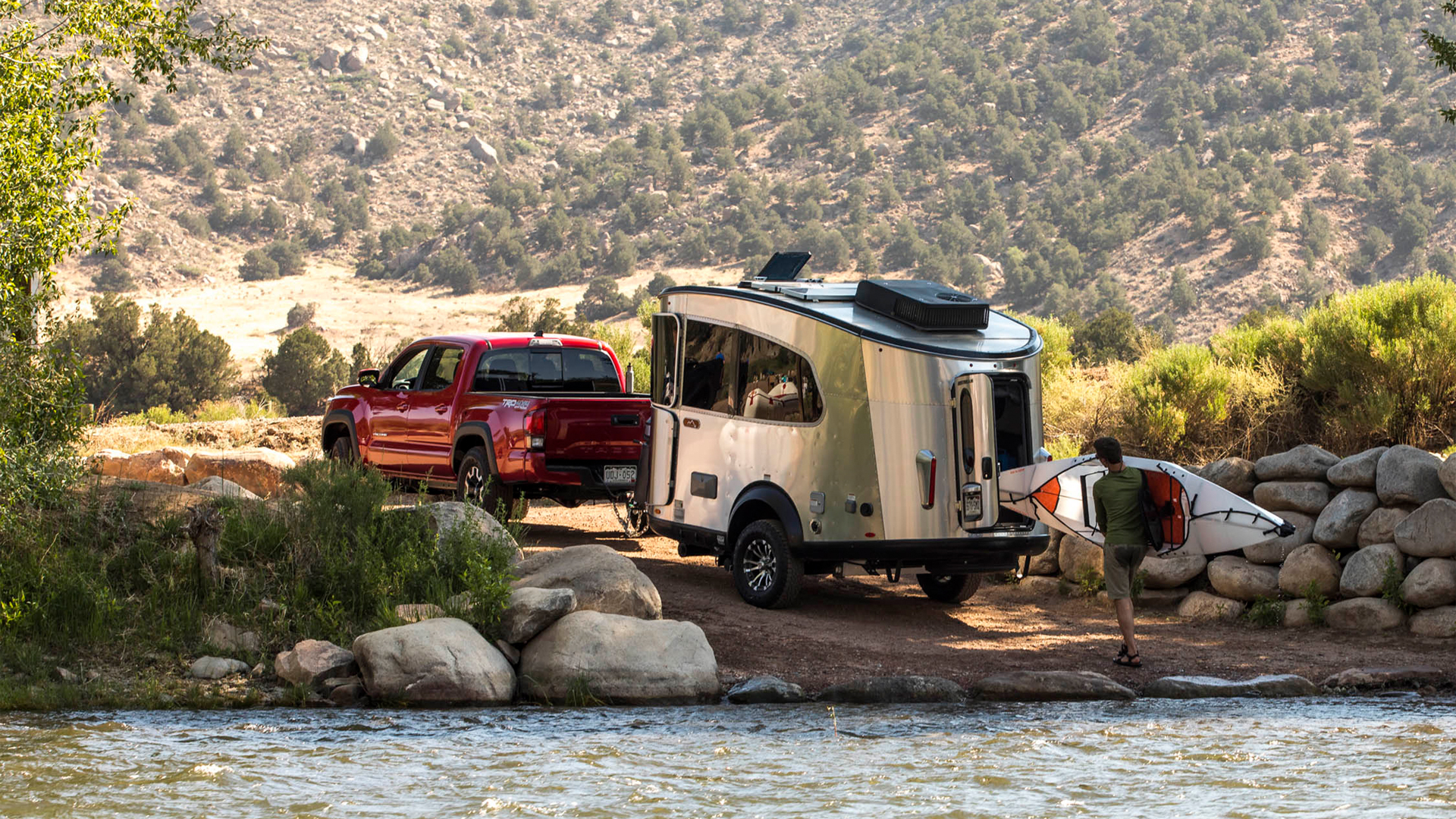 Your options for sites in national parks decrease as your length increases. Most parks will accommodate an RV as long as 19 feet; for travel trailers longer than 27 feet, your choices are narrower. Airstream's popular 30-foot models offer a good balance of park availability and space for a long trip or larger family.
And that leads us to the next question.
Who's coming along?
How many people will be sleeping in your RV? And how tall are they?
When it comes to beds in an RV, size matters. A bunk or dinette is less restful for a lanky 6-foot teen. Compare bed lengths as well — in some models a twin is longer than a queen.
Airstream offers models to suit any group. The REI Co-op Special Edition sleeps a maximum of two, while the Flying Cloud model line offers the most variety of floor plans and the potential to sleep as many as eight.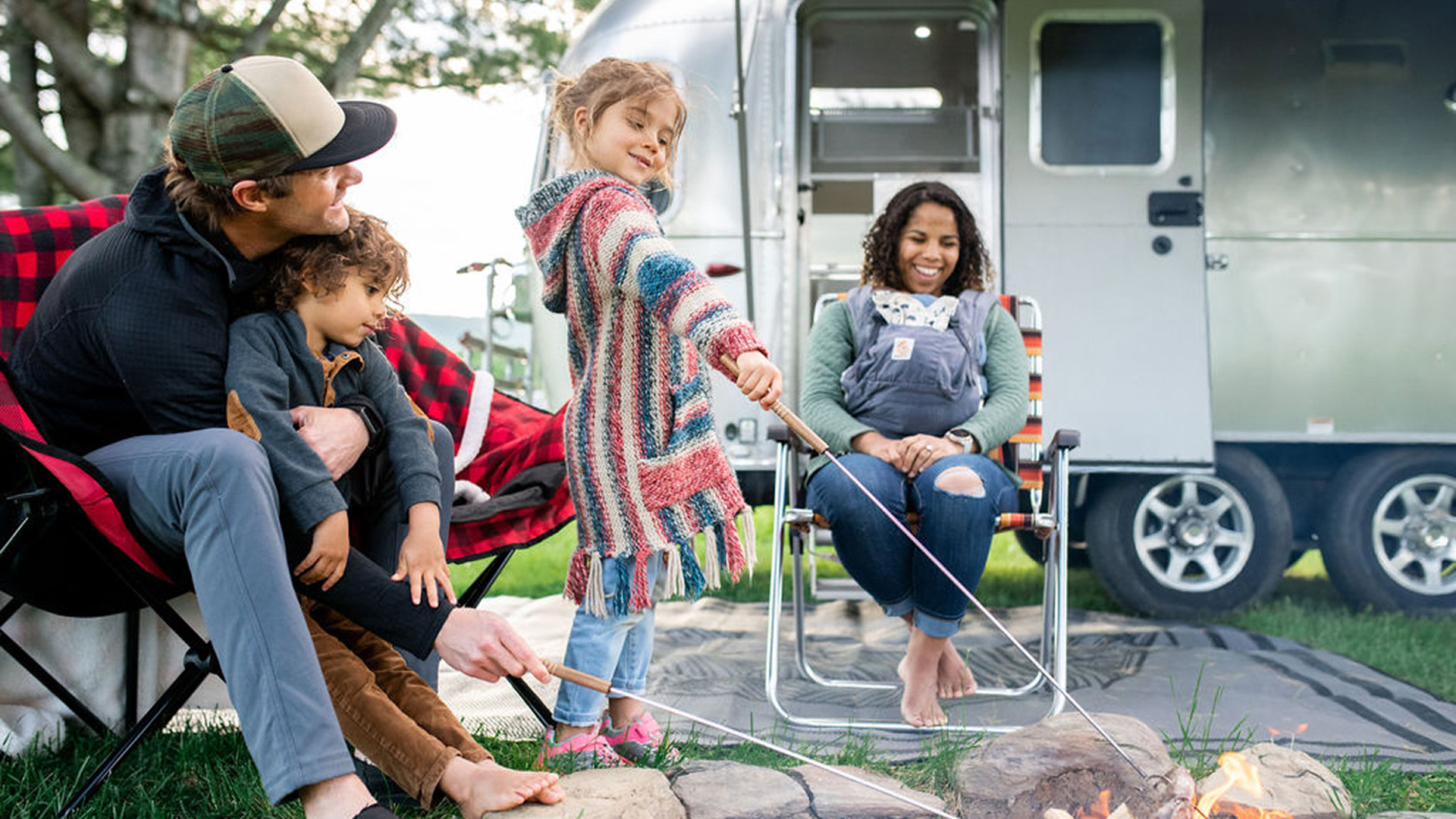 Molly Moore and her husband have four children, so when they decided to live on the road for several years during the pandemic, they chose the Flying Cloud 30FB Bunk with a front queen bed, convertible dinette and a corner bed plus bunk. Not that they ever needed all the sleeping spaces.
"I remember thinking if all of the children need their own bed, then we can make that happen. We can give everybody space if space is what they need. So we went with that model, and we are so happy that we did – still to this day. It was the most perfect model for us," Molly says.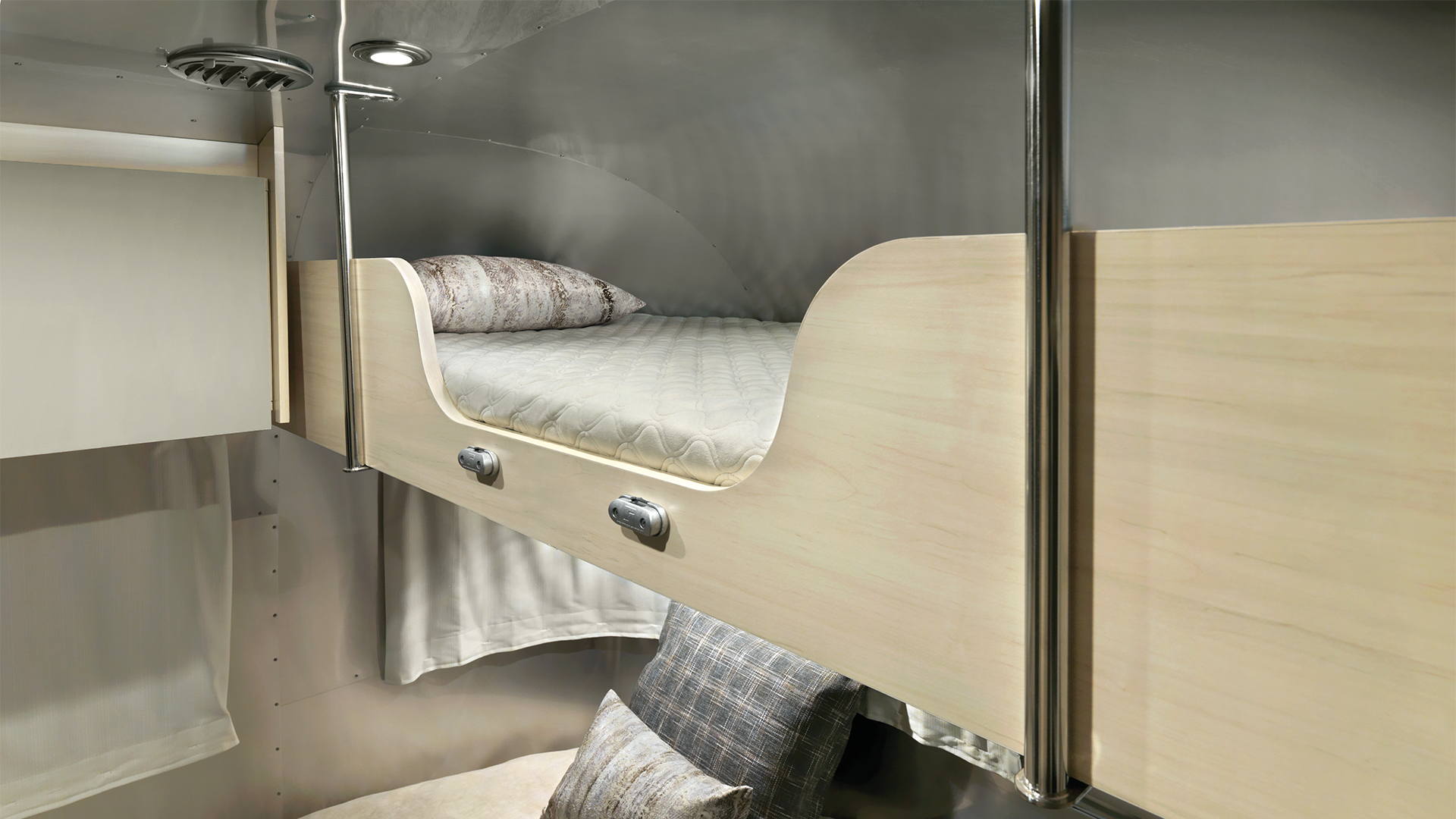 "But nine times out of ten all four children were in the bottom bunk together. It was just the funniest thing — they did not need that space; in fact, they needed less than we offered. But that was the thinking, and it was just a great model for our family. And not just kids, but small kids, because that top bunk is small. But it was great."
If the height of the people in your space is a consideration, be sure to also compare ceiling heights in the various Airstream models. And further, see whether the AC vents are ducted, which can provide a few extra inches overhead.
What are you driving?
One of the most critical things to consider when buying an Airstream is what you'll use to tow it with. In fact, if you can, work this backward and choose your RV first, because there's no room for compromise when it comes to weight.
And there's more to consider than just gross vehicle weight rating and hitch weight. Factors that again come into play include where you want to stay, what you're bringing and who's coming along. The Complete Airstream Towing Guide is a great tool for deciding on a ride.
You might be surprised by your options. You can tow lighter models such as the Basecamp, REI Co-op Special Edition, Bambi, and Caravel with a capable SUV. But if you end up wanting to upgrade at some point, be prepared to upgrade your tow vehicle as well to something with greater tow capacity.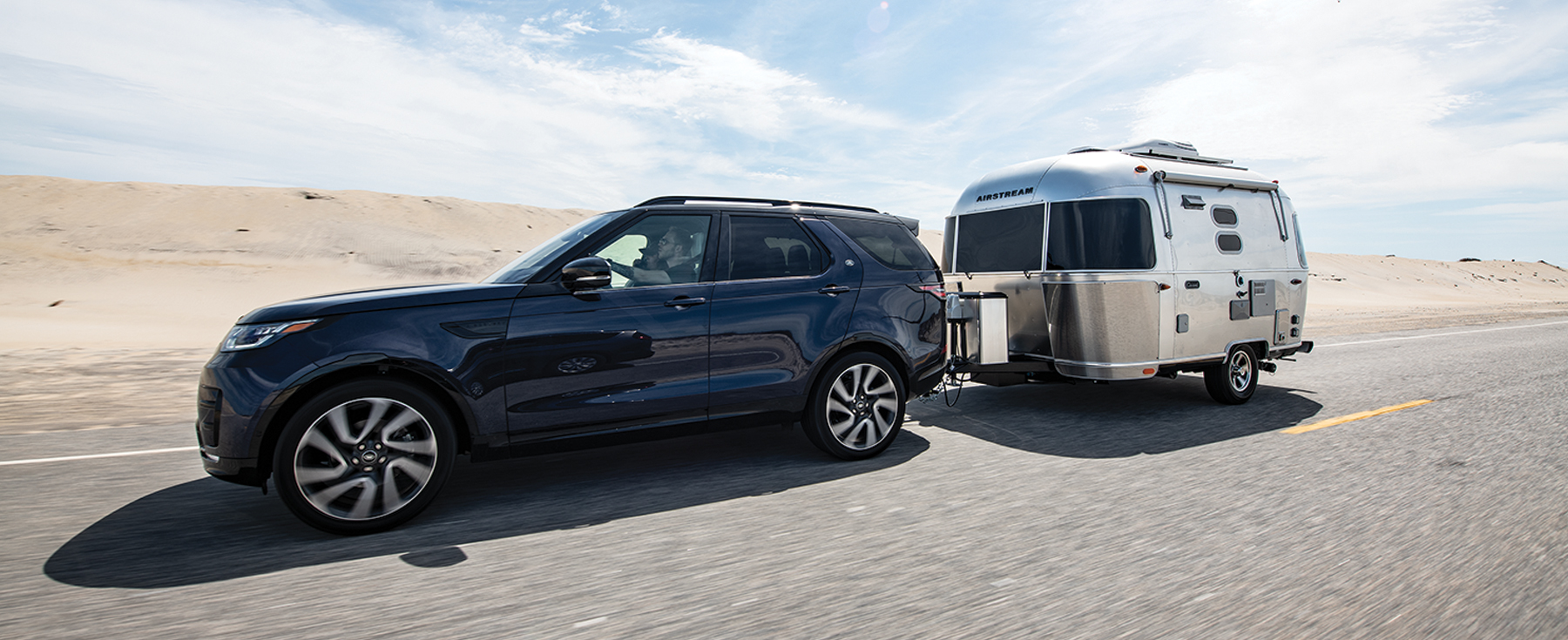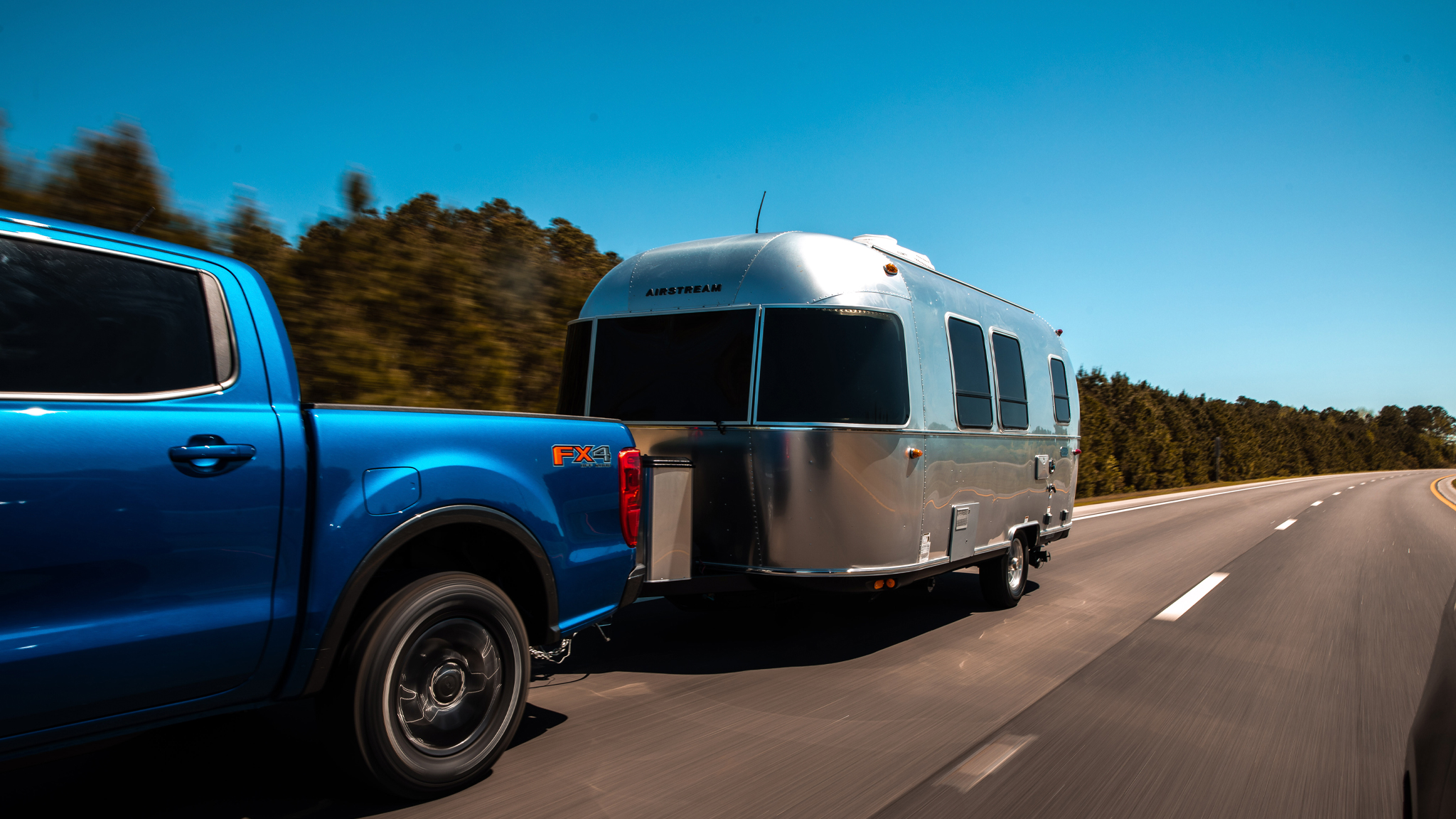 Jim and Carmen Beaubeaux are one of the rare couples who got it right the first time. They live full-time in their 2001 30-foot Airstream Excella and wouldn't change a thing.
"We started out with the right truck and the right trailer," Carmen says. "So many people who try this get into the wrong configuration — whether they started out with a motorhome and wish they had a trailer or vice versa, or they got one that was too big or too small."
"We read the material that Airstream put out that said that this is tried and true, this 30-foot thing. It's worked for all these generations. We thought, that sounds reasonable. And then (Jim) did some more research into it on Air Forums and he said this is what people say works."
Carmen makes one other key point: When towing a trailer rather than driving a motorhome (while towing a car), there's only one engine to maintain. "With our tow vehicle and electric bikes, we're gold — especially in cities where parking is hard to find and expensive," she says. "We just park on the outskirts of town and ride our bikes into busy urban areas."
Fine-Tuning the Decision
Some of the other things to consider before buying an RV could be a matter of personal preference, but experienced Airstreamers have mentioned these features:
Number of windows.
Airstream is known for wide windows and expansive views. Some models have even more than others. If light and a sense of the great outdoors are important, choose a travel trailer that offers the configuration to suit the way you spend your time inside in the great outdoors.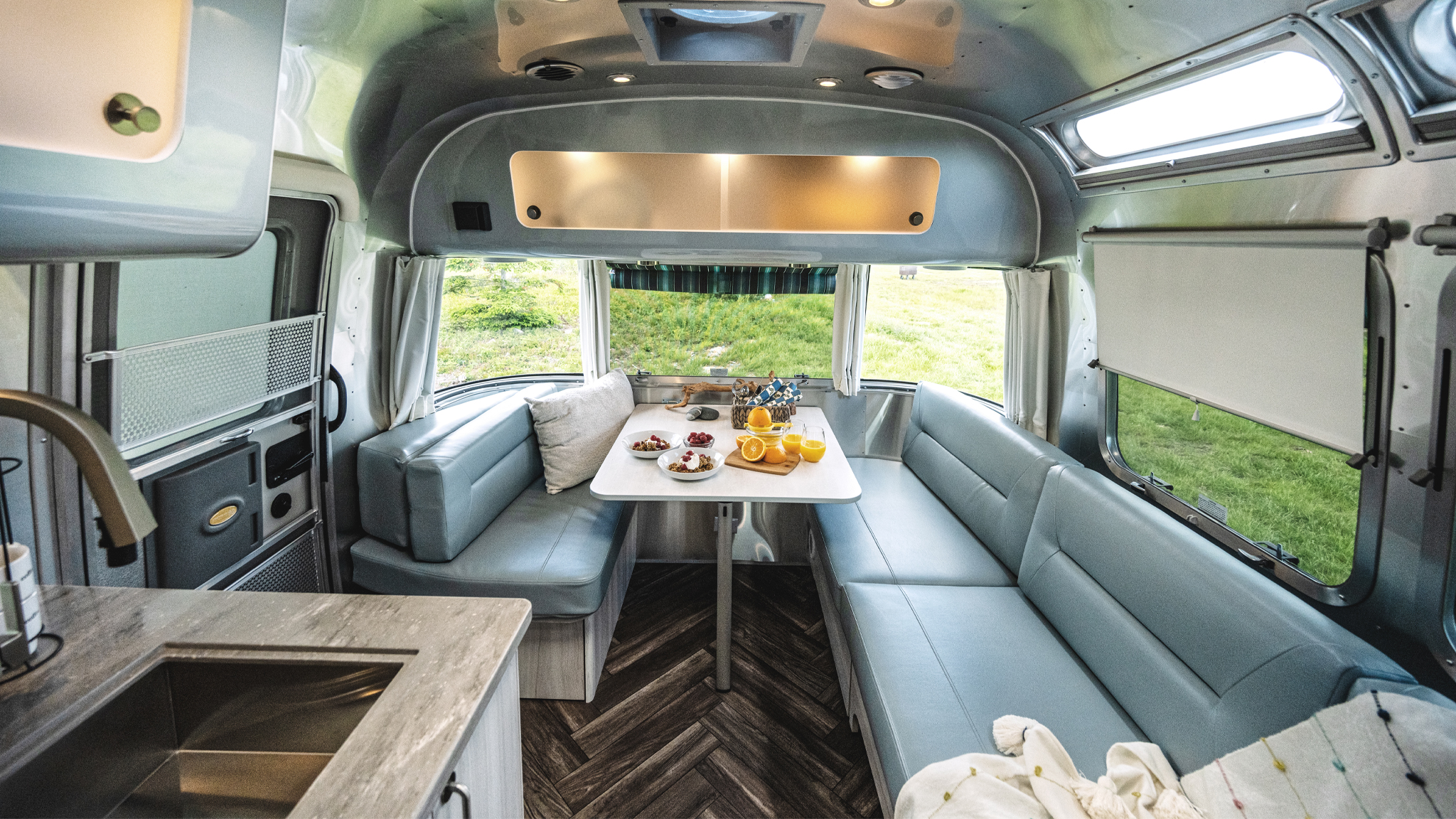 Bathroom style.
Some RVs come with a wet bath, in which the shower, toilet and sink are all one unit. Some have a dry bath with a separate enclosure for the shower. And some have a space on one side of the RV for the shower, with the toilet and sink on the other — the two can be closed off together.
Bed location.
Do you intend to host guests in your RV? Airstreamers have a strong community; in particular, those who travel to visit friends or who travel with friends often invite them in. In this case, you may want to choose a model with the bed in the back.
Like many Airstreamers, Eric and LaVerne McHenry chose their first Airstream because of the iconic brand's durability and sleek, modern design.
They're now on their third, a 30-foot Classic, but they upgraded in large part because of this last consideration — the friends they've made along the way — says Eric, president of the Airstream Club International.
"One thing I hope that you hear from other members in our Airstream club is that you join the club because you got this beautiful shiny thing. But soon you fall in love with the people in the club. And so that's what led us to get larger and larger trailers. We started making more and more friends outside of California, outside of the West Coast. And we started traveling further," Eric says.
"I think we've been to almost every state in the U.S. now in our trailer in the last three to four years now. And we're rolling strong."
Ready to see for yourself Airstream's quality, craftsmanship, and innovative features? Find your nearest dealer and schedule a visit today.