First introduced in the summer of 2018, the Basecamp X-Package has become one of the most popular optional features for customers looking to expand their travel adventures. Available as an optional upgrade on Basecamp 16 and Basecamp 20 – and as a standard feature on the REI Co-op Special Edition Basecamp 16 – the X-Package takes our most adventure-ready travel trailer to the next level with rugged features and durable design.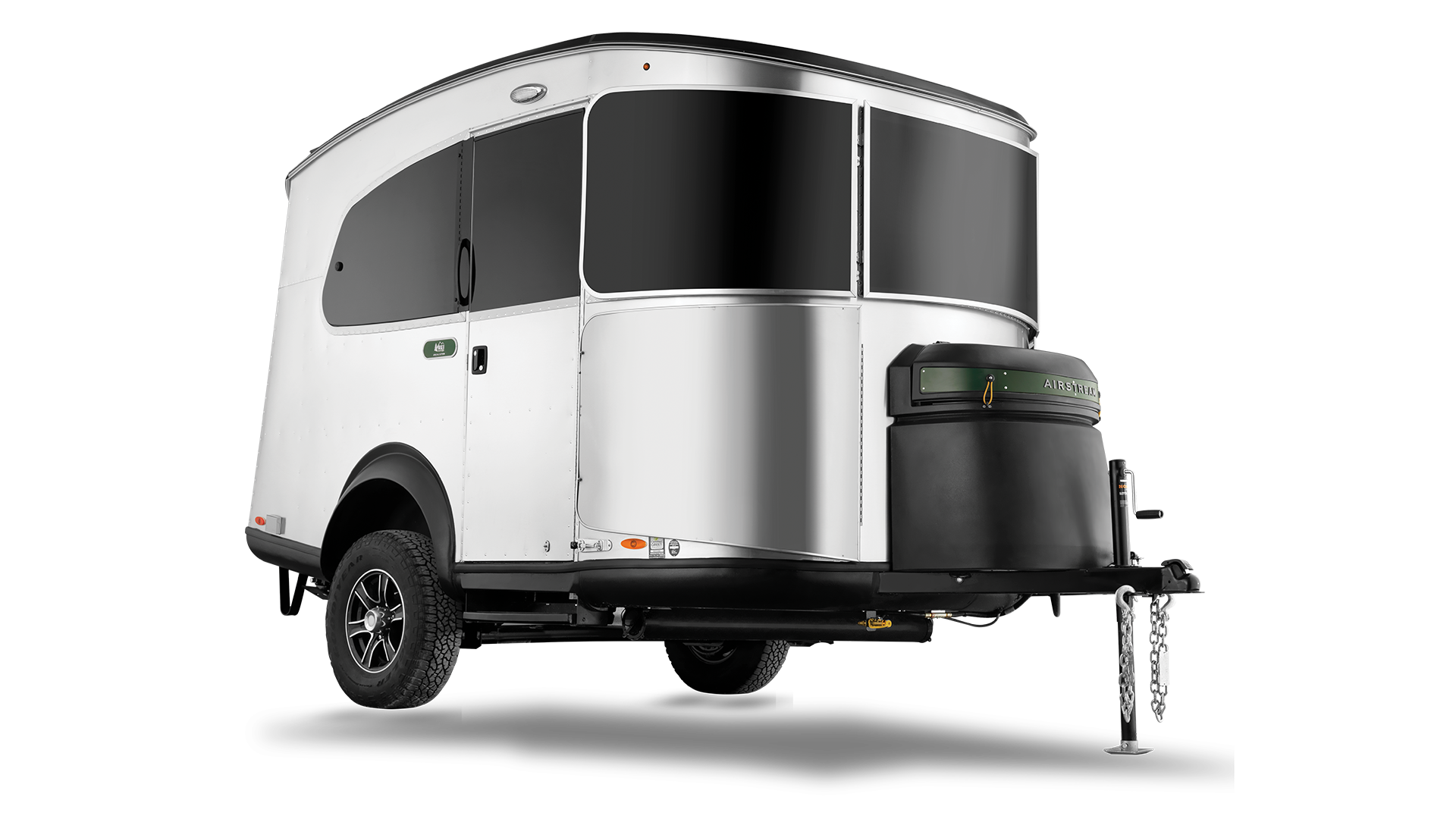 What Does the Basecamp X-Package Include?
A 3" lift kit for added ground clearance

 

Goodyear® Wrangler all-terrain tires

 

Stainless steel front stone guard

 

Solar front window protection

 

Black shadow wheel design
If your ideal adventure is heading off the paved roads and getting as close to the action as possible, the Basecamp X-Package makes it easier than ever. The extra three inches of ground clearance – along with Basecamp's already aggressive departure angle at the rear – mean you can tackle more challenging terrain. The stone guard and solar front window protection shields your investment from dings and dents, and the all-terrain tires are ready for just about anything you can throw at them.
Enhancing an Already Versatile and Adventurous Design
For years, Basecamp has been one of our most popular models – not surprising when you consider how versatile a travel trailer it is. Every Basecamp floor plan offers a convertible rear space that was thoughtfully designed to easily adapt for eating, sleeping, lounging or storing gear. Loading and unloading are made easy with a large rear cargo hatch and flexible storage space with tie downs. And every Basecamp comes with front panoramic windows that provide incredible views no matter where you set up camp.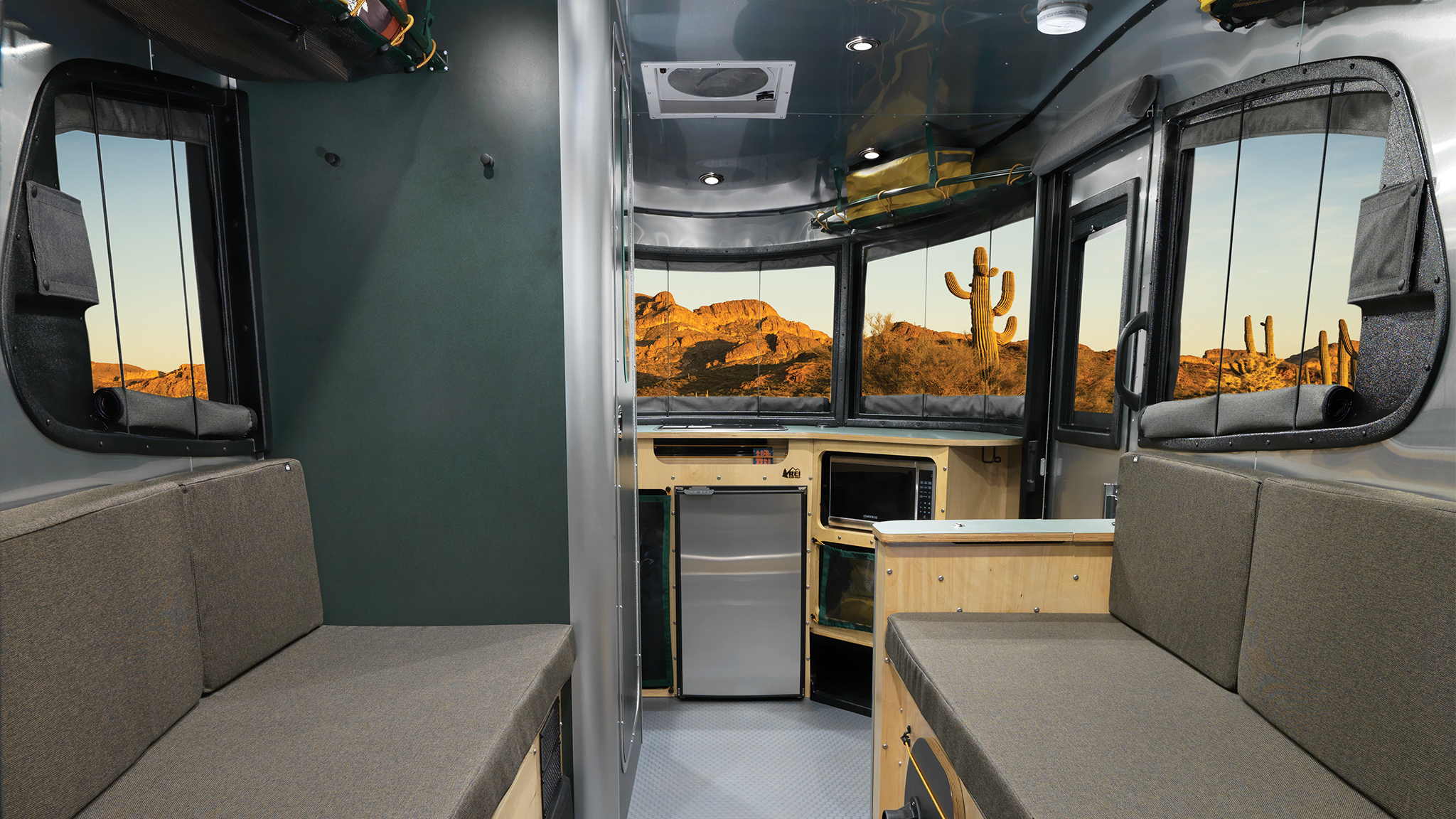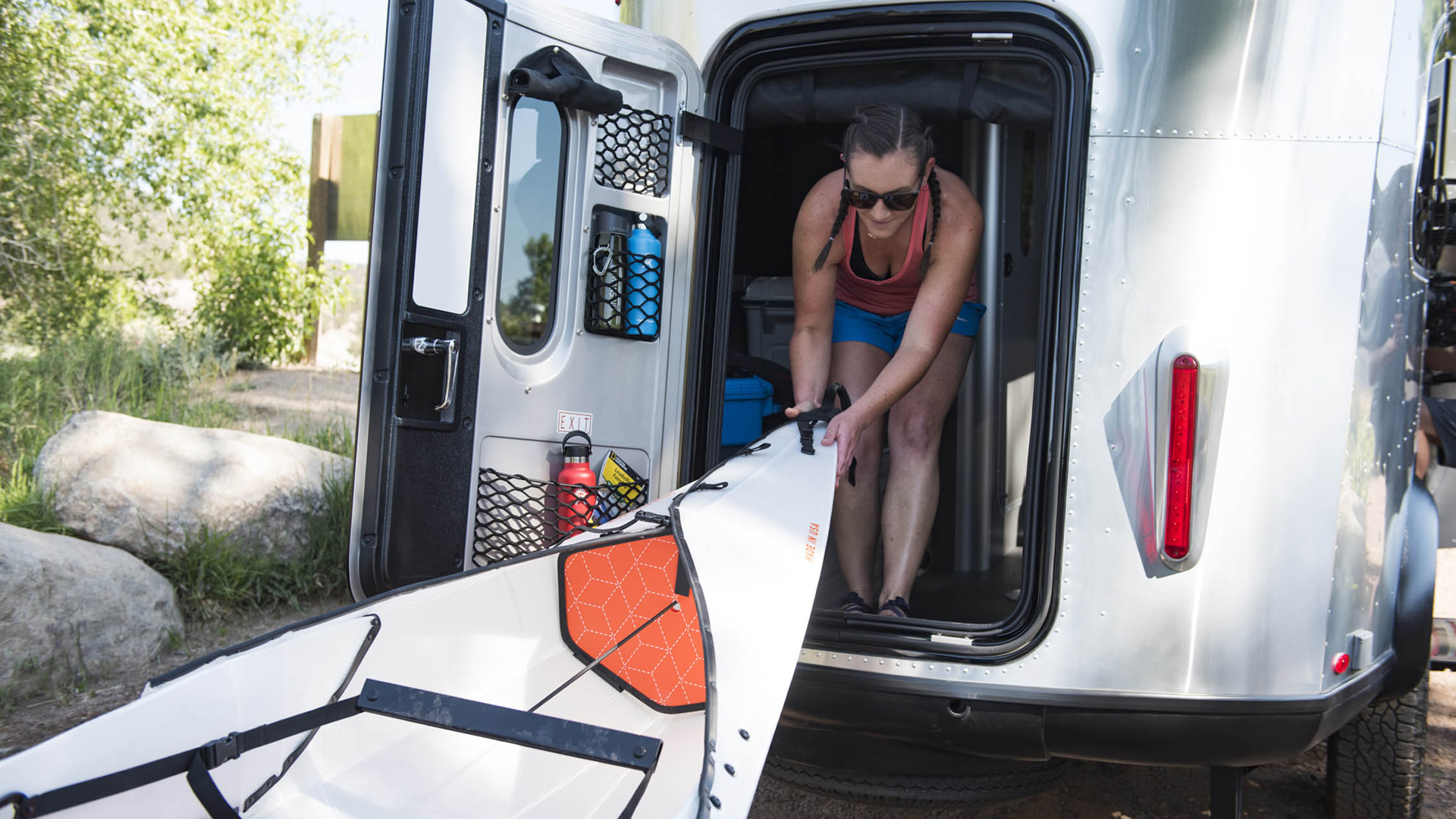 With the Basecamp 20, owners have the added advantage of a front convertible dinette that can double as either living and dining space, or as a sleeping area when night falls. Basecamp 20 owners love the ability to leave the rear seating converted to sleeping space while leaving the front dinette set up for eating, working, or relaxing.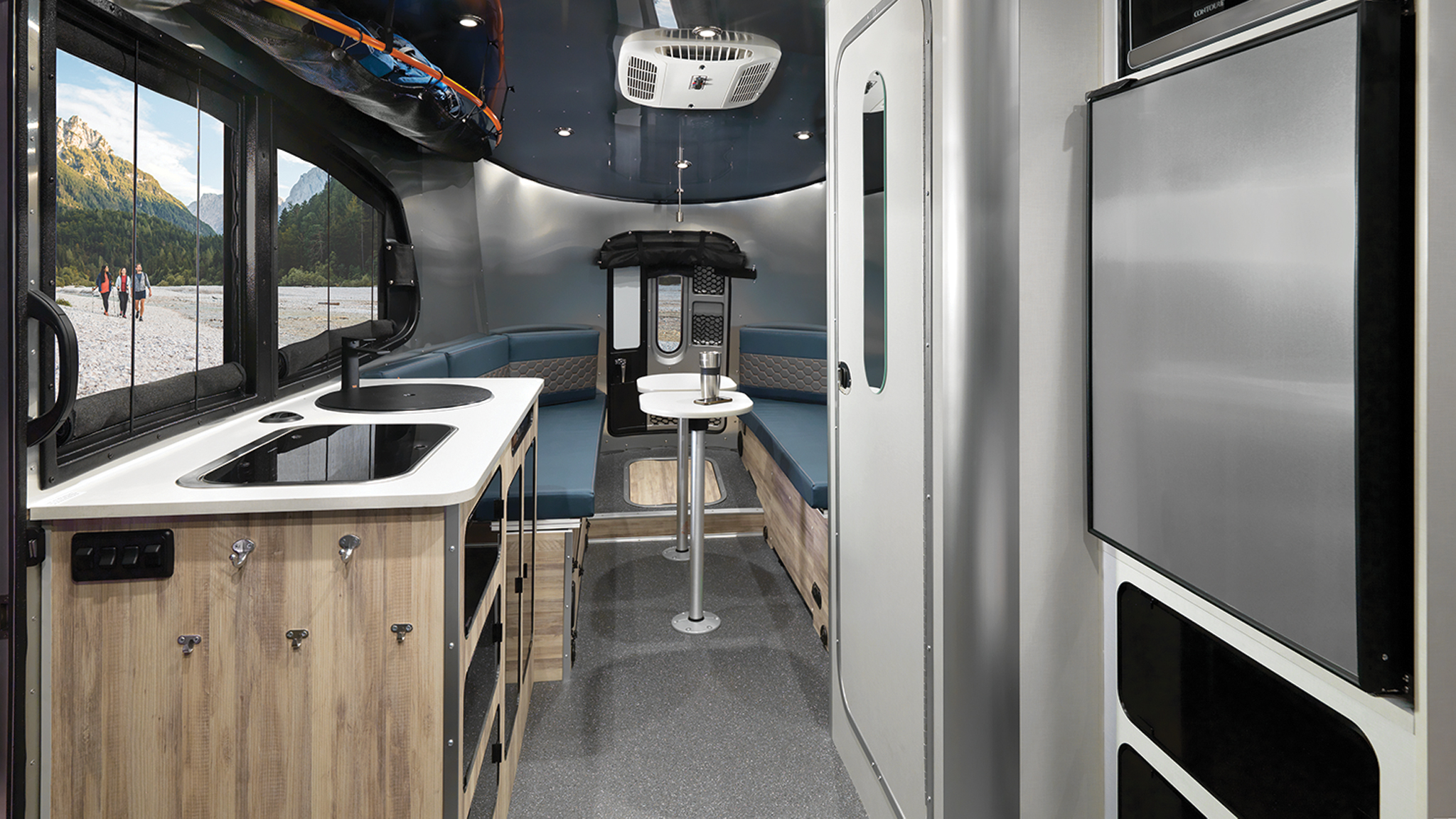 And in the REI Co-op Special Edition Basecamp, owners get the standard X-Package plus several features unique to this model, like a UV LED water filtration system, a recirculating water heater that conserves fresh water, and optional composting toilet. When it comes to solar panels that help harvest the sun's energy while boondocking, owners can choose between 200W or 360W of roof-mounted solar panels. With the upgraded 360W solar package, two 100Ah lithium batteries are included from the factory — providing plenty of power for off-grid adventuring.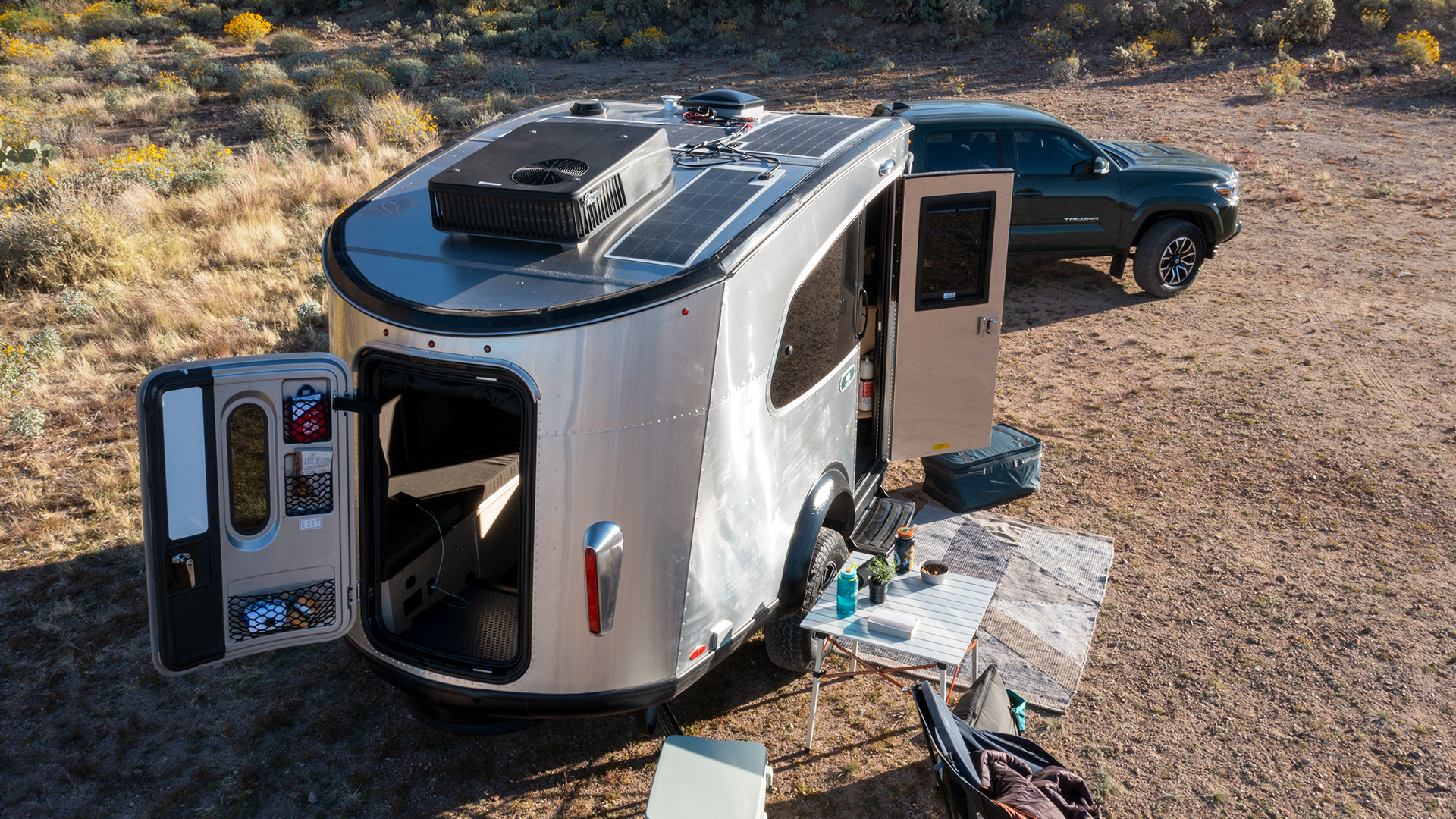 An Innovative Upgrade
Like every Airstream innovation, the Basecamp X-Package stays true to the roots of Airstream founder Wally Byam's Credo, which aims "To provide a more satisfying, meaningful way of travel that offers complete independence." The Basecamp X-Package includes premium features that were designed to enhance customer experience and rekindle the desire to explore the great outdoors. Through these enhanced features, travelers are able to bring the comforts of home on rugged roads.
Ready to see Basecamp for yourself and explore the upgraded options offered by the X-Package? Find your local Airstream dealer and schedule a visit today.
Want to learn more about the adventure-ready Basecamp? Download our brochure and dig into the details.