This article is part of a series designed to help Airstreamers and prospective owners better understand and utilize their RVs electrical system. Click here to read other installments in the series, or click here to watch the archived Ask an Airstreamer webinar all about power.
"For want of a nail, the shoe was lost. 
For want of a shoe, the horse was lost. 
For want of a horse…
You probably know how the story ends. (Not well.) That 15th-century ditty colorfully reminds us to pay attention to the little things that can cause big trouble. With that lesson in mind, here are some of our road-tested, must-have accessories to help you protect and get the most from your Airstream's electrical system. Many of our favorites are available now at our official online outfitter, Airstream Supply Company. 
Surge Protectors and Electrical Management Systems
While it may look a little different than the home office surge protectors that many of us are familiar with, this device performs the same function in your Airstream as it does in your home or office. It protects your unit's electrical system from power surges that can damage your wiring and any electronic devices connected to that system. Surges can result from any number of sources, including a nearby lightning strike or a flaw in the wiring of a campground power hook-up.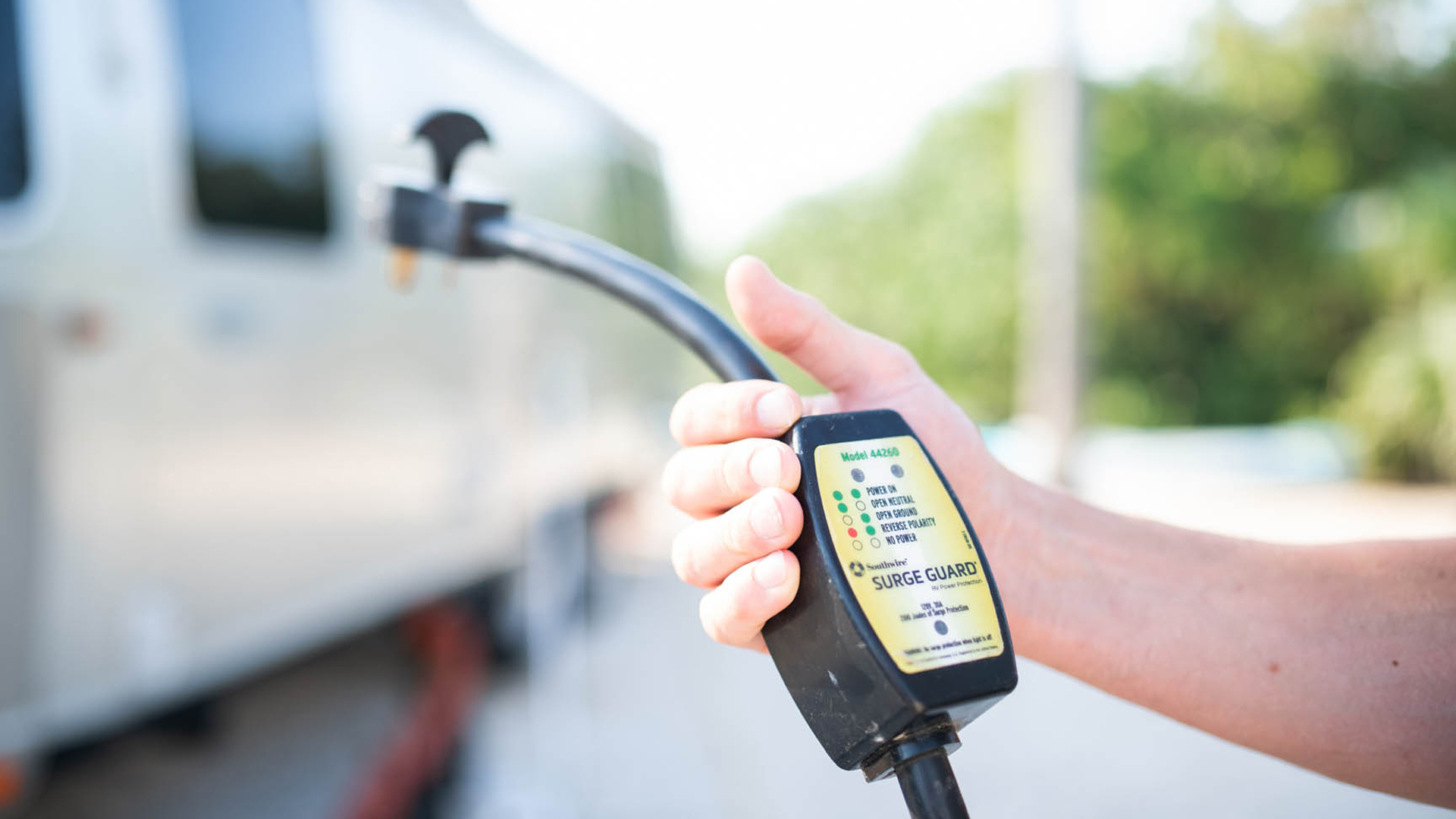 There are two types of surge protectors — portable and hardwired. A portable surge protector gets plugged in between your power source and your power cord when you set up camp. A hardwired model is installed inside your trailer and goes to work automatically as soon as you connect to shore power.
For protection from more than spikes in power, consider an electrical management system or EMS.  
An EMS guards your Airstream's electrical system and electronic devices against both low and high voltage, both of which can be damaging. Standard A/C current flows at 120 volts. EMS accessories vary from product to product so check your user's manual for the most up to date info. But in general, if your power source dips under 104 volts or above 132 volts, the EMS will cut off the power. An EMS can also detect such dangers as an incorrectly wired campground power pedestal or the absence of grounding. We love this 50-amp EMS and this 30-amp EMS for the ultimate protection.
Power Adapters
Known as a "dog bone" because of its shape, these devices expand your campground options by allowing you to stay at facilities with limited options for electrical service on their power pedestals. True, you may never use the adaptor. But if you ever do need it, this $20 device will more than pay for itself. A 50 amp to 30 amp connector is a common piece of the power puzzle, but it's also good to have a 15-amp adaptor at the ready. With a 15-amp adaptor in place, you can plug into residential electrical systems without popping the house's circuit breakers. That will undoubtedly make friends and family even happier to see you when you back into their driveway.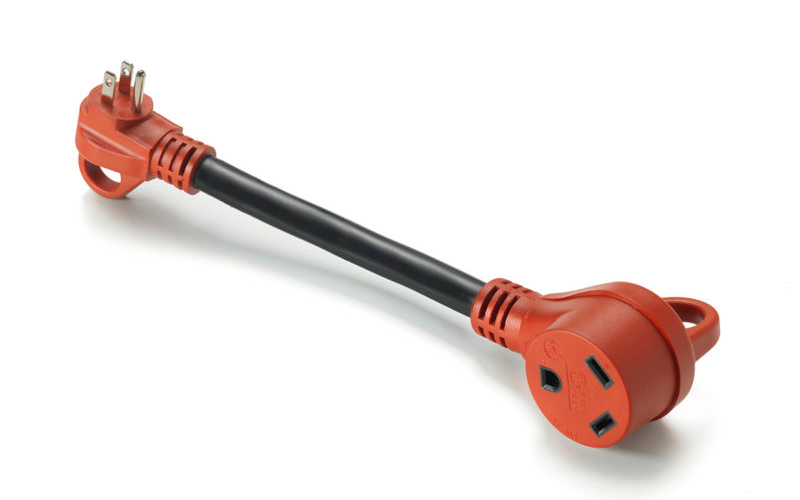 Battery Tender
Keeping your batteries topped off and healthy during the off-season is an essential part of being ready to hit the road. A healthy battery is a battery that's used frequently, with regular cycles of depletion and refilling. Batteries that sit unused for long periods of time slowly lose their stored energy – to the point that lasting damage can occur.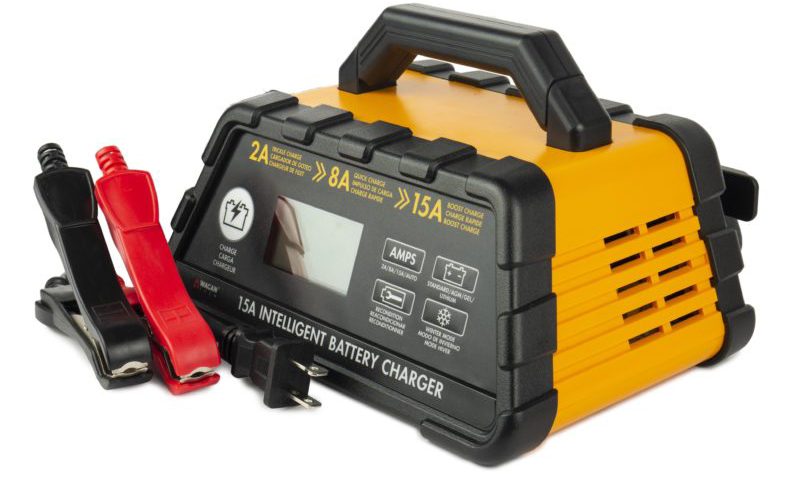 A good battery tender will keep your battery topped off so it's ready to for your next camping trip. But even more importantly, many battery tenders – like this one we offer at Airstream Supply Company – will gently cycle your battery to keep it in prime condition for years of service.
Portable Solar Panels
Harness the free and abundant energy from the sun with a good portal solar setup. We love the solar panels made in the USA by Zamp Solar. Portable, powerful, and easy to set up with the pre-wired quick-connect port available on all Airstreams produced after model year 2019, Zamp solar panels and accessories are the best way to get started with solar harvesting.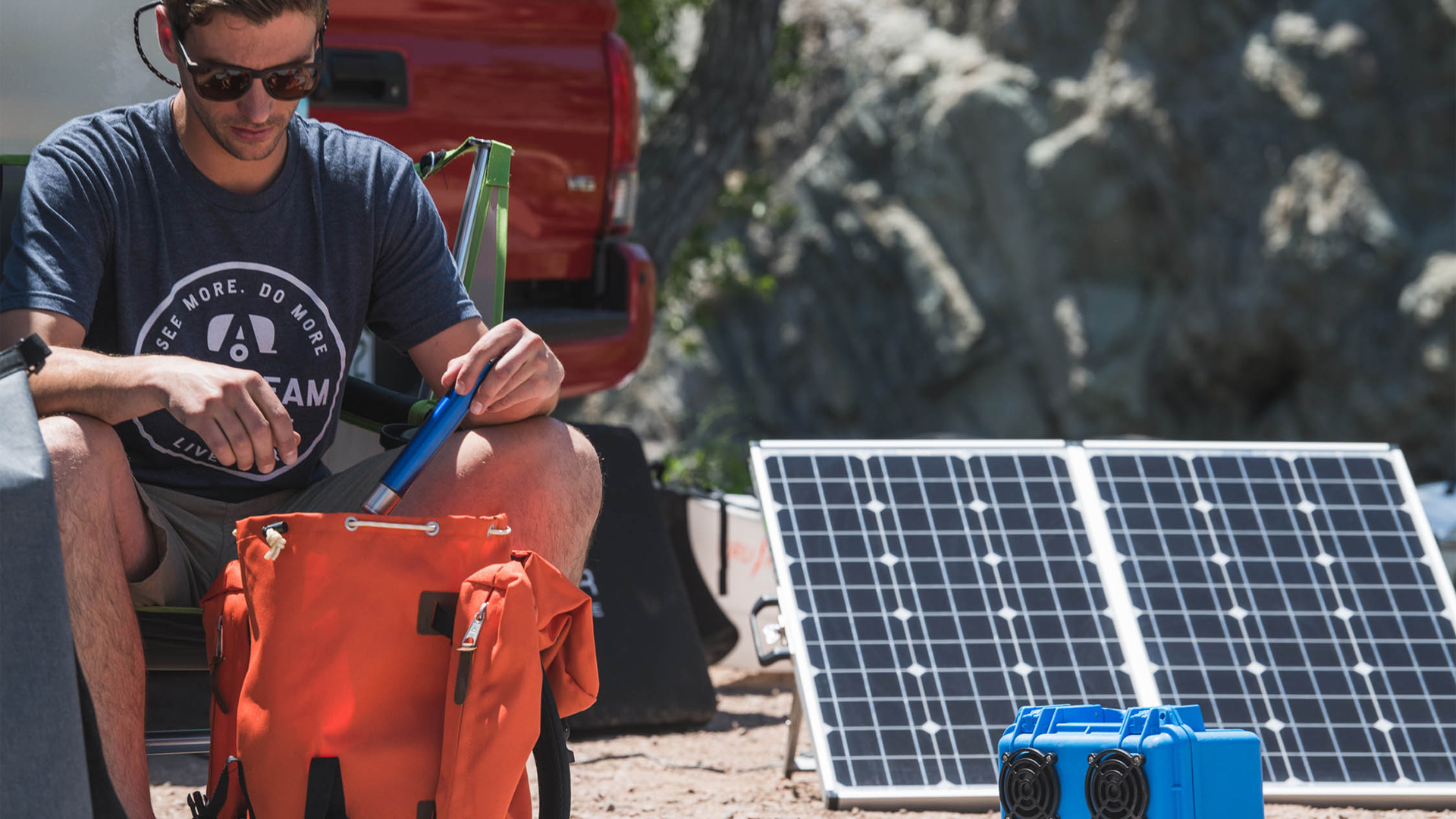 Prized by boondockers looking to go further afield, portable solar panels will help your keep the lights on while camping off-grid. Simply connect the cord to the pre-wired Zamp port and the panels will begin feeding energy into your Airstream batteries. Even if you have an older Airstream without the pre-wired connection, setting up a Zamp panel is as easy as attaching jumper cables to your vehicle battery.
AC to DC Power Adapter
Your Airstream features a versatile electrical system that provides both AC power (like what comes out of the outlets in your home) and DC power (like what you get from the "cigarette lighter" port in your vehicle). Your Airstream's inverter converts the DC power from your batteries into AC power, but if you want to run portable 12 volt DC devices (like this convenient portable vacuum) in your Airstream, you'll need a reliable DC to AC converter.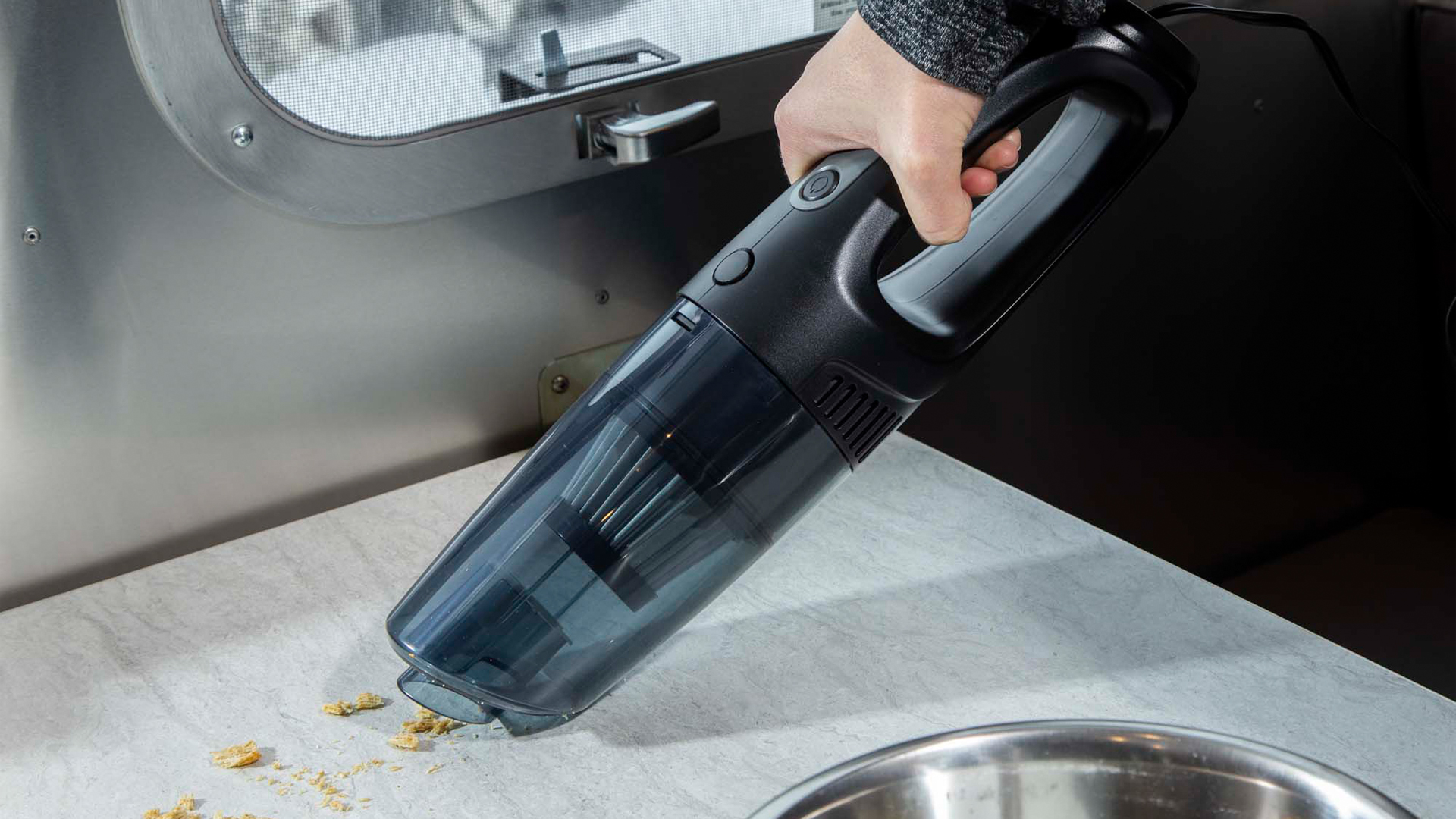 Extra Power (When You Need It)
It never hurts to have multiple power sources – part of the joy of Airstreaming is being prepared for any situation and ensuring you can enjoy your stay in comfort. Whether you're a boondocking fanatic or simply someone who likes to be ready for anything, having additional power storage devices can be lifesaver. We love the Lithium Power Cubes made by Wagan Tech – powerful, portable, and versatile, they come in three sizes to fit your needs. Recharge devices with the USB connections, power small electronics with DC connection, and run your sensitive electronics with the convenient AC outlets.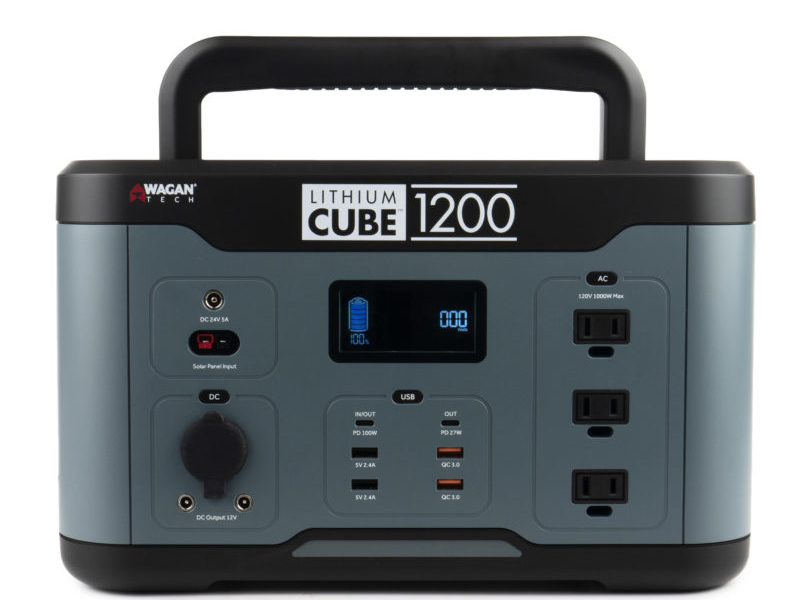 Jump Starter
It's said that your tow vehicle is the second most important purchase you make – after your Airstream. As such, power preparedness extends beyond your Airstream to your tow vehicle, where a dead vehicle battery means – at the minimum – a headache getting to your destination. Carry a portable jump starter for peace of mind. Our favorite jumper starter – the JumpBoostAir, available at Airstream Supply Company – features not only a powerful, portable jump starter, but also a convenient air compressor so you can keep your tires inflated as well.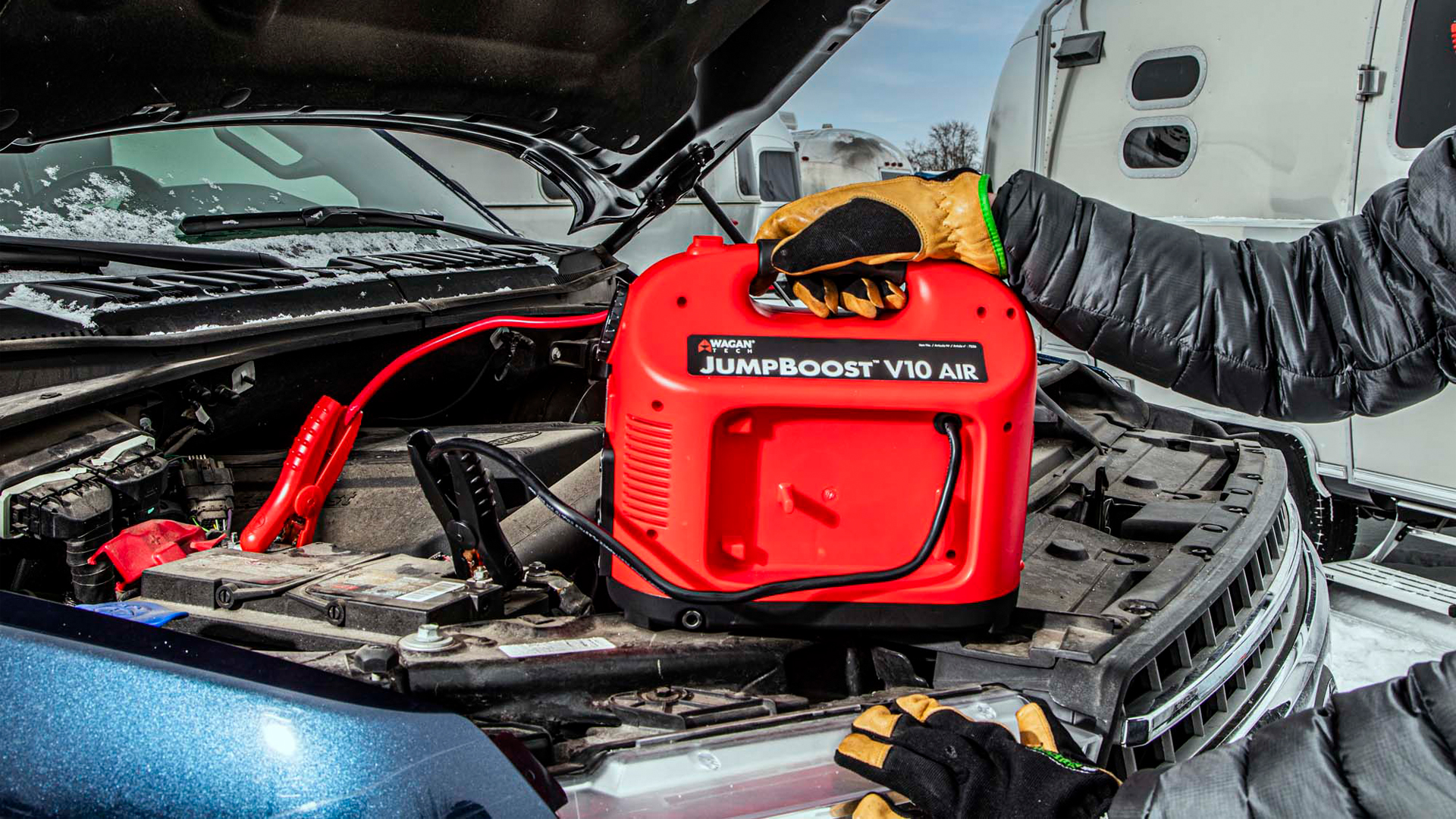 Portable Inverter
Your Airstream features an inverter that converts the DC power in your batteries to AC current appropriate for many electronics. Add the same functionality to your tow vehicle with a portable inverter. These types of devices plug into your dashboard "cigarette lighter" DC outlet and are equipped with AC outlets similar to what you find in your home. Whether you need AC power for portable equipment or simply want to recharge your laptop, a portable inverter is a lifesaver.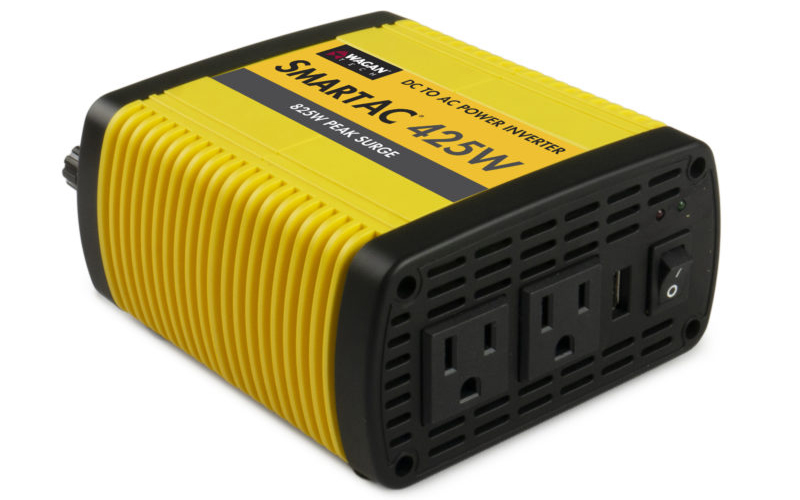 Big Box o' Fuses
Fuses have the potential to be the nail that started so much trouble. Carrying a box of assorted fuses is an inexpensive, no-brainer insurance policy against frustration and inconvenience. Check your Airstream's owner's manual to determine what fuses you should keep on hand.
For more information about your Airstream's electrical system, check out Airstream Academy. This comprehensive knowledge base is jam-packed with answers and information about every aspect of operating and maintaining your Airstream Travel Trailer or Touring Coach.