Flamingo Campground, Everglades National Park
Homestead, FL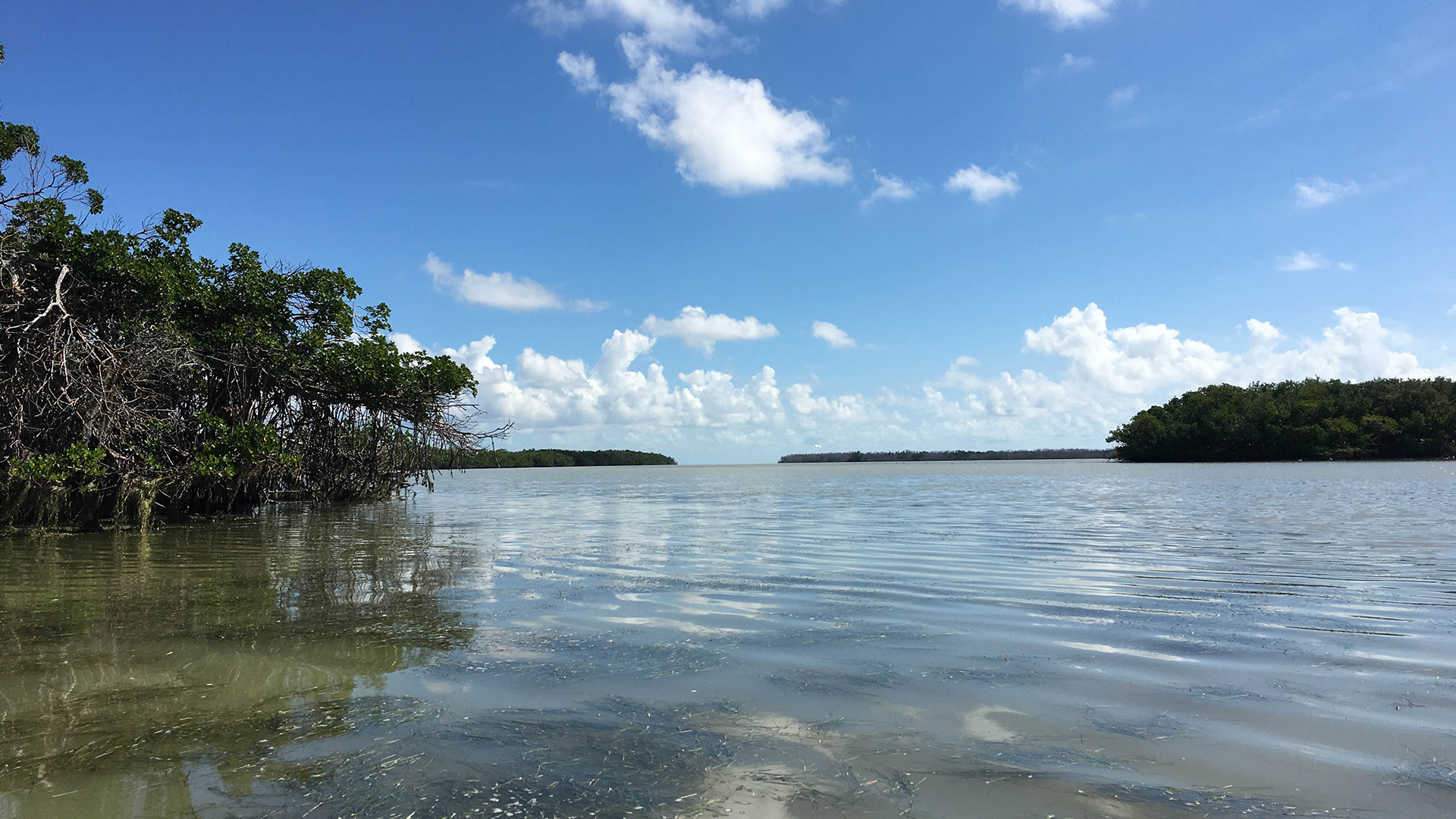 Hot. Muggy. Buggy. That's what you can expect from a trip to Everglades National Park during its wet season, from May until November. You can also bet on some fantastic wildlife viewing, majestic lookouts over the park, and memories to last a lifetime. Take your Airstream down to the Flamingo Campground, located inside the park's southernmost entrance, and get ready for adventures as varied as the landscape. A visit puts you in front of an incredible range of flora and fauna. Among the abundant wildlife are the endangered leatherback turtle, American crocodile, Florida panther and West Indian manatee. Everglades has a diverse ecosystem, with such features as freshwater sloughs, marl prairies, tropical hammocks, pinelands, cypress, mangrove, coastal lowlands, marine and estuarine environments. These sites, each spectacular in its own right, make up the 1.5 million acres that comprise this National Park, about one-third of which is underwater. Unlike other national parks that exist to protect unique geographic features, Everglades exists to protect its fragile ecosystem. Take the entrance road in Homestead and you'll end at Flamingo, which has a 300-site campground, picnic sites, a visitor center and a marina. In addition to boat launching ramps, the marina has canoe and small boat rentals for adventurers to get out on the water. The campground is located on a beautiful open field with a refreshing breeze coming off the winds of Florida Bay. Amenities include showers, two dump stations, picnic tables and grills. Some sites offer hookups.
Learn more about Flamingo Campground
Long Pine Key Campground, Everglades National Park
Homestead, FL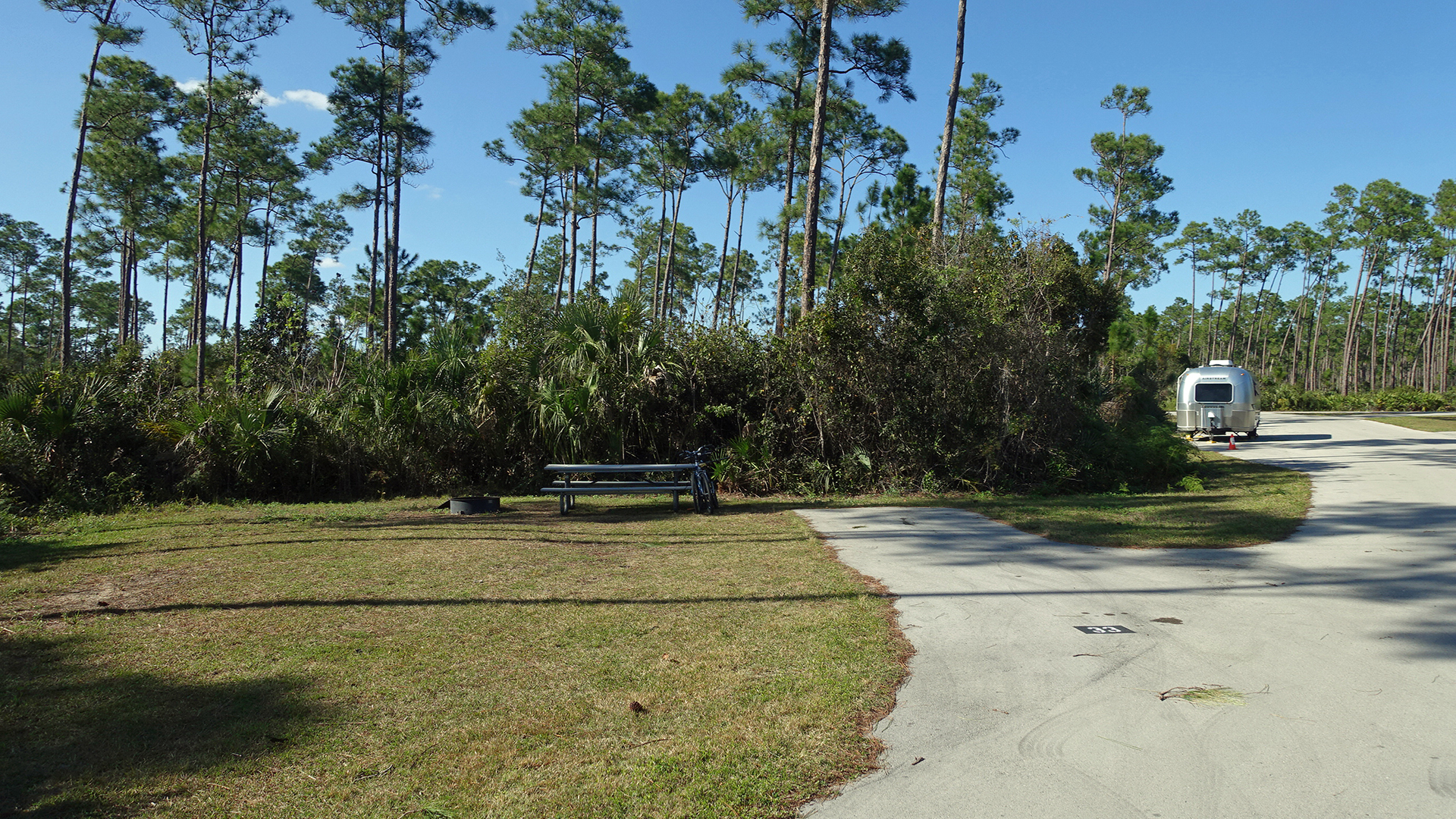 "The best option for exploring Everglades National Park," say Airstreamers HagePhoto. "Beautiful dry camping," add Airstreamers Lovely Cruise. "Lush and beautiful!" according to Airstreamers Explore.Something.New. Come and see what all of the gushing is about at Long Pine Key. Open during the dry season from November to May, this campground provides all the essentials for steeping in nature. The dry season is the Everglade's busy time because the warm winters attract a wide variety of wading birds and their predators. Long Pine Key is a haven for birds and a magnet for birdwatchers. For suggestions on how to make the most of your adventure, head over to the Ernest F. Coe Visitor Center. There, a 38-mile road begins, winding through pinelands, cypress, freshwater marl prairie, coastal prairie and mangrove ecosystems. Numerous hiking trails are accessible from the road, which runs to the Flamingo Visitor Center and marina. Twenty-eight miles of trails also begin near the campground, winding through Long Pine Key and well-suited for off-road cycling in the Marjory Stoneman Douglas Wilderness Area. Two boardwalks provide a scenic walk through a cypress forest at Pa-Hay-O-Kee, which also features a two-story overlook and another at Mahogany Hammock. These light treks take hikers through a dense forest in the middle of a freshwater marl prairie. And remember, you can always paddle your way through Everglades with a quick visit to Flamingo marina. The campground is set around a pleasant fishing pond. But no swimming, please, as anglers share the water with alligators! While this is dry camping, reservations are recommended. Amenities for the 108-site campground include restrooms, cold showers, a dump station and freshwater fill-ups.
Learn more about Long Pine Key Campground
Miami Everglades RV Park
Miami, FL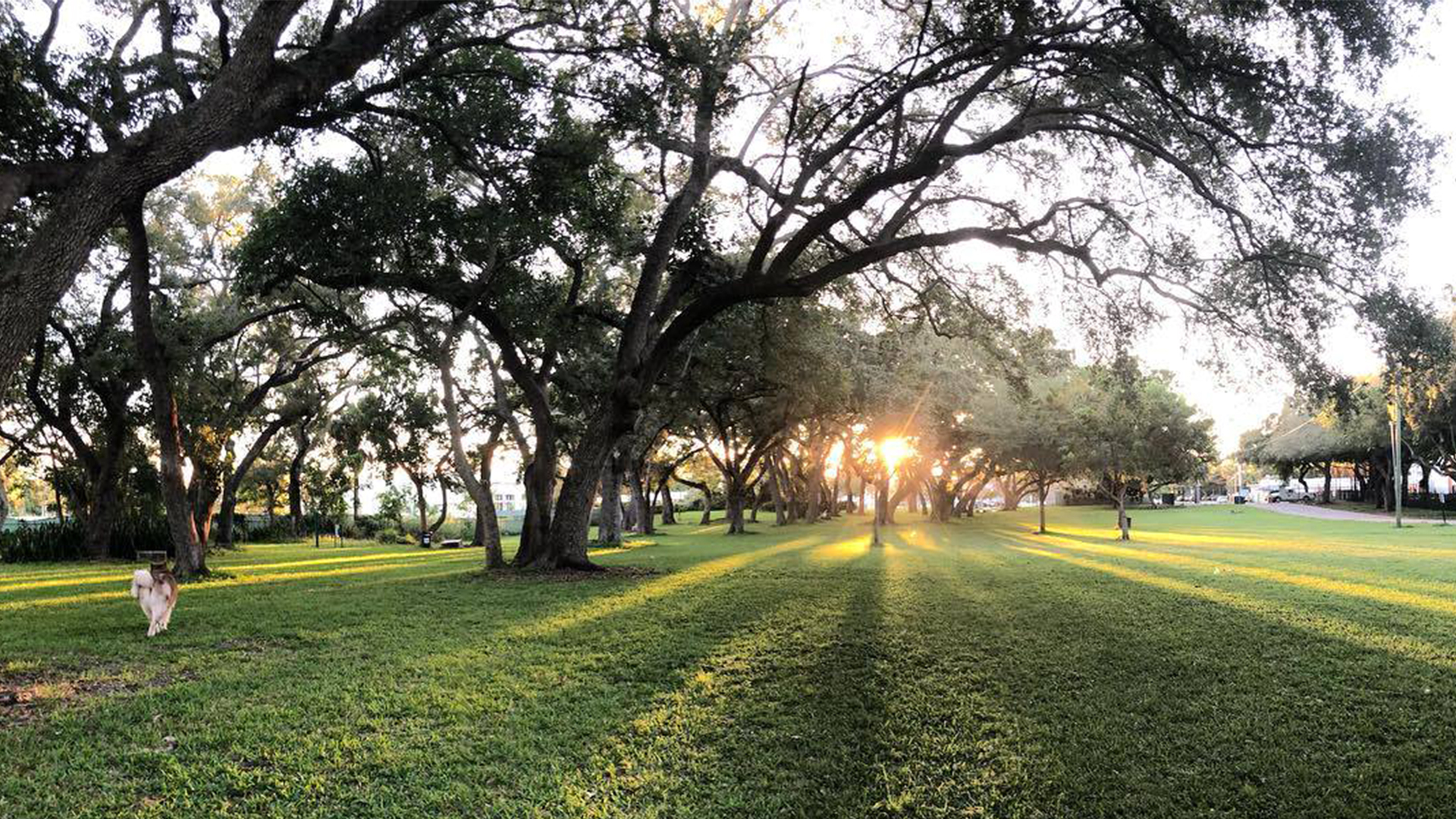 For those in search of more amenities while exploring the Everglades, there's Miami Everglades RV Park. This idyllic facility sits on 34 lush acres filled with avocado, mango and palm trees. Tropical floral nurseries and farms surround the park. And, the national park is fewer than ten miles away! So, when it's time to get down and dirty exploring the swamp, you'll be there in no time. If you decide during your stay that you want to taste the urban life, too, Miami is just a half-hour's drive north. At the park, Airstreamers will find full hook-ups, a clubhouse, swimming pool, hot tub and spa. Games include shuffleboard, mini-golf, volleyball, basketball and pickleball. There are laundry facilities and bathhouses on site, as well as high-speed internet and cable. The park is close to the Homestead entrance of Everglades, so once you venture out, you'll have access to the same hiking, canoeing and kayaking as you would at Flamingo or Long Pine Key. Take one of the hikes that begin at Long Pine Key or visit the Flamingo marina to set sail. If you go before November, note that the rainy season brings more than just rain. Be prepared for hot and humid temperatures and drenching afternoon thunderstorms that end almost as soon as they've begun. Daytime can reach average highs of 90°F, with humidity over 90% and a heat index of over 100°F. It is still a spectacular time to visit but do come prepared. You'll want to stock up on water and bug spray and wear sun and insect repellent clothing. With some planning, you can enjoy the mystery and intrigue that is the Everglades in any season. And, the rainy season is known for fewer visitors, so you may get the feel of having the place all to yourself.
 Learn more about Miami Everglades RV Park
Larry & Penny Thompson Park, County Park
Miami, FL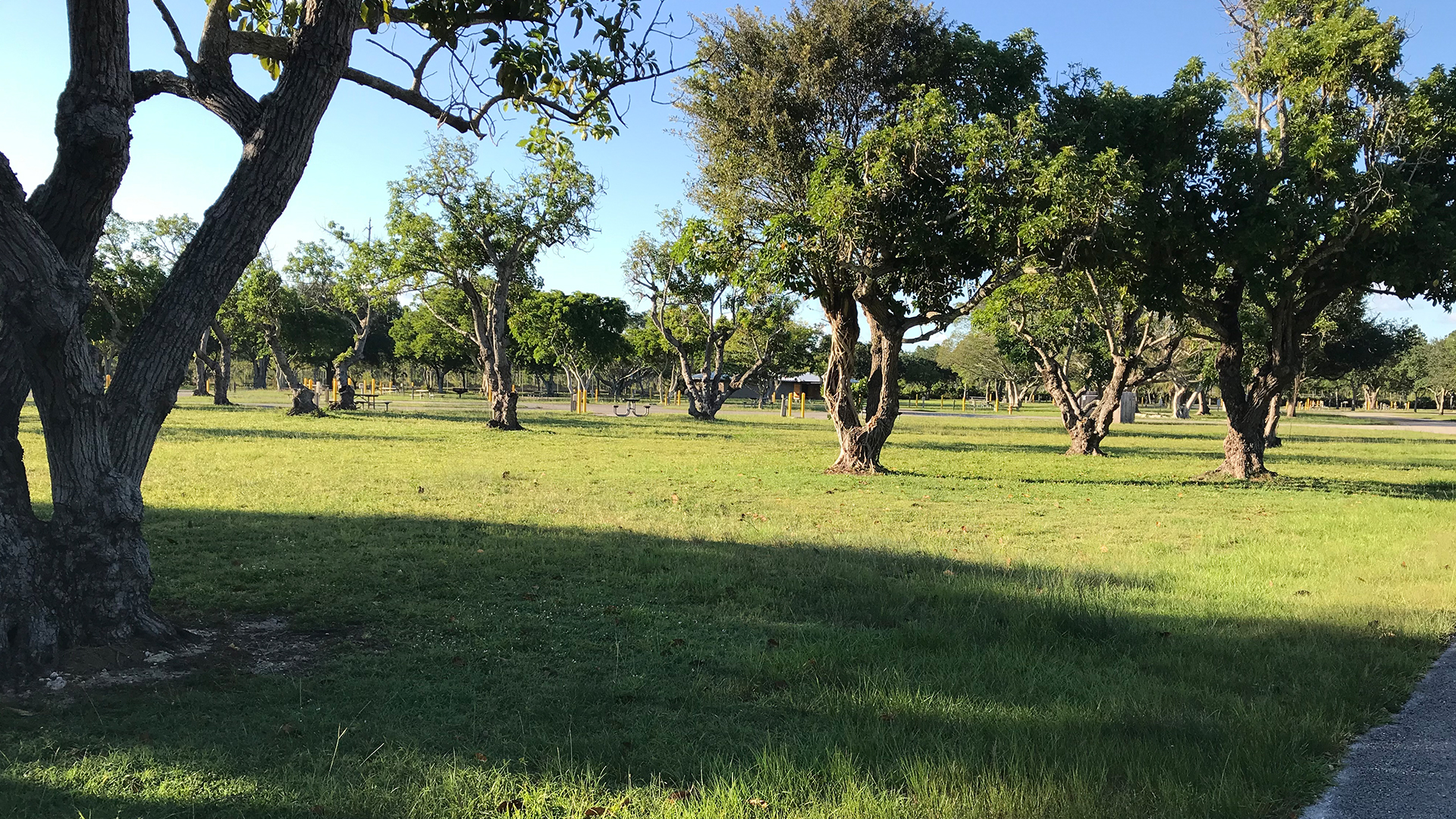 Miami-Dade County's Larry & Penny Thompson Park spans some 270 acres, with 60 devoted to camping. Take advantage of the park's 22-acre lake, bike trails and picnic shelters. There's no lack of places to walk, bike, run, or just laze in the grass. In the tree-shaded campground, amenities include 240 paved sites (most full hook-up), laundry, bathhouses and a heated pool. Located about thirty minutes from Everglades National Park's Homestead entrance, this county park is the perfect jumping-off spot for your adventures. Make the trip over to the Everglades with expectations of a unique landscape and unparalleled wildlife viewing. You won't be disappointed. Visit this wild place and prepare to be awestruck. The Everglades is a grassy, slow-moving river, so watercraft is one of the best ways to explore its wonders. At Flamingo marina, you can rent a canoe or kayak. The put-in point for the 99-mile Wilderness Waterway, a marked trail for boaters from Flamingo north to Everglades City, lies here. Take some time to explore the area, but if you want to make the entire trek, give yourself eight days and be sure you're a skilled paddler. Along the waterway are areas with alluring, if not somewhat scary, names, such as Alligator Creek and Nightmare Pass. Throughout your charted journey, keep an eye out for gators, and various species of birds, frogs, toads and fish. The local mammals you might spot include manatees, Florida panthers, bobcats and river otters. With so much to see, remember your binoculars and your camera!
Learn more about Larry & Penny Thompson Park