There's just so much only-here stuff to see and experience in Yellowstone's 3,472 square miles. This place is definitely best explored over a period of days from a campsite inside the park. Here are four of the best Yellowstone campgrounds as recommended by your fellow Airstreamers on Campendium.
Madison Campground
West Entrance Road
Yellowstone National Park, WY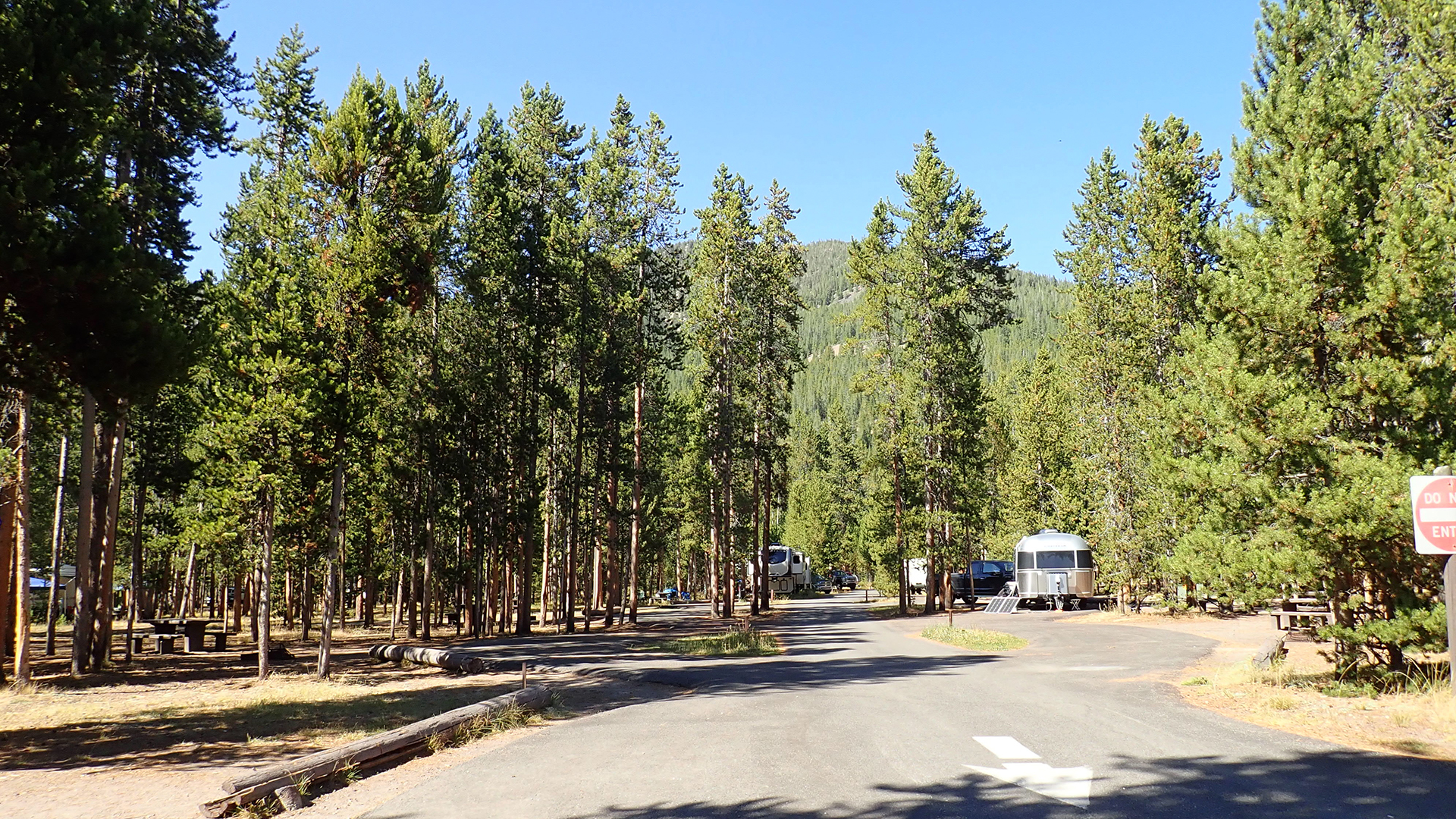 Oh, Old Faithful. This famed geyser erupts semi-regularly and draws throngs of visitors to Yellowstone each season. Set up camp at Madison Campground, and you'll be a mere 16 miles from the iconic centerpiece of the park. But don't neglect the other treats surrounding this Mona Lisa of the park. Madison is located between Old Faithful and the Norris Geyser basin. Throughout the area you'll find a vast array of other geysers and hot springs. All are connected and easily accessible by boardwalks, like Terrace Springs, just north of Madison Junction. Artists Paintpots is also a fantastic place to visit, home to an idyllic thermal area south of Norris Junction. Take the one-mile round trip trail to view two large mud pots, colorful hot springs, and a section of forest burned in 1988.
For the most adventurous, just adjacent to Paintpots lie three other thermal areas: Sylvan Springs, Gibbon Hill Geyser Basin, and Geyser Creek Thermal area. These areas are off-trail and for backcountry hiking. Fragile, dangerous, and difficult to get to, consider exploring with knowledgeable park guides.
Thermal areas are but a part of the area surrounding the campground. Eight-four-foot Gibbon Falls rushes over the remains of Yellowstone's Caldera rim. The falls are easily accessible from a pullover on the park road. And don't forget Madison River, situated 14 miles east of Madison. It's an angler's paradise. This blue-ribbon fly-fishing stream has a robust stock of rainbow and brown trout and mountain whitefish. And, of course, there are plenty of opportunities for hiking and mountain biking in this section of the park.
Madison is one of the park's most popular campgrounds, so be sure to book well in advance. The season runs from May to mid-October due to Madison's elevation and propensity for heavy snowfall; it sits at an elevation of 6,800 feet, and weather in the summer months can vary from balmy warm to below freezing in certain areas of the park. Back at camp, there are 278 sites. The maximum length for your Airstream is 30 feet. Amenities include ice and firewood for sale, potable water, restrooms (but no showers) and a dump station.
Learn more about Madison Campground
Mammoth Campground
North Entrance Road
Yellowstone National Park, WY
Mammoth is Yellowstone's only year-round campground, so you can be more flexible in scheduling a stay. The campground is perched on a high sagebrush steppe, dotted with swaths of juniper and Douglas fir trees. Mammoth is close to hiking, fishing and the Mammoth Hot Springs Terraces. The terraces are a must-see at the park, with a unique shape that resembles a cave turned inside out. Two boardwalks, spanning just shy of two miles, connect the approximately 50 hot springs that lie within the area. In the lower area, check out Minerva Springs, known for its intricately laced travertine formations and a rainbow of colors.
Hikers, get ready. Multiple trails around the hot springs range in difficulty from the easy and short Wraith Falls Trail to the demanding and long Sepulcher Mountain Trail – but all have spectacular views. On Wraith, spend an hour winding through sagebrush meadows, a mixed conifer forest, and marshland. Challenging Sepulcher will be a full day hike – from six to eight hours – as you trek to the summit of Sepulcher Mountain. Keep an eye out for mountain goats, bighorn sheep and moose all along the way.
Watch for wildlife in the campground, too. Elk and bison are known to pass through. Airstreamers Zamia Ventures share a report of their stay, "Mammoth is home to a herd of elk. We were inundated by them during our visit in September, with groups of cows and calves also in our campsite and feeding throughout the campground, especially in the mornings. The bulls also visited, and we heard bugling every night."
History buffs should venture to the Heritage and Research Center in Gardiner, Montana. This modern facility is home to Yellowstone's museum collection, research library, archives and archeology lab. For a more active journey through the past, follow the paths of soldiers and early visitors on Old Gardiner Road, a historic dirt road that leads to Gardiner, Montana. From the road, you'll have views of the Yellowstone River.
No matter how you choose to plan your stay at Mammoth, amazing sights of the northern part of the park await. Here you'll find hills and mountains blanketed in conifer forests, valleys covered in sagebrush-steppe, mountain peaks dotted with snow nearly year-round, and some stunning waterways. The campground has 85 sites and flush toilets, and generators are allowed. Operated by the National Park Service, the campground does not take reservations; sites are first-come, first-served. The early bird catches the worm!
Learn more about Mammoth Campground
Grant Campground
Grant Village
Yellowstone National Park, WY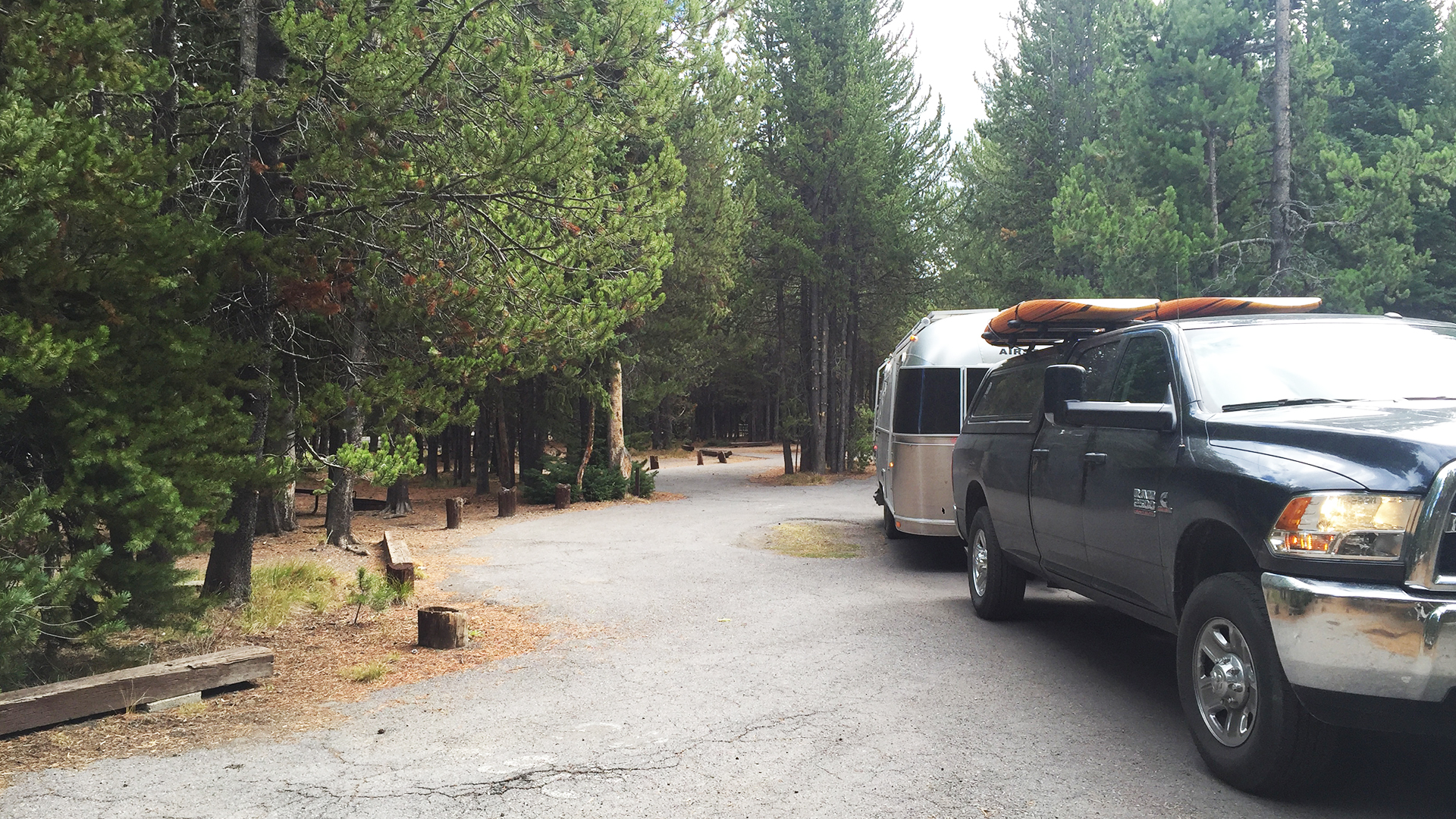 Grant Campground sits directly on the south end of the majestic Yellowstone Lake. For millennia, the lakes in the Grant Village area have attracted humans. Today is no different. There's plenty of shoreline (110 miles) here at the largest high elevation lake in North America, which encompasses 136 square miles.
You can launch your boat or rent a motorboat at most of the Yellowstone lodges on the lake's north shore – Grant Village, Lake Village and Bridge Bay Marina. Scenic lake cruises are also offered. Exploring the lake by boat provides a unique perspective for enjoying the park. You may decide to opt for some of the private companies scattered in the park that offer guided services for canoeing, kayaking and motorboating. While out in the blue space, be sure to stop in to see the "Fishing Cone," a hot spring that gurgles out directly into the lake. In days past, this offshore pool was a popular place to cook fresh fish; anglers dipped their catch into the partially submerged hot spring. 
Once you're back on land, head over to the lake's West Thumb area, which boasts a namesake geyser basin. Adventurers can reach the shore using a short trail. There you'll be awed by views of the Abyss Pool, Yellowstone's deepest hydrothermal pool that is a bit of an optical illusion; peer in and you'll see it looks bottomless. Other sites to enjoy include springs, paint pots (or mud pots), fumaroles (openings in or near a volcano through which hot sulfurous gases emerge), and, of course, geysers. Stop in to visit West Thumb Ranger Station, built in 1925. The station is an excellent sample of historic architecture associated with ranger stations in Yellowstone.
Grant has 430 sites, making it one of the larger campgrounds in the park. Each site has a picnic bench and fire pit. There are no hook-ups, but there is a dump station with potable water at the exit. Stores, a restaurant and gas stations are nearby.
Learn more about Grant Campground
Lewis Lake Campground
Lewis Lake Campground Rd.
Yellowstone National Park, WY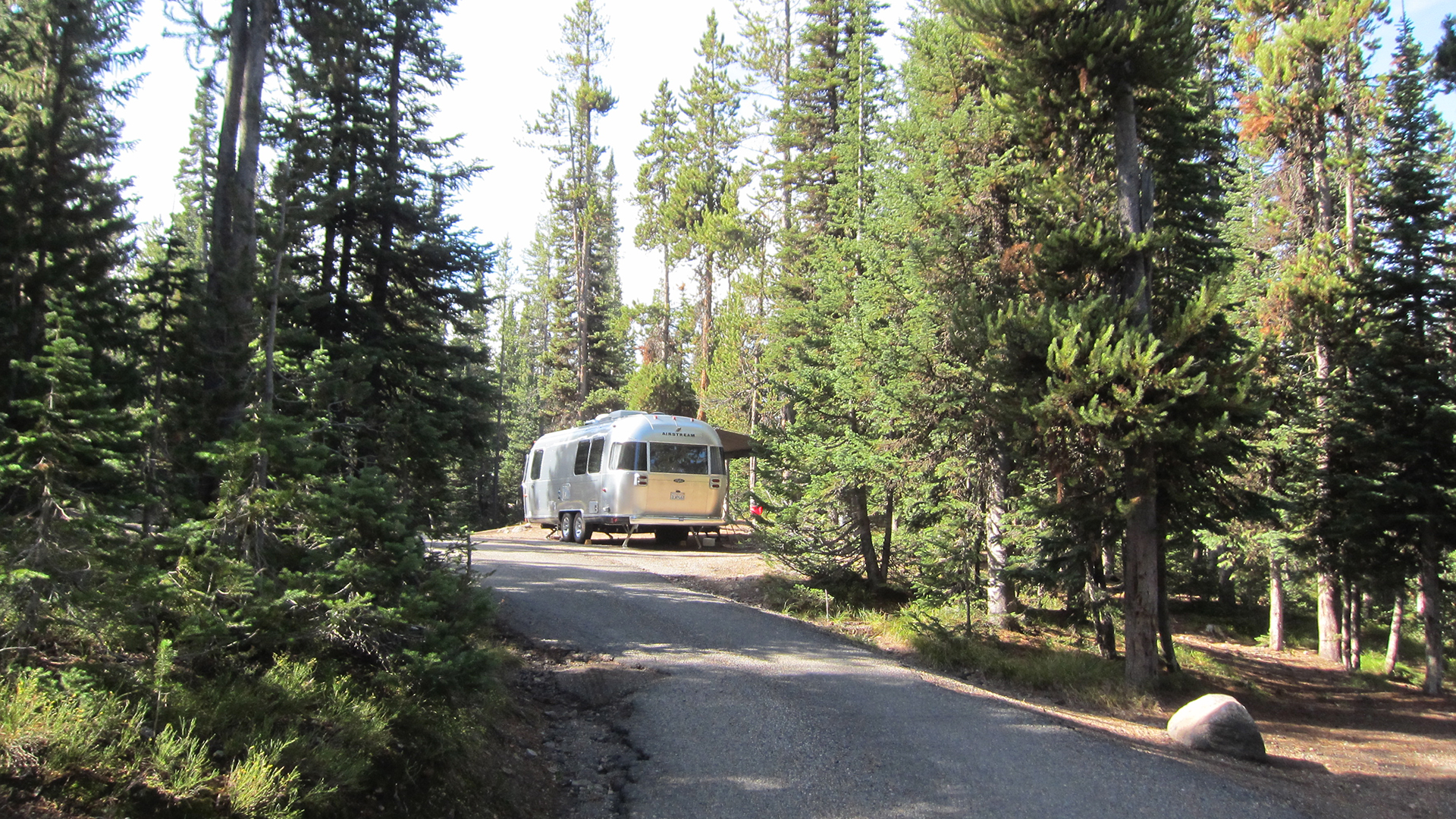 How does a forest hike to the radiant colors of a vibrant river channel sound? That, and more, are on the menu at Lewis Lake Campground. Set at an elevation of 7,800 feet, this campground is roughly eight miles from the south entrance of Yellowstone and just a short walk to the southeast shore of Lewis Lake.
This is a special place even by Yellowstone standards. Boats are prohibited on park rivers and streams – except the channel between Lewis and Shoshone Lakes. On this channel, hand-propelled vessels are permitted. And it's worth the paddle. Shoshone is the second largest lake in the park, with a maximum depth of 205 feet and an area of 8,050 acres.
Waterfalls on the Lewis River made Shoshone Lake naturally barren of fish, but today the lake contains introduced brown trout, lake trout and Utah chubs. Shoshone is also thought to be the largest lake in the lower 48 that can't be reached by road, making it even more special. Another riparian wonder is also close by. The confluence of three tiny streams that spawn the roaring Snake River lies on the southwest flank of Two Oceans Plateau.
Back to forest hiking, take the Lewis River Channel/Dogshead Loop for a strenuous but worthwhile trek that steeps you in all things Yellowstone. You can make it a seven-or eleven-mile journey. Along the way, you may spot badgers, martens, eagles and ospreys on the hunt for trout. If you take the full eleven miles, you'll make your way into Yellowstone's vast backcountry. It's a unique place – the park's largest backcountry geothermal basin with over 500 features, such as geysers and vivid hot springs. Make it a day trip. It won't be one you'll soon forget. The volcanic rock Red Mountains are also nearby. There are 12 peaks in the range, with the 10,308-foot-high Mount Sheridan rising above the rest. The most intrepid explorers can climb this natural beast.
Lewis Lake Campground has 85 sites and pit toilets. Expect dry camping and come prepared. The season runs from mid-June to early November. Also operated by the National Park Service, note that this campground does not take reservations; sites are first-come, first-served, so plan on arriving early.
Learn more about Lewis Lake Campground