Breakfast – it's the most important meal of the day – and more important than ever on days of adventure seeking, wanderlust searching, and escapade quests that launch from your Airstream Basecamp.  
If meal prep and planning aren't your forte, you might find yourself easily panicking at the thought of preparing meals, especially from the kitchen in your Basecamp, and be tempted to reach for a box of power bars or pop tarts. Sure you can handle hot dogs on the campfire, but without an oven for baking and minimal prep space, making breakfast that doesn't come from a box might seem daunting.
Of course you could always just grab the Wheaties, but why limit yourself to a box of cereal for breakfast when your wild heart yearns for adventure? Bring your adventurous side to the Basecamp kitchen and power up for the day ahead.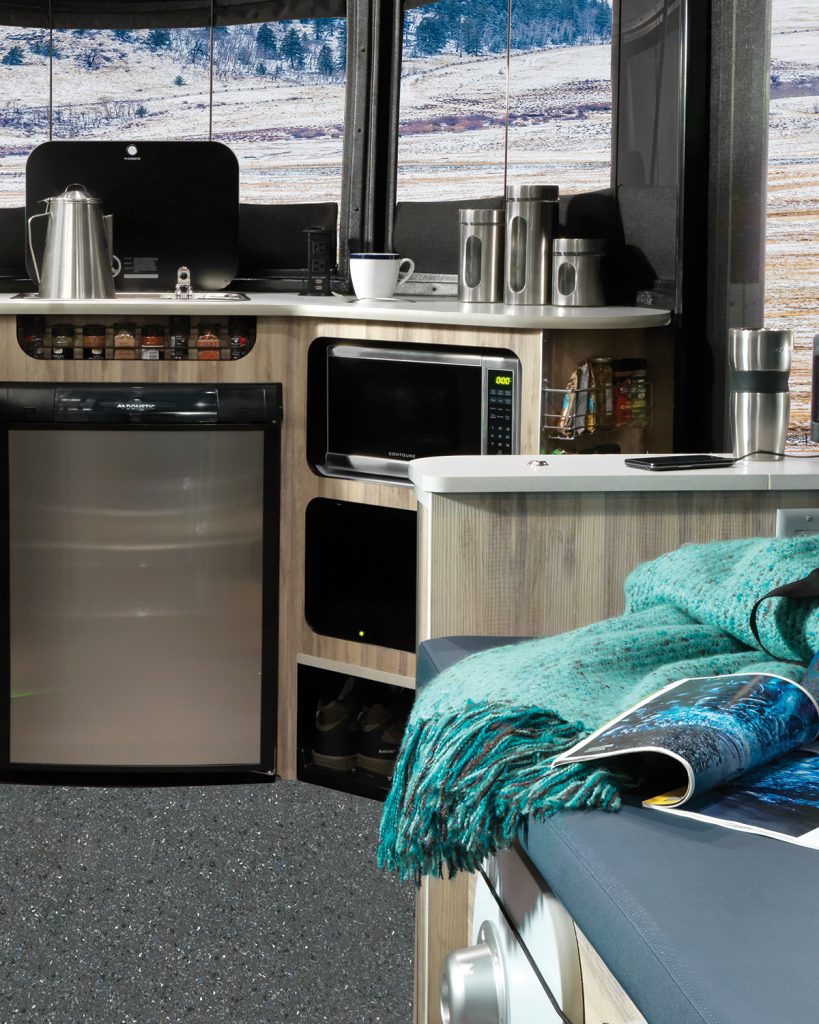 Maximize the microwave
Granola made in the microwave served over yogurt, egg and spinach frittata, breakfast in a mug recipes, traditional scrambled eggs or oatmeal can all be prepared with a few simple steps and the microwave. No fancy stove or pots required, just the right recipe and a willingness to try new things in the kitchen and you can enjoy your favorite breakfast wherever your Basecamp takes you.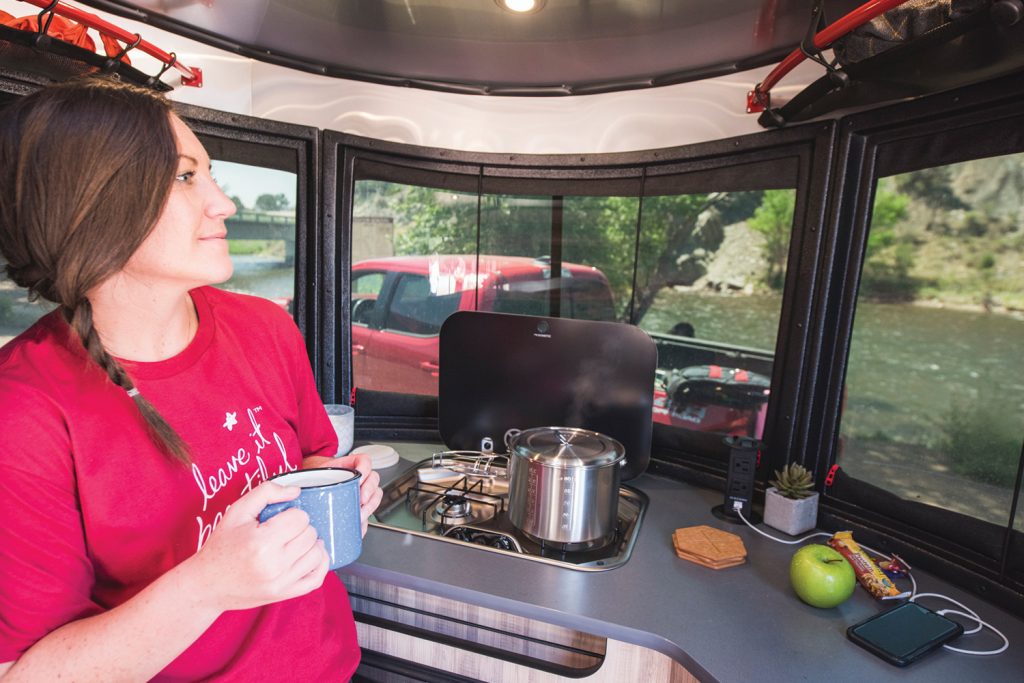 Grab some gadgets
When it's time to pack, bring along a few kitchen gadgets from home. With a waffle maker, Instapot, crock-pot or blender you can create breakfast without a fancy kitchen. With a bowl and spoon you can mix up waffle batter, plug in your waffle iron (or make a waffle over the fire with our campfire waffle maker) and in minutes you'll have homemade waffles waiting for you. With a crock-pot or Instapot you can make overnight oatmeal, a breakfast egg bake and even French toast variations. If something a little healthier is what you desire, with a blender you can whip up smoothies – green, protein packed or coffee flavored – to start your morning.
Jump on the jar bandwagon
Chia, flaxseed, oats, quinoa, buckwheat – there are overnight jar recipes for all these power grains and seeds. The key with jar recipes is planning ahead and having all the ingredients on hand. You probably won't have a problem finding eggs, milk or flour at the local general store for your frittata or waffles, but you might be hard pressed to find chia seeds and coconut milk. With a little forward thinking and shopping you can eat like a nutritionist's dream.   
Don't forget the coffee
Some of us can't start the day without our caffeine fix. Airstream Supply Company has many java options, including a seriously cool portable, hand-operated espresso maker that delivers barista-quality espresso. All you need is hot water and your favorite espresso pod.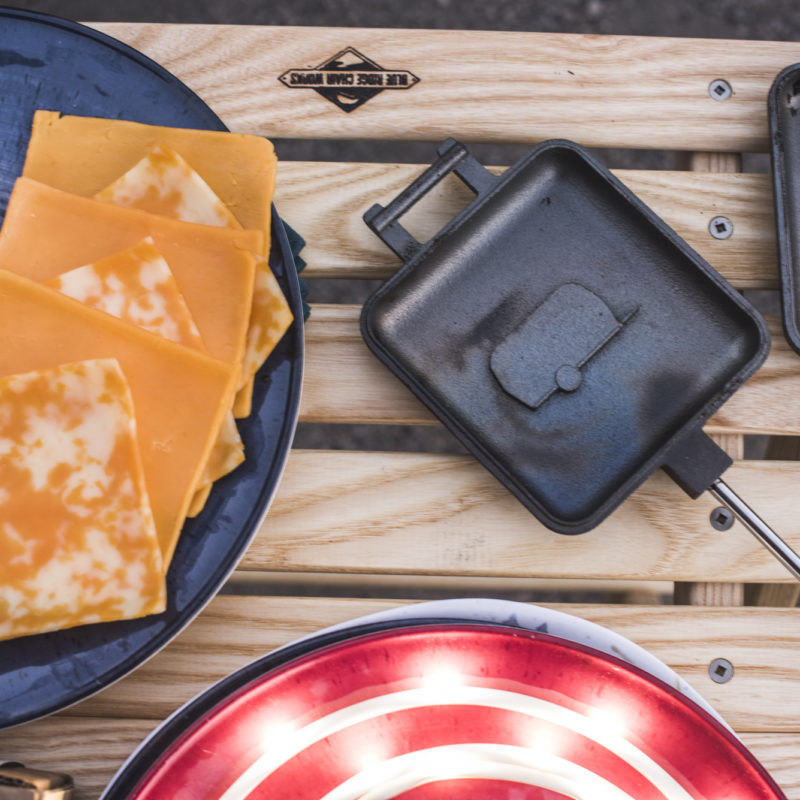 Create some campfire comfort foods
Ham, pineapple and cheese campfire sandwiches, campfire cinnamon blueberry bread, cinnamon rolls or bacon on a skewer and traditional favorites in a cast-iron skillet over the open fire – don't limit campfire cooking to dinner. Or try one of the many pie iron options featured on Airstream Supply Company. 
Prep with easy to pack products
A loaf of bread takes up space and can get squashed easily. Sub your loaf of bread for a pack of tortillas and put all the same stuff in a wrap instead. Dried foods are easy to pack, especially in compact square containers, and keep for long periods of time – think nuts. Doing a little food prep before your trip can also make meals on the road simple. Hard-boiled eggs travel better than raw and are a great snack or addition to a meal. Muffins and pancakes can be made ahead of time and appreciated, along with the time you can spend relaxing instead of cooking.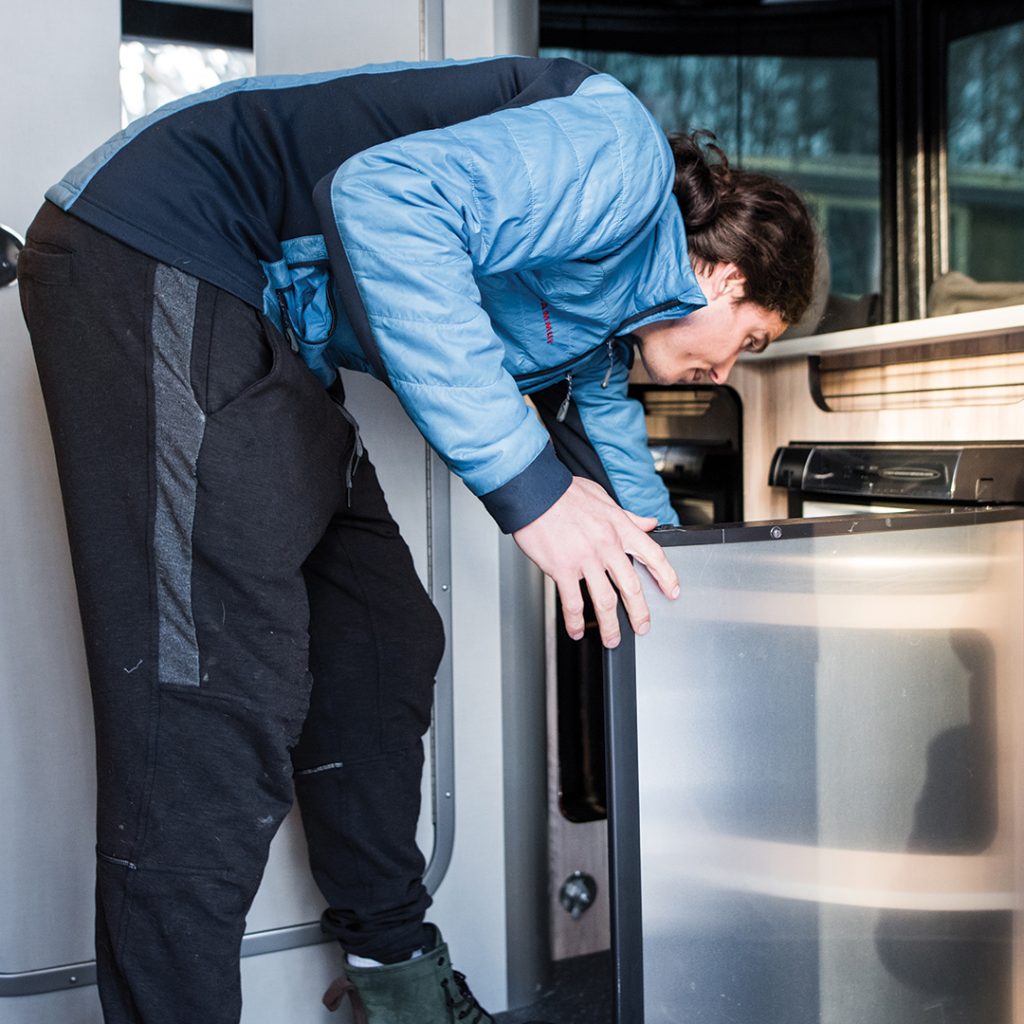 You can also improvise – yesterday's dinner leftovers can make a great breakfast reheated. Pantry items like bananas and peanut butter rolled in a tortilla make a terrific untraditional breakfast. Pizza for breakfast? Well, maybe not takeout, but English muffin pizzas in the microwave are a great twist on this breakfast favorite.
Anything's possible in your Basecamp kitchen. With a little creativity, you'll have your campsite neighbors sniffing out your creations!