Whether you're traveling to see family for the holidays, heading south for the winter, or hitting the road on your next long-range adventure, the task of finding fresh, delicious, and healthy meals en route to your destination is no small feat. Fast food drive-throughs, convenience store snacks, and gas station fare typically leave you feeling dissatisfied (or worse), while sit-down restaurants are rarely worth the time, expense, and inconvenience. When the destination is firmly in your sights (and the journey is just as important), you want to make those moments of downtime count.
Road travel doesn't have to mean tolerating junk food and stomachaches: Airstream touring coaches are modern Class B RVs designed to keep you well-fed throughout your journey — whether you're making a fresh sandwich during a pit stop or preparing a proper feast at the campsite. Built with well-equipped onboard kitchens, our integrated touring coach galleys offer a perfect combination of practical capabilities, luxury amenities, and unexpected conveniences to inspire even the most finicky home chefs and culinary experts.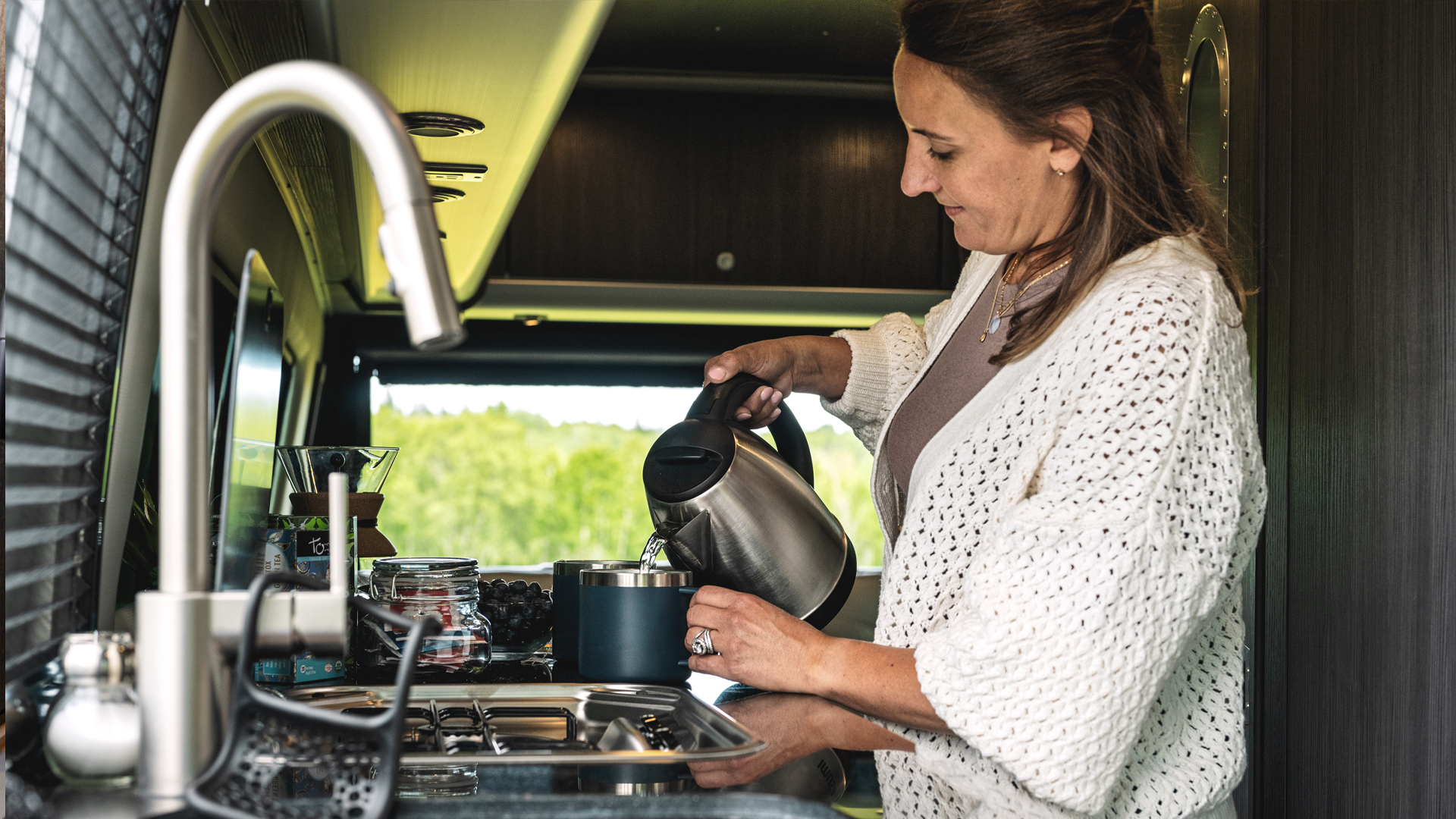 If the kitchen is considered the heart of a home, then our goal is to help you take your heart on the road. From quick bites to family recipes for the Thanksgiving feast or a New Year's Day celebration, our top five onboard kitchen features make Airstream touring coaches ideal for keeping you and your guests well-fed while you're on the road.
1. Two-burner Cooktops
A cooktop is an indispensable part of any kitchen set up —whether you need to quickly boil water for the French press, fry eggs for breakfast, or mix up the perfect turkey gravy. Discerning chefs prefer cooking with gas whether at home or on the road, and these LP-fueled burners provide all the gas-enabled benefits of fast heat and precise temperature control.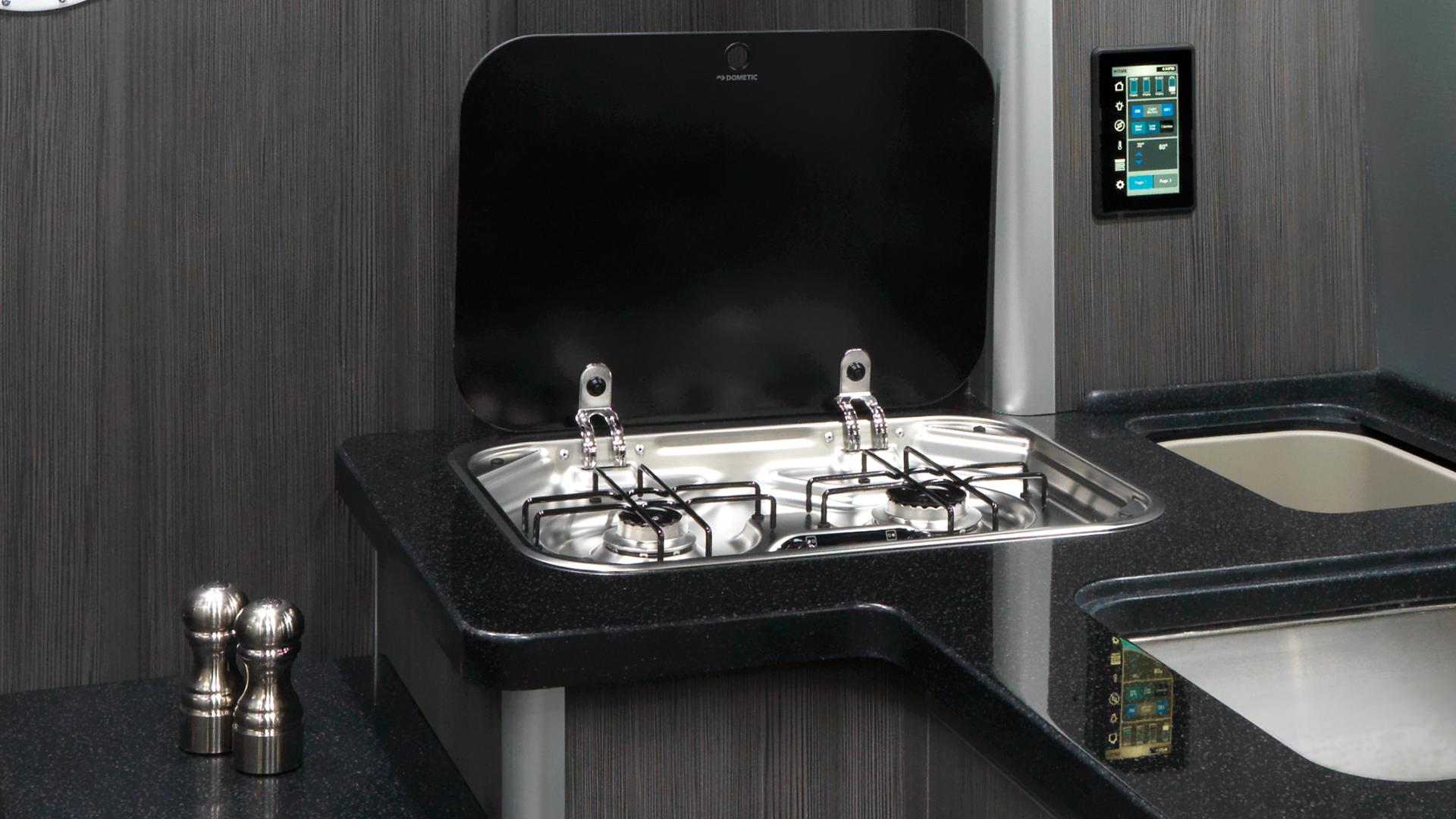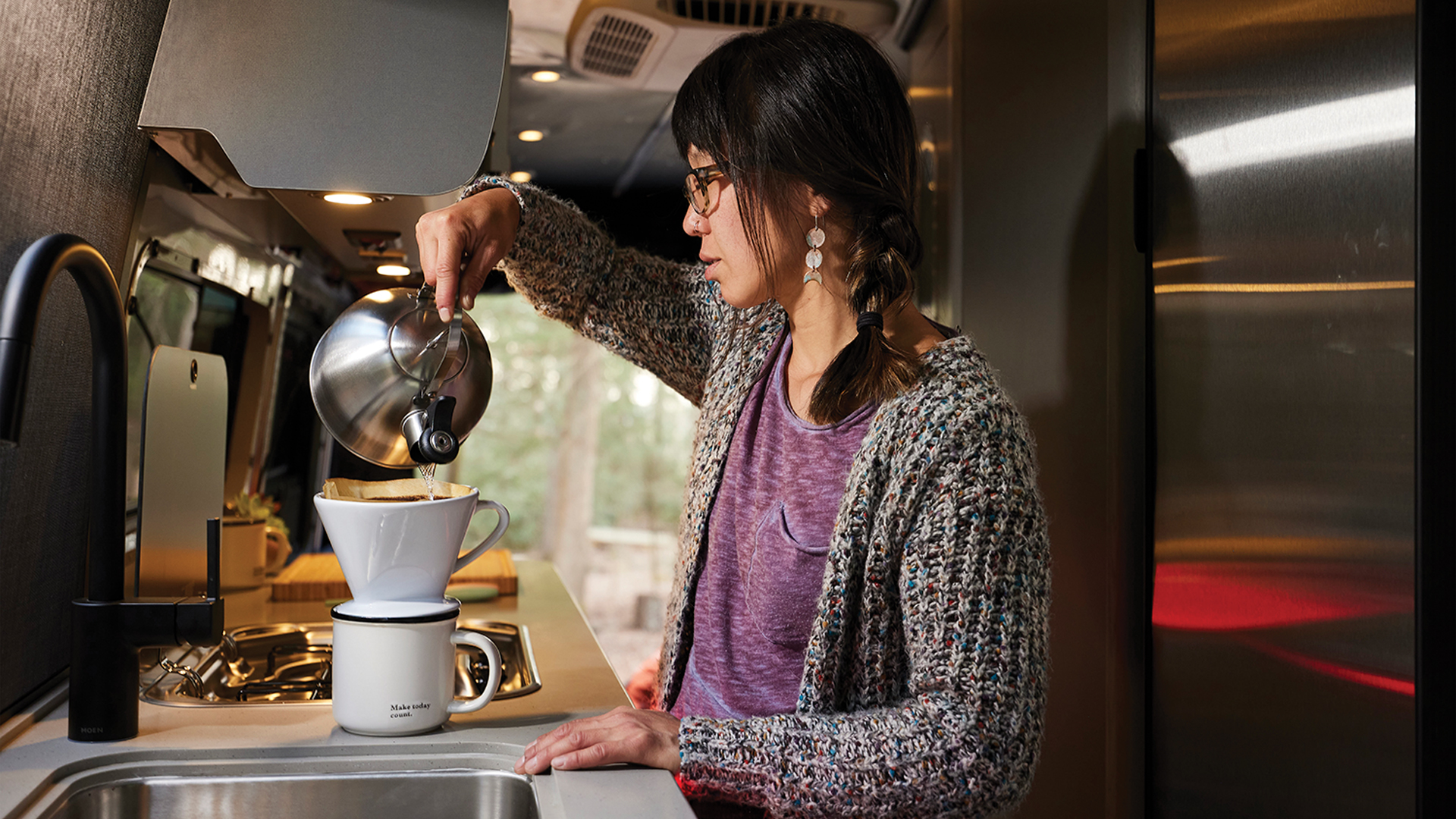 When not in use, the burners are protected by an integrated tempered glass cover that quickly converts the stove to convenient counter space. You'll find these integrated covers in each of our five motorized Airstream lines: Atlas, Interstate 24GL, Interstate 24GT, Interstate 19, and Interstate 24X.
2. Microwave Ovens
Built on the Mercedes-Benz® Sprinter Van chassis and outfitted with expert craftsmanship and top-of-the-line amenities, each of our motorized RVs offer power and performance from bumper to bumper. Whether it's the numerous safety features we incorporate into the dashboard, the expert storage options under counters and in overhead roof lockers, or the microwaves we outfit in each galley, you'll love the form, function, and convenience you find throughout the coach.
As the largest and most luxurious RV in the touring coach line, Atlas boasts a 1.1 cubic foot convection microwave that's large enough for roasting a turkey breast or whole chicken. Combining the capabilities of a convection oven with a traditional microwave, this versatile, state-of-the-art appliance helps to give your coach galley the capabilities of a full-functioning kitchen.
Experience the convenience and capacity of our space-saving drawer microwave options found in both the Interstate 24GL and Interstate 24GT touring coaches. Featuring 1.2 cubic feet of space, the drawer microwave stashes discreetly within the kitchen cabinetry and slides out when accessed.
Taking the Interstate 24X or Interstate 19 out for your next adventure won't leave you searching for your next meal. Both feature a full galley with a .7 cubic foot microwave that saves space and provides plenty of power for reheating leftovers or preparing frozen foods.
3. Refrigerator and Freezer
Portable coolers are optional when traveling in an Airstream touring coach. All five of our luxury Class B RVs feature seamlessly integrated, all-electric refrigerators and freezers that complement the floorplan and design aesthetic of each respective vehicle. The Atlas boasts a 12-Volt, 9.1 cubic foot refrigerator and freezer with door locking mechanisms that are designed to keep perishables in place while you're on the move.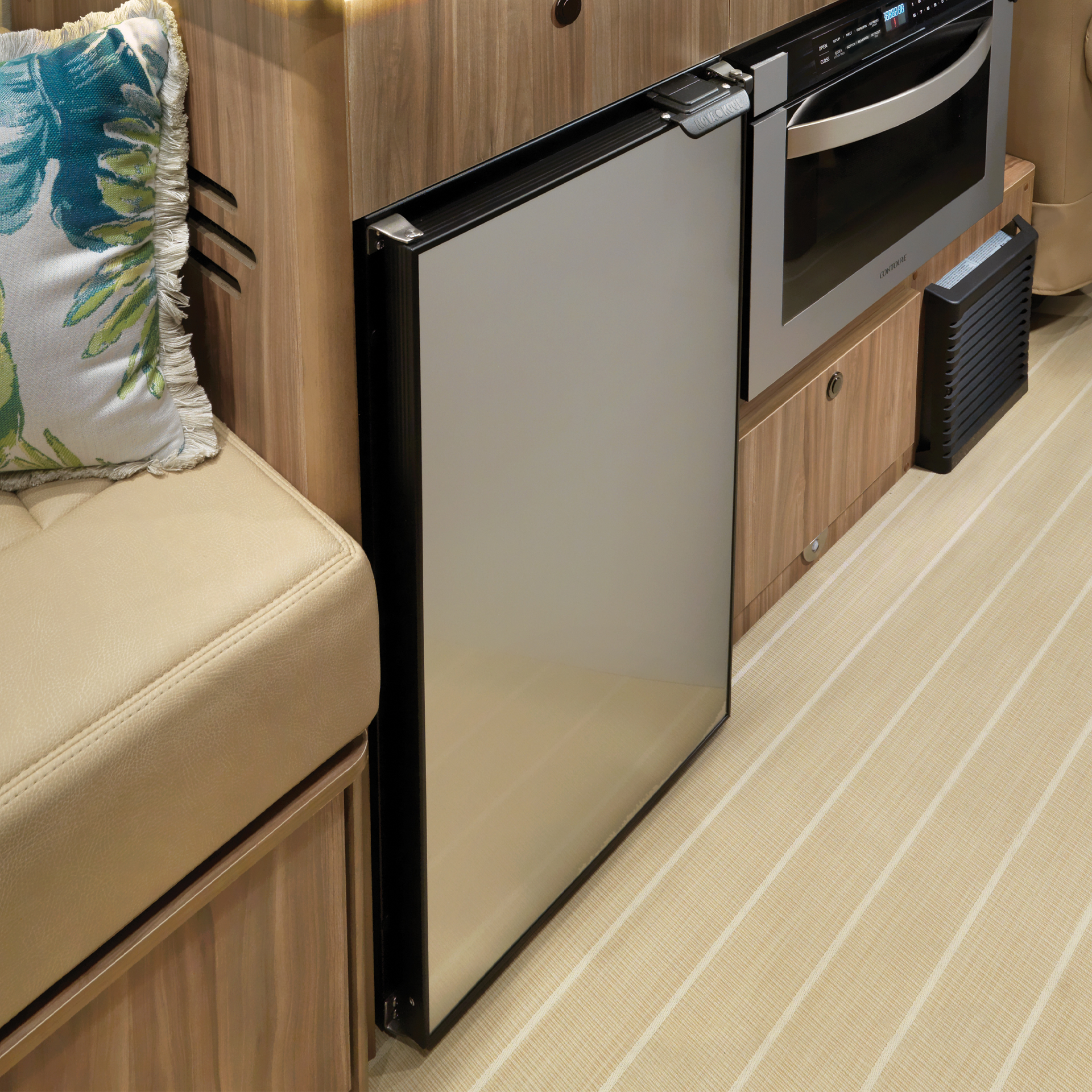 The multi-passenger-friendly Interstate 24GL makes smart use of its 12-Volt, 3.1 cubic foot refrigerator and freezer, while the Interstate 24GT and Interstate 24X utilize a 12-Volt, 5 cubic foot refrigerator with a 1.6 cubic foot freezer drawer. The Interstate 19's refrigerator and freezer provide 3.2 cubic feet of storage and convenient LED lighting.
4. Sinks and Faucets
No onboard kitchen would be complete without a sink and faucet to help with preparation and clean-up. Atlas, Interstate 24X, Interstate 24GT, and Interstate 19 feature deep, rectangular sinks with solid surface covers that transform into prime counter space for chopping, prepping, and plating meals. The detachable sink cover also doubles as a serving tray when entertaining guests. The Interstate 24GL features a rounded, stainless steel sink bowl with an integrated glass cover.
The residential-style galley in the Atlas is equipped with a Kohler® retractable-head faucet that complements the sink's aluminum backsplash, and a matte black pulldown faucet accentuates the functional and smart galley design in Interstate 24X. The round sink in the Interstate 24GL has a swiveling faucet that folds down when not in use, allowing the integrated glass cover to fold down flush with the counter for more food prep space. Interstate 24GT and Interstate 19 have elegant brushed stainless steel faucets.
5. Storage and Counterspace
The galleys in our touring coaches are designed to give you all the comforts and amenities of your home kitchen. Achieving this goal requires the thoughtful integration of storage and counter space options that combine luxury counter surfaces and convenient space-saving storage options.
Beneath the cooktop of the Atlas, you'll find a retractable solid-surface counter that slides out for more space when needed. On the other side of the cooktop is an integrated waste bin with a solid surface cover that blends into the countertop. Simply push the button and activate the pop-up latch for easy removal – and even easier cleanup.
The Interstate 19 is also equipped with a slide-out shelf for additional counter and storage space. The bold adventures you'll have in the Interstate 24X are reflected in the rugged cargo netting that makes it easy to stash and access your gear when you need it. Whether you're grabbing snacks for the trail or cooking up a hearty post-hike meal, everything you need is easy to access and at your fingertips below the solid surface countertop.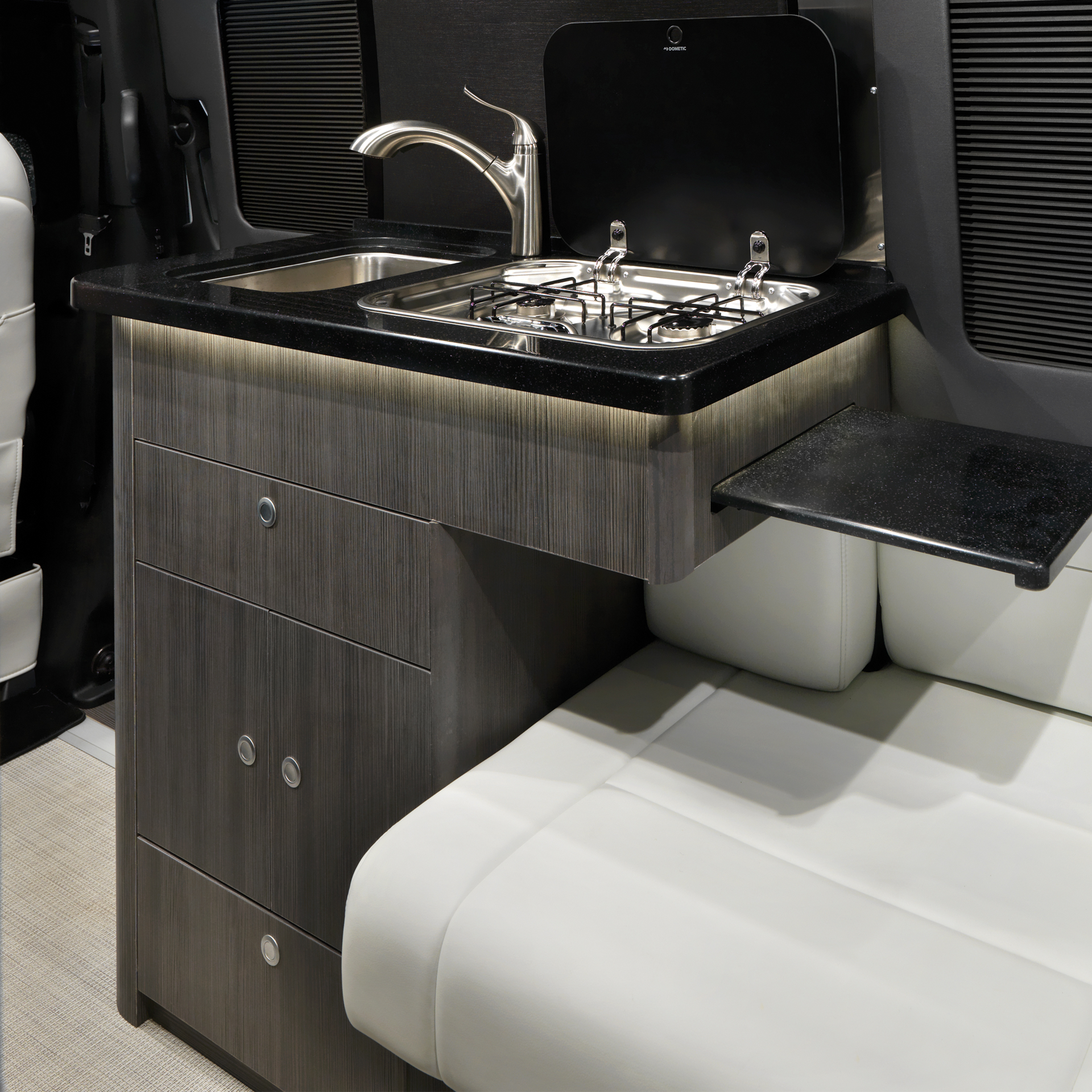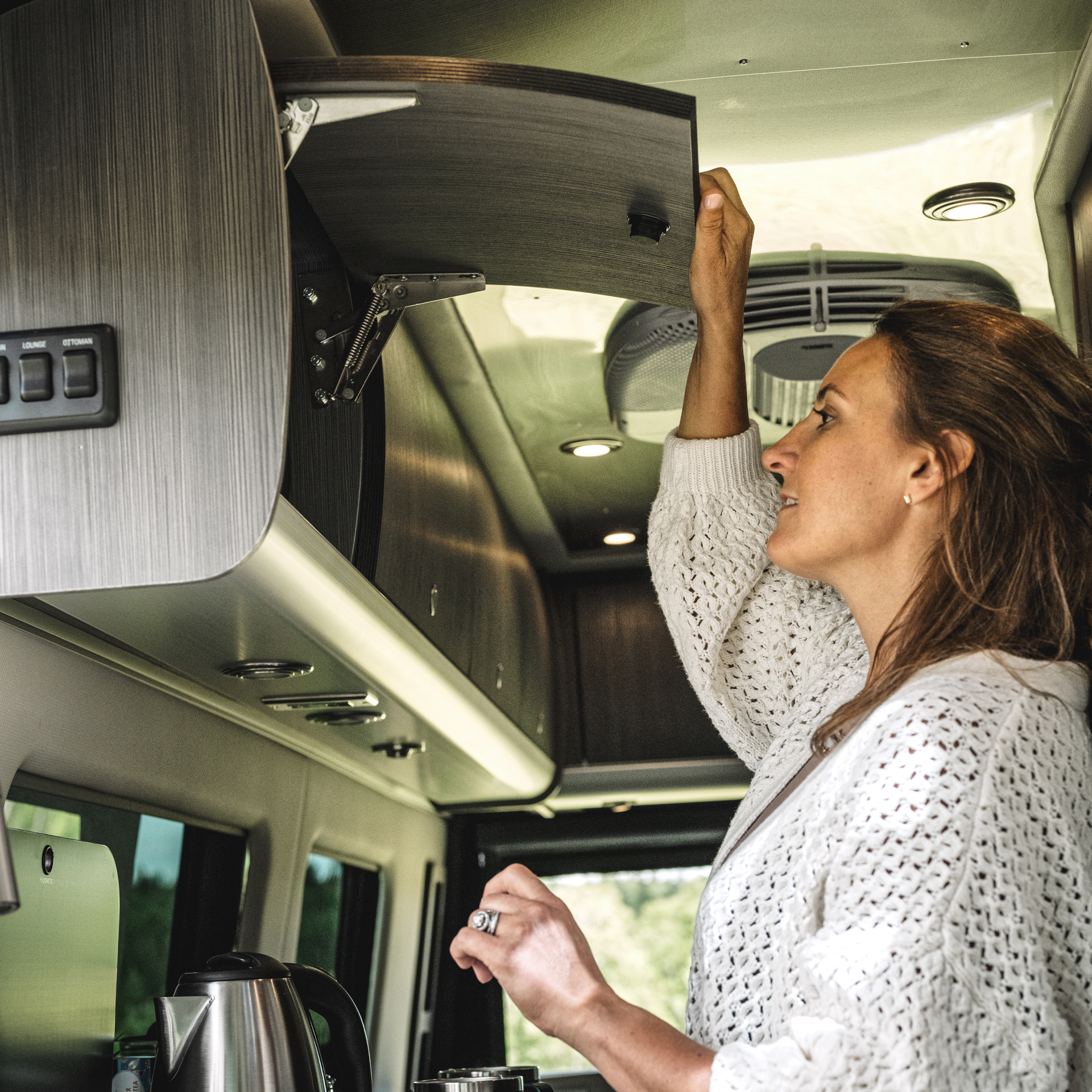 Premium Corian® countertops give the gallies in the Interstate 24GL, Interstate 24GT, and Interstate 19 the stylish, capable sensibility of a home kitchen. All our touring coach galleys are designed with generous storage space in drawers, cabinetry and overhead bins — ample room to keep your cupboards stocked and your cookware secure.
Honorable mention: Smart Layouts and Points for Style
While our top five kitchen features give you a good sense for what it's like to cook in a touring coach galley, we would be remiss if we didn't mention some of the other standout practical elements and sleek design features. From a kitchen ergonomics perspective, Airstream designers make every effort to maximize floorplan space while preserving a home kitchen look and feel.
The smart design of the Atlas's high-end kitchen positions the refrigerator/freezer and convection microwave on one side of the aisle, and the deep sink, 2-burner cooktop and integrated waste bin on the other. Its wood cabinetry, aluminum backsplash, and striking accents create a timeless style with a modern functional appeal.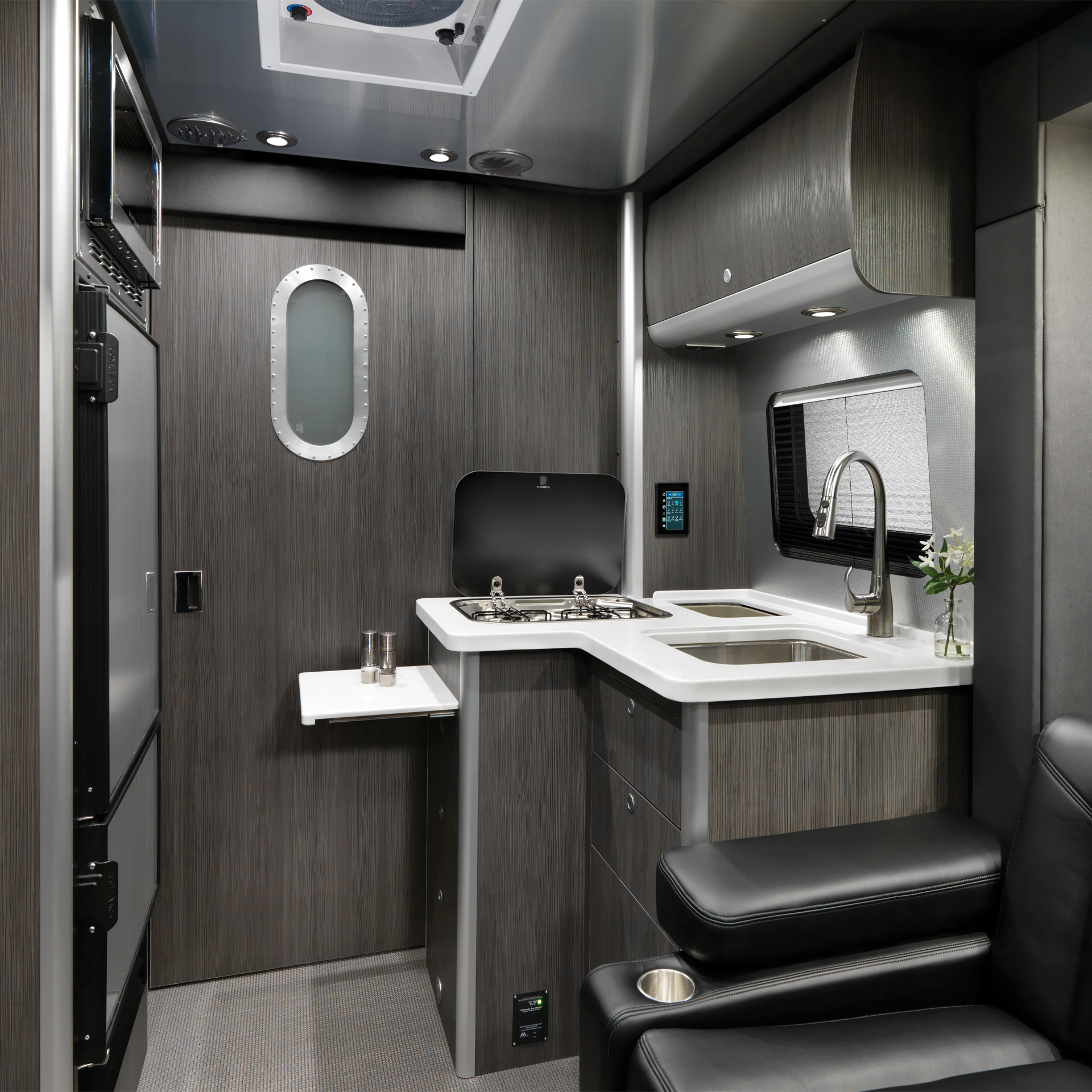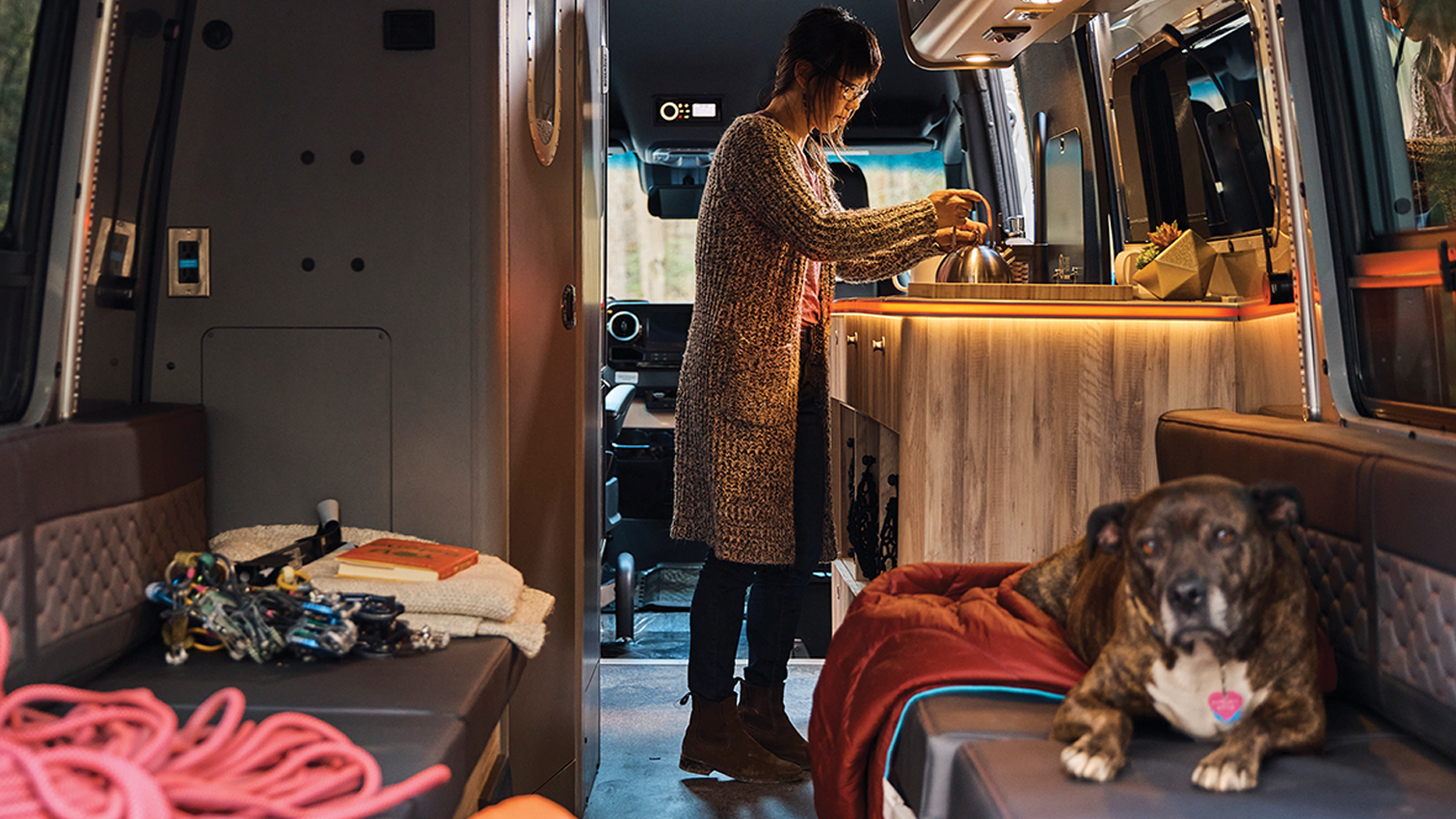 On the Interstate 19, the deep sink, cooktop and microwave are situated on the same side of the galley with the refrigerator/freezer on the other. On the Interstate 24X, red translucent banding outlines the galley's countertop, creating a striking complement to the red accents elsewhere in the stylish interior.
Now We're Cooking
Just because you're cooking on the road in a Class B RV doesn't mean that you shouldn't feel right at home. Combining practical form, modern function, and timeless style, our luxury Class B RVs boast high-end kitchen layouts, appliances, and amenities that rival home kitchen capabilities. No matter what style of adventure you want to take, you'll find a layout that's perfect for the culinary expert in your crew.
Whether you're taking the extended family upstate for a holiday escape in the Interstate 24GL or planning a romantic weekend getaway in the Interstate 19, you'll have all the kitchen capabilities you need to stay refreshed and well-fed when you're on the road.
See for yourself how the Airstream touring coach galley brings together form, function, and versatility. Step inside each of these modern, mobile kitchens in our in-depth walkthrough videos.