Our hope was to narrow down our shopping options while choosing our "perfect rig." While a test drive gives you a basic sense of what the vehicle is like, it's not quite the same as your first real road trip experience in your actual RV.
My husband, Aaron, and I booked a one-way flight from our home in Minneapolis to Orlando in December 2018 with the intent to purchase our soon to be new home – an Airstream Interstate. The purchase was pending a test drive and walk-through. We were half worried we would end up buying another one-way ticket back home but half excited to finally pull the trigger on our new RV after 18 months of research and online shopping.
Luckily for us, we fell in love with the unit, completed the paperwork, and were on our way home in our new Airstream Interstate at about 3 pm on a Friday afternoon. At the time, we'd submitted our resignations to our corporate careers. We had three weeks left at our jobs before becoming full-timers, and we had to be back to work by Tuesday. That left us three full days to complete the 1600-mile journey back home, in one piece.
1600 Miles to Go

We wanted to get a jump start on the journey and had planned to chip off 280 miles on Friday to make it to Sparks, GA. GPS said it would take just over four hours, putting us at our first Harvest Host location at about 7:30 pm – just in time to catch dinner at their bistro and enjoy our first sleep in our new cozy home!
So off we went. We hit the highway and were in high spirits. The ride felt great and we were on cloud nine. The first couple of hours were spent adapting to the drive, learning the control panels, and battling a bit of Friday afternoon rush hour. My posture was tight, hands at 10 and 2, and the drive was smooth sailing. Before our Interstate, neither Aaron nor myself had owned an RV. I grew up tent-camping and had zero RV experience. I drove a small Saturn 3-door coupe for 12 years then upgraded to a Honda Accord 4-door sedan which I drove for many years as well. Occasionally, I drove a Chevy Suburban or Tahoe here or there, but that was the extent of my vehicle history. These days, I am definitely the driver of the family. I enjoy driving and do 100 percent of the driving in our Interstate – not so typical as woman out on the road. The Interstate was an easy transition. I felt very comfortable and confident getting into it.
Then Dusk Sets In
Once we got into the 5 o'clock hour the sun started setting. With all of the excitement, I didn't even think about the sun schedule and that I would be driving this unfamiliar beast in the dark. I wasn't excited about it, but we had a plan and we stuck to it. Darkness fell, and then suddenly it started raining in a heavy downpour. The exhaustion of the long travel day was catching up. A long morning of airplane travel (we were awake at 3 am for the flight) plus an eventful afternoon with the stress of a large purchase, and now here I am: White-knuckling an unfamiliar 9,000 pound (dry weight) vehicle in the middle of a monsoon thunderstorm.
Fighting the headlight glare in the rainy windshield, my mind started racing. Were the tires in adequate condition to be driving in a storm? How close were those surrounding vehicles? Couldn't Florida mark the highway lanes any better?
We ended up rolling into our campsite in the winery at about 9:30 pm – just barely in time to get in a dinner order before the bistro closed at 10 pm. Our 7:30 ETA had shifted to 9:30 without any major obstruction. The rush hour and the rainstorm definitely slowed us down, but nothing crazy. This was our first experience of the "RV Multiplier" for using a GPS suggested route time. I would soon enough learn all about this.
The rest of the weekend went perfectly fine. Long travel days with a grueling schedule to get home quickly meant it wasn't a leisurely trip. We kept telling ourselves that in a few weeks time we'd be full-timing it, with all the leisure time in the world with our new Interstate. We made it home to Minnesota as planned and continued to wrap up the loose ends for our journey ahead.
First things first: A trip to the DMV
The first thing we did upon returning home to Minnesota with our new Interstate was head to the DMV. We needed to transfer the title and pay registration. The employee working at the DMV was a little confused as to what exactly we were registering. Is it a 2014 Airstream? Or is it a 2013 Mercedes? We responded "Yes" to both. After squirming for a bit behind the counter the employee finally settled on how to handle the situation.
We were caught off guard, however, by the "Recreational Vehicle" plates that he handed to us on the spot. I don't know why, but we were expecting to get regular passenger plates. We even had plans to upgrade to one of the Critical Habitat designs so we could carry the Minnesota Loon loud and proud across the country. When we asked if we could have a regular passenger plate instead of the RV version we got a hard "No." We didn't like the fact that we are now put on display for the public to see we are living in this thing. It didn't jive well with our vision of "stealth camping" along residential streets or business pockets. But, we weren't going to win this battle so we accepted our classification.
The recreational plates expire every February in MN, despite when you originally register the vehicle. So when we registered the vehicle in mid-December, it was about to expire right around the corner in February. Before we left on our maiden voyage in January, we had to make a second trip to the DMV (after our transfer had time to process and hit the system) to renew the tags for 2019. Luckily, we were all set after that. While every state is different, the state of Minnesota does not require a special driver's license to operate a Class B RV. A standard Class D license will have you legally driving your new rig. Our insurance was already set as well since we needed to have that in place to drive off the dealer's lot at the time of purchase.
Increased Weight Equals Decreased Speed
Driving an empty RV is quite different than driving an RV packed up with all of your belongings. The weight really does add up quickly. When you are driving a vehicle this heavy (11,030 GVWR) you really do need to drive slowly – firstly for the safety of you and others on the road, and secondly so that your belongings don't fall out of the beautiful cabinetry mid-turn! Basic turns, bumps, railroad tracks, and potholes are magnified in a Class B, giving you more reasons to slow it down. In the first few weeks of driving, I had to really focus on decreasing speed. It turns out I used to drive with a lead foot!
Get used to people honking, passing, and road ragers throwing up hand gestures at you with a glare. There are a lot of impatient, irritable, and angry drivers out there on the road. People see a Mercedes Sprinter chassis and assume that you can drive just as quickly as the Amazon delivery van they see zipping around town. Within a short time frame, I was no longer offended by people getting impatient with my slow driving. You will learn some cities and states are worse than others when it comes to courtesy on the roads.
The weight of a Class B not only requires slower driving speeds but also longer stopping distances. An increase in your following distance is a must. Another area to consider from a weight perspective is momentum. If you catch yourself in loose dirt or other questionable driving conditions you must keep your momentum so you don't get stuck. We haven't had any issues with getting stuck, though – it's just something to keep top of mind.
The Nitty Gritty
The number one attraction of a Class B to us was mobility. We wanted to be able to drive anywhere, anytime, without restrictions. And for the most part, we can do just that.
Height
Our height comes in at about 9' 8". With this height we generally don't have to worry about clearing bridges like the big rigs do. We have traveled through 30+ states and have only found a couple of areas that made us hold our breath. In NYC's Central Park there were a few bridges that restricted us from cutting through the West to the East side (and vice versa) of the park. As we continued North into New England we passed through one bridge that had a low clearance of 10'. That one definitely made me duck my head as we drove underneath! Overall, bridges are not a problem for us. We never need to use special GPS for height restrictions, which is great.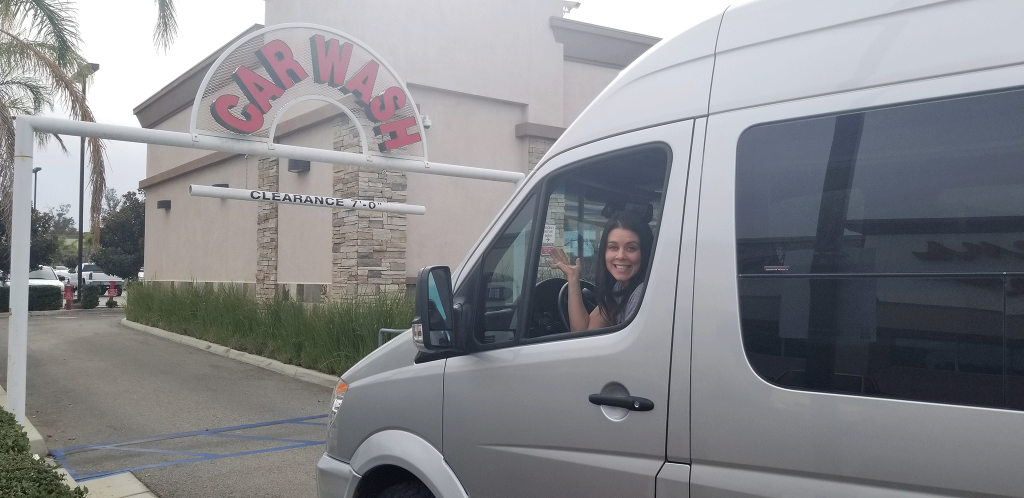 The only other situations you might need to keep height in mind are windy conditions, parking garages, and drive-thrus with a low height clearance. In windy conditions, you need to slow down the speed even more. The inability to go through a fast food drive through isn't a factor for us, as we cook 99% of our meals in our Interstate. That's the point of an on-board kitchen, right? As for parking, we find most cities have ground-level parking lots that do the trick. With these lots, they need to be laid out generously and not too tightly packed. This is where the length comes into play.
Length
Our Interstate comes in just under 23' in length. With a longer vehicle, it's necessary to take turns wider than an average vehicle. This means no U-turns in certain situations, starting to turn the wheel later so your rear tires clear the curbs, and not entering into tight parking lots. Changing lanes requires a pre-calculated and properly timed strategy. With the extra length comes increased blind spots. You need to be aware of your turns and exits coming up to allow extra time and distance to change lanes. Get used to using your mirrors – they will become your best friend.
Parking
An ideal parking situation is a large open lot that has multiple "pull-through" slots where you can take up two spaces stacked lengthwise. This is how we park quickly at places like grocery stores and Planet Fitness. However, there are many parking lots that don't have the luxury of a vacant pull-through option.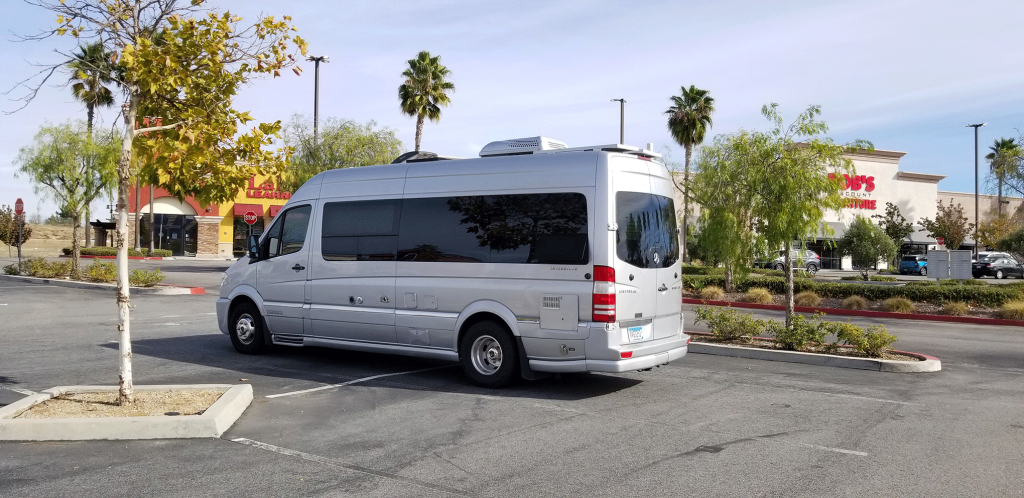 Our Interstate can fit into a single space, without sticking out, with a few criteria met:
We must back into the spot and have our tail extending beyond the curb. We try to reverse in far enough so that our rear tires touch the curb.
The curb must be a low enough height for our vehicle to clear.
The area behind the curb must be free of any obstructions such as trees, shrubs, parking signs so that our tail can occupy the space.
If we have a sharp appointment or meeting time we will allow ourselves an extra 20-30 minutes time for finding a parking spot. But generally, we wing it and always find something that works relatively quick.
Parallel parking is also a good option. For this, I would say you need to be able to parallel park a standard size vehicle confidently before trying with an Interstate. If you can do that, the same rules apply! Just make sure you have enough wiggle room and never try to park by pulling straight into the spot. You will look like a rookie out there. Parallel parking on the street is very convenient in big cities. Especially when there are no fees on Sundays and other street parking permit rules are lifted. Look out for signs and you'll be just fine.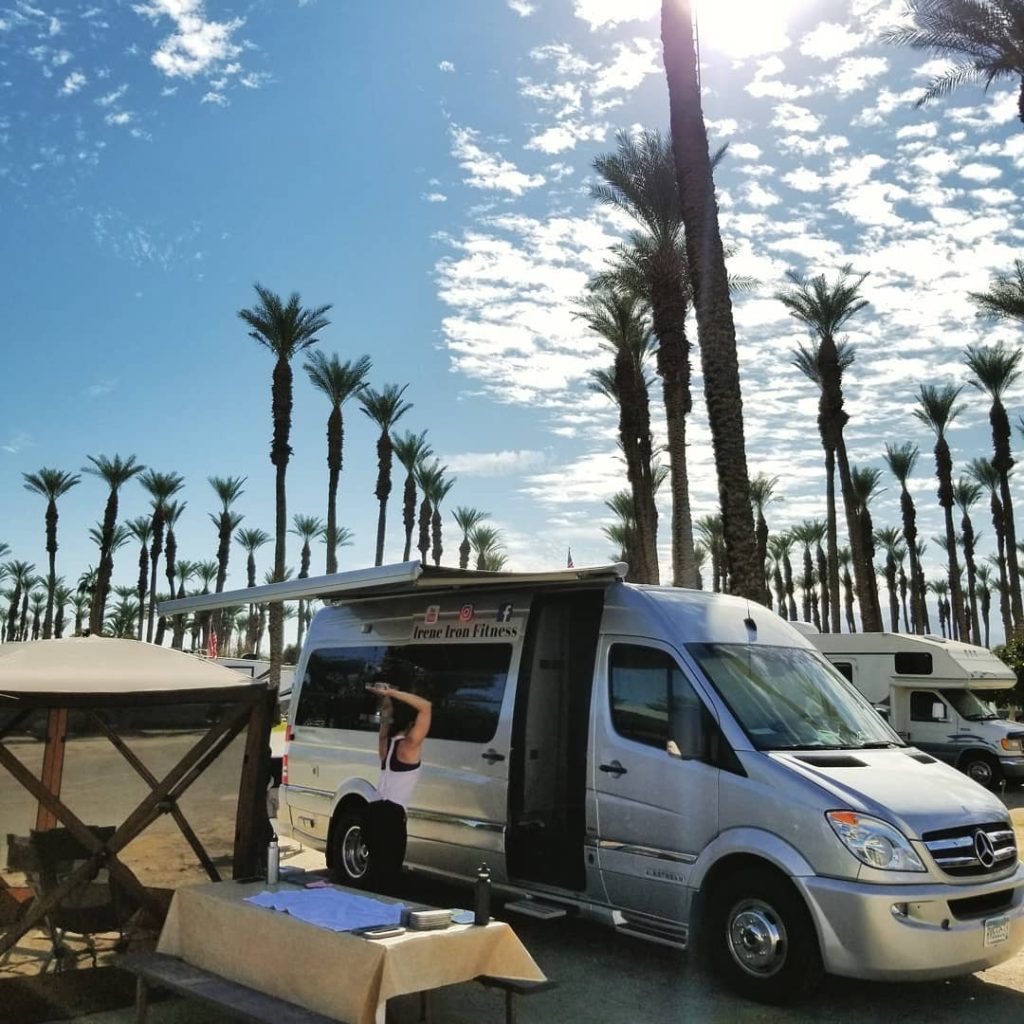 The transition from driving my small commuter cars to our Class B house on wheels has been seamless. With a few basic rules to always have top of mind you quickly adapt to the new driving style. For me, this meant "embracing the pace" and always using your multiplier with GPS ETA's. I have found 1.1-1.3 x to be a sweet-spot for this, depending on the overall distance. A 280-mile trip in 4 hours 20 minutes? Yeah...sure! But remember, the journey is half the fun!