Are you a Nimble Sightseer who loves bright city lights as much as the backroads, or a Professional Journeyer on a long-term adventure? Are you a Social Voyager more comfortable with a crowd coming along, or an Off-Grid Adventurer looking to get as close to the action as possible? With five base models to choose from, there's an Airstream touring coach for every travel persona. The only question is: Which one are you?
Choose a Configuration for Your Lifestyle
Our Touring Coach Configurator tool lets you build a virtual version of your dream touring coach with the exact design using specifications that align with your personal preferences — from optional features like 4WD and hydraulic leveling jacks to exterior color and interior décor. But before you can decide which options you want, it's important to familiarize yourself with the five base models. Each Airstream touring coach model has been designed to appeal to a specific type of motorized Class B RV enthusiast, so it's important to understand where you fit on this spectrum.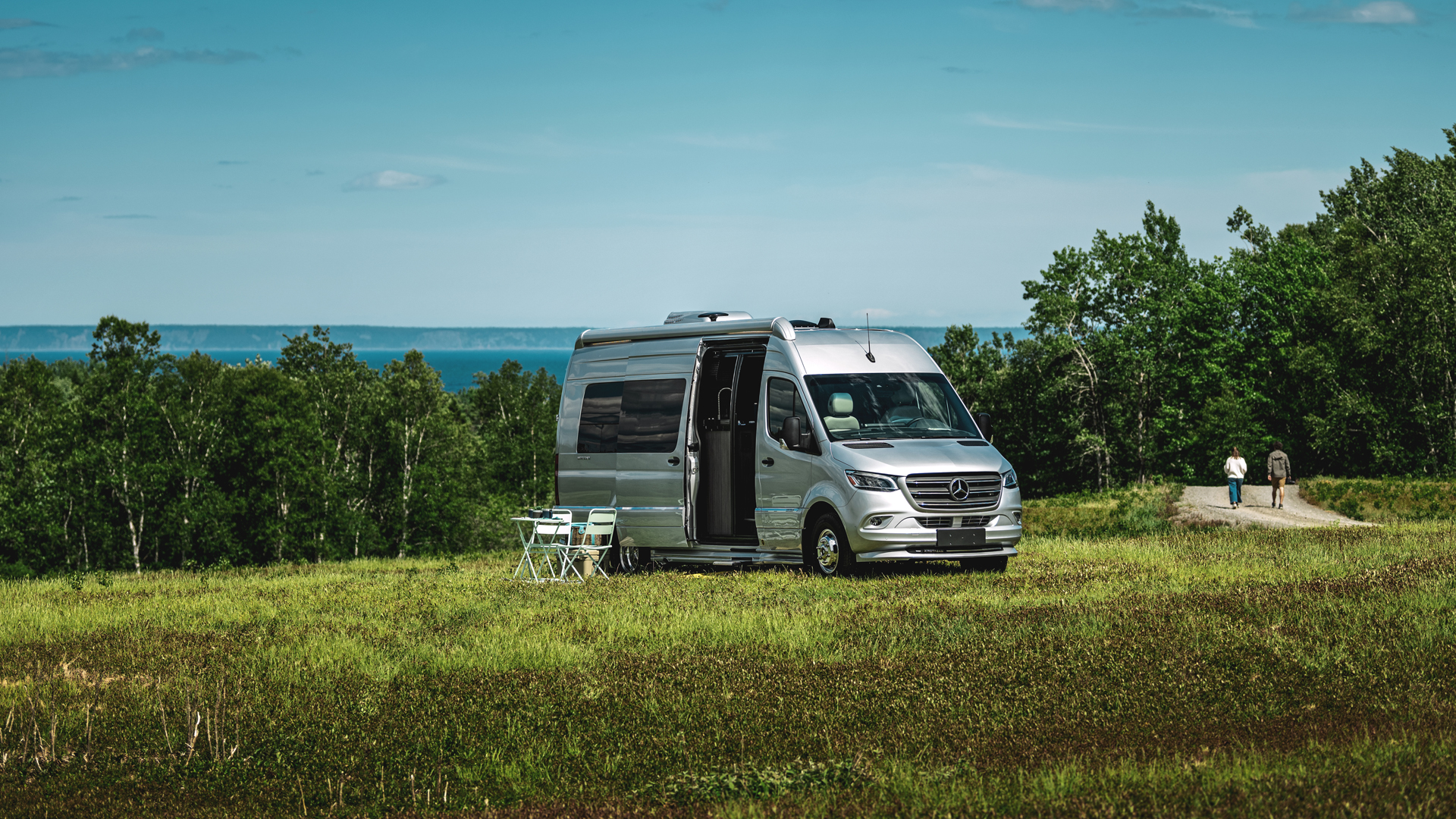 If you're unsure which base model fits your individual travel style, this handy selection guide may help. Although all our touring coaches are flexible enough to adapt to a wide variety of travelers and offer many features that are common across the lines, we've designed each model with a specific persona in mind.
Interstate 19: The
N
imble
S
ightseer
If you're a traveler who places a premium on agility, the Airstream Interstate 19 is an ideal choice. Our most nimble Class B RV is perfect for those who want to set out on a solo weekend excursion or embark on a spontaneous romantic getaway. At home in the city or the country, the Interstate 19 Touring Coach is as easy to park in a crowded lot as is to navigate a secluded backroad alcove.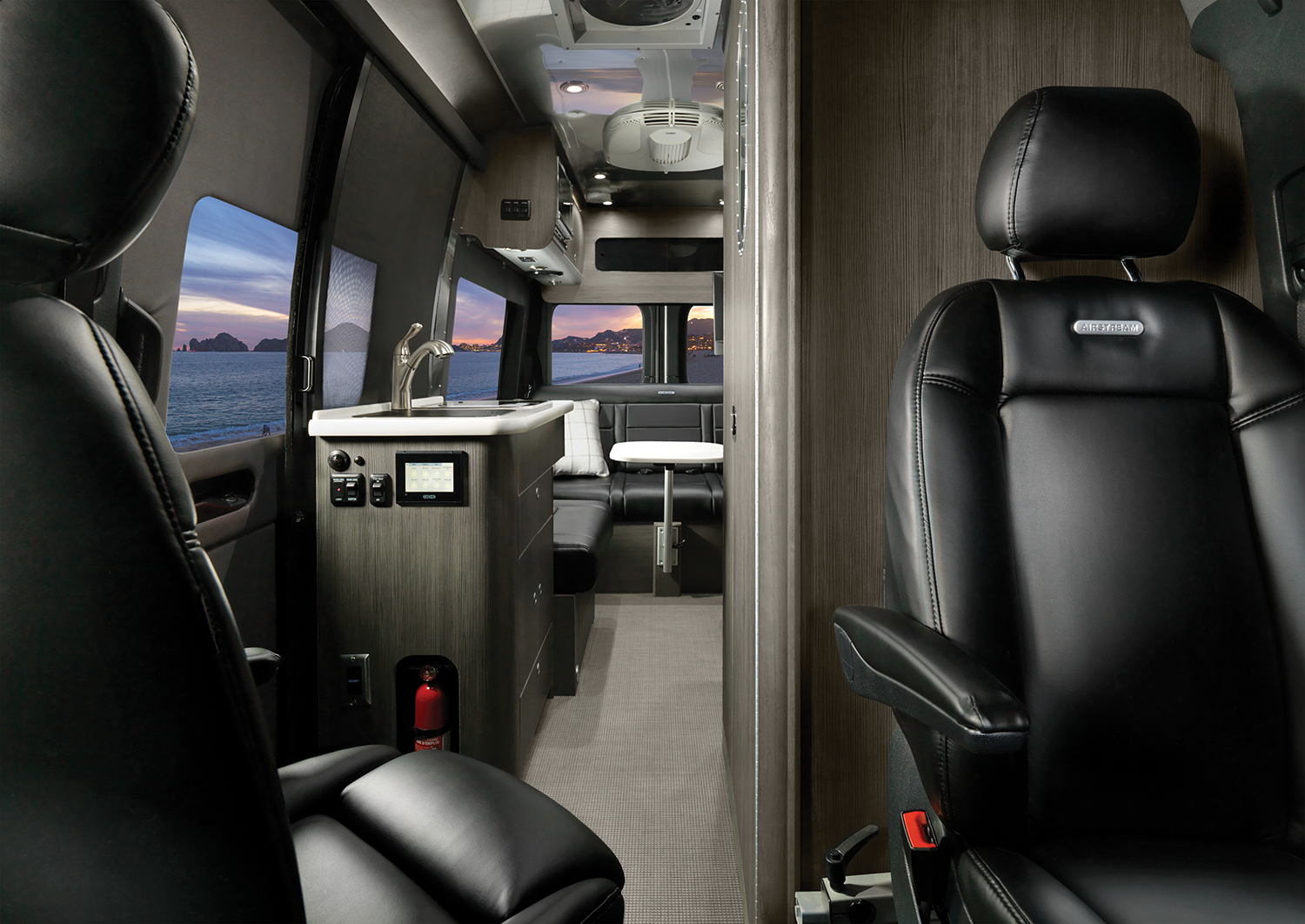 The Interstate 19 delivers endless touring versatility in a perfectly appointed small package. Pack your bags for a last-minute, cozy weekend getaway knowing you'll want for nothing. Its sofa provides ample seating and lounge space by day and quickly converts to a plush, supportive bed by night. A well-equipped kitchen galley gives you the option to be entirely self-sufficient for the weekend, while the ultra-efficient wet bath allows you to freshen up after a music festival or a hike in the woods (or the concrete jungle). With the Interstate 19, you'll enjoy all the luxury amenities of home as you take in the sights and sounds of the open road.
Interstate 24GL: The

S

ocial

V

oyager
For some, traveling in a Class B RV is more fun when the journey is shared with close friends or family. If entertaining the whole crew and making memories that last for a lifetime are your top travel goals, then the Interstate 24GL is an ideal touring coach for your lifestyle. Keep the soccer club rested and relaxed on the way to a weekend tournament. Host an unforgettable tailgate party for the big game. Or bring the family to the beach for some much needed down time. With ample seating for up to nine occupants, the Interstate 24GL is designed to provide maximum comfort for both captain and crew for all occasions that require large gatherings.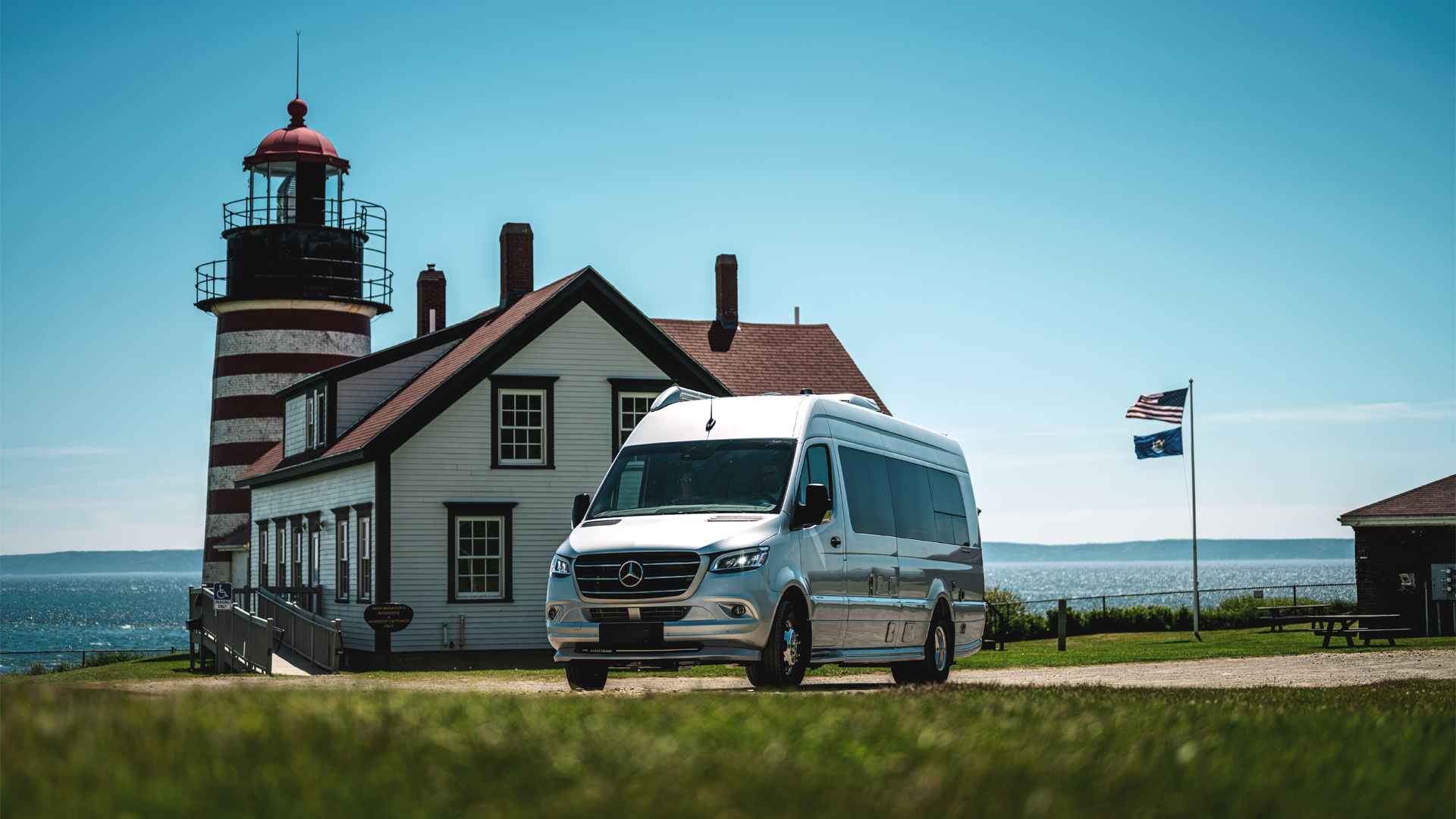 Multiple flat screen TVs throughout the cabin ensure that everyone has the perfect angle for en route entertainment. A smart kitchen galley design keeps snacks within reach while enabling premium food preparation and dining experiences. Access to a sleek, on-board bathroom supports maximum crew comfort and limits stops for nature breaks. Swiveling captain and co-pilot chairs allow you to turn and face your crew for a more inclusive atmosphere. Choose the Interstate 24GL Touring Coach for a family-friendly floorplan and a host of luxury Airstream amenities.
Interstate 24
GT
: The
C
apable
E
xplorer
If your ideal getaway means bringing all the comforts of home with you, then you'll enjoy everything the Airstream Interstate 24GT has to offer. Purpose-built for longer-term excursions for two, this touring coach enables you to strike a perfect balance between work and play. Simply swivel the captain's chair to convert the driver's seat into a dedicated workstation — complete with a small desk and a flat screen HD TV that allows you catch the latest news or connect with your team on a video call.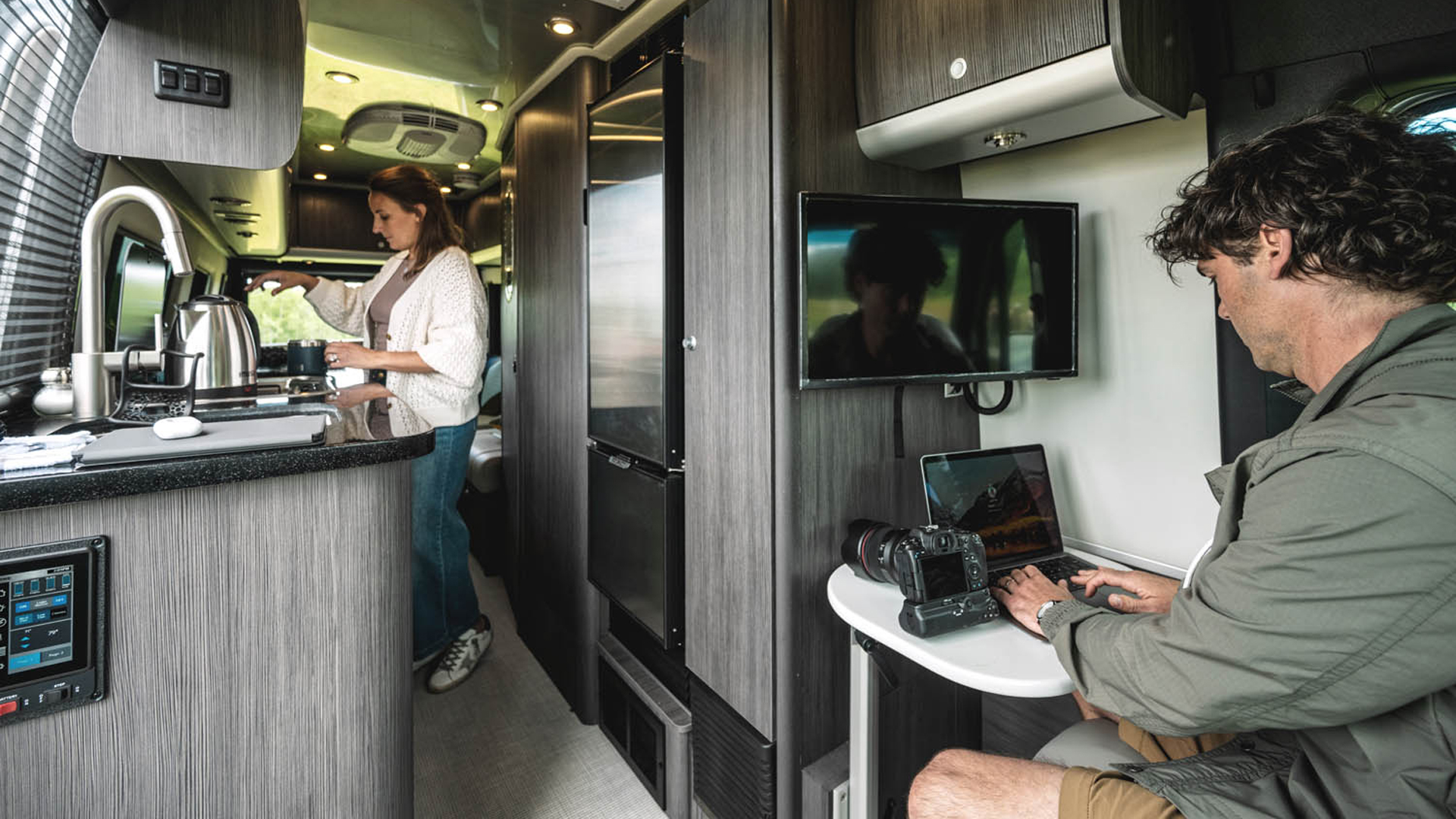 The Interstate 24GT's thoughtful floorplan offers a large, upscale galley for you to spread out and get creative in the kitchen. Enjoy the convenience of its drawer microwave and make good use of the tempered glass cooktop and sink covers that convert to counter space when not in use. A multi-functional wet bath is a necessity for staying fresh on long trips. Designed so that the entire bathroom serves as the shower space, its showerhead also doubles as the wet bath sink faucet. Ample seating converts into spacious sleeping quarters to ensure relaxing days and restful nights on the road.
Interstate 24
X
: The
O
ff-
G
rid
A
dventurer
If you feel more at home off the beaten path than on it, then the Airstream Interstate 24X Touring Coach is your passport to adventure. Equipped with six rugged tires, 4WD capabilities, sturdy body protection and an aggressive stance, the Interstate 24X is built to help you take the road less traveled. Its advanced power system enables you to experience off-grid living while enjoying the creature comforts you need to catch your breath and refuel at the end of the day.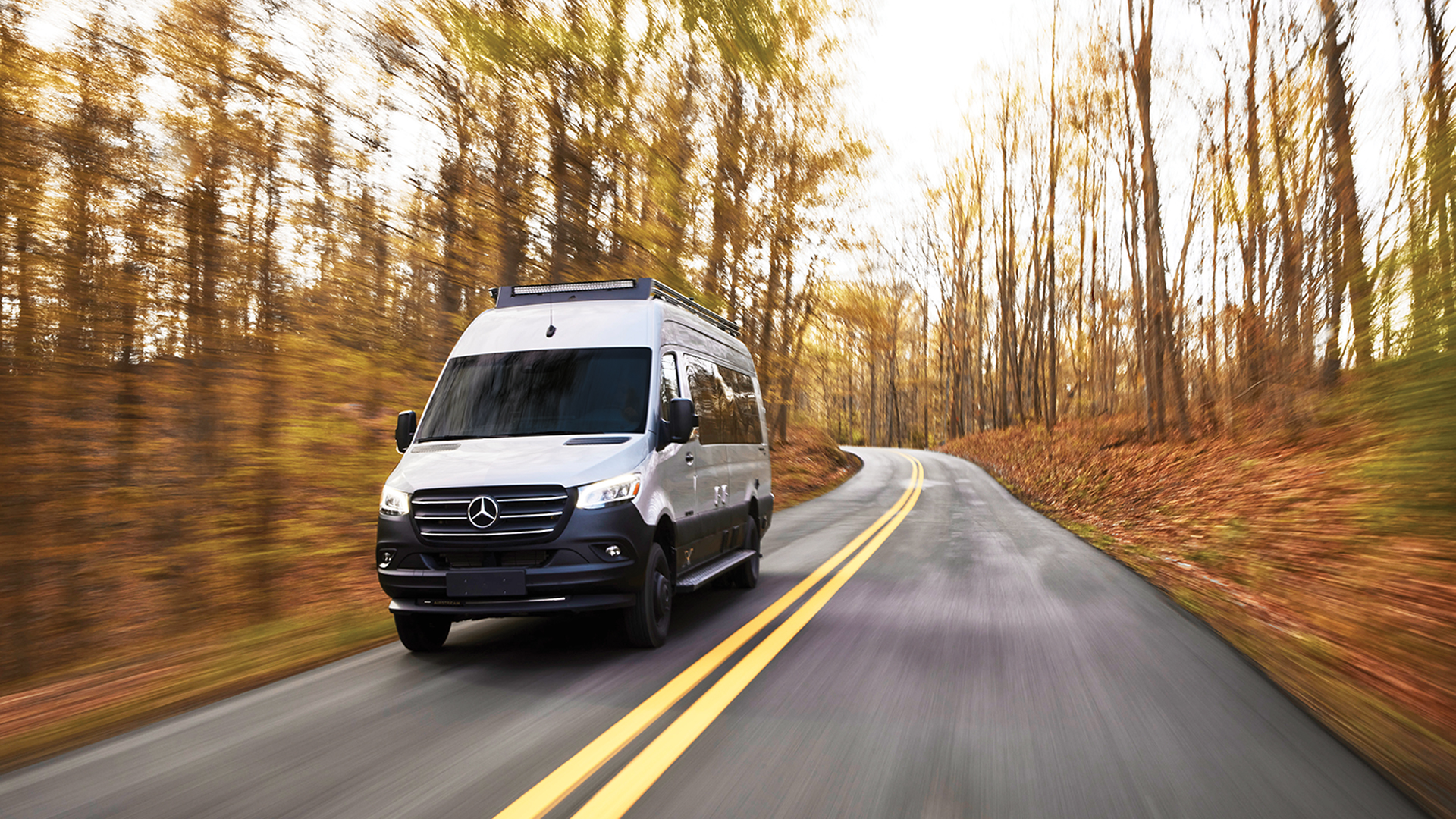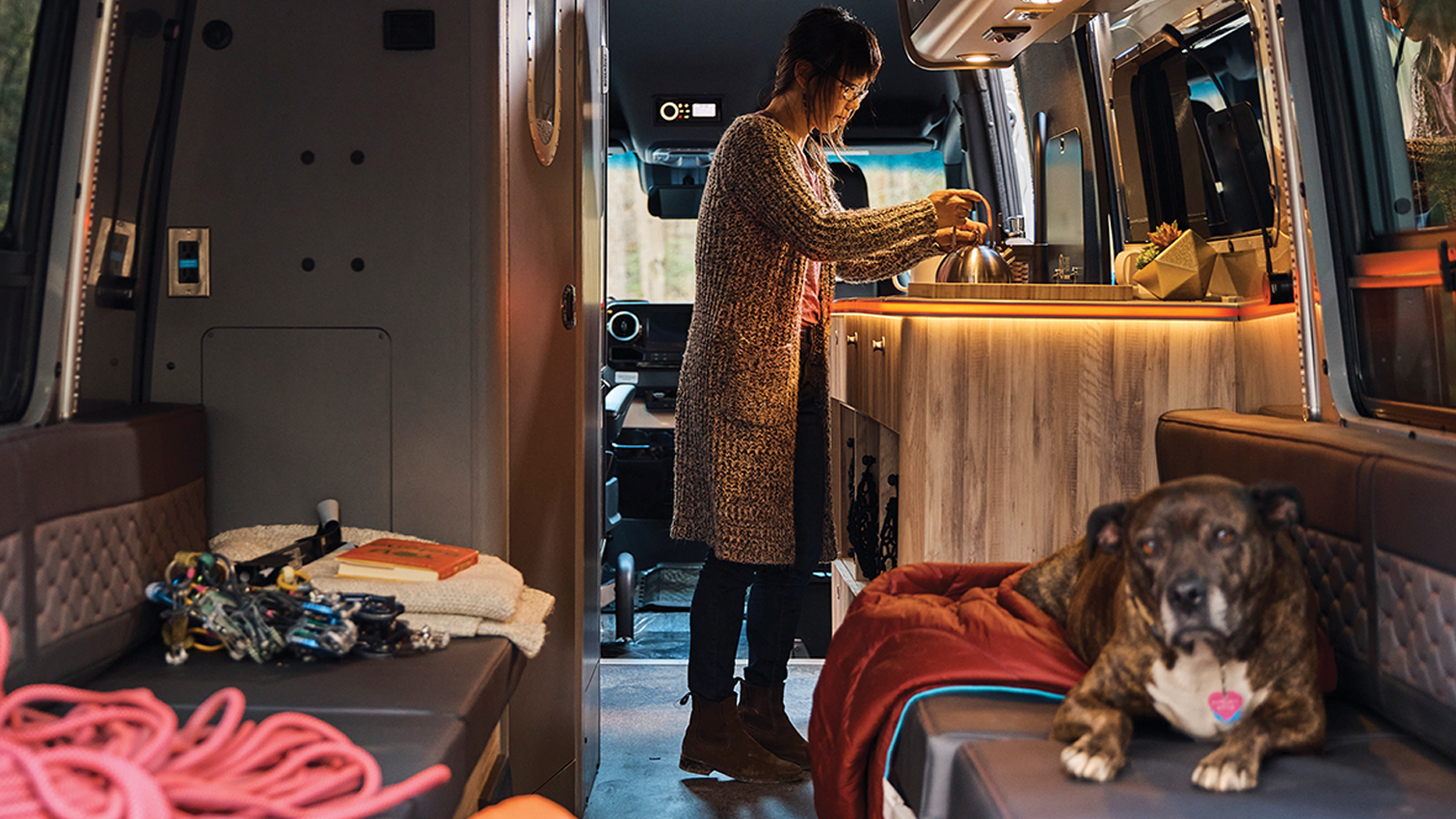 The capable Mercedes-Benz® 3.0L V6 Turbo Diesel engine inspires confidence and packs 188 horsepower, 325 lbs. of torque and 5,000 lbs. of towing capacity, so you can bring all your adventure-seeking toys with you — whether that's a boat, jet-ski or all-terrain vehicle. Its 24-ft. frame offers a multitude of storage options, an abundant living space, a fully functioning kitchen, an on-board bathroom and virtually everything you need to recharge for your next adventure.
Atlas:
T
he
P
rofessional
J
ourneyer
If you love the idea of satisfying your wanderlust by living on the road for extended periods of time, then the Airstream Atlas Touring Coach is an ideal fit. As Airstream's largest and most luxurious touring coach, the Atlas is richly appointed with high-end features and premium finishes, offering understated styling from grill to bumper.
Its power slide-out section easily converts from a cozy seating area to a comfortable sleeping suite, enabled by a concealed Murphy bed  that folds down when you're ready to sleep. Sink into a supportive mattress and enjoy other home-like amenities, such as reading lights, bedside stow compartments and a perfect view of a TV that lifts from a storage cabinet at the push of a button.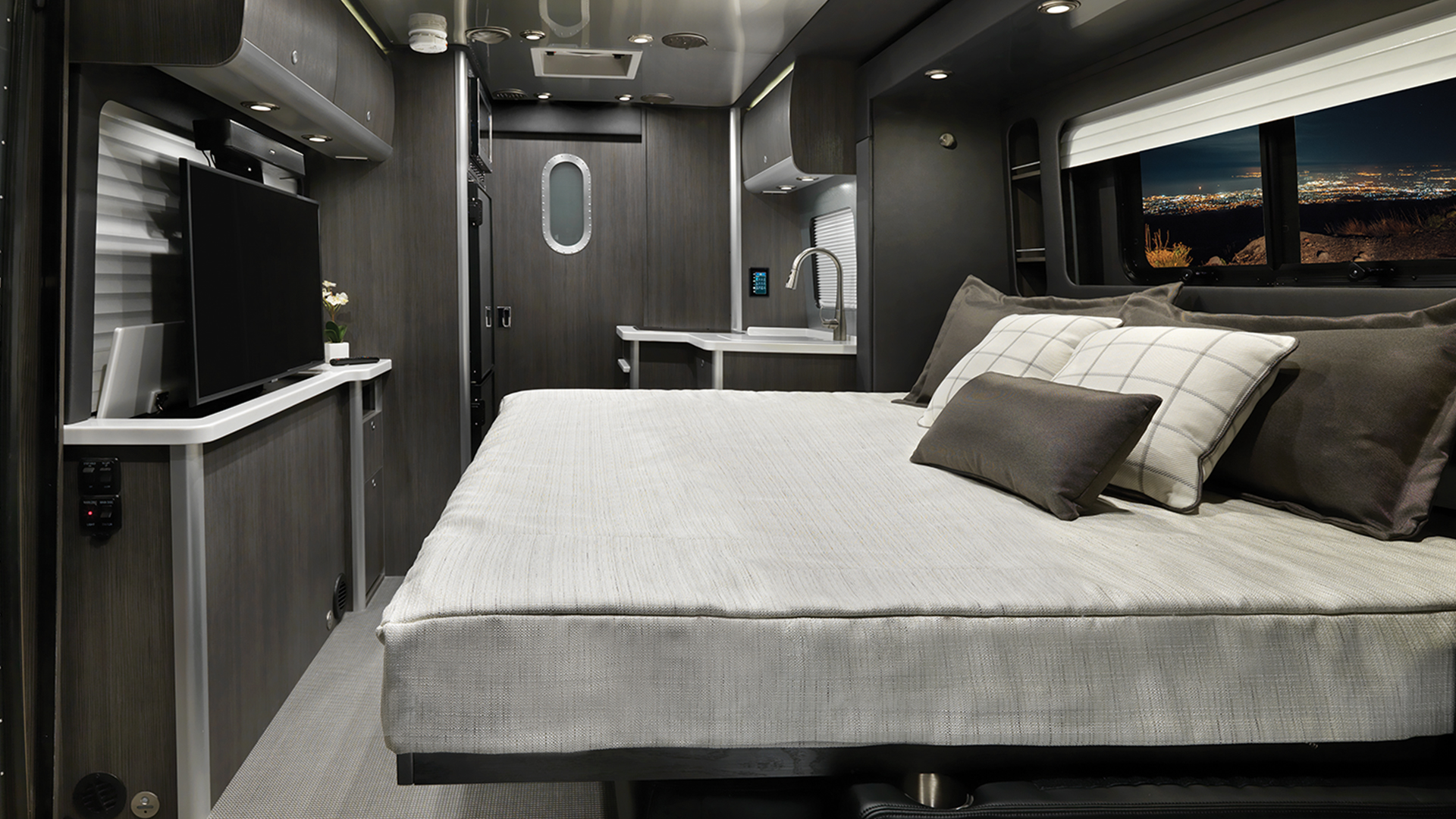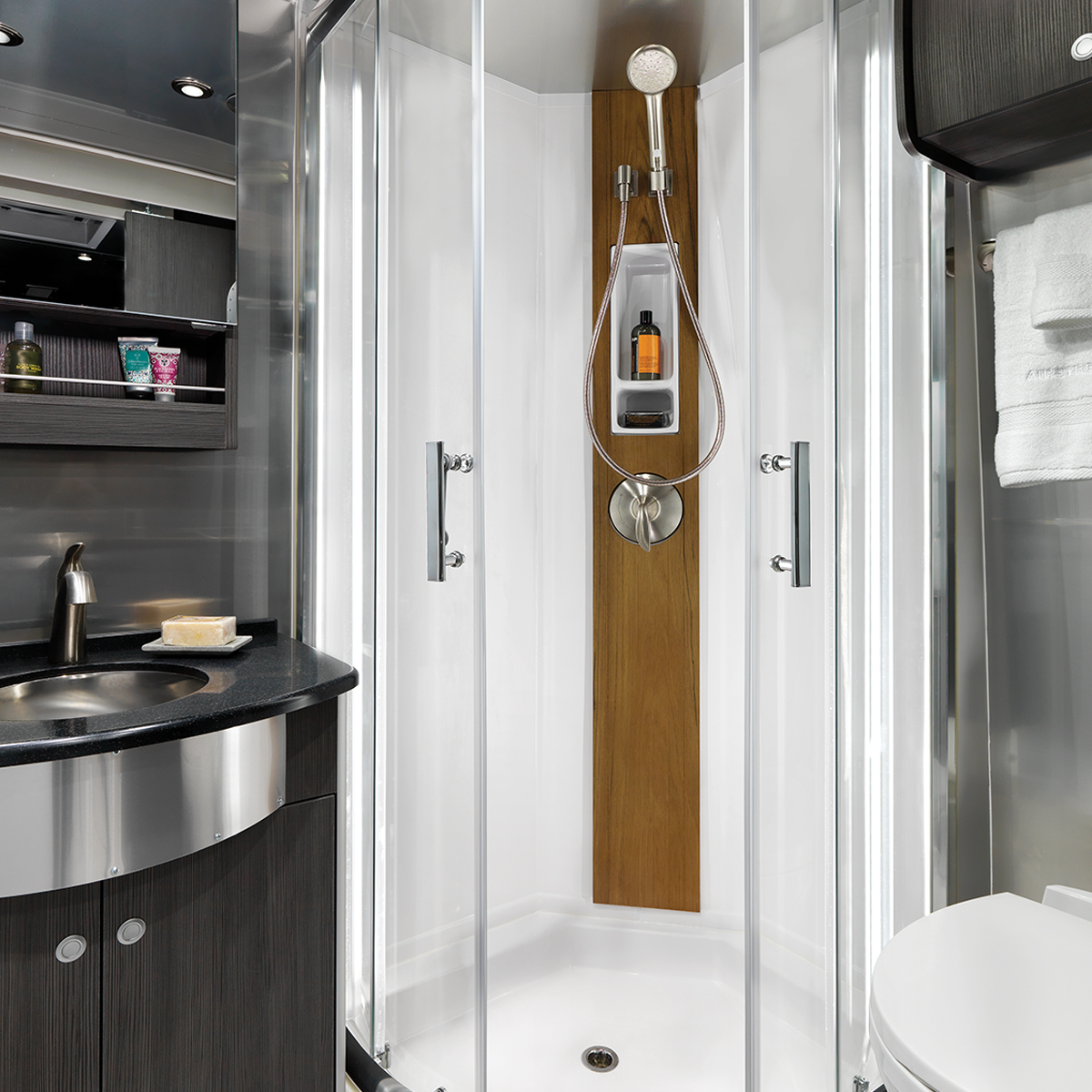 The professional journeyer may also prefer the Atlas's more conventional bathroom design.
This three-piece, residential-style setup offers a freestanding shower, a vanity sink offering plenty of counter space with under-cabinet storage, and a toilet — comprising a luxurious bathroom that spans the entire rear section of the touring coach.
Rangeline: The Boundary Pusher
Are you always ready for the next road trip? Do you spend your free time exploring National Parks itineraries? Do you dream of showing your family the sights and experiencing the freedom of the road together? If so, the Airstream Rangline Touring Coach might be your perfect travel getaway.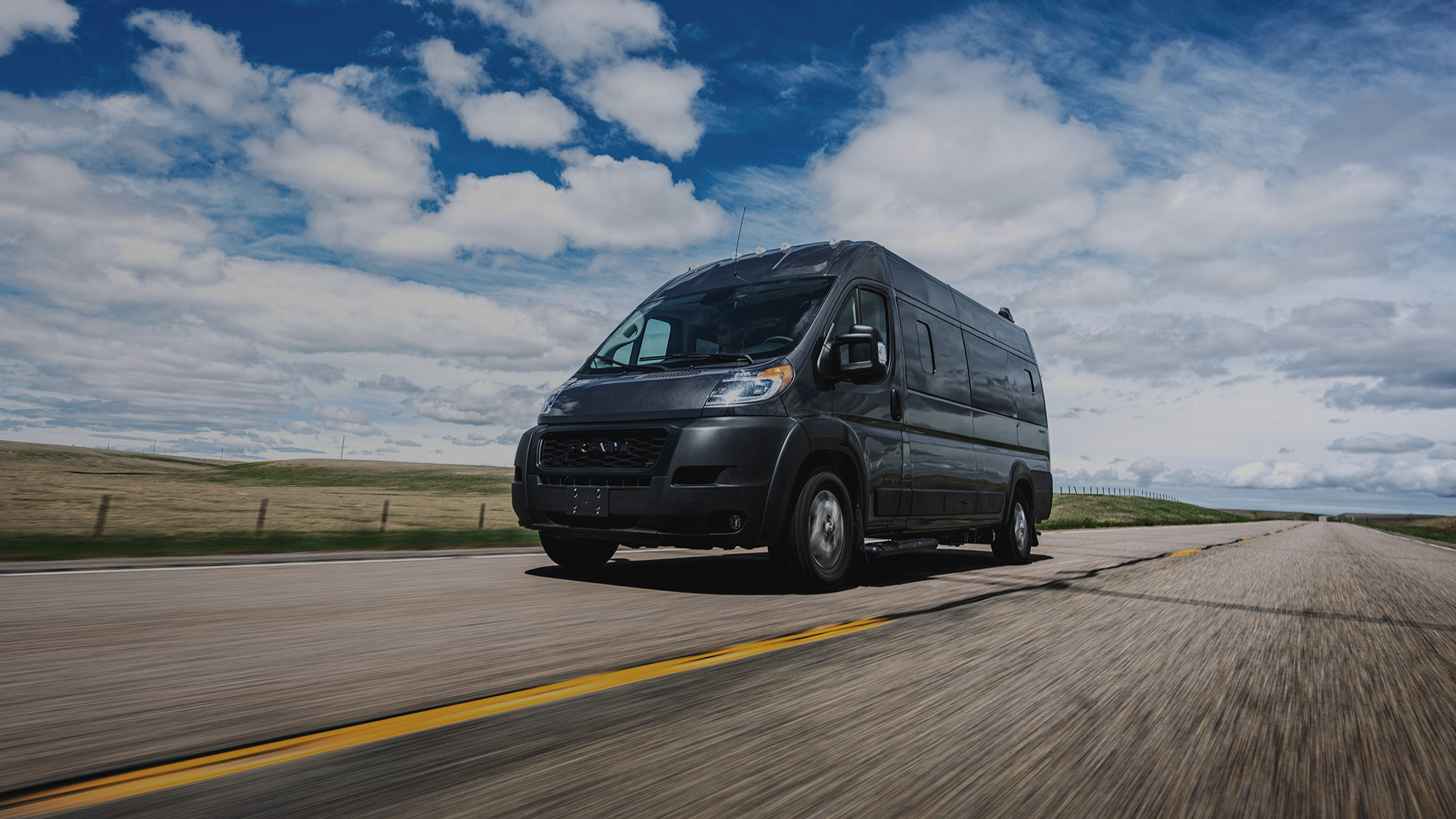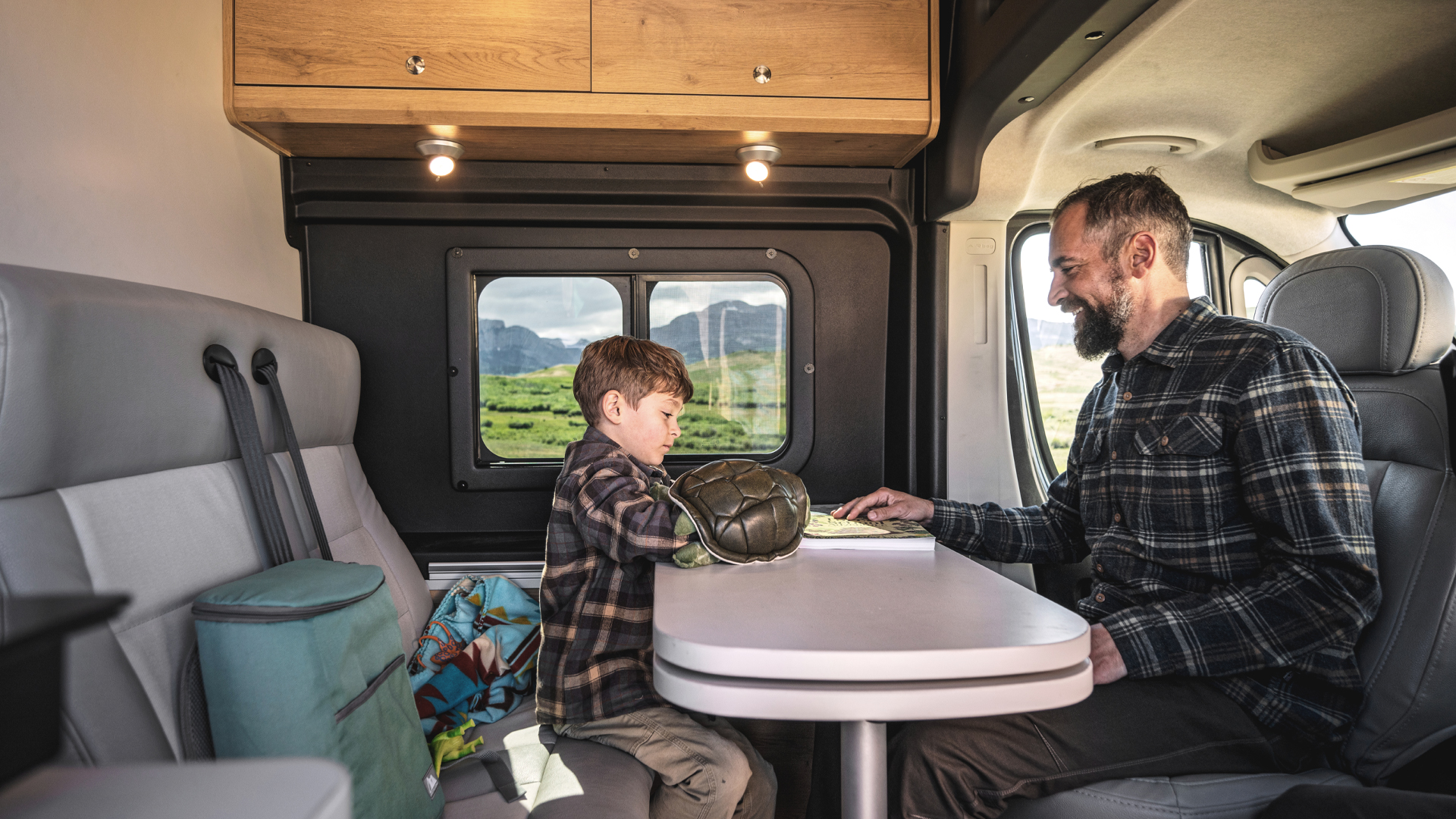 Built on the RAM ProMaster® 3500 chassis, Rangeline has all the comforts of home in a nimble 21-foot floor plan. Perfect for young families, couples adventures, and solo travel, Rangeline is ready to help you explore beyond your boundaries. Featuring ample gear storage, a fuel-efficient 3.6L Pentastar® V6 engine with 280 horsepower, and a TorqueFlite® nine-speed automatic transmission, it's ready for whatever adventure you're dreaming of. An optional pop-top provides extra living, sleeping, and gear storage space, and its just-right length maneuvers easily through parking lots, down backroads, and into driveways.
Are you ready to explore beyond expectations? Then get to know Rangeline today.
Configure to
Y
our
L
ife
style
and
I
ndividual
T
aste
s
Once you've selected a base touring coach model that aligns with your personal style of travel, you can configure it even further according to your drivetrain preferences and design tastes. On most models you can upgrade to 4WD to gain the flexibility of toggling between 2X4 and 4X4 in response to a wide variety of driving conditions. Our meticulous attention to every detail extends to a range of interior design and color options. Choose from three color palettes that feature beautifully coordinated countertops, cabinets, finishes, flooring and seats — all built with the legendary craftsmanship and premium-grade materials for which Airstream is well known.
Configure an Airstream touring coach model that suits your taste for adventure and your lifestyle.