We often fear the unknown, unfamiliar, or foreign for no good reason. If you ask any newbie RVer or potential RV shopper what their greatest fear is, you might expect them to mention something like driving and parking an oversized Class A in a big city when all they've ever owned is a Prius. Or maybe, something like backing up their 33-foot towable travel trailer without running into a tree. But, more often than not, I think you will hear their real fear is... dumping the RV tanks.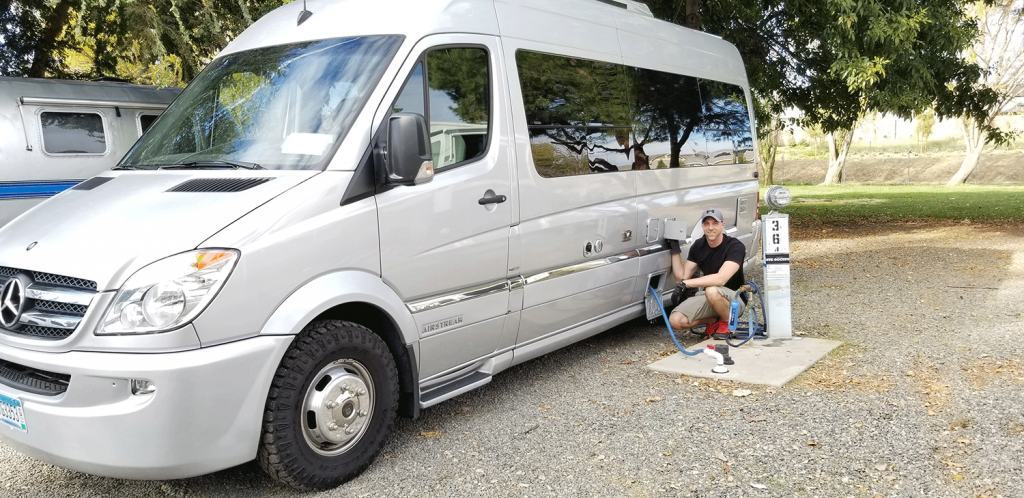 Honestly, I was pretty apprehensive myself. After all, I'd never done it before and fear of the unknown is a big part of the barrier to entry for the RV lifestyle. It's not like it's something you can easily practice, either. For many of us, including my wife and me, we just jumped into this RV ownership thing pretty quickly. Sure, you might get a brief overview of how to dump your RV tanks from a dealership, or maybe you even watched a two-minute YouTube video, but the real hands-on experience comes paralyzingly quick as you stand and stare blankly at your black tank sensor flashing FULL. Of course, this usually happens on your maiden voyage when you're still getting used to the bazillion functions of your new rig.
I know RV dumping is unavoidable but is there a better way?
I do like to put a little research into my purchases before pulling the trigger and my Airstream Interstate was no different. While checking out the different manufacturers of Class B motorhomes, I noticed that the Airstream model used something called a "macerator pump discharge system." As soon as I read more about it, mainly not having to use the standard old style of RV dumping with the "Stinky Slinky," I was on board! The Airstream Interstate Touring Coach (as of 2008) uses a self-contained discharge system with an automatic retract hose reel, automatic black/grey tank knife valves, and a macerator pump. Once hooked up, you really are just two buttons away from sweet, sweet RV tank freedom. Well... at least for another couple of days in a Class B.
But what is a macerator pump discharge system?
While this system has been around for some time, you won't find it on that many models of RVs and travel trailers. The main reason for this is that it's a more expensive system than the traditional slinky hose system, and it's not always a cost-effective solution for manufacturers. One of the great things about Airstream is that they tend to use high-end parts and components in order to give owners a first-class experience. Basically, all RV plumbing systems consist of a freshwater tank, a grey (sink/shower) waste tank, and a black (toilet) waste tank. Traditionally, these systems use gravity for evacuating the tanks, and the gray and black tanks connect with plumbing pipes that lead to an exit valve on the outside of your rig. You need to connect one end of a three-inch diameter slinky hose that is stored somewhere on board (usually in the bumper or in a tube that hangs from the underside of the RV), and then connect the other end to the sewer pipe connection in the ground. In some instances, you connect multiple slinkys together to be able to reach the sewer connection. Although this process is fairly easy and thousands of RVers do it daily, I think this is where the big fear comes into play. Images of hazmat suits and toxic waste infiltrate your mind while trying to make sure the connections are tight and leak-free. The fear of not causing a biological waste spill as you release the valve and let er' rip is strong!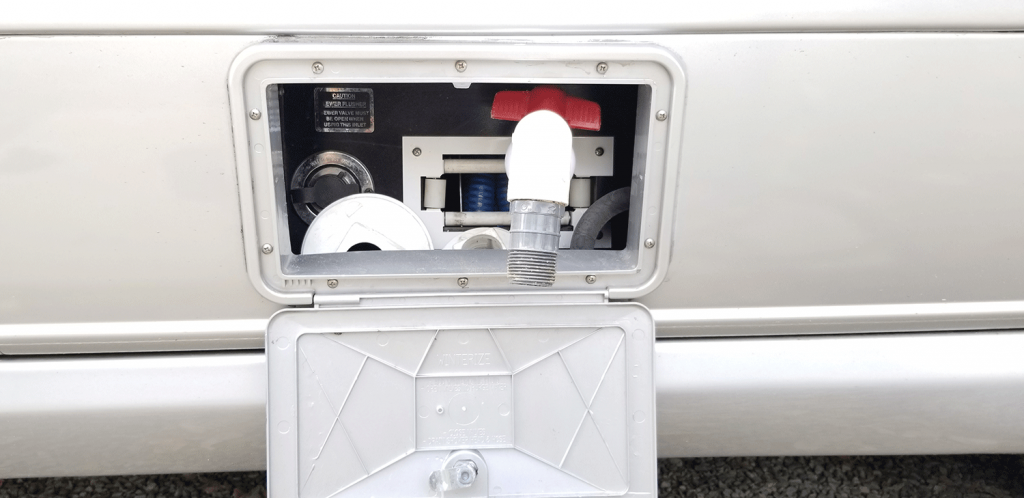 But with the system on the Airstream Interstate, on the other hand, uses the self-contained system with everything already attached in a nice, neat little compartment on the driver side. Instead of having to connect the hose yourself and rely on gravity for flow, the macerator system has one side of the smaller one-inch diameter hose connected to the pump under your vehicle and the other connected to the hose reel box. There is a roughly ten-foot hose coiled up on the reel and it has a nozzle and valve on the end for easy and clean dumping. Airstream also includes multiple threaded attachments so you can connect to different types of RV dump stations and sewer sites, or you can just simply stick the nozzle in the sewer hole and dump.
How do I use a macerator pump system?
Here's the beautiful part: It's pretty darn easy. You can basically dump your RV tanks in five easy steps – all while getting to leave the hazmat suit at home (or in your RV if you're a full-timer).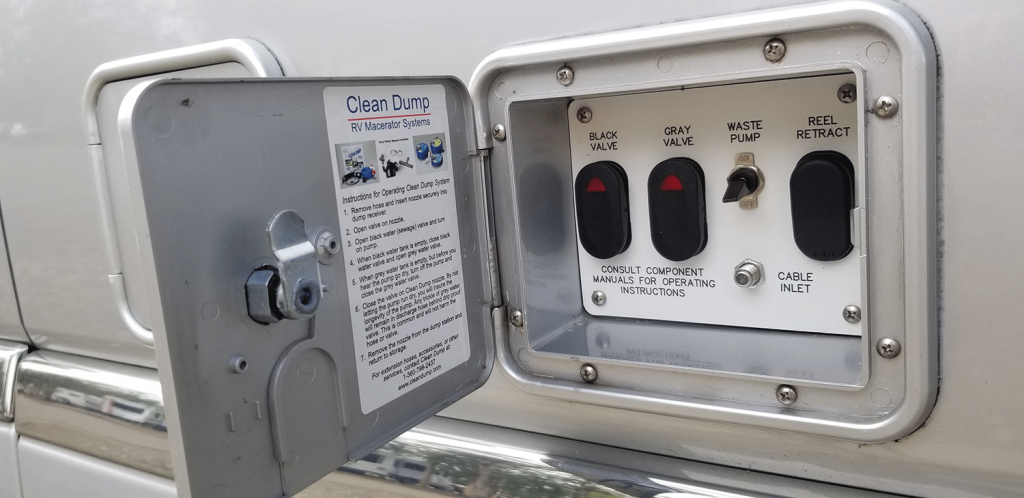 Step 1: Pull the hose off the reel to the length you need and connect to the sewer/dump connection. Then open the hose valve.
Step 2: Open the black tank power knife valve by holding the button on your Interstate above the hose reel.
Step 3: Switch on the macerator pump toggle to evacuate the contents and listen carefully for a change in the sound to know when it's finished. Don't worry, you'll hear the difference in the whine of the pump when the liquids are done. IMPORTANT: Make sure not to run the pump dry for more than 10 to 30 seconds or you'll risk damaging it.
Step 4: After closing the black tank valve, open the grey tank valve and repeat the evacuation in Step 3.
Step 5: Close the hose valve and guide the hose back into the reel box with the power retract button.
And that's really about it! You can leave your hose hooked up via one of the threaded connections if you are staying at an RV site, thus making the dumping process quicker using steps 2-4 only.
I'm sold! Sign me up!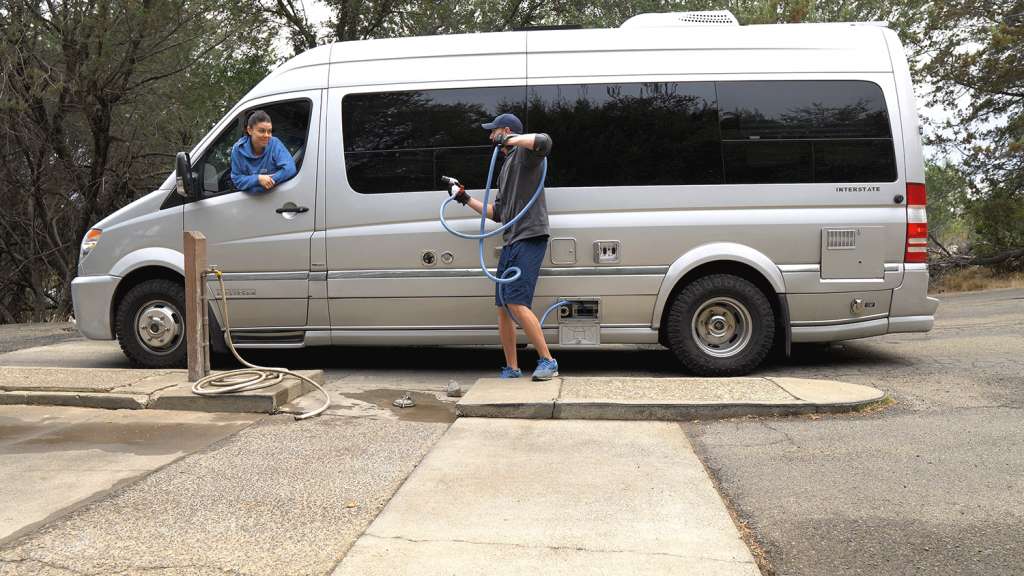 While I do feel the ease and cleanliness of use outweighs the negatives to a macerator system, I wouldn't feel right if I didn't share the other side of the coin. The negatives of a macerator pump system include more moving parts, a motor to replace as things wear out, a higher start-up cost and repair cost, and not being able to leave your gray tank open for continual wastewater flow while at full hook up parks. I actually had to deal with replacing our macerator pump on our Interstate after its 5th season in use and did the repair on it myself in a few hours. But considering everything as a whole, I am sold on the macerator system as a preferred method of RV dumping. Coming from a full-time RVer, I can honestly say that after getting over the initial fear of it, it's just another part of life and I'm glad for the system that makes a not so pleasant task just another beautiful day in the RV park!