Gary's doctor sent him to a cardiologist who recognized Gary's symptoms as heart failure. The cardiologist delivered the difficult news: within five years he would need a heart transplant.
The news was a blow for a guy who'd been active all his life – hiking, camping, backpacking, running, and cycling. In an attempt to keep his heart strong, his doctors prescribed numerous experimental drugs and techniques.
"The goal was to keep the heart inside me as long as possible," remembers Gary. One of the few activities his doctors allowed was cycling. "It kind of kept me going – it was something I could do."
But things didn't get better, and five years after being diagnosed with heart failure, it became apparent that it was time for a transplant.
Gary and his wife Susan had retired to Florida, but his doctor referred him to cardiologists at the Hospital of the University of Pennsylvania – a leader in heart transplant surgery. He was listed as urgent on the transplant list, and he was given a drug to keep his heart pumping while he waited for a suitable donor.
"Some people can go home on a pump and wait," says Gary. "But in my case it was too risky to send me home."
For 65 days Gary waited in a hospital room. One night in December of 2015, he got the call that a heart had been found. But after evaluating the donor heart doctors determined it was not a good match. His wife, daughter, family, and friends helped keep his spirits up as the waiting game continued.
During those difficult days of questions and no answers, two experiences planted the seeds for Gary's ultimate recovery.
One was hearing the story of Derek Fitzgerald, a young man who had a heart transplant after undergoing chemotherapy for non-Hodgkin's lymphoma. While Gary was in the hospital, Derek was competing in the Kona Ironman competition – just four years after having a transplant.
The other involved a woman who appeared at his bedside one afternoon.
"She immediately started talking about these transplant games," he remembers. "She showed me a photo of her with all these medals – she'd had a heart transplant, started the rehab, started swimming and then started competing at the World Transplant Games."
Those stories stayed in the back of his mind as he waited.
"I didn't know if I was going to get through the whole thing," he says. "I thought – if I get through it – the Transplant Games were something I'd like to do."
Then on Christmas Eve of 2015 word came again that a suitable heart had been found. This time, the heart was a viable match, and on Christmas Day Gary received his new heart.
The first year was difficult. He returned to cycling with his bike club as part of his rehab, but bouts of the flu, pneumonia and cytomegalovirus kept him in and out of the hospital. All the while, Gary's family, friends, doctors, nurses, and bike club members supported his recovery.
"At first it felt like the heart was outside my body," Gary says of the transplant. "After a couple month it becomes part of you – you don't think of it differently. Other than thinking, I wouldn't be riding right now if I didn't have this heart."
That feeling pushed Gary to look for a way to promote organ transplant, and to honor his donor and his donor's family. He remembered the stories he'd heard in the hospital and decided to participate in the 2017 World Transplant Games in Malaga, Spain. He joined the US cycling team, and decided he'd try running as well.
"I hadn't run in eight years," Gary remembers. "I said, If I'm going over to Spain to compete in the games, I'd like to do a run."
He ended up competing in a 5K run, as well as cycling in a 5K time trial, a 20K team relay, and a 30K individual trial.
While many of the games are competitive, Gary says the real purpose of the World Transplant Games is to promote transplants and honor those individuals who made the choice to donate life-saving organs. Organ, tissue, and stem cell recipients are all eligible to compete, and many living donors go to the games to lend support.
"That's the really heartening part of this – having family members of deceased donors and the living donors there to support the recipient," says Gary.
He plans on competing in the 2019 World Transplant Games in Newcastle, England, as well as in the Transplant Games of America. He's also planning on participating in the RAGBRAI, a non-competitive bike ride across Iowa. His wife Susan will drive the couple's Airstream Interstate Grand Tour EXT as Gary's support vehicle.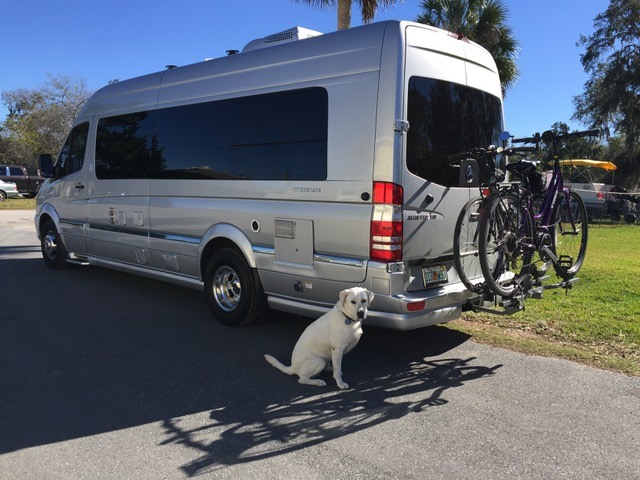 "We wanted something easy to drive and self contained, and that's what brought us to the Interstate," Gary says. The couple purchased their Interstate last November as a way to get back on the road and enjoy the outdoors. "We were looking to travel more, and I thought it'd be nice to get back into camping. Now that I have a new heart, I want to catch up and do all the travel we can."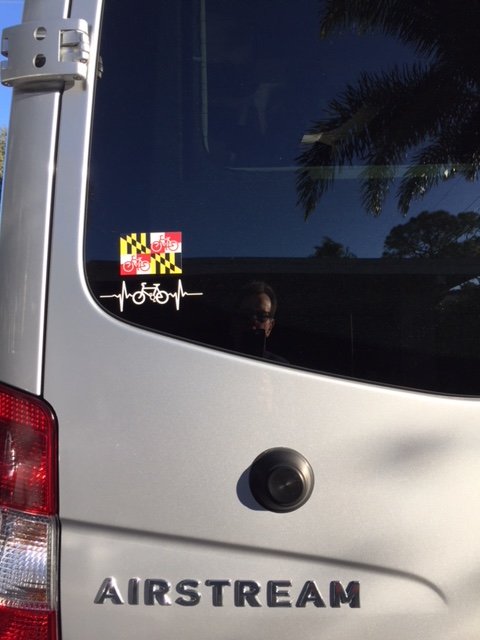 Now, Gary and Susan head out on adventures whenever they can. They recently toured through the Everglades and Key West, and their Interstate attracts a lot of attention wherever they go.
"We pull up to a diesel pump and people come over to say how awesome a vehicle it is. People say, We've been thinking about getting one. I say, Don't think about it – go do it!"
These days, Gary cycles upwards of 125 miles every week with his bike club. He wears a heart monitor while he rides, but for the most part he says he doesn't even think about the transplanted heart beating in his chest.
"I feel the strongest I have since my 40s," he says.
Still, Gary recognizes how lucky he is and hopes to inspire others to make the choice to donate organs and tissues, as well as inspire those who are still waiting for their life saving transplant.
"Every day is a gift," he says. "And I want to live it to the fullest."