If it's your first time hitting the open road in your RV you may be tempted to take everything and the kitchen sink. When you're stocking your Airstream kitchen, weight and space constraints are major considerations. Your tiny home on wheels forces you to begin thinking like a minimalist, but having everything you could possibly need or want provides a sense of safety or security as you venture into life on the road.
Whittling down your RV kitchen checklist to the essentials might feel tricky, but stocking an RV kitchen can be simple with a few basic organization tips and checklists. And to make stocking your Airstream for your next road trip easy, we've assembled all our favorite cutting boards, coffee solutions, utensils, and more in one hand guide at Airstream Supply Company.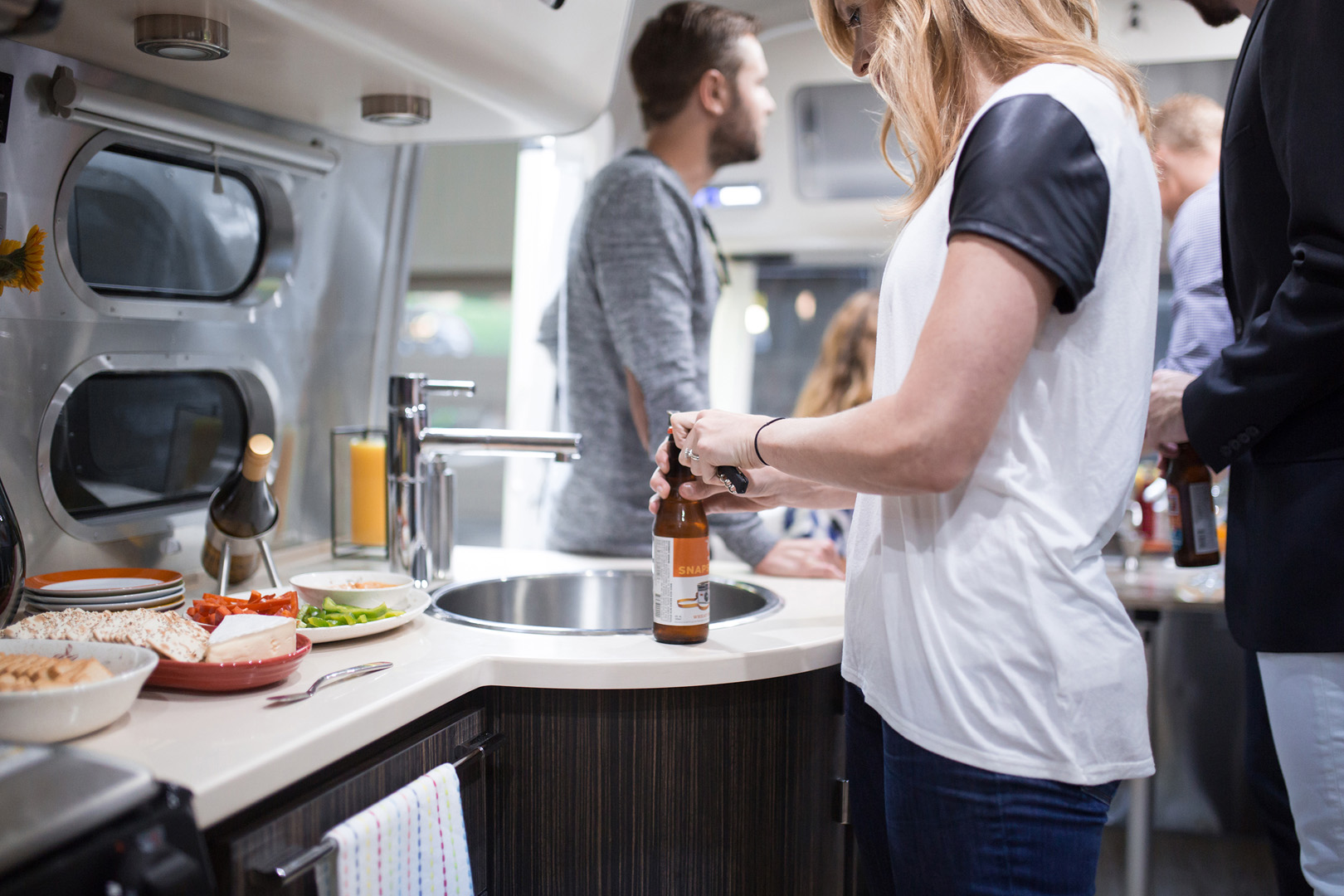 RV Refrigerator Checklist
Your RV refrigerator is smaller than the one you have at home. Stocking it before you go is important, but you also want to save space to keep the food you prepare from perishing if you have leftovers.
Start with some of the basics – ketchup, mustard, relish, BBQ sauce and your favorite salad dressing. Coffee creamer and milk might be staples you want as well. Anything else you put in your refrigerator should be items related to your meal plan for your trip. This might include your meats, vegetables, dairy items and produce for the recipes you have planned.
Planning your meals will keep you from throwing in "extras" that you don't need. Remember the weight you're pulling adds up. Stock the fridge with items you know you'll use and that you cannot buy once you arrive at your destination.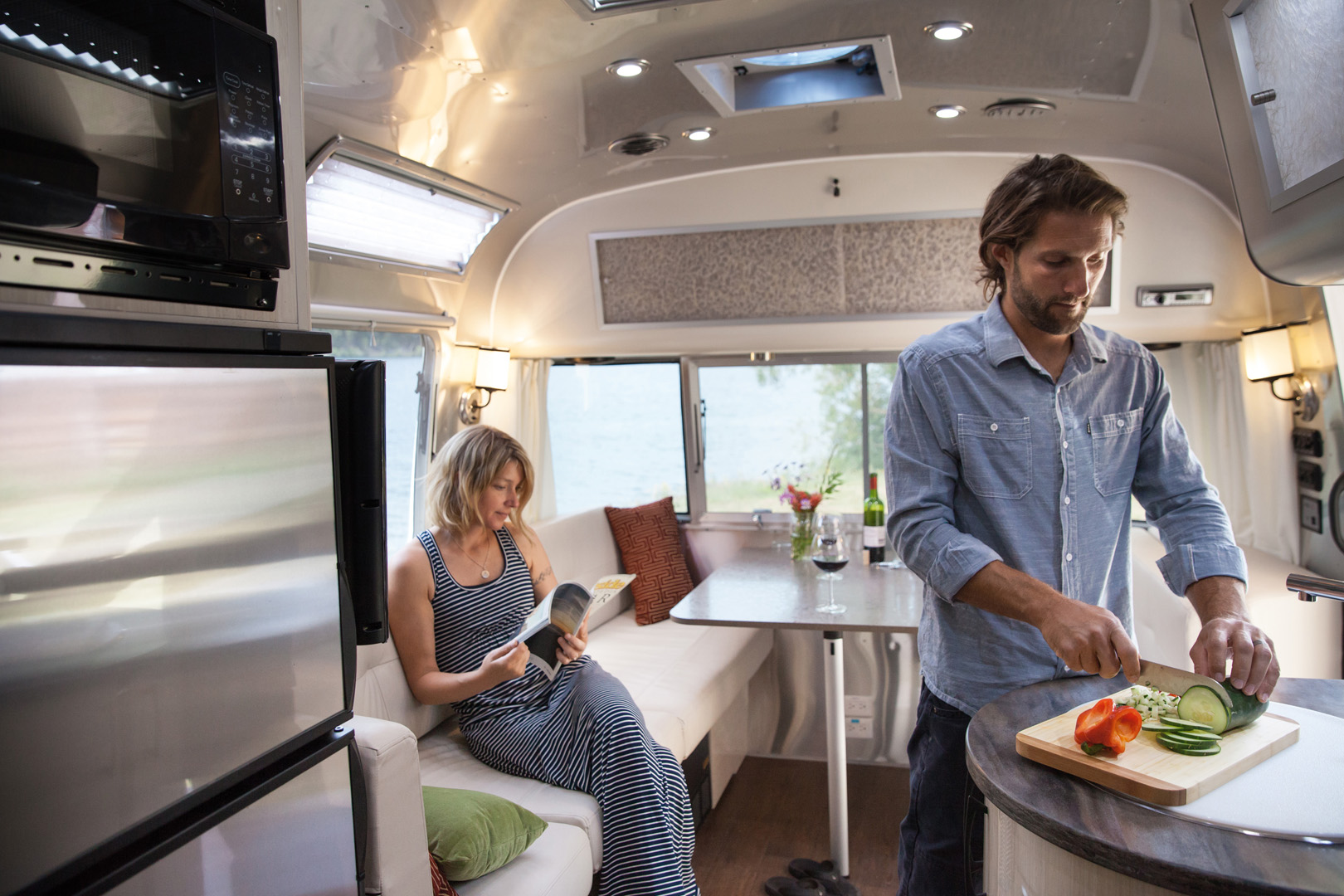 RV Pantry Checklist
Creativity is the name of the game when it comes to stocking your RV pantry. Personal preference will play a big part in what you choose to pack, but don't be afraid to step beyond your comfort zone.
Stock your preferred grains, rice, pasta, quinoa, oatmeal and dried cereal – with a pot of water or milk, each is easily prepared and can be incorporated into your main dish or served on the side.
Peanut butter has incredible versatility and packs a protein punch – put it on toast, roll it in a tortilla with a banana, scoop it out of the jar and eat it plain. Seeds and nuts are an excellent pantry item to include. With no preparation required, they make a great grab-and-go-snack or garnish to your main course.
Don't forget the spices. If you cook regularly, you know what you can't live without, but here are some basics to get you started: garlic and onion powder, basic grill seasoning, salt, pepper, chili powder, oregano, cinnamon and lemon pepper. Don't forget your favorite cooking oil.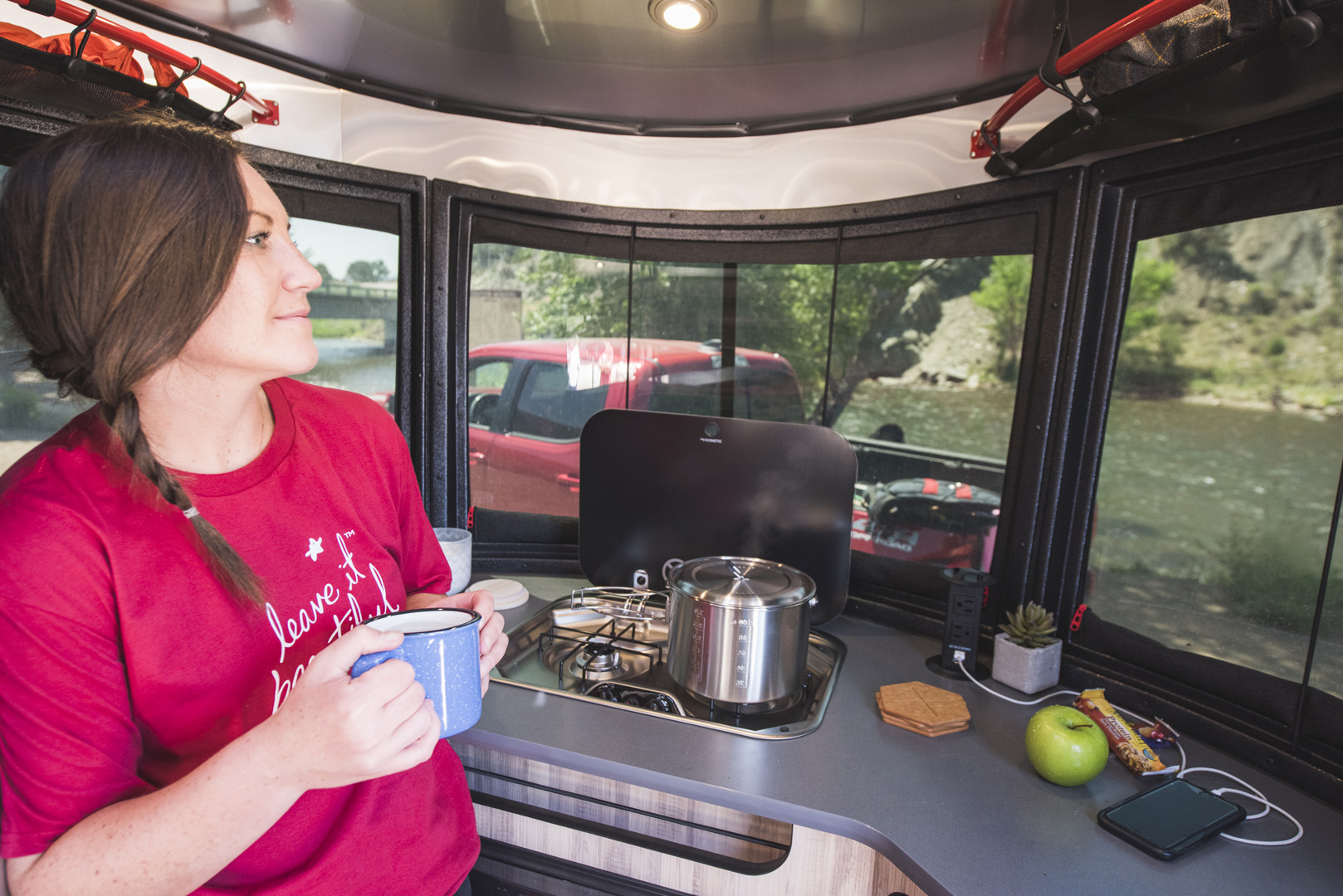 RV Kitchen Equipment Checklist
Having the right tools for any job is important and it's no different in the kitchen. Kitchen equipment can push you closer to your GVWR quickly. Being selective and intentional is important. Some creativity and a minimalist mindset will have you stocked with everything you need in no time.
Start with appliances. Do you need a coffee maker, blender, instant pot or toaster? Next think about pots and pans. One frying pan, a cast iron skillet or Dutch oven and one or two pots in different sizes should cover all your needs.
Consider your food prep needs. Nesting bowls that can serve dual purposes – mixing and serving – are a great idea. Measuring spoons/cups, a spatula, whisk, vegetable peeler, bottle/can opener, grater, cutting board, colander, one or two good knives and a serving spoon will cover your basic needs inside.
If you have an oven, a baking pan and a cookie sheet are nice additions. Outside, if you take a grill along, you'll need grilling utensils. Don't forget chip clips (or clothes pins with a dual purpose) or some rubber bands for keeping dried goods fresh.
Dishes, cups, coffee mugs, wine glasses and silverware are also essentials. Take only the quantity you need for one meal and wash and repeat. It will keep your trailer tidy and save you weight and space.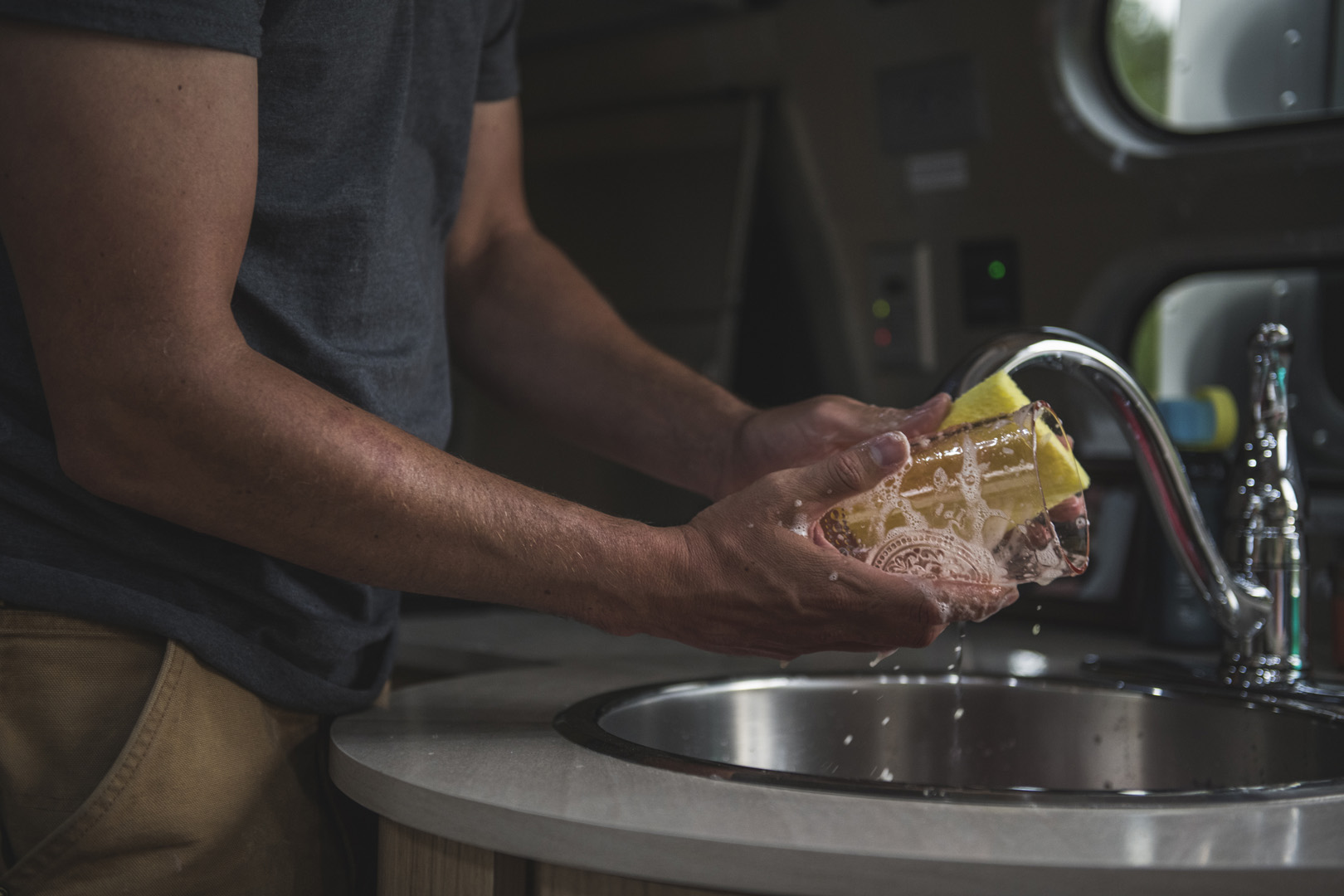 RV Kitchen Supply Checklist
Keeping waste to a minimum is ideal when you're enjoying Mother Nature, but some items are necessary to keep your trailer tidy and maintained. Paper towels and napkins are a must. Some folks like paper plates and cups for easy clean up, but consider trying these eco-friendly essentials instead.
Baggies, foil, plastic wrap, and garbage bags will come in handy for food storage and clean up. And don't forget some dish soap and kitchen cleanup items.
Once you've settled on the necessary items for you and your family and your specific trip, packing the RV is important. Remember things can shift and move when you're on the road so it's important to take some precautions.
Heavy items should be stored in the lower cabinets. Hooks, non-skid pads and bungee cords can keep things from moving around. Finding places for all your essentials might feel a little bit like a game of Tetris, but with a little creativity you'll be sure to develop a system that works for you.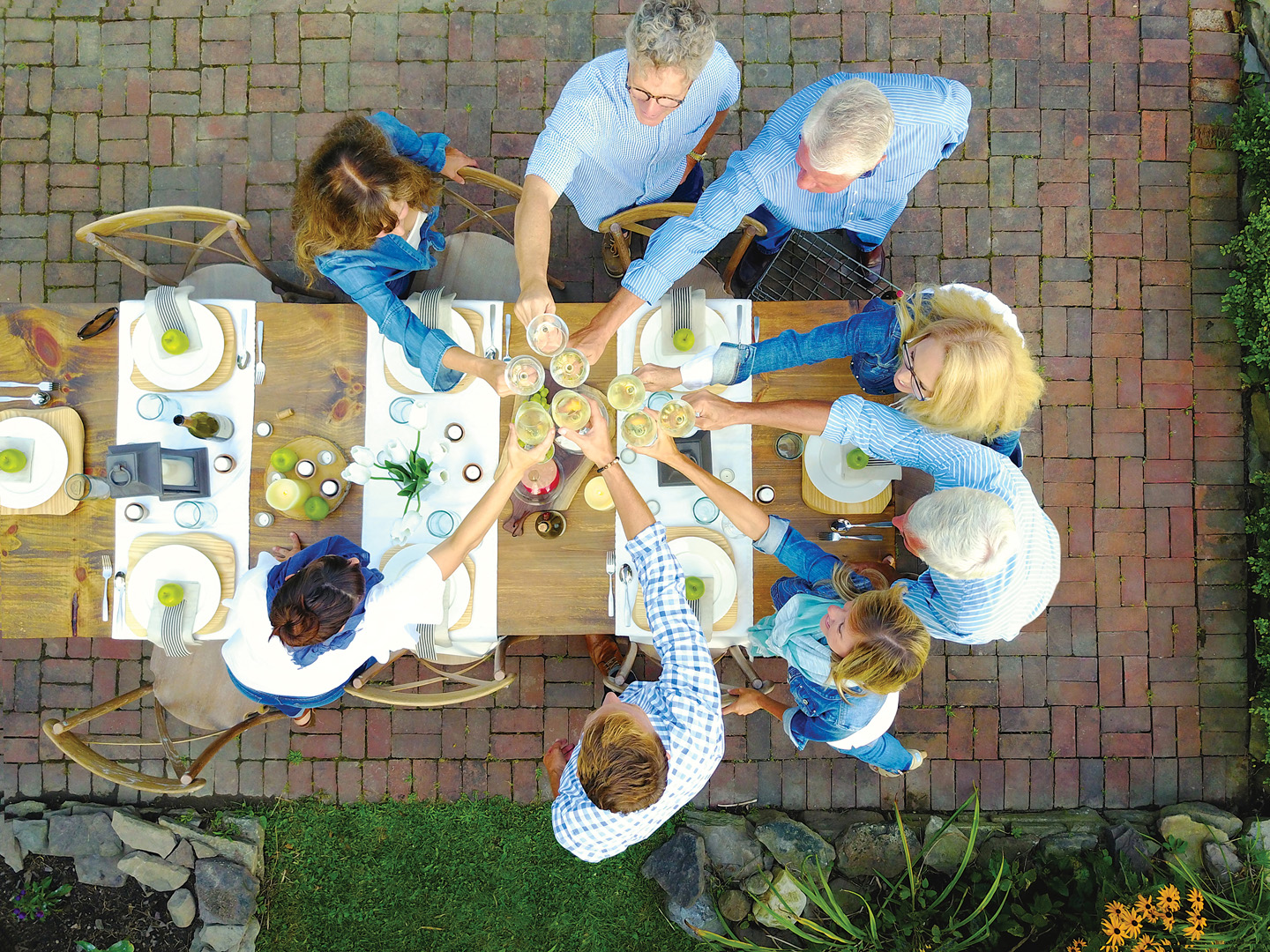 Setting up your kitchen and gathering your RV essentials for your first road trip might seem overwhelming. Stocking a camper just takes a little planning and ingenuity to maximize the storage space and keep your trailer fully stocked and organized so you can spend more time enjoying good company and great scenery.
For more tips, tricks, and road-tested solutions for getting the most out of your Airstream experience, sign up for Airstream's monthly email newsletter, The Rivet.