Sometimes, it takes the death of one business for another to be born.
Sam T'ang knows firsthand. A successful professional photographer, Sam made a living shooting photography for a variety of commercial advertising clients and magazines. But the industry was changing, and Sam felt his business slipping away. Advertisers increasingly used stock images or hired in-house photographers instead of working with freelancers like Sam.
"It was challenging," says Sam. "I was struggling."
A chance conversation with a friend set Sam on a new career path. At the time, he was working out of his 1986 Airstream 345 Classic motorhome, which allowed him to be flexible about traveling to photo shoots around the country. When Sam was telling a friend about his business struggles, his friend casually suggested that Sam convert his Airstream to a mobile escape room
"And that's how I got into escape rooms," says Sam.
Featuring mysteries, teamwork puzzles, and elaborate problem-solving challenges, escape rooms quickly became a phenomenon across the country. Now, they're common in many cities.
The premise is simple: A group of people is "locked" in the room and must solve a succession of puzzles within a set time limit if they want to "escape." Often, escape rooms have a particular theme or story driving the action.
Sam had seen escape rooms during his travels, and the friend's suggestion struck a chord. He thought a mobile escape room would set his game apart from others. There was one problem, though.
"I really hate games and puzzles," he says with a laugh. "But apparently I'm pretty good a designing them."
In order to learn how they work, Sam began to visit other escape rooms.
"I've worked as a creative director, and I'm pretty good at set design," he says. "I did some research and did a couple escape rooms. I pull elements from other games and make up the storyline."
Sam wanted to keep his original motorhome for the occasional photography work he still did. So, he ended up buying a second Airstream motorhome.
"I was lucky because the person I bought it from had gutted it," Sam says.
Once he'd fleshed out his escape room story, Sam decorated his new motorhome's interior in a steampunk, Victorian noir style that complemented the game's gypsy-inspired theme. Called "Steampunk Gypsies," the escape room storyline is that the gypsy couple who owns the caravan is away for an hour, and the players must discover the location of a precious bottle of oil they've concocted.
Capitalizing on the mobile nature of his escape room, Sam often brings it to corporate events or parties. Players can also come to his studio and play the game there.
"I've had players from around the country come," says Sam. "There are people who've played 60 games, and they've ranked mine in their top five."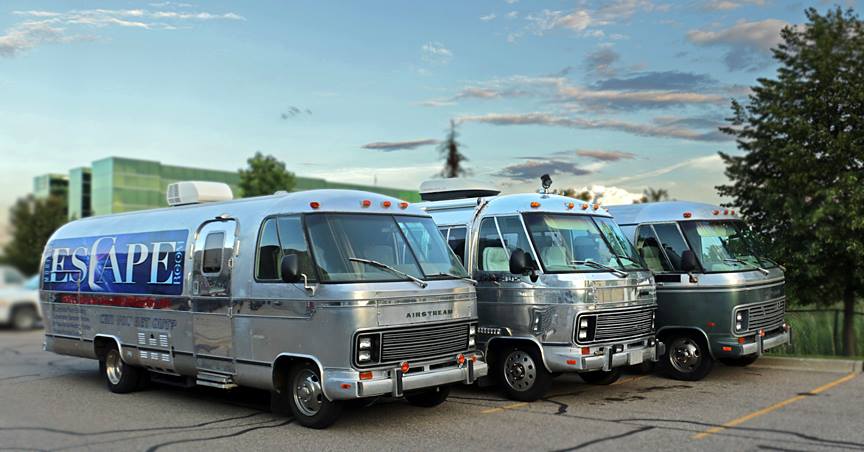 Sam had so much fun with his first mobile escape room that he decided to create a second one. He bought a 1982 Airstream Funeral Coach – a particularly rare model that Airstream produced for funeral homes in the 1980s – and created a vampire-themed escape room he calls "Vampire's Lair."
"It's pretty creepy," he says.
If you're in the Wixom, Michigan, area and want to experience Steampunk Gypsies or Vampire's Lair yourself, check out their website.