Year after year when planning our trips, we find ourselves turning to the lure of beautiful Oregon and all that this beautiful state has to offer. Countless scenic state parks, a dramatic jaw dropping coastline, fishing and crabbing to your heart's desire are only just a few of the many places and activities we have experienced here.
One trip in particular that remains clear in our minds was the summer when we decided to visit Central Oregon's high desert. With Airstream in tow and a pleasant five hour drive from Seattle to the high desert, we arrived at peaceful Kah-Nee-Ta Resort located on the Warm Springs Indian Reservation. We were ready to begin our vacation and I could hardly wait and our son B was excited beyond belief when he saw those huge slippery slides at the pool.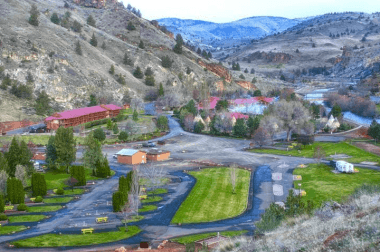 I was looking forward to teaching him about the pool and that it was filled with mineral water from the natural hot springs. I knew he would think that was pretty neat. As for me, I was looking forward to the therapeutic effects of the minerals in that water.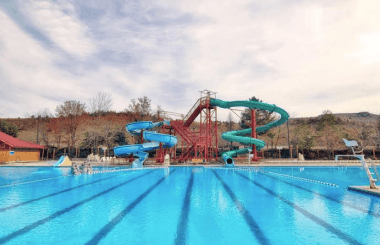 We began our days at Kah-Nee-Ta with early morning sunrise hikes in the beautiful mountains in the high desert, golf usually followed and of course swimming in the hot springs mineral pool complete with water slides was always on our list. In the evenings when I wasn't preparing something for dinner in my Airstream's kitchen, we would enjoy ourselves up the road at the lodge where there is an incredible restaurant that serves up gourmet meals complete with sweeping views through floor to ceiling windows.
The following day would be a new adventure in and of itself. A fly fishing float drip down the nearby Lower Deschutes River.
We awake early, hop into the truck and take a short drive to where we meet our guides Matt Carter and Nate Turner, proud operators of the Deschutes River Outfitters.
Both Matt and Nate are extremely talented anglers. Matt has been featured in many magazines and well as on the cover of Fly Fisherman.  In addition, each summer he travels to Mongolia as a fly fishing guide.
Matt and Nate specialize in both Native Deschutes River "Redside" Rainbow Trout and the anadromous Wild Deschutes River Steelhead.   Both Matt and Nate tell me they are a local, family-owned outfitting business and are proud to be able to offer to their guests the best of the Lower Deschutes River experiences.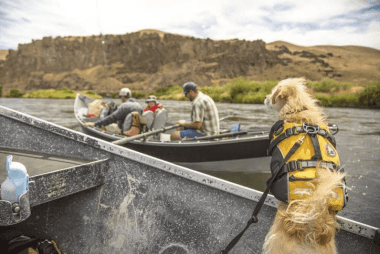 We floated and fished the river on this glorious day catching and releasing big beautiful fish one after another. I learned so much from Nate as he explained how to identify the different bugs that the fish are feeding on in the river which would enable me to choose the correct fly to use on my line.  "Match the bugs to what is in my fly box," he tells me.  This lesson along with so many others throughout the day has turned me into a very fine angler I must say!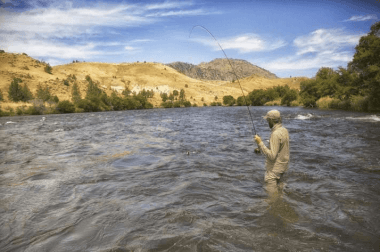 We try and fish for a local trout named, "Eddie" (if my memory serves me correctly) that has been around for years and years. Matt and Nate know exactly where to find him and tell me, "We've been catching and releasing him for a long time," but today, Eddie clearly had other plans and was not around. Nonetheless, the breathtaking scenery and wild horses nearby were just as exciting as another opportunity for a catch and release.
As we continued floating down the river, Matt and Nate would remind us every so often to have a sip of water as the temperature was soaring but being inside of the boat and on the river you couldn't tell. Preventing dehydration is important and these guys were on the top of their game with that. We eventually went to shore to enjoy a riverside lunch of grilled chicken skewers and a cool crisp salad while continuing to fish from the shore.
After our gourmet lunch, we continued on down the river fishing to our hearts content. We observe wildlife from Osprey, wild horses, mountain goats and even the majestic and ruling Golden Eagle soaring high above us.
Then came the moment of heart pumping fear for me. It was time to Chute the Chutes. Literally. The White Horse Rapids were ahead. These rapids are a class III+ (note the +). Class III simply means there are high and irregular waves, strong eddies, narrow but clear passages that require expertise in maneuvering and scouting from the shore is recommended. The + means it can get way more gnarly than that. I learn that kayakers from all over the world travel here to experience them. There are countless forums online dedicated to discussion of this particular rapid. This is all Nate tells me. All I can think is that we are not in a nimble kayak but rather in a heavy hard bottom drift boat and we are going to go through this?! What?!
But I trust Matt and Nate because they are confident and ensure me they know exactly what they are doing. So with that, I place all my 43 years of life into their hands along with that of my husband, son and little dog. We hang on tight and go for it.
The feeling of accomplishment of surviving that rapid was one I will never forget! Talk about an adrenaline rush. It is only afterwards when we hear other news about the rapids and horror stories. I'm so grateful that we are continuing along our float down this river and I am even more grateful that Nate spared me those stories until after our wild ride.
We eventually reach the put out on the river and it's time to head back to Kah-Nee-Ta. I am ever so grateful to Matt and Nate for teaching us some invaluable fishing skills and showing us the beauty of the river.
When we arrive back at camp we relax and cook dinner.
We talk about what a great day we had and what a beautiful RV park Kah-Nee-Ta offers up.
We look forward to coming back here as there were so many other activities we didn't have time to get to such as the spa, horseback riding, kayaking and tennis. Did I mention the people here too? Everyone was all smiles, all of the time. How nice to be surrounded by such happy people. I am sure it was contagious because we too, were so happy.
"Mommy, I love it here. Please, when are we coming back?" Bradley asked as we were preparing to leave.
"Soon honey, soon. I promise.
If you ever have the chance to camp at the Kah-Nee-Ta Resort in Central Oregon I highly recommend it. Also a fly fishing trip down the Lower Deschutes River with Matt and Nate will leave you with wonderful fly fishing memories that will last a lifetime.
Wishing you safe and happy travels this summer!