Some folks upgrade cell phones every few years to take advantage of the latest and greatest improvements. Upgrading your Airstream that frequently might seem a little over the top for some, but not for Bob and Becky Kevoian.
"We're on our third one – we've upgraded every even year," Bob said about their Airstream Interstate.
From the beginning of their Airstream ownership, Bob and Becky have been ambitious. It wasn't a week after they saw their first Airstream Interstate that they were at a dealer a state away purchasing their very own. When they got it home and it didn't fit into their garage, they knocked the garage down and built a new one equipped with a 30-amp outlet for recharging.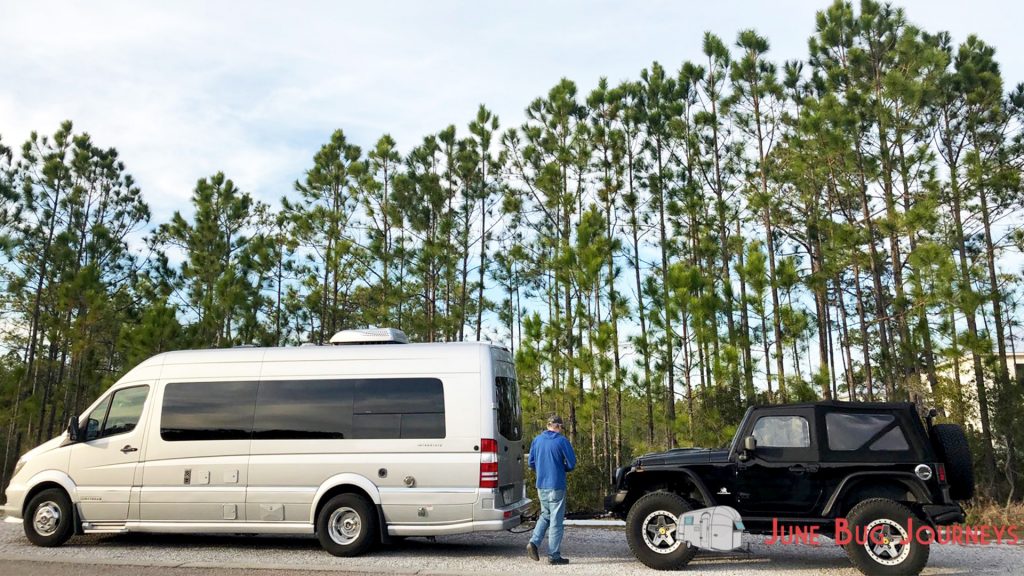 So when a new Airstream Interstate is released, it's top on the list of must haves for this dynamic couple.
"Well, obviously, there are so many new features," Bob said. "We really like the idea of USB ports; that was a nice upgraded feature." Before that it was the upgraded screen doors that had them trading in for a new model.
In addition to their Interstate, the Kevoians also own an Airstream Globetrotter travel trailer.
"We use the travel trailer in the spring, summer and fall and the Interstate has become our winter vehicle," Bob said. The Interstate has a home in the garage so as soon as the trailer is winterized the Interstate becomes the vehicle of choice for adventure.
"We use the Interstate for family outings, Christmas light tours and concerts – it's our own kind of mini bus," Becky said. They have even set up camp across the street from the Indy 500.
"We bought the Interstate for tailgating and then we decided to try camping in it," Becky said. "We have now owned six Airstreams – three Interstates and three travel trailers." Their travel trailer "June Bug" has increased in size from 16 foot, to 25 and now the 28 foot Airstream Globetrotter with their biannual upgrades.
Before acquiring their fleet of Airstreams, Becky and Bob were accustomed to traveling by plane, even private jet at times, and staying at four-star accommodations. Now, they haven't taken a commercial or private flight since they purchased their Interstate, nor have they stayed in a hotel.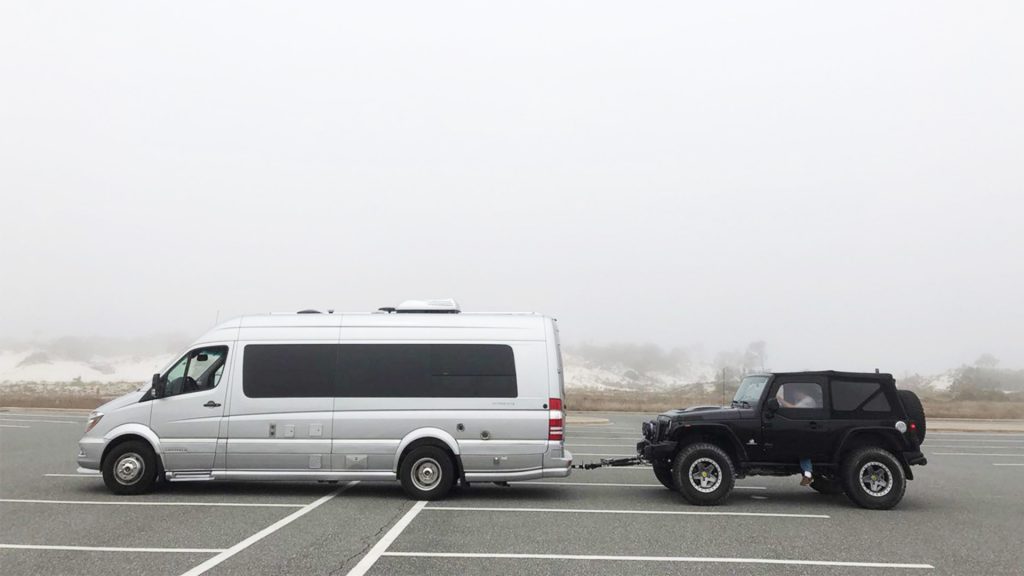 "We tow our own bedding and pillows – you can have all the creature comforts but be in the middle of the woods," Bob said.
The intent was never to camp in the Interstate, so when they took their "Steely Van" on their first cross country trip to Pennsylvania, Becky said, and Bob quotes: "There is no way I'm going to sleep in it. We can drive as long as you want, but we will drive to a Four Seasons hotel for sleep and showers!"
"Becky jumped in the shower and said, 'this is the greatest thing ever,' and we have not stopped at a Four Seasons yet," Bob said.
While the two are avid campers now, that wasn't always their story. Becky and Bob both camped as kids but their first joint camping adventure was trial by fire with Becky voting Bob responsible for black water duties. A "very undemocratic process," he claims.
In January of 2016, Bob retired from his longtime gig co-hosting the nationally syndicated radio show, "The Bob & Tom Show," giving the couple more flexibility for camping. Since then they have spent at least one overnight in 44 of the 48 contiguous United States, leaving only Wisconsin, Minnesota, North Dakota and Colorado on their list.
After they check those four off the list they're headed back to some of their favorite places including Idaho, Washington State and the coast of Florida. Hitting Alaska is also a dream but with two young grandsons, they find themselves struggling with the idea of missing out on two plus months of making memories.
"We are just blown away by some of the roads we've traveled that we would have never seen in our lifetime without our Airstream," Becky said.
"It's just wonderful," Bob added.
On a trip to New Orleans, Becky and Bob camped in their Interstate just outside the city. "We got to see it in a whole different way than if we'd flown in and never left downtown," Becky said. "And we had a lot more flexibility." The couple tows a Jeep so they can explore once they set up camp.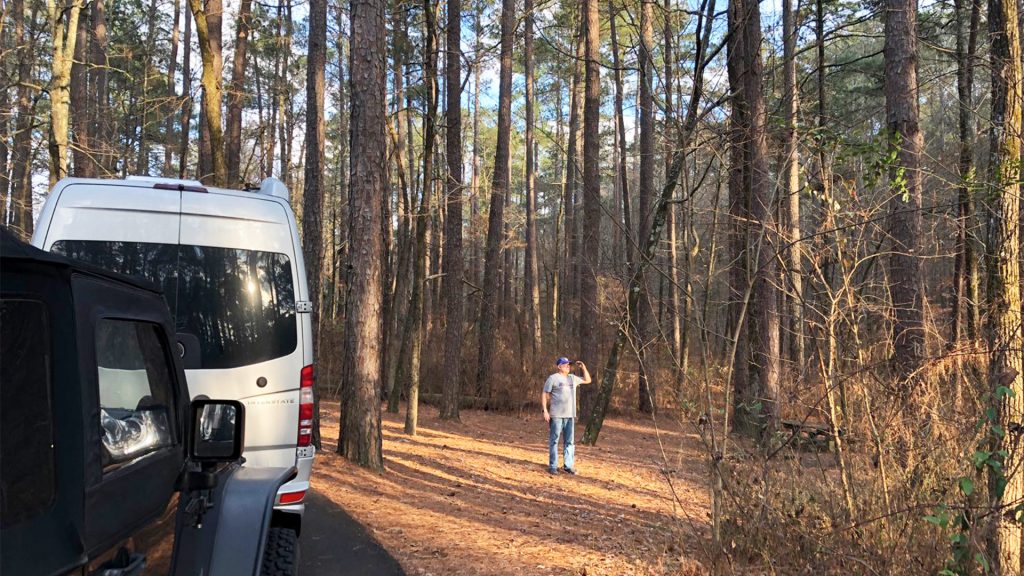 While seeing the sights and enjoying local fare are important, Bob and Becky prefer to camp as remotely as possible and claim they are the happiest on the road when they don't see another soul around.
"If we can go the whole day or two full days and only see each other, it's glorious," Becky said.
Becky enjoys being active; Bob is happy to sit by the campfire with a glass of whisky. "We accommodate each other that way," Becky laughed.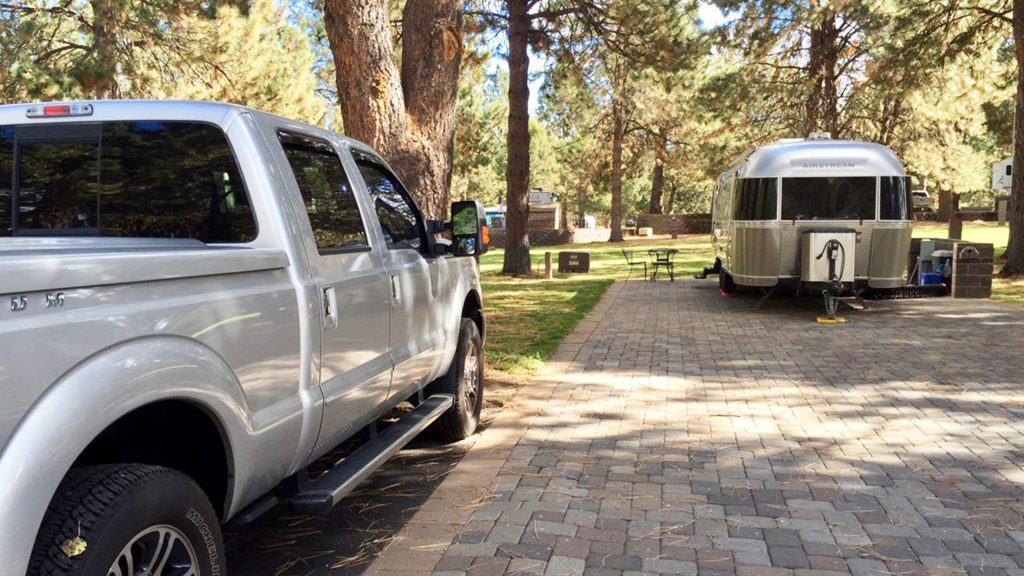 Whether they are camping in the remote parts of the country, sightseeing in big cities or cheering on their favorite team, Bob and Becky seek adventure at every turn.
"Camping is kind of like golf," Bob said. "It's never the same. Every time you go out it's always different."
Adventuring together is what keeps them going – that and the anticipation of the latest upgrades.
"I'm not sure, but it's very possible we will get a new Interstate in 2020," Bob said.
After 36 years in radio, Becky can't get Bob to commit to producing a regular podcast while they are on the road but they do broadcast when Bob feels like getting back on the air. You can follow their adventures at JuneBugJourneys.com, on Instagram @JuneBugJourneys, and on Twitter at @bobkevoian and @BobsFunGirl. They also have a June Bug Journeys Facebook page.