Haphazardly tossing your jacket on the couch means you have no place to sit later. No good place to hang your towel means it's still wet tomorrow, without a linen closet to retrieve another one. Forgoing cleaning the dishes after dinner means there's nowhere to cook breakfast. Spending time searching for your charger means less time enjoying the outdoors.
Living comfortably with little stress in your Airstream Travel Trailer or Touring Coach requires a thoughtful system for storing and organizing things and keeping up with maintaining your space.
Check out these five RV organization hacks for staying organized in your Airstream: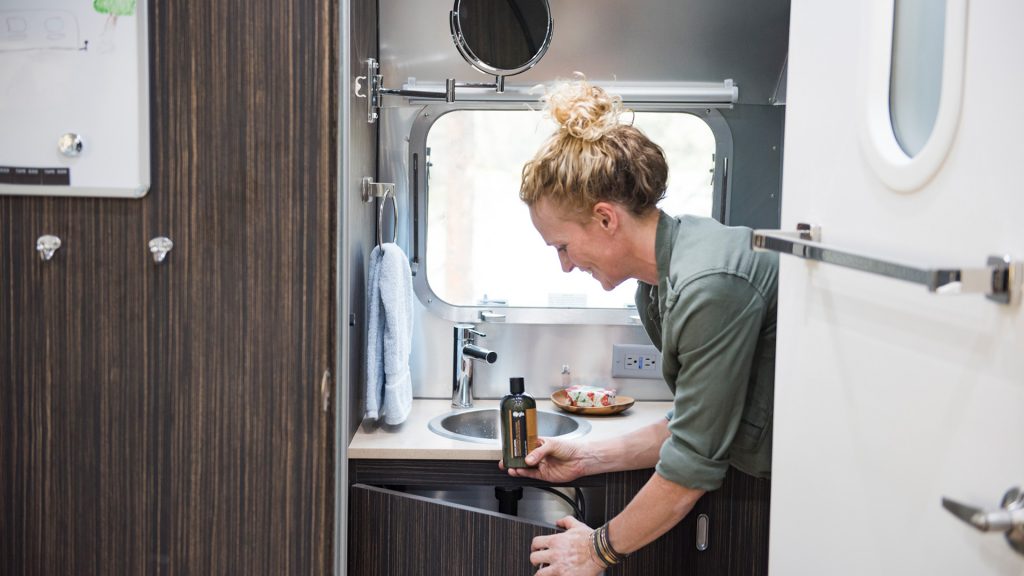 Tip #1: Use a gadget when you can
When you're tight on space, making sure everything has its place is important, and challenging when there's less room to work with. With a few creative additions to your Airstream, you can create a home for all your important gear and tools. Check out the Home & Decor items on Airstream Supply Company to make your space warm and inviting. 
Pullout drawers can be added under tables to store remote controls, chargers and other necessities.

Under cabinet mounts for paper plates and cutting boards keep your counters clear.

Special closet hanger expanders fold up and condense clothing items and expand when open.

Square airtight containers are important for dried food, saving space and keeping food fresh.

Hanging baskets or 'hammocks' for fresh vegetables and fruit and banana hooks keep produce at its best and off the counters.

Collapsible bowls, folding teakettles and nesting dishes maximize limited space.

Magnetic tape inside cabinets for tweezers, nail clippers and hair barrettes help keep track of small necessities.

Dish cradles make the best use of vertical space in kitchen cabinets.

Tackle boxes can organize batteries, screws and nails, rubber bands, paper clips, zip ties, super glue and other useful items.

Hooks added throughout your space for keys, towels and wet gear and regularly worn clothing keep items handy.
When important items have designated places they stay organized, get used and put away and are easy to track down when you need them.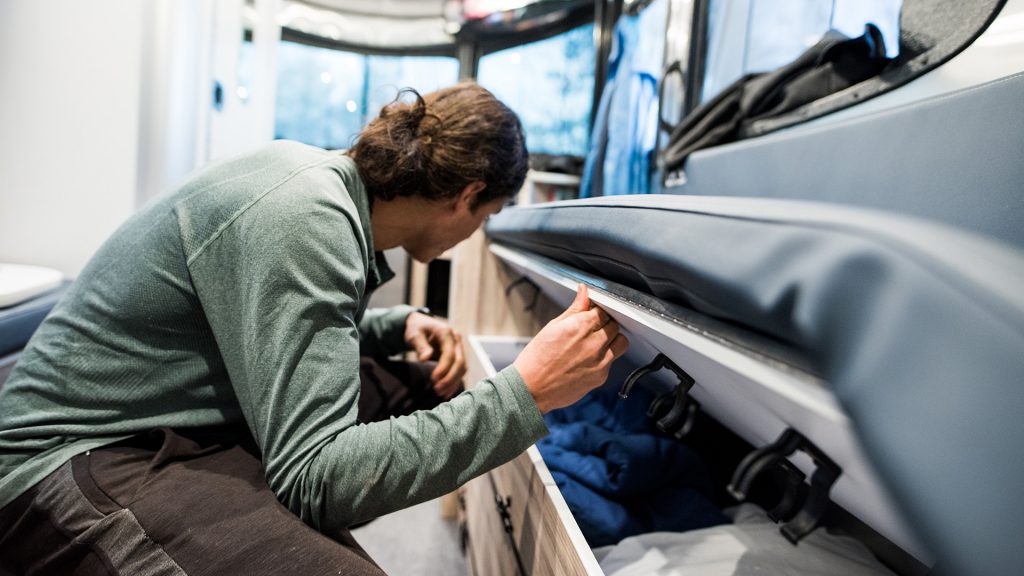 Tip #2: A place for everything
When it comes to stowing your extreme sport gear, weatherproof clothing, outdoor adventure equipment and campfire lounge chairs – Airstreams have you covered, from the Basecamp to the Classic. Designed with storage in mind, Airstreams have overhead cabinetry and exterior compartments to make finding a place for your belongings and keeping things simply organized.  

Tip #3: Inventory your space
When things are tidy and tucked away it's easy to forget what you have and even easier for things to accumulate.
As a full-time Airstreamer, seasonally cleaning your tiny home on wheels is important, just as it would be with a traditional home. Sorting and organizing drawers, decluttering closets and evaluating items that may have exhausted their useful life can't be overlooked. If you're a weekend road warrior, taking trips as your schedule allows, inventorying your stock of your trailer contents before each trip will not only insure you have everything you need, but will make certain you're not stowing items you no longer need.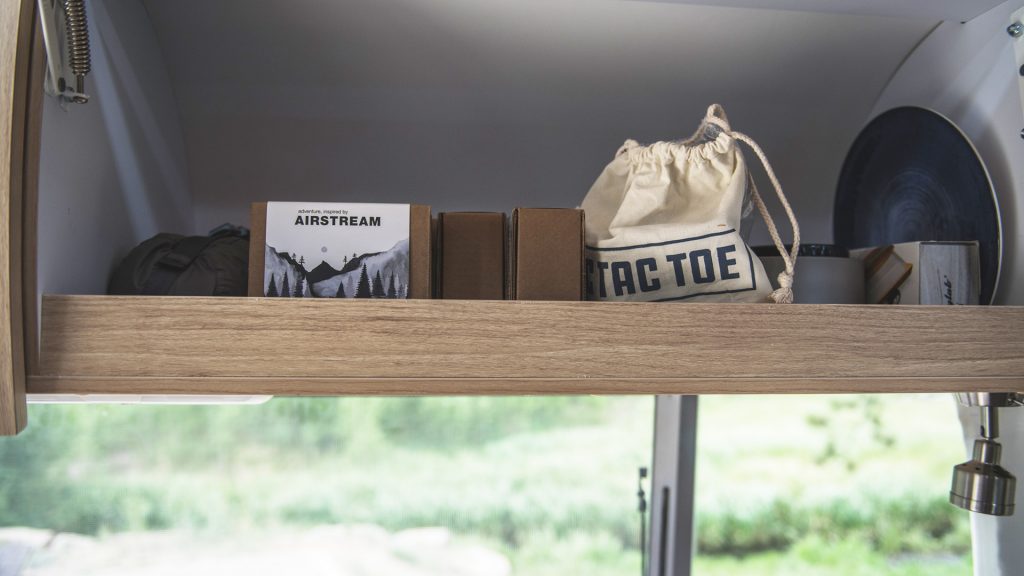 Tip #4: One in – one out rule
Most minimalist gurus and organizing professionals will tell you to adopt the one in, one out rule. Meaning if you purchase a new pairing knife, it's time to get rid of the old one.  When you upgrade your folding chairs, the former ones need retired. A new souvenir sweatshirt means a trip to Goodwill to donate the worn out college one you've been holding onto for too long.
Making space in your trailer keeps your space organized and without the clutter created by things, you're freeier and lighter and ready to enjoy all nature has to offer.

Tip #5: Tidy each day
Adventure seeking in your Airstream means you are constantly on the go.
With all the activity required to get from one expedition to the next. To set up and tear down camp. And to enjoy all your destination has to offer. It can be tempting to forgo daily clean up routines in favor of putting your feet up around the campfire.
A simple practice of cleaning up after meal prep or putting away gear after an outing will give you the springboard to launch into the next opportunity with a clean pallet. You'll know exactly where everything is and have a fresh start for the day's itinerary.
When you have a system for storing and maintaining your belongings it's easy to care for your things, find them when you need them and stay organized. Keeping your RV organized keeps stress at bay and makes your adventures an opportunity to create memories and savor experiences without having to worry about your stuff.
Follow the RV organization tips and travel tips laid out above and travel will be much more enjoyable. 
For more information about Airstream Travel Trailers or Touring Coaches, check out the links below: