One of the reason thousands of RVers choose a Sprinter Van Class B RV like an Airstream Touring Coach is because they're small enough to easily maneuver and fit into virtually any campsite. But that doesn't mean you have to sacrifice storage space or skip out on bringing your favorite things along with you. 
Airstream Touring Coaches include some of the most thoughtful, spacious, and efficient storage in the RV industry, and we're here to help you understand the best places for your items in each area – including links to buy anything you need from Airstream Supply Company, a curated online store featuring only brands we know, use, and love. 
Kitchen essentials and storage solutions
Each Airstream Touring Coach upper cabinet is made of extruded aluminum and lightweight wood, with slow-close hinges that won't fly open. Lower cabinets feature pull-out drawers and plenty of space for larger items. And you might be surprised at how much room you have in your onboard refrigerator. So let's go area by area and list out what to bring along and where to put it.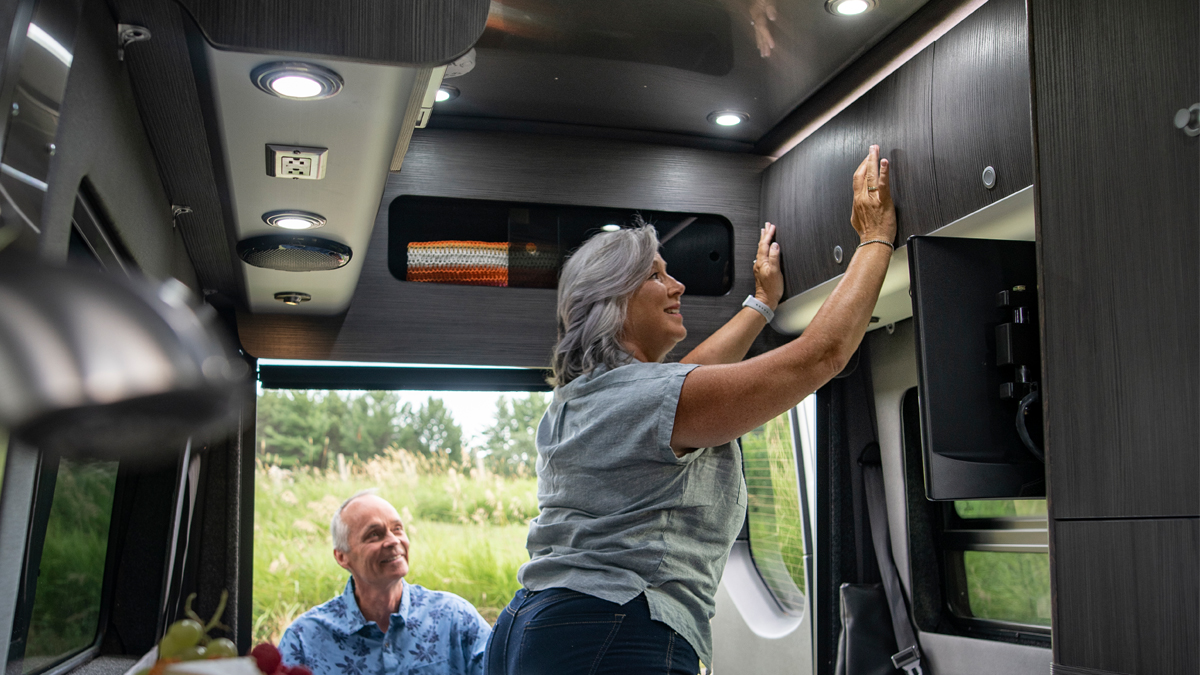 In upper cabinets:
Dry goods (cereal, oatmeal, rice, pasta, bread, crackers, snacks)

Canned goods (beans, sauces, veggies, soups, broths)

Pet food

Dishes

and

drink ware
Pro Tip:
Take bagged and boxed items like cereal and crackers out of their box (but leave the bag intact). Not only does this save space, but you also can better see what you have and how much is left.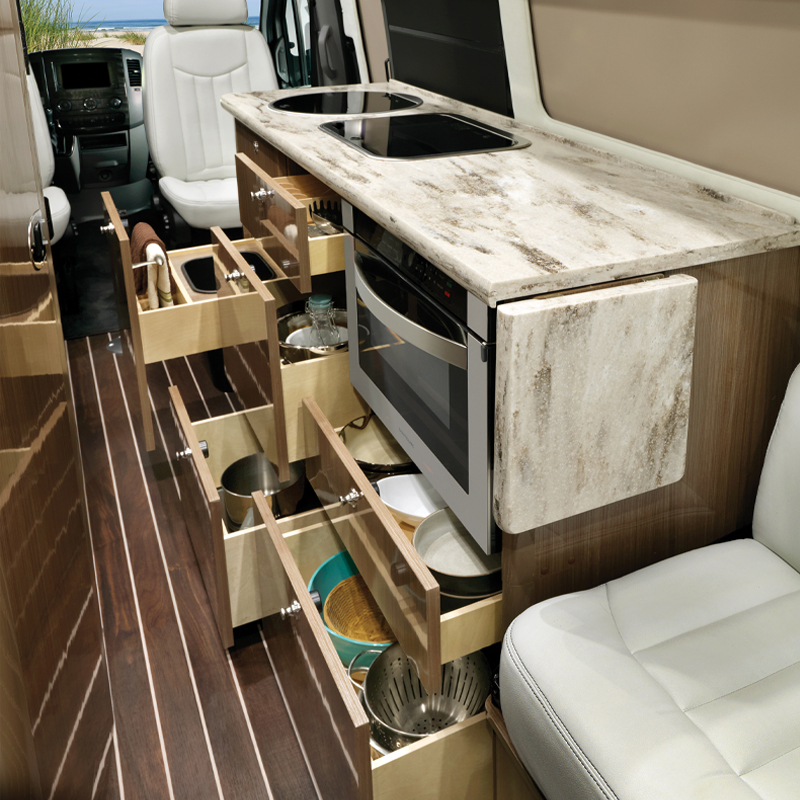 Cabinets and drawers in an Airstream Touring Coach
In the lower cabinets: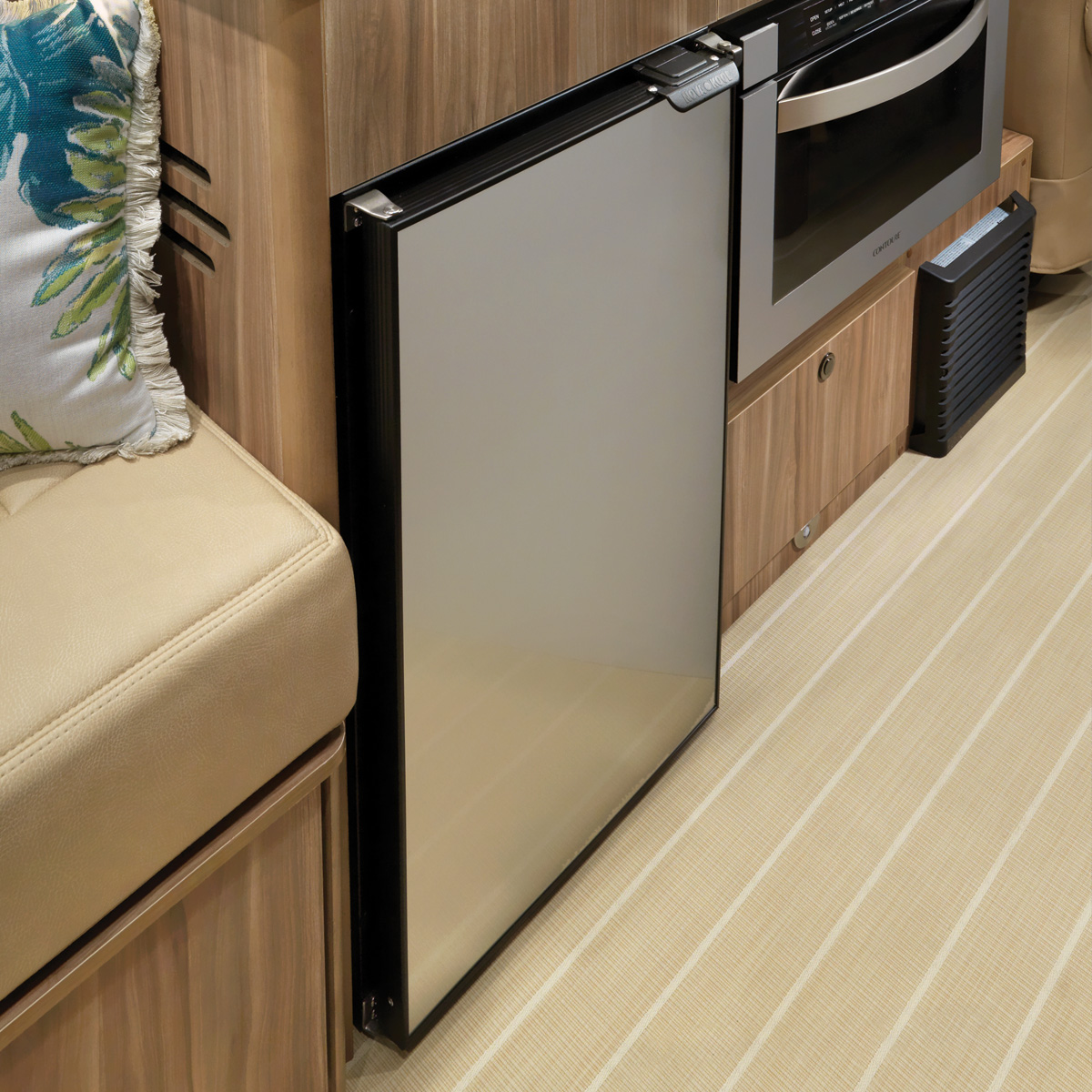 In the fridge:
Fresh produce

Dairy

Beverages

Extra drinking water 
Pro Tip:
Fill insulated bottles with drinking water at the temperature you like and they can keep it that way for hours or days without the help of a refrigerator. That means more available space in your onboard fridge. 
Looking to keep it all neat and tidy? Try out Airstream Storage Solutions. You can buy multiple bins and containers as a bundle, or choose just what you need a la carte.
Bathroom items
Built into the wall of each Airstream Touring Coach is a body wash, shampoo, and conditioner dispenser. That means no dragging bottles in and out of the shower, and no risk of tipping them over while you're inside.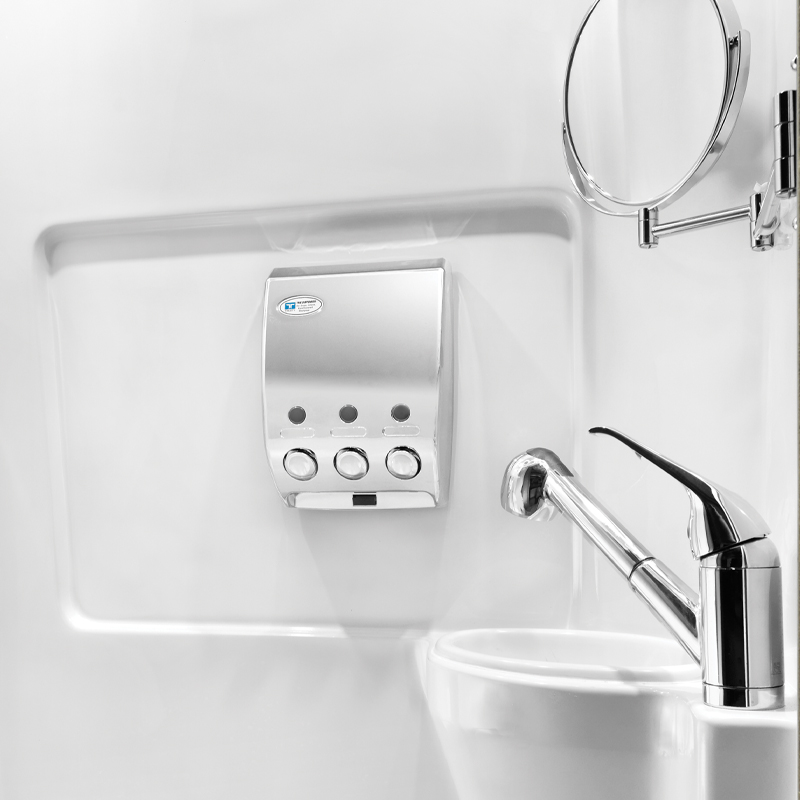 So what else do you need for the bathroom? We recommend making a small kit you can store in a drawer or cabinet and bring it into the bathroom when you need it. 
Inside your bathroom kit:
Toothbrush and travel-size toothpaste

Makeup

Skincare

Haircare and brush/comb

Bath loofa or washcloth

Razor and shaving items

Deodorant
Looking for the perfect base for your kit? Start with an Airstream Lavvy Storage Bundle.
Pro Tip:
Drill small holes in a basket like this one and use it as a shower/bathroom caddy. The holes allow for drainage and the handle makes it an easy carry.
Clothes and shoes
Inside your Airstream Touring Coach you'll find a hanging closet with a ribbed hanging bar. This keeps your hangers and clothes from sliding around while you're in motion on the road and makes it easy to keep your clothes organized.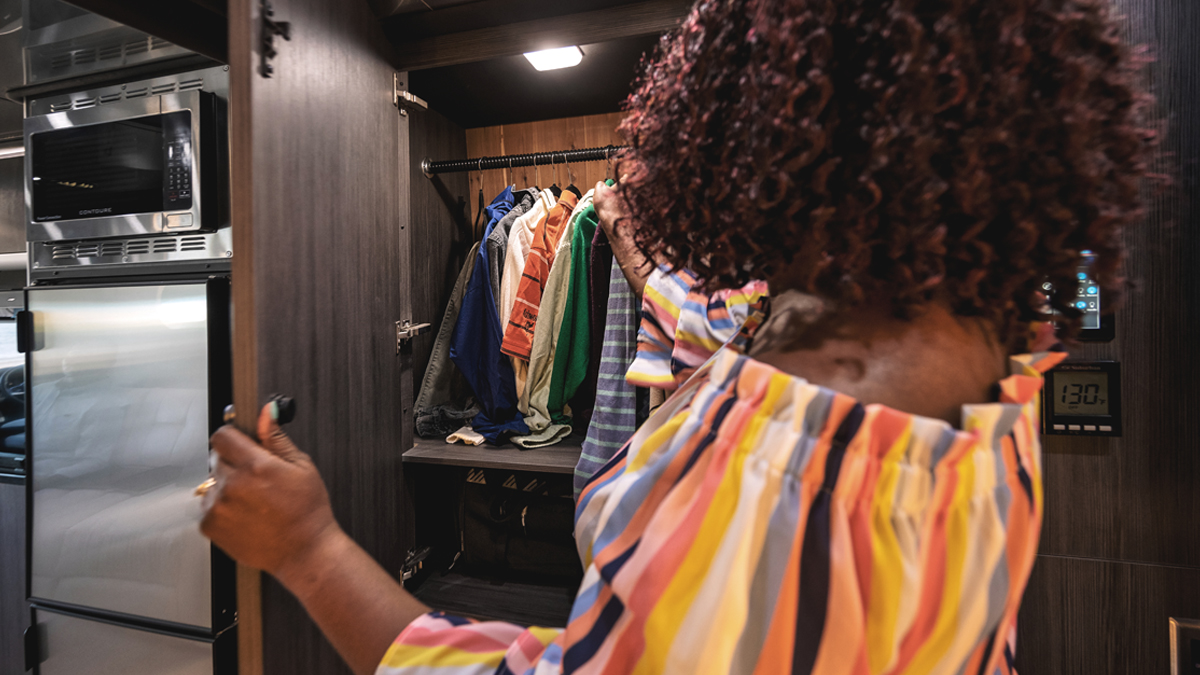 Store your shoes in the closet, or in another storage cubby inside the coach. There's no shame in getting creative and finding the best space to fit a particular item.
Pro Tip:
Hang tank tops and button downs on the same hanger. It saves hanger/closet space and gives you readymade outfits to pull out and put right on.
Bags, furniture, and fun gear
Open up the back doors of your Airstream Touring Coach and you'll find a huge "trunk" of storage. You can fit several suitcases and/or duffle bags, as well as golf clubs, climbing packs, and more.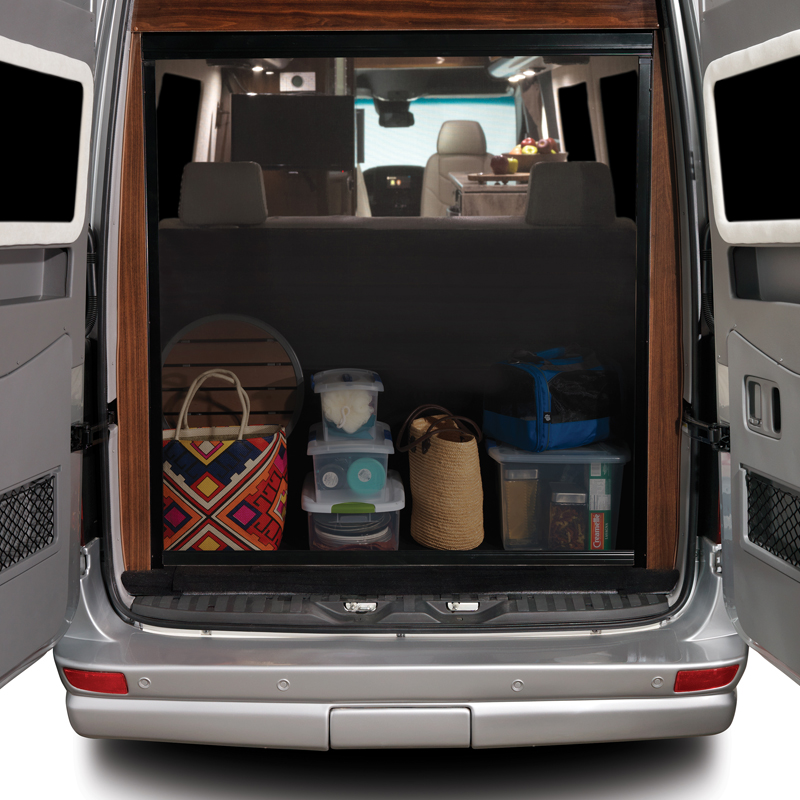 You can also mount a bicycle rack on the back of your Sprinter Van, or if you're an owner of the Intestate 24X, you can use the built-in racking system with a quick-release latch.
Pro Tip:
Before you put your bikes and hiking gear back into your Airstream, rinse them off outside using the exterior shower that comes standard on the driver's side of your Touring Coach.
Sleeping supplies
You know best what helps you feel the most comfy when it's time to hit the hay, but we've listed the essentials to get you started. Airstream Touring Coaches feature convertible lounge-to-bed spaces with storage cubbies strategically placed nearby for remotes, phones, tablets, essential oils, night creams, and more.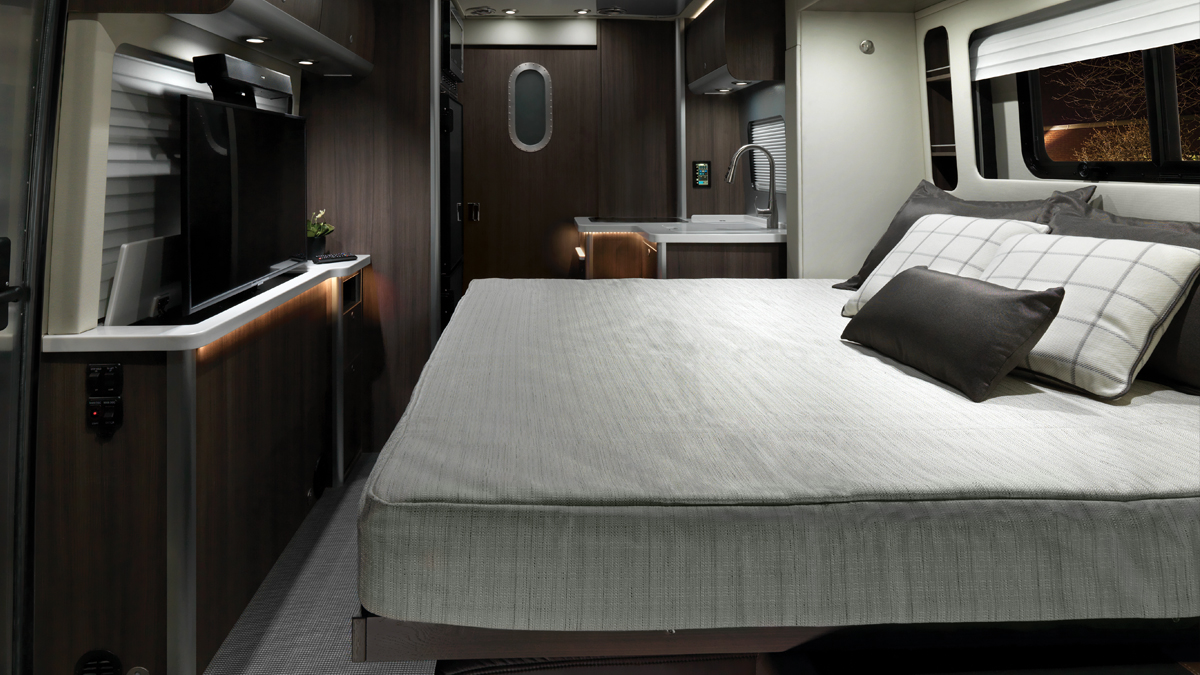 Sleeping pillows

Favorite blankets

Books to read (paperback are more bendable and easier to store, or better yet, bring a digital device!)
Pro Tip:
Leave the reading light at home. Airstream Touring Coaches have built-in reading lights thoughtfully positioned near where your head will be. 
Exterior essentials and emergency supplies
Airstream Touring Coaches feature exterior storage compartments in a variety of sizes and locations – all accessible from the outside of the coach. These compartments are perfect for items you'll use on the exterior of the coach, as well as any gear you don't want to store inside the coach.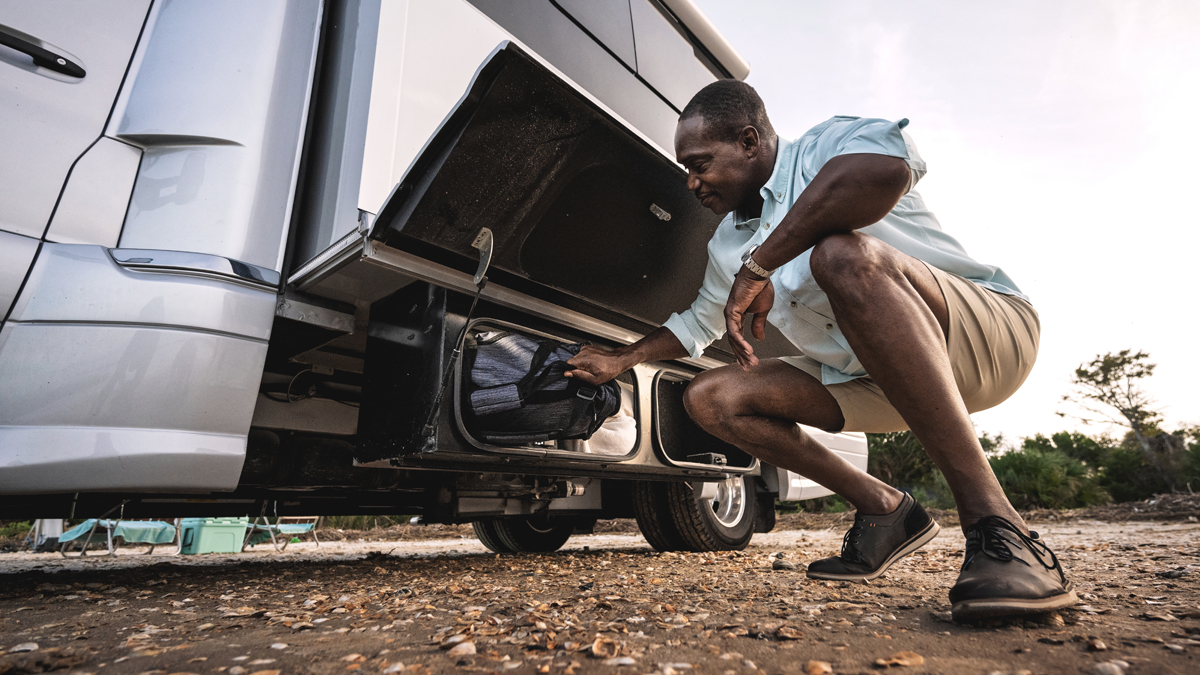 Basics to store in exterior compartments:
Flashlight/

headlamp

Emergency roadside kit
Looking for more packing and trip planning content? Check out these posts.
The RV Kitchen Essential Checklist
Driving a Sprinter Van: Pre-Trip Inspection
Understanding and Emptying Your RV Holding Tanks
Does your Airstream need service before you hit the road? Have a question you need answered?
The best place to start for service and specific questions about your exact RV is your Airstream dealer. They'll be happy to help.