Explore the guide to find some of the best February 2020 camping across the United States, as recommended by fellow Airstreamers through Campendium.
Northwest
Mammoth Campground
Yellowstone National Park
Wyoming

Visiting a National Park in the off-season offers many benefits, including fewer people and cars. Of course, there are downsides to a winter sojourn, including limited access to park facilities. For example, Mammoth is Yellowstone's only year-round campground. Situated five miles south of Gardiner, Montana, and the park's North Entrance, Mammoth is set in a high sagebrush steppe dotted with juniper and Douglas fir trees. The campground is close to fishing, hiking, and the Mammoth Hot Springs Terraces. The wildlife viewing is spectacular with elk and bison occasionally passing through the campground. Airstreamers Zamia Ventures enjoyed their time here. "Mammoth is an outstanding base to explore the northeastern portion Yellowstone, including the Lamar Valley. The relative absence of trees made it easy for us to rely exclusively on solar power throughout our visit. Mammoth is a first-come, first-served campground but with one of the most organized check-in procedures we've ever encountered." Mammoth has 85 gravel sites. There are no hook-ups or dump stations. The campground offers a potable water source and flush toilets, but no showers.
Click here for more information about Mammoth Campground at Yellowstone National Park
Hoh Campground
Olympic National Park
Forks, WA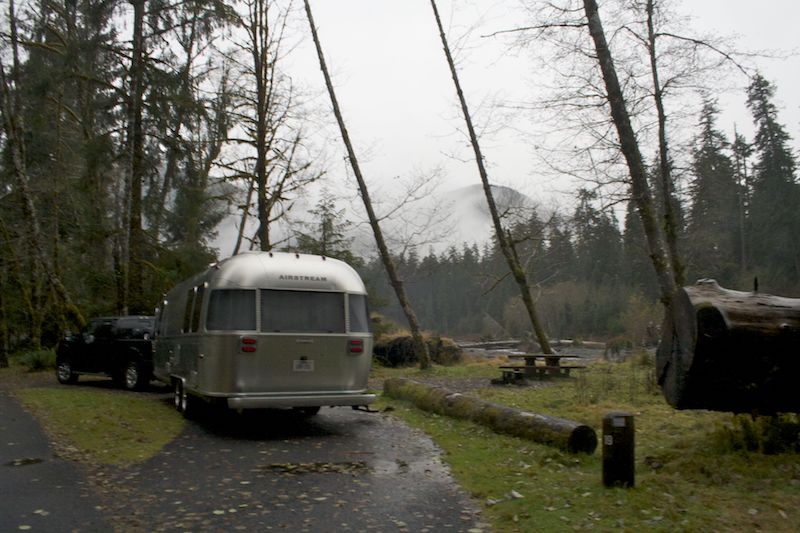 At first glance, Hoh isn't exactly the ideal winter getaway spot. In fact, it's sort of the antithesis of the snowbird's dream destination. But, wow, is it beautiful! The campground sits in the Hoh Rain Forest, where mild winters, cool summers, and up to 12 feet (!) of annual rain nurture the giant conifers that dominate this temperate rainforest. Bigleaf maple and vine maple host an abundance of epiphytes (plants that grow on other plants), giving the rain forest a rich, deep ethereal quality. Mosses and ferns compete for space on the forest floor; their growth controlled by grazing elk. The forest has five trails, ranging from 0.1 miles to 17 miles, that allow visitors to steep in this natural wonder. Airstreamers Fables and Trails remind would-be visitors that Hoh remains pristine in part because it is so far off the human path. "Camping under the dense drapery really makes you think about what the forest was like before it was untouched by man. Hoh is extremely remote, so be sure to stock up on absolutely everything before you venture off the 101 - there is no gas, grocery, or propane within a 3hr round trip drive once you get to the campground." Hoh Campground has 88 sites, a potable water source, restrooms, animal-proof food storage lockers, and a dump station.
Click here for more information about Hoh Campground at Olympic National Park
Olde Stone Village RV Park
Mcminnville, OR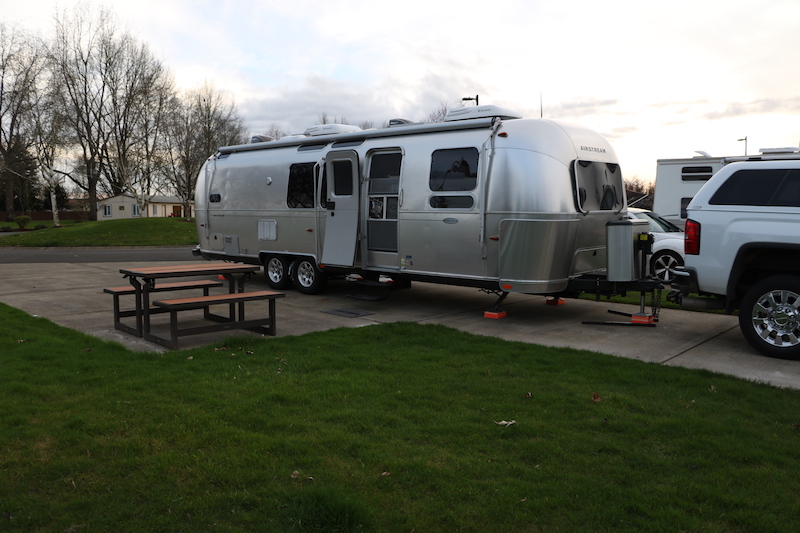 If your winter wandering takes you through Oregon, consider a stop in Mcminnville, a small town with a little something for everyone. Old Stone Village RV Park is the perfect place to park for a day or two of local adventuring in this western Oregon locale. Mcminnville's two biggest attractions are a museum and a casino. The sprawling Evergreen Aviation and Space Museum is best known as the final home of Howard Hughes' gigantic wooden aircraft, "The Spruce Goose." Once the family is full-up on aviation history, head next door to the year-round indoor water park and let 'em run wild. For adult-time, check out the Spirit Mountain Casino, which offers the full range of gaming options from slots machines to table games to live poker. Old Stone Village RV Park is located near the museum in an upscale modular home community. There are 71 paved sites, including 33 pull-through. Amenities include full hook-ups, free WiFi and cable TV, showers and restrooms, a clubhouse, sports courts and paved roads. Airstreamers Big Big Trippers were pleased with the park. "The facilities were very clean, and the staff was friendly. Spaces were all concrete pads with small strips of grass between the sites. Hook-ups were in great condition and well situated. WiFi was very strong for a campground during off-peak times."
Click here for more information about Olde Stone Village RV Park
Pacific Beach State Park
Moclips, WA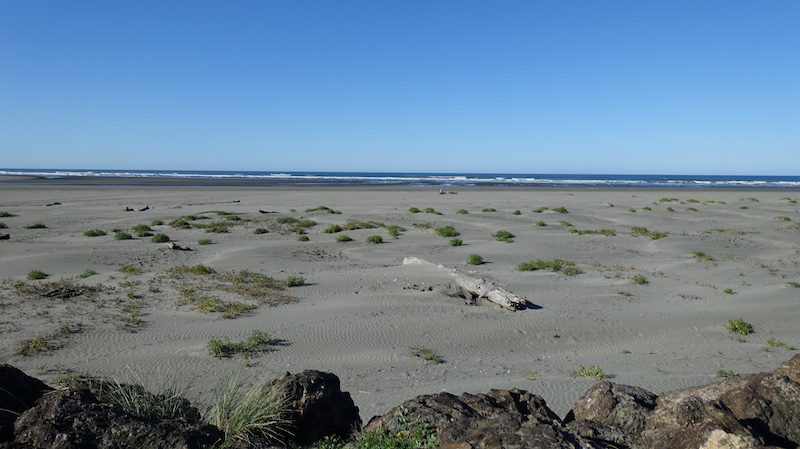 This seaside campground is the perfect spot to re-charge your travel batteries during a run up the stunning Oregon coast. Use the park's 2,300 feet of shoreline to stretch out and relax. Let the dog run, fly that kite you shoved in the back of the wardrobe. End the day with a fire on the beach – yep, that's allowed – as you watch the stars arrive to the thunderous applause of the ocean waves. If you have time, consider a jaunt over to the Quinault Rain Forest section of Olympic National Park, which is just 35 minutes from Pacific Beach. Airstreamers Fables and Trails loved everything about Pacific Beach. "You're camping right on the beach, sites are angled the correct direction for most Airstream windows, with unobstructed views, and yet you're close to town for groceries/gas/propane." This pocket-sized campground (17 acres) has 41 back-in RV sites with electric-only hook-ups, 26 of which are on the water. There is a potable water source and a dump station.
Click here for more information about Pacific Beach State Park
The Point RV Park
Emigrant Lake Recreation Area
Ashland, OR
This county campground is a popular getaway destination for residents of nearby Ashland. Emigrant Lake encompasses 1,467 acres and 12 miles of lake frontage. The bass, crappie and trout fishing are top-notch, and there's a bit of hiking to be done. Ashland, perhaps best known as home to the world-famous Oregon Shakespeare Festival, is a cultural hot spot brimming with award-winning galleries, theaters and restaurants. Airstreamers Adventures of Dave and Ann say The Point is a bargain. "Full hookups for $30 overlooking a nice lake with some mountains in the background and only 15 minutes to a cool small town is darn good." The Point RV Park has 32 sites with full hookups, overlooking the shoreline on the lake's north end. Each site offers water, 50-amp electrical service, sewer, and a 14' x 50' pad to accommodate larger RV's. Amenities include restrooms and showers.
Click here for more information about The Point RV Park at Emigrant Lake Recreation Area
---
Southwest
Devil's Garden Campground
Arches National Park
Moab, UT
Pop quiz: How many campgrounds are located within wildly popular Arches National Park? One. Yep, Devil's Garden is the only place to camp inside this crown jewel of the park system. Located 18 miles from the park entrance, Devil's Garden is the ideal home base for your exploration of Arches. Of course, snagging a spot can be a challenge even in winter. Arches accepts reservations for Devil's Garden March through October, during which time the campground is booked solid months in advance. November through February, spots are first-come, first-served; and there are still a lot of people who want to be served. Airstreamers spamcanPDX were amazed by the surroundings at Devil's Garden. "Site was fabulous. There were rock formations in our campsite! Kids were blown away. Short walk to one of the large arches. We were ecstatic. Really, we've never been anywhere like this, and it was quite beautiful and alien all at the same time." Devil's Garden has 51 paved sites. There are no hook-ups and only a limited supply of potable water, so meet the Devil fully loaded.
Click here for more information about Devil's Garden Campground at Arches National Park
Casino Arizona Parking Lot
Scottsdale, AZ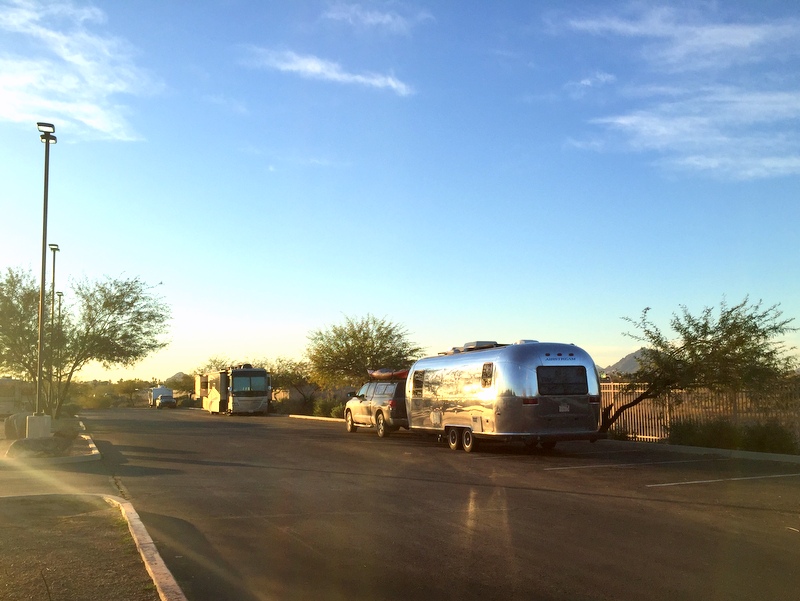 OK, this "campground" may not rival the splendor of the great National Parks, but can you play the slots just steps from your Airstream in Joshua Tree? No, you cannot. The Casino Arizona is a great place to spend a night or two when visiting Scottsdale or next-door Phoenix. While Scottsdale is perhaps best known for its luxury spas and pristine golf courses, the town also offers plenty of opportunities for outdoor exploration and cultural experience. Hike up Camelback Mountain or check out the distinctive red sandstone formations and giant saguaro cacti at Papago Park. The Western Spirit museum illuminates the history and culture of the 19 western states while Taliesin West, Frank Lloyd Wright's winter home, wows with its mid-century beauty. Airstreamers WatsonsWander say they rolled a seven at Casino Arizona. "This is a great alternative if you want to be in the city for a few nights, but not deal with the hassle or expense of an RV park. The RV parking area is at the back of the casino away from the interstate and main parking lot. That means very little traffic, and aside from the diesel bus that idled for most of the night, it was surprisingly quiet."
Click here for more information about Casino Arizona Parking Lot
San Lorenzo Canyon Recreation Area
Grand Enchantment Trail
Lemitar, NM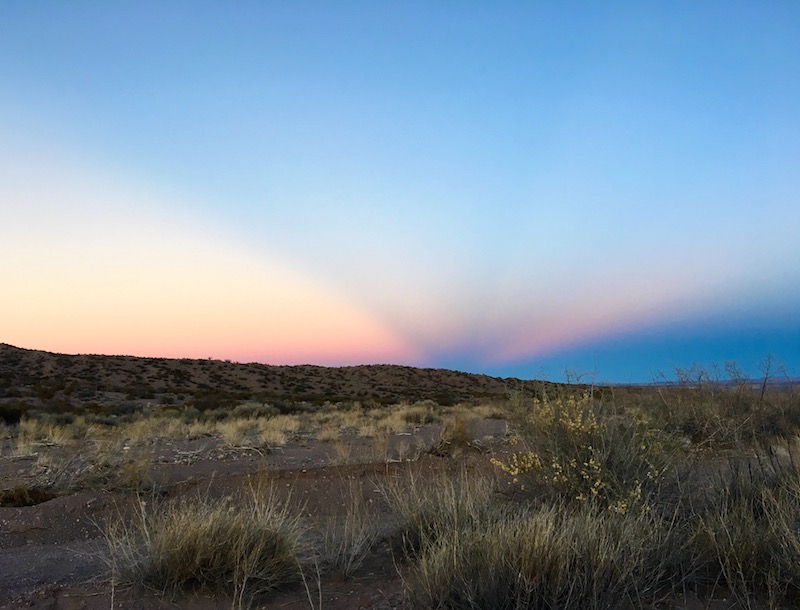 This BLM dry campground sits on the Grand Enchantment Trail, which spans 770 miles from the Sonoran Desert near Phoenix to the edge of Albuquerque, New Mexico. The GET, which was stitched together from existing trails, dirt roads, and cross-country hiking routes, reveals some of the region's most dramatic landscapes. San Lorenzo would provide the perfect backdrop for an old TV western; for the scene where the good guys and bad guys shoot it out while clambering across a rocky desert canyon. (How did they do that in cowboy boots?) Look carefully around the campground, and you'll even see the remains of Wild West era ranches and homesteads. The area's sandstone cliffs, arches and hoodoos are magnificent, but the natural wonder doesn't end there. San Lorenzo is located on the edge of the sprawling Sevilleta National Wildlife Refuge, which encompasses several eco-systems and shelters thousands of animal and plant species. Needless to say, the hiking there is pretty, pretty good. Airstreamers Wayfaringyogi say the occasional rough drive to San Lorenzo paid off nicely. "There were no official campsites, no hookups and no facilities, but plenty of places to pull off along the dirt road and find a generous patch of level land. The reward? Complete darkness and quietude. We walked to San Lorenzo Canyon, which is definitely worth seeing, gorgeous views and stunning landscape."
Click here for more information about San Lorenzo Canyon Recreation Area
Hole in the Wall Campground
Mojave National Preserve
Cima, CA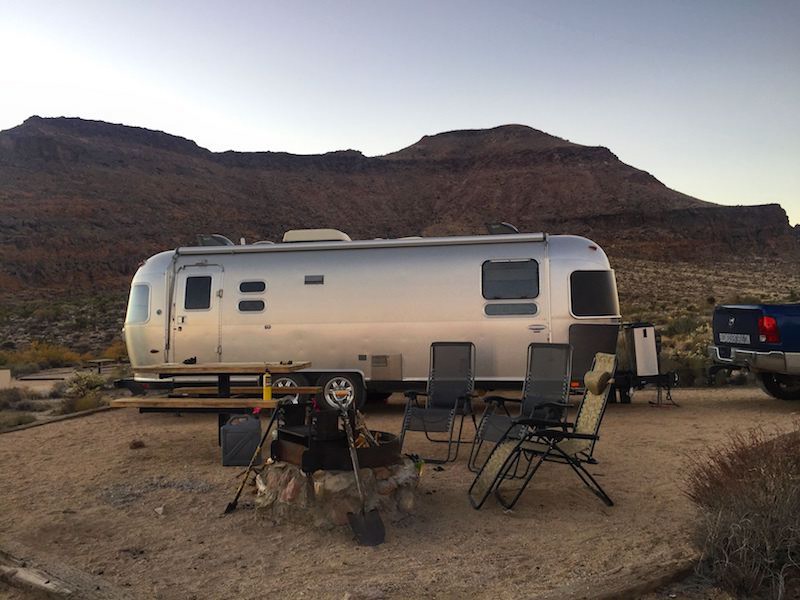 Hole in the Wall is situated at the coordinates usually referred to as "the middle of nowhere." And that's a beautiful thing if you love nature and quiet. This primitive campground is one of two in the 1.6 million-acre Mojave National Preserve, which offers visitors sweeping views, solitude, jet-black night skies, and nearly 700,000 acres of designated wilderness. While there are few established hiking trails in the preserve, abandoned dirt roads, washes, and ridges provide endless cross-country hiking and backpacking opportunities. The average high temperature in the Mojave Desert during February is 69 degrees. During the summer, that number soars into the 100's. Airstreamers Fables and Trails loved the sound of silence at this campground. "We had a lovely (and cold) week of camping in the middle of the Mojave. Possibly one of the quietest places we've ever camped - you could hear a pin drop outside it was so quiet." Hole in the Wall has 35 sites. There are no hook-ups, but a water source is available. Amenities include pit toilets, picnic tables and fire rings.  Be sure to top-off and stock-up before heading to Hole in the Wall. The closest town is 45 minutes away.
Click here for more information about Hole in the Wall Campground at the Mojave National Preserve
Anaheim RV Park
Anaheim, CA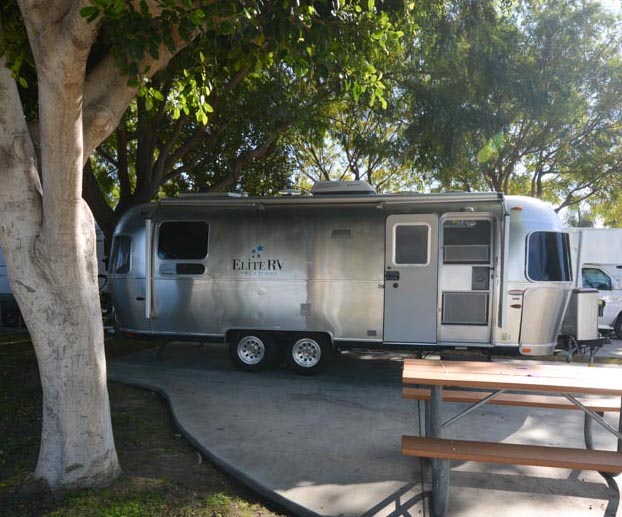 The only wildlife visible from this campground is Mickey Mouse and his anthropomorphic pals. Anaheim RV Park's location just off I-5 and one mile from Disneyland makes it a great location for exploring many SoCal attractions, including the Disney properties, Knott's Berry Farm and everything nearby Los Angeles has to offer. Feeling overwhelmed? The park staff can arrange numerous day tours. When you're done exploring, you will return to the lap of luxury. Anaheim RV's amenities include full hook-ups, WIFI, digital TV, heated swimming pool, hot water spa, a dog walk, and a clubhouse with a coffee bar and TV viewing area. Airstreamers HereForTheBeer say Anaheim RV Park was perfect for their purposes. "Probably one of the most professional operations we've encountered at an RV park. Fully staffed, all day, maintenance included. They have an on-site shuttle to Disneyland, but we just rode our bikes, it's only a short mile or so away. If you're going to hit Disney in your RV, this is the place to stay."  Anaheim RV has 150 spots, including several pull-throughs designed to accommodate the largest models.
Click here for more information about Anaheim RV Park
---
Northeast
Delaware Water Gap KOA
East Stroudsburg, PA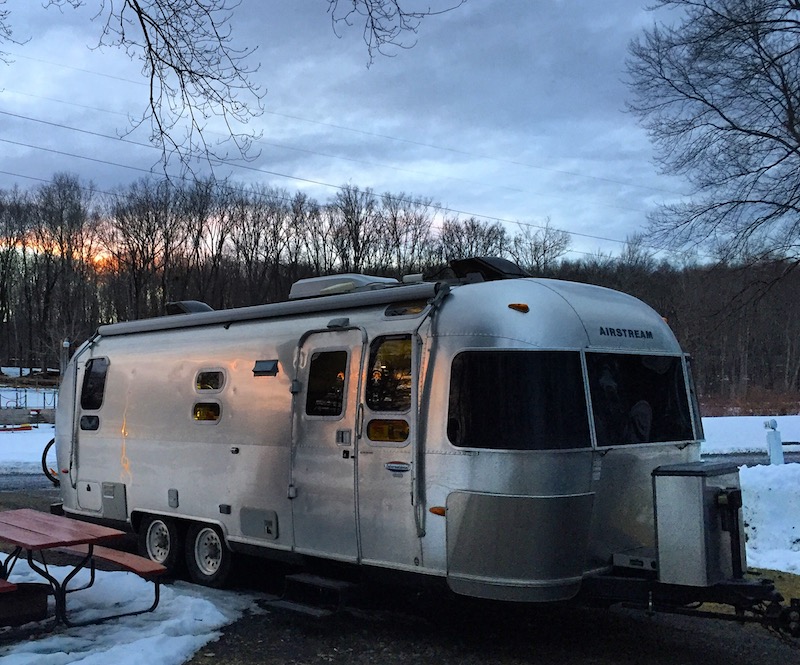 It can be challenging for winter wanderers to find an open campground in the Northeast. So, put in a map pin on this KOA situated in Pocono Mountains ski country. This area is rich with outdoor adventure options. The Delaware Water Gap National Recreation Area has roughly 40 hiking trails. The absence of leaves allows winter hikers and bikers to enjoy the new vistas along trails and glimpse stone walls, foundations and other reminders of long-ago residents. The Shawnee Mountain Ski Area is located just half a mile down the road from the campground. Delaware Water Gap also puts you within two hours of Hershey PA, Philadelphia and New York City. Airstreamers Adventures of Dave and Ann found this KOA very serviceable. "We just needed a place to park, plug-in and dump, but this was a nice park with a big playground and typical KOA amenities. They had our reservation posted and waiting for us despite the office being closed for the winter. Got the job done." Delaware Water Gap KOA has 194 sites, including pull-throughs up to 85' long and deluxe "patio sites" with full hook-ups. Note that water is turned off in the winter but is available at the bathhouse. Amenities include cable TV, a pet playground, a camp store that sells propane, and two dump stations.
Click here for more information about Delaware Water Gap KOA
---
Southeast
Tallulah Gorge State Park
Tallulah Falls, GA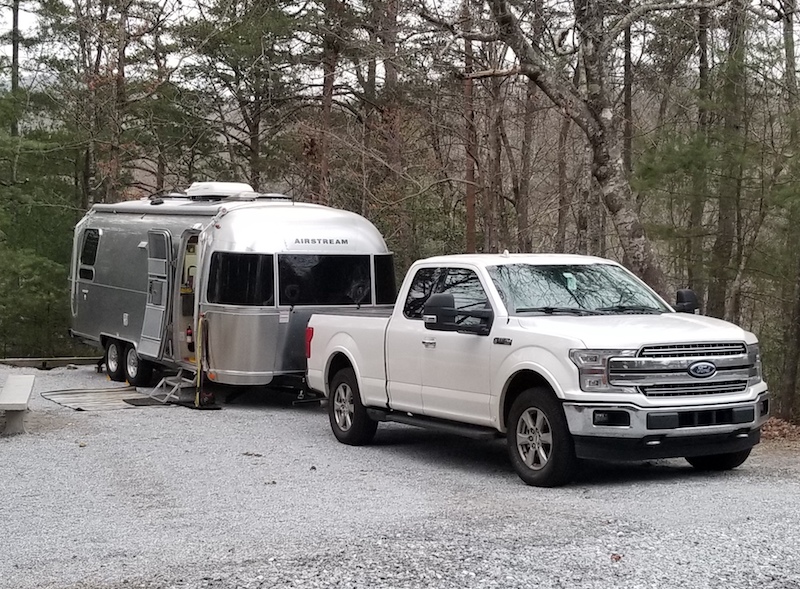 Simply put, this is one of the more stunning outdoor locations in the Eastern U.S. Hollywood movie makers recognized that back in 1972, when they chose to film "Deliverance" on the rushing waters at the bottom of 1,000-foot deep Tallulah Gorge. Visitors can hike rim trails to several overlooks or obtain a permit (limited to 100 per day) to hike to the gorge floor. A suspension bridge sways 80 feet above the rocky bottom, providing spectacular views of the river and waterfalls. Tightrope walkers have twice crossed the gorge, and you can still see towers used by Karl Wallenda. A paved path follows an old railroad bed, perfect for strollers and bicycles. Mountain bikers can test their skills on a challenging 10-mile trail. The excellent visitors center explains the area's rugged terrain and varied eco-system, as well as its rich human history, which includes a brief heyday as a Victorian-era resort town. Tallulah Gorge can also serve as a base to explore some of North Georgia's other natural and historic wonders. These include the Chattahoochee National Forest, Black Rock Mountain, the gold rush town of Dahlonega, and Currahee Mountain, where U.S. paratroopers trained during World War II. Tallulah Gorge State Park has 52 RV sites with water and electric; these are a mix of back-in and pull-through. Because of its proximity to Atlanta, this campground is a popular spot, even in the winter. Consider making a reservation. Amenities include restrooms, showers, laundry, and a dump station.
Click here for more information about Tallulah Gorge State Park
Disney's Fort Wilderness Resort RV Park
Disney World
Lake Buena Vista, FL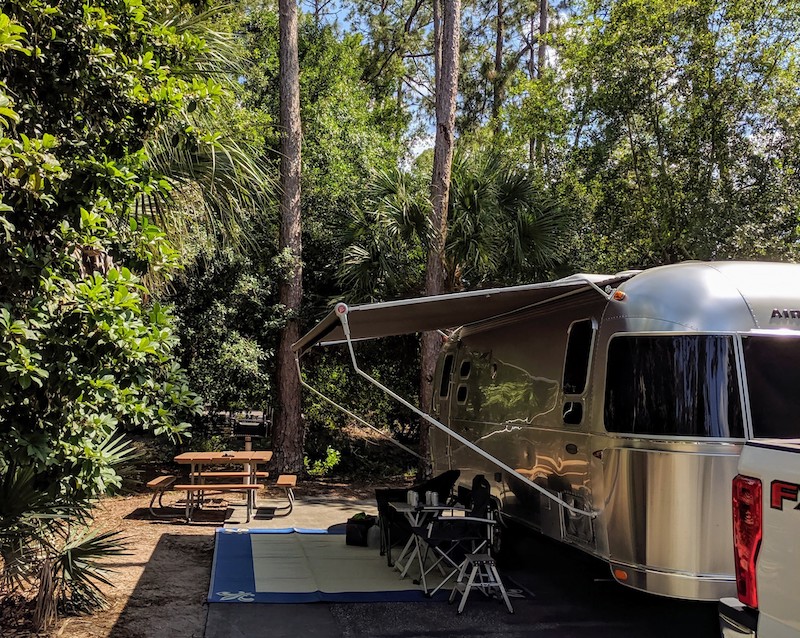 While there is no off-peak season at Disney World, there are some weeks when you are statistically less likely to be shoulder-to-shoulder with your fellow visitors. The first two weeks of February are on that list, along with the week of February 25th. So, if you (and/or your kids) are dying to see the new Star Wars: Galaxy's Edge park, consider booking some February dates at the Fort Wilderness Resort RV Park. Staying on the Disney property offers many advantages, especially for those traveling with kids. First and foremost is proximity to the various theme parks and Disney-supplied transportation to and from those parks. A short, no-driving trip back to your Airstream is a godsend at the end of a long Disney day, especially if little kids are in the mix. Resort guests also get early or extended access to the parks and can reserve FastPasses ahead of other guests. Downtime is essential to a successful Disney adventure, and Fort Wilderness is an ideal place to recharge between visits with the Mouse. The 750-acre resort features walking trails, a dog park (and kennel), and various recreational activities, including horseback riding and archery. If the weather warms up, take advantage of the pool, waterslide and spa. Airstreamers ourairstreamtrek report that Fort Wilderness put them at the center of things. "It was a no-brainer to stay here when we looked at all of the options provided by the Disney transportation system. Our site was long, wide, level and concrete. We had a good distance between our neighbors, and it was quiet. From the campground, you can take a boat to the Magic Kingdom, Contemporary Resort and Fort Wilderness Lodge. We hung out at the Fort Wilderness pools, and they were amazing with lifeguards everywhere. They also had a small food counter that served drinks. The Fort Wilderness Resort RV Park has 799 spots in five different configurations. Most have full hook-ups.
Click here for more information about the Fort Wilderness Resort RV Park at Disney World
Ashville East KOA
Swannanoa, NC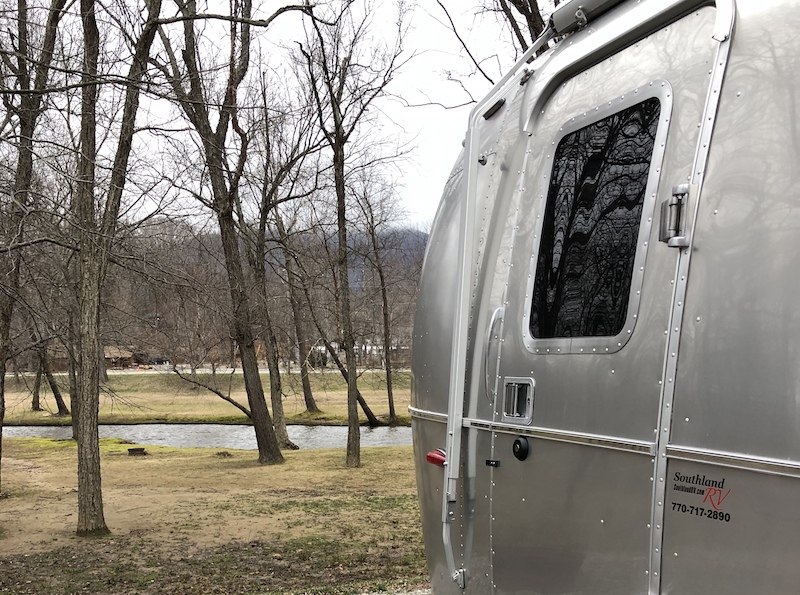 Funky Asheville, NC is a favorite getaway spot for folks across the Southeast. And no wonder. The town has everything you might need to relax – great restaurants, art galleries, historic architecture, cozy boutiques full of artsy-craftsy wares, beautiful Blue Ridge Mountains scenery – and, of course, a pinball museum. Just outside of town stands the Biltmore House, the palace-like home of George Washington Vanderbilt, build in the 1890s. For a different kind of house tour, head down the road to the Carl Sandburg Home National Historic Site. Sandburg spent 22 years on this small farm writing poetry while his wife raised champion dairy goats. The mountains surrounding Ashville are traversed by literally hundreds of hiking trails of varying difficulty and length. Mountain summits, waterfalls, wildlife – there's a trail for anything you might want to see. Asheville East KOA is just 14 minutes from downtown Asheville. The campground has 227 sites with electric, water and cable TV hook-ups. Amenities include a camp store, snack bar and dog park.
Click here for more information about Ashville East KOA
Suwannee River State Park
Live Oak, FL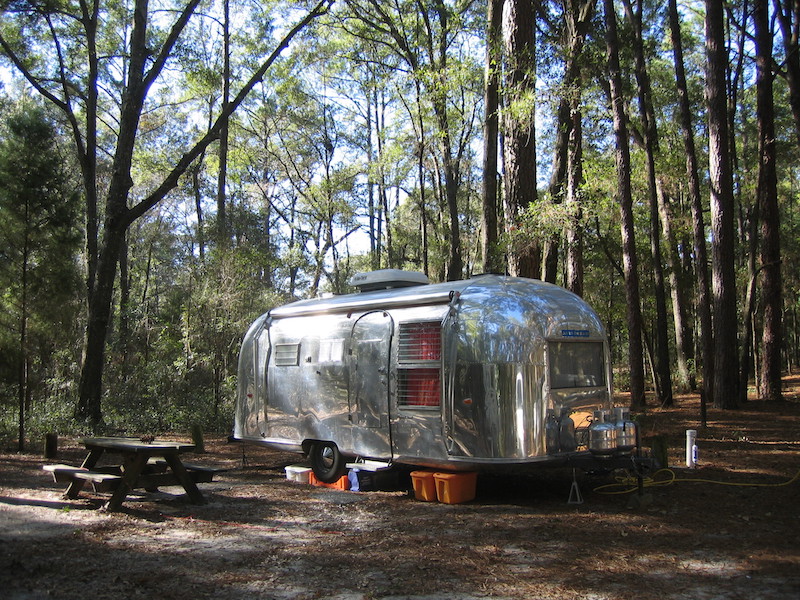 If you're wending your way across the Florida panhandle on I-10, this is a great place to stop and catch your breath for a night or two. Located at the confluence of the Suwannee and Withlacoochee rivers, the park encompasses a history-rich area. Visitors can see Civil War-era earthworks, remnants of a nineteenth-century steamship, and the ruin of two ghost towns, all of which testify to the river's one-time importance to commercial and military endeavors. Suwannee has six trails, ranging in length from under a mile to more than 12 miles, that allow hikers to explore the park's historic sites and natural beauty. The campground offers 30 oak-shaded sites with full hook-ups, picnic table and fire rings. Maximum RV length is 45 feet. Amenities include a restroom with showers and a dump station. Airstreamers The Aluminum Life had a great time during their multi-night visit to Suwannee River. "We really enjoyed our stay here. It was very quiet during the week, and around Thursday and into the weekend, it would get a lot busier. Overall it was very peaceful here. We stayed here at the end of January. The cell coverage was very good. We had no issues at all working during our stay. Amenities are 20 minutes away. There is a Publix and a laundromat on the way into town, and a Wal-Mart in town. There is a train that you hear a few times during the day and night, but it didn't bother us."
Click here for more information about Suwannee River State Park
Scarlet Pearl Casino Parking Lot
D'Iberville, MS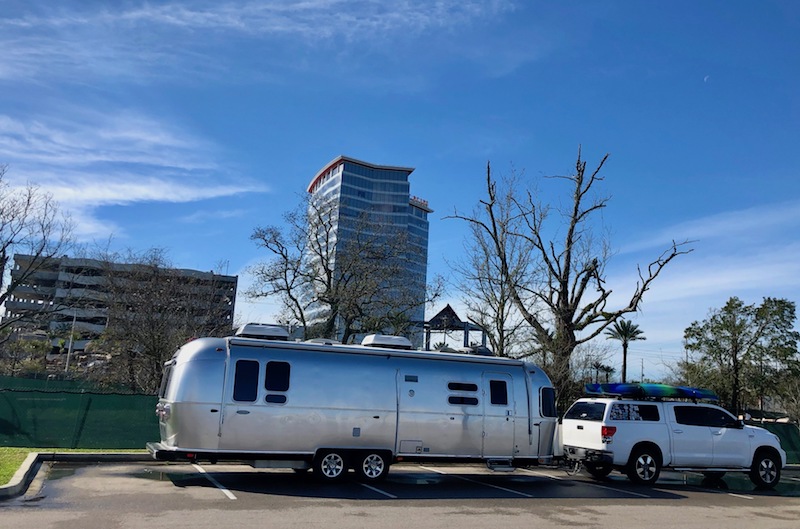 If your cruising along the Gulf Coast on I-10 and suddenly get the urge to roll dem bones or hit the slots, the Scarlet Pearl is a good place to overnight. The Biloxi, MS area has been a hotbed of casino gambling for 30 years, attracting players from across the Southeast. The Scarlet Pearl is just one of nine such operations. Airstreamer The Riveted Fox says the Scarlet Pearl was a great place to stay while he scratched his itch. "If you want to gamble in Biloxi, but don't like losing sleep in a loud, risky parking lot, then this is the spot for you. Three large lots to choose from, all are well lit with plenty of room. Just a short walk into the very upscale casino built in 2015. Great cafe for coffee or breakfast inside the lobby. We stayed for three nights and really enjoyed our time there!"
Click here for more information about the Scarlet Pearl Casino Parking Lot