Explore the guide to find some of the best August camping across the United States, as recommended by fellow Airstreamers through Campendium.
Northwest
Porto Bodega Marina & RV Park
Bodega Bay, CA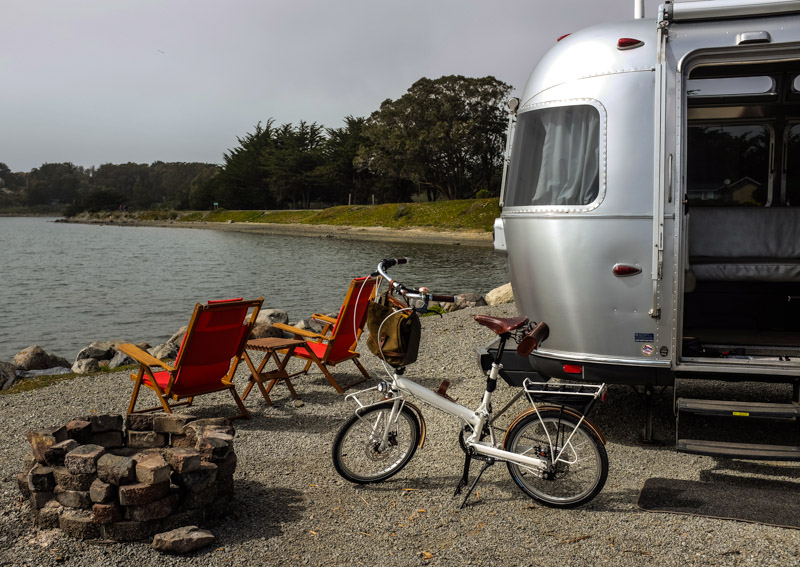 Airstreamers, Porto Bodega Marina & RV Park beckons you. Located on the northern coast of Sonoma County, this resort boasts seven acres of tranquil bay frontage. Family-friendly, everyone can enjoy a host of opportunities for exploration. For water adventures, go deep-sea fishing, canoeing, kayaking, sailing, wind boarding, kiteboarding or surfing. Or, simply relax and birdwatch while breathing in the fresh sea air. Airstreamers Aluminum Hustle say, "I can't recommend this place enough. From our site, we were able to toss our kayak right into the water behind our Airstream® and go on day trips by boat to lunch." If you're in the Pacific north coast (or if you want to make a detour), stop by the park for some fun and adventure. Two restaurants are located on the premises, so you never have to leave, or you can venture to nearby Santa Rosa for dining and shopping options. Your choice of spots to set up camp range from 12 waterfront sites, 8 pull-thru sites and 18 premium sites, all of which offer full hook-ups. There are also 13 marina view sites without hook-ups. All sites are gravel and level, and all come with a picnic table and fire pit. There are upgraded bathroom facilities with hot showers, and a dump station is on-site. Aluminum Hustle says, "Porto Bodega is still on our list as one of our most relaxing, enjoyable campsites yet!"
 Click here for more information on Porto Bodega Marina & RV Park
South Beach Campground, Olympic National Park
Forks, WA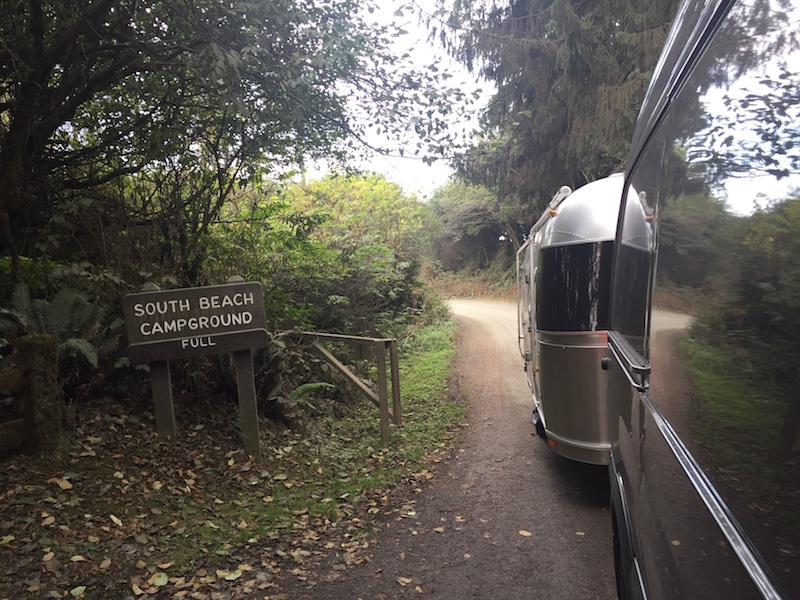 Nestled on a bluff overlooking the Pacific Ocean, South Beach Campground offers guests beach access and panoramic ocean views. And, you get to steep in the beauty of Olympic National Park, known for its glacier-capped peaks and the moss-covered Hoh Rain Forest, one of the largest temperate rainforests in the US. Located on the south side of the Kalaloch Ranger Station of the park, visitors will be delighted by a variety of coastal habitats. See everything from sandy beaches to rocky headlands, all home to thousands of species of sea life. Marine mammals are also an extraordinary sight along Olympic National Park's coastal strip; visitors commonly see harbor seals and harbor porpoises. At just $15 a night, South Beach Campground can't be beat. This is dry camping, so make sure to stock up before you go. But, if you do need to run out for supplies, nearby Forks has you covered and is less than 45 minutes away. At South Beach, there are 50 sites available, all with picnic tables and fire pits, located off of a dirt road. Amenities include flush toilets, and, while there isn't water on-site, it is available at the Kalaloch Campground dump station. Airstreamer Cynthia the Airstream reports that the sites are right on the ocean, spacious and suitable for larger rigs, and the campsite is perfect for whale watching and beachcombing (when you're not exploring the park, that is!).
 Click here for more information on South Beach Campground
Stuart Mill Bay, Department of Fish & Wildlife
Anaconda, MT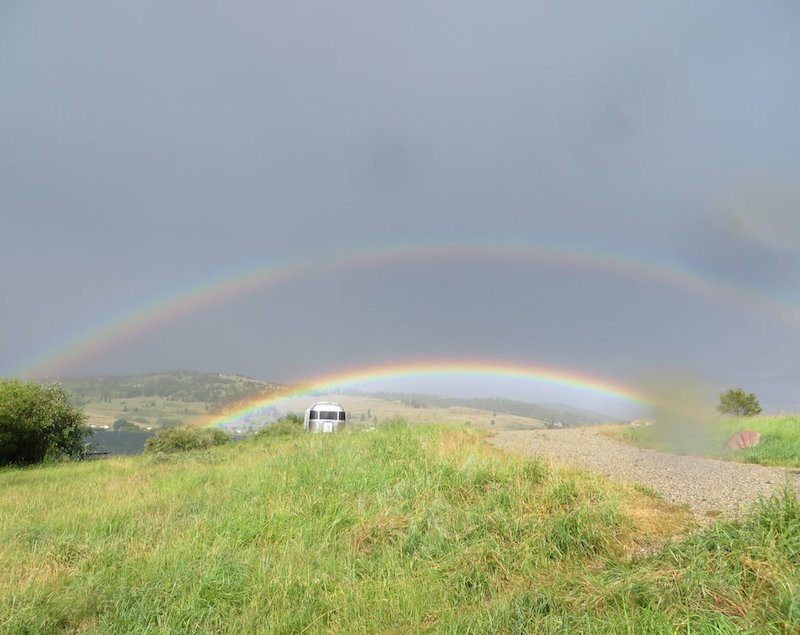 "Wow! An amazing lakeside campground surrounded by gorgeous views and big skies," says Airstreamer Watsons Wander. "You could stay out here listening to the water lap at the shore and the wind rustle in the trees forever." Doesn't that sound glorious? At Stuart Mill Bay, you can seek solitude and serenity in gorgeous surroundings, right next to Georgetown Lake. This Department of Fish & Wildlife campground is close to two old mining towns – Philipsburg and Anaconda. If you want to get out and about, head over to Philipsburg and check out the local brewery. For great coffee, head to Anaconda. Airstreamer Kate at the Scenic Route reports, "Our site was a huge pull through, while some of the others are back in. There are pit toilets here, but nothing else in the way of facilities – you'll need to pack it out. But, the gas station in Anaconda has a free dump station." Here, visitors will find a boat launch site for small craft only. Hunting is allowed for waterfowl only on the north side, while there's open hunting on the south side. Fishers can angle for a variety of trout in the lake. The camping fee is $18 a night (or $12 a night if you have a fishing license) and the stay limit is seven days. Airstreams up to 30 feet will be just fine.
Click here for more information on Stuart Mill Bay
Juniper Campground, County Park
Ririe, ID
The Ririe Reservoir is a popular recreation area, providing a slew of opportunities for summer adventuring. Visitors to Juniper Campground can take their pick of boating, waterskiing and fishing. Juniper is one of only two public access points to the Ririe Reservoir and is also in proximity to one of the two boat-access only parks. With shelters, picnic tables, fire rings and a grassy area, this is a pleasant place to stop and picnic, enjoy the water, take a boating break and (wait for it) camp! While Juniper is situated in farm country, downtown Idaho Falls is only about 25 minutes away if you get a taste for the city. There, the Greenbelt offers a system of trails, complete with parks and a waterfall. History enthusiasts should make a point to stop into the downtown Museum of Idaho, which features local-history exhibits, such as items linked to the Lewis and Clark expedition and a re-created 1800s town. Back at Juniper, no reservations are required to snag a site; they are first-come, first-served, but you can call the campground host ahead of time to check availability. Some sites offer full hook-ups, while others are dry camping. Amenities include picnic tables, fire rings, a boat launch, mooring slips and vault restrooms. Both pull-thru and back-in sites are available. All are spacious and offer full hook-ups, not to mention stunning sunsets.
 Click here for more information on Juniper Campground
Rathtrevor Beach Provincial Park
Parksville, BC, Canada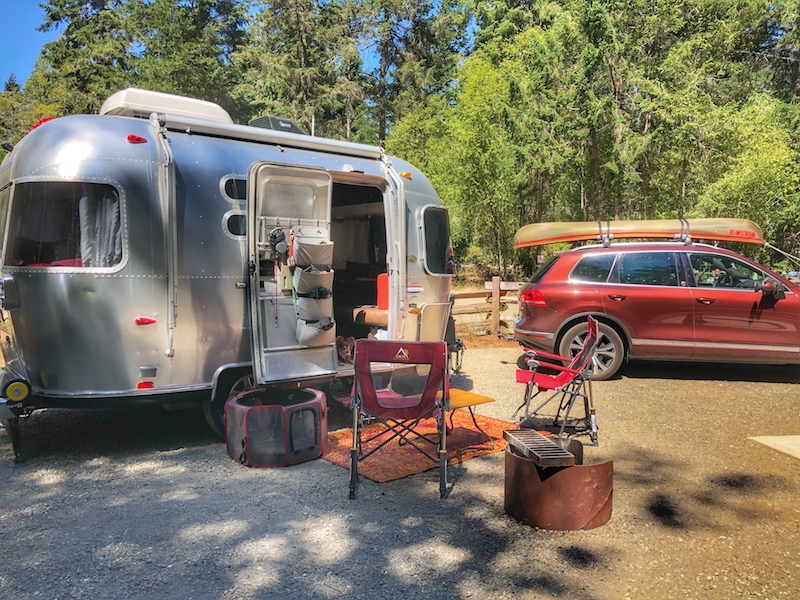 Why not head to our neighbor-to-the-north for a summer getaway? Rathtrevor Beach Provincial Park in British Columbia is one of the premier vacation destinations on Vancouver Island. It's no wonder, with its moderate temperatures, beautiful ocean sunsets, majestic old-growth trees and wide, sandy beach. Campsites are nestled among mature Douglas fir trees, making the park all the more scenic and delightful. Bring the family and enjoy splashing in the water. As the tide rolls in over the sunbaked sand, you'll dip into warm water for superb swimming and saltwater fun. When you're not oceanside, take a walk to the wooded upland area of the park for more exploration. There you'll find 5.5 km of easy walking trails, most of which are wheelchair accessible. Meander along the beach or weave through mature forests. Airstreamer Rudi on the Road describes the park as "fabulous," and says, "The park is really well maintained and just a short walk to a lovely swimming beach. I took my canoe to the northern edge of the peninsula and found a great place. The swimming was great, there, too." Reservations are required during the summer months, so be sure to plan your trip. Unclaimed or unreserved sites may, however, be available on a night-to-night basis, so check with the park operator. The park has 250 campsites that are dry camping. Sites have fire rings, and there are drinking water taps for your tanks available at the Sani Station. There are bathrooms and showers on-site.  
 Click here for more information on Rathtrevor Beach Provincial Park
---
Southwest
Rosy Lane Campground, Gunnison National Forest
Almont, CO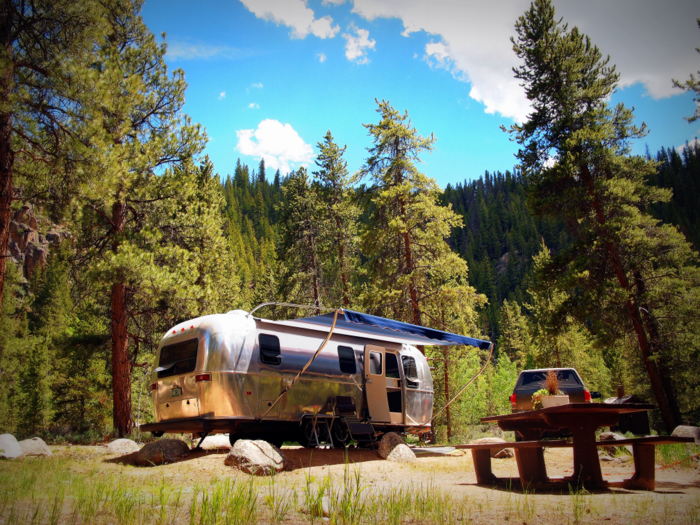 Lying on the banks of the Taylor River at an elevation of 8600 feet, Airstreamers will find Rosy Lane Campground, part of Gunnison National Forest. The river is accessible from the campground and offers a calm stretch that's perfect for rafting and kayaking. Anglers can cast a line for rainbow and brook trout there, too. Taylor Park Reservoir is 12 miles from the campground and offers boating, fishing and swimming, with boat rentals available. The nearby Fossil Ridge Wilderness Area is spectacular. This almost 14,000-acre wilderness includes its namesake, Fossil Ridge, a high, exposed ridge of Paleozoic carbonates. These formations contain epeiric sea fossils for explorers to find. Elk, deer, mountain goats and bighorn sheep can also be found in the wilderness. Back at Rosy Lane, the Summerville and South Lottis trailheads give campers a nice walk to scenic, natural areas. Several off-road trails are in the surrounding area, such as Doctor Park Trail, Taylor River Trail and Taylor Vista Trail. In Gunnison National Forest proper, there are over three thousand miles of trails and routes that provide access to areas of rugged beauty and solitude. They offer a connection to the distant past, as many were carved by indigenous peoples, early explorers, and miners. Rosy Lane offers 19 campsites, each equipped with a picnic table and campfire ring. This is dispersed camping at its finest; be sure to pack all of your necessities ahead of time.
 Click here for more information on Rosy Lane Campground
George's Gift, Dixie National Forest
Bryce, UT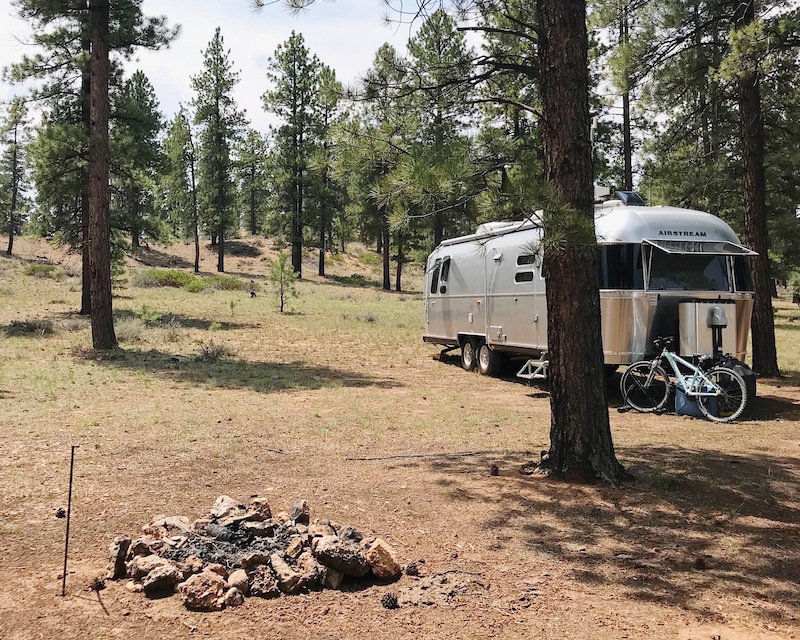 At almost two million acres and a 170-mile stretch across southern Utah, Dixie National Forest is the largest national forest in the state. The forest straddles the divide between the Great Basin and the Colorado River. Nearby Bryce Canyon National Park is also stunning in its own right, drawing crowds during the summer tourist season. Avoid the crowds and settle into nature at George's Gift, a dispersed camping site in the forest, near the entrance to Bryce and close to town. Getting there takes a bit of work, but Airstreamers Travels with Le Twinkie have some guidance to share. "There's no clear road sign that indicates the entrance besides a paved turnout, so we used the GPS coordinates (37.6625, -112.1639) to find the place. Past the turnout, there's a dirt road that leads to a large forested area. Keep going down that road and it splits into a few more dirt roads in which you'll find cleared areas with makeshift campfire rings." Eureka! Remember, dispersed camping means planning and stocking up, but nearby Bryce makes this less critical. Travels with Le Twinkie call George's gift a "quiet, clean, beautiful place to camp." The maximum stay is 14 days, so you'll have plenty of time to explore. And did we mention it's free?
 Click here for more information on George's Gift
Hovenweep National Monument, National Park
Montezuma Creek, CO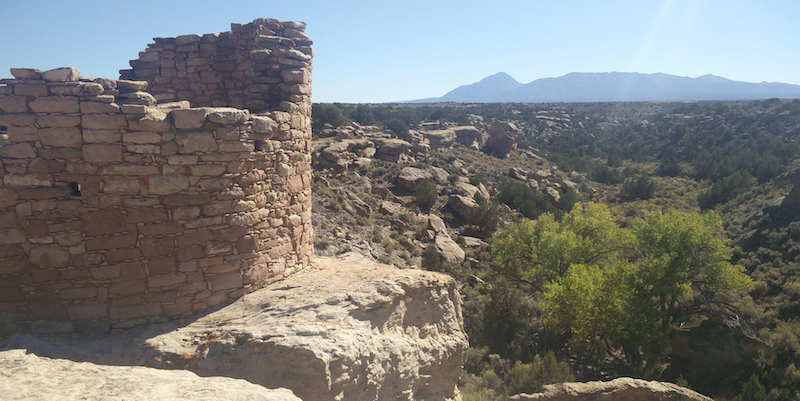 Have you ever wanted to take your Airstream out into the middle of nowhere for some true seclusion and reflection? We've found your place. Hovenweep National Monument offers an off-the-beaten-path experience that's ideal. For example, there are no restaurants or lodges in Hovenweep. The nearest restaurants and hotels are in Monticello, Blanding, and Bluff, Utah, and Cortez, Colorado – all about an hour's drive from the monument. Now we're talking solitude. As to the National Monument, it is simply breathtaking. Hovenweep was once home to over 2,500 people, includes six prehistoric villages built between A.D. 1200 and 1300. Today, you can explore a variety of structures, including multi-story towers perched on canyon rims and balanced on boulders. The construction and attention to detail will leave you marveling at the skill and motivation of the builders. As for setting up your home base, the campground is located near the visitor center. There are 31 sites, but because this is a limited development campground, only a handful are suitable for RVs. Those that will accommodate your Airstream will fit up to 36 feet of shiny aluminum. Sites are first-come, first-served, and include tent pads, fire rings and picnic tables with shade structures. No hook-ups available, and be sure to bring cash or a check; no credit cards are accepted.
Click here for more information on Hovenweep National Monument
Saguaro RV Park at Cactus Petes Resort Casino
Jackpot, NV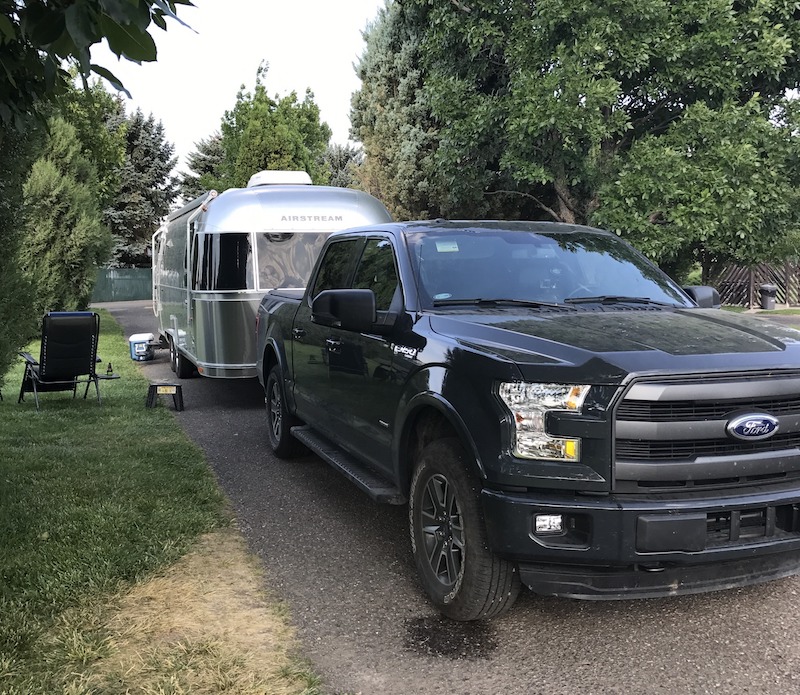 When you're in Nevada, you don't have to head to Las Vegas to get in on the action. The Saguaro RV Park at Cactus Petes Resort Casino puts you steps away from ringing slot machines, award-winning restaurants, an 18-hole golf course and plenty of nightlife. Located on the northeastern tip of the state, Saguaro will surprise you. Guests quickly forget they are camping right off the highway – there are plenty of mature shade trees, grassy areas and no noise from the passing cars. Airstreamer Audrey Airstream says, "There is a nice stretch of well-maintained, fresh, green grass between each spot. Across the parking lot, there is a large grassy area under trees, which is a lovely place to walk your dog." There are two campgrounds – the upper park and lower park. The upper campground is first-come, first-served, while the lower campground (located behind the casino) takes reservations. All of the 91 spacious sites offer full hook-ups and Wi-Fi, with the lower park providing access to laundry, restrooms and showers. When you're ready to play, head over to the casino and try your luck at table games, slots or poker. For dining, check out one of the restaurants, including a posh steakhouse and (of course) a buffet. If you get tired of trying your luck, take in a cabaret show or pick up the mic for karaoke. At Saguaro RV Park at Cactus Petes Resort Casino, you'll find entertainment galore.
 Click here for more information on Saguaro RV Park at Cactus Petes Resort Casino
Forest Road 302, Kaibab National Forest
Grand Canyon, AZ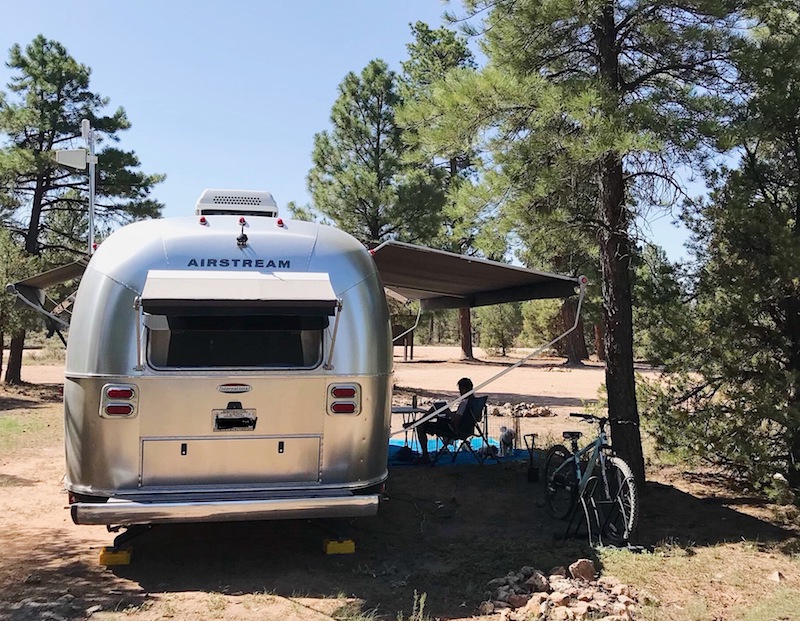 It would be easy to peg Kaibab National Forest as a great place to stay while visiting the Grand Canyon. But the forest itself is a fantastic destination. The Forest Road 302 camping area is located in the Tusayan Ranger District of the forest, on the northern portion of the Coconino Plateau. Four hiking trails range in length and skill level. Be sure to stroll along a stretch of the Arizona Trail, an 800-plus mile recreation path that runs from Mexico to Utah and connects mountain ranges, canyons, deserts, forests, wilderness areas, historic sites, trail systems, points of interest and people. The Arizona Trail offers tantalizing views of the San Francisco Peaks, Grand Canyon, Upper Basin, Coconino Rim and the Painted Desert. Forest Road 302 is about eight miles from the Grand Canyon's South Rim entrance. Because it's dry camping in the national forest, you'll avoid the crowds that you'd find at campgrounds inside the park. You will need solar or a small generator to power your Airstream's AC – you'll need it when you're relaxing at camp during the day. Having visited in August, Airstreamers Travels with Le Twinkie say that the weather was hot until the evenings when it cooled off nicely. They also report seeing a family of horses and elk near their campsite, so keep your eyes open for wildlife.
 Click here for more information on Forest Road 302, Kaibab National Forest
---
Northeast
Letchworth State Park
Castile, NY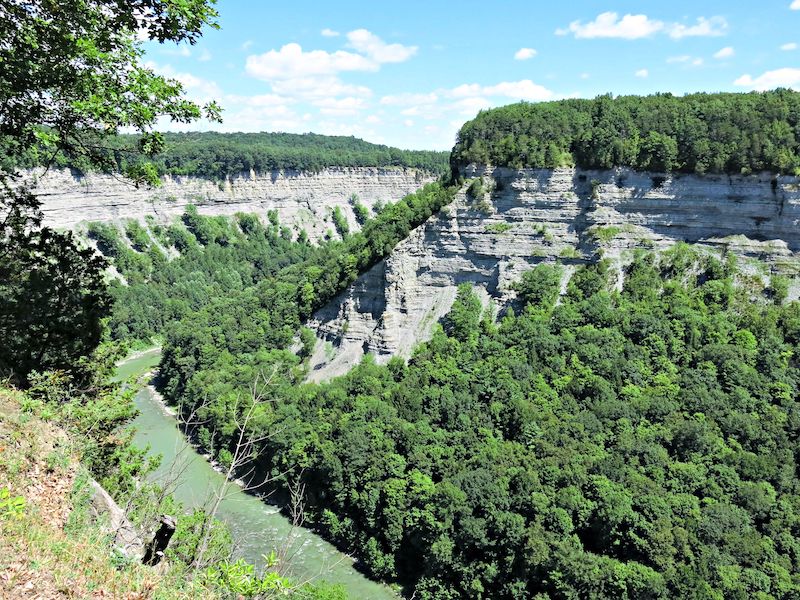 Letchworth State Park in western New York has long been renowned as the "Grand Canyon of the East." It is one of the most scenically magnificent areas in the eastern US, covering over 14,000 acres with a gorge formed by the Genesee River. The river roars through that gorge for 17 miles. Along the river, visitors will be treated to views of three major waterfalls and cliffs as high as 600 feet, all surrounded by lush forests. Choose from among the 66 miles of hiking trails to explore the area, whether by walking, horseback riding or biking. Water activities include whitewater rafting, kayaking or swimming in the park's pool. Hunting and fishing are also allowed at Letchworth. To make your trip all the more memorable, experience the park's magnificent scenery by hot air balloon! Letchworth also has a playground, dog park, and even a restaurant, The Glen Iris Inn, which has terrific views and a great selection of wine. Castile is just a six-minute drive away if you want to explore this quaint little village. The campground at this state park has 338 sites. All have electric hook-ups, but no water. There is, however, drinking water offered on-site, along with showers and restrooms. Each site has a fire ring and picnic area. Note that only some loops allow pets, so if you're bringing Rover keep this point in mind.
 Click here for more information on Letchworth State Park
Bald Eagle State Park
Howard, PA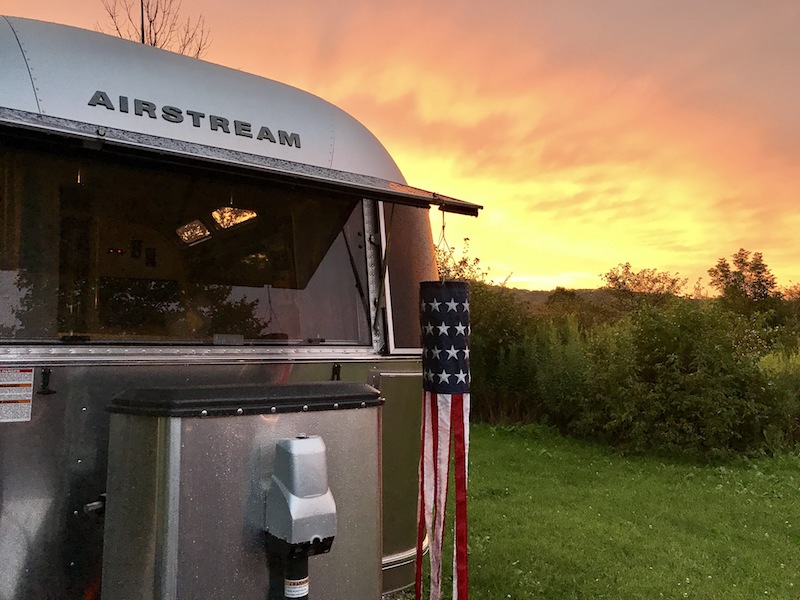 "We only spent a single night here, but it was long enough to decide that we need to come back again," say Airstreamers Watsons Wander. Bald Eagle State Park is a 5,900-acre park in the broad Bald Eagle Valley of northcentral Pennsylvania, surrounded by forests, fields and wetlands. The Foster Joseph Sayers Reservoir, formed by damming Bald Eagle Creek and other smaller streams, covers 1,730 acres inside the park. Activities here include boating, fishing, swimming and wildlife viewing. For hiking, there are 11 miles of trails that vary in length and difficulty. Take a walk along the Butterfly Trail, a 1.5-mile easy loop with mowed grass created and maintained for the conservation of butterflies. It loops around a pond and passes through a mix of grasses, shrubs, wildflowers, and young trees. This mixture of plant life creates a perfect habitat for eye-catching butterflies. There are two campgrounds located in the park – one is developed, and the other is not. The primitive camping area (dry camping) has space for 35 small rigs. The modern Russel P. Letterman campground has 97 campsites with hot showers, a sanitary dump station and two volleyball courts. Each campsite comes equipped with a paved parking area, a picnic table and a fire ring. All sites have electric hook-ups and potable water is available on-site. Reservations are available for the Letterman campground. 
 Click here for more information on Bald Eagle State Park
Historic Valley Campground, City Park
North Adams, MA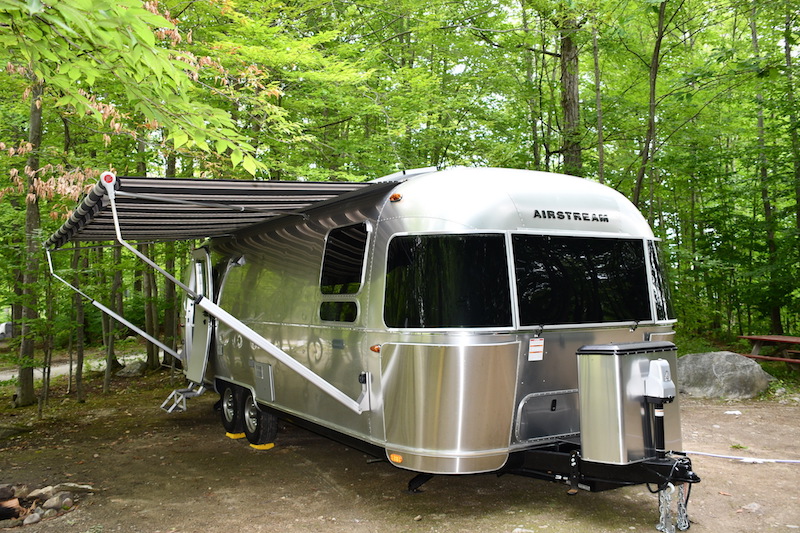 Situated on picturesque Windsor Lake, Historic Valley Campground offers family-friendly fun and camping. Visitors of all ages can enjoy swimming, boating and fishing, as well as a playground and organized activities. As Airstreamers Living Driven say, "Historic Valley is a secluded yet convenient campground to the Northern Berkshires. The park includes many hiking trails, a disc golf course, and access to Windsor Lake, which we took full advantage of one day with our paddleboards." Located just 1.5 miles from downtown North Adams in Berkshire County, campers can easily access numerous art galleries that are spread throughout the city, and a variety of cultural and performing arts. Other area attractions include Mount Greylock State Reservation, a public recreation and nature preservation area on and around Mount Greylock, the highest point in the state of Massachusetts. The reservation's 70 miles of trails are perfect for hiking and mountain biking and include an 11.5-mile section of the Appalachian Trail and the historic Thunderbolt Ski Trail. The Western Gateway Heritage State Park and Natural Bridge State Park. Back at the campground, options include lakeside, wilderness and pull-thru sites. Each offers water and electric, and some also provide sewer. There is an on-site dump station, and there are recently renovated bathhouses.
 Click here for more information on Historic Valley Campground
Greenwood Lodge & Campsites, RV Park
Bennington, VT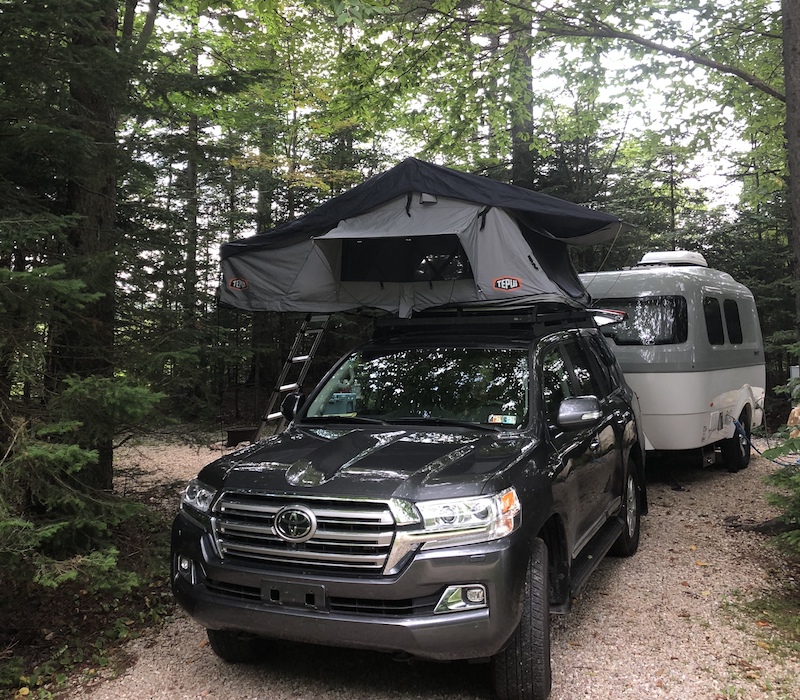 They don't call it the Green Mountain State for nothing. Welcome to Greenwood Lodge and Campsites, nestled in verdant hues in charming Bennington and just a stone's throw away from Green Mountain National Forest. At the park, campers can have their choice of swimming, fishing, boating, canoeing, hiking and biking on the 120-acre property, complete with three ponds. Other amenities include a playfield, volleyball court, horseshoes, tetherball and basketball backboard. Aistreamers StreaminGypsies stayed at the park in their new Nest, and had a delightful time. "We walked the property to the river and pond, which are outfitted with canoes for a nice paddle. Bathrooms are immaculate, and the main building has lots of amenities, from books to games to kitchen access that are all thoughtfully equipped and well-organized." Take a trip over to Bennington, a thriving college town with plenty of restaurants, history and cultural events. Or, explore Green Mountain National Forest, which contains three nationally designated trails: parts of the Appalachian Trail, parts of the Long Trail, and the Robert Frost National Recreation Trail. The forest is home to an additional 900 miles of multiple-use trails for hiking, horseback riding and bicycling, so there's plenty to explore. Back at camp, the park has clean, modern, heated bathrooms, free hot showers, a dishwashing sink and microwave oven at the park. All of the 40 sites are well-spaced and mostly wooded and come with picnic tables, fire rings, electric and water hook-ups. There is a dump station at the park.
 Click here for more information on Greenwood Lodge & Campsites
Branches of Niagara Campground & Resort, RV Park
Grand Island, NY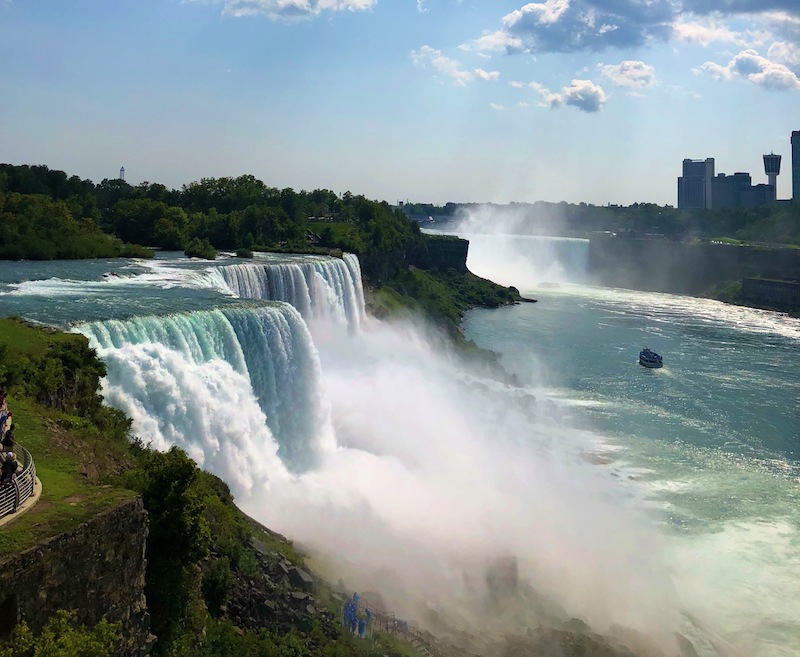 Load up the kids and the Airstream and head over to Branches of Niagara Campground & Resort. The whole family will have a splendid time. Located on Grand Island in western New York, Branches of Niagara Campground is a perfect location for you and yours to visit Niagara Falls while enjoying nature. With 70 acres of natural beauty in a secluded setting, this park is idyllic and offers so many opportunities for good old fashion fun. There is an eight-acre scenic lake where you can try your hand at fishing or boating. Canoe and kayak rentals are available at the park. There's a heated pool for swimming, and you and the kids can enjoy a game of Bocce ball, volleyball, tetherball, horseshoes, half-court basketball, giant tic-tac-toe and checkers. One must-do is the zip line ride over the lake. Don't miss out on this exhilarating experience! Branches of Niagara is only 10 minutes from the American Falls State Park and the border to Canada. Sites here offer a variety of views and amenities. Each has a gravel pad, spacious grass area, picnic table and fire ring. All sites are in close proximity to a bathhouse and laundry facility. Choose from water and electric sites or full hook-up sites.
 Click here for more information on Branches of Niagara Campground & Resort
---
Southeast
Bluewater Key RV Park, Florida Keys
Key West, FL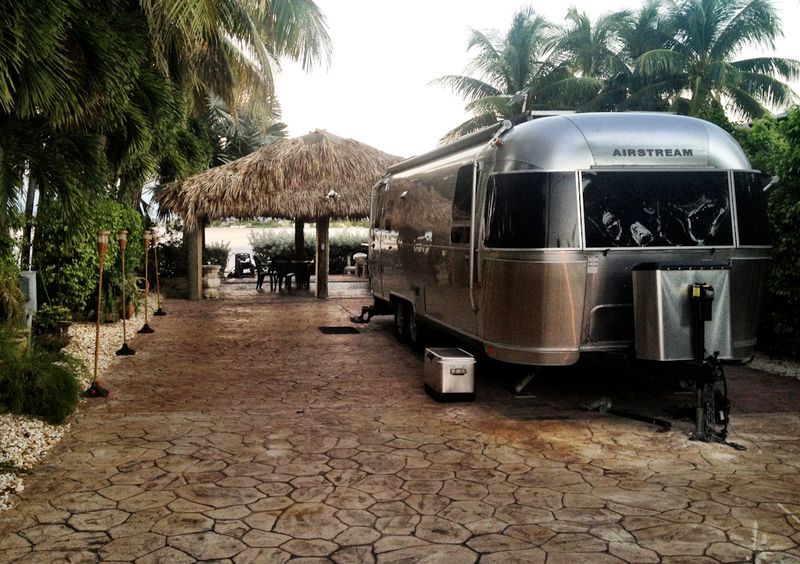 When it's time to treat yourself to a once-in-a-blue-moon camping experience, get yourself down to the stunning, luxurious Bluewater Key RV Park in Key West. While this true RV resort offers many amenities, the natural beauty of the Florida Keys is the park's greatest asset. Surrounded by vibrant blue water and swaying palms you can't help but relax and slip into Margaritaville mode. Bluewater's sites are large, averaging 35 feet wide and 80 feet deep. Every site has water, sewer, electric (30 and 50 amp) and HD cable TV. The sites are separated by tropical landscaping that offers shade and privacy. All sites come with a Tiki hut and outdoor seating. Many sites have private boat docks, additional patio furniture, cabinetry and countertops, TV's, sinks and refrigerators. When you're not enjoying the ocean or exploring Key West's famous Duval Street, take a dip in the Bluewater's temperature-controlled pool, toss a ball with your best friend at the resort's dog park, or take a stroll in the people park. Airstreamer Laura Domela says Bluewater Key was a worthy splurge: "This is a fabulous RV park. It's expensive but gorgeous. Our site had its own outdoor palapa, table & chairs, outdoor kitchen, and dock. We really needed about eight more people with us to take advantage of all the fun to be had in this site."
 Click here for more information on Bluewater Key RV Park
Gunter Hill Campground, Army Corps of Engineers
Montgomery, AL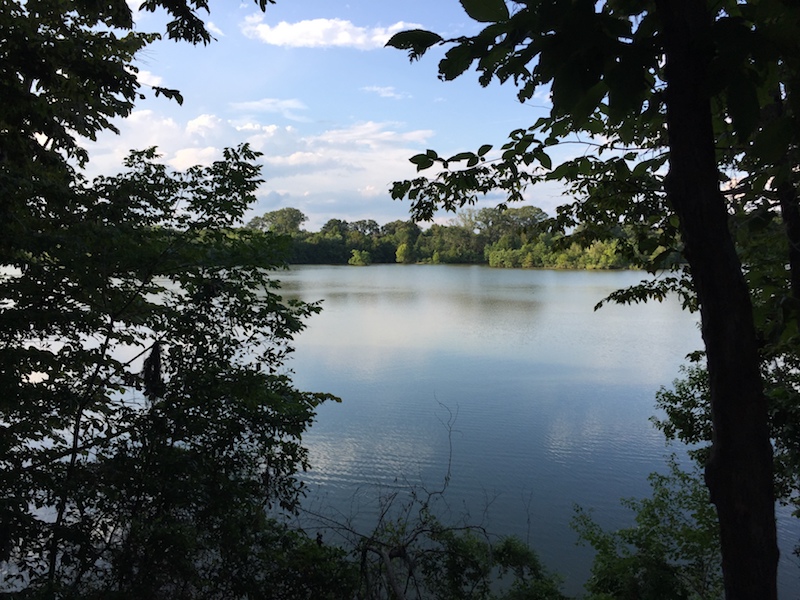 Airstreamers love good design. So does the Army Corps of Engineers (COE). When you pull into a COE campground, you can count on spacious sites, clean facilities and well-planned grounds. Gunter Hill is no exception. Gunter Hill Campground is located on Catoma Creek, a backwater of the Alabama River, in a forest of hickory and pine hung with Spanish Moss. The fishing is excellent with the crappie, bass and catfish offering challenges to anglers of all skill levels. The park's boat ramp provides easy access to the creek for fishing or just lazing on the water. Hunting is another popular activity. The nearby Lowndes Wildlife Management Area encompasses 12,500 acres of prime habitat for whitetail deer, wild turkeys, feral hogs, and a variety of small game and waterfowl. The campground also has a basketball court and playground. Montgomery, the state capital, is just nine miles away and is packed with museums and historical sites touching on everything from the Civil War to civil rights to F. Scott Fitzgerald. Gunter Hill has 142 sites; 75 of these are full hookup while the rest have water and electric hook-ups. Amenities include bathhouses, laundry facilities, and a picnic shelter perfect for parties and family functions.
 Click here for more information on Gunter Hill Campground
Natural Tunnel State Park
Duffield, VA

Natural Tunnel State Park jam-packed with history, both natural and American. In addition to the park's namesake, a stunning 850-foot long tunnel carved through a limestone ridge millions of years ago, Natural Tunnel also features a breathtaking steep-walled chasm studded with rock "chimneys." While the park's Southwest Virginia location may seem remote, this area was once smack in the middle of America's first westward migration. This is Daniel Boone country. As a result, many nearby attractions tell the story of the early settlers, including the Daniel Boone Wilderness Trail Interpretive Center, Wilderness Road State Park, and Carter's Fold, the birthplace of Country music's legendary Carter family (as in June Carter Cash). If your interests lie elsewhere, the park has a large swimming pool and a 100-foot waterslide. There's a nine-hole municipal golf course in nearby Scott County Park, and NASCAR's Bristol International Speedway is 45 minutes down the road. Airstreamer Todd was pleased with the facilities and the range of attractions: "The bath house in the Lovers Leap was really clean and had nice showers. Sites looked mostly level with modern upgrades power posts. I would like to come back and explore this park more." Natural Tunnel State Park has two campgrounds: Lovers Leap, where sites can be reserved in advance, and Cove View, which is first-come, first-served. All sites have water and electric hook-ups.
 Click here for more information on Natural Tunnel State Park
St. Bernard State Park
Braithwaite, LA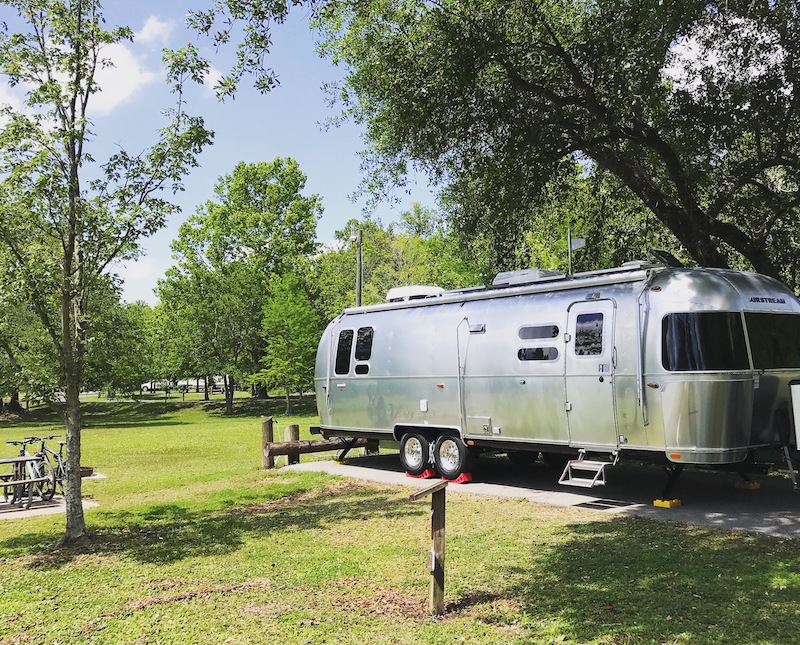 Louisiana's St. Bernard State Park gives an added twist to the Pelican State's informal motto, "Let the good times roll!" Situated just 20 miles from New Orleans, this family-friendly campground is the perfect base for enjoying all that Louisiana has to offer – natural wonder, historic sites, delightful people, and, of course, the French Quarter. St. Bernard sits on the Mississippi River and features a network of man-made lagoons ideal for basking in nature. The park includes both wetlands and woodlands and is located on the migratory paths of several bird species. The result: excellent birdwatching and an interesting nature trail perfectly suited to every member of the family. When nature time is over, the Water Playground awaits with cooling fun. Airstreamer Travels with Le Twinkie clearly had a good time down on the bayou: "Being in Louisiana, there was so much greenery. It was a really beautiful campground. It was also near New Orleans, so we drove out for a day to explore. There's a nice nature trail (beware of swampy areas! You might even spot some alligators sunning themselves) and a large grassy picnic area. The facilities (bathrooms and showers) were old but very clean and well kept. Also, laundry machines on site!" St. Bernard has 51 sites with water and electric hook-ups.
 Click here for more information on St. Bernard State Park
Sawnee Campground
Cumming, GA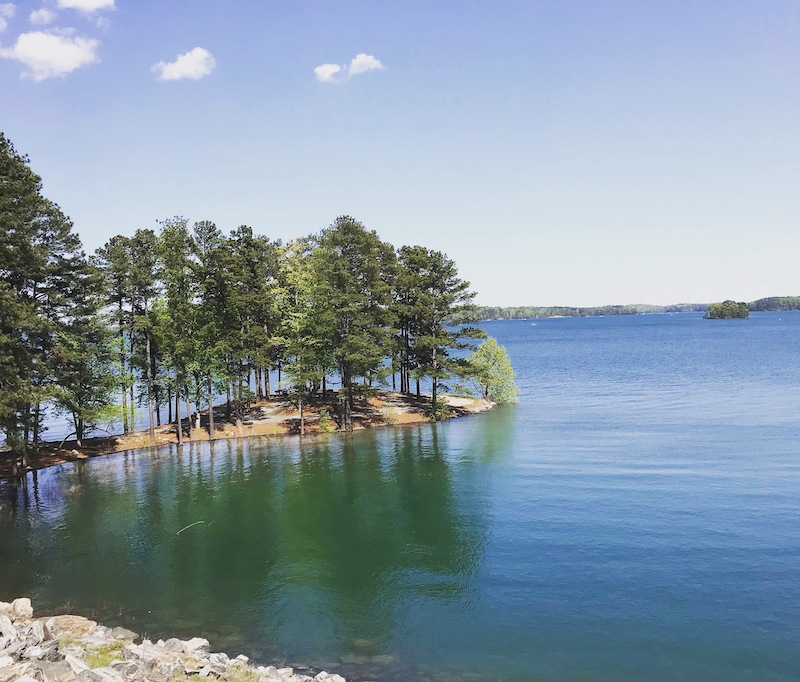 Sawnee Campground sits on Lake Sidney Lanier about an hour north of Atlanta. This Army Corps of Engineers facility offers beautiful lake views and more recreational opportunities than you can shake a paddle or fishing rod at. Lake Lanier, Atlanta's favorite aquatic playground, is perfect for fishing, swimming and boating of all types from sailing to jet skiing. At 38,000 acres, the lake has plenty of room for everyone. The green foothills of the Blue Ridge mountains provide the perfect backdrop for this water wonderland. Airstreamer Travels with Le Twinkie was blown away by Sawnee: "If I could, I'd give this campground a 5-stars plus rating because it's one of my favorites!! It's an Army Corps of Engineers campground on Lake Lanier, and it's BEAUTIFUL. The bathrooms/showers were very clean and there's even a small playground for the littles. Camp hosts are very friendly and helpful, as well. There's so much to do around the campground as well! Hiking and biking trails, day-use areas, and if you want to do some shopping, Cumming is a really cute small town." Sawnee Campground has 43 campsites with electric and water hook-ups. Amenities include bathhouses, laundry facilities, a boat ramp, a playground and sandy swimming beach.
 Click here for more information on Sawnee Campground