Explore the guide to find some of the best December camping across the United States, as recommended by fellow Airstreamers through Campendium.
Northwest
Valley of the Rogue State Park
Gold Hill, OR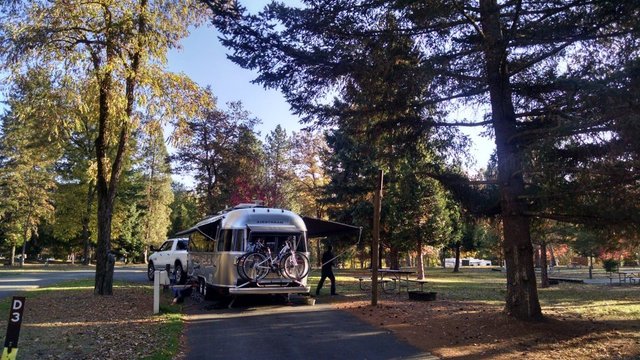 There's more to Oregon than rugged coastlines and Portland. The Valley of the Rogue is but one example of the state's many other charms. Valley of the Rogue State Park provides the perfect base for exploring an area made famous by western novelist Zane Grey. Nearby natural wonders include Crater Lake National Park and the Oregon Caves National Monument. Within the park, you'll find five miles of trails, some of which follow the Rogue River's edge. For a dose of history, shopping and culture, check out Jacksonville. Most of this gold rush boomtown is now designated a National Historic Landmark. Shops, bistros and museums abound. Airstreamers Airstream Hustle took full advantage of the park's location. "We were only able to stay for four nights, and those days consisted of taking road trips out to Crater Lake National Park and a day-long whitewater rafting trip. Coming back to our campsite was always relaxing from the moment we pulled into our site. The park staff is helpful and so nice. We would definitely stay again. Easy on and off the interstate but far enough away to gaze at stars and enjoy the silence." Valley of the Rogue has 92 full hook-up sites, and 58 with electricity and water. There are showers and flush toilet restrooms. The dump station asks a suggested $3-$5 donation.
Click here for more information on Valley of the Rogue State Park
McGinnis Creek, Flathead National Forest
Columbia Falls, MT

This is boondocking pure and simple, with all the rigors and rewards, including spectacular vistas and invigorating solitude. The campground is part of the 2.4million-acre Flathead National Forest, which is situated just south of Canada and west of the Continental Divide. Home to lynx, grizzly bear, and bull trout; with numerous lakes, streams, and rivers, the forest is a prime spot to experience some of the West's most pristine natural landscapes. As if Flathead itself didn't offer enough grandeur, the forest is adjacent to Glacier National Park, the peaks of which are visible from the McGinnis Creek camping area. Needless to say, the Flathead offers endless opportunities for year-round outdoor adventure, including biking, hiking, fishing and hunting. Airstreamers Professional Wanderers spent 14 days at McGinnis reveling in the scenery and seclusion. "Absolutely one of our favorites. The road up here was very well maintained (several hunters and people gathering firewood drove by each day), but the spot itself is nicely hidden from the road on the way up. So much so that some people did pull in a couple of times during the week only to back out when they saw us. Views were amazing." Note that many of McGinnis' spots are small or narrow, and turnarounds can be tough.
Click here for more information on McGinnis Creek, Flathead National Forest
LaPine State Park
LaPine, OR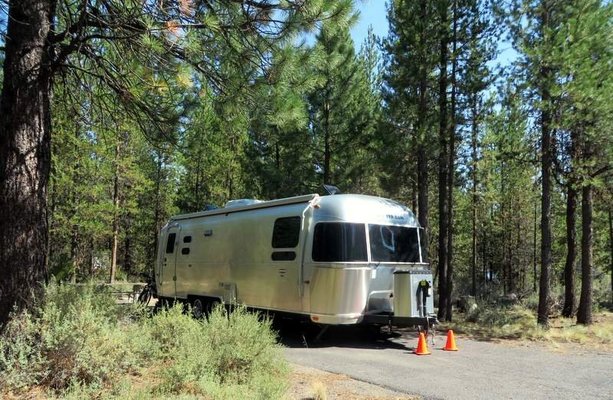 Situated alongside the Upper Deschutes River in the central Oregon mountains, LaPine State Park swaddles visitors in a blanket of soaring lodge and ponderosa pines. The Deschutes National Forest, which surrounds the park, has miles of wilderness trails and dozens of high-mountain lakes waiting to be explored. LaPine is a popular spot for cross country skiing and is located near some of Oregon's more popular downhill skiing spots, including Mt. Bachelor and the Meissner Ski Area. The nature watching at LaPine is first-class with campers often spotting eagles and red-tailed hawks snatching their meals straight out of the Deschutes. On the flora side, don't miss Oregon's largest ponderosa pine, thought to be 500-plus years old. Nearby natural stunners include Newberry Crater and Lava River Cave. Airstreamer Dirk Reynolds found LaPine the perfect base to explore the Deschutes region. "The Oregon State parks are all exceedingly well maintained, and LaPine State Park is no exception. Scores of sites spread out over three large loops. Just over 20 miles south of Bend, four miles off of Route 97, LaPine is everything you hope for. Vast open pine forests, with a scattering of Ponderosas, and the large Deschutes River winding its way from bend to bend alongside and past the park." LaPine State Park has 82 full hook-up sites, 47 with water and electricity. There are showers and flush toilets. Note that water at the dump station is turned off October-April.
Click here for more information on LaPine State Park
Beach Campground, Fort Worden State Park
Port Townsend, WA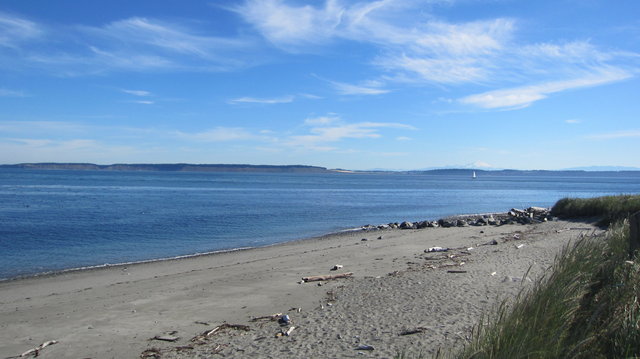 History and natural beauty take front rank at Fort Worden Historical State Park, which is located at the mouth of Puget Sound. A century ago, the fort was home to some 1,000 soldiers who defended the sound and nearby Seattle from potential invaders. Today the former military stronghold is a place to learn from the past and bask in stunning marine landscape. The 432-acre Fort Worden Park has 11 miles of hiking trails, eight mikes of bike trails, more than two miles of beachfront, and high bluffs with spectacular views of the Strait of Juan de Fuca. The seaside park also accommodates all manner of waterborne adventure. Ready to exercise your mind? Pick up a self-guided tour map and wander through two centuries of history. Stop into the Puget Sound Coast Artillery Museum, Commanding Officer's House and Marine Science Center. Explore the 1914 Point Wilson Lighthouse and long-abandoned coastal defense batteries. When you're ready to glimpse the future, glittering Seattle, home to Amazon, Boeing and Microsoft, is just two hours away. Airstreamers Changing Itinerary were pleasantly surprised by Fort Worden's offerings. "Fort Worden is more than just a fort or a campground! They have a lot going on there, from yoga classes to cultural events to "Farm to Fort to Fork" dining! At times it felt more like a resort than a state park campground."
Fort Worden State Park has 40 campsites. Note that due to freezing concerns, water connections are turned off from November through mid-March. There is a potable supply located near the front of the park.
Click here for more information on the Beach Campground at Fort Worden State Park
South Beach State Park
Newport, OR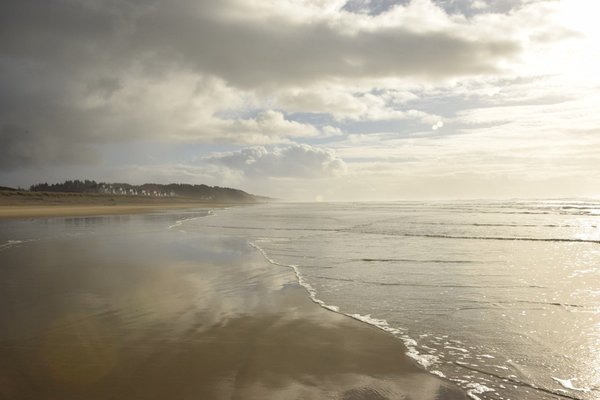 Do you love the beach in winter?  If so, now is the time to take your talents (and Airstream) to South Beach. Not the trendy hot spot in Miami -- the wild and windy state park in Oregon. Situated next to the Yaquina Bay Bridge, South Beach State Park starts in south Newport and runs several miles down the Oregon coast. This historic park provides a variety of recreational opportunities. The paved jetty trail is perfect for a walk, run or bike ride. And you can, of course, beachcomb for hours. The nearby Yaquina Bay Lighthouse, Hatfield Marine Science Center, and Oregon Coast Aquarium offer opportunities to learn more about the sea around us. When you're done with the ocean, a playground, horseshoe pits, and disc golf course are near the campground area. Airtreamers Justbreezinalong fell in love with South Beach during a late autumn visit. "We stayed at South Beach over Thanksgiving. The weather was sunny and spectacular, allowing us to take advantage of the beautiful beach. Our dogs absolutely loved being able to stretch their short legs in the sand. The sites are a bit tight but wonderfully laid out. Facilities are clean, the water's hot, and TV reception is great. In Newport, there's great shopping, eats, and Rogue Brewery. We enjoyed South Beach and the whole area so much; we are considering moving there." South Beach State Park is a large facility with 227 RV sites with water and electric. Amenities include showers, flush toilet restrooms and a dump station.
Click here for more information on South Beach State Park
---
Southwest
Gilbert Ray Campground, Tucson Mountain Park
Tucson, AZ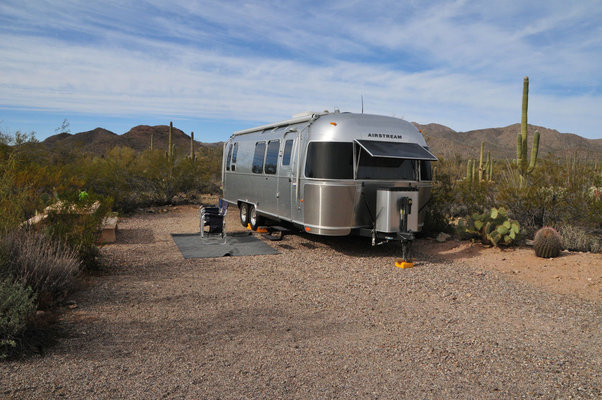 Gilbert Ray Campground straddles two worlds. This minimalist Pima County facility offers a deep desert experience just minutes from Tucson. Gilbert Ray is part of Tucson Mountain Park, a 20,000-acre recreation area with 62 miles of hiking and biking trails that transverse mountains, desert terrain and thick groves of saguaro cacti and other desert plants. Need more cacti and prickly pear? Saguaro National Park West is just 10 minutes from Gilbert Ray. The Arizona-Sonora Desert Museum is another nearby must-see. This 21-acre attraction describes itself as a "fusion experience" that includes a zoo, aquarium, natural history museum, botanical garden and art gallery. Check out the daily raptor free-flight show and stingray petting time. Airstreamer WAP was stunned at Gilbert Ray's sense of wilderness. "This campground is a beautiful setting in the heart of the Sonoran Desert. The proximity to Tucson should make the campground feel like it is right in the city, but it is not like that at all! Very remote feeling and lots of wildlife to see." Gilbert Ray has 130 sites with electricity only. There are no showers. Camping is first-come, first-served with a seven-day limit. And, as you might imagine, November-April is the high season with snowbirds flocking to the desert warmth.
Click here for more information on Gilbert Ray Campground, Tucson Mountain Park
Watchman Campground, Zion National Park
Hurricane, UT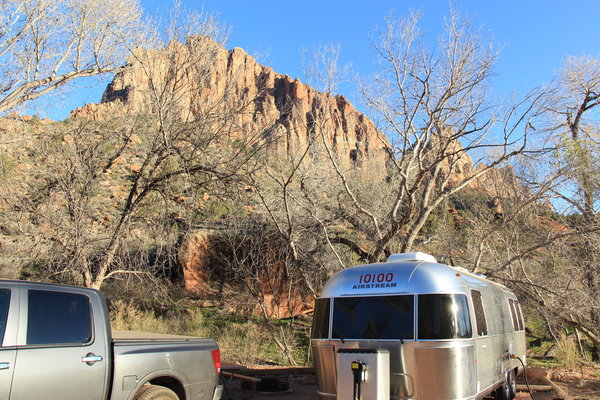 The National Parks located in Utah are among the most popular. But you can avoid the crowds with an off-season visit. If Zion National Park, with its stunning canyon scenery and wealth of ancient history, is on your list, book a spot at the park's Watchman Campground. Located just inside the South Entrance, this facility is the perfect base for days of exploration and wonder. Zion is a true hiker's paradise with 43 moderate trails of varying lengths that reward with breathtaking views of forested mesas, canyons, deserts and wildlife. Some 84% of Zion was recently designated as a wilderness area in an effort to protect its majesty and the solitude it provides. The area now encompassed by Zion National Park has been occupied by humans for 9,000 years. So, it's no surprise the park is chock full of archeological and historic sites. Airstreamers WatsonsWander say a Watchman stay is the best way to experience Zion. "When visiting National Parks, we love staying inside the park. The convenience of being able to walk to the visitor center, shuttle stop, and even into town for supplies and tasty pizza is hard to beat. But then you throw in a scenic campground with generously sized sites alongside a river and things get even better. Love this campground!" Watchman Campground has 107 electric-only RV sites, which go fast, even in the off-season. Reservations can be made six months in advance – and should be. 
Click here for more information on Watchman Campground, Zion National Park
Doheny State Beach
Dana Point, CA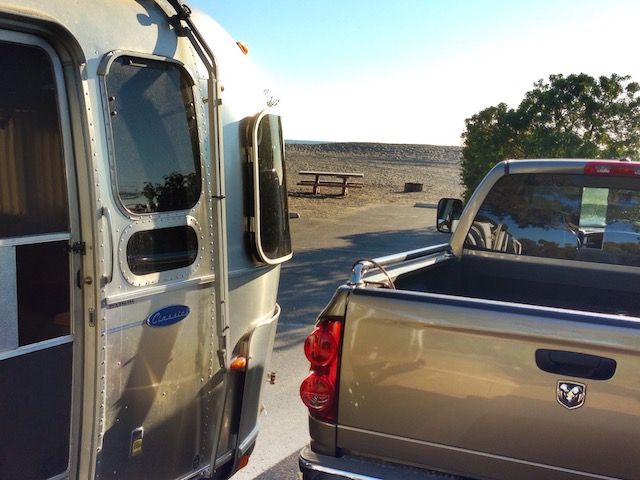 If December finds you meandering down the SoCal coast, Doheny should be on your itinerary. Created in 1931 and made famous by The Beach Boys song "Surfing USA," Doheny Beach is 62-acres of sun, sand, surfing and wildlife. The park's mile of sandy beach and intriguing shoreline make the facility popular with locals. SCUBA divers, fisherman beachcombers and, of course, surfers are drawn here. Nature watchers are fans, too. The park provides habitat and nesting ground to such birds as black-crowned night herons, ruby-crowned kinglets and snowy egrets. Black-bellied plovers and sanderlings dart across the sand. Doheny also enjoys offshore migratory visits by gray whales. Nearby non-marine attractions include the historic San Juan Capistrano mission and the towns of Dana Point and San Clemente. Airstreamer marsee says the beach is the best. "Beach sites are really awesome. Hear the ocean all night and enjoy each morning right on the beach. The beach is steps away, making it great for young families. The surf is great for beginners." Doheny has 113 campsites, including 33 beachfront sites, all have fire rings and picnic tables. There are restrooms with hot showers and a dump station.  
Click here for more information on Doheny State Beach
Valley of Fire State Park
Overton, NV

Located an hour outside Las Vegas, Valley of Fire State Park is famed for wonders both natural and archeological. The park encompasses 40,000 acres of bright red Aztec sandstone outcrops nestled into gray and tan limestone, petrified trees, and petroglyphs dating back more than 2,000 years. Seven hiking trails ranging up to seven miles in length allow you to get up close and personal with these mesmerizing sights. Airstreamers 4airstreamers say they picked the right season to make this trip. "We found that winter is quite possibly the best time to visit Valley of Fire. The daytime temps were in the mid-60s, and the nights went into the low 40s. We kept a campfire going and enjoyed the evenings. The campground is surrounded by giant red rock formations, and there are some in the middle of it, too. It's perfect for kids and adults both to climb for hours and days." Valley of Fire State Park has two campgrounds with a combined total of 72 sites. Campsites are equipped with water, shaded tables, grills. Amenities include showers, restrooms and a dump station and showers. All campsites are first-come, first-served. Camping visits are limited to 14 days in a 30-day period.
Click here for more information on Valley of Fire State Park
Juniper Family Campground, Bandelier National Monument
Los Alamos, NM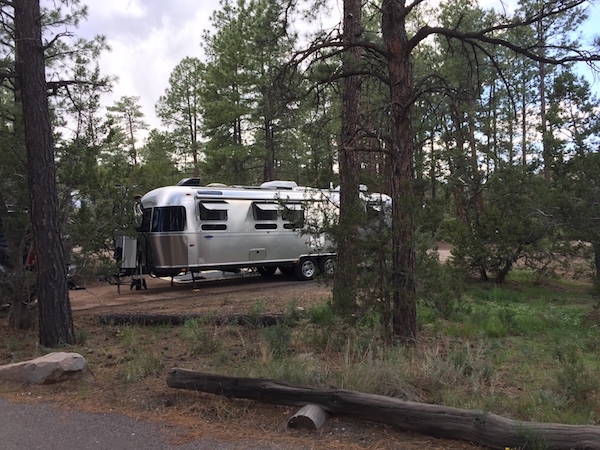 This is the perfect spot for Airstream dwellers to study cave dwellers. Bandelier National Monument covers more than 33,000 acres of rugged canyon and mesa country that has been occupied by humans for 11,000 years.  Petroglyphs, homes carved into the soft rock cliffs, and standing masonry walls offer clues to ancient cultures that still survive in the surrounding communities. Bandelier has over 70 miles of trails, some of which connect to the adjacent Santa Fe National Forest. The most popular hikes are the Main Loop Trail and Alcove House Trail, which pass many Ancestral Pueblo sites. Ready to level-up your hiking game? Apply for a permit to make an overnight trek in Bandelier's backcountry wilderness. For another angle on human history, visit the Manhattan Project National Historic Park in Los Alamos, which traces the creation of the atomic bomb. Airstreamers Travels With Homer highly recommend a trip to the Bandelier area. "We LOVE this place!! Lots of Juniper Trees, thus lots of shade. Awesome Ancestral Pueblo archeological sites and hiking trails!" Juniper Family Campground is located near the entrance to the park, just off Highway 4. Sites are first-come-first-served. Juniper is dry camping. No water or electric hook-ups or showers. There are flush-toilet restrooms and a dump station, so you will still live better at Juniper than those cave dwellers.
Click here for more information on Juniper Family Campground, Bandelier National Monument
---
Northeast
Lowden Memorial State Park
Oregon, IL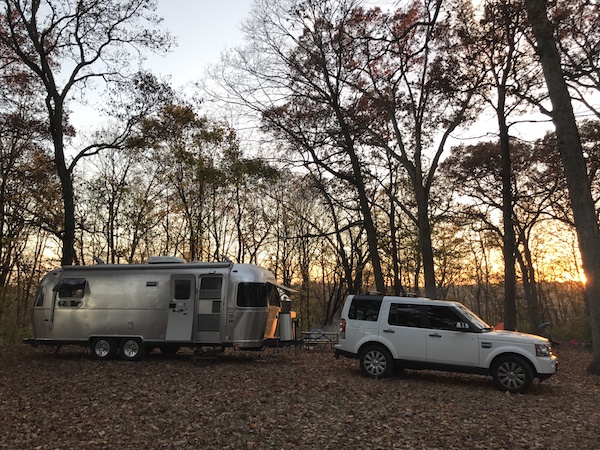 Located along the Rock River in north-central Illinois, Lowden encompasses land beloved by the legendary Chief Black Hawk. The park has four miles of hiking trails that allow visitors to experience the natural beauty that so enchanted the Native American leader, including the bluffs that rise above the river. Lowden's signature attraction is the 50-foot concrete statue of a Native American that rises over the river valley. Unfortunately, that landmark is currently covered up as part of a restoration and preservation project. Fisherman can spend their time catching largemouth and smallmouth bass, bluegill, sunfish, crappie, channel catfish, northern pike, walleye, bullhead, carp, sucker and drum. Airstreamer Bakerstream enjoyed his time at Lowden. "Nice location for local Midwesterners to get away. Gorgeous trees surround the area!"
Lowden has 80 Class A campsites with electricity. Amenities include showers and a dump station.
Click here for more information on Lowden Memorial State Park
---
Southeast
Fort DeSoto Park Campground
St. Petersburg, FL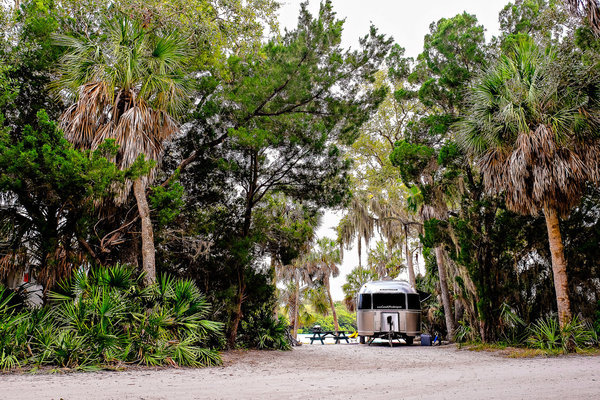 Snowbirds, welcome to your Gulf Coast nest! Fort DeSoto Park spans five interconnected keys (islands). The park's seven miles of shoreline includes three miles of white sand beaches named Best in America. The nature-watching here is spectacular. This 1,136-acre county park is home to beach plants, mangroves, wetlands, palm hammocks, hardwoods, 328 bird species and a wealth of sea life, including loggerhead sea turtles. Take in all that wonder from seven miles of paved multi-purpose paths, three short nature trails and, of course, the beach. Beach bonus: Dogs are allowed in designated areas of DeSoto's sandy shorelines. If you want to do more than look at nature, head over to one of Fort DeSoto's two fishing piers. Both offer food and bait concessions. The park's namesake, a Spanish-American War-era fortification, is open to visitors. Airstreamer @ChasingTabor highly recommends DeSoto. "I can't say enough how much we love this spot! The sites are huge and pretty private with trees and palms in between each one. Museums, restaurants and shops not too far away in St. Pete, but the campground feels like an isolated beach island." Fort DeSoto has 238 spots with water and electricity. Amenities include bathrooms, showers, dump station, laundry facilities and a camp store.
Click here for more information on Fort DeSoto Park Campground
Santee State Park
Santee, SC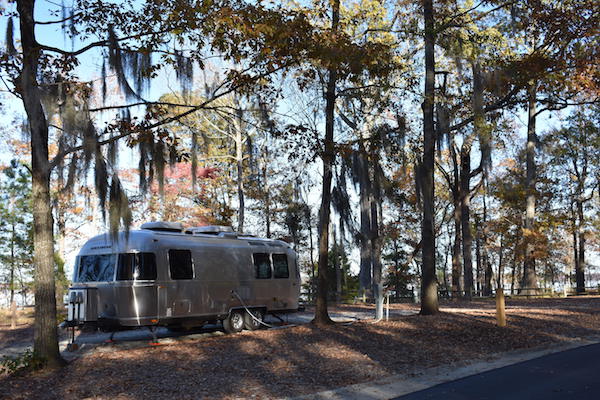 This pretty little park is a perfect rest-stop on a popular winter migratory route. Santee is located 10 miles and a world away from the I-95 corridor. Duck into Santee for a respite from the road. Stretch your legs on 10 miles of hiking trails, where it's not uncommon to spot deer, foxes and alligators. Santee is a premier location for birdwatching. You might see osprey, great blue heron, painted buntings and numerous other regional species. The park's Lake Marion fishing pier is an excellent spot for bass, bream, crappie and catfish. When you're done communing with nature, check out the tomb of Revolutionary War hero Francis Marion, who was the model for Mel Gibson's character in "The Patriot." Airstreamers Why Not Go were pleasantly surprised by Santee. "Overall, we really liked it here. It was super peaceful after the Thanksgiving weekend crowds left. The rangers, camp host, and people in the office were all very nice. The views of the lake and lake access via a small beach area were great!"  Santee has two camping areas. The 50-site Cypress View Campground sits on the west side of the park. The Lakeshore Campground, with 108 sites, is located on the east side of the park. Each site is packed sand and has water and electrical hook-ups, and a picnic table. Both campgrounds are convenient to restroom facilities with hot showers. Many sites accommodate vehicles up to 40 feet.
Click here for more information on Santee State Park
Indian Creek Recreation Area
Woodworth, LA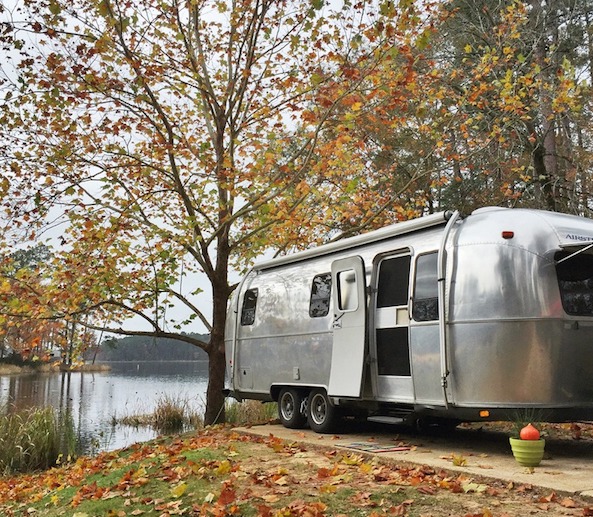 This sprawling outdoor playground is located on Indian Creek Lake in south-central Louisiana's Alexander State Forest. The area is a local favorite for fishing and deer hunting. A 3.5-mile loop trail showcases the area's flora and fauna, including the endangered red-cockaded woodpecker. There are several other trails near Indian Creek, most notably the 24-mile Wild Azalea Trail, which is known for its beautiful wildflower views. Airstreamer Fotoman 1527 says Indian Creek is great as either a layover or destination. "This is a gorgeous, spacious Louisiana state recreation area with a beautiful campground. The sites are extremely spacious and well-placed. Our site was on the banks of a reservoir with a gorgeous view. This park made a wonderful stopping point coming northwest out of New Orleans."  Indian Creek has more than 100 campsites with water and electricity. Amenities include restrooms, showers, laundry facilities, and a playground.
Click here for more information on Indian Creek Recreation Area
Palo Duro Canyon State Park
Canyon, TX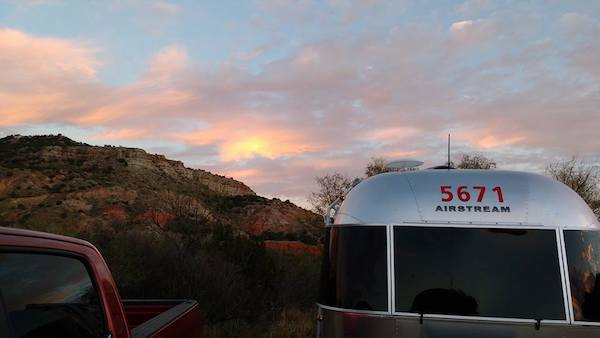 Everything is bigger in Texas. Well, almost everything. Palo Duro Canyon is the second largest canyon in the U.S. after Arizona's Grand Canyon. Located in the middle of the Texas panhandle, Palo Duro offers scenic vistas, outdoor adventure and history that hold their own against that bigger hole in the ground. The park has 16 trails totaling some 30 miles that meander past natural wonders and historic sites, including the Lighthouse rock formation, a "rock garden" created by an ancient landslide, and structures that evoke the life of the cowboys who once herded Longhorn cattle through these parts. There's even more hiking (and nature-watching) to be done at the Buffalo Lake National Wildlife Refuge and Lake Meredith National Recreation Area. The Alibates FIint Quarries National Monument offers insight into a resource valued by local humans for 13,000 years. Nearby Amarillo is packed with restaurants, shops and museums. Palo Duro has a total of 64 spots with water and electricity spread across four camping areas. Amenities include restrooms and showers.
Click here for more information about Palo Duro Canyon State Park
Top of Georgia Airstream Park
Helen, GA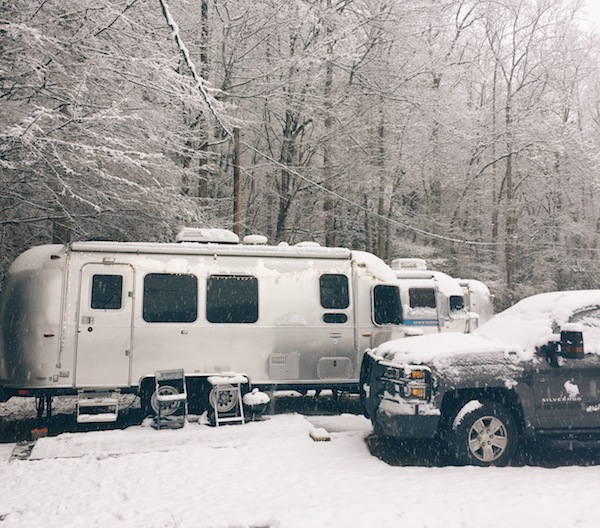 Set in the heart of the Peach State's mountain playground, Top of Georgia is owned and operated by the Georgia chapter of the Wally Byam Caravan Club International. The park occupies a sliver of private land inside the majestic Chattahoochee National Forest, which makes Top the perfect base to explore this gorgeous southern tail of the Appalachian Mountains. The National Forest and numerous close-by Georgia state parks are home to endless hiking trails, spectacular waterfalls, calming mountain vistas, and -- in-season -- some of the country's best whitewater rafting. At the end of a day well-spent in nature, consider a trip into Helen, the quintessential mountain resort town. Airstreamer EWhitworth says Top of Georgia provided a perfect introduction to the Airstream community. "This was our first weekend out with our new Airstream, so we knew we would have a few questions. We got there late on a Friday evening, and our host could not have been nicer. He treated us like family. We were instantly greeted by our neighbor, a regular camper at Top of Georgia, and he helped us with our TV, maps, and info about the area. We felt like old friends after about five minutes."  Top of Georgia has 200 sites; most are concrete pads with full hook-ups.
Click here for more information about Top of Georgia Airstream Park