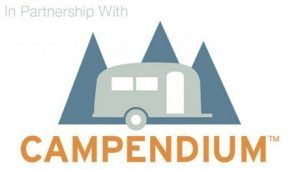 Northwest Camping
Daroga State Park
Orondo, WA
This park, which takes its name from a nearby junction on the Union Pacific, is situated along the Grande Ronde River. While camping in the tranquility of Hilgard's cottonwoods and ponderosa pines, you can see ruts of the historic Oregon Trail at the nearby Blue Mountain Crossing Interpretive park, explore miles of open road in the national forest, or hop over to the town of La Grande. Because the Grande Ronde River flows through the park, anglers and rafters will find plenty to do here. And keep an eye out for the wild things – beaver, mink, deer and a variety of birds inhabit the park. In winter, the snow brings herds of elk and deer to the banks of the river, making for majestic viewing.
Learn more about Hilgard Junction State Park -
Murtaugh Lake Park Campground
Murtaugh, ID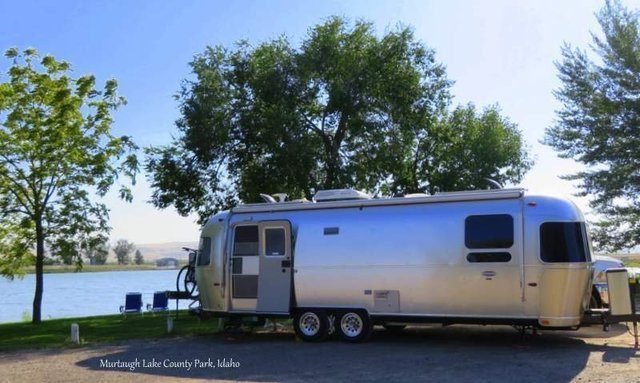 Set on a peninsula in Murtaugh Lake, Murtaugh Lake Park Campground is surrounded by farmland that stretches some 20 miles to the town of Twin Falls. (For trivia buffs, Twin Falls is where daredevil Evel Knievel attempted to jump across the Snake River Canyon in 1974 on a steam-powered rocket.) In the park, visitors will find expansive lawns covered with gravel roads and driveways. Many of the lakeside campsites have docks for mooring a boat. The campground also offers community horseshoe pits, a baseball field and volleyball poles. Kayak rentals are available if you want to explore the lake. Or just choose to relax and enjoy the peaceful trees and abundance of birds.
Learn more about Murtaugh Lake Park Campground
Connor Battlefield Historic Site
Ranchester, WY
Airstreamers love this spot located "under a shade tree." At this historic site, you won't find hookups, but you will likely find solitude and relaxation. Connor is a quiet spot away from the hustle of the road with 20 camping sites nestled in an oxbow of the Tongue River covered in large cottonwoods. A night's stay here will set you back only $11, and payment is made on the honor system at the entrance. Connor is located about 20 minutes from Sheridan and 30 minutes from Bighorn Forest, sister range of the Rocky Mountains.
Learn more about Connor Battlefield Historic Site
La Conner RV & Camping Resort
La Connor, WA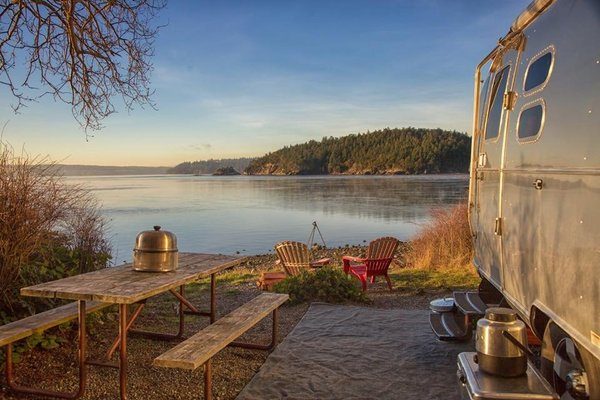 Soak in the peace and serenity of Washington's beautiful outdoors at La Conner RV & Camping Resort. With over 100 acres of camping space and a half-mile of saltwater beachfront, this resort is an ideal "home base" for exploring the Pacific Northwest. Just outside your doorstep, you'll find, in addition to the beach, access to hiking and nature trails plus activities like horseshoes and tennis. If you feel like venturing out, don't miss the charming town of La Connor. Airstreamers J5MM found that "the boutiques down by the water are a lot of fun to explore and there is a huge antique shop that can easily eat up an entire day if you let it." The San Juan Islands, known for their rural Pacific Northwest landscapes and wildlife, are just a ferry ride away.
Learn more about La Conner RV & Camping Resort
Southwest Camping
Crystal Cove State Park
Laguna Beach, CA
Laguna Beach, a small coastal city in Orange County, is known for its abundance of art galleries, coves and, of course, beaches. At Crystal Cove State Park campers will find much to explore. The park features 2,400 acres of backcountry wilderness, 3.2 miles of beach and an offshore underwater area. While staying here, sit back, relax and enjoy the serenity of the surroundings – the rolling surf, sandy beaches, tide pools, gently sloping hills, and deeply wooded canyons and ridges. While you may be eager to log lots of time near the Pacific (keep an eye out for dolphins and whales!), don't forget the interior portion of the park, a true hidden gem with spectacular coastal views of Moro Ridge. Use the park's many trails for hiking, biking, or horseback riding. As Airstreamers ourairstreamtrek put it, "Not sure it gets any better" than this.
Learn more about Crystal Cove State Park
Malibu Beach RV Park
Malibu, CA
If you love having both ocean and mountain views from your Airstream's windows, this is your spot. Touted as the place "where summer spends the winter," Malibu Beach RV Park offers balmy weather and beautiful beaches along with amazing hiking, excellent restaurants and a peaceful atmosphere. Airstreamers Fables and Trails say this destination "has everything you might want in an RV park." Opt for a spot located near the edge of the bluff where the park sits, and you'll be surrounded by lush plants and flowers and be wowed by 180-degree views of the ocean and rich green mountains. With so much natural splendor, you may never make it into the posh celebrity-inhabited town of Malibu.
Learn more about Malibu Beach RV Park
Forest Road 687, Coronado National Forest
Tombstone, AZ
Who hasn't heard of Tombstone? ("I'm your huckleberry.") But are you familiar with the Coronado National Forest, a 1.78-million-acre park spread throughout the mountains of southeastern Arizona and southwestern New Mexico? If headed that way, consider staying on Forest Road 687 for some of the best, and most secluded camping. You'll find dispersed camping with breathtaking views along the Cochise Stronghold nestled in the Dragoon Mountains. Note that FR 687 is accessed from North Middlemarch Rd, off Hwy 80 just north of Tombstone, and the road may be bumpy, so scout if you need to. For history buffs, head to Tombstone for a day trip; it's only 20 minutes away. You're a daisy if you do.
Learn more about Forest Road 687, Coronado National Forest
BLM 261 Lot
Moab, UT
Central to Arches, Moab and Canyonlands, 261 is a little slice of BLM heaven. Despite the site's location just 100 yards from the highway, you'll have a tranquil experience among fantastic surroundings. Airstreamers The Emigrants liken the location to the Martian landscape. The massive red rock formations of Arches National Park are just a five-minute drive away. To the southwest, Canyonlands National Park's offers stunning views of mesas and buttes carved by the Green and Colorado rivers, along with Native American rock art. Traveling with kids? You'll find dinosaur tracks at Bull Canyon Overlook and Copper Ridge.
Learn more about BLM 261 Lot
Corn Creek Spring, Desert National Wildlife Refuge
Las Vegas, NV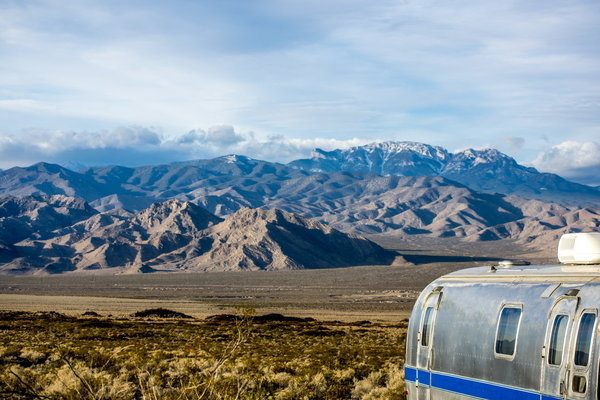 A free place to stay in Las Vegas? Nope, this isn't a casino promo – it's the Corn Creek Spring portion of the Desert National Wildlife Refuge. While the Refuge encompasses 1.5 million acres of the diverse Mojave Desert in southern Nevada, the Corn Creek Spring location is on the smaller side (there's space for about three rigs at a time). But, you can't beat the proximity to Sin City. This secluded spot is about a 30-minute drive to the city center, plus offers some of the best in dry camping. Sites are spacious, and the area is quiet. Airstreamers continents collide report that, for navigating there, "Once you reach the end of the paved road, you can turn left or right on Alamo road. It's all gravel, but you can camp anywhere off the gravel road." Out on the range, keep an eye out for bighorn sheep and other wildlife that call the refuge home.
Learn more about Corn Creek Spring, Desert National Wildlife Refuge
Southeast Camping
Lake Claiborne State Park
Homer, LA
Anglers, listen up; this one's for you. Down on the bayou, you'll find Lake Claiborne State Park. Cast a line in the freshwater lake, built by damming Bayou D'Arbonne, and you might bring home something nice for the grill. Largemouth bass, bluegill sunfish, channel catfish, black crappie, striped bass, chain pickerel, bream, and white perch are abundant in the stocked lake. And there's plenty of room to fish; the lake itself is 6,400 acres. Baiting a line not your thing? That's fine, too, chèr. You can birdwatch, boat or canoe (available for rental onsite), water ski, hike and mountain bike while you're camping here, or just relax and take in the park's natural beauty. Fun fact: the park also has the top-ranked disc golf courses in the state. So, bring a Frisbee, too!
Learn more about Lake Claiborne State Park
Ocean Pond Campground, Osceola National Forest
Sanderson, FL
Nestled in the Osceola National Forest in northeast Florida, Ocean Pond Campground features a two-mile-wide lake with a sandy beach. Visitors can enjoy activities like fishing, boating, water skiing and hiking at this 46 RV-site campground. Both the Great Florida Birding Trail and the Florida National Scenic Trail pass through the campground, giving campers easy access to the unique beauty of this part of Florida, which include pine flatwoods and cypress-hardwood swamps. You don't have to be a snowbird to enjoy all the beauty these sites have to offer, but the early bird gets the worm! Of the sites, 19 have electric and water, and 27 have water only.
Learn more about Ocean Pond Campground, Osceola National Forest
Prairie Creek Campground, Army Corps of Engineers
Lowndesboro, AL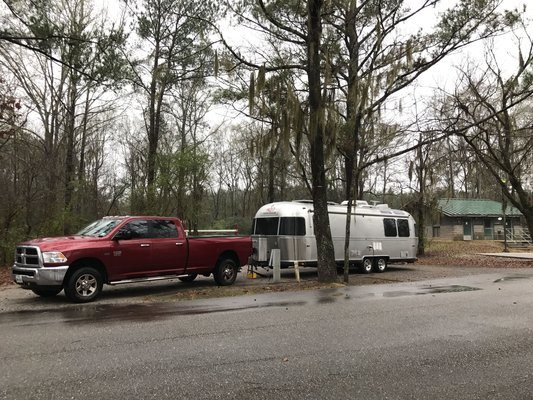 "If you value having a campsite right on the water, this place is for you," writes Airstreamer Kalamazookim. The sites at Prairie Creek are situated along both the Woodruff Lake and the Alabama River. The lake is part of the region's Black Prairie Belt, which is characterized by an assortment of rolling grasslands and dense hardwood and pine forests. Take a trip here to relax and unwind beneath moss-draped oaks on the banks of the lake, or use the opportunity to hunt, hike, fish (think bass, crappie, bluegill and catfish) and explore the blue space. Per the usual Corps of Engineers standards, the camp is well laid out, and spots are nice and spacious. There are 55 concrete pad RV sites, all with electric and water hookups.
Learn more about Prairie Creek Campground, Army Corps Of Engineers
Devil's Den State Park, Ozark National Forest
West Fork, AR
Don't let the name scare you off. In northwest Arkansas among the Ozarks, visitors can head to Devil's Den State Park for some excellent camping. Airstreamer Jerry T. put it best when he called his stay here "A tranquil forest getaway." In the park, explorers will find multiple hiking, biking, walking and riding trails, including the extensive Butterfield Trail and the Gorley King horse trail, and others that lead to the surrounding Ozark National Forest. Watch for the abundant, interesting wildlife, like beavers, bats and armadillos. One of the most intact Civilian Conservation Corps sites in the US, Devil's Den is also home to unique rock formations and caverns, and a rock dam that spans Lee Creek and forms Lake Devil, an 8-acre lake for fishing and boating. Campers have access to 42 full-hookup and 135 dry camping sites.
Learn more about Devil's Den State Park, Ozark National Forest
Edisto Beach State Park
Edisto Island, SC
Located just 50 miles south of Charleston on the South Carolina coast is tranquil and sublime Edisto Island. Edisto is one of four oceanfront state parks in South Carolina, and it's earned its place as a favorite vacation spot for locals and travelers alike. There are two areas in which to camp – the beach section and the marsh section. While beachfront is nice, don't rule out the marsh just yet! Airstreamer Todd said, "the marsh section is a great woodsy, shady spot," and less than five minutes to the beach. At the park, along with the one and a half miles of stunning shoreline, you'll find trails for hiking and biking that provide a wonderful tour of the surroundings, including four miles of ADA accessible trails. These trails wind through Edisto Island's maritime forest and lead explorers to historic sites, such as a Native American shell mound dated to 2000 BC.
Learn more about Edisto Beach State Park