Explore the guide to find some of the best July camping across the United States, as recommended by fellow Airstreamers through Campendium.
Northwest
Lava Lake Campground, Deschutes National Forest
Bend, OR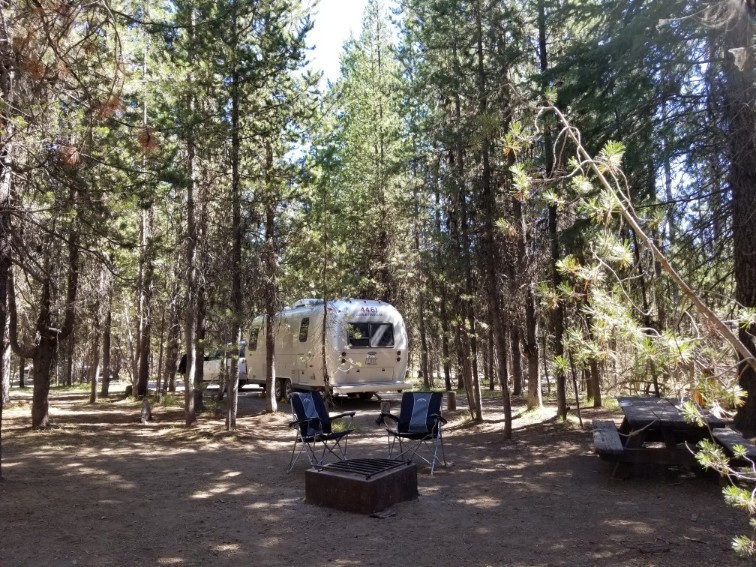 As indicated by its name, this lake was formed by ancient lava flows that created a dam along its east shoreline. Today, subsurface springs provide the primary inflow to the lake. And at Lava Lake Campground, there are spectacular views of Mt. Bachelor and an abundance of activities for Airstreamers to enjoy. As for water sports, there are opportunities for boating and fishing (for Rainbow and Brook trout, whitefish and chub) at the Lava Lake Boating Site, which has two launches and is located near the campground. And, according to Airstreamers WatsonsWander, "if you come with a kayak and want to avoid motorboat traffic in Lava Lake, you can check out nearby Hosmer Lake in Deschutes National Forest. The mountain views there are also spectacular!" The campground has a handful of trails that wind around the lake with more located a short drive away in the Deschutes. Lava Lake Campground has 38 single sites that are available on a first-come, first-served basis for a nightly rate of $16, so consider a trip mid-week to avoid the crowds! There are no utility hookups here, but they do have water spigots and pit toilets. Next door campers can utilize the facilities at Lava Lake Resort, which offers showers ($5) and a dump station ($10).
Click here for more information on Lava Lake Campground
Millersylvania State Park
Olympia, WA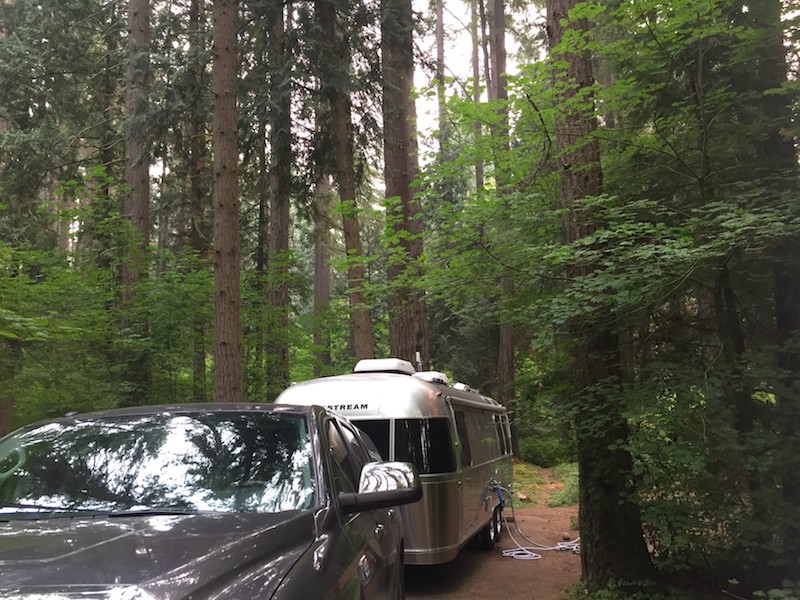 If you're in search of a beautiful campground on a lake with a beer garden, then Airstreamer Gretchen says you've found it! Millersylvania State Park consists of 903 acres in the camping park and another 3,300 feet of freshwater shoreline on Deep Lake, which is perfect for splashing around on a hot day. There are also watercraft launches, non-motorized watercraft rentals (kayaks, paddleboards, pedal boats) and abundant fishing opportunities. Located between Olympia and Centralia, this massive park beckons to adventurers. Many of the park structures were built by the Civilian Conservation Corps (CCC) in the 1930s, so you can see and admire the hallmark artisanship of that era. When you're not enjoying the lake or the history, take a walk through the wetlands and old-growth forest. With over eight miles of hiking trails and seven miles of biking trails, there's plenty of land to explore. Millersylvania State Park Campground offers 120 standard campsites, 48 partial-hookup sites, three restrooms (one ADA), eight showers (two ADA) and one dump station. Reservations are accepted. Ideally located in a country setting and forested region of southern Olympia, with an easy drive to the state capital and historic downtown Olympia, Millersylvania makes for a perfect summer trip – whether for a week or weekend. (Did we mention the beer garden?)
Click here for more information on Millersylvania State Park
Apgar Campground, Glacier National Park
West Glacier, MT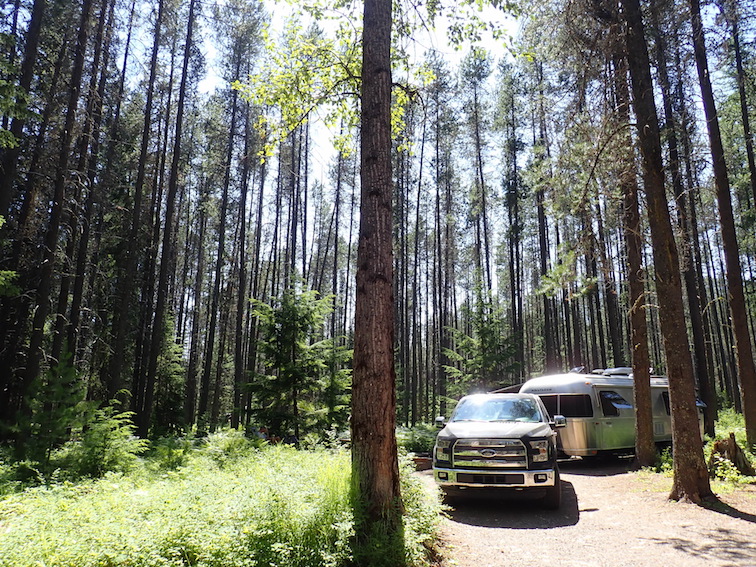 Glacier National Park is a jewel in America's vast and varied landscape. It's home to rugged mountains, pristine forests, alpine meadows and spectacular lakes. With over 700 miles of trails (and more than 60 day hikes), Glacier is a hiker's paradise for experiencing the tranquility of the wild (not to mention the richness of wildlife, and awe-inspiring views of the Clark, Lewis, and Livingston ranges of the Rocky Mountains). I know. I don't have to twist your arm. Glacier is probably on every adventurer's list of places to visit. When you go there, consider staying at Apgar Campground on the park's west side, situated on the southern tip of Lake McDonald. Apgar is the largest campground in Glacier and is located near Apgar Village, where you'll find a visitor center, gift shops, a camp store and a casual restaurant. Horseback ride reservations, boat rentals and a free shuttle service to access other shuttle stops on the Going-to-the-Sun Road are also located in Apgar Village. The campground itself is surrounded by trees that provide campers with shade and privacy. There is a total of 194 sites, and potable water is accessible in the campground. Restroom facilities provide flush toilets and sinks with running water, and picnic tables and fire rings are provided. Stays are limited to 14 days, and sites are available on a first-come, first-served basis. But, you can check the status of Apgar and the other campgrounds at Glacier here.
Click here for more information on Apgar Campground
Rex Hale Campground, Shoshone National Forest
Cody, WY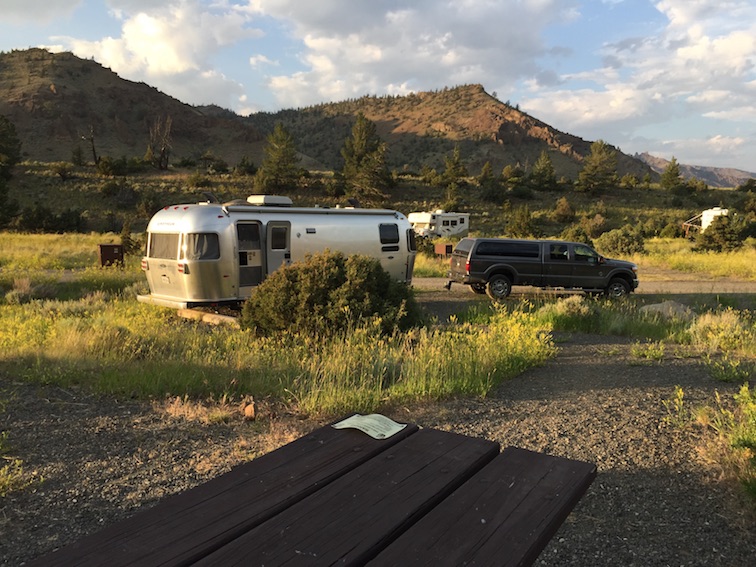 Located along the Buffalo Bill Scenic Byway in northwestern Wyoming, Airstreamers will find the Rex Hale Campground. This campground lies near the banks of the North Fork of the Shoshone River and provides visitors with spectacular views of the red cliffs. If you're lucky, you may catch a glimpse of bighorn sheep along the crags. But if not, there's still plenty of wildlife in the National Forest to glimpse, including grizzly bears, deer, elk, bison, moose, fox, coyotes and bald eagles. As for activities, there are plenty of opportunities all around the campground for hiking, scenic driving or fishing (the North Fork of the Shoshone River is a popular fly-fishing location for rainbow and Yellowstone cutthroat trout). Take a trip to historical Mummy Cave, less than a mile from the campground, which was discovered in 1957 and found to have been occupied for over 9,000 years. Besides being located in the Shoshone National Forest, Rex Hale Campground is just over 16 miles to Yellowstone National Park's east entrance and about 36 miles west of Cody. The campground hosts 30 open and spacious sites along the North Fork of the Shoshone River, some of which have electric and water hookups. Each site comes with a table, campfire ring and food storage locker. Vault toilets, drinking water and trash collection are provided.
Click here for more information on Rex Hale Campground
N'kwala Recreation Site, Provincial Recreation Site
Thompson-Nicola N, BC, Canada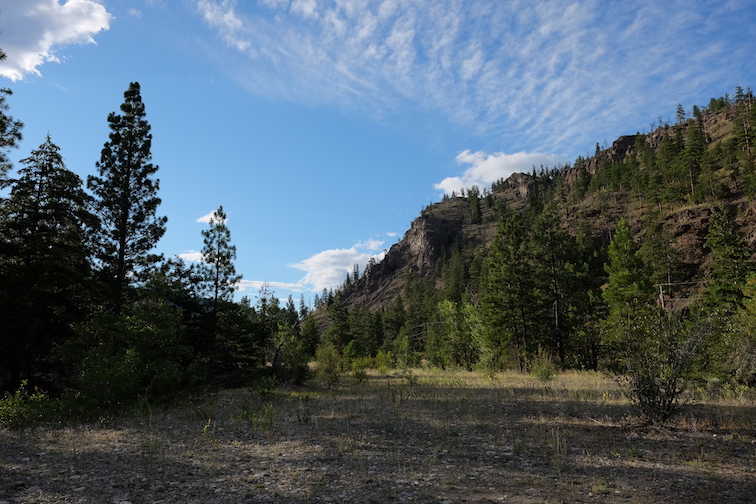 In July, the weather in British Columbia (BC) can be sublime, with highs in the mid-80s and lows in the mid-60s. No wonder Airstreamers in the Northwest US often plan a summer getaway to our neighbor Canada. If you want to experience some "free riverside boondocking in BC, then this is the place," says Airstreamer Meant for Adventure, who made a stop here during their trip to Banff. N'kwala Recreation Site is a user-maintained, free site in the BC Recreation Sites and Trails system. Located in an arid forest beside the Nicola River, N'kwala is a popular camping location during the warmer months. The river offers the perfect place for canoeing and kayaking, fishing, or for taking a refreshing dip when the mercury rises. Here you'll find a mix of Yellow Pine and Fir. Some of the recreations 20 campsites are shaded by these trees, while others offer full sun. Pit toilets are available, and most sites have a fire ring and picnic table. "Overall, this is a pretty, nice, quiet boondocking spot in a convenient location," says Meant for Adventure. Plus, if you decide to venture out for a day, the town of Merritt is just a short drive away and boasts a unique blend of urban lifestyle and outdoor adventure.
Click here for more information on N'kwala Recreation Site
---
Southwest
Azalea Campground, Kings Canyon National Park
Hume, CA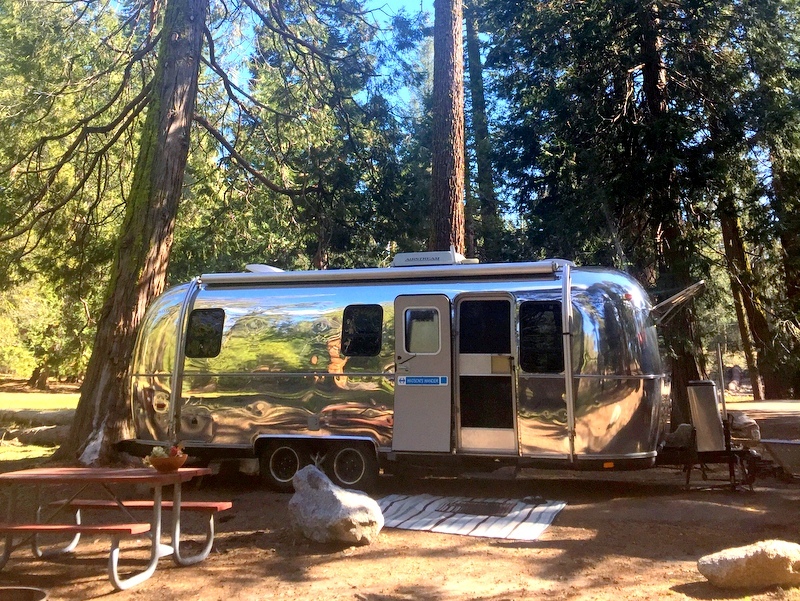 Take a trip to the place that John Muir once called "a rival to Yosemite." At Kings Canyon National Park, you'll be awe-struck by deep valleys, skyscraping trees, and distinctive rock outcroppings. And, by some measures, the park is also home to the deepest canyon in the US, at over a mile and a half deep. Kings Canyon Park is composed of two distinct areas. One is Grant Grove, the home of the General Grant tree, or "the Nation's Christmas Tree." The second is Cedar Grove, located at the bottom of Kings Canyon and featuring terrain similar to Yosemite Valley. Kings Canyon is also home to Redwood Canyon, the largest remaining grove of sequoia trees in the world. Plus, Sequoia National Park is just next door. Convinced? Good. Now, as to camping, you can set up camp with your Airstream at Azalea Campground, where azalea shrubs bloom with showy, fragrant white flowers. Situated in the Grant Grove area and only 3.5 miles from the Kings Canyon National Park entrance, this campground sits under open stands of evergreen trees at an elevation of 6,500 feet. What's more is that it's within walking distance of the General Grant sequoia grove. Azalea has up to 110 campsites that are available on a first-come, first-served basis, year-round. This is dry camping, but there are flush toilets on site and bear-resistant food storage lockers at each campsite. Nearby campgrounds in Sequoia National Park have dump stations. The fee is $18 per night.
Click here for more information on Azalea Campground
Fruita Campground, Capitol Reef National Park
Torrey, UT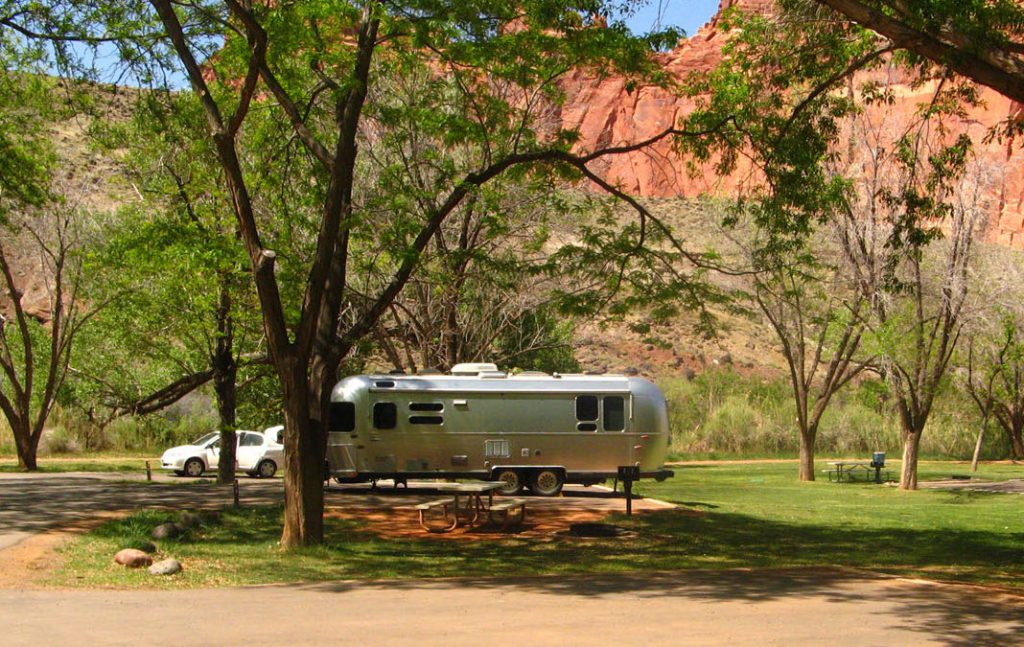 Welcome to this oasis in the desert. Fruita Campground is a semi-shaded, grassy campground located in the heart of red rock country in south-central Utah's Capitol Reef National Park. Here, Airstreamers will stumble upon a gloriously varied landscape, filled with cliffs, canyons, domes and bridges in the Waterpocket Fold, a geologic monocline – a wrinkle on the earth – extending almost 100 miles. Just as the landscape is multi-faceted, so too are the opportunities for recreation. There are trails for hikers of all skill levels, historical and cultural sites (like Capitol Gorge Trail), and a scenic drive along Highway 24 that winds you past the Fremont petroglyph (or carving) panels, parts of the Fruita Historic District, and the western faces of the Waterpocket Fold. Spur roads along the way allow for even more exploration into the beauty Grand Wash and Capitol Gorge. Plus, during harvest season, visitors here can wander through the historic Fruita orchards and pick fresh fruits, such as cherry, apricot, peach, pear, apple, plum and mulberry. Yum! Fruita Campground has 71 sites, 65 of which can be reserved from March 1 to October 31. This is dry camping, and the nightly fee is $20. Available amenities include picnic tables and fire rings, and an on-site dump station and portable water fill station. There are also restrooms with running water and flush toilets.
Click here for more information on Fruita Campground
May Queen Campground, San Isabel National Forest
Leadville, CO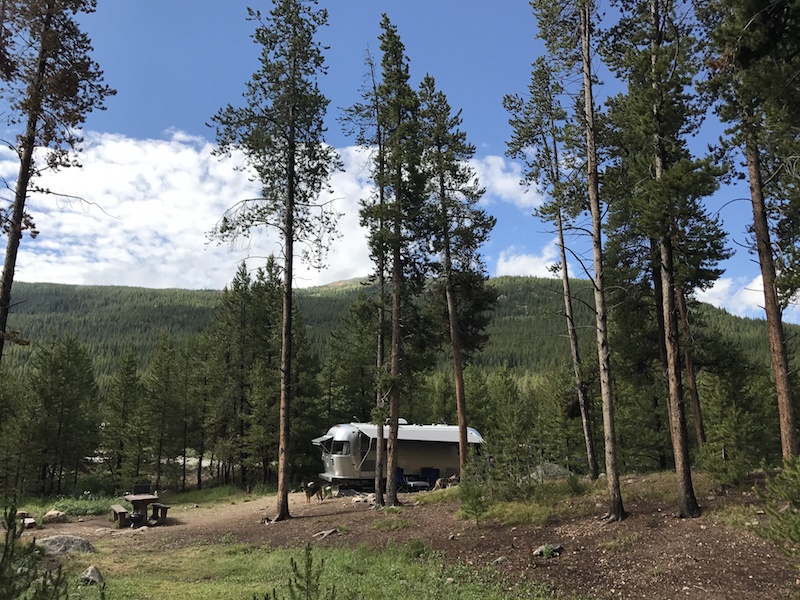 At the far western end of Turquoise Lake in a shaded lodgepole pine forest, Airstreamers will find May Queen Campground. Part of the San Isabel National Forest, the campground is perched at an elevation of 9,900 feet, near the Charles Boustead Memorial Tunnel. This 5.5-mile tunnel transports water from the Fryingpan and Roaring Fork River Basins through the Continental Divide to the Arkansas River Basin by emptying water into Turquoise Lake. A stunning vista of the Holy Cross and Mount Massive Wildernesses can be seen from the campground. Nearby is the Mount Massive Wilderness area, a 30,540-acre expanse encompassing Mount Massive, Colorado's second highest peak at 14,421 feet. Besides being beautiful, May Queen offers recreational opportunities like boating, canoeing, fishing (for mackinaw and rainbow trout) and hiking. Visitors here are also likely to see native wildlife, such as chipmunks, beavers and porcupines. Take a trek on the 6.4-mile Turquoise Lake Trail, which runs parallel the shoreline of the lake from May Queen Campground to the dam. You'll be greeted by spectacular views and a variety of plant and animal life, as well as the remnants of some old mines. Drinking water is available, and vault toilets are onsite. Each site comes with a campfire ring and picnic table. No electric hookups are available.
Click here for more information on May Queen Campground
Upper End Campground, Gila National Forest
Silver City, NM
Established in 1905, the Gila National Forest spans over 3.3 million acres of public land, making it the sixth-largest National Forest in the continental US. The forest's landscape traverses such features as rugged mountains to deep canyons, from mesas to semi-desert lands. Located in the forest is the Gila Wilderness, which was designated the world's first wilderness area in 1924. Consider Upper End Campground for your stay. Here, Airstreamers will find magnificent mountains and rangeland. The majestic scenery and cool summer temperatures make this an ideal place to visit to beat the heat of July. Activities include hiking, fishing, hunting, and horseback riding. Keep an eye out for wildlife while you're out exploring. The forest is home to its namesake Gila monster, as well as black bear, bald eagle, spotted owl, elk, white-tailed deer, osprey, peregrine falcon, gray fox, mule deer and bighorn sheep. As for camping, Airstreamers Traveling America - Adventures of PalmAir say, this "hidden gem" boasts "lots of trees for shade that kept the heat down, so no AC was needed and large spaces that are far apart." No hookups are available, but there are picnic tables, drinking water and toilets. The fee is $10 a night, and stays are capped at 14 days. For provisions, Traveling America - Adventures of PalmAir recommend Silver City: "It will take you about 45 minutes, as the drive has a lot of switchbacks, but it is a beautiful drive."
Click here for more information on Upper End Campground
Forest Road 611 East Rim, Kaibab National Forest
North Rim, AZ
Are you ready for some boondocking that's both inside a glorious National Forest and nearly on the North Rim of the Grand Canyon? How about some fantastic views to boot? We thought so. Welcome to Forest Road 611, East Rim. This free, dispersed camping area offers an ideal place to set up your Airstream and get to exploring. Don't let the lack of amenities deter you. Just be sure to stock up in advance, because the location is somewhat remote, as Airstreamers Kblanquart report. Oh, and they also called their experience here, "the best camping ever." The Kaibab National Forest, nestled on the Colorado Plateau, offers a multitude of opportunities for adventure and discovery. The campground is located in the Tusayan Ranger District of the forest, on the northern portion of the Coconino Plateau. The total area of the Tusayan Ranger District is about 360,000 acres. Recreation here includes hiking, backpacking, fishing, big game hunting and horseback riding. Wildlife spotting may consist of white-tailed deer, mule deer, elk, wild turkey and coyote. As for birdwatching, keep an eye out for Steller's jays, nuthatches, flickers and other woodpeckers, various hummingbirds, ravens, and a variety of hawks. And as for Grand Canyon, you'll avoid the crowds of visitors on the North Rim – less than 10% of guests to the park visit this side. Known as "the road less traveled," this side is over 8,000 feet in elevation. There are hiking trails, an overlook and a scenic drive.
Click here for more information on Forest Road 611 East Rim
---
Northeast
Schoodic Woods Campground, Acadia National Park
Winter Harbor, ME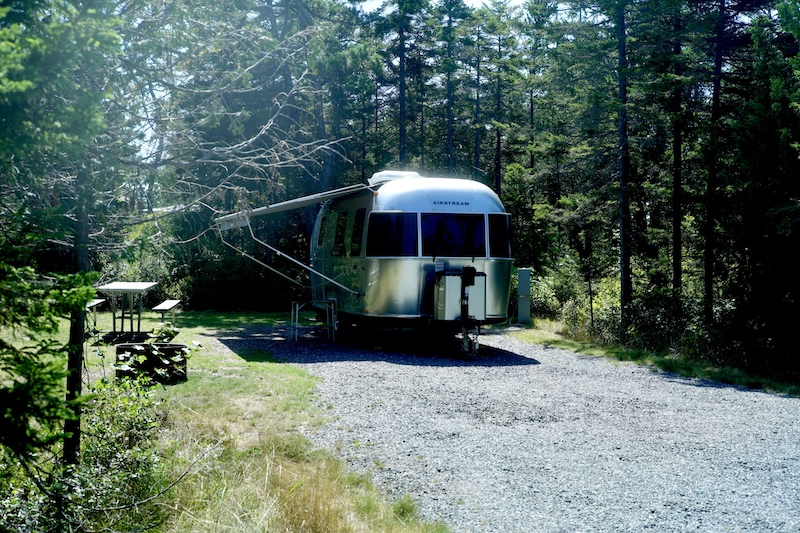 As Airstreamers Busy Campers put it, Schoodic Woods Campground provides "Acadia splendor, now with solitude." Located on the Schoodic Peninsula, this Acadia National Park campground is a little over a one hour drive from Bar Harbor, near where the central area of the park is located. It's also just three miles southeast of Winter Harbor if you need to stock up on provisions. Here's a pro tip to know before you go – make a reservation! During the peak season of May 1 through late October, it's almost necessary to have a reservation to make sure you get a spot. What's more is that you won't be disappointed by your stay at Schooic Woods Campground. As Airstreamer Tom and Earl (the Springer) say, "Schoodic Woods is an awesome place to camp." The campground is also pretty new; the facilities were built in 2015 and, as Tom and Earl say, "it shows." There are water and electricity at the sites, which are spacious and offer privacy from your neighbors. All also come with a picnic table and fire pit. There are bathrooms; however, there are no showers and no sewer, so plan your stay accordingly. But, with a location like this (not to mention the other amenities), who can complain? When you're not exploring Acadia, take advantage of the biking loop around Schoodic Point and the handful of hiking trails there. The fee is $30 nightly.
Click here for more information on Schoodic Woods Campground
Tête d'Indien Camping, RV Park
St-Georges-de-Malbaie, QC, Canada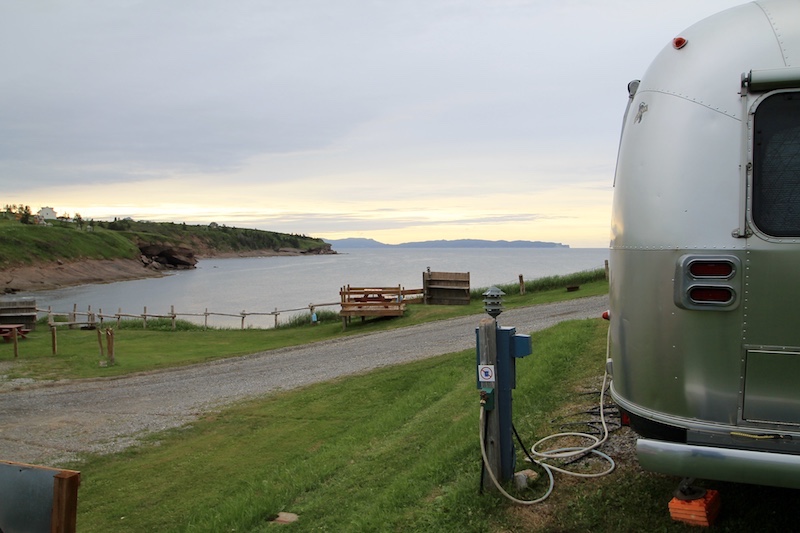 Tête d'Indien Camping (French for "Indian Head" Camping) is a lovely RV Park located on the bluffs of the Gulf of St. Lawrence and between Quebec's Gaspé and Percé. It offers the solitude of nature on a unique landscape in ​​the small Pointe Saint-Pierre area, full of majestic beauty and panoramic views over the gulf and the mysterious Flat island. Airstreamer Tomp calls the park, "The perfect place for a destination with great ocean views." Visitors here will get to see the park's namesake – a legendary natural rock known as the Indian Head. Bird watchers will delight in the various seabirds, and when turning an eye to the gulf, watch for whale sightings. Activities at the park include two beaches, kayaking and a playground for the kids. Nearby attractions include National Park Forillon, which offers hiking, diving with seals, whale watching and Mount St. Alban, where an observation tower offers 360-degree views over the peninsula. There's also the River aux émeraudes, where visitors can swim in a turquoise canyon with a stunning waterfall, and nearby hiking trails, museums, and an interpretation center founded by the Micmac Native American community. Sites at the park vary from being situated on the edge of the sea, being wooded, or being at the top of the cliffs. All sites include water, electricity and picnic tables, and some also include sewer. Ocean view sites boast a private 8 x 10-foot deck and fire pit. There is a bathhouse on-site.
Click here for more information on Tête d'Indien Camping
Grand Isle State Park
Grand Isle, VT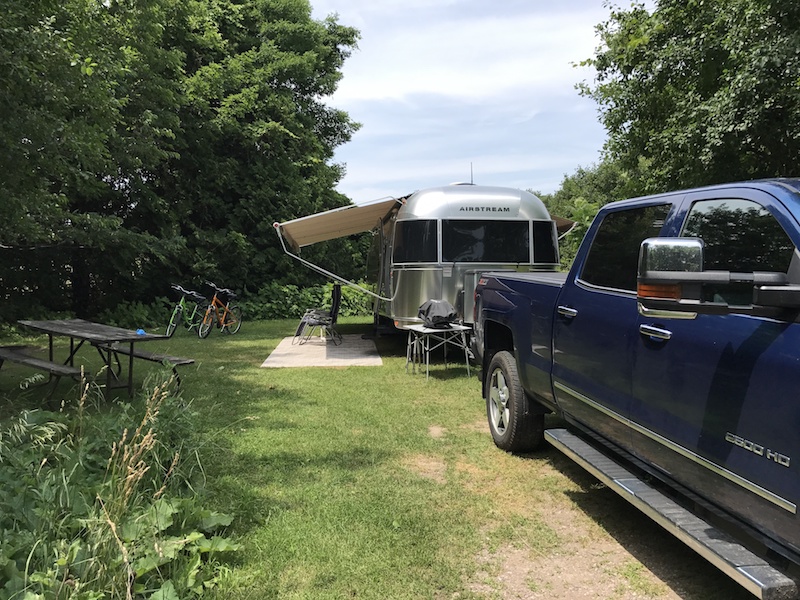 What better time to visit the Green Mountain State than in July, when average high temperatures hover just around 80 degrees and nights are cool and in the mid-60s? And Grand Isle State Park is the perfect place to do so. This park is located on South Hero Island, the largest island in Lake Champlain. Also known as Grand Isle, this island is 14 miles long and over 3 miles wide and is home to over 4,100 feet of Lake Champlain shoreline. Its proximity to Burlington, Vermont and Montreal also make this state park a desirable destination for a weekend or spur-of-the-moment camping trips. Grand Isle's property extends all the way west to Route 2, where part of the land is being kept open by agricultural lease, and some of what was pasture thirty years ago has reverted to natural woodland. Lakeshore areas permit swimming and shore fishing, plus there's a boat launching ramp for kayaks and rowboats you can rent through the park. On-site, Airstreamers will also find sand-court volleyball, horseshoes, basketball, a play area and a nature walk. Campers here are also permitted free entry to the beaches at Knight Point State Park (seven miles north) and Alburgh Dunes State Park (19 miles north). More hiking and biking attractions are just a 30- to 45-minute drive from the park. While sites don't offer hookups, amenities at Grand Isle include a freshwater station, bathrooms with coin-operated showers, and a dump station at the entrance.
Click here for more information on Grand Isle State Park
Camden Hills State Park
Camden, ME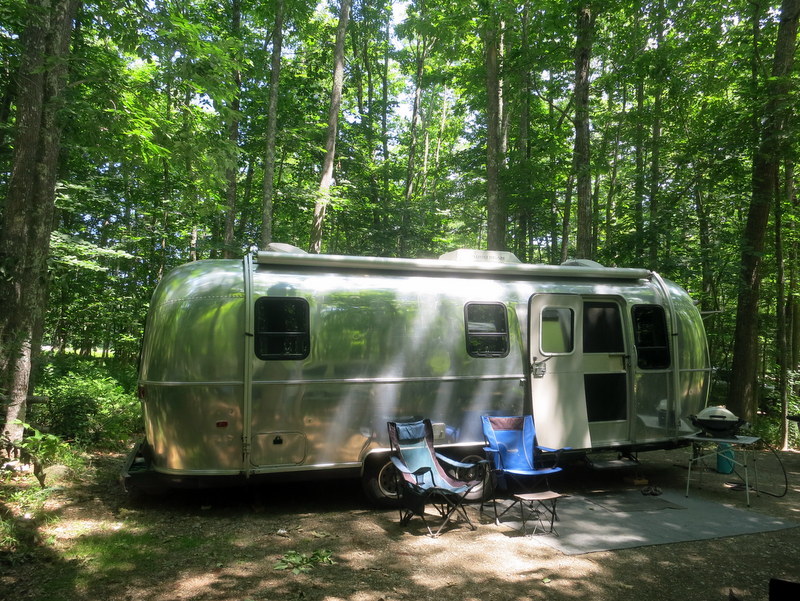 Camden Hills State Park has long been renowned for the panoramic view of Camden Harbor and Penobscot Bay from atop Mt. Battie. Indeed, it inspired Edna St. Vincent Millay's poem "Renascence." Today, the Camden Hills still creates a sense of wonder in visitors. In the vast 5,700-acre park, campers are treated to 30 miles of hiking trails (Mt. Megunticook, the highest of the Camden Hills and the highest peak on the mainland, is a moderate climb by foot trail) and an abundance of biking trails. All provide breathtaking views of the surrounding hills and lakes. There are also opportunities for bird watching, horseback riding and hunting. Airstreamers Busy Campers go on to describe that "You're right across the street from the ocean where you can picnic on a hill, sit on a bench or stroll the short trail. And, you're only 10 minutes from downtown Camden, which is a great little harbor town with lots of amenities." (Lobster roll, anyone?) Ready to hitch up and head to Camden Hills State Park? Reservations can be made in advance at Maine.gov. Sites offer electric and water hookups. Amenities at the park include comfort stations with hot showers, wireless internet access and a dump station.
Click here for more information on Camden Hills State Park
Le Camping, RV Park
Petit-Rocher-Nord, NB, Canada
Le Camping RV Park is an idyllic place, small and quiet. "Le Camping is certainly one of the most beautiful and peaceful campgrounds out there, with stunning views of Chaleur Bay, beachside sites, and incredibly gracious hosts," says Airstreamer Dirk Reynolds. "Add to that a few small quaint towns strung along the coast, and you have the makings of a perfect stay." Welcome to your ideal spot for vacationing and enjoying the great outdoors of New Brunswick, located in the Nepisiguit River region. There's so much to see and do here you won't want to leave. For starters, take a walk along a portion of the historic Nepisiguit Mi'gmaq Trail, which was used by the Mi'gmaq people for thousands of years. It winds along the mighty Nepisiguit River from mountains to sea for about 87 miles (from Mount Carleton Park in central New Brunswick to Daly Point Nature Reserve in Bathurst). Want a guided experience? Le Camping offers tours in hiking, biking, canoeing, kayaking and snorkeling. For those times when you want a more urban adventure, Le Camping is only a few minutes from Petit Rocher and 20 minutes from Bathurst. There are over 60 sites here, with some right on the bay and others farther in. On-site amenities include a sanitary block (with showers, sinks and toilets) and a laundromat. Campsites are full service, and Wi-Fi is available at the office.
Click here for more information on Le Camping
---
Southeast
Fort Pickens Campground, Gulf Islands National Seashore
Pensacola Beach, FL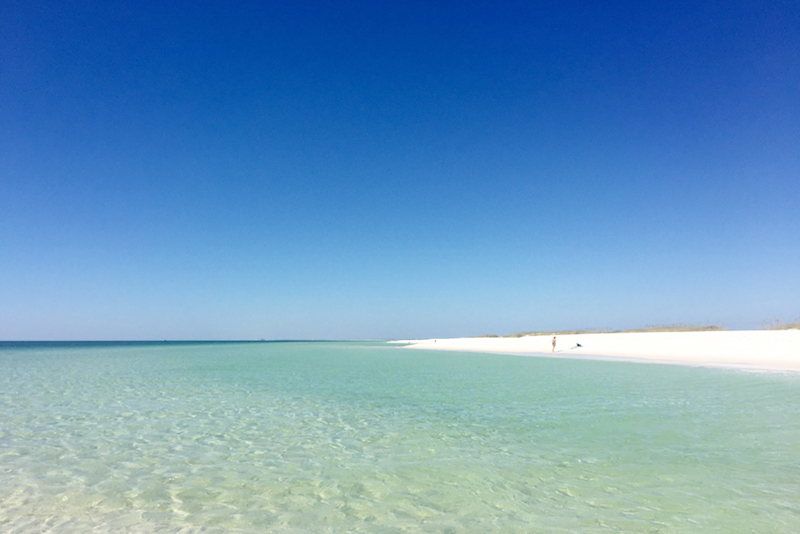 Droves of people flock to the islands in the northern Gulf of Mexico for their white sandy beaches, aquamarine waters, historic sites, fishing and camping. The Gulf Islands National Seashore encompasses many of the most beautiful of these places. From Cat Island, Mississippi, it stretches 160 miles eastward to the Okaloosa Area east of Fort Walton Beach, Florida, and boasts clear, sparkling waters, superb white beaches and fertile coastal marshes. What's more, 80% of the park is underwater, serving as a vital protective habitat for marine life. At Fort Pickens Campground, nestled in the National Seashore, you'll find a lovely place located just south of Pensacola. The campground sits on a barrier island between the Gulf of Mexico and Pensacola Bay, with groves of live oak trees welcoming campers. The trees provide shelter for resident and migratory birds - and a bit of shade for park visitors. Recreation here includes every type of beach activity you can imagine – swimming, boating, fishing, or simply taking a walk along the sand. For history buffs, historic Fort Pickens, fortified after the War of 1812 and one of four forts in the South never occupied by Confederates during the Civil War, is just one mile from the campground. The restaurants and beach nightlife of downtown Pensacola are a short distance away. This large campground contains 137 family sites with electric and water hookups and is open for reservations year-round. Amenities include flush toilets, showers, drinking water and a dump station.
Click here for more information on Fort Pickens Campground
Hanging Rock State Park
Danbury, NC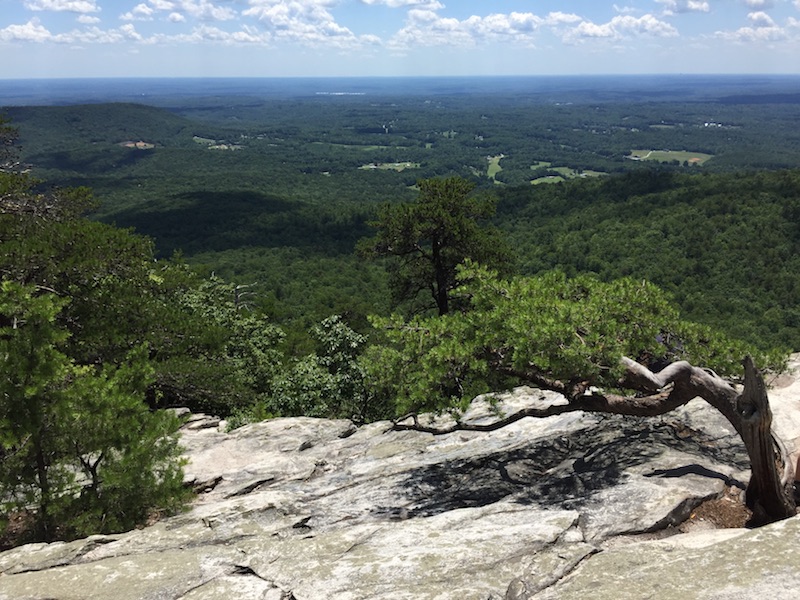 Since its creation as a 1930s Civilian Conservation Corps project, Hanging Rock State Park has offered the best in traditional outdoor experiences. Located in the Sauratown Mountain Range, one of the most easterly mountain ranges in North Carolina and often called "the mountains away from the mountains." The Sauratown range is made up of monadnocks (isolated hills or ridges or erosion-resistant rocks rising above level ground) that are separated from the nearby Blue Ridge Mountains. At Hanging Rock, campers will find a 73-site campground with picnic grounds. There's a 12-acre lake that's perfect for fishing (bass, sunfish and catfish), swimming or canoeing (with rentals available on-site). Hanging Rock is home to over 20 miles of hiking trails that lift hikers to spectacular views and weave alongside clear streams and waterfalls. Access to the Dan River is also available for paddling, and there are 8.4 miles of mountain biking trails plus rock climbing opportunities (with a permit) within the park. The museum explores the natural and cultural history of the Sauratown Mountains. There are 31 campsites for RVs. This is dry camping – no hookups or dump station is provided. But you will find drinking water and bathhouses with utility sinks and hot showers on-site. Reservations are accepted.
Click here for more information on Hanging Rock State Park
Cages Bend Campground, Army Corps Of Engineers
Gallatin, TN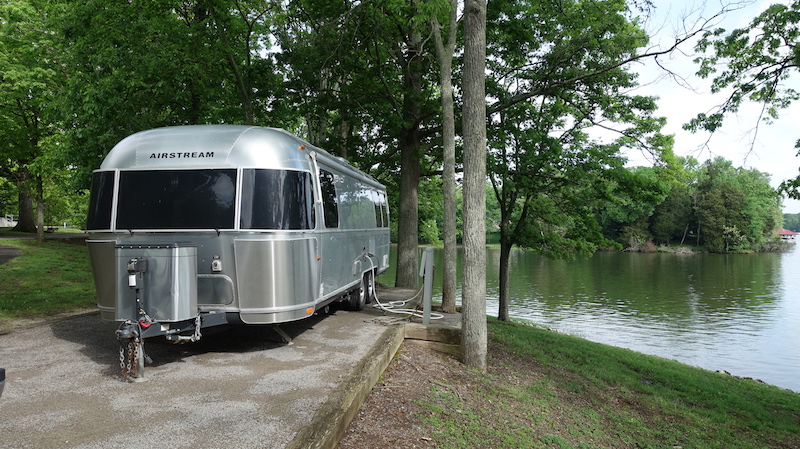 On the shores of Old Hickory Lake sits Cages Bend Campground, which offers campers plenty of recreational activities set against a beautiful scenic backdrop. The 22,500-acre reservoir is just northeast of the Nashville metro area. Fed by the Cumberland River, Old Hickory Lake stretches for 97 miles. Swimming and sailing are great ways to enjoy the lake, and anglers can find outstanding bank and boat fishing for catfish, crappie and bass. While water recreation is the predominant attraction of this campground, the woodland habitat's abundance of white-tailed deer, migratory song birds and waterfowl make birding and wildlife photography a popular pastime, too. Be sure to make time for a day trip to Nashville, the Country Music Capital of the World. Hear live music at all hours on Broadway, take in the sites at the Country Music Hall of Fame and Museum, and feast on some top notch barbeque. History buffs will appreciate a stop in at The Hermitage, an impressive National Historic Landmark where US President Andrew Jackson lived. And, visitors in search of additional pier fishing opportunities can spend some time at the nearby Rockland, Sanders Ferry, Shutes Branch and Bledsoe Creek parks. Back at the campground, all sites have electric and water hookups and four sites meet accessibility standards. Onsite, there is a playground for families, a boat ramp for easy lake access, showers for comfort and laundry facilities.
Click here for more information on Cages Bend Campground
Virginia Highland Haven Airstream Park
Copper Hill, VA
Shhhh! Keep it secretl! That's what Airstreamer StreamingEagle would say about Virginia Highland Haven Airstream Park because it's "so amazing you almost don't want to tell people!" Fellow Airstreamer Kate Smith says, "This is hands down one of my favorite places we've stayed. It is the most relaxing, beautiful place centered around an expansive mountain view." Virginia Highland Haven is located in the gorgeous Blue Ridge Mountains of southwest Virginia. Campsites are situated on a mountaintop at an elevation of over 2,700 feet, so Airstreamers are greeted by sweeping mountain vistas. In this Airstream Park's 75 acres, you'll find open meadows, forests, hiking trails, wildlife, a waterfall, cool breezes and spectacular sunsets. Golfing, hiking, and kayaking are favorite local outdoor activities. When you're not engaging in outdoor exploration, why not participate in one of the many events organized by the park host? With activities like movie night, campfires, ice cream socials, morning yoga and a hike to the park's waterfall, there's something for everyone. Beyond the park, the nearby Blue Ridge Parkway offers scenic drives, while Roanoke (22 miles northeast) offers up excellent cultural, shopping, dining, and historical attractions. The nightly rate is only $35, including taxes. There are 46 paved, full hookup sites, and amenities include complimentary Wi-Fi, concrete patios, a clubhouse that includes laundry facilities and a community fire ring.
Click here for more information on Virginia Highland Haven Airstream Park
Cloudland Canyon State Park
Rising Fawn, GA

Cloudland Canyon State Park showcases the stunning water-carved canyons, caves, and rugged geology of the Cumberland Plateau – the southern part of the Appalachian Plateau in the Appalachian Mountains. This place is truly one of wonder, where Airstreamers can bask in the sheer majesty of their surroundings. Situated on Lookout Mountain's western edge, Cloudland Canyon is one of the largest and most scenic parks in the state of Georgia. Thousand-foot deep canyons, sandstone cliffs, wild caves, waterfalls, cascading creeks, dense woodland and abundant wildlife are all part of the scenery. Visitors have plenty of options for outdoor recreation, including a variety of hiking and biking trails for all skill levels. Perhaps the most popular walk is the Overlook Trail, which provides stunning views of the canyons below. There's also the West Rim Loop Trail, which takes hikers down the canyon and back up the other side, before looping around for the return. But the most magnificent hike is the strenuous Waterfalls Trail, which challenges hikers with 600 stairs that lead down to a fantastic waterfall. In addition to these exciting adventures, the park also has an 18-hole disc golf course, wild caves available for touring, a fishing pond, trails for horseback riding, picnicking grounds and numerous interpretive programs. There are 72 campsites, with some offering water and electric, and others offering electric only. There are comfort stations, laundry facilities and a dump station on site.
Click here for more information on Cloudland Canyon State Park