The primary camping season is upon us! Things are heating up as more and more Airstreamers are gearing up to head out to their favorite camping locations across the country. Your fellow Streamers have recommended these great June camping locations through Campendium - Check them out!
Northwest Camping
Lake Creek Road, Sawtooth National Forest
Ketchum, ID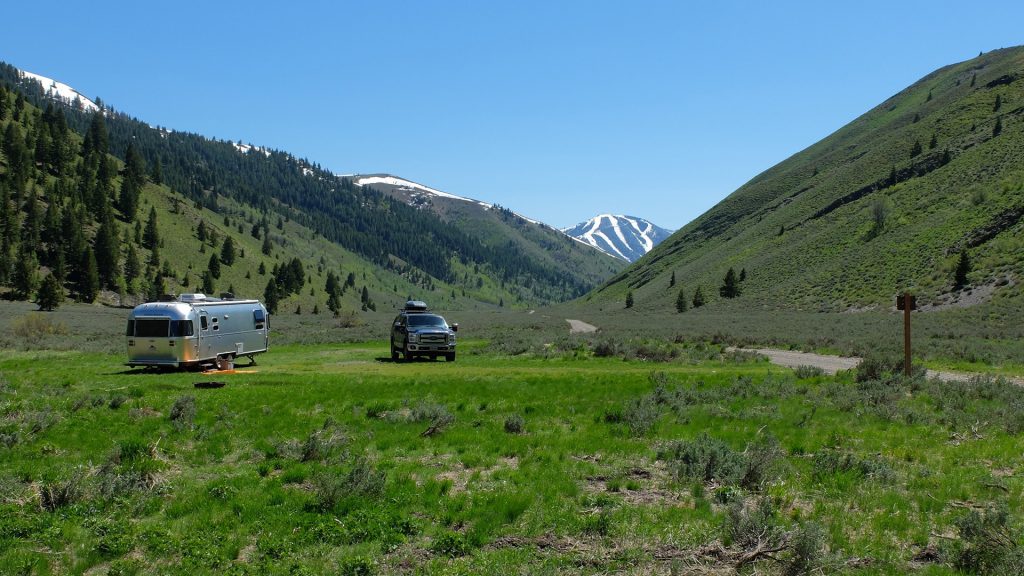 In the heart of Idaho, Sawtooth National Forest is a special place. The forest is home to inspiring beauty and contrasting landscapes. This national forest's lands stretch from the "basin and range" – from northern Utah to the lofty peaks of the Idaho Rockies and the headwaters of the legendary "River of No Return." This inherent diversity is coupled with a contrast in seasons, with a summer of "scene-sations" that you won't want to miss. The forest is full of its resident deer, elk, mountain goats, and bighorn sheep, as well as gray wolves, wolverines, black bear, salmon, and many species of birds that also thrive here. At Lake Creek Road campground, a dry camping campground, you'll have plenty of opportunities to connect with this extraordinary land. Airstreamers WatsonsWander remark, "There is plentiful boondocking in this area, but I think Lake Creek might have some of the best. With views, trails, good cell service, and a short drive to town, it hits all the marks." Fellow Airstreamer kamila says, "Do yourself a favor and stay here!"  
Click below for more information on Lake Creek Road
Downstream Campground, Army Corps Of Engineers
Nashua, MT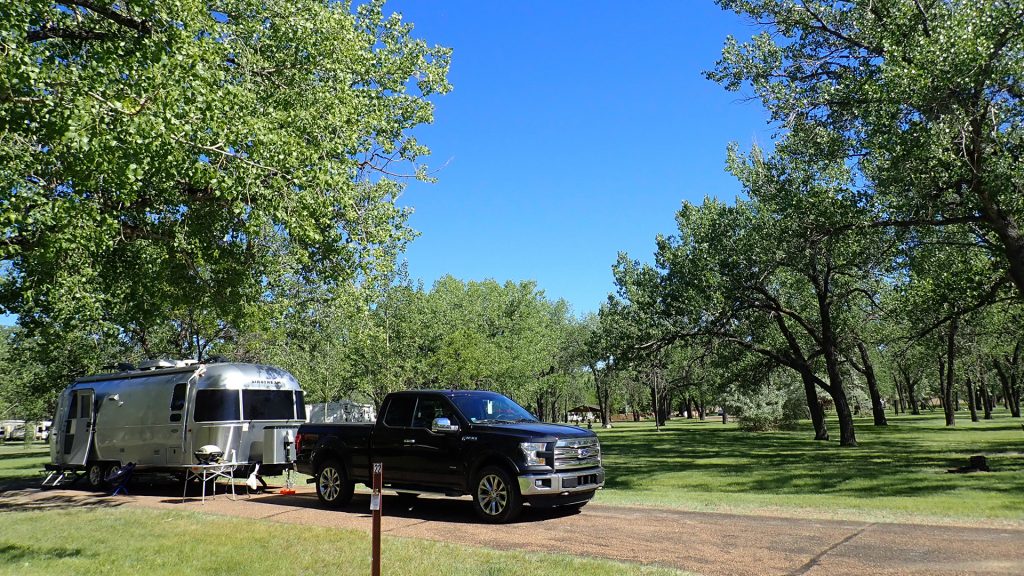 If you're looking for a "great campground with lots to see," then you won't be disappointed in Downstream Campground. As Airstreamers Chappys Going Places report, this Army Corps of Engineers campground "is fantastic due to the wide array of things to do there, but also because the campground itself is very well maintained." Located just below Fort Peck Dam on the Missouri River in northeastern Montana, visitors will enjoy the natural beauty of Fort Peck Lake's 1,500 miles of shoreline. For the warmer days in June, a shady grove of cottonwoods provides a canopy for the grassy campground, making it a pleasant place during summer. Activities for guests include boating, fishing (three fishing ponds, including scenic Winter Harbor, dot the landscape below the dam), hunting, sightseeing and wildlife viewing. Keep an eye out for deer, antelope, elk and birds. There are also three miles of paved trails that wind along the Missouri River and through the surrounding wooded area. Downstream Campground offers 70 RV sites with electrical hookups. There is no water hookup at the sites, but potable water is available to fill tanks. The campground offers flush and vault toilets, showers, playgrounds, a basketball court and horseshoe pits. A dump station and fish cleaning station are located on-site.
Click below for more information on Downstream Campground
Farewell Bend State Recreation Area
Huntington, OR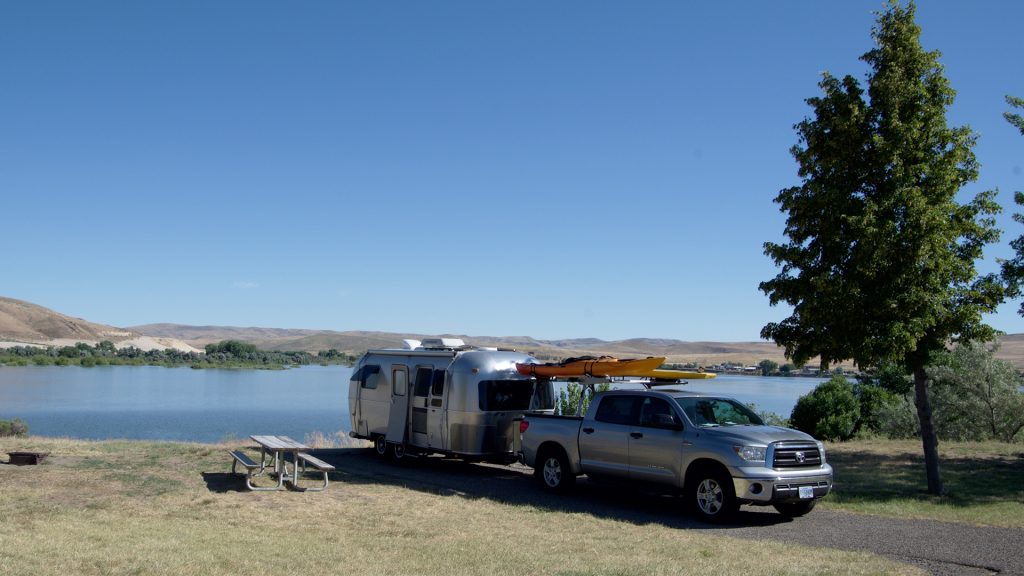 Historic Farewell Bend State Recreation Area is located just northwest of Ontario, Oregon, near the Idaho border. The park offers a majestic desert experience on the banks of the Snake River's Brownlee Reservoir. Here you'll find a slew of markers and interpretive displays with information on Farewell Bend's significance on the historic Oregon Trail. Farewell Bend was the last stop on the Oregon Trail, where travelers could rest and water and graze their animals at Snake River before the trail turned north through more rugged country, following the Burnt River. This campground is a great base camp for you to explore this vast and varied region, whether for history or more modern-day fun. For adventurers, there's a slew of waterborne options – Brownlee Reservoir offers fishing, water skiing and boating. And for more earth-bound activities, try geocaching, or play a game of horseshoes or sand volleyball. While resting from the day's events, sit back and enjoy the serenity and seclusion of Farewell Bend, along with the peaceful scenery. If you're lucky, you'll see wildlife like deer, pronghorn, geese, eagles, chukars and quail. Evening interpretive programs are also available during this time of year. Because of its relatively remote location (the closest town is Huntington), it's a good idea to stock up before your visit. There are 91 electrical sites with water, and on-site you'll find hot showers and flush toilets, a fish cleaning station and a dump station at the entrance of the park.
Click below for more information on Farewell Bend State Recreation Area
Upper Teton View, Bridger-Teton National Forest
Moose, WY
Oh, Bridger-Teton National Forest, how expansive and magnificent you are. If you're not familiar with this American gem, Bridger-Teton offers more than 3.4 million acres of public land for adventurers to explore, including pristine watersheds, abundant wildlife and immense wildlands. This forest also comprises a large part of the Greater Yellowstone Ecosystem - the largest intact ecosystem in the lower 48 United States. Offering nearly 1.2 million acres of designated wilderness, over 3,000 miles of road and trail and thousands of miles of unspoiled rivers and streams, the Bridger-Teton has something for every explorer. During the summer months, visitors are likely to stumble across an array of wildlife, including trumpeter swans, sandhill cranes, coyotes, bald eagles and elk. When making your trip to this gorgeous landscape and unique piece of American Heritage, plan a (free) stay at the Upper Teton View campground. Airstreamers Zamia Ventures say, "This site offers views of the Tetons that are different and more breathtaking every day, from morning alpenglow to dramatic sunsets." Upper Teton View is close to all the major areas of the park, so it's easy to get out to trailheads for hiking or to various overlooks for sightseeing and photo ops. This is dry camping territory, so come prepared so you can stay awhile. Zamia Ventures goes on to say, "This is the Tetons experience people dream about."
Click below for more information on Upper Teton View, Bridger-Teton National Forest
Crooked River Campground, The Cove Palisades State Park
Culver, OR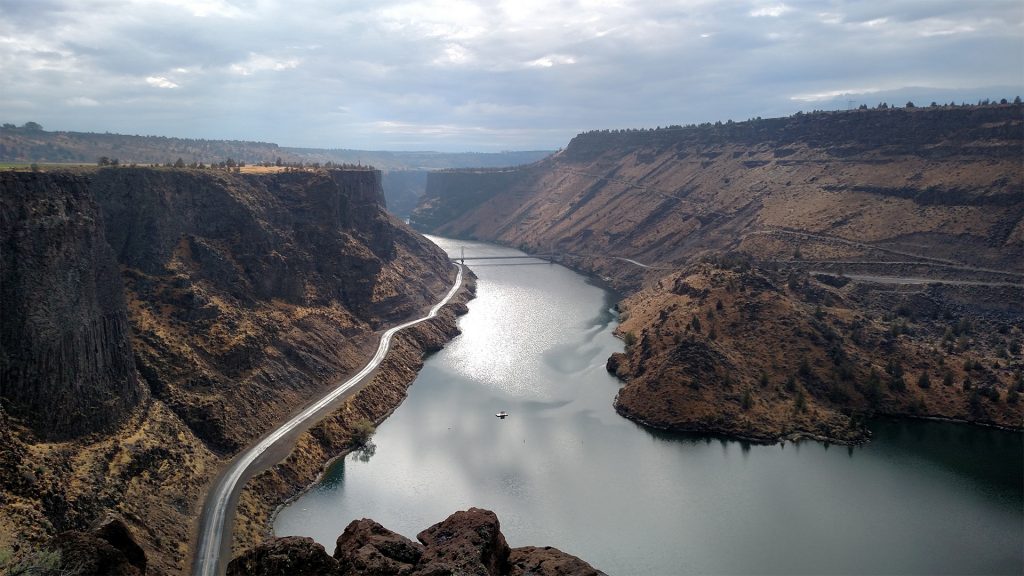 Airstreamer Makaira sums Crooked River Campground up best: "This a lovely oasis in the high desert. The sites are extremely spacious, and the ones on the west side enjoy terrific of the Cascade mountains – still snow covered as of now (in mid-June). At the lake's edge (about a mile away) is a marina with a small coffee shop that has a great deck overlooking the reservoir and its namesake basalt palisades." The Cove Palisades includes a vast expanse of central Oregon semi-arid plateau dissected by the deep cutting river channels of the Crooked River as it meets the larger Deschutes River. The geologic history of the region is revealed in the steep canyon walls, starting some 10 to 12 million years ago. Basaltic lava flows occurred in the last 50,000 years and filled canyons in the park. As the rivers began to erode these canyons, they resulted in their present configuration, which is breathtaking. At Cove Palisades State Park, aside from geological history, you'll find a recreational destination for the whole family. The park is nestled among towering cliffs that surround beautiful Lake Billy Chinook. Because of its location in a high desert region, the weather is sunny and warm in the summer months. In this full-service campground, visitors will find endless water activities, such as boating, water skiing and fishing, complete with a marina and rental services. Nature lovers will delight in the nearly 10 miles of hiking trails through areas rich in wildlife. There are 88 RV sites with electric and water, flush toilets and hot showers, a fenced, off-leash dog park, and a dump station on site.
Click below for more information on Crooked River Campground
---
Southwest Camping
Burlington Campground, Humboldt Redwoods State Park
Weott, CA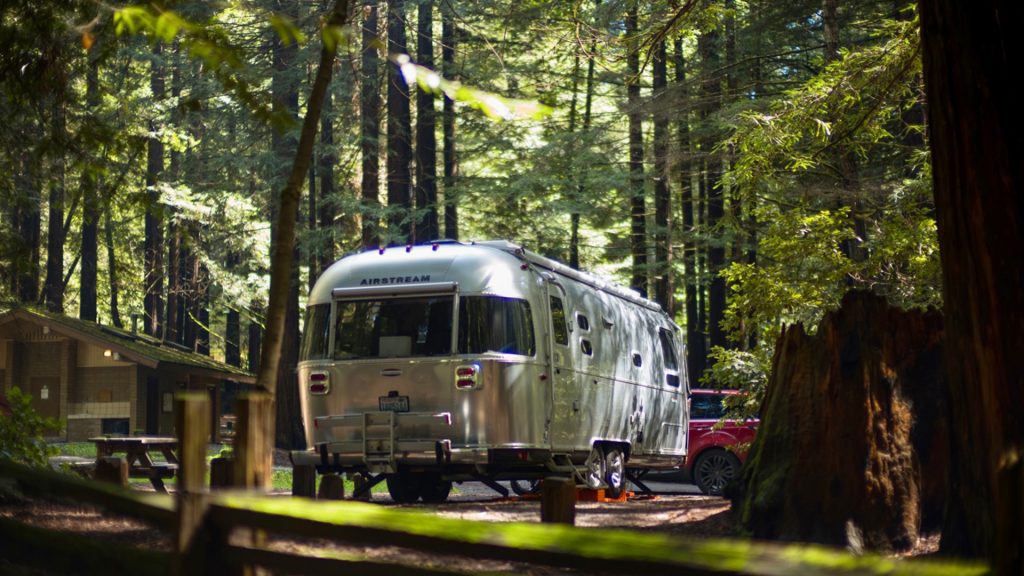 Humboldt Redwoods State Park spans about 53,000 acres – an area almost twice the size of San Francisco. About one-third of the park is old-growth redwood forest and is where the largest expanse of ancient redwoods left on the planet reside. The park offers one of the best places to see the redwoods in the whole of the North Coast region – the 32-mile long Avenue of the Giants. Nearby Burlington Campground lets you camp among the giants! Centrally located on the Avenue of the Giants, this campground has 57 campsites in old and second growth redwoods. According to Airstreamer Sunny, "This is a magical spot, and the woodsy smell is something I wish I could bottle!" At the campground, visitors will find three hike and bike sites. Across the street, there is a short nature trail that leads to the Eel River, where explorers can swim and fish. A summer bridge provides access to additional hiking trails for those looking to adventure more throughout the majestic forest on foot. Burlington Campground offers site-specific reservations year-round. Sites don't come with any hookups, but are generously sized and include picnic tables and fire pits. There are bathrooms and coin-operated showers on-site. A nearby dump station at the Shell Station in Fortuna will let you dump for free if you show your registration ticket.
Click below for more information on Burlington Campground
Ponderosa Campground
Antonito, CO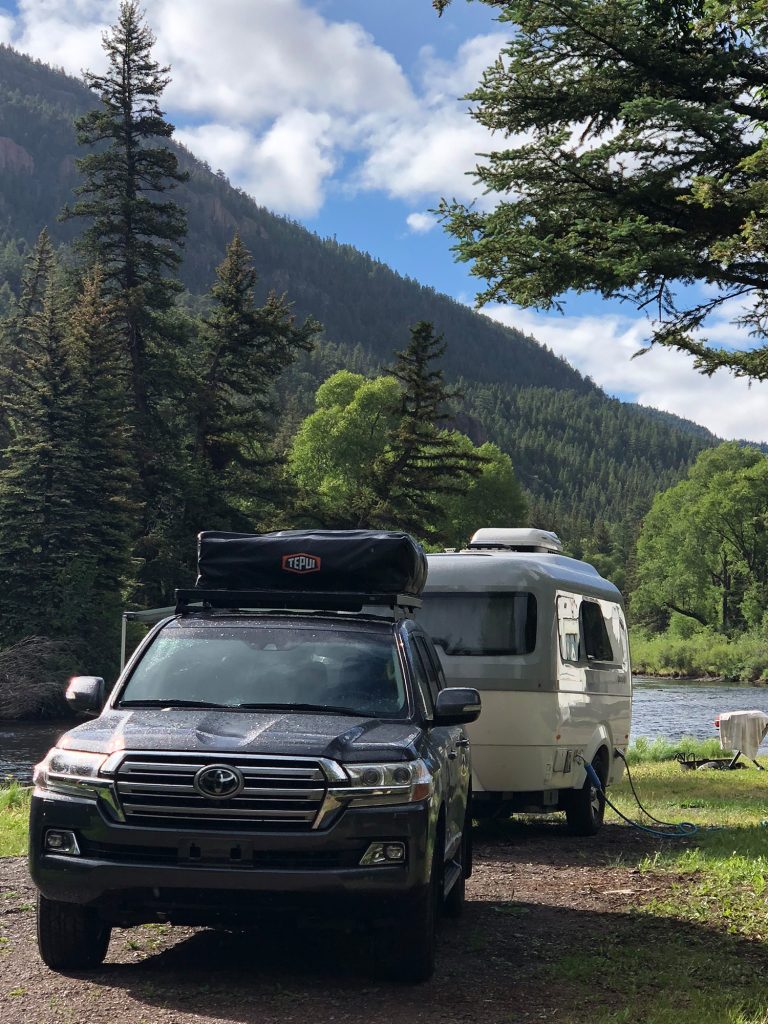 Nestled in the scenic Conejos Canyon in the heart of the San Juan Mountains, you'll find Ponderosa Campground, a real gem of a place to set up camp. Located beside the Conejos River, Ponderosa Campground offers visitors scenic river views set against a backdrop of pine, aspen and cottonwood trees. Here, Airstreamers will find a variety of activities. Explore the area by hiking or ATV'ing. Anglers and hunters will find plenty of fish and game to keep them occupied. For a different kind of excursion, board the Cumbres & Toltec Scenic Train in the town of Antonito for a full-day trip. It is the highest and longest narrow-gauge railroad in North America, so consider enjoying an authentic railroad trip that showcases Colorado's history. You can also take a drive on the Los Caminos Antiguos Scenic Byway, a road that follows the trails of the Spanish Conquerors. Airstreamers StreaminGypsies describe Ponderosa as "dreamy," and say, "This spot is absolutely magical – from the riverside sites to the owners and fellow campers who have understandably fallen in love with Ponderosa and come back annually." There are 25 RV sites that include electric and water, and there is a dump station on-site. Other amenities include a game room, store, fly fishing supplies and licenses, laundry and clean restrooms.
Click below for more information on Ponderosa Campground
Hole in the Rock, BLM
Escalante, UT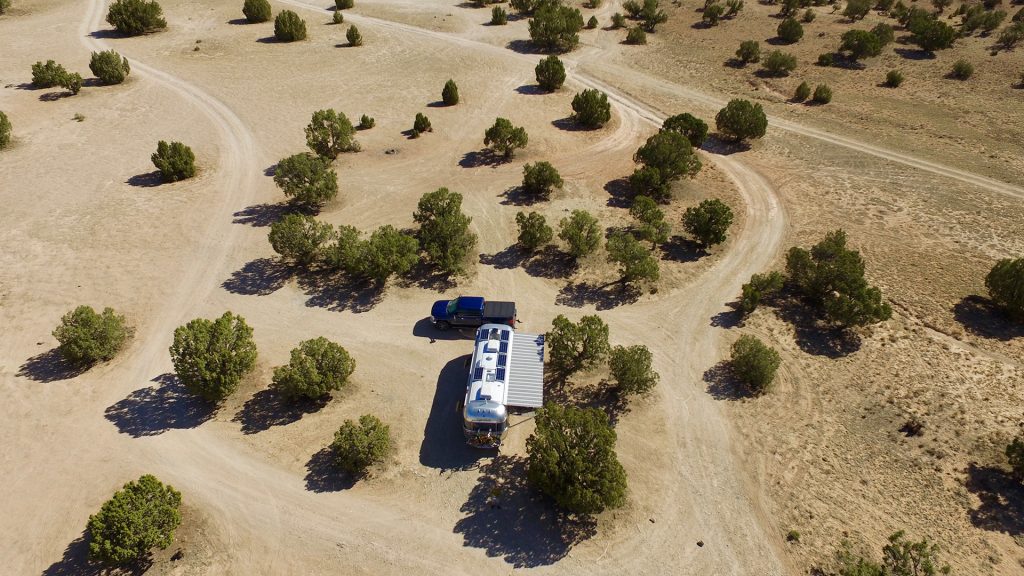 From spectacular red-rock canyons and roaring rivers to high mountain peaks and expansive salt flats, Utah's Bureau of Land Management is unparalleled in scenic beauty. Take Hole in the Rock as a prime example. This free, dry camping site is beyond picturesque. With stunning views overlooking mountains and the vast surrounding landscape, visitors here will feel like they have the area all to themselves, even among fellow campers. From this base camp, explorers can take advantage of many amazing hikes, such as Peekaboo Gulch, Spooky Gulch, Devils Garden and Zebra Slot Canyon. But don't forget to stop off at the Hole in the Rock Highway 12 wayside stop, where you can admire the Straight Cliffs Formation, extending for 50 miles to the cliffs of the Colorado River. The road also takes you down to some other cool places in the Grand Staircase Monument area, as well as in Glenn Canyon and Lake Powell. This is dry camping, so stock up in Escalante before heading over to Hole in the Rock. You do have to get a free permit for dispersed camping, but you can easily pick one up at the Escalante Interagency Visitor Center.
Click below for more information on Hole in the Rock, BLM
Rye Patch State Park
Lovelock, NV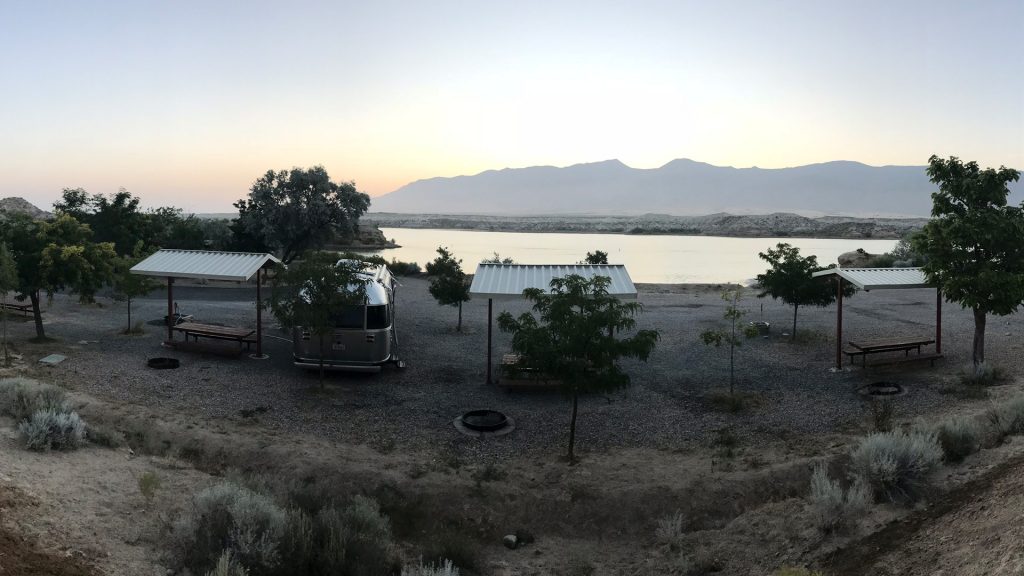 Rye Patch State Park is situated on a 22-mile long reservoir that has 72 miles of shoreline and 11,000 acres of water surface. Visitors here can enjoy swimming and water-skiing, boating, hiking and fishing. Multiple trails around and throughout the park make it easy to enjoy the abundance of waterfowl and wildlife, including hawks, eagles, owls, great egrets, antelope, deer and fox. Airstreamer Kate at The Scenic Route says of her visit that, "We found a beautiful spot right by the water which was roomy enough that we didn't have to unhitch. We sat and watched tons of wildlife from our site, seeing deer, coyotes, turkeys and lively jumping fish." Anglers, did your ears just perk up? You'll delight in trophy-class fishing for white bass, catfish, black bass and walleye. Adding to its allure and uniqueness, the park also serves as a popular base camp for off-road vehicles, ghost town exploration and gold prospecting. While only a mile or two off the freeway, there is no noise, making Rye Patch State Park an oasis. The river campground below Rye Patch Dam has 22 RV sites, while the campground on the reservoir's west side has 25 sites. Both offer a restroom with flush toilets and hot showers. A sanitary dump station with potable water is located on the dam's west side.
Click below for more information on Rye Patch State Park
Rancho Sedona RV Park
Sedona, AZ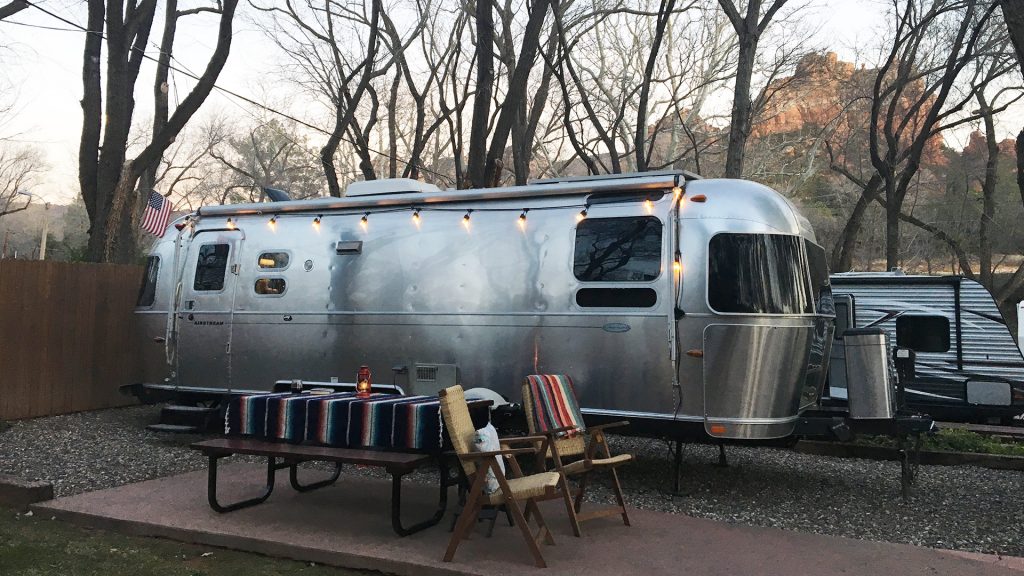 For a stay that's full of peace and tranquility, settle in at Rancho Sedona RV Park. Sedona is known as a haven for outdoor enthusiasts looking to experience the beauty of the red rocks, city lovers in search of shopping and fine dining, and people in search of a serene retreat. Located right in the heart of Sedona, alongside beautiful Oak Creek, this RV Park is full of grand Sycamore and Cottonwood trees that provide a nice, shady canopy. Visitors can enjoy mountain biking, hiking and trout fishing right from the park. Within walking distance from Rancho Sedona is Mund's Wagon and Mark's Draw, both hiking trails that include breathtaking red rock views and intriguing biodiversity. In the summer, enjoy swimming in the creek. Located within walking distance are numerous galleries, shops and restaurants in areas like Tlaquepaque, an internationally renowned Arts and Crafts Village, which is just a short walk away. Other area attractions include golfing, helicopter tours, hot air balloon tours, and luxurious spas. Rancho Sedona is a beautifully maintained park, and includes large sites, laundry, volleyball, fielded areas, and free Wi-Fi and digital cable TV. Airstreamers ourairstreamtrek remark, "The location is perfect for seeing everything in the Red Rocks area. We dined in Sedona and took several hikes in the area, all within minutes of this location."
Click below for more information on Rancho Sedona RV Park
---
Northeast Camping
Keuka Lake State Park
Keuka Park, NY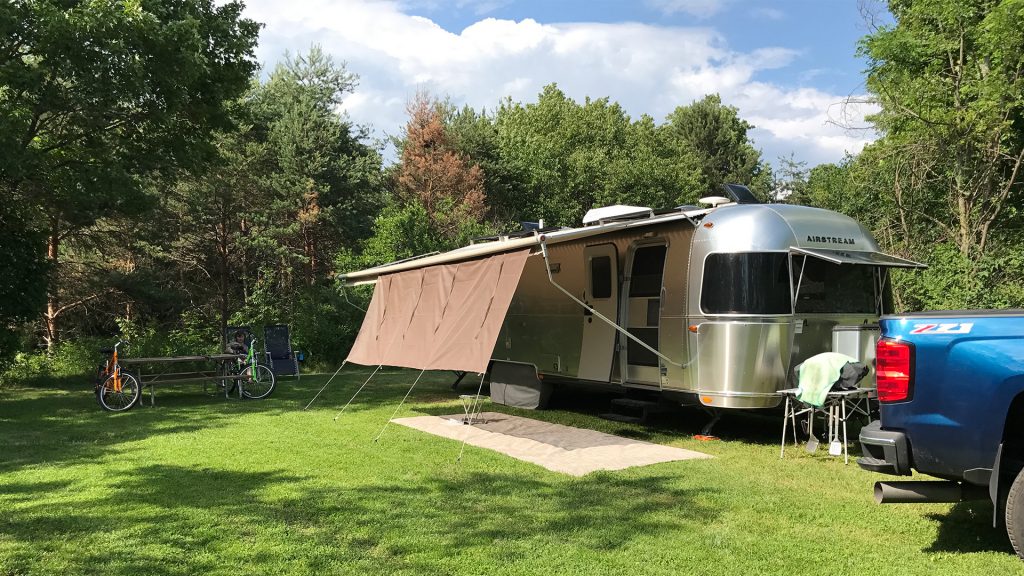 Keuka Lake State Park, located in the heart of wine country, has a gentle charm. This park offers views of vineyard-covered slopes, glimmering water and clear blue skies. The 621-acre state park is in Yates County, on the north end of the west branch of Keuka Lake, one of the Finger Lakes. At this park, family adventurers can enjoy hiking, swimming, a boat launch, fishing and hunting, and a playground for the youngsters. Airstreamer Nancy refers to the park as "pastoral," and goes on to say, "There are walking paths that go down to the lake. The lakefront is lovely with boat slips, beach, shade, picnic tables and a playground." Of the surrounding locales, Airstreamer KenneySeesAmerica says, "There is a lot to do and see in this area. The area around the Finger Lakes including rolling hills, agriculture, small towns and villages, wineries, breweries, golfing, hiking and, of course, lake access. Oh, and it's a great place to see fireflies at night!" The park's camping areas have a mix of 150 tent and trailer sites, with 53 of those having electric hookups. Most campsites are generous in size and offer vegetation for privacy between each site. The sites are primarily grass, with some mix of gravel in the parking area. Amenities include showers and an on-site dump station.
Click below for more information on Keuka Lake State Park
Gifford Woods State Park
Killington, VT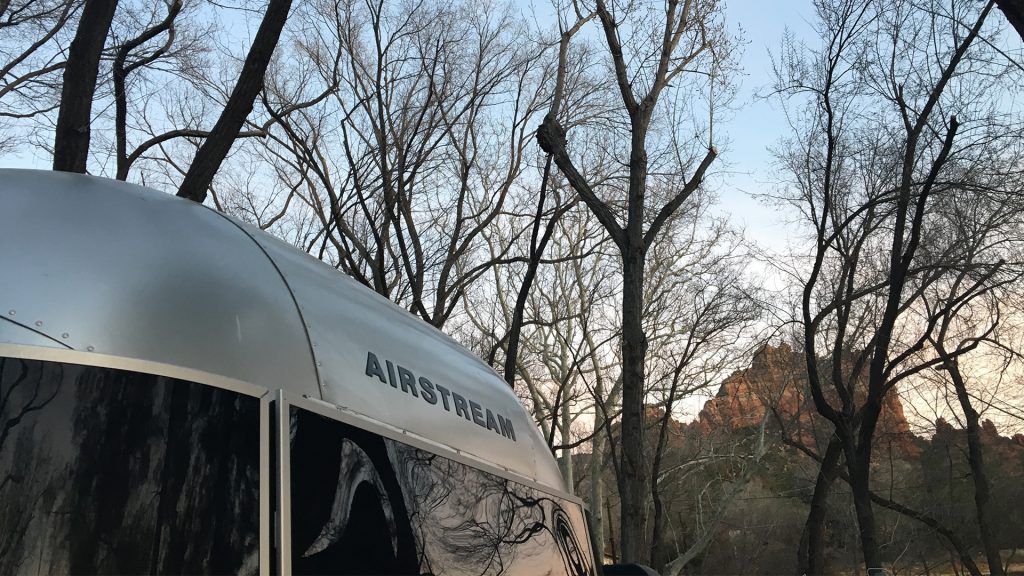 For those looking to avoid June's notorious heat, why not head up to cool and breezy Vermont for a while? Gifford Woods State Park is especially a favorite of hikers, thanks to its location at the base of Killington and Pico peaks and proximity to the Appalachian and Long trails. (Many through-hikers pass the park on their Appalachian Trail journey from Georgia to Maine.) This park is rich in history, too. Its construction began in 1933 by the Civilian Conservation Corps, a nation-wide public works program created during the Great Depression. It was completed in 1939. Over time, the park grew in acquired acreage to its current size of 285 acres. Today, Gifford Woods contains one of the few old-growth hardwood tree stands remaining in Vermont – with many grand-sized sugar maples, beech, yellow birches, white ash and hemlocks. The understory is rich in native wildflowers. There are 21 tent or RV sites situated in two camping loops. Each loop has a restroom with flush toilets, hot and cold running water and coin-operated hot showers. There is a trailer sanitary station, but there are no hookups. A wooded picnic area is located behind the ranger's quarters, along with a play area. Day hikes are available, and there is an easy hook up with the Appalachian Trail. Airstreamer Lynda reports, "Things to do in the area include great hiking trails and the nearby ski town of Killington, which offers family fun, golf, mountain biking and gondola rides. The larger town of Rutland is a 12-mile drive away."
Click below for more information on Gifford Woods State Park
Fishermen's Memorial State Park
Narragansett, RI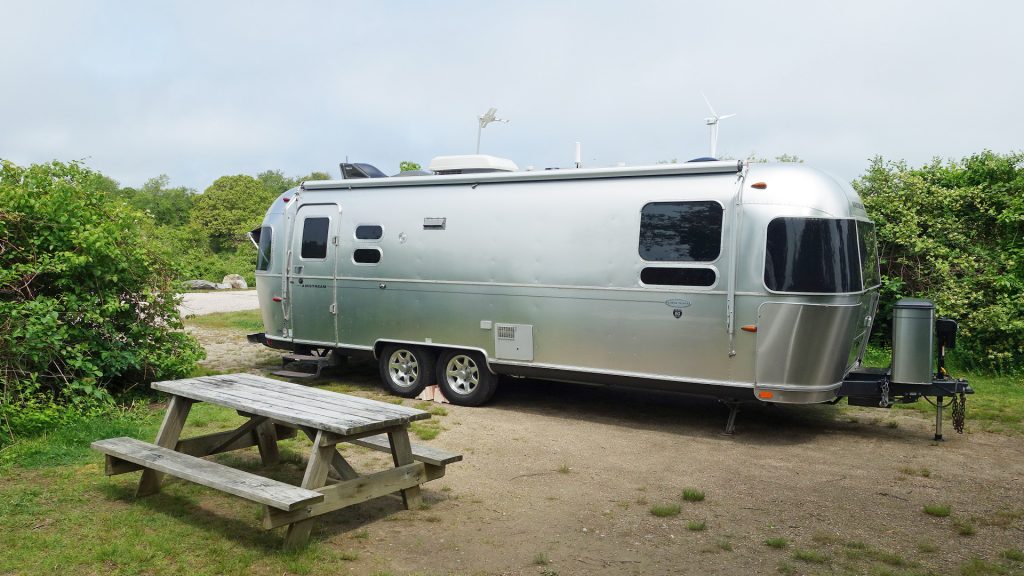 Fishermen's Memorial State Park occupies a portion of the former Fort Nathaniel Greene, named after Rhode Island native and Revolutionary War general Nathaniel Greene. Some remnants of that time remain at the park, such as a Battery 109, a massive concrete and earth emplacement intended for two 16-inch guns that were never armed. Besides the history of the area, this state park offers campers a "seaside village" atmosphere – visitors will be welcomed by neatly trimmed grass, tree-lined paths and activities for the whole family. Park your Airstream and partake of a game at the park's basketball or tennis courts. Keep an eye out for local wildlife, as Airstreamers Aluminarium said they saw a handful of rabbits, a beaver and a coyote. Fishers are also close by to popular state beach areas, such as Scarborough, Roger Wheeler, and Salty Brine, and it's also just one mile from the Block Island Ferry Dock. There are 40 RV sites, complete with full hookups, picnic tables and fire pits. There is also a comfort station on site.
Click below for more information on Fishermen's Memorial State Park
Shubie Municipal Campground
Dartmouth, Nova Scotia, Canada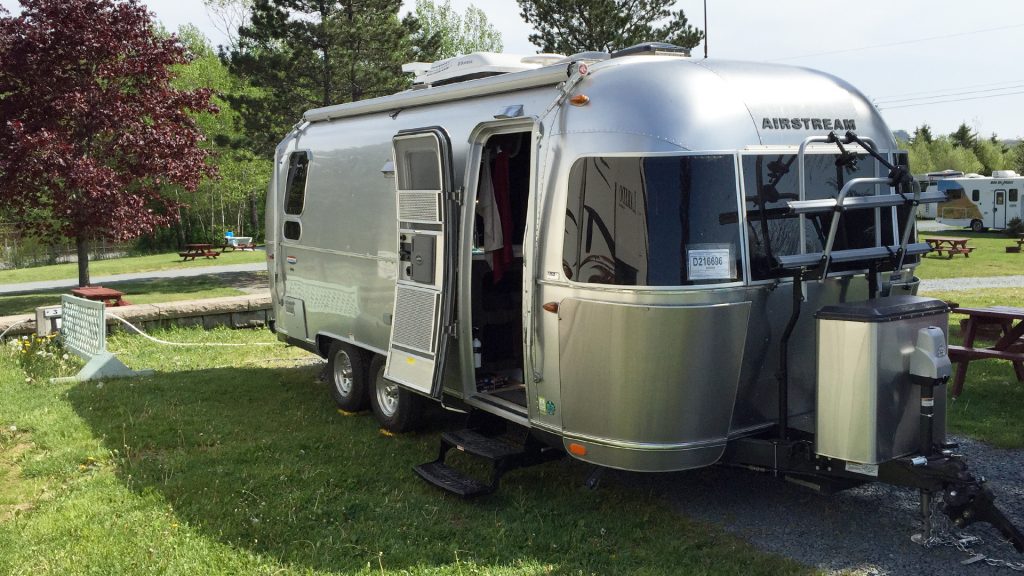 Not only is Shubie Municipal Campground the only campground located within the city limits, but it is also a sublime place, with a park-like setting surrounded by two lakes and the historic Shubenacadie canal. Touted as being your "home away from home in the city," Shubie prides itself on the utmost in hospitality and service. So, come and stay awhile, and use your "home base" to explore the dynamic culture, history, events and sights of the metro Halifax and Dartmouth area. Need help? Not a problem. The folks at Shubie are happy to offer custom day trip tours that leave from the campground. By day, explore the picturesque South Shore, Peggy's Cove, historic Lunenburg, the lush Annapolis Valley and the Bay of Fundy or the rugged Eastern Shore. By night, kick back and relax with the comforts of home! There are 72 serviced sites, and amenities include hiking trails, a playground, tennis court, magnificent gardens, washrooms with coin-operated showers, and a supervised beach during the summer. If you've been on the fence about Airstreaming up to Canada, consider adding it (and Shubie) to your travel agenda this month!
Click below for more information on Shubie Municipal Campground
Rocky Gap State Park
Flintstone, MD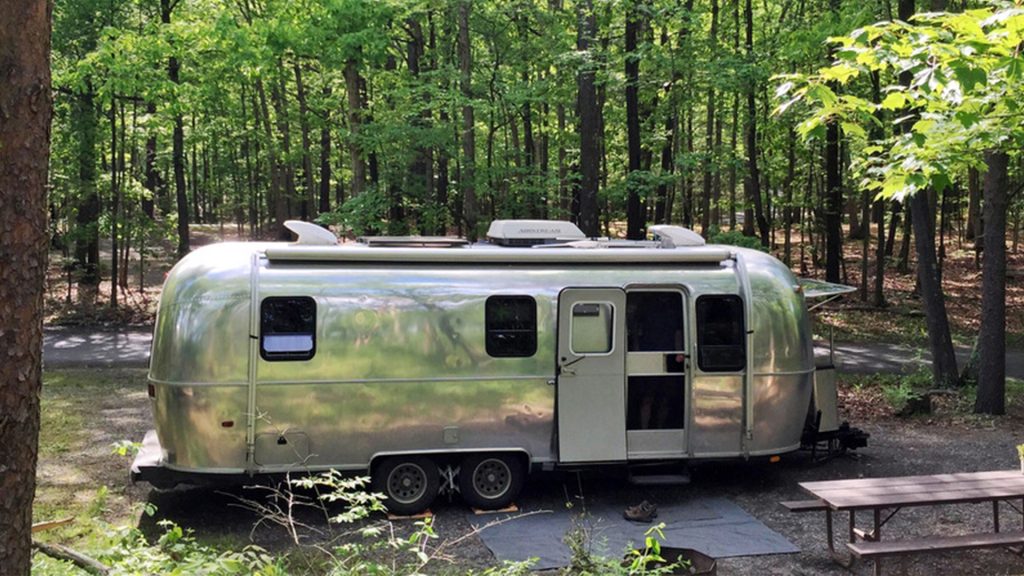 Located in Western Maryland's Allegany County and surrounded by rugged mountains, Rocky Gap State Park encompasses over 3,000 acres of public land for visitors to enjoy. And there's water to enjoy, too. The 243-acre Lake Habeeb is known for having the "bluest water in the state." This lake is fed by Rocky Gap Run, which makes its way through an impressive mile-long gorge, showcasing sheer cliffs, overlooks and a hemlock forest dense with rhododendron and mountain laurel. Overlooking the lake is Evitt's Mountain, named for one of the first European settlers in Allegany County. There is so much for visitors in this state park to enjoy, such as a variety of multi-use trails. For those up for a challenge, consider hiking the Evitt's Homesite Trail, a rigorous five-mile excursion. During the hike, you'll find yourself surrounded by hemlock, mountain laurel and rhododendron. This ambitious, out-and-back trail climbs about 1,000 feet in elevation in 2.5 miles. So, plan to take plenty of water and a camera, and spend a couple of hours hiking to the top of the mountain! After your hike, cool off by enjoying one of the two public swimming beaches, or cruise around on watercraft – the park offers canoe, kayak and SUP board rentals. And, if you want to try your luck off the trails, the Rocky Gap Casino Resort is just a short distance away! Rocky Gap Campground offers 278 individual campsites (including 30 equipped with 30 amp electric hook-ups). There is fresh water and also a dump station on-site.
Click below for more information on Rocky Gap State Park.
---
Southeast Camping
Cave Mountain Lake Recreation Area, George Washington National Forest
Natural Bridge Station, VA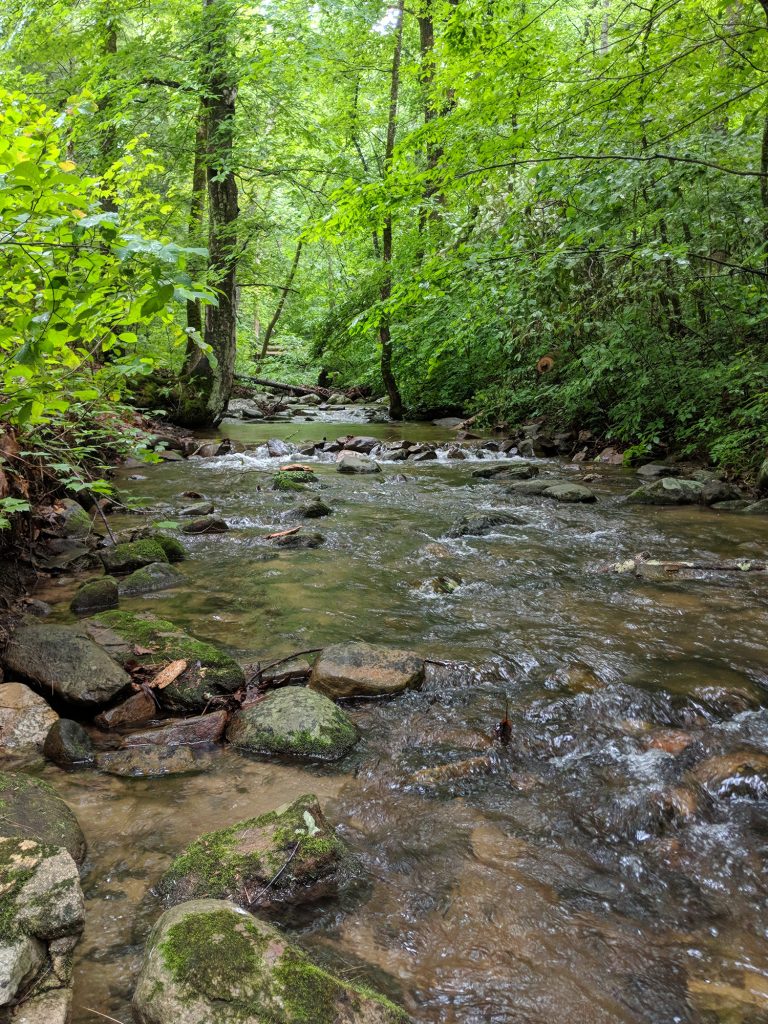 "This has got to be the best national forest campground experience I have ever had," says Airstreamer Juan. "This is an amazingly beautiful and tranquil location with great swimming. The campsites where beautiful, most along a creek, superbly taken care of and with lots of character." Need we say more? Cave Mountain Lake Recreation Area is as splendid as Juan describes. Nestled in the Blue Ridge Mountains of Virginia, this campground welcomes families who enjoy the rustic beauty and peacefulness of the area. And some of its visitors have been coming for generations! Other perks like proximity to historic Lexington and the Natural Bridge State Park make Cave Mountain Lake an ideal destination. Activities at the recreation area include hiking, swimming from the sandy beach, and fishing (although anglers should note that fishing is reserved for youth only until June 15, when it opens for all). There are plenty of opportunities for photography, birding and wildlife viewing along the trails and water's edge. Cave Mountain Lake offers 28 campsites for reservations, while an additional 13 remain first-come, first-serve only. Amenities at site include a picnic table, lantern post and campfire ring with grill. Sites offer no hookups, but there are flush toilets and water spigots located throughout the campground. There is also a bathhouse with warm water showers.
Click here for more information on Cave Mountain Lake Recreation Area
Holiday Campground, Army Corps Of Engineers
LaGrange, GA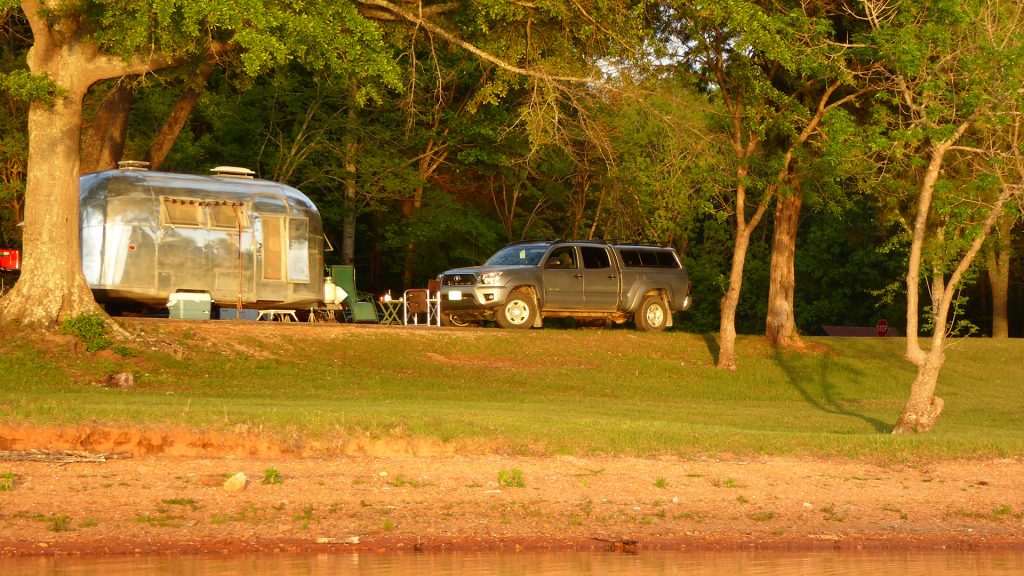 Holiday Campground is a true boater's paradise. At this Army Corps of Engineers campsite, Airstreamers will camp on the western shore of West Point Lake, a human-made lake with 525 total miles of shoreline that spans parts of Alabama and Georgia. At Holiday, the lake extends 35 miles along the Chattahoochee River on the Alabama-Georgia state line. This 25,900-acre lake is a draw for campers, anglers and boaters alike, and provides visitors with excellent opportunities for water exploration. The campground is located on a lush peninsula, surrounded by rolling fields and deep forests. Boat ramps abound in a total of 34 public recreation areas around the lake. A dozen creeks and more than 40-square-miles of the lake provide plenty of good fishing spots for the thousands of anglers who regularly fish here. The catch of the day could be bass, catfish, crappie or bream. Bank fishing is also excellent at many locations, including the public fishing piers at Hardley Creek, Rocky Point and McGee Bridge parks. For those land-dwellers among us, there are also several trails that wind along the lake and through the landscape, including Lakeside Trail, which is perfect for mountain biking. Be sure to stop in at the wildlife management area located at the upper end of the lake, which boasts nearly 10,000 acres and provides habitat for many types of wildlife. Holiday Campground offers 112 campsites, including electric and water hookups. Basketball and tennis courts and a playground provide additional fun for guests.
Click below for more information on Holiday Campground
Santa Rosa Waterfront RV Resort
Navarre, FL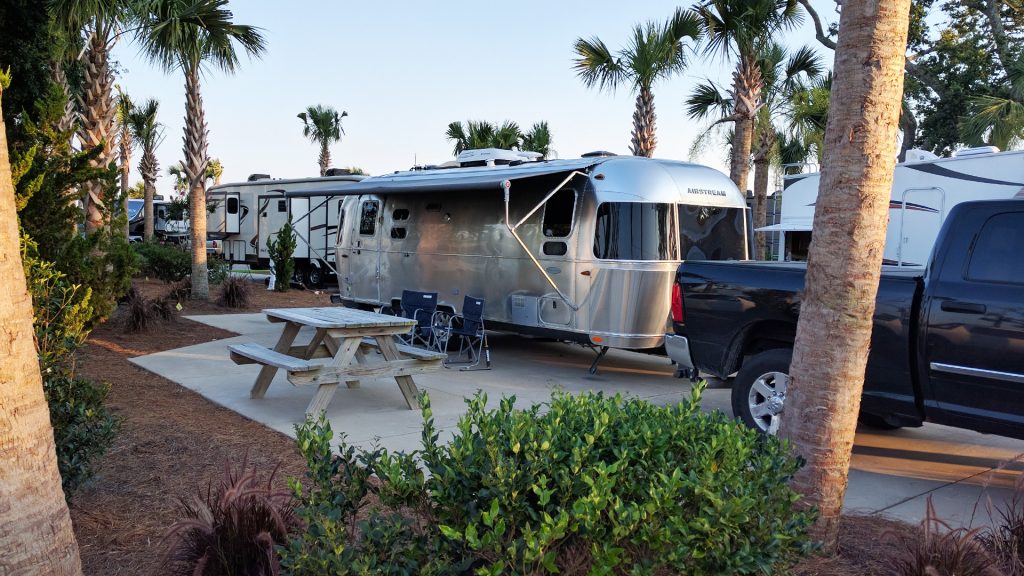 Navarre Beach, Florida is renowned for its natural beauty, lush tropical setting and laid-back vibe. These traits also make it the perfect place for a waterfront RV resort. Amidst all of this beauty and just minutes away from the award-winning, sugar white sandy beaches of the Gulf of Mexico, Airstreamers will find Santa Rosa Waterfront RV Resort. This upscale resort offers some of the finest amenities in a world-class setting. But let's start with the beach. This resort boasts more than a quarter mile of waterfront along the Santa Rosa Sound, between Destin & Pensacola Beach, and is located across the Sound from Navarre Beach (so you'll feel those pleasant coastal breezes). In addition to the beaches, this Emerald Coast location offers world-class fishing, championship golf courses, upscale shopping, and outstanding dining and cultural establishments. Who could ask for more? But wait, there is more! Santa Rosa offers 88 spacious RV sites with full hookups, 30- and 50-amp electricity, water, sewer, cable, and free Wi-Fi. The 24 waterfront sites lie along 1,300 feet of shoreline. All guests can enjoy luxurious family-friendly amenities, such as the resort's waterfront pool with sun deck, spacious new covered gathering area with fire pit and lots of seating, a fitness room, laundry, a play area for the kids, and a private white sand beach. Kayaks and paddle boards are also available for guests. According to Airstreamers Geekstreamers: "Santa Rosa RV Resort does what they do very well." I hear the beach calling!
Click below for more information on Santa Rosa Waterfront RV Resort
Gulpha Gorge Campground, Hot Springs National Park
Hot Springs National Park, AR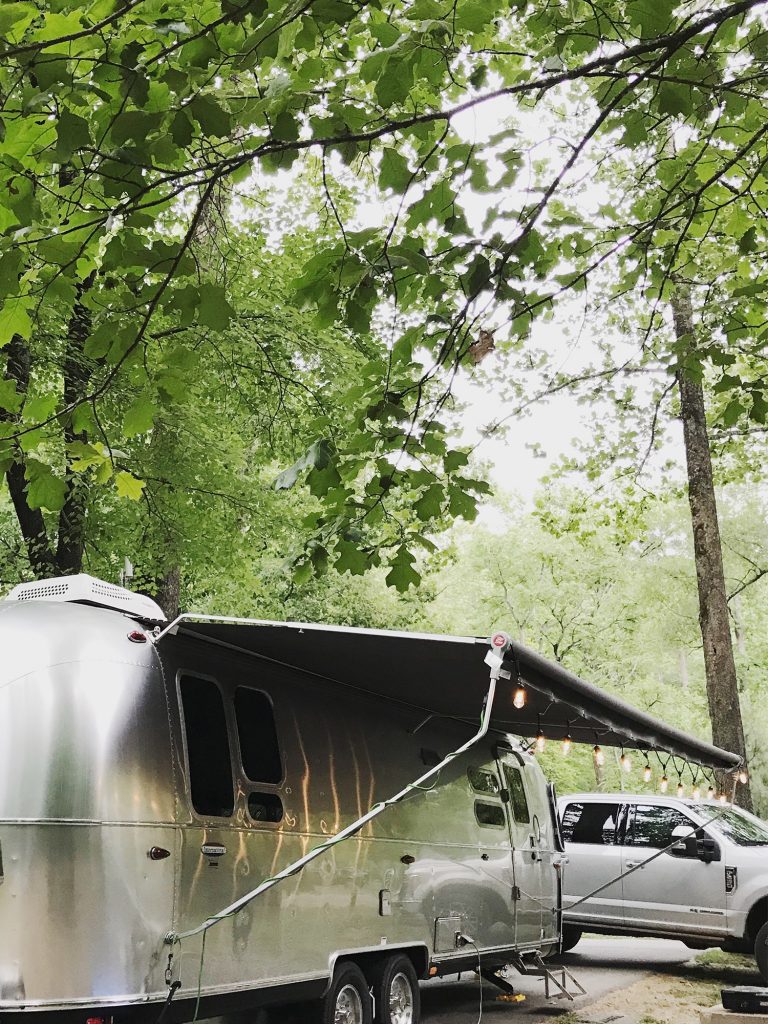 Okay, so you may be thinking, "Hot springs? In Arkansas? In June?" Oh yes, friends. Don't be deterred by notions of high temperatures. Gulpha Gorge Campground in Hot Springs National Park "should be on everyone's list of destination campgrounds," says Airstreamers Tom and Earl. Nicknamed "The American Spa," Hot Springs National Park, home to pools of 143°F thermal water, has been frequented by visitors for hundreds of years. You'll also find numerous hiking trails in the park, ranging from 0.1 mile "easy" walks to the 10-mile Sunset trail, which winds hikers through all types of terrain and passes by the highest elevation in the park as it makes its way through the most remote areas of the Hot Springs National Park. As for staying here, Gulpha Gorge Campground is picturesque and offers campers 43 full hookup campsites (30- and 50-amp), drinking water, modern restrooms with flush toilets (but no showers) and a sanitation dump station. Each campsite has a table, fire ring and grill. Be sure to take a dip at the Buckstaff Bathhouse (first-come, first-served), or have a fancier spa experience at the Quapaw Baths & Spa (reservations required). At the park, you can also tour some of the historic sites and bathhouses. Reservations are not accepted – sites are on a first-come, first-served basis, so get there early, especially on the weekends.
Click below for more information on Gulpha Gorge Campground
Lake Wateree State Park
Winnsboro, SC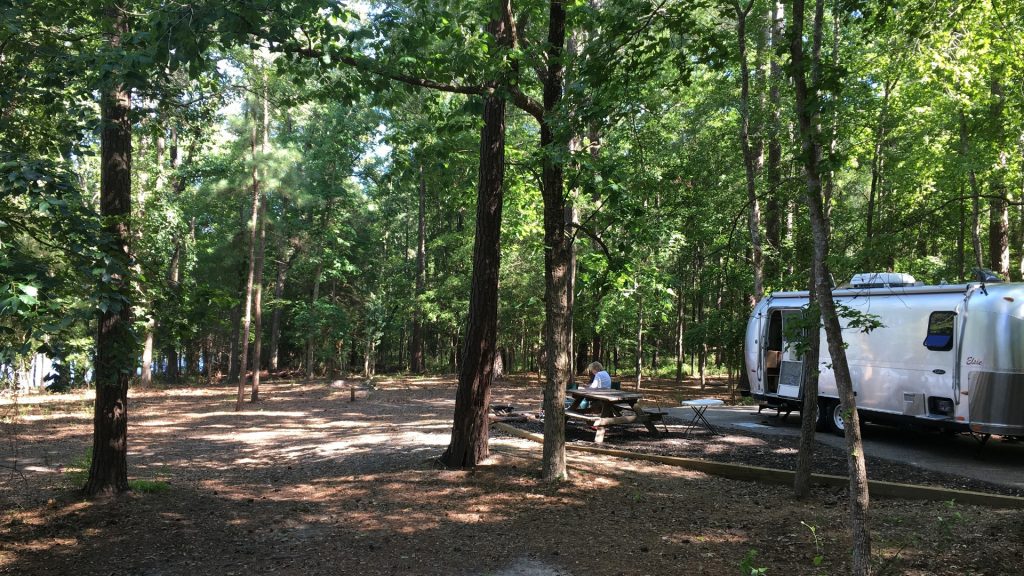 Welcome to Lake Wateree State Park, located in the upper Piedmont region near Winnsboro, affectionately called the "Charleston of the Upcountry." This area abounds with historic and architecturally interesting homes and buildings, and, of course, there's Lake Wateree, chock full of bream, catfish, crappie and bass. This state park is an angler's paradise; numerous fishing tournaments are hosted here every year on the 13,800 acres of the lake, all accessible through the state park. As for perks, the park provides a publicly accessible boat ramp, tackle shop and a refueling dock. Airstreamer Rob says, "The park is somewhat remote, but when you enter the park grounds you realize you have found a hidden jewel. The grounds are well maintained, the staff is friendly and informative, and the campsites are beautiful and spaced far apart." Lake Wateree State Park is also an excellent place for birding, geocaching, biking, and hiking. The 2.3-mile Nature Trail is a level, easy-walking, out-and-back trail with several spur footpaths that lead to the scenic lakeshore on this quiet, shady, peninsula. On your walk, watch for a variety of snakes and other wildlife, including great blue heron, woodpeckers, and songbirds. The park offers 72 paved campsites for RVs or tents, 15 of which are waterfront and five of which are pull-thru. All sites provide individual water and electrical hookups, and picnic tables. There are restroom facilities with hot showers, and a dump station is located on-site.
Click here for more information on Lake Wateree State Park