Northwest Camping
Tumalo State Park
Bend, OR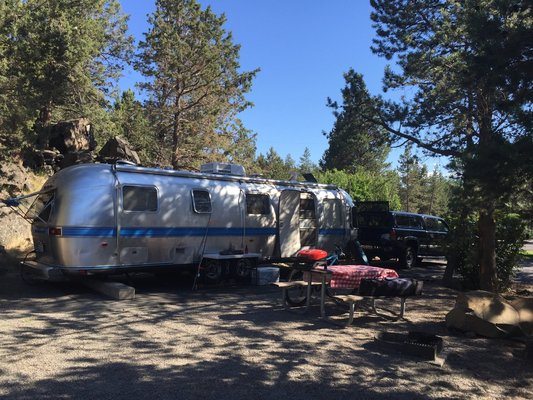 Nestled along the spectacular Deschutes River, Tumalo State Park offers a wilderness experience just a hop, skip and jump from the buzzing city of Bend, Oregon. This quaint campground is so secluded that all you'll experience in the evenings is the distant call of coyotes, the scent of juniper and pine, and a spectacular celestial show. Airstreamers can take advantage of blue-ribbon trout streams, pristine alpine lakes, miles of challenging and scenic hiking and mountain bike trails, lush golf courses, and the Cascade Mountains. During this time of year especially, consider heading up the road to Mt. Bachelor, where you can ski and snowboard on some of the best powder in the state. Don't like the lifts? That's okay, too. There are miles of groomed Nordic trails and snowy back-country to explore.
Click here for more information on Tumalo State Park
Kalaloch Campground, Olympic National Park
Forks, WA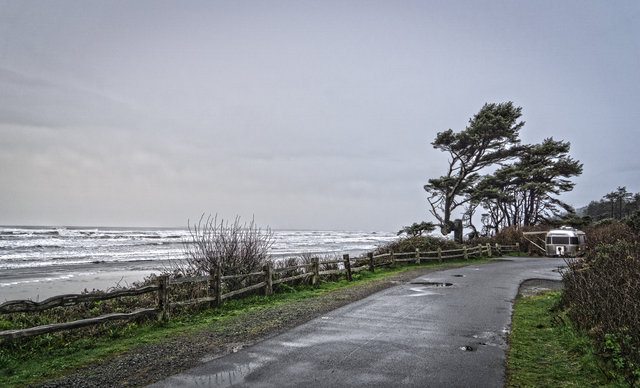 Kalaloch Campground is situated on a high bluff adjacent to the Pacific Ocean in Olympic National Park, which is located on the southwest coast of Washington's Olympic Peninsula. Campsites look out over the glistening water, and there is access from the campground to the beach. Set amidst a peaceful, coastal forest that thrives on the region's high annual rainfall, you won't be disappointed by Kalaloch – rain or shine; indeed, it is one of the most visited areas of Olympic National Park. Airstreamer Lara Me says grab your spot early: "It books up every year and is hard to reserve for one reason: the magnificent coastline." If you want to steep in lush forests, stunning beaches and amazing sunsets, this is the place for you.
Click here for more information on Kalaloch Campground, Olympic National Park
Rock Springs-Green River KOA
Rock Springs, WY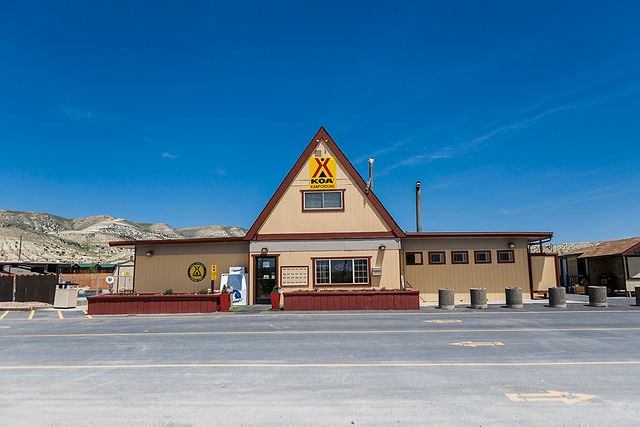 Whether you've come to experience all that Rock Springs has to offer, or just passing through, Rock Springs-Green River KOA is a great place to stay. Here you'll see the White Mountain on the horizon to the northwest, and the massive Flaming Gorge Reservoir gleaming between rocky bluffs to the southwest. Make time to visit the reservoir with its panoramic views, world-famous fishing and boat and whitewater rafting rentals. Nearby, adventurers can hike the ever-shifting Killpecker Sand Dunes, which loom as high as 150 feet. Bring your ATV to explore the rugged, high desert plateaus of southwestern Wyoming. At the end of a day full of fun, relax back at the campground, which offers many welcome amenities, such as cable TV, Wi-Fi, and a dog park for your furry co-travelers.
Click here for more information on Rock Springs-Green River KOA
Toketee Campground, Umpqua National Forest
Clearwater, OR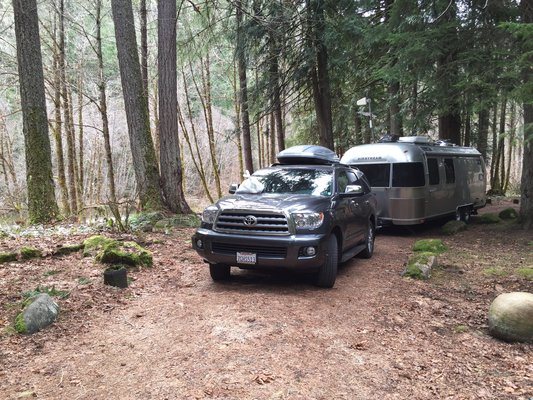 Umpqua National Forest, in southern Oregon's Cascade Range, covers an area of nearly one million acres and borders Crater Lake National Park. The Toketee Campground is located in the central portion of the National Forest, where the wild North Umpqua River pauses at Toketee Lake. The area is home to a wide variety of wildlife. Watch the water for beavers and otters. In the skies, great blue heron and kingfishers are joined in fall and winter by ducks, geese and bald eagles. Rainbow, brown and cutthroat trout swim, feed and spawn in the lake. Popular for anglers and visitors to the Umpqua Hot Springs, Toketee is not to be missed. Airstreamers Adventures of Dave and Ann report that the sites are, "very close to the trailhead that will take you to the spectacular Toketee Falls. Don't miss this short walk to a platform suspended in a tree overlooking the falls!"
Click here for more information on Toketee Campground, Umpqua National Forest
---
Southwest Camping
Lees Ferry Campground, Glen Canyon National Recreation Area
Marble Canyon, AZ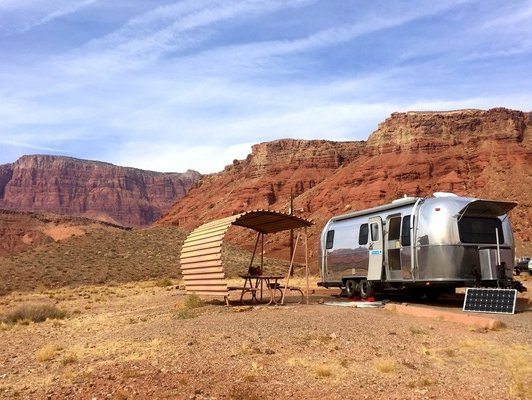 Airstreamer WatsonsWander say that Lees Ferry Campground is, "A nice surprise along the Colorado River!" That's probably because Lee's Ferry is the only place in the Grand Canyon National Park where you can literally drive right up to the Colorado River. That particular stretch of the Colorado River, between Lee's Ferry and Glen Canyon Dam, is part of the Glen Canyon National Recreation Area and is maintained by the National Park Service. And, the Grand Canyon makes its beginning at Lee's Ferry. For setting up camp, there are 54 well-kept (but slightly un-level) campsites, flush toilets and a waste station for RV's. Each campsite also has a windbreak, as the afternoon wind can sometimes be pretty strong. WatsonsWander go on to say, "This place exceeded our expectations. Every day we ventured out to explore a new trail in the area. So much to see and do around here." Need we say more?
Click here for more information on Lees Ferry Campground, Glen Canyon National Recreation Area
Twin Peaks Campground, Organ Pipe Cactus National Monument
Ajo, AZ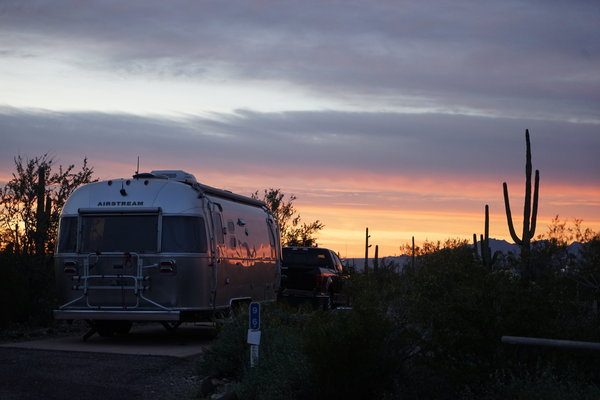 Stop by Twin Peaks Campground, and you'll feast your eyes on a fantastic collection of plants and animals of the Sonoran Desert, as well as some stunning vistas. You'll find a showcase of nature's creatures who have adapted to the extreme temperatures, intense sunlight, and little rainfall that characterize this region. Thirty-one species of cactus have mastered the art of living in this place, including the park's namesake and the giant saguaro. Airstreamer Zamia Ventures reports that, "The location comes with a 360-degree view of gorgeous desert scenery, including a broad valley to the south and small hills to the north and west, all packed with huge cactus. It was a perfect setting for colorful sunrises and sunsets." The main campground at Organ Pipe Cactus National Monument, Twin Peaks Campground is a sprawling outfit that boasts 208 sites. January through March is the peak season for the campground, and reservations are required. Sites don't offer hookups (but do allow generators), but with all the spectacular scenery, you won't miss that convenience at all.
Click here for more information on Twin Peaks Campground, Organ Pipe Cactus National Monument
Wright's Beach Campground, Sonoma Coast State Park
Bodega Bay, CA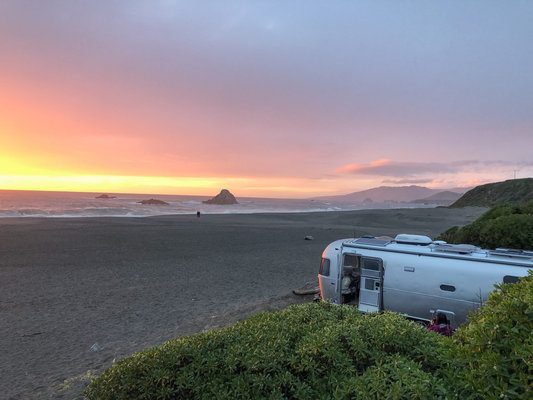 If you're looking for camping that's on the beach, you'll find it at Wright's Beach Campground. Wright's boasts 27 developed campsites located just adjacent to the sandy, expansive shore. As Airstreamers Fables and Trails put it, Wright's is "likely our favorite beach camping spot so far along the coast, as you are literally backed into the beach (and not parked parallel to the beach, tail-to-tail like so many other campgrounds)." Sites are small, tucked within the trees and foliage. The maximum trailer length is 27', but if your tow vehicle doesn't quite fit into the site, you can park in the overflow parking area. While there are no hook-ups and no showers at Wright's, the campground does offer running water and flush toilets, and campers may use the hot showers at nearby Bodega Dunes Campground. Additionally, Bodega Dunes has a potable water fill station and a dump station that service both campgrounds. Each site has picnic tables, fire rings and paved parking spurs.
Click here for more information on Wright's Beach Campground, Sonoma Coast State Park
Valley of Fire State Park
Overton, NV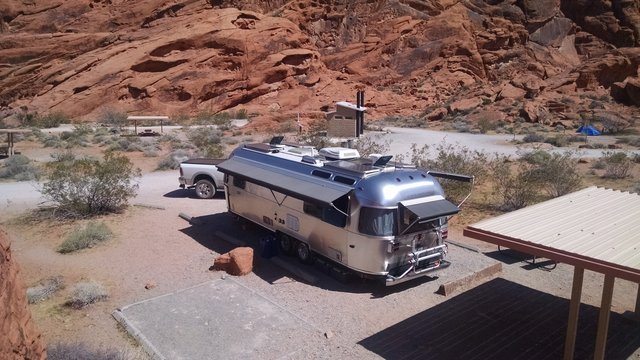 Welcome to the Valley of Fire State Park, which derives its name from the red sandstone formations, called the Aztec Sandstone, formed from shifting dunes 150 million years ago. The sandstone often appears to be on fire when reflecting the sun's rays. The Valley of Fire is world-renowned for its 40,000 acres of these bright red Aztec sandstone outcrops nestled in gray and tan limestone, its ancient, petrified trees and petroglyphs (or prehistoric rock carvings) dating back more than 2,000 years. Today, visitors will find mild winter temperatures; daytime temperatures range from 55°F to 75°F, and overnight lows hover in the mid 30's to mid 40's. Located just 50 miles northeast of Sin City, this is Nevada's oldest state park and one of its most beloved. At the park, soak in the beauty of the landscape by taking one of the numerous and varied trails for a day hike. There are loops for all skill levels. In the evening, relax and enjoy the peacefulness of the park. All sites have shaded tables, grills, water and electric hook-ups, and restrooms. All campsites are first-come, first-served.  
Click here for more information on Valley of Fire State Park
Sierra Vista Campground, Organ Mountains-Desert Peaks National Monument
Las Cruces, NM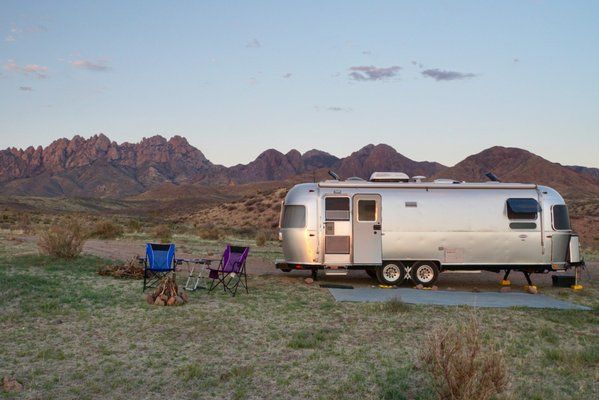 To enjoy scenic, dispersed camping on BLM lands, head over to Sierra Vista Campground, part of the Organ Mountains-Desert Peaks National Monument. This spot is close to Las Cruces, the Organ Mountains and is also within striking distance of White Sands. The Organ Mountains are a steep, pointed mountain range with rocky spires that project majestically above the Chihuahuan Desert to over 9,000 feet. The area is picturesque and home to rocky peaks, narrow canyons and open woodlands. Located just to the east of Las Cruces, this area provides excellent opportunities for photography, hiking, horseback riding, mountain biking and wildlife viewing. At Sierra Vista Campground, you'll bask in all of nature's glory in relative solitude. The spots are well-spaced and dispersed along the road to the Sierra Vista trailhead, and generally, you can expect to have only a neighbor or two at a time. Each site has a fire pit, and you can collect firewood from the field for your evening fire. During the day, take advantage of the many activities to explore the region.
Click here for more information on Sierra Vista Campground
---
Southeast Camping
Chattahoochee Bend State Park
Newnan, GA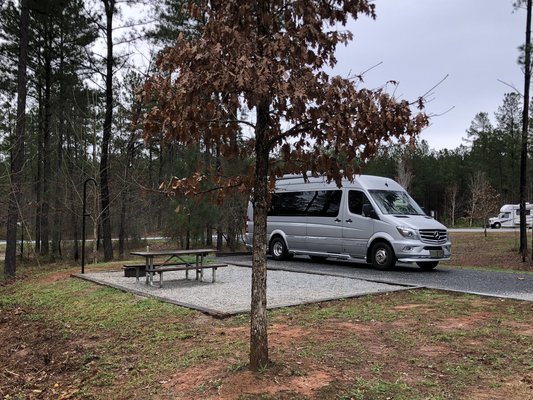 For some mild winter camping, why not head south? Just southwest of Atlanta, travelers can stop into Chattahoochee Bend State Park for a truly immersive experience in nature. Airstreamer Lisa says, "I had the most peaceful time here. Quiet, safe, clean with lots of trails to walk." The park showcases a spectacular tract of wilderness and is situated in a graceful bend of the Chattahoochee River. A haven for paddlers, hikers and anglers alike, any adventurer can find something to do on the park's almost 3,000 acres. One of Georgia's largest state parks, Chattahoochee Bend protects five full miles of river frontage. A boat ramp provides easy access to the water, while more than six miles of wooded trails are open for hiking, mountain biking and nature photography. Although the majority of the park has been left in its natural state, Airstreamers will enjoy the camping section, with sunny pull-through and back-in sites that offer water, electric, picnic tables, fire rings, grills and bathrooms nearby.
Click here for more information on Chattahoochee Bend State Park
Anchor Down RV Resort
Dandridge, TN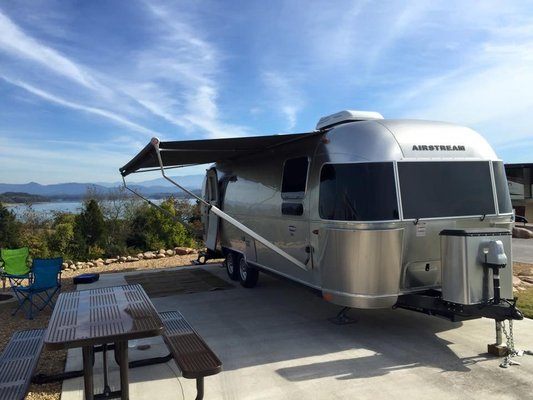 Sometimes you want your camping experience to be rustic and minimal. Sometimes you're looking for a bit (or a lot) more. Welcome to the plush Anchor Down RV Resort, a truly delightful haven for Airstreamers. Here you'll find luxurious facilities to satisfy all of your needs while camping lakeside. Airstreamers J+S Shultz say, "This is a very upscale RV resort with great amenities and breathtaking views." The scenery surrounding your camp chairs includes beautiful Douglas Lake, the Great Smokey Mountains and Mt. LeConte. All sites offer full hookups on concrete pads, and the park has paved streets. There is an upscale bath house with private bathrooms, plus a golf cart path (and cart rentals), pickleball and basketball court, playground, leash-free dog park and sandy lake access. This luxury campground is conveniently located to Sevierville, Pigeon Forge, Gatlinburg, Knoxville, Kodak, and, of course, the Great Smoky Mountains.
Click here for more information on Anchor Down RV Resort
Jones Station RV Park
Mebane, NC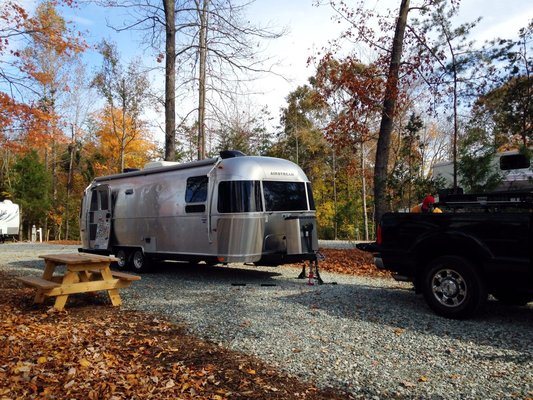 If you're looking for a peaceful park to serve as your home base while exploring some of North Carolina's most popular towns and cities, you've found it. Airstreamers Deke and Tiffani say, "There aren't a lot of really solid full hook-up RV parks near Raleigh, but after a lot of looking, we came across this one in the cute little town of Mebane. The owners are great, and the place is super clean and well kept." With beautifully groomed grounds and plenty of mature trees in a quiet, country setting, Jones Station RV Park is a perfect place for relaxing and soaking in the Southern landscape. Amenities include large, pull-through sites, with 56 deluxe spots on 25 acres. All spaces have picnic tables, fire pits, electric, water and sewer, and Wi-Fi access. The park also has a playground and bathhouses. Once you've set up camp, it's a breeze to explore the nearby cities of Mebane, Chapel Hill and Durham, and Raleigh.
Click here for more information on Jones Station RV Park
Village Creek State Park
Lumberton, TX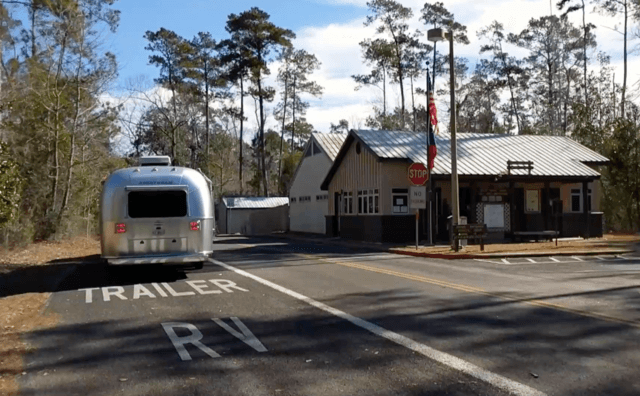 This small but beautiful Texas State Park, located 100 miles east of Houston, can serve as a quiet retreat or the perfect basecamp for exploring the nearby Big Thicket National Preserve. Village Creek offers eight miles of hiking trails, swimming and canoeing. Sadly, the park suffered a direct hit from 2017's Hurricane Harvey. While Village Creek's 25 paved RV spots, restrooms, showers and dump station are all available, some trails and other amenities are still on the mend. Fortunately, nearby Big Thicket offers endless opportunities to observe nature in a uniquely diverse ecosystem sometimes called the biological crossroads of North America. Explore the preserve's hardwood forests, pine and cypress forests, meadows and blackwater swamps on 40 miles of trails or via canoe or kayak.
Click here for more information on Village Creek State Park 
McKinney Falls State Park
Austin, TX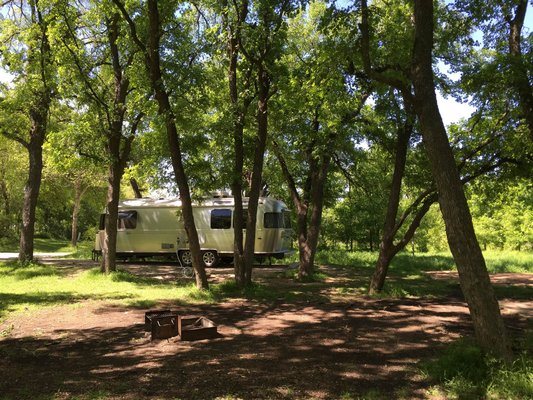 Enjoy the best of nature and city life at this beautiful urban park located on the edge of Austin. McKinney Falls sits along rocky Onion Creek and is a local hotspot for hiking, mountain biking, road biking, bouldering, geocaching and picnicking. So hot, in fact, that the park frequently experiences capacity closures on nice weather weekends. McKinney has 81 campsites, all with water and electric (12 with 50-amp connections). The campground is located away from most of the park's attractions, so there's plenty of peace and quiet even when the park is busy. But, hey, if the park does get too crowded for your taste, escape to downtown Austin and explore the city's vibrant culture, including its top-notch restaurants, art museums and legendary music scene. Airstreamer Living Driven sums it up best: "If you're looking to stay in the Austin area with quick access to the city without feeling like you're in the city, this is the spot. While it's only a few miles off of a main highway, once you enter the park, you feel like you're nowhere near an urban area."
Click here for more information on McKinney Falls State Park