Northwest Camping
Silver Falls State Park
Sublimity, OR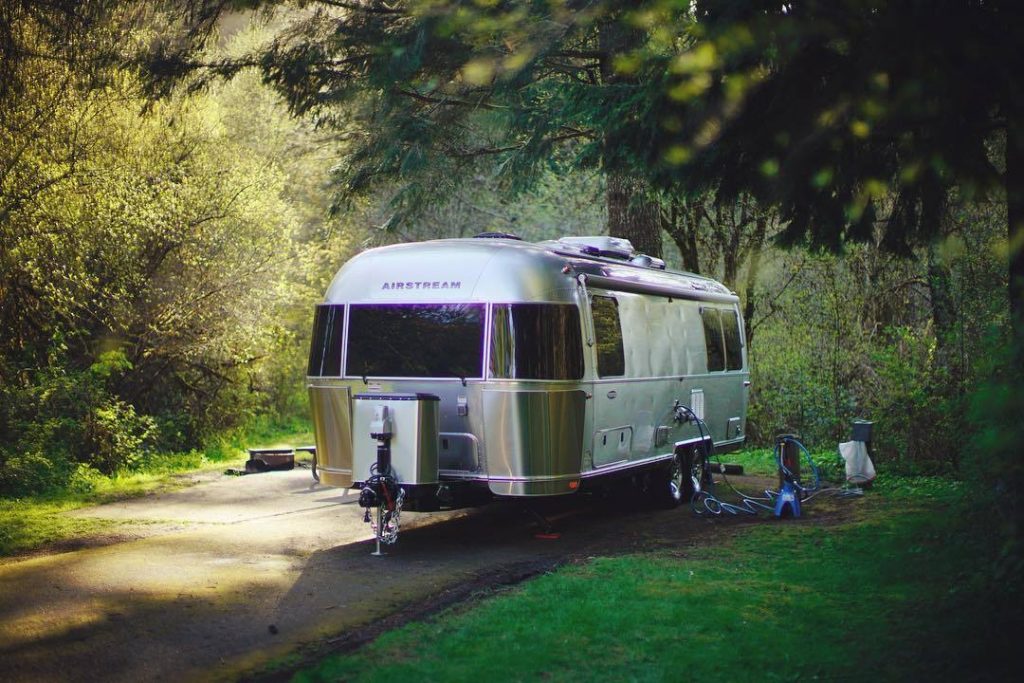 Airstreamers (Constantly) Changing Itinerary report, "Some call this park the 'crown jewel' of the Oregon State Parks system, and we can certainly understand why!" Welcome to Silver Falls State Park, nestled in the foothills of Oregon's Cascade Mountains and less than an hour east of the state capital of Salem. This sprawling 9,200-acre property is the largest state park in Oregon – and one of the most popular. That's because of the park's inviting beauty, historic presence and boundless recreational opportunities. Bring your hiking shoes or mountain bike to enjoy the more than 35 miles of backcountry trails. Be sure to take the trek through the Trail of Ten Falls, a nationally recognized hiking trail that weaves through a dense forested landscape and passes a series of breathtaking waterfalls along a rocky canyon before descending to a winding creek at the forest floor. Along the way, you'll find the famous South Falls, where you can walk behind the 177-foot curtain of water. There are 52 sites with water and electric, and there is a dump station on site. At the South Falls Day-use area, campers will also find spacious lawns, barbecue stands, picnic shelters, tables, a playground, horseshoe pits and an off-lead area for dogs.
Click here for more information on Silver Falls State Park
City of Whittier Campground, City Park
Whittier, AK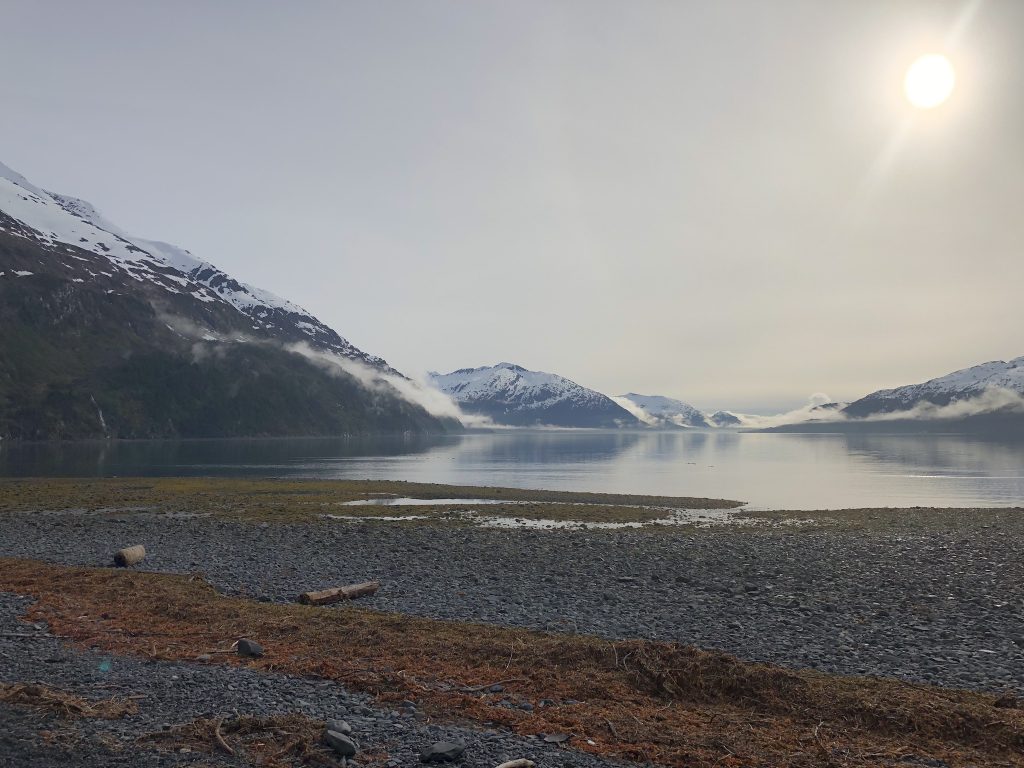 Are you planning your Alaska getaway? If so, be sure to add the City of Whittier Campground to your camping itinerary. Airstreamers Van-Tramp describe this site as their "favorite place in Alaska." While only a few short miles outside of Whittier proper, the options for outdoor adventure are plentiful, especially if you have access to a boat, canoe, kayak or the lake, and can venture out into some blue space. Or you can take a hike along one of the many trails. While you're there, Van-Tramp suggests that you visit Cove Creek to watch the Salmon run up the stream (where you can reach in and pick up a few!) or drive down Shotgun Cove Trail which ends at a majestic waterfall. Take some time to explore the nearby Chugach National Forest, with its extensive shorelines, glaciers, forests and rivers. The forest is home to a host of birds, mammals and marine species, including extensive shorebird habitat and a bald eagle population larger than the contiguous 48 states combined. Try hiking Portage Pass (a trail historically used by Alaska Natives, Russian fur traders, and early settlers) if you're looking for a more strenuous workout. The City of Whittier Campground is dry camping, but there are restrooms on site.
Click here for more information on the City of Whittier Campground
Maryhill State Park 
Goldendale, WA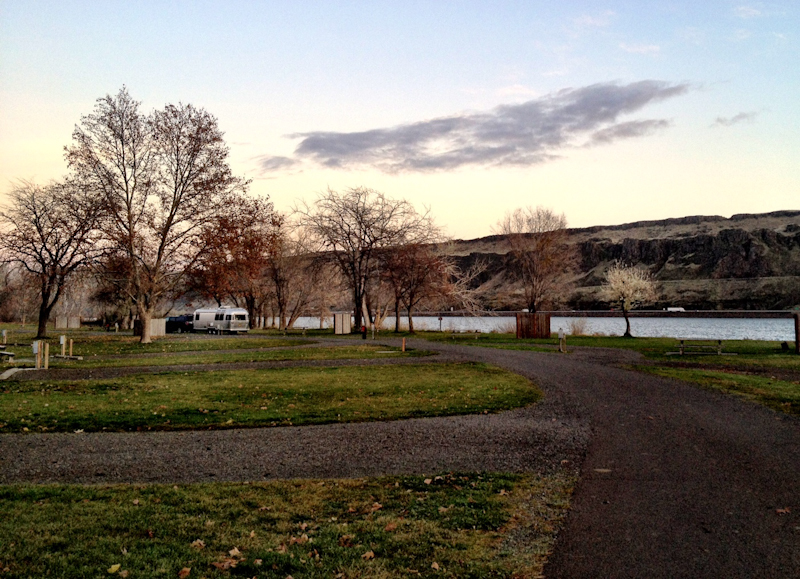 Set against the backdrop of golden hills and fronted by the mighty Columbia River, Airstreamers will find Maryhill State Park most inviting. This 81-acre camping park has 4,700 feet of waterfront and is located in Klickitat County. Known for its natural beauty, cultural history and access to nearby natural wonders, Maryhill is the perfect place for any explorer to set up camp. At the park, visitors can enjoy the river by boating, fishing, swimming, waterskiing or windsurfing. For relaxation on solid ground, take a walk around the park's lawn and bask in the beauty nature. Nearby, adventurers will find Columbia Hills Historical State Park, which offers hiking, climbing and seasonal guided ranger walks to view Native American pictographs and petroglyphs. There's also the Goldendale Observatory State Park, which merits a visit at night for some fantastic stargazing. Be sure to take a stroll through the famed Maryhill Museum, too, which boasts one of the most impressive private art collections on the West coast. The park has 20 standard campsites and 50 full hookup sites. There are four restrooms and ten showers, and the park has a dump station.
Click here for more information on Maryhill State Park
Rock Creek Park, County Park
Twin Falls, ID
Rock Creek Park is a 12-acre county park in the Twin Falls County Parks System. The parkland was transformed back in 1972, reclaimed from a junkyard. Today, visitors wouldn't know it – this locale is quaint, beautiful and inviting. The park is picturesque, situated in a canyon with a rushing creek nearby, and offers visitors a slew of activities to explore and enjoy the scenery. There are plenty of walking and hiking trails within the well-maintained, landscaped park. Anglers can cast their lines in the nearby creek, and other wildlife enthusiasts can catch glimpses of the local wildlife that call the park home. And, the park has horseshoe pits, volleyball courts and a disc golf course for guests' enjoyment. Fun fact – Twin Falls' Snake River Canyon is where daredevil Evel Knievel attempted a cross-canyon jump on a steam-powered rocket in 1974. The jump site is northeast of central Twin Falls, midway between Shoshone Falls and the Perrine Bridge. Today, Shoshone Falls is a favorite base jumping site for thrill seekers. Visitors to Rock Creek Park will find water and electric hookups.
Click here for more information on Rock Creek Park
Lower Teton View, Bridger-Teton National Forest
Moose, WY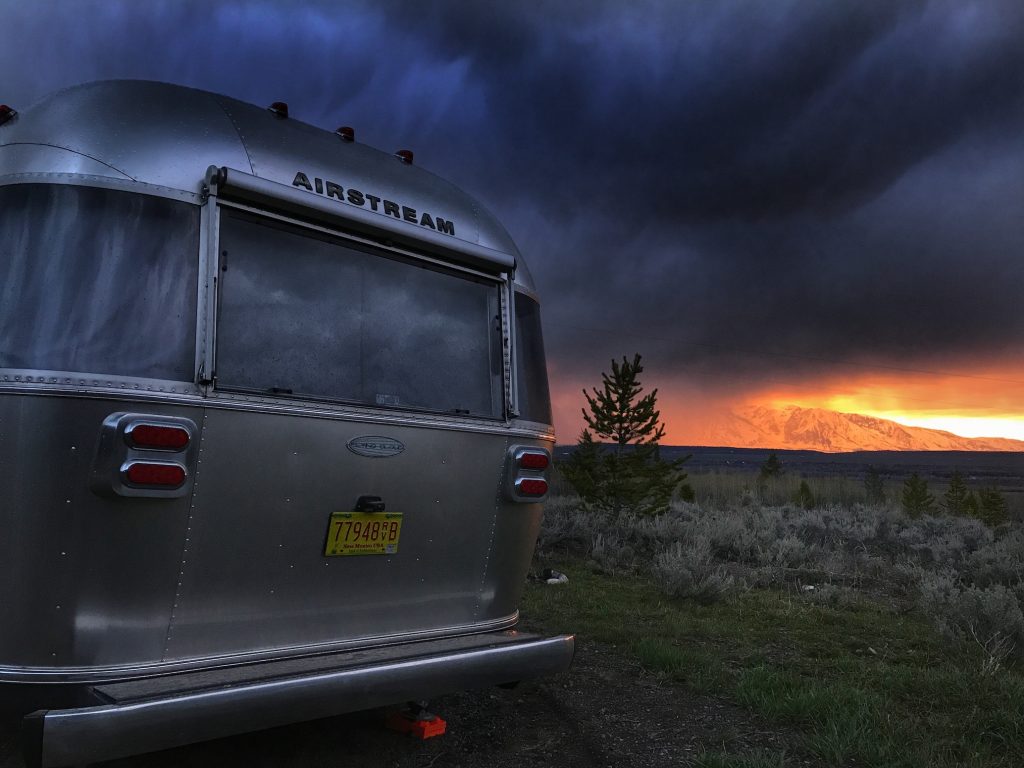 If you're looking for free camping in a gorgeous setting near Grand Teton National Park, you've found it! While camping at beautiful Lower Teton View, Airstreamers will find a large field with a stream nearby, and a trail that leads into the woods for hiking. The location is like that of a lush meadow, with the grass very low in some places and knee-high in others. Moose and elk call the area home, so keep an eye out, and you may catch a glimpse. Plus, Grand Teton National Park is just a hop away, so you can be hiking, biking, kayaking, or sight-seeing within minutes of leaving camp. This real American treasure encompasses approximately 310,000 acres, including the major peaks of the 40-mile-long Teton Range and most of the northern sections of the valley known as Jackson Hole. No matter your favorite outdoor activity – mountaineering, hiking, mountain biking, boating, fishing – you'll find it in Grand Teton. Back at camp, Lower Teton View is dispersed camping, so you'll have plenty of room to spread out. This is boondocking, so be sure you're stocked up on propane and water. If you need to make a supply run, though, Colter Bay is nearby, and Colter Bay Campground offers a free dump site.
Click here for more information on Lower Teton View
---
Southwest Camping
East Fork San Juan River, San Juan National Forest
Pagosa Springs, CO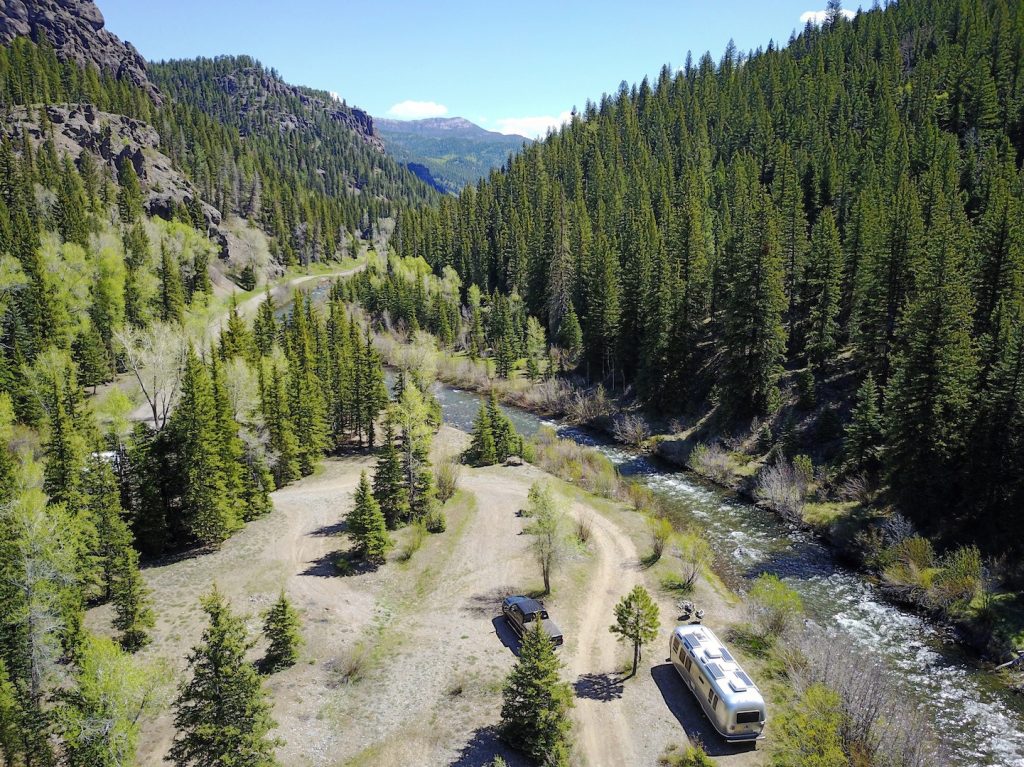 Located in the southwestern corner of Colorado, the San Juan National Forest abounds with natural and cultural treasures. The Forest consists of 1.8 million acres of wilderness, scenic byways and historic sites, and is home to five distinct life zones ranging from elevations near 5,000 feet to above 14,000 feet. It truly is a spectacular place to visit. Inside the Forest and just steps away from the San Juan River, you'll find dispersed, dry camping at the East Fork San Juan River in Pagosa Springs. If you're seeking peace and tranquility during your stay at San Juan National Forest, this is it. According to Airstreamers WanderWasi, "We stayed the week before Memorial Day, and there were a few prepositioned rigs but no one staying in the loop we pulled into. Plus, the white noise of the river drowned out sounds of any other people driving or camping nearby." Don't be in a hurry to get here. Because the road to this serene spot is pretty bumpy, it may take you longer than you think to traverse to the site. But once you're there, you can sit back, relax and enjoy the scenery.
Click here for more information on East Fork San Juan River
Jordanelle State Park
Heber City, UT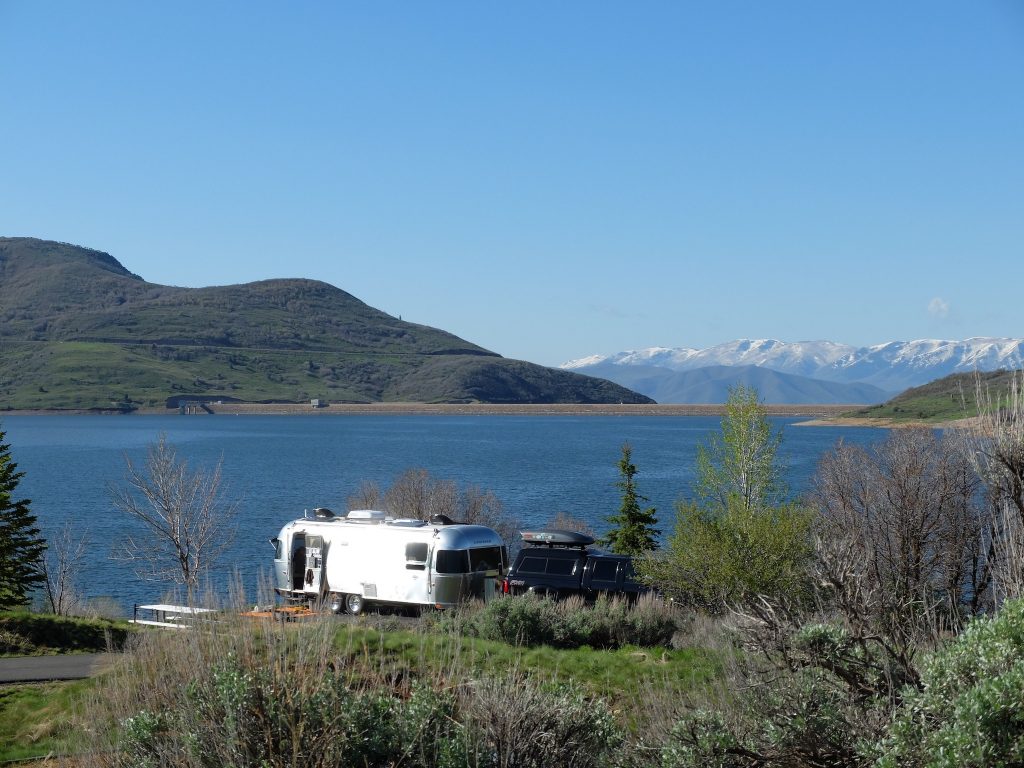 Welcome to Jordanelle State Park, an idyllic park that's also mere minutes from bustling Park City. Jordanelle is located above the stunning Heber Valley and along the shores of the Jordanelle Reservoir, which offers three distinct recreation areas:  Hailstone, Rock Cliff, and Ross Creek. Here, Airstreamers will find some of the best camping, boating, fishing, and hiking in the great state of Utah. Situated in the Hailstone area, the campsite has 103 sites that offer views of the beautiful reservoir, along with partial hookups (power and water), fire pits with BBQ grills and picnic tables. At Hailstone, you'll also find boating facilities, a fish cleaning station for prepping your catch and extensive shoreline. For a more rustic experience, head over to Rock Cliff or Ross Creek. There, explorers can enjoy a slew of hiking trails, like the Perimeter Trail, a 15-mile path from Rock Cliff to Crandall Point near Hailstone. For some excellent bass fishing, check out the north end of the reservoir at Ross Creek. Anglers won't be disappointed. After a day of adventuring, head into Park City to enjoy some great shopping, dining and sightseeing.
Click here for more information on Jordanelle State Park
Lower Pines Campground, Yosemite National Park
Yosemite Village, CA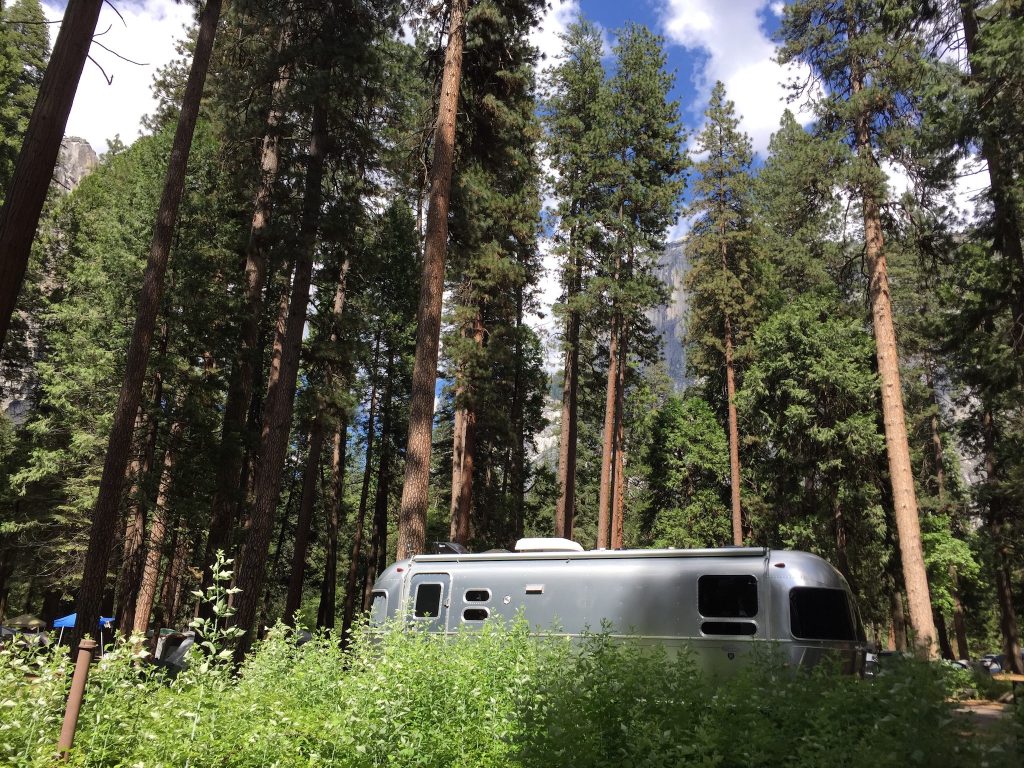 Who doesn't have Yosemite on their "to-visit list?" If you're planning your trip to this breathtaking, revered national park, consider nabbing a site at Lower Pines Campground, located in Central California's rugged Sierra Nevada Mountain Range at an elevation of 4,000 feet. You won't be disappointed. Airstreamers Casa Rocinante report that "the location is unbeatable," and the views from the sites are the same. In the heart of Yosemite Valley, Lower Pines greets visitors with an awe-inspiring landscape containing many of Yosemite's notable features. Waterfalls, sheer granite cliffs, deep valleys, grand meadows, ancient giant sequoias, and vast wilderness are all on display. Many trails begin near the Pines Campgrounds, and campers should consider rafting the Merced River, a fun way to cool down on a warm day when water levels are sufficient. Yosemite's various trails, cliffs, roads and rivers provide endless recreational activities for any visitor. The Lower Pines is a reservation campground and has paved roads and parking spurs, flush toilets, drinking water, and an amphitheater. Each campsite has a picnic table, fire ring and a food storage locker.
Click here for more information on Lower Pines Campground
Santa Fe Skies RV Park
Santa Fe, NM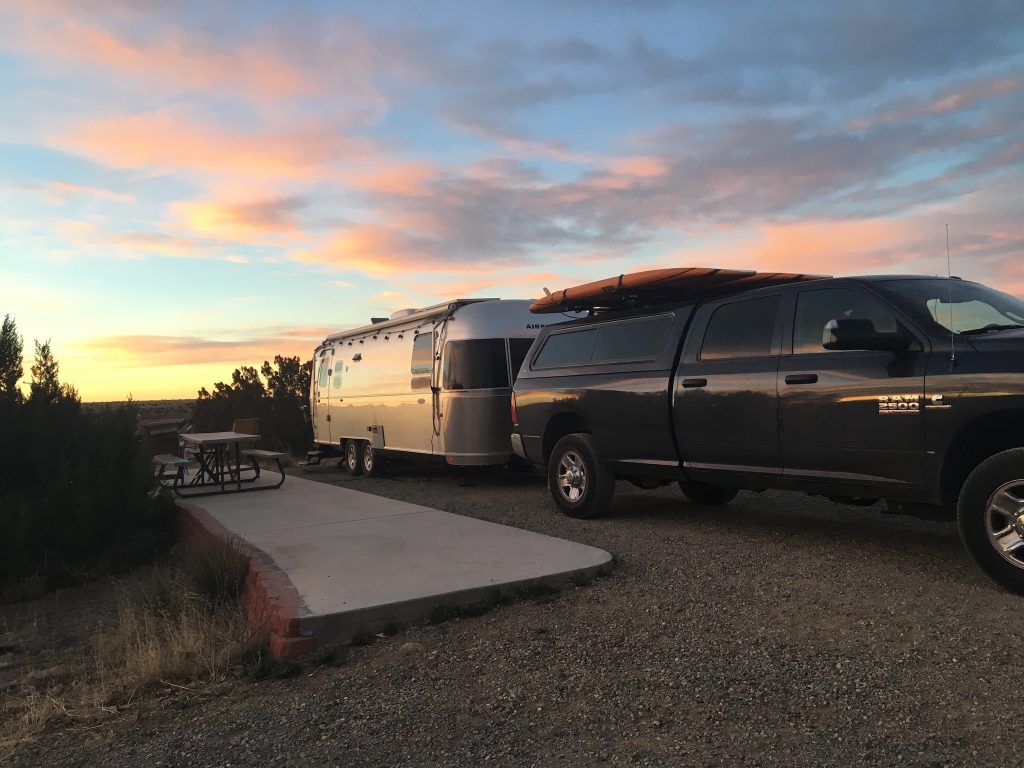 The city of Santa Fe is known for its hip, thriving arts scene. It's also renowned for its natural splendor, as the town has been nestled on the Western Slopes of the Sangre de Cristo Mountains in the expansive Rio Grande Valley for nearly four hundred years. When making your trip to Santa Fe, stop in and stay awhile at the Santa Fe Skies RV Park. Under the beautiful blue New Mexico skies, visitors to Santa Fe can soak in all the area has to offer. Located just south of the city and resting on the top of a hill, Santa Fe Skies boasts beautiful panoramic views that span to the historic Sangre de Cristo Mountains, the Jemez Mountains to the west, and the Cerrillos Hills to the south. With vistas like these and awe-inspiring sunrises and sunsets, campers here will get a real taste of this region's beauty. Santa Fe Skies is family built, owned and operated, and sits on 17 acres. There are 98 sites (some are pull-thru), and all have water and electric. Most also offer sewer. Sites have patios, and there is Wi-Fi available if you can't unplug completely. The park also offers restrooms, showers and laundry facilities.
Click here for more information on Santa Fe Skies RV Park
Catalina State Park
Tucson, AZ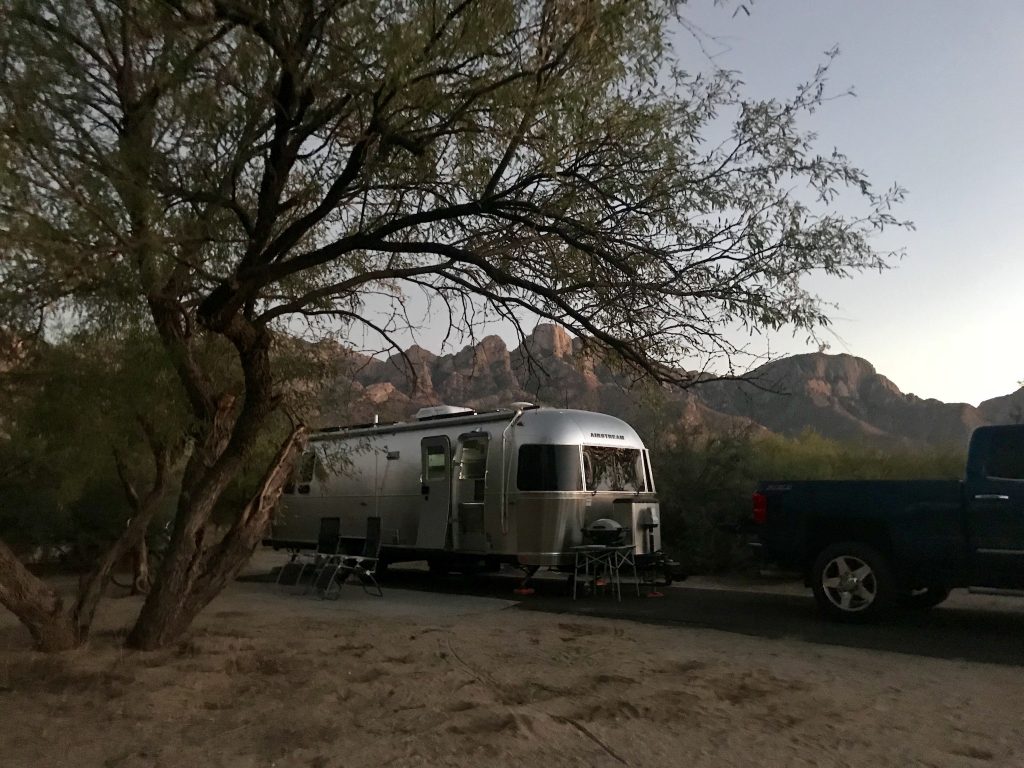 At the base of the magnificent Santa Catalina Mountains is Catalina State Park, a true haven for desert plants, wildlife and nearly 5,000 saguaros, a type of cacti that grows to be over 40 feet tall. Sites there are picturesque, and, as Airstreamers 4airstreamers say, Pusch Ridge and the rest of the Santa Catalina range is "right outside your door!" The landscape of this 5,500-acre park is as varied as it is majestic, with foothills, canyons and streams. At Catalina, you can revel in the glory around you while hiking and biking along the miles of trails that wind through the park and into the Coronado National Forest, at elevations near 3,000 feet. There are over 150 species of birds that call the park home, so have your binoculars handy when you head out for your trek. For people watching and other city activities, the Tucson metro area is just minutes away, though you wouldn't know it from the remote feel of the park. There are 120 electric and water sites with dump stations on-site, and each has a picnic table and BBQ grill. Roads and parking slips are paved, and campgrounds have modern flush restrooms with hot showers.
Click here for more information on Catalina State Park
---
Midwest Camping
Airstream Factory Terraport
Jackson Center, OH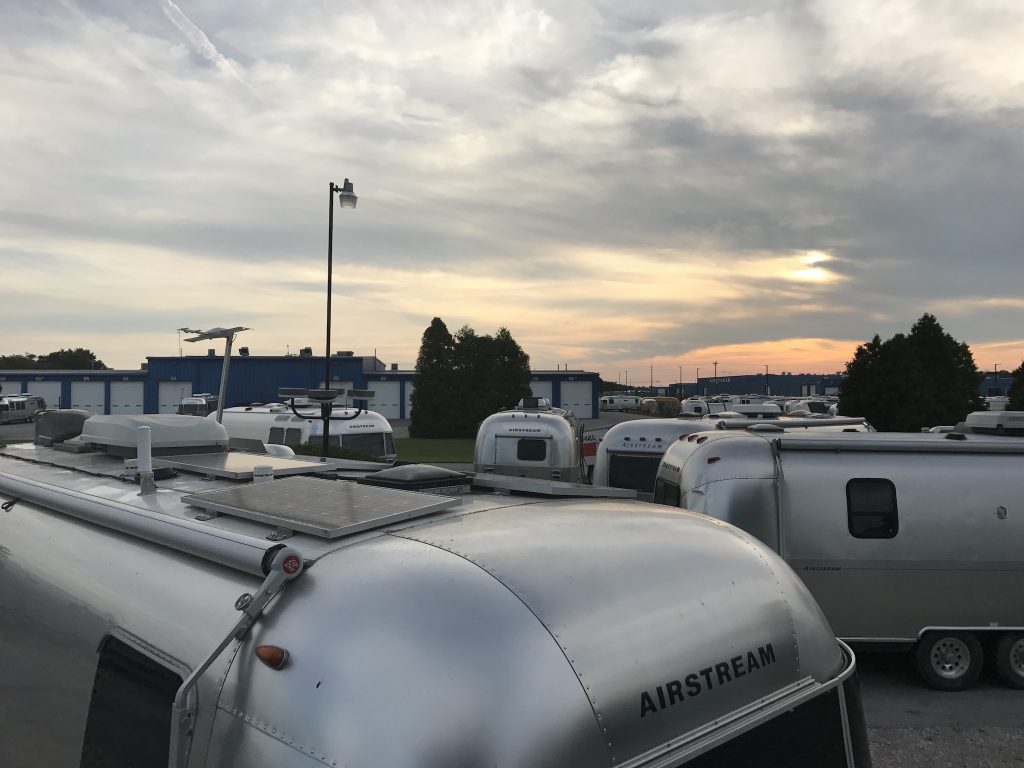 Airstreamers, welcome home! If you've never stopped by the Airstream® headquarters in Jackson Center for a tour of the factory, now's the time to plan your visit. As Airstreamer RL puts it, "For Airstream owners, visiting the factory is a 'must.'" And, as Airstreamer Bob Martel says, it's also "a great place to camp during Alumapalooza or when traveling up and down I-75." The Airstream Terraport has three loops of eight sites each (24 total), all with full hookups, including 30- and 50-amp power. The sites are all asphalt and back-in, with gravel around them. While at the Terraport, you'll meet excellent neighbors and have a chance to steep in the history of Airstream, founded by the spirited Wally Byam in 1931, creator of the very first Airstream. At the factory, you'll get an insider view into where and how every single Airstream is created, with 350 hours devoted to each travel trailer. Why? Because Airstreams are built to last, and they're built with pride. Come and see the modern-day continuance of Byam's creed at Jackson Center, where we "strive endlessly to stir the venturesome spirit that moves you to follow a rainbow to its end…and thus make your travel dreams come true."  
Click here for more information on Airstream Factory Terraport
Bayside Campground, Assateague Island National Seashore
Berlin, MD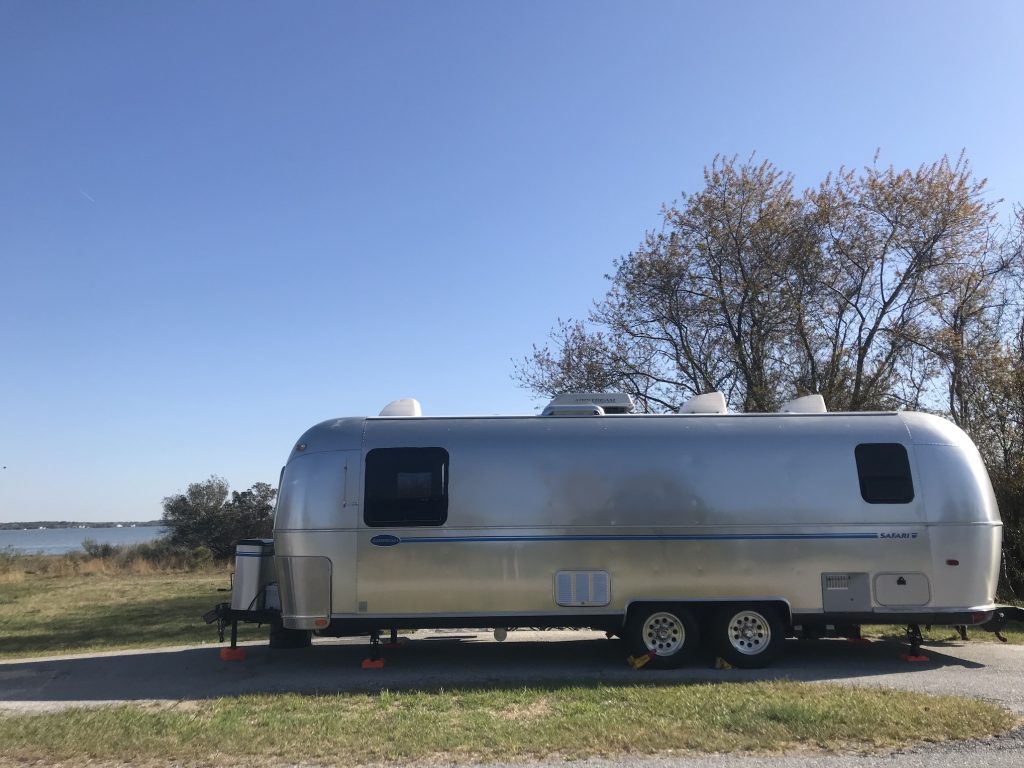 The Assateague Island National Seashore is a protected area on a long barrier island off the coast of Maryland and Virginia that is known for its pristine Atlantic beaches. Assateague has a unique and special character. Because it is located on near-shore and estuarine waters, the geography of the island itself is in a state of constant flux, continuously being reshaped by the elemental forces of wind and water. Visitors to the Seashore can get a glimpse of this ever-changing landscape and its wildlife during their stay at Bayside Campground. Here, Airstreamers will find a handful of trails that wind through marshland, dunes and pine forest. In the south, Chincoteague National Wildlife Refuge is where wild Chincoteague ponies roam – descendants of 17th-century grazing horses raised by early colonists – and bald eagles and migratory seabirds soar. Campsites at Bayside are large, and visitors have open access to the water and beaches. Visit here to experience beautiful sunsets, abundant wildlife and excellent outdoor recreation. This is dry camping, but for beach supply runs, Ocean City is easily accessible, too.
Click here for more information on Bayside Campground
Moraine View State Park
Le Roy, IL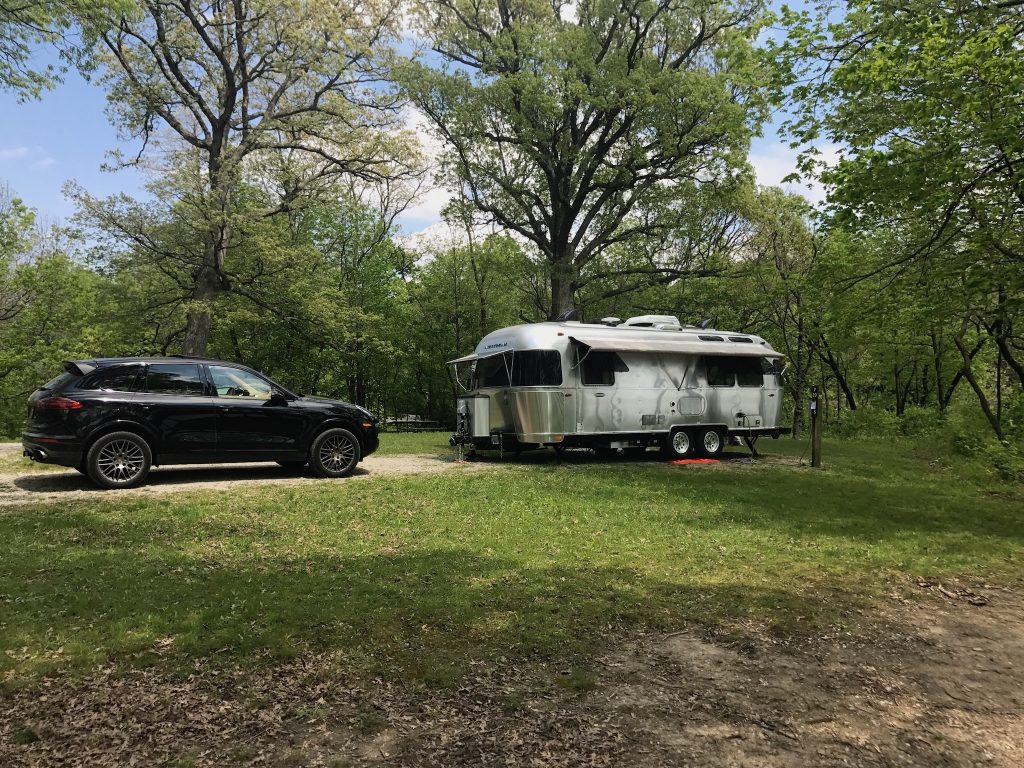 During the last ice age, 15,000 years ago, glaciers moved through what is now central Illinois, pushing massive amounts of rock and earth before them. What they left in their wake were irregular crests – long and expansive ridges called "moraines" that ripple across the landscape. Welcome to Moraine View State Park, part of the 1,687-acre Moraine View State Recreation Area and the accompanying 158-acre lake, where distinctive and unique moraines lie. Here, gentle swells and broad valleys are scattered with groves of white oak, red oak, black walnut, maple, hickory, ash and elm. The Recreation Area is located in the middle of one of the largest moraines, the Bloomington, which stretches across the state from Elgin to the Illinois River. This beautiful retreat presents an ideal opportunity to enjoy the serene natural beauty of the Midwestern woodland, along with invigorating outdoor activities. With fully developed facilities for camping, hiking, swimming, fishing, boating, horseback riding and hunting, there is something for adventurers of every stripe. There are 137 RV campsites with electricity and a sanitary station, and water is available in several locations in the campground.
Click here for more information on Moraine View State Park
Buttonwood Campground RV Park
Mifflintown, PA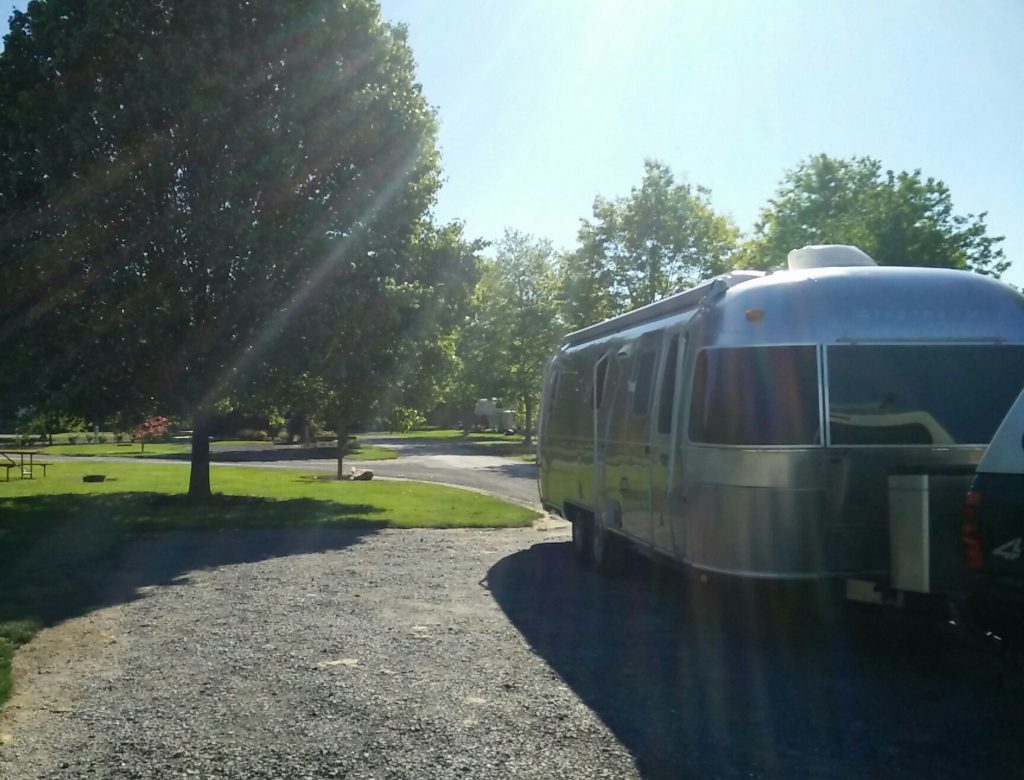 How about some family fun while camping amongst mighty mountains, rolling farmlands and fresh country air? If this sounds like your idea of a vacation or getaway, take a trip to Buttonwood Campground RV Park. Located in the Juniata River Valley of Central Pennsylvania, Buttonwood is a place where you can do it all. For the young and young-at-heart, this park offers mini-golf, a playground and jumping pillow, pedal carts, river tubing and night laser tag. Visitors will also find a refreshing pool, horseshoe pits and a basketball court, along with scheduled hayrides. When it's time for mom and dad to kick back and relax, there is an on-site winery where you can sample different regional reds and whites. Take advantage of the river, too, by exploring the water's edge or getting up close and personal with tubing, fishing or boating. The possibilities for entertainment seem endless at Buttonwood. Here, sites have 30- and 50-amp electric, water, sewer, and cable TV. There is a dump station, laundromat and propane fill station on site.
Click here for more information on Buttonwood Campground
Interlake RV Park
Rhinebeck, NY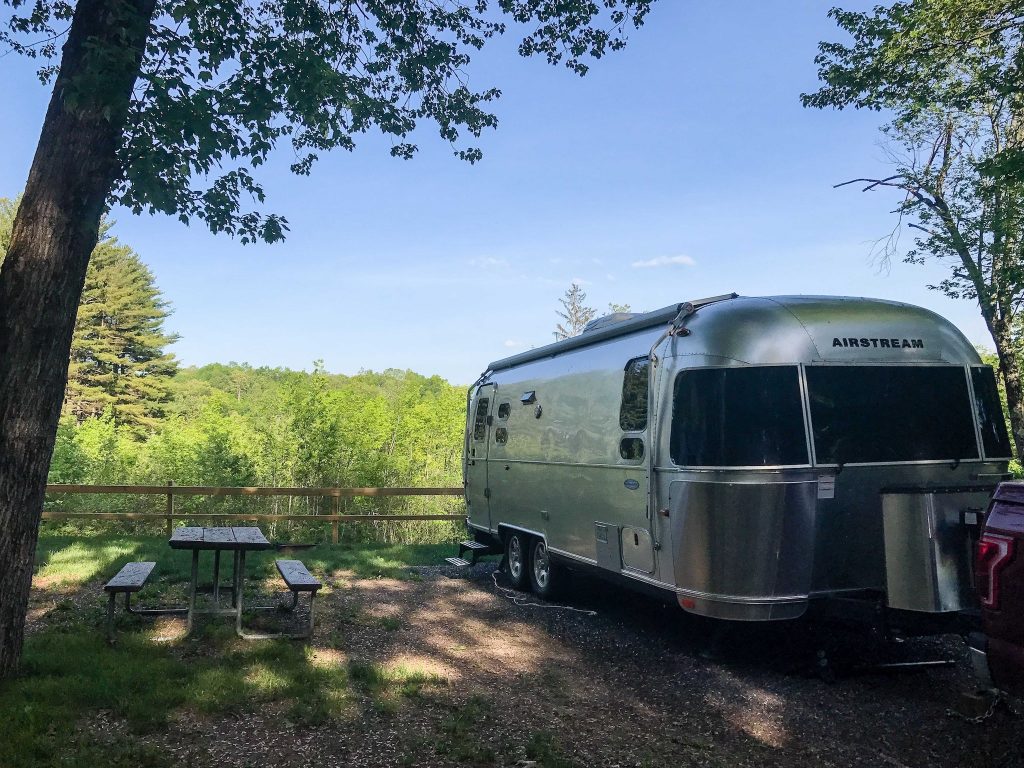 "If you are in the Hudson Valley area, Interlake RV Park is the place to be," says Airstreamer Talison 01. Situated within minutes of the natural splendor of the Hudson River Area, there are also lots of nearby attractions to keep you busy – the Hudson Valley historic sites, including the Vanderbilt Mansion, The Home of Franklin Roosevelt, Val-Kill (Eleanor Roosevelt's cottage), the Old Rhinebeck Aerodrome, Hyde Park and the Dutchess Wine Trail. Interlake is also only 90 miles north of New York City, so those Airstreamers looking for an outdoor retreat with proximity to the Big Apple just found the best of both worlds. Amenities at the park include high-definition cable, free basic WI-FI, a playground for the kids, large swimming pool, a camp store and snack bar and grill. There's also the option to boat and fish in both the 20-acre lake and fishing pond. Sites include water and your choice of electric (20-, 30- and 50-amp), and some include sewer. There is a laundromat, free showers and clean restrooms available at the park, too. Talison 01 went on to say of the park's "summer vibes" that it "is the type of place where the same campers come year after year and absolutely love it."
Click here for more information on Interlake RV Park
---
Southeast Camping
Fort De Soto Park Campground
Saint Petersburg, FL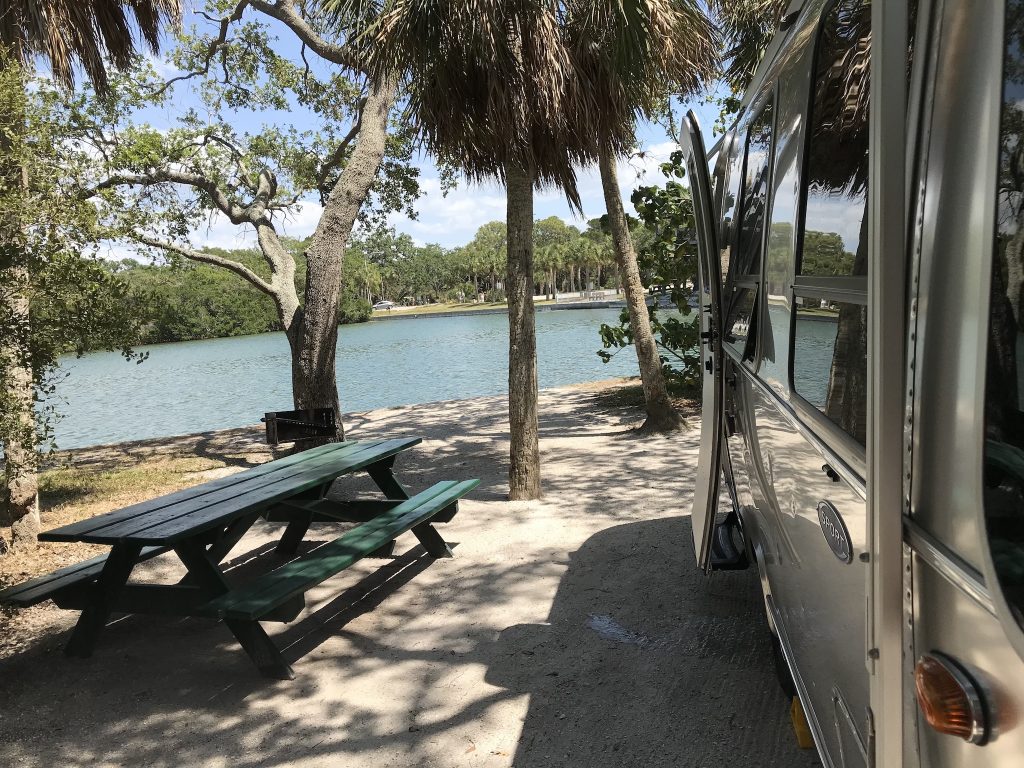 If you're chasing early spring's warm weather, there's no better place to find it than the Sunshine State. And at Fort De Soto Park, Airstreamers will have the best-of-the-best of all that Florida has to offer. The largest park within the Pinellas County Park System, Fort De Soto Park contains 1,136 acres consisting of five interconnected islands, or keys. Visitors here will immediately notice (in addition to the stunning beaches) a wealth of bird life, sea life, wildlife and plant life. According to Airstreamer @ChasingTabor, this campground is a "hidden gem, surrounded with ocean views from most of the sites, which are huge and pretty private with trees and palms in between each one." This county park is well-maintained, and offers paved walking, running or biking trails to many other beaches than the one right outside your door, including a dog-friendly beach just down the road. At the campground, explorers will find kayak and stand-up paddleboard rentals, along with plenty of great spots to fish. The 238-sites at this campground includes picnic tables, grills, water and electricity, and access to washers, dryers, dump stations, modern restrooms, showers, play areas, and a camp store.
Click here for more information on Fort De Soto Park Campground
Campfire Lodgings
Asheville, NC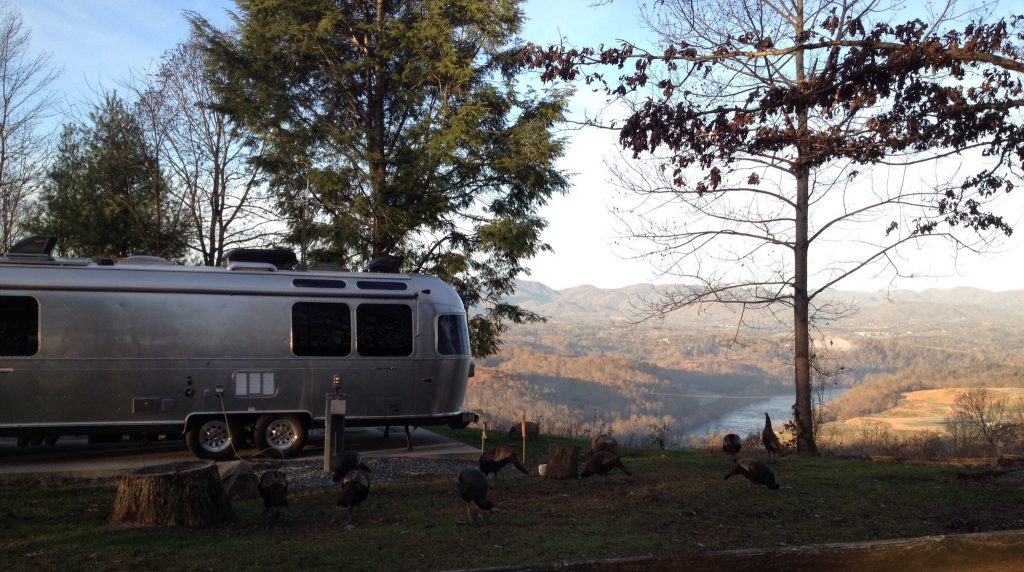 In recent years, Asheville has earned some impressive nicknames. Called "The Paris of the South," the city is home to an eclectic, artsy community and hip cultural scene. Its other nickname is "The Land of the Sky," and for we Airstreamers, that's a name that especially calls you to visit. When making your way down to Asheville to see that famed sky for yourself, consider setting up camp at Campfire Lodgings RV Park. Campfire is the perfect home base for exploring all that the Blue Ridge area has to offer. Located on Goldview Knob on 100 acres of woods, Campfire Lodgings is just ten minutes north of Asheville and twenty minutes from the Blue Ridge Highway. At Campfire, guests can choose to get out and explore the metro area or stay snugged into nature, enjoying on-site activities like hiking, fishing, tubing, white water rafting, kayaking and zip lining. No matter the ingredients for your perfect getaway, you'll find them all at Campfire. Sites offer full hookups, picnic tables and fire rings, and "premium" sites come with pristine mountain views.
Click here for more information on Campfire Lodgings
Fairview Riverside State Park
Madisonville, LA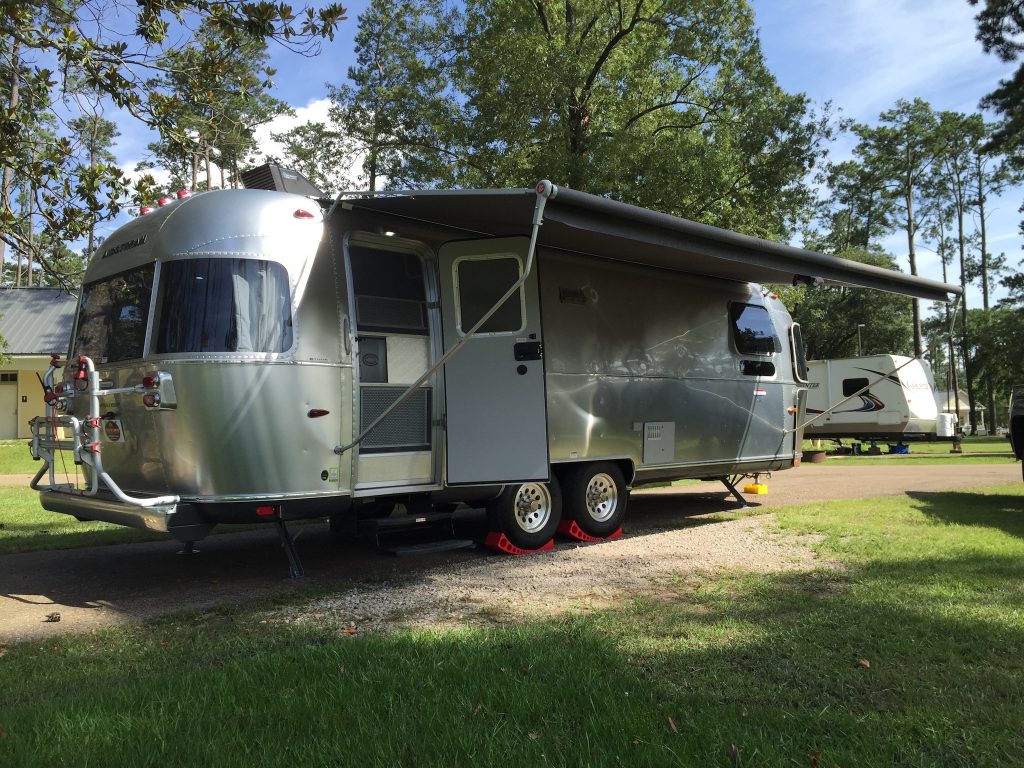 Touted as one of the most peaceful parks in the state, Fairview Riverside State Park doesn't disappoint. Airstreamers Airosmith call Fairview "a terrific park," and note that, while the park is tranquil and has a secluded feel, there is plenty to see and do, and famed New Orleans is located just across the causeway. If you're in town for the ever-popular Jazz Fest, then this is a great place to set up camp. Or, if you want to steep in the natural beauty of the Big Easy's home state, then pull right into Fairview. Located on the Tchefuncte River and under a wondrous canopy of enormous oak trees, there are opportunities for fishing (bass, bluegill, white perch, and bream), kayaking, or exploring the park on its scenic nature trail. Also on the grounds is the historic, Victorian-era Otis House, now home to a museum and open for visitors who want a taste of the area's history. Just two miles away, visitors can access a boat launch and explore the expanse of Lake Pontchartrain and the calmer waters of the Tchefuncte River. Fairview offers 81 camping sites, all with electricity and water hookups. A nearby comfort station and a dump station are also provided.
Click here for more information on Fairview Riverside State Park
Paul B. Johnson State Park
Hattiesburg, MS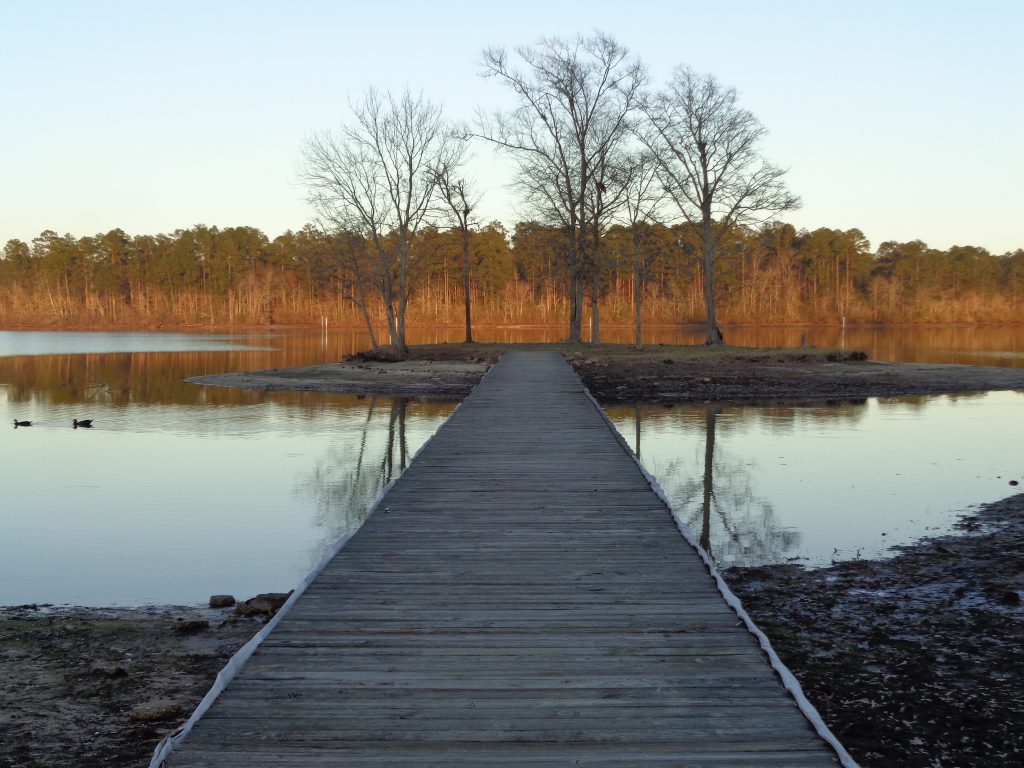 Nestled in the heart of Mississippi's pine belt region, Paul B. Johnson State Park feels like a natural wonderland. Here, visitors are greeted by majestic long-leaf and loblolly pines, delicate dogwoods and ancient oaks, and pristine Geiger Lake. Surrounding the park are deep forests, which provide a picturesque backdrop for the variety of outdoor activities explorers will find here. There are both a sandy beach and lake swimming area at the park, and anglers can cast a line from shore or boat for Florida Large Mouth Bass, Bluegill, Copper Nose Bream, Shell Cracker (Red Ear), Crappie, and Channel Catfish. For on-foot exploration, the "Trail of the Southern Pines" gives an interesting and educational look at Mississippi plant, bird and animal life, complete with a lookout tower with a view of the nature area. The park is situated on a scenic hill, shaded by stately pines, and offers 125 RV campsites, many of which are lakefront. All campsites feature water, sewer and electrical hookups. Campground roads and RV pads are paved, and the campground features a private beach, lake swimming area and playground.
Click here for more information on Paul B. Johnson State Park
Gulf State Park
Orange Beach, AL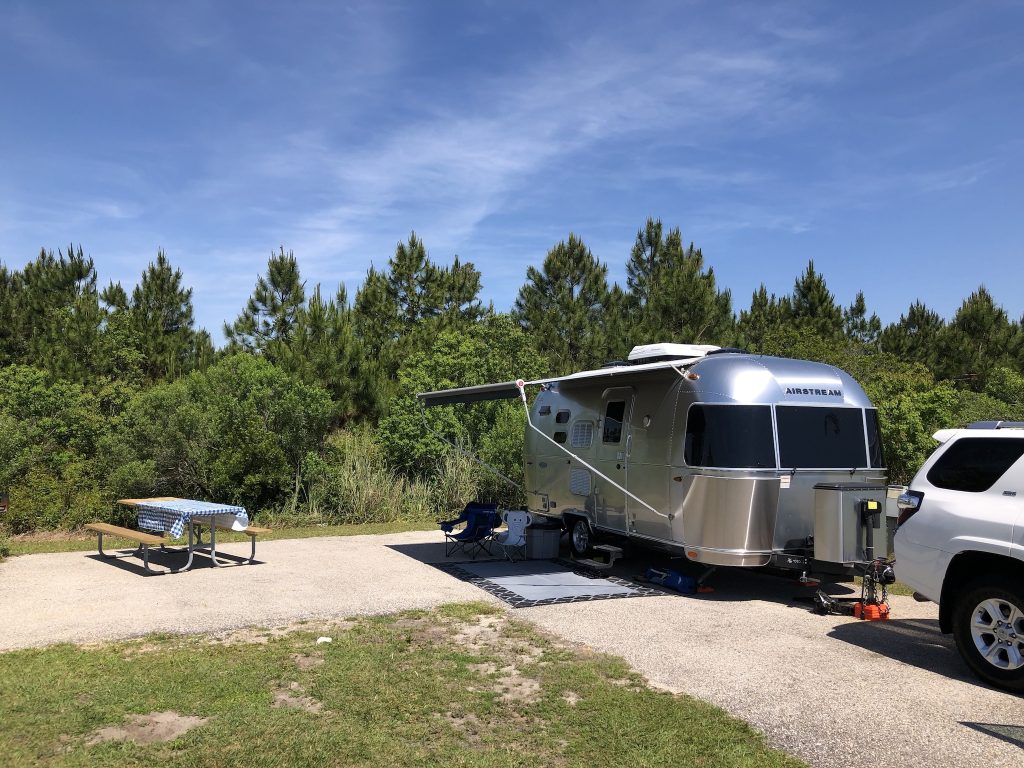 When you venture to Gulf State Park, you'll be welcomed by two miles of beaches and plenty of sun-kissed white sand, surging surf, seagulls and seashells. And there's more! Located just 1.5 miles from the sandy beaches is Gulf State Park Campground, a 496-site full-hookup campground with a swimming pool with splash pad, tennis and pickleball courts, horseshoes, volleyball court, and Nature Center. Amenities at Gulf State also include kayak and paddleboard rentals, parasailing trips and beach service, and segway tours and bike rentals to explore on the Hugh S. Branyon Backcountry Trail when you're not on the beach. Made up of seven distinct trails, the Backcountry offers 25 miles of paved trails for walking, biking or segwaying, and explores six distinct ecosystems. Keep an eye out during your stroll through the Butterfly Garden, the mystical Freshwater Marshes and the Coastal Hardwood Swamps – you might catch a glimpse of a bobcat, a white-tailed deer or an alligator basking in the sun. Be sure to have your camera ready on this scenic adventure.
Click here for more information on Gulf State Park