Explore the guide to find some of the best November camping across the United States, as recommended by fellow Airstreamers through Campendium.
Northwest
Clyde Holliday State Recreation Site, Oregon State Park
Mount Vernon, OR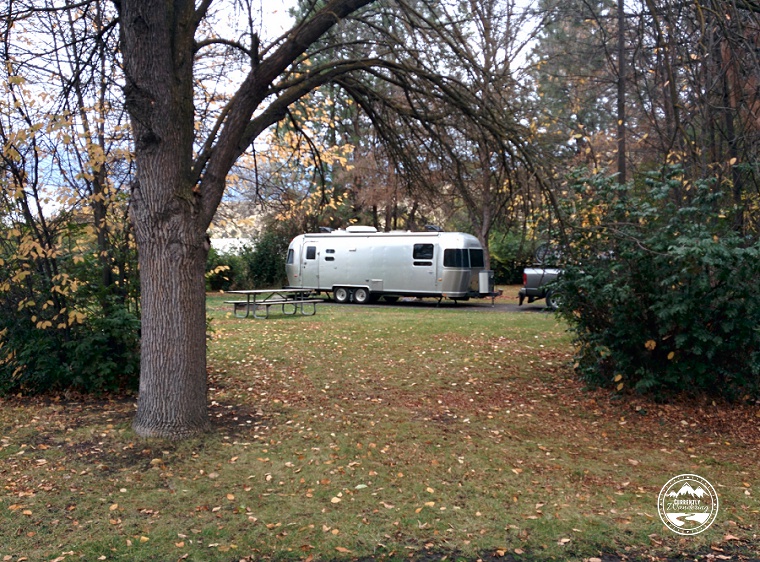 Come and take advantage of the last month of camping season at this Oregon State Park oasis. Clyde Holliday State Recreation Site is full of tall, willowy cottonwood trees that provide a sense of serenity and tranquility. The park borders the beautiful John Day River, a tributary to the Columbia River, and the third-longest free-flowing river in the US. It's here that you can witness the rush of wild steelhead trout pushing upriver to spawn. This recreation site is bordered on all sides by some of Oregon's most pristine wilderness areas. In addition to John Day, the park lies in the shadow of the Strawberry Mountain Range, located within Malheur National Forest. Take the short drive over to this majestic region for excellent hiking in the high country. Be prepared for serious climbs – the landscape is rugged, and elevations range from 4,000 feet to the 9,038-foot summit of Strawberry Mountain. Over a hundred miles of trails cross the wilderness. Of the camp, Airstreamers Currently Wandering say, "It was perfect. Peaceful, beautiful, and relaxing. It also helped that we were in the offseason, and there was maybe one other person in the whole park." There are 31 electrical sites with water that are first-come, first-served. Clyde Holliday also offers hot showers, flush toilets, firewood and ice for sale, and a dump station.
Click here for more information on Clyde Holliday State Recreation Site
Living Forest Oceanside Campground, RV Park
Nanaimo, BC, Canada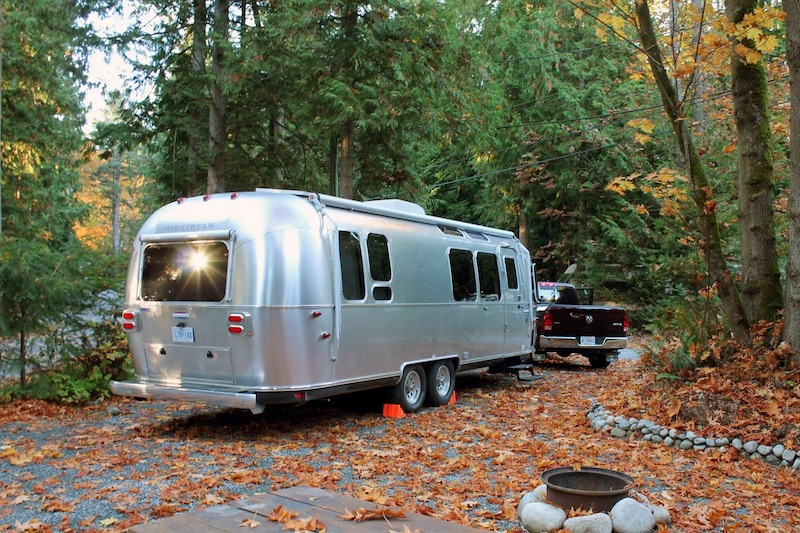 Vancouver Island, British Columbia, is widely considered one of the most beautiful places on Earth. There's no better base for exploring this magical island than Living Forest Oceanside Campground, situated just outside the small city of Nanaimo. This 53-acre facility is close to some of the island's most popular sites, including Cathedral Grove's 800-year-old fir trees; Newcastle Island Provincial Maritime Park; Little Qualicum Falls, and the shops and cafes of Nanaimo's Waterfront Walkway. The park itself offers numerous activities – oceanside hiking, kayaking and canoeing, basketball, volleyball and game rooms for both adults and kids. The smooth paved roads are great for a bike ride. According to Airstreamer Cyclist, "Living Forest is located on the edge of Nanaimo, but with 53 acres of well-forested land, you wouldn't know the city was there. Most sites are well forested, with the exception of the sites overlooking the Nanaimo River estuary. It's a large park with over 300 sites, but the sites are well spaced." Living Forest offers RV sites in a variety of configurations. Full-service sites include water, sewer and electric. All sites have a picnic table and fire ring. Amenities include bathhouses with flush toilets and showers, a laundromat, and a camp store. Wi-Fi is available at most sites for a fee.
  Click here for more information on Living Forest Oceanside Campground
Cape Blanco State Park, Oregon State Park
Sixes, OR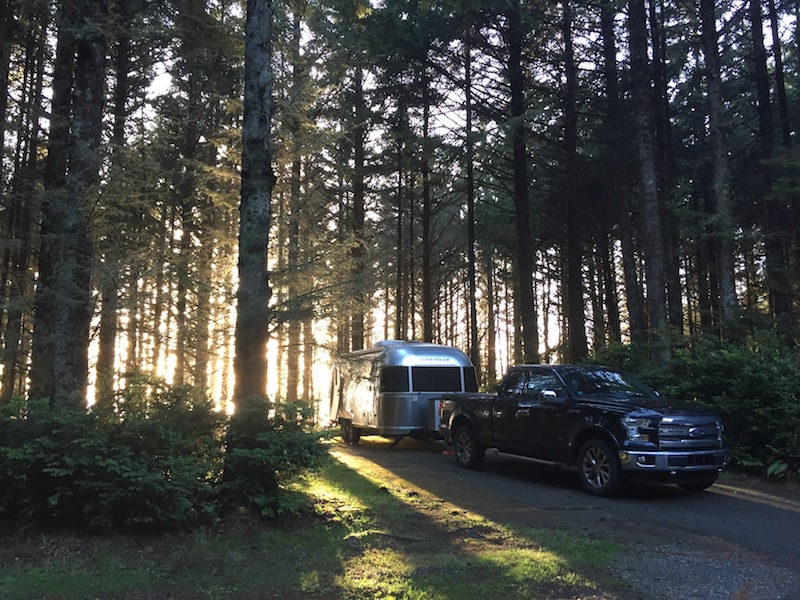 Located at Oregon's windswept westernmost tip, Cape Blanco State Park features unique natural and historic sites, including rugged beaches and bluffs, abundant wildlife, a 19th-century lighthouse, and an early Irish settler's home. Cape Blanco Lighthouse is open for tours April-Oct. 3. Hughes House, home to Cape Blanc's first settlers, can be toured May 1-Sept 30. More than eight miles of hiking trails lead to the beach and ocean vista viewpoints. Anglers will find some excellent spots along the Sixes River. Cape Blanco is also horse-friendly, as befits its history as a ranch. The park features 12 corrals, a seven-mile riding trail, and a 150-acre open riding area. Nature lovers will enjoy excellent bird and marine mammal watching, highlighted by the sea lion colony that occupies offshore rocks. The hiking trails wind through thick forests and past stunning rock formations. Due to the temperate marine climate here, the grass stays green here all year long. According to Airstreamers Aluminarium, "Cape Blanco is a beautiful state park. Pretty much all of the sites in this campground are good sites. They're nicely spaced, and the natural landscaping is abundant. During our stay, the winds were whipping, but we were protected by the trees, making for a hypnotizing ambient sound. Cape Blanco has 52 electrical sites with water (first come, first served). Amenities include flush toilets and hot showers.
Click here for more information on Cape Blanco State Park
Bridge RV Park
White Salmon, WA

The Columbia River Gorge National Scenic Area is among the nation's largest outdoor adventure areas. Visitors should plan several days in this stunning locale just to get a sense of the place. Bridge RV Park is the perfect basecamp for that mission. Located 60 minutes east of Portland in the shadow of Mt. Hood, Bridge provides easy access to the Gorge's smorgasbord of fun, including hiking, mountain biking, windsurfing, whitewater rafting, ziplining, golf, snowmobiling, snowboarding, and train and riverboat tours. Nearby public-land recreation areas include the Gifford Pinchot National Forest and Mt. Adams Wilderness. White Salmon is the perfect place to kick back after a day of outdoor adventure. The one-street town is home to a brewery, restaurants and artisan shops. Airstreamers Fancy Pants were pleased with their experience. "Nice park with friendly owners. Big dog walk area and usually not busy, so we could throw the ball. There is a grassy area between the sites. Bathrooms were clean and modern. Overall, a nicely managed park with good access to points around the Hood River area, including the little town of White Salmon that had a very good grocery store." Bridge's RV sites range from 40′ to 80′ in length with a mix of pull-thru and back-in. All sites are paved and have full hookups including, cable television, and a picnic table. Amenities include restrooms and showers and a laundry room.
 Click here for more information on Bridge RV Park
The Point RV Park, Emigrant Lake Recreation Area
Ashland, OR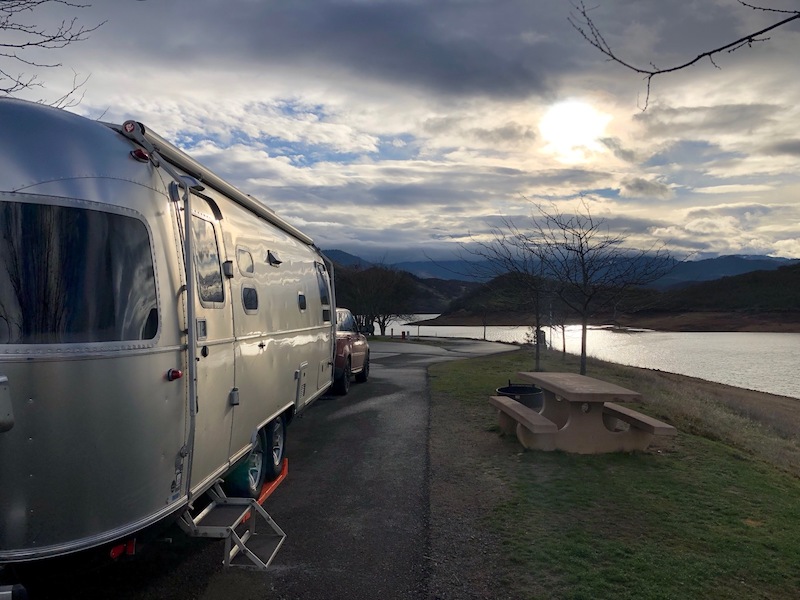 Emigrant Lake is a favorite getaway spot for residents of nearby Ashland, OR. And no wonder. The 1467-acre park has 12 miles of lake frontage, making it a watersports paradise. Fishing for bass, crappie, and trout is a leading pastime, along with boating, canoeing, kayaking and water skiing. When summer comes, the kids go crazy for the park's 280-foot twin flume water slide. Nearby Ashland is home to Lithia Park, which surrounds Ashland Creek and features walking trails, duck ponds and a rose garden. The town's North Mountain Park has a nature center and themed gardens. At the ScienceWorks Hands-On Museum, kids can build in the Da Vinci's Garage space. Airstreamer Kate at the Scenic Route was quite pleased with The Point: "The campground is perfectly situated so that everyone has a lake view. Emigrant Lake meets our criteria of a perfect place. Nice scenic setting and near to an interesting town or city. Ashland is just a ten-minutes-drive away. The sites are roomy and quite open so there is not as much privacy as a campground with more trees. The lakeside spots are prime, but the ones that are high up also have great views. I actually don't think there is a bad spot here."  The Point has 32 sites with full hookups, overlooking the shoreline on the lake's north end. Each site offers water, 50-amp electrical service, sewer, and 14' x 50' pads to handle larger RV's. Accommodations include restrooms, showers and a dump station.
  Click here for more information on The Point RV Park
---
Southwest
Black Rock Canyon Campground, Joshua Tree National Park
Yucca Valley, CA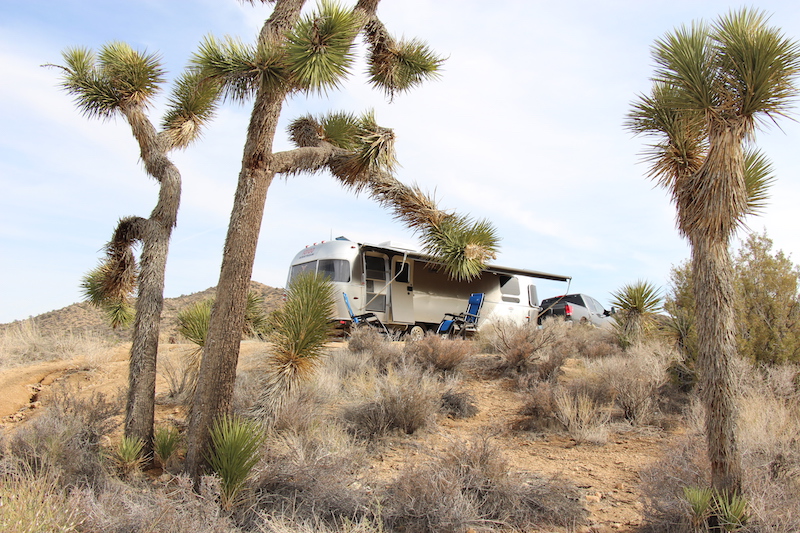 Black Rock Canyon is set in one of the thickest Joshua tree forests in Joshua Tree National Park. Its location on the park's northern perimeter makes it a popular rest stop for hikers, birders, horseback riders and RV campers. Black Rock is one of four campgrounds in the Joshua Tree National Park that can be reserved during the busy winter season. Daytime temperatures ranging from 70 to 90 degrees make this a popular destination from October through May. While visiting Black Rock, keep a lookout for the rare desert tortoise. You may also see lizards, rattlesnakes, scorpions, coyotes, ravens and desert tarantulas. Bobcats and mountain lions also live in the park but rarely cross paths with campers.  There are several hiking trails in Black Rock, including some with spectacular views of the deserts and mountains surrounding Palm Springs. Airstreamer Fables and Trails says, "Rarely do you get such a beautiful camping experience right next to mature Joshua Trees in a quiet environment, close to town, but far enough away to feel like wilderness." There are 100 individual sites in the facility. There are no hook-ups, but the amenities include flush toilets, drinking water, and a dump station. If you really need to clean up, showers and a laundry are available in Yucca Valley, five miles away.
  Click here for more information on Black Rock Canyon Campground
Ken's Lake Campground, BLM
Moab, UT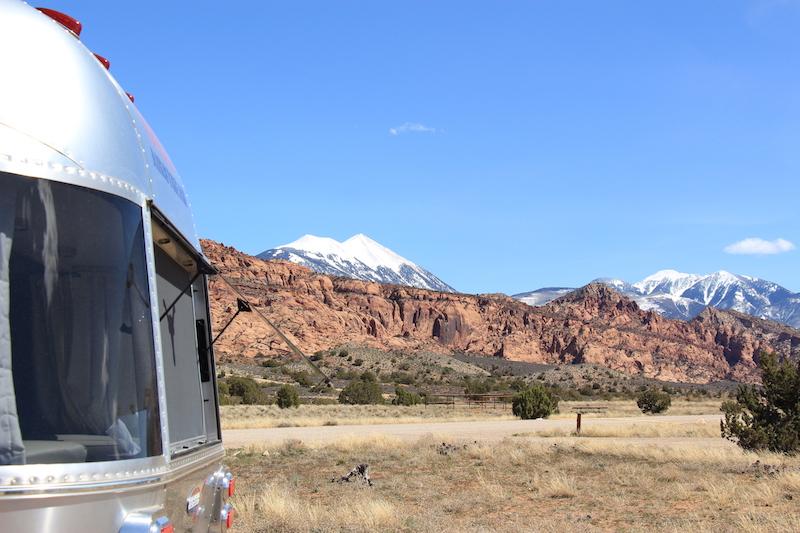 Arches National Park is among the country's top destinations for outdoor adventurers and nature lovers. That makes finding a spot in the park difficult. Fortunately, there are options, including Ken's Lake Campground. Ken's Lake Recreation Site is located 10 miles south of Moab. The facility has some three miles of family-friendly hiking trails with views of the Moab Valley, Faux Falls and Ken's Lake. There are also some horseback trails. Fishing in the reservoir is a popular activity. Boating is limited to non-motorized craft. The campground offers views of the La Sal Mountains and the red rock fins surrounding Moab. Airstreamer Audrey Airstream says Ken's Lake was a home run. "I can't wait until we can visit this place again! Beautiful views, well-spaced campsites, a great price -- awesome! We found this spot to be peaceful and quiet, and one of our favorites. We used it as our jumping-off point for Canyonlands, Arches, and the other Moab-area activities." Ken's Lake campground has picnic tables, vault toilets, grills, graveled roads and trash receptacles. There is no drinking water at the campground. Campsites are available on a first-come, first-served basis.
Click here for more information on Ken's Lake Campground
Garland Prairie Road, Kaibab National Forest
Williams, AZ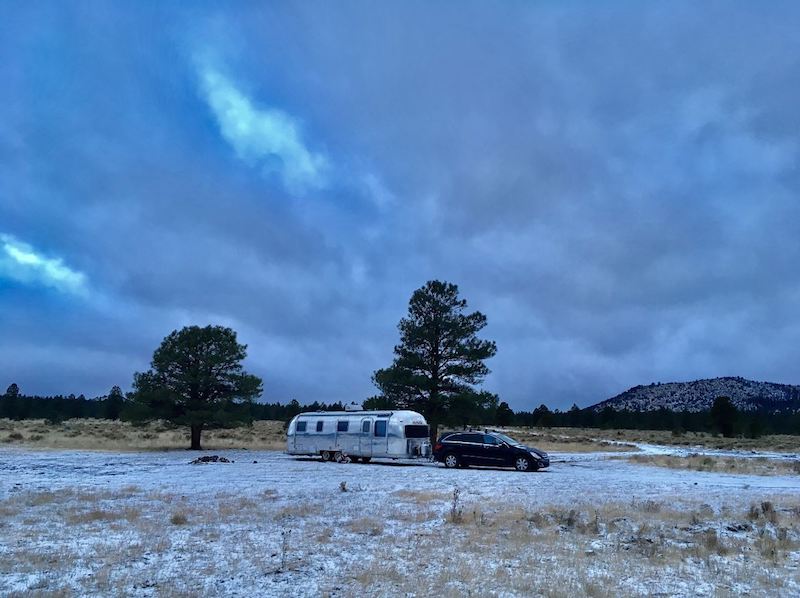 Come and enjoy the peace and solitude that is dispersed camping. At this hidden treasure in the Kaibib National Forest, November is the perfect off-season month to have the place to yourself (or with only a handful of other campers). Choose to set up camp among the pinion pines or in the prairie. Either way, you won't be disappointed. There are natural wonders to satisfy even the most intrepid explorers, including the rugged geography and varied ecosystems of the Kaibib to the Grand Canyon, which forms the Kaibib's southern boundary. For downtime, take advantage of the creature comforts of the nearby towns of Williams and Sedona. Airstreamer Trekerboy found Garland Prairie to a satisfactory place to call it a night. "We did see one vehicle pass by, but otherwise it was really quiet and remote. No problem to run a generator, since no one else is around. Best thing about this campsite is that it's free and pretty close to the freeway; a perfect place to pull off and spend the night. Be sure to bring your own firewood, as the temperature can drop to 30 degrees at night this time of year. 
Click here for more information on Garland Prairie Road
North Area Campground, Conchas Lake State Park
Conchas, NM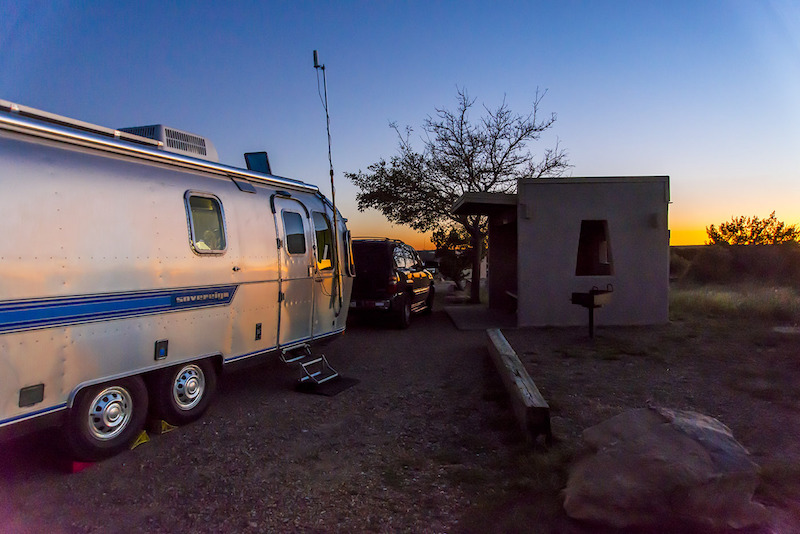 Located just northwest of Tucumcari, Conchas Lake is a dam-created reservoir with secluded coves, canyons, and sandy beaches. It's an excellent locale for camping, boating, and fishing. The lake's 21 miles of shoreline offers plenty of great hiking and birding too. Conchas Lake State Park is divided into two separate areas, north and south. The park is a fisherman's paradise with nine public boat ramps: five in the north area and four in the south area. The lake is home to walleye, largemouth bass, white bass, shad, flathead catfish, channel catfish, bluegill, and crappie. Conchas is also a popular spot for bird watching. Airstreamer Johnkellygreen says Lake Conchas is a great place to stop when you want peace, quiet and beauty. But he also recommends a visit to Tucumcari: "Whenever we're in this part of New Mexico, we always stop in Tucumcari. It is one of the best towns to get a real taste of Route 66 iconic sights: 50's style hotels, restaurants, gas stations and neon signs! Although Lake Conchas is 35 miles out from the town, the drive takes you through some rugged landscape with mesas, red rocks, distant mountains and a sense of being out in the wilderness." Lake Conchas has 65 sites, all with water and electricity. Amenities include restrooms, showers and a dump station.
Click here for more information on North Area Campground, Conchas Lake State Park
---
Northeast
Lums Pond State Park, Delaware State Park
Bear, DE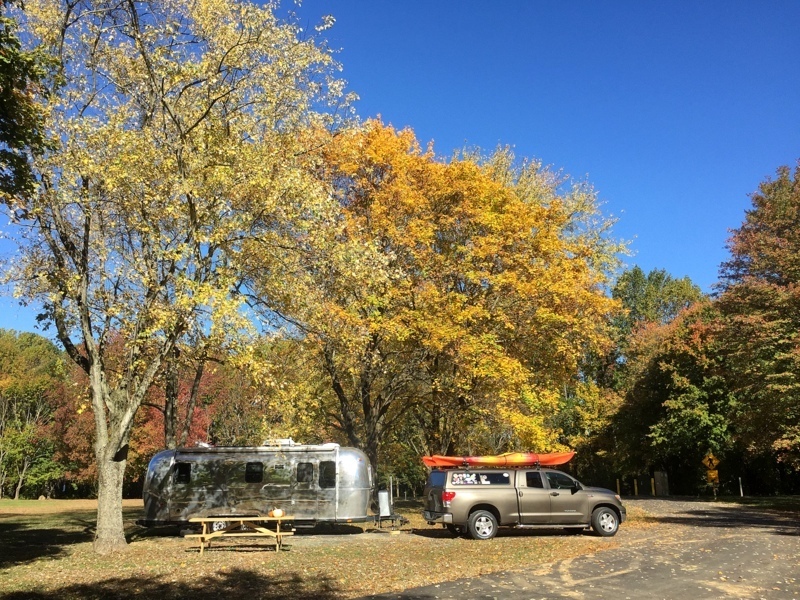 This 181-acre park is home to the largest freshwater pond in Delaware, making it one of the best fishing spots in the state. Crappie, bluegill, perch, pickerel and largemouth bass are just some of the fish to be found in Lums Pond. Striped bass is stocked periodically. Fishing permits are required. Bring your own boat or rent one on-site. Rowboats, canoes, kayaks and pedal boats are available, and a boat launching ramp and two piers allow easy access to the water. The Summit North Marina on the Chesapeake and Delaware Canal offers private slips for 250 boats and fuel sales, boat storage and repair services. If you're looking for non-angling fun, the Little Jersey Trail is a shared-use trail designated for hiking, biking and horseback riding. Lums Pond is a Nature Preserve that protects a Northern Coastal Plain/Piedmont Basic Mesic Hardwood Forest. Delmarva Bays are scattered throughout the forest. The park is located close to some of Delaware's best-known attractions, and the University of Delaware. According to Airstreamers OurAirstreamTrek: "We stayed at this state park for a few nights to visit Winterthur and Longwood Gardens. It was a perfect spot to see some of the sights in northern Delaware and the surrounding area. The park is well-kept and the employees and camp hosts were awesome." Lums Pond State Park has 66 RV campsites with full hook-ups.
  Click here for more information on Lums Pond State Park
Fishermen's Memorial State Park
Narragansett, RI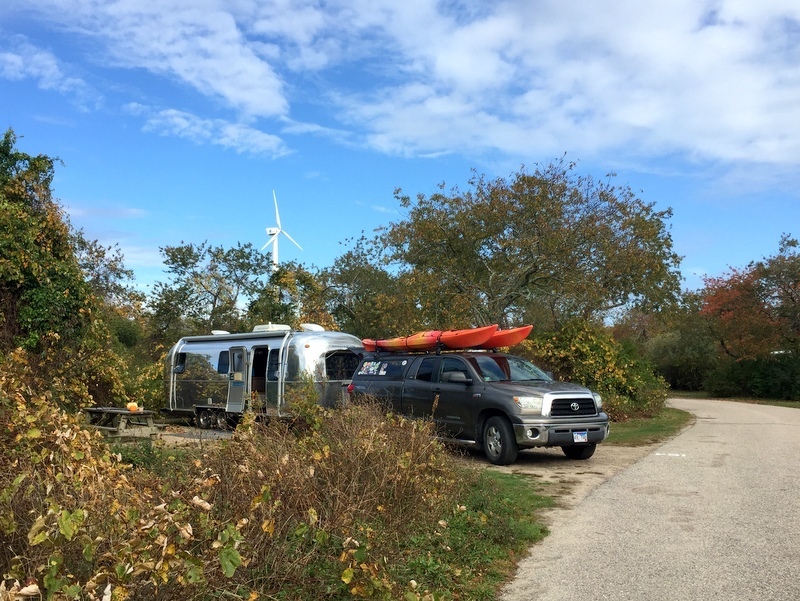 Fishermen's Memorial State Park is just as glorious in late fall as it is in late spring. This lovely recreation spot is filled with beauty – and history. Some remnants of times past remain, such as a Battery 109, a massive concrete statue and earth emplacement intended for two 16-inch guns that were never armed. Besides the history of the area, this state park offers campers a "seaside village" atmosphere – visitors can enjoy neatly trimmed grass, tree-lined paths and activities for the whole family. Set up camp with your Airstream and head over to the park's basketball or tennis courts for a friendly game. Fishers are also close by to popular state beach areas, such as Scarborough, Roger Wheeler, and Salty Brine, and it's also just one mile from the Block Island Ferry Dock. As Airstreamers WatsonsWander observed during their stay, "The location can't be beaten. Twenty minutes from historic Newport, ten minutes from Narragansett, and an easy bike ride to two public beaches. If you want a place to camp near the beaches of Rhode Island, this is a great option!" There are 40 RV sites, complete with full hookups, picnic tables and fire pits. There is also a comfort station on site.
Click here for more information on Fishermen's Memorial State Park
Buck Pond Campground, Dept. Fish & Wildlife
Vermontville, NY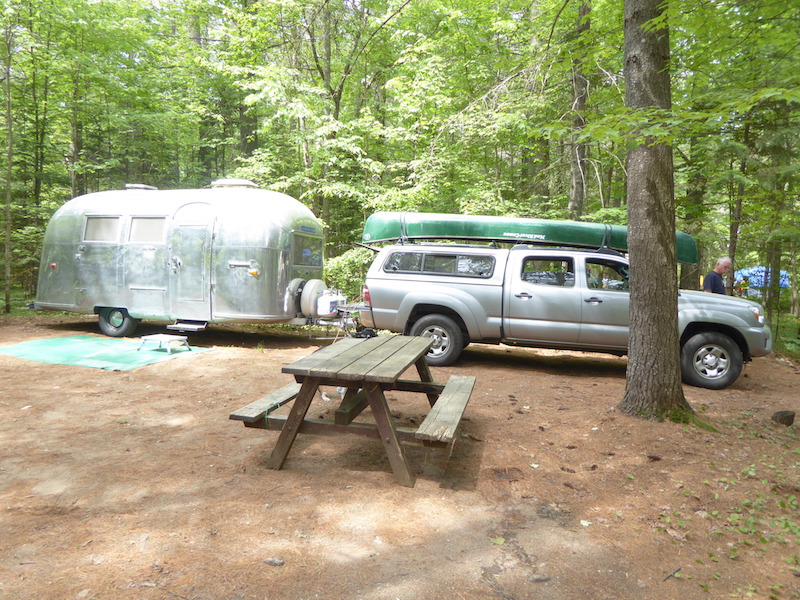 Buck Pond has been compared to a mountain retreat, as it offers secluded sites, numerous water access, bathing beach, and an easily walked trail that runs for miles along an abandoned railroad track. Buck Pond Campground is located on the western shore of 130-acre Buck Pond. The Lake Kushaqua and the Kushaqua Narrows form the other boundaries of the campground. So, as you might have guessed, fishing is a big draw. Northern pike, yellow perch, brown bullhead, black bass and rainbow trout all swim in the park's waters. Rowboats, canoes and kayaks are available for rent. Hikers will enjoy strolling along the old D&H railroad bed. That trail runs 1.25 miles and offers excellent views of the surrounding mountains and lakes. Nearby points of interest include The Six Nations Indian Museum, The Adirondack Park Visitors Interpretive Center, and the Lake Placid Olympic venues. Airstreamer Nancy says Buck Pond is an old-fashioned delight: "If you want to hear the trilling of the Loons, the wind whispering through the pines, look at the night sky, paddle some classic waterways, swim at a sandy beach, hike through the wilderness or bike on the old railroad bed then Buck Pond State Park is the place for you. This is a basic old-style campground in the trees. Most sites offer some privacy." Bucks Pond has 116 campsites that accommodate RVs up to 30'. Amenities include showers, flush toilets, dump station, and a boat launch.
Click here for more information on Buck Pond Campground
Watkins Glen State Park, New York State Park
Watkins Glen, NY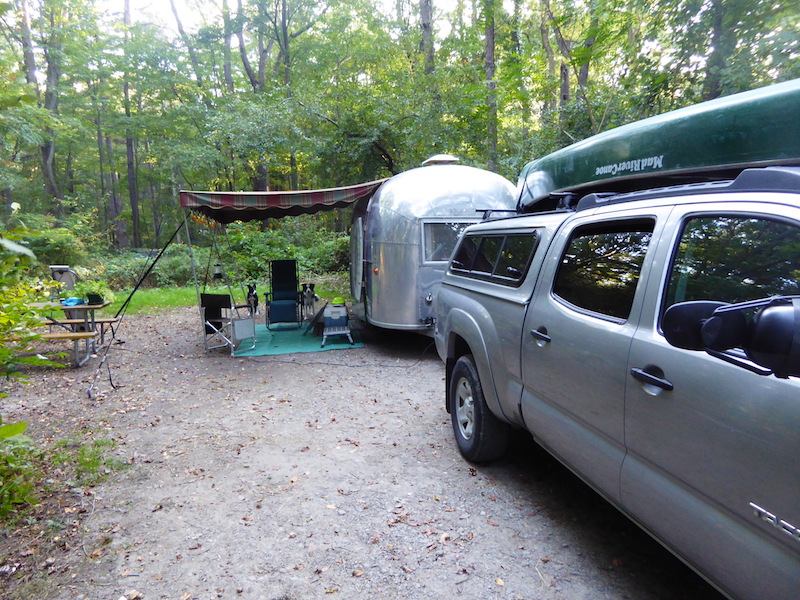 Watkins Glen State Park is the most famous of New York's Finger Lakes State Parks. And with good reason. The centerpiece of the 778-acre park is a 400-foot-deep narrow gorge cut through rock by a stream – Glen Creek – that was left hanging when glaciers of the Ice age deepened the Seneca Valley. Within two miles, the park's namesake stream descends 400 feet past 200-foot cliffs, powering 19 waterfalls along its course. In 2015, Watkins Glen finished third in the USA TODAY Readers' Choice Poll for Best State Park in the United States. The park's lower section is located in the town of Watkin's Glen while the upper part consists of woodlands. The park has three trails – open mid-May to early November – by which one can climb or descend the gorge. The Southern Rim and Indian Trails run along the wooded rim of the gorge, while the Gorge Trail is closest to the stream and runs over, under and along the park's 19 waterfalls by way of stone bridges and more than 800 stone steps. Jacob's Ladder, near the upper entrance to the park, has 180 stone steps, part of the 832 total on the trails.
The Watkins Glen trails connect to the Finger Lakes Trail, an 800-mile system of pathways within New York. Other popular activities at Watkins Glen include fishing, cross-country skiing and hunting.
Click here for more information on Watkins Glen State Park
---
Southeast
White Oak Lake State Park
Bluff City, AR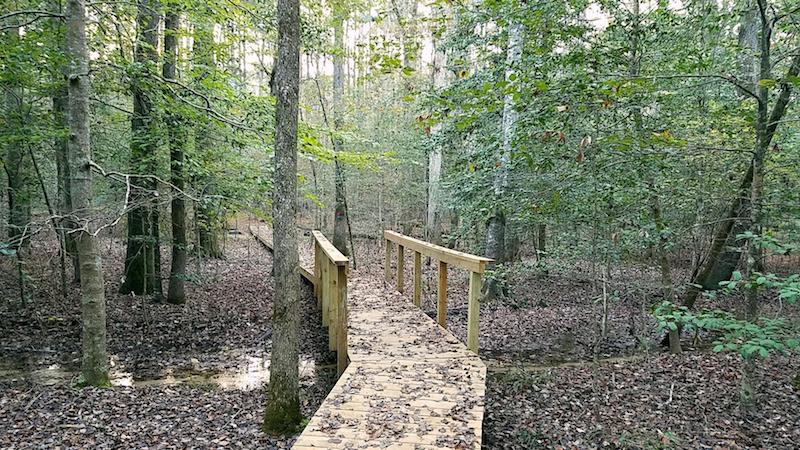 This quiet state park, a favorite of locals, is situated outside Bluff City in southwest Arkansas. White Oak Lake, which serves as a reservoir, is surrounded by tall pine trees, giving it a rich, wooded beauty. The park is popular with fishermen who come for the bass, crappie, and bream and catfish that skulk in the lake's submerged dead trees. White Oak also has hiking and mountain biking trails of easy to moderate difficulty. The Beech Ridge and Silver Maples trails offer hikers an overview of the "West Gulf Coastal Plain forest" ecosystem. Visitors often glimpse a variety of wildlife, including deer and heron. Bald Eagles are known to winter in the park. If history is your thing, the Poison Springs Civil War battlefield is just eight miles away. White Oak has 41 RV campsites. Amenities include a newly renovated private bathhouse, visitor center with exhibits, store with fishing supplies, marina with boat rentals, launch ramp, pavilion, picnic sites, and a playground. 
Click here for more information on White Oak Lake State Park
Davidson River Campground, Pisgah National Forest
Brevard, NC

Davidson River Campground is located in Pisgah National Forest at an elevation of 2,150 feet, making for some spectacular scenery. The surrounding land boasts mile-high peaks, cascading waterfalls, steep slopes, and deep hardwood and conifer forests. Pisgah National Forest is known for its hiking trails, several of which are near the campground. Hikers can choose from several trails, including the 12.3-mile Art Loeb Trail, the 3.7-mile North Slope Trail or a 1.5-mile walking trail. Some of the available hikes include lovely waterfall views. The Davidson River offers another full menu of activities, ranging from excellent trout fishing to tubing and swimming. For a change of pace, take a drive on the nearby scenic Blue Ridge Parkway, or head to artsy/craftsy Asheville, North Carolina, which is about an hour away. Davidson's campsites are organized into eight loops, some of which are adjacent to the water. Sites are mostly shaded and equipped with picnic tables, tent pads, lantern posts and campfire rings with grills. Amenities include hot showers and restrooms with flush toilets in each loop. Campers can purchase ice and firewood on-site and rent bikes nearby.
Click here for more information on Davidson River Campground
Anastasia State Park
St. Augustine, FL

Anastasia State Park encompasses more than 1,600 acres of unspoiled beaches, tidal marshes, maritime hammocks, and ancient sand dunes, making it a paradise for nature lovers and beach lovers alike. Birders will delight in the park's many species of shorebirds and water birds, including herons and storks. Osprey, bald eagles and owls can be seen soaring above the trees. If fishing is more your thing, head over to the Salt Marsh section of the park to wet a line. For hikers, the Ancient Dunes Nature Trail loops through a shaded maritime hammock while meandering through the ancient dunes. You can also hike or bike up to four miles of pristine beaches.  When it's time to take a break from nature, head into nearby St. Augustine, where centuries of history, gorgeous architecture, and delightful shops and restaurants await.
Airstreamers WatsonsWander fell in love with Anastasia: "This campground has it all. Beautiful, private wooded sites, a network of walking trails, a pristine beach, and proximity to historic downtown St. Augustine. Upon entry, we were in awe of the giant live oak trees dripping with moss that line the main campground road. Our site was a gem with a pretty little sitting area carved out among the trees." Anastasia has 139 campsites, all just a short walk or bike ride from the beach. Some sites are paved, all have electricity and water, picnic table, in-ground grill and fire ring. 
Click here for more information on Anastasia State Park
Seminole Canyon State Park
Comstock, TX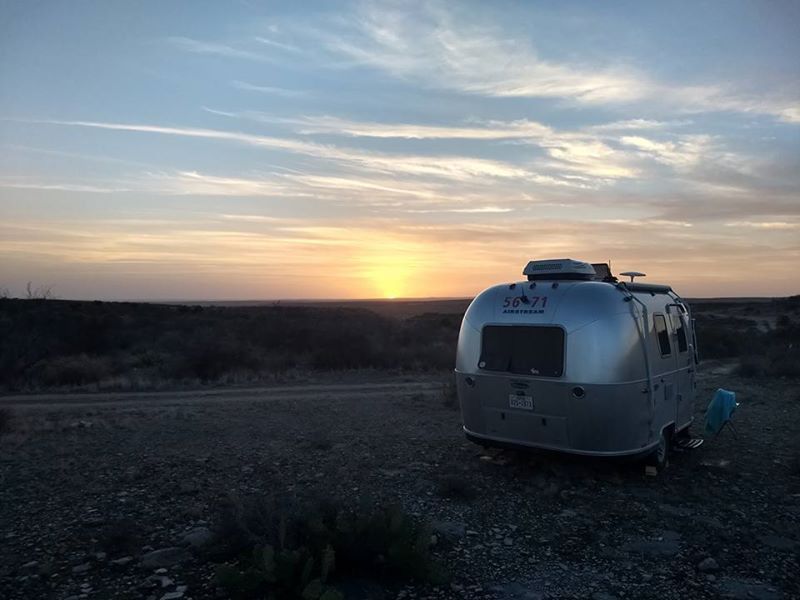 Seminole Canyon draws people with natural beauty and prehistoric mystery. Pictographs left on the canyon walls by its earliest settlers leave clues about a lost civilization that still puzzle experts and enthrall visitors. Located on the Rio Grande River near Del Rio, TX, the park is also a great locale for hiking, mountain biking, geocaching, and simply enjoying the desert landscape. The park has almost 10 miles of trails. You may only hike in the canyon area with a guide, but you can access all other trails on your own. The town of Del Rio offers restaurants, lodging and access to outdoor activities. You can also cross the border to explore Ciudad Acuna. Amistad Reservoir and the Amistad National Recreation Area are adjacent to Seminole Canyon. Nearby Langtry is home to the Judge Roy Bean Visitor Center. Airstreamers RM were pleasantly surprised by Seminole Canyon: "We stayed here on our way from Big Bend to San Antonio and are glad we did. We booked ahead and were able to select a lovely private electric/water site with awesome views to the SW and into Mexico. The site had a screen of low vegetation that attracted birds. Sites are well spaced and the area of the campground around our site was quiet and very peaceful. We took a walk along a well-marked trail at the rim of Seminole Canyon and had the whole place to ourselves - it was magnificent."  Seminole Canyon has 46 sites ranging from dry to water/electric. There are restrooms with showers.
Click here for more information on Seminole Canyon State Park
Westmoreland State Park
Montross, VA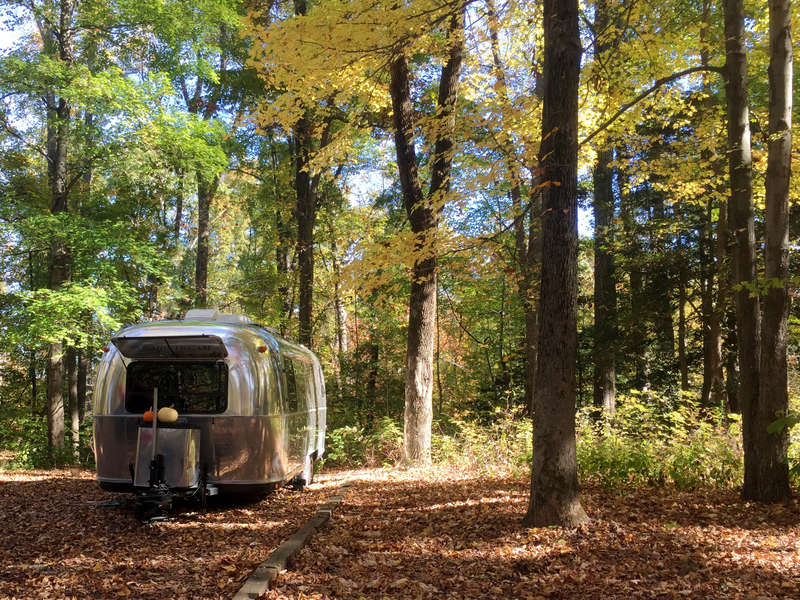 Westmoreland State Park is steeped in history, both natural and human. Set on the Potomac River's North Neck, the park is a magnet for fossil hunters seeking prehistoric shark's teeth, whale vertebrae and other remnants of long-gone species. Stratford Hall, the birthplace of Robert E. Lee and boyhood home of two signers of the Declaration of Independence, is five minutes from the park. George Washington's is 10 minutes from the park, and several Civil War battlefields are within an hour's drive.  Washington, DC is about two hours away. Had enough history? Westmoreland's offshore breakwaters are great for fishing. Birders find the park an excellent site for spotting American bald eagles, ospreys, kingfishers, great blue herons, common terns, green herons and gulls, as well as wintering waterfowl. The park's seven trails, including self-guided interpretive trails, cover six miles and showcase the flora and wildlife of the coastal plain. The park's beach trail offers a stunning view of the Potomac River. Westmoreland has about 50 sites, half of which may be reserved. The rest are first-come, first-served. Some sites offer electricity and water; others do not. Amenities include bathhouses, laundry facilities, and a camp store. Note that cell service is limited in the park. Wifi is available at the camp store.
Click here for more information on Westmoreland State Park