Explore the guide to find some of the best January 2020 camping across the United States, as recommended by fellow Airstreamers through Campendium.
Northwest
Daroga State Park
Orondo, WA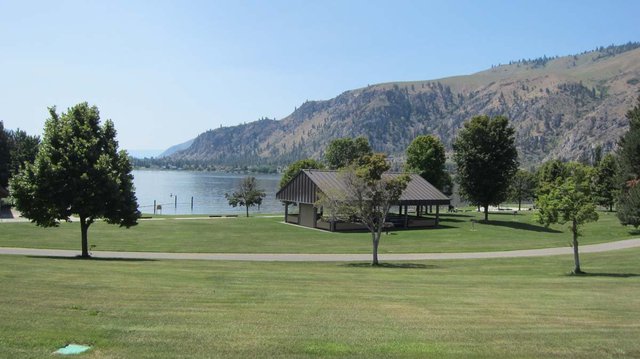 If winter finds you wandering the Pacific Northwest, jot down Daroga State Park as a possible layover spot. This pocket-sized park (127 acres) is situated on the banks of the Columbia River on the edge of Mt. Baker-Snoqualmie National Forest. Given the Northwest's reputation for lush greenery, you might be surprised to learn that Daroga is an oasis in a desert. Its expansive green lawns stand in contrast to the austere beauty of the surrounding scrub-covered mauve hills. Darago has two miles of hiking/biking trails that are perfect for stretching legs and spotting wildlife. Despite all its natural grandeur, Darago is perhaps best-known for the electrical transmission lines that transect the park, sizzling and crackling as they carry power to Seattle from the Grand Coulee Dam. Airstreamers Busy Campers found Daroga perfect for their purposes. "We stopped over here on the way from Washington to Idaho. It's a small park, and not really a destination, but it was easy to access and quiet. The sites were clean and level, and it had some amazing views of the Columbia River Gorge." Daroga has 28 RV spaces with water and electricity. Amenities include restrooms, showers and a dump station.
Click here for more information about Daroga State Park
Harris Beach State Park
Brookings, OR

Harris Beach encapsulates all the wonder of the magnificent Oregon coast. There's rugged beaches, crashing waves, beautiful sunsets, and a wealth of wildlife on and off the shoreline. The park's signature feature is Bird Island (also called Goat Island), which is Oregon's largest coastal island. This National Wildlife Sanctuary is a breeding site for rare birds, including the tufted puffin. Harris is a beachcomber's paradise with its sandy shoreline, rocky outcroppings, and tide pools harboring a wide variety of life. Several hiking trails take you to the beach through areas rich in local flora and fauna. Once you reach the shore, keep an eye out for gray whales on their winter and spring migrations. Harbor seals, California sea lions, and various sea birds can be seen at Harris Beach. For even more coastal beauty, check out the nearby Samuel H. Boardman State Scenic Corridor. This 12-mile-long park along Highway 101 is a series of scenic waysides, some with picnic tables, where you can sit and enjoy unparalleled ocean views. Or you can explore the park on foot via the Oregon Coast Trail. The area's natural beauty enthralled Airstreamers ourairstreamtrek. "The location and setting are awesome. The large trees and ocean views were a real treat. We visited a few of the Redwoods stops north of the park. Highly recommend." Harris Beach has 65 full hook-up sites and 29 with electricity and water. All sites are paved. Amenities include restrooms, showers and a dump station.
Click here for more information about Harris Beach State Park
Shelter Point Campground
Glendo State Park
Glendo, WY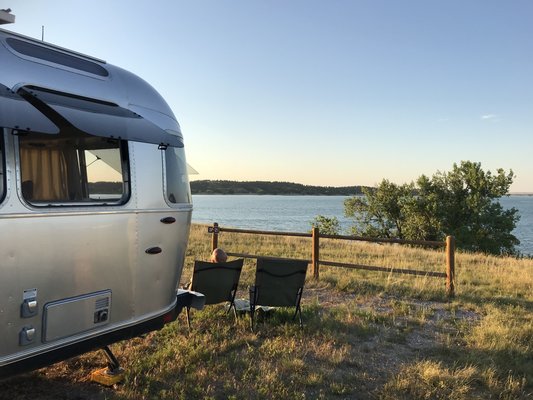 Shelter Point is just one of 21 campgrounds in Wyoming's sprawling Glendo State Park.
This sprawling adventurers' paradise is located 100 miles north of Cheyenne on the eastern plains of Wyoming. To the west of the park is Laramie Peak, the tallest point in eastern Wyoming. The area of the park is split between 12,000 acres of water and 10,000 acres of land. With its numerous campgrounds, Glendo offers visitors everything from a mountain feel to a beach setting. You can gaze at the crystal-clear star-filled skies through pine trees or do the same from a spot along the mile-long sandy beach.
Glendo has 45 miles of hiking and biking trails. Each of three main trailheads offers a different adventure. You can ride along the Glendo Wetlands area and possibly see turtles or muskrats. The eastern and northern parts of the trail system will give you the feel of the mountains as you pass through pine and cedar trees. Be on the lookout for Mule Deer and Turkeys as you travel the mountainous trails. As you explore the park, watch for Tipi rings and other traces of the Arapaho, Cheyenne, Oglala and Brule Sioux tribes that once called this area home. Airstreamers Cristina_Serenity found Glendo relaxing and tranquil. "We had a perfect site up on a hill overlooking the lake. It was a stunning place with gorgeous views all around! Glendo State Park has 568 campsites. However, only 60 of these have electrical hook-ups, and those are limited to a handful of campgrounds. Sites are first-come, first-served October through April.
Click here for more information about Shelter Point Campground at Glendo State Park
La Conner RV and Camping Resort
La Conner, WA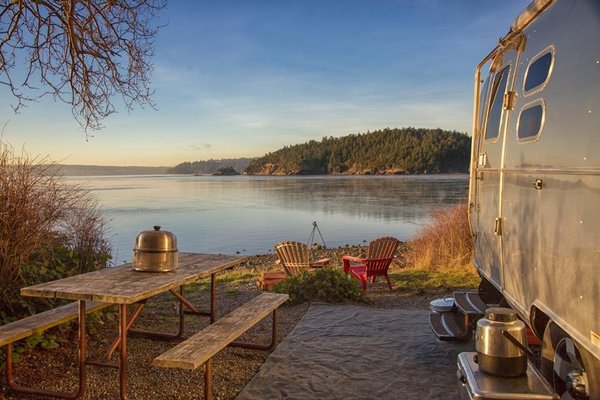 La Conner, located on Skagit Bay midway between Vancouver and Seattle, is an ideal base for exploring both the natural and urban wonders of this magical region. The stunning San Pedro Islands are next door, accessible by ferry. The Mt. Baker ski area is less than two hours away. Seattle is an hour south, Vancouver about two hours north. On those days when you want to stay close, nearby La Conner offers shopping, restaurants and a bit of history. The resort's many recreational opportunities make it an excellent destination for families. La Conner features 1.5 miles of shoreline, a clubhouse game room, tennis, volleyball and basketball courts, hiking trails, horseshoe pits, and min-golf. Airstreamers J5MM love this place. "We rang in 2015 here. I was blown away by the beauty of our site (164) and the sites on either side (163 and 165). The beach is rocky, which was awesome for our son, who loved to explore under the rocks." La Conner has 316 sites with varying levels of hook-ups. Amenities include showers, laundry facilities, a restaurant and a camp store.
Click here for more information about La Conner RV and Camping Resort
Champoeg State Heritage Area
Newberg, OR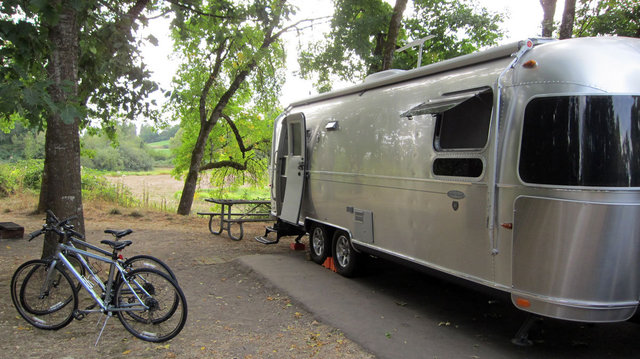 Contrary to popular perception, the history of Oregon begins not with the hipsters' arrival in Portland, but with events that took place 30 miles south at Champoeg. It was here in 1843 that settlers formed the future state's first government. Today, Champoeg State Heritage Park offers visitors a unique combination of history, nature and recreation. Situated on the south bank of the Willamette River, Champoeg's acres of forest, fields and wetlands provide a glimpse of Oregon occupied by Native Americans and those first settlers. The park's visitor center, Newell House, and Pioneer Mothers Log Cabin help explain early life at Champoeg. Take a guided walk to learn about life in the pioneer town of Champoeg. Check out the Butteville Store, founded in 1863 and possibly the oldest operating store in Oregon. When you finish time traveling, reflect on what you've learned over a glass of wine at one of the many nearby wineries. Champoeg has a one-mile hiking trail and a four-mile bike path. Both are great for bird watching. More than 130 species have already been identified in the area, including the Western Bluebird. The park is also the northern terminus of the 134-mile Willamette Valley Scenic Bikeway. Champoeg has 75 sites, eight with full hook-ups. Amenities include restrooms, showers and dump station.
Click here for more information about Champoeg State Heritage Park
---
Southwest
Forest Road 688
Kaibab National Forest
Grand Canyon, AZ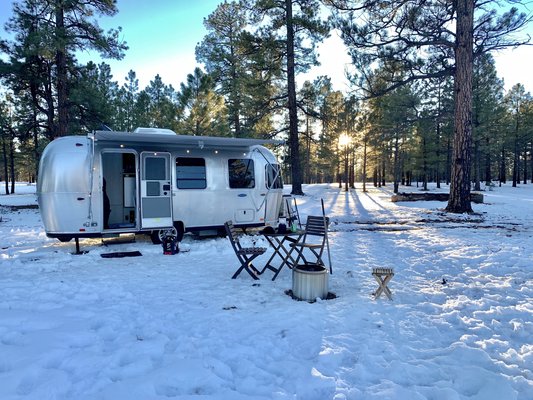 You might not recognize that address, but you know the neighborhood. This boondocking space is located just minutes from Grand Canyon National Park. Staying at Forest Road 688 can be the "no-fee-to-camp" cherry on your off-season visit sundae. Airstreamer Chris C made a snowy winter visit to 688 and says it's a fantastic spot - if you're ready for the weather. "We arrived a day after a storm dropped a fair amount of snow in the area, which was great! Towing a 20' Airstream with my 4x4 Tacoma down the unplowed forest road was pretty cool, but also a bit unnerving. I had some chains but trusted the Tacoma's four-wheel-drive could handle things, and it did. Being in the snow was awesome. It was cold, but we were prepared!"
Forest Road 688 is about 2.5 miles long with two spurs. The road is gravel. Some spots have fire rings. The maximum stay is 14 days. The nearby town of Tusayan is the perfect place to stock up on supplies before heading down Forest Road 688.
Click here for more information about Forest Road 688, Kaibab National Forest
Yanks RV Resort
Greenfield, CA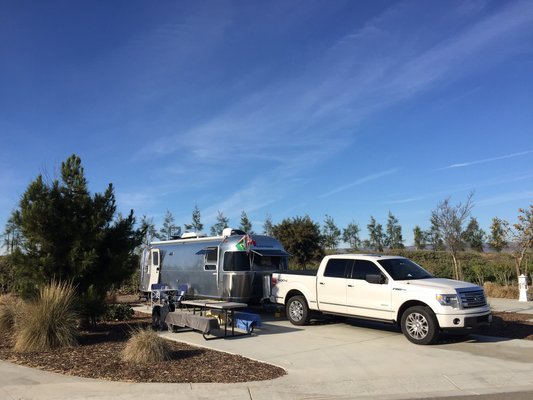 Airstream travel comes in all flavors from hardcore backcountry adventure to relaxing tourism. If you're looking for the latter in Northern California, Yanks RV Resort should be on your radar. Located an hour south of Monterey, this luxury facility is a great staging point for exploring that popular seaside town, the local wineries, and rugged, wild Pinnacles National Park. Once a working town known for its canneries, Monterey is now a popular tourist destination chocked full of top-notch restaurants and boutiques. After lunch and shopping, consider a visit to the Monterey Bay Aquarium, the perfect place for family fun and learning. The turf to Monterey's surf is Pinnacles, which is known for its unusual rock formations, caves, and a rich variety of wildlife, including the endangered California Condor. The park has 30 miles of hiking trails that allow visitors close-up access to its wonders. When you are done touring and adventuring, Yanks awaits with its own charms, including a heated swimming pool and spa, an outdoor patio lounge with a fireplace, a pet exercise park, and a fitness center. Airstreamers Walt_C were pleasantly surprised when they were forced to make an unscheduled stop at Yanks. "What a find! Yank's dog park even has a dog wash that looks just like a self-serve car wash! Pads are concrete, and facilities are spotless. Staff was very friendly." All of Yanks' sites are pull-through and have full hook-ups. The park's wide paved roads make it easy to navigate even the largest models.
Click here for more information about Yanks RV Resort
Corn Creek Springs
Desert National Wildlife Refuge
Las Vegas, NV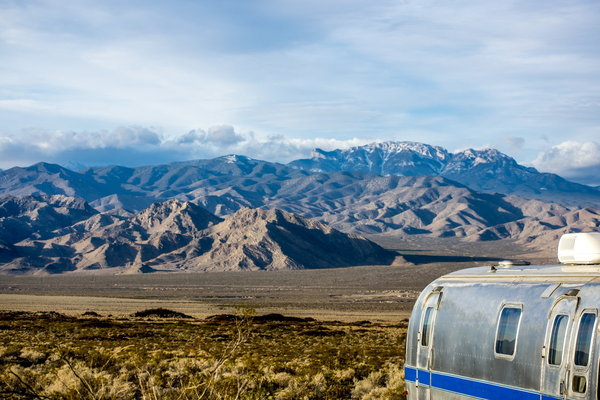 Planning a trip to Las Vegas?  What if there was a place you could stay for free -- without sitting through a timeshare pitch? Is that something you'd be interested in? If so, set your GPS for Corn Creek Springs. This dispersed dry camping area is located 30 minutes from the Vegas Strip in the Desert National Wildlife Refuge. Desert, the largest NWR outside of Alaska, is best known as a place to see majestic Desert Bighorn Sheep. The refuge has numerous hiking opportunities, ranging from the five easy trails at Corn Creek to rugged roads that will take you deep into the refuge's backcountry. The adjacent Spring Mountains National Recreation Area offers another 60 miles of hiking spread over 12 maintained trails. Airstreamers continentscollide were pleased with their experience at Corn Creek Springs. "The camping area is located behind the visitor center on Corn Creek. Once you reach the end of the paved road, you can turn left or right on Alamo road. The GPS coordinates are for the pull off, but you can camp anywhere off the gravel road. We had great cell service. Definitely recommend for a free spot somewhat close to Vegas. We enjoyed our time there!" In other words, Corn Creek Springs is the perfect spot for checking out the wildlife.  What happens in Corn Creek stays in Corn Creek. Agreed?
Click here for more information about Corn Creek Springs in the Desert National Wildlife Refuge
Hurricane Cliffs
Hurricane Cliffs Recreation Area
La Verkin, UT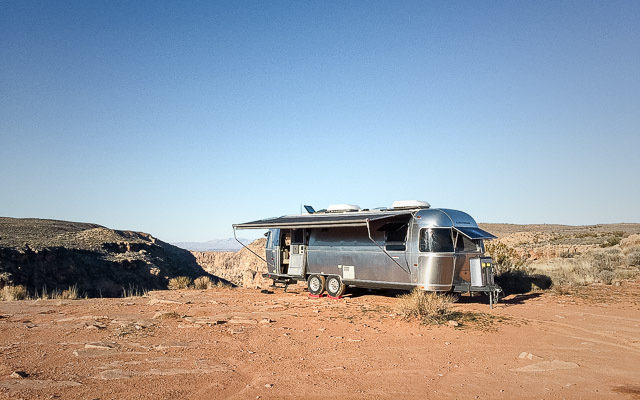 Think of Hurricane Cliffs as the world's most beautiful satellite parking lot. While the area has its own appeal, including colorful vistas and some excellent mountain biking trails, this boondocking space is most often used by visitors to Zion National Park, which is about half an hour up the road. Hurricane Cliff's wide-open spaces make it especially attractive to those traveling in larger RVs. It's rough roads, however, require every visitor to navigate slowly and carefully. Because this BLM space is surrounded by private land, it's essential to make sure you set up camp on approved ground.
Airstreamers continentscollide can't say enough about Hurricane Cliffs. "This place was perfect! Tons of open space with beautiful views of the canyons out every window of our airstream! Completely peaceful and quiet. It took about 35-40 mins into Zion National Park. The town of Hurricane is 10 or 15 minutes away and has everything you need!
We had full AT&T cell service here, which is almost unheard of when boondocking."
Click here for more about Hurricane Cliffs Campground
Leapin' Lizard RV Park
Ocotillo Wells, CA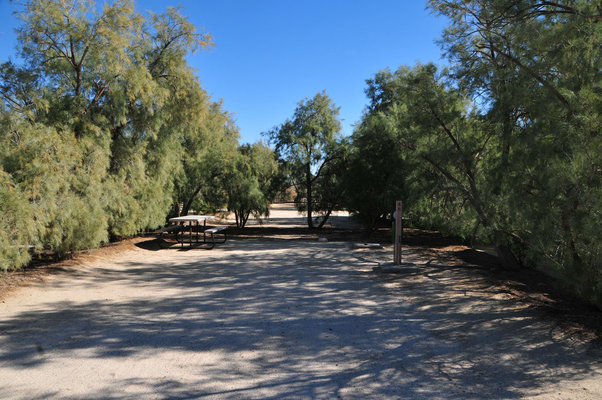 The Southwestern desert is a popular destination for snowbirds, and Leapin' Lizard is an ideal roost. The family-owned campground is located in the middle of the million-acre Anza-Borrego Desert. This austerely beautiful place attracts every sort of outdoor adventurer from hikers and bikers to off-roaders and equestrians. Anza-Borrego Desert State Park, California's largest state park, consists of more than 600,000 acres of badlands, palm oases, slot canyons and cactus-studded hills. Bighorn sheep can be seen during the day, coyotes heard at night. Much of this wild and remote place is accessed via primitive roads, or on foot. Consider renting a four-wheel-drive vehicle with high clearance for the best access. There is also adventure to be had right outside your Airstream's door. Leapin' Lizard is the starting point for an equestrian trail, and group hikes sometimes originate from the park. There is even a separate entrance and dedicated parking area for off-road vehicles. When the day is done, head to the town of Borrego Springs for dinner, then pull out those camp chairs and marvel at how the Milky Way glows in the pitch-black desert sky. Leapin' Lizard has 61 full hook-ups and back-in sites. Amenities include a pool and spa, tiled restrooms and showers, fenced dog run, playground, and a 75-acres fenced walking area.
Click here for more information on Leapin' Lizard RV Park
---
Southeast
North Beach Camp Resort
St. Augustine, FL

There is more to Florida than Miami, Key West and Disney World. St. Augustine is among the Sunshine State's many other charms. North Beach Camp Resort provides an ideal base to explore this historic and beautiful section of the North Florida coast. The park is located on 30-heavily-wooded acres on a barrier island between the saltwater North River and the Atlantic Ocean, 4.5 miles north of historic downtown St. Augustine, and about 25 miles south of Jacksonville, FL. St. Augustine is steeped in 300 years of history symbolized by the massive Castillo de San Marcos, a fortress that once enforced Spanish power in the New World. The Castillo is now a National Monument open for walking tours. St. Augustine's rich heritage is also on display at its many other historical attractions, including a lighthouse museum, and the Colonial Quarter living history exhibit. The Lightner Museum showcases art and artifacts from the Gilded Age, the late 19th century period when Standard Oil co-founder Henry Flagler began developing Florida as a vacation destination. Check out the local ecosystem at the Guana – Tolomato – Matanzas National Estuarine Research Reserve, which is home to manatees, wood storks, roseate spoonbills, bald eagles and peregrine falcons. It's a great place to fish, hike and bike. North Beach has 150 full hook-up sand sites. Airstreamer Juan gives North Beach high marks. "Probably the best campground in the St. Augustine area if you are into privacy and a natural setting. This feels like a state or national park but with the full amenities of a private RV park."
Click here for more information about North Beach Camp Resort
Lake Claiborne State Park
Homer, LA

Lake Claiborne is the perfect spot for a weekend getaway or a stop-over while passing through Northern Louisiana. Situated on a tranquil lake beneath a blanket of pines, this state park has something for everyone. There are five hiking trails, ranging up to six miles in length, and a five-mile bike trail. The lake is generously stocked with largemouth bass, bluegill sunfish, channel catfish, black crappie, striped bass, chain pickerel, bream, and white perch. But the park is probably best known in Louisiana for its two disc golf courses, which are ranked #1 and #2 in the state. That unique feature is what attracted Airstreamers BMyers. "It was just odd enough that we came out of our way to check out this campground. The guy at the gate was friendly, loaned us some Frisbees. Would definitely stay here again." Lake Claiborne State Park has 87 asphalt sites, all with water and electric. Twenty of these are "premium" sites – 12 pull-through, eight in prime locations.
Click here for more information about Lake Claiborne State Park
Lake Fairfax Park
Reston, Va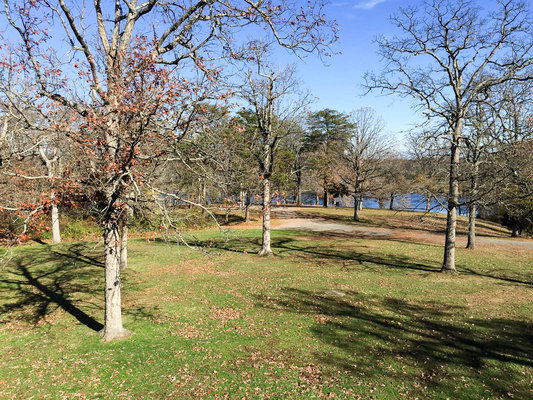 Washington, like the more popular National Parks, is best enjoyed in the off-season, when both the heat and the crowds are gone. Lake Fairfax Park is a great place to call home while you explore our nation's capital. This well-maintained county facility is located just 22 miles from downtown Washington. Better yet, there is a Metro subway stop just 10 minutes from Lake Fairfax. Pro tip: This is the way to see DC, which has traffic jams and parking rates on par with Manhattan. Off-season stays at Lake Fairfax are limited to 28 days, allowing plenty of time for a deep dive into all this city has to offer. When you need a break from touring, spend a day relaxing in the park, where you can walk, bike, fish or bird watch. Feeling adventurous? Lake Fairfax also has a skateboard park. Full-time Airstreamer PaulSingh says Lake Fairfax has made his regular rotation. "I grew up watching July 4th fireworks at this park so it's nice to be able to spend some time here once again. It's quiet, clean and beautiful. The staff is fantastic. I suspect I'll be staying here at least once a month when I'm not out on the road." Lake Fairfax Park has 54 sites with electrical hookups: 14 30-amp and 40 50-amp sites. Every site has a picnic table and a fire ring/grill combo.
Click here for more information about Lake Fairfax Park
Fort McAllister State Park
Richmond Hill, GA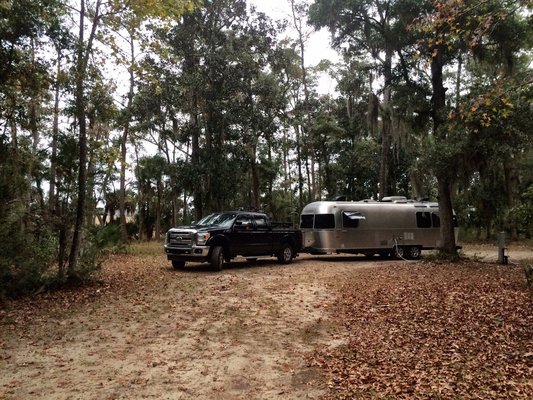 Fort McAllister was the last speed bump on General Sherman's legendary March to the Sea. If you are making your own epic trek south, stop at this beautiful Georgia state park for a dollop of history and dose of unique natural beauty. Located close to I-95 south of Savannah on the banks of the Ogeechee River, this scenic park showcases the best-preserved earthwork fortification of the Confederacy. Visitors can explore the grounds, which include cannons, a shot furnace, bombproof barracks and palisades. The park's giant live oaks, Spanish moss and salt marshes are hallmarks of Georgia's coastal ecosystem. The park has two hiking/biking trails totaling 4.3 miles. These paths are ideal for bird watching. Keep an out for painted buntings, wood ducks, northern harriers, bald eagles and ospreys. Anglers can wet a line from the park's fishing dock. Airstreamers Deke and Tiffani were pleasantly surprised by Fort McAllister. "We needed a place to stay, and this was close by, so we gave it a try, and we're so glad we did. It's a beautiful park on a little island filled with large oaks and huge sites. Everything is pretty spread out, so get out your bikes. It was incredibly quiet and peaceful -- we'll definitely go back." Fort McAllister has 67 RV sites with electricity.
Click here for more information about Fort McAllister State Park
Devil's Den State Park
West Fork, AR

Devil's Den is one of Arkansas' crown jewels, a special place that encapsulates all the beauty and wonder of the Ozarks. Set in Lee Creek Valley, the park was built by the Civilian Conservation Corps and is one of the most intact CCC sites in the country. The park is a magnet for hikers, backpackers and equestrians with 11 hiking trails of varying lengths and difficulties, many of which extend into the surrounding Ozark National Forest. Among more popular trails is the 15-mile Butterfield Hiking Trail, which takes 12 hours to complete and showcases some of the area's stunning rock formations. The six-mile Fossil Flats hike/bike trail takes visitors past early settler ruins, CCC worksites, and creek bed rocks studded with fossils. An impressive rock dam spans Lee Creek forming Lake Devil, an 8-acre lake perfect for fishing. Airstreamer Jerry T says Devil's Den is a "tranquil forest getaway." He adds: "The park is beautiful. I can only imagine the fall colors in the later months. I will have to come back for that. If you have a small rig, the drive in is beautiful." Devil's Den State Park has 135 sites with hook-ups. Amenities include a store and playground
Click here for more information about Devil's Den State Park
---
Midwest
Palmetto State Park
Gonzales, TX

When you think of a Texas landscape, you probably don't picture lush jungle-like vegetation. But that's exactly what you'll find at Palmetto State Park. Located on the San Marcos River an hour from Austin and San Antonio, this unique park is full of natural wonders. Eight hiking trails rated easy to moderate, allow visitors to explore this unique ecosystem, which centers around the dwarf palmettos that give the park its name. Palmetto sits on the Great Texas Coastal Birding Trail and is considered a hot spot for bird watching. Birders have recorded more than 240 species of birds in the park, including the crested caracara, prothonotary warbler, and red-shouldered hawk. If you're more interested in fins than feathers, the park's Oxbow Lake has an excellent fishing pier. The nearby towns of Gonzales, Luling and Lockhart are great destinations for both food and Texas history. Airstreamers Nancy took advantage of their stay to enjoy the local cuisine. "The park host made recommendations for eating in Lockhart, which is one of the reasons we stayed at Palmetto. Lockhart is the BBQ capital of Texas, home of Smitty's and Kreuz's." Palmetto State Park has one full hook-up site and 17 sites with water and electricity.
Click here for more information about Palmetto State Park
Cottonwood Campground
Big Bend National Park
Terlingua, TX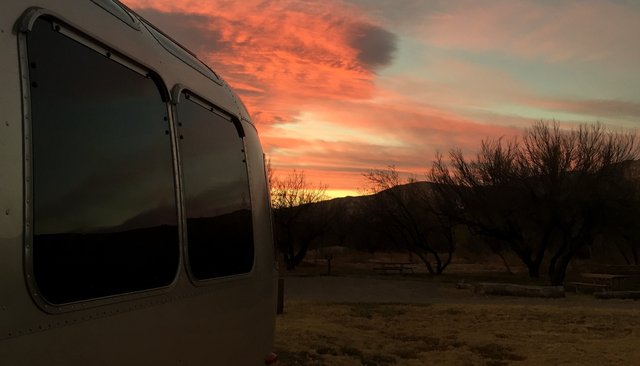 Big Bend rises an elevation of fewer than 1,800 feet along the Rio Grande to nearly 8,000 feet in the Chisos Mountains. The popular park includes massive canyons, vast desert expanses, forested mountains, and the ever-changing river. The National Park Service describes Big Bend as "one of the last remaining wild corners of the United States." Because summers in south Texas are brutally hot, winter and early spring is peak season for the park. Expect large crowds during any three-day weekend. Big Bend's craggy river canyons, desert badlands and mountains are home to a stunning variety of living things, including some 1,200 plant species, 450 types of birds, bears, mountain lions and wild pigs. Visitors can explore this natural richness via 150 miles of river, desert and mountain hiking trails. A 250-mile network of paved and dirt roads provides auto access to the park's wonders. Come nightfall you will enjoy some of the best stargazing in the world with 2,500 stars visible to the naked eye. The Cottonwood Campground is a quiet, shady desert oasis located between Big Bend's Castolon Historic District and Santa Elena Canyon. This is dry camping. The 24 sites have no hook-ups, and generator use is not permitted. Water is available and there are pit toilets. Airstreamers Embracing Detours found Cottonwood an ideal base for exploring Big Bend. "We stayed here for one night in mid-February. This is a beautiful campground. Very quiet and peaceful. A great place to stay to check out the western side of the park. If the clouds will cooperate, get up early and catch the sunrise at Santa Elena Canyon."
Click here for more information about Cottonwood Campground at Big Bend National Park
Malaquite Campground
Padre Island National Seashore
Corpus Christi, TX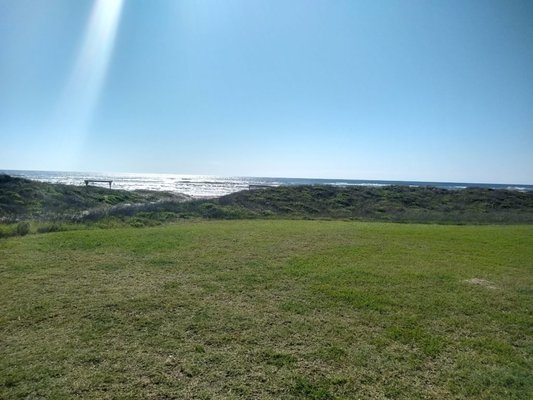 If you're on the run from winter, consider hiding out on the Gulf of Mexico.
Padre Island National Seashore is the perfect hideout from frigid temperatures and icy winds. This 130,000-acre preserve offers a plethora of activities. Padre Island is, of course, a beach comber's paradise. The many currents that flow through the Gulf of Mexico bring endless curiosities onto the beach, including seashells, driftwood, lumber, plastics, and items lost or discarded by passing ships. The best team to scour the sand is after a winter storm. The bird watching at San Padre is also unparalleled, especially in winter, when thousands of migratory birds either pass over the island or hunker down at San Padre for the winter. The fishing is, needless to say, great. If you're lucky, you might witness a rare winter sea turtle release. Nestled in the dunes with a view of the Gulf of Mexico a half-mile north of the visitor center, Malaquite Campground has 48 dry camping sites. There are flush toilets and cold-water rinse showers, a dump station and potable water-filling station. Each site has a picnic table, shade structure and grill. The nearest stores are 12 miles from the park entrance, so stock up and top off before you arrive. Airstreamers KenneysSeeAmerica loved the atmosphere at Malaquite. "Wow, if you enjoy walking on an endless beach, playing in the surf and hearing the roar of the ocean at night, this place is great. We'll definitely be back."
Click here for more information about Malaquite Campground at Padre Island National Seashore
Isle du Bois
Ray Roberts Lake State Park
Pilot Point, TX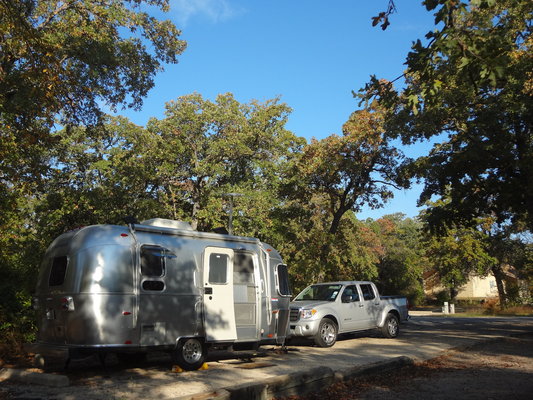 Ray Roberts Lake is set an hour north and a world away from the big city hustle and bustle of Dallas. This popular state park sits where three unique ecoregions meet:  Eastern Cross Timbers, Blackland Prairie and Grand Prairie. As a result, Ray Roberts is ecologically rich and diverse. More than 300 species of plants are found here, and a wide range of animals live in the park's oak woodlands and prairie grasslands. Ray Robert's several hiking trails, including a stretch of the 20-mile Greenbelt Corridor, allow visitors to explore this vibrant eco-system on foot, bike or horseback. The 29,000-acre Ray Roberts Lake is home to largemouth bass, crappie, white bass and catfish. Nearby Denton, TX is a great place to eat, shop and explore. Airstreamer Jerry T was pleasantly surprised by Ray Roberts. "I booked this campground based on location, but it turned out to be fantastic. I loved my site! I had a path to the lakeshore. The park is quiet, and my site was surrounded by trees. The hiking trails are concrete and fairly wide. They are great for biking, rollerblading, or for people who use wheelchairs or motorized scooters." Isle du Bois is one of several campgrounds in Ray Roberts. It has 115 sites with electricity. Most of these also have water hook-ups. Amenities include restrooms with showers.
Click here for more information about Isle du Bois campground at Ray Robert Lake State Park