Baby, it's (still) cold outside! Many top-rated campgrounds in the Northwest and Northeast remain closed for the winter season through March. No biggie. Your fellow Airstreamers have recommended plenty of great March campsites across the Southwest and Southeast on Campendium.
Southwest
Goblin Valley State Park
Green River, UT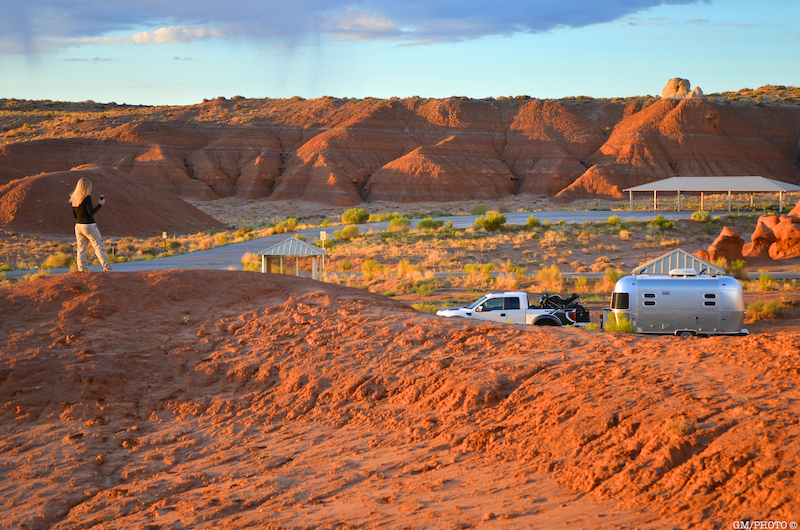 There's a real outer space vibe at Goblin Valley. The area's strange and colorful geology, marked by eerie sandstone formations, has been compared to Mars. Come nightfall, the pitch black, star-filled sky above the park will make you feel lost in the cosmos. Goblin Valley has six-miles of hiking trails and a five-loop mountain biking trail that covers the entire park. Disc golf players will enjoy the picturesque nine-basket desert course. Airstreamers Currently Wandering say Goblin Valley is a hidden gem. "We LOVE Goblin Valley. Among Utah's National Parks, this little state park often gets overlooked, but it is fantastic. The hoodoo valley is so much fun for both kids and adults." Goblin Valley has 14 RV spaces. There are no hook-ups. The campground has a water source, dump station, and a bathhouse with showers and flush toilets.
Click for more information about Goblin Valley State Park
Twin Peaks Campground
Organ Pipe Cactus National Monument
Ajo, AZ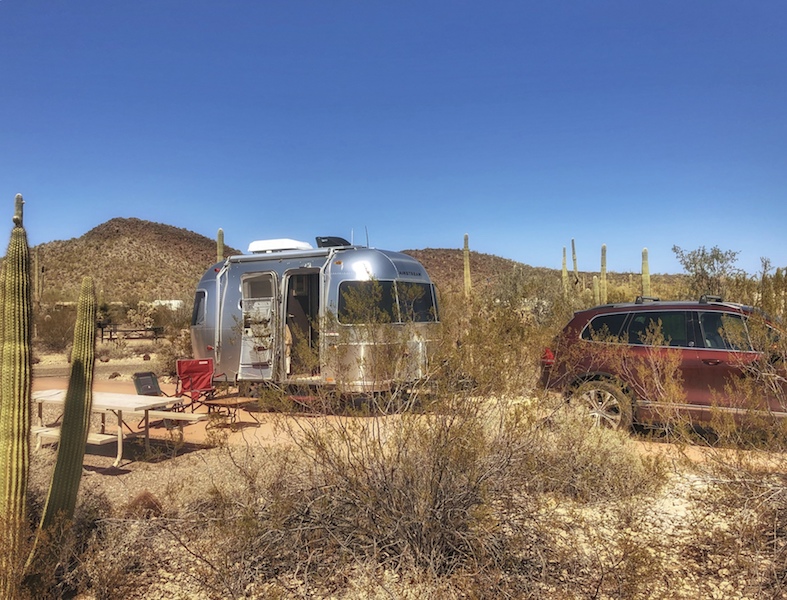 Looking to hide out like an Old West bandit? Make a run for the border. The Twin Peaks Campground is located in the stunning Organ Pipe National Monument right on the Arizona-Mexico divide. Organ Pipe has roughly 20 hiking trails of varying difficulty that allow visitors to explore this UN-designated International Biosphere Reserve and the reminders of its rich human history. Mountain Lions, Bighorn Sheep and Javelina are among the local resident's hikers might encounter. For a less strenuous up-close-and-personal view, consider driving or biking one of the many scenic roads. Want to see more of the Sonoran Desert? Consider visiting Organ Pipe's sister park, Mexico's El Pinacate y Grand Desierto de Altar, which is just across the border. Airstreamer Bryan raves about Twin Peaks and Organ Pipe: "I absolutely loved camping here, it's remote, but worth it. The landscape is gorgeous; the campground's very nice with beautiful concrete pads." Reservations are required at Twin Peaks during the winter peak season (January-March). The campground has dry 174 RV sites. There is a water source and dump station. The bathhouses have flush toilets and solar-heated showers.
Click for more information about Twin Peaks Campground at Organ Pipe Cactus National Monument
Crystal Cove State Park
Laguna Beach, CA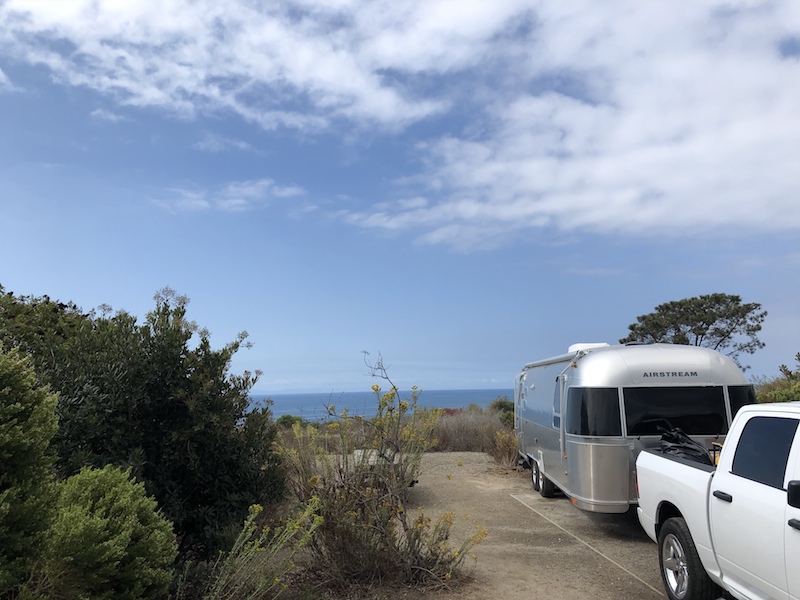 Crystal Cove is two adventure destinations in one. Situated on the SoCal shoreline, the park encompasses both 3.2 miles of beachfront and 2,400 acres of backwoods wilderness. The coastal area of Crystal Cove features a 2.5-mile paved trail that runs along the bluff tops, perfect for easy walks and bike riding. The inland portion of Crystal Cove State Park encompasses the wooded Moro Canyon and Moro Ridge, which offers fantastic ocean views. The area is crisscrossed by 18 miles of trails of varying lengths and difficulty. All of the paths are open to hiking, biking, and equestrian use. Crystal Cove is also home to historic district consisting of 47 small beachfront homes built in the 1930s and 1940s. Grab lunch at the district's Beachcomber Café and stroll amongst these cottages to get a sense of what "coastal development" looked like before the age of high-rise condos. According to Airstreamers Logdigital, "This campground has a lot to offer. Great location nestled between Laguna Beach and Newport. The beach is nice, and the hiking trails are even better. For kids, there are plenty of places to ride bikes and scooters along the paved coastal trail." Crystal Cove has 58 sites with electricity and water. Amenities include bathrooms, showers and a dump station.
Click for more information about Crystal Cove State Park
Sugar Pine Point State Park
Tahoma, CA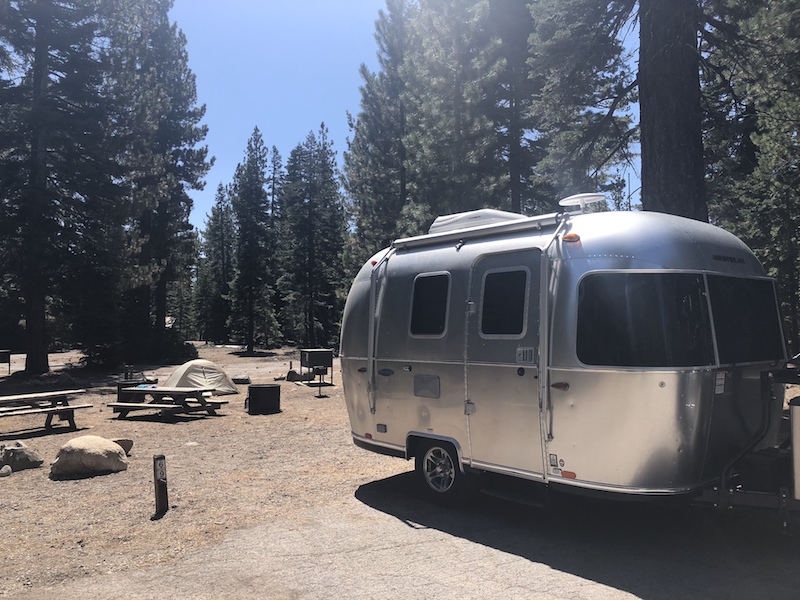 If you're looking for one last round of snowy fun, check out Sugar Pine Point. This gorgeous park is set on the California shore of Lake Tahoe and is a mecca for cross-country skiers and snowshoers. Indeed, the 1960 Olympic Nordic skiing events were held on trails that are now part of Sugar Pine Point. When you're ready for a break from the bindings, take a walk around the Hellman-Ehrman Mansion, a lavish vacation retreat built in 1903 for a wealthy San Francisco businessman. If you're looking for the nightlife, Reno, NV is just an hour away. Sugar Pine Point is one of the very few Tahoe area campgrounds that stay open in winter. The park has 120 sites, but only about a dozen are open during the winter months. There are no hook-ups, but the campground offers easy access to potable water, flush toilets and showers. Note that bears are a real concern at Sugar Pine Point. Food must be stored following the park's strict rules at the risk of hefty fines.
Click for more information about Sugar Pine Point State Park
Sand Flats Recreation Area
Moab, UT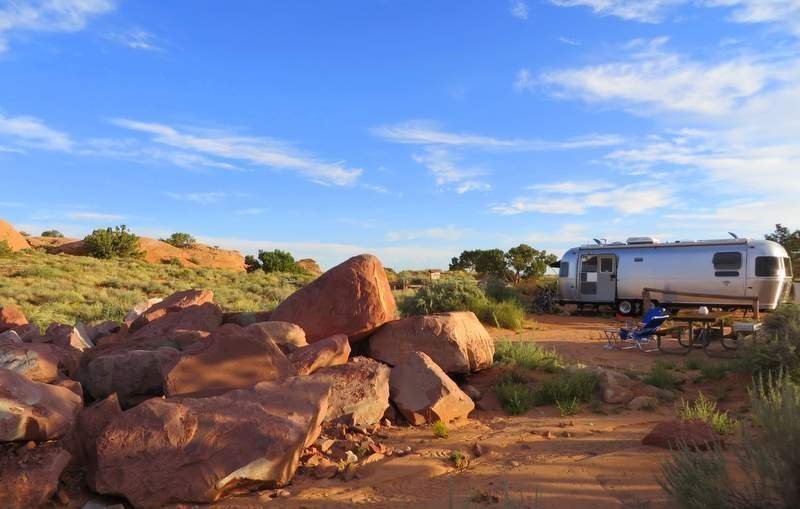 Sand Flats is one of the many public land camping options around the wildly popular Arches National Park. This BLM facility is located minutes from Arches and the town of Moab, making it an ideal base for exploring the area. But Sand Flats has charms of its own, gorgeous scenery and excellent adventure terrain. The campground is set among slickrock domes and fins. The sites offer sweeping views of sandstone domes, canyons and mesas set against the backdrop of the 13,000 ft. La Sal Mountains. Pinyon and juniper trees pepper the landscape. The Sand Flats Recreation Area is home to the Slickrock Bike Trail, a global destination for serious mountain bikers. The area is also popular with 4x4 and adventure motorcycle enthusiasts. There are nearly 40 miles of off-road vehicle trails to explore within the recreation area. Airstreamers RV Hive say they weren't bothered by all the off-road action. "We stayed in the B Loop, which is right across the street from the Slickrock mountain bike trail. Our 27 ft Airstream fit in spot B 11 with no problems. We went to sleep to the sound of coyotes, which was pretty cool. Although others have mentioned the noise of 4x4s and motorcycles, we weren't too bothered by them as they were further away." Sand Flats has 120 dry camping sites. Water and dump facilities can be found in nearby Moab.
Click for more information about Sand Flats Recreation Area
Forest Road 687
Coronado National Forest
Tombstone, AZ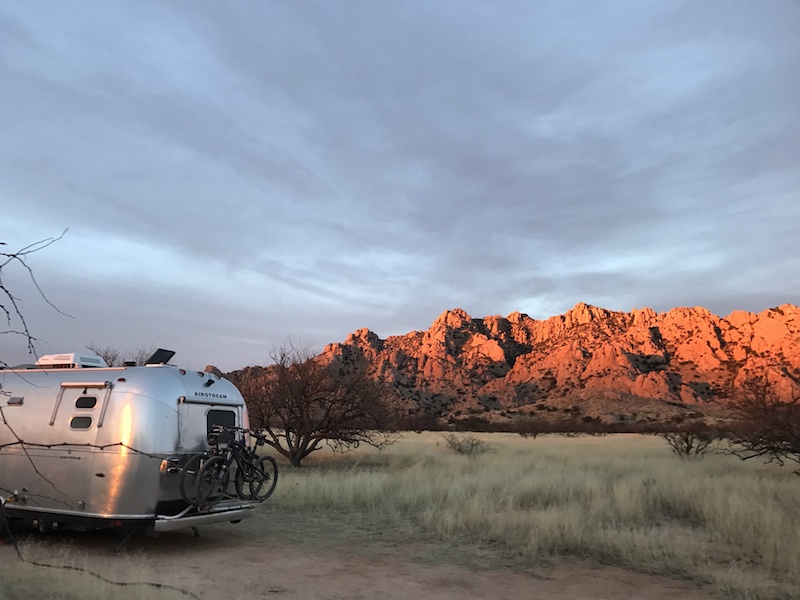 If you're looking to immerse yourself in desert beauty for a few days, Forest Road 687 might be your huckleberry. Situated outside of Tombstone in the ecologically diverse Coronado National Forest, Forest Road 687 offers a place to bathe in the peace and quiet found only in insolation. Once you're rejuvenated, consider taking in just some of the natural wonder of Coronado, which encompasses terrain ranging from desert canyons to mountains high enough to host the southern-most ski area in the U.S. The forest has numerous hiking trails that take visitors deep inside its various ecosystems. It's possible to start a hike in the towering pines of a mountain summit and walk downhill to finish among giant saguaro cactus on the desert floor in a single day. The short drive to Tombstone will take you back 150 years to the heyday of the Wild West. Visit the Tombstone Courthouse State Historic Park and Boothill Cemetery to learn the stories behind the powerful myth of Wyatt Earp and the OK Corral. Forest Road 687 is dispersed camping, so make sure you are fully stocked with water and fuel before venturing out. Airstreamers The Family Can are glad they made the trip to 687. "This is a beautiful, peaceful spot up against the mountains. It takes about 30-minutes of driving on a pretty rough and bumpy road to get there, but so worth it."
Click for more information about Forest Road 687 in Coronado National Forest
Lost Dutchman State Park
Apache Junction, AZ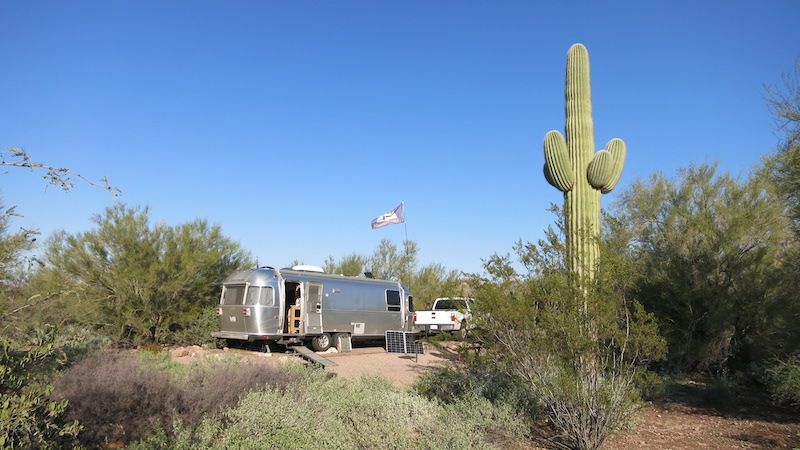 Named after a legendary lost gold mine, Lost Dutchman State Park is set in the Sonoran Desert, at the foot of the Superstition Mountains. Mule deer, coyote, javelina, roadrunners, bobcats and jackrabbits call this area home, living amidst a riot of beautiful desert plants. See it all for yourself on one of the trails that lead from the park into the Superstition Mountain Wilderness and surrounding Tonto National Forest. Amble along the Native Plant Trail or take on the challenging Siphon Draw Trail to the top of the Flatiron Summit. A four-mile mountain bike loop trail recently opened at the park offering another great way to enjoy Lost Dutchman's beauty. Airstreamers Currently Wandering are big fans of the park. "We LOVED this park. Sam and I got up early one morning and hiked to the top of Flatiron, which was more scrambling than hiking. The kids loved riding the mountain bike trail around the campground, and we also found it a great 20-minute ride."  Lost Dutchman has 138 sites: 68 with electric (50/30/20) and water and the remainder non-hookup sites on paved roads for tents or RVs. Every site has a picnic table and a fire pit with an adjustable grill gate.
Click for more information about Lost Dutchman State Park
Belle Campground
Joshua Tree National Park
Twentynine Palms, CA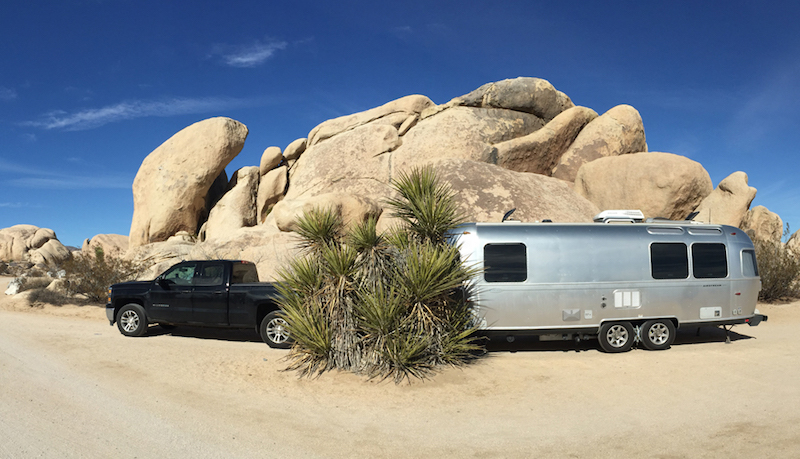 Planning an off-season visit to a popular National Park is an excellent strategy for enhancing your experience. Just make sure to go during your target park's off-season. Joshua Tree, for example, is slow in the summer and slammed in the cooler months. Some of the park's eight campgrounds close for the summer. (Wild, right?) Founded in 1994, Joshua Tree is situated at the nexus of two desert ecosystems, the Mojave and Colorado. As a result of this geography, the park features incredible biodiversity and breathtaking landscape shaped by strong winds and occasional torrential rains. Joshua Tree has 27 trails ranging from "Nature Walk" to "Do Not Attempt In the Heat." Most of the latter paths traverse Joshua Tree's backcountry area. Bird watchers are likely to get an eyeful while hiking as Joshua is both home to many native species and a popular migratory stop-over. Airstreamers Ron and Sarah love Belle Campground's location. "Of all the campgrounds in Joshua Tree National Park, Belle offers the best experience. The setting is classic Joshua Tree, with large granite boulders and the namesake tree surrounding the campsites. Compared to other Joshua Tree campgrounds, it is small, secluded and quiet. Its central location is convenient to most of the highlights within the park." Belle Campground has 18 dry camping sites. There are pit toilets but no potable water source.
Click for more information about Belle Campground at Joshua Tree National Park
Mammoth Mountain RV Park
Mammoth Lakes, CA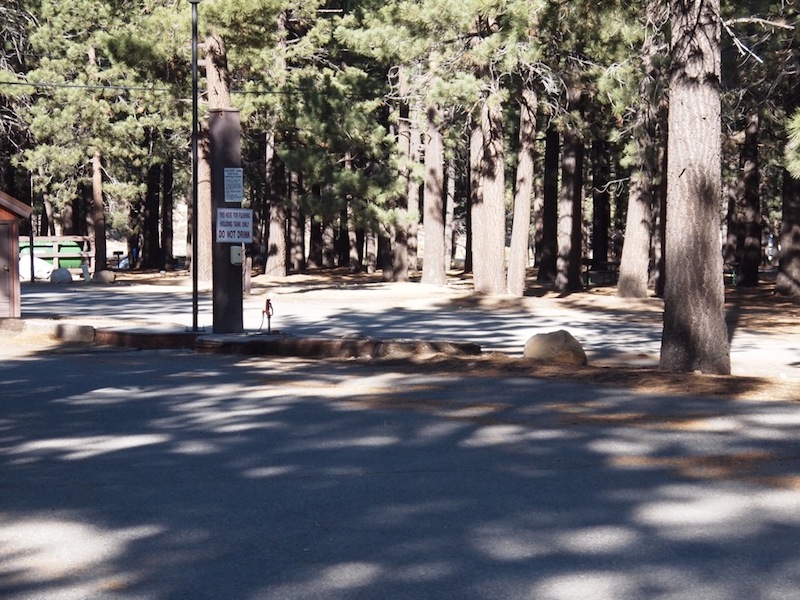 The Mammoth Lakes region is a year-round outdoor playground. It's one of those places where, come spring, you can snow ski in the morning and spend the afternoon in the creek enjoying the first day of trout season. The area's scenery is stunning, too. How stunning? Well, Yosemite is 45 minutes up the road. The Inyo and Sierra National Forests, and Yosemite, provide nearly endless options for hiking and biking. Snowshoeing and cross-country skiing are also on the early Spring menu. The town of Mammoth Lakes offers great between-adventures dining and shopping. Airstreamers Adventures of Dave and Ann say this park is all about location. "Mammoth Mountain was just a stop-over this time, but we explored Mammoth Lakes on another trip, and this would have been a great home base. "Mammoth Mountain RV Park has 154 sites, 49 of which have full hook-ups. All sites have cable TV. The park's amenities include a laundry room, indoor heated pool, rec room, kids play area, and dump station.
Click for more information about Mammoth Mountain RV Park
Pyramid Lake Fish Ladder Beach
Sutcliffe, NV

If your winter rambling takes you through Northwest Nevada, consider a stop at this austerely beautiful natural oxymoron – a vast desert lake. Pyramid, situated 35 miles east of Reno on Paiute Tribal Land, is the last remnant of an ancient sea that once covered Nevada. Fishing is the main thing here, with the season running from October to June. The huge Lohanton Cutthroat Trout, which can grow to 41 lbs., draws anglers from around the world. If wetting a line isn't for you, just kick back and relax in the quiet and beauty of the landscape, which is marked by huge sandstone formations. An extensive museum and visitor center offer the chance to learn about the history and culture of the Paiute people. Airstreamers The Emigrants say Pyramid Lake is a good place to avoid crowds. "It's a very small remote town with some of the most beautiful scenery in Nevada. There was almost no one else on the beach in the winter. We talked to some locals, and they said that summer is only slightly busier." Fish Ladder Beach has about ten dispersed camping sites along the lakeshore. A permit is required, and visitors must respect the no trespassing rules that limit access to some areas.
Click for more information about Pyramid Lake Fish Ladder Beach
---
Southeast
Bonham State Park
Bonham, TX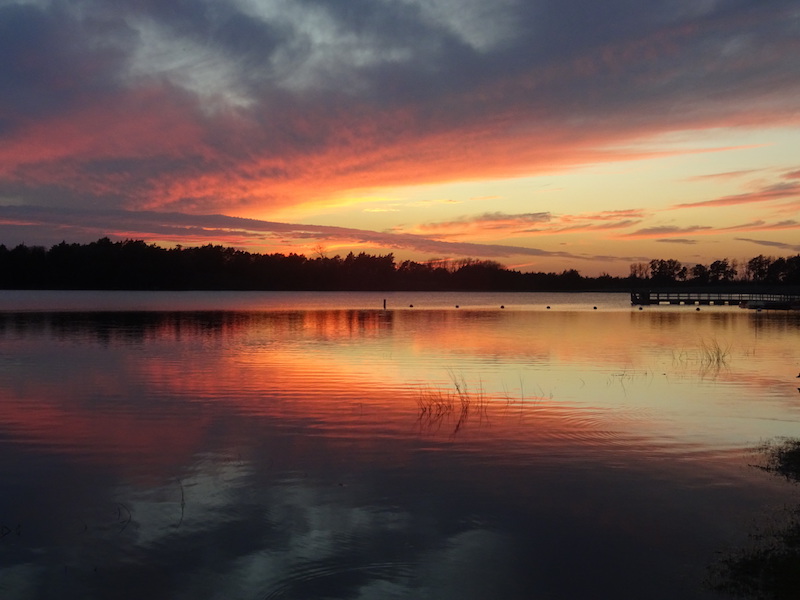 This pocket-sized park north of Dallas is an ideal place to stretch your legs and relax while trekking across the Lone Star State. Bonham, which was built by the Civilian Conservation Corp in the 1930s, is a mere 261-acres with 65 acres of that taken up by a man-made lake. The park has 8.75 miles of trails open to both hikers and bikers. A fishing pier and boat ramp make things easy for anglers. The town of Bonham is about five miles away. Airstreamers BMyers were pleasantly surprised by Bonham. "Great park on the lake with walking and biking trails. It snowed and was only 30 degrees, but we had water and electric, so it felt pretty luxurious compared to boondocking. I suspect in the summer the park is more crowded and harder to book. I'd stay here again anytime!" Bonham State Park has 20 RV sites, two with full hook-ups, the rest with electricity and water. Amenities include restrooms, showers and a dump station.
Click for more information about Bonham State Park
Meriwether Lewis Campground
Natchez Trace Parkway
Hohenwald, TN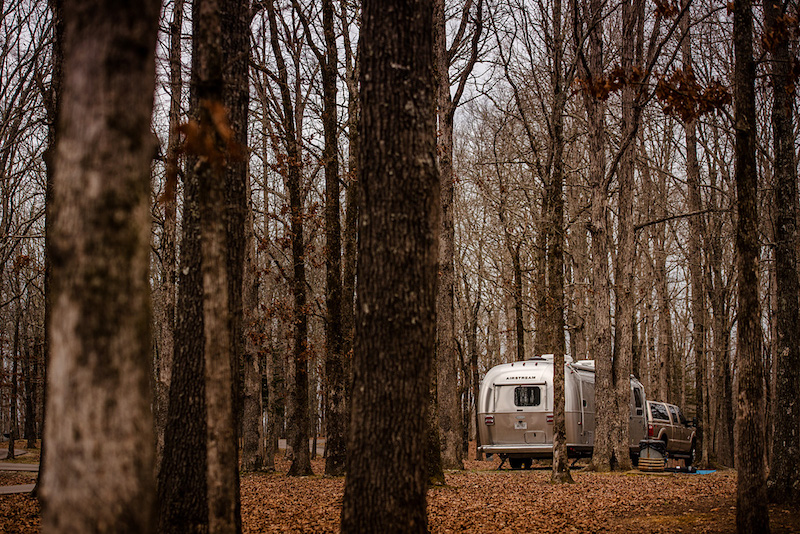 The Natchez Trace Parkway is a 444-mile recreational road and scenic drive through three states overseen by the National Park Service. It roughly follows the Old Natchez Trace, a historic trail used by American Indians, settlers and traders. The Trace is studded with opportunities to hike, bike, horseback ride and camp. The Meriwether Lewis Campground, located about 80 miles southwest of Nashville, is one of three free dry camping facilities located within the parkway. It is so named because Lewis, America's first celebrity outdoor adventurer, who died under mysterious circumstances, is buried under a simple monument located near the campground. Airstreamers Two Peas and a Pod give Meriwether Lewis top marks. "We visited all three free campgrounds along the parkway, and this is the only one we stayed more than one night. The three campgrounds reminded me of Goldilocks and the Three Bears, you know, one too hot, one too cold, one just right. Rocky Springs had nice campsites and horrible bathrooms. Jeff Busby had nice bathrooms and not so great campsites. Meriwether Lewis had great bathrooms and nice campsites, just right!" There are 32 first-come, first-served sites at Meriwether Lewis Campground.
Click for more information about Meriwether Lewis Campground on the Natchez Trace
Manatee Springs State Park
Chiefland, FL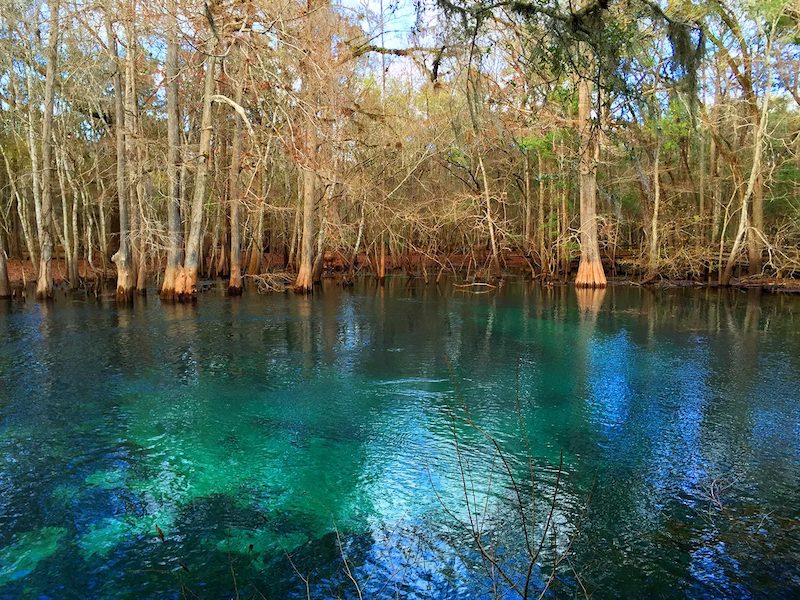 Florida residents have been coming to this area for thousands of years seeking relief from the heat in the cool spring-fed pools. Today, Manatee Springs' bigger draw is, well, the Manatees, which arrive in winter. The park's signature feature is an 800-foot boardwalk that allows visitors to explore the park's cypress forest, springs and wildlife. Nearly nine miles of hiking/biking trails meander through cypress swamps, sinkhole ponds and upland woods. Needless to say, the fishing is great. Feeling adventurous? Explore the springs in a canoe or kayak, both of which can be rented from a park concessionaire. Guided pontoon boat tours are another option for seeing Manatee's wonders. Airstreamers normandgrace had a ball at Manatee. "The Suwannee river is very wide here, and we saw three manatees at the junction of the spring and the river. They moved up towards the spring the cold morning of January 28th. Manatees are always a beautiful and welcome sight. In addition to the manatees, we were entertained by an otter for a few minutes at the end of the boardwalk. You never know what you will see in the real Florida." Manatee Springs has 78 sites, some with full hook-ups. Amenities include bathrooms, showers, dump stations, and a rental shop that serves food in the afternoon.
Click for more information about Manatee Springs State Park
Mama Gertie's Hideaway Campground
Swannanoa, NC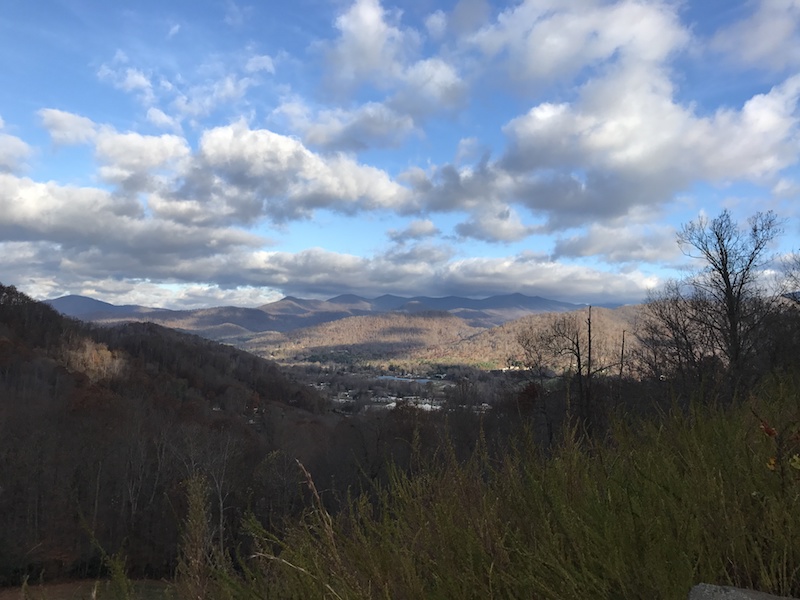 The Blue Ridge Mountains are a favorite playground for Atlantans and other Southeastern urbanites. Spends a few days venturing forth from Mama Gertie's and you'll get the appeal. The Blue Ridge offers the full range of fun from outdoor beauty and adventure to fine dining and boutique shopping. Let's start with the latter. Mama Gertie's is located about 15 miles outside the artsy-craftsy mountain town of Ashville. Here you'll find a bevy of great restaurants and bars and shop after shop filled with artisan items. For a look at how the One Percent lived in 1890, tour the Biltmore Estate, a sprawling Vanderbilt family mansion set of acres of manicured property just outside Asheville. This campground offers close proximity to three National Forests – Nantahala, Pisgah and Cherokee. As a result, the opportunities for hiking and mountain bikes are almost endless. This area is beloved for its waterfalls and rushing mountain streams, many of which are accessible with a bit of moderate hiking. Airstreamers wopope have visited Asheville several times and give Gertie's top marks. "We have stayed in quite a few different RV resorts in Asheville. Book Mama Gertie's if you can get spaces 27 through 38; they are spectacular. These sites sit high on the ridge that overlooks everything else. Spaces 34 - 38 have a deck with table, chairs and swing."  Mama Gertie's has 33 sites with water, electric and cable TV hook-ups. Amenities include restrooms, showers, dog run, camp store, dump station and propane filling.
Click for more information about Mama Gertie's Hideaway Campground
Edisto Beach State Park
Edisto Island, SC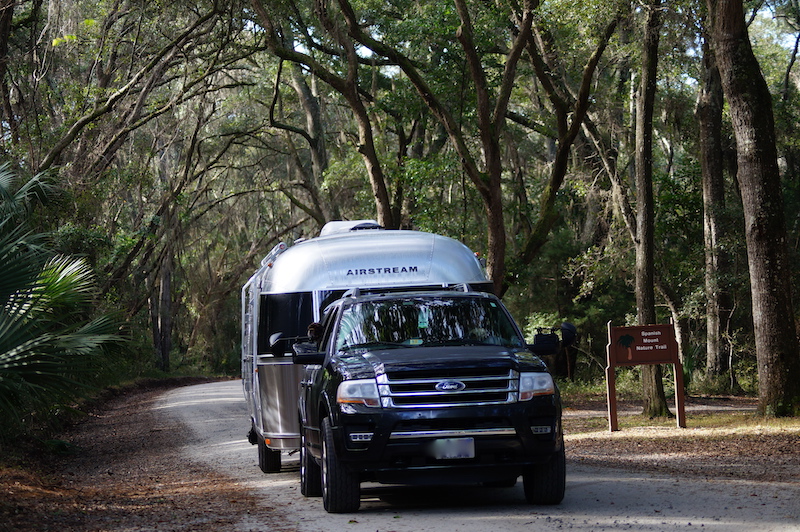 Edisto Island is a gem of the South Carolina Low Country, a favorite summer destination that draws beach lovers from across the Southeast. But Edisto has winter charms as well, including a mile and a half of palmetto tree-lined beaches perfect for strolling to the sound of crashing waves while collecting shells and marine fossils. The park also has seven short hiking/biking trails, including four miles of ADA accessible paths. Nighttime brings pitch-black skies made possible by the park's remote location, an hour south of Charleston. Airstreamers Two To Tow say Edisto is a great place to hide out and kick back. "We stayed three nights over the Christmas holiday and had a wonderful time. Beach camping sites are just over the dune from the beautiful long and sandy beach, unless you're at the very end of the beach campground, in which case it's an easy walk across the campground road. The surf is heard everywhere in the campground. Edisto is a pretty low-key destination, very uncommercial, although there are a few restaurants and a grocery across from the park entrance. Great spot to get away and stay away for a while." Edisto has 115 partial hook-up sites. Note that the park's water is somewhat salty and might not be ideal for running through your Airstream's system. Fresher water is available in the town of Edisto.
Click for more information about Edisto Beach State Park
Ocean Pond Campground
Osceola National Forest
Sanderson, FL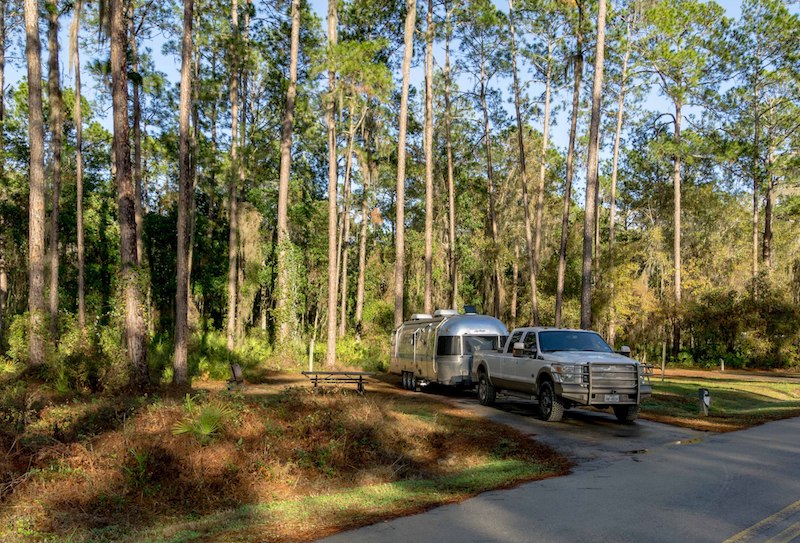 The Mouse isn't the only wildlife to be found in Florida's interior. Osceola National Forest is home to a wide range of animals, including cougars, bears, coyotes, alligators, and the endangered red-cockaded woodpecker. There are at least nine trails and spots in the park where a patient (and quiet) visitor can view some of these magnificent creatures. The Florida National Scenic Trail passes through the park. This federally designated, non-motorized recreation trail winds through approximately 1,300 miles of Florida's most beautiful landscapes. For a dose of history, check out the nearby Olustee Battlefield Historic State Park, which memorializes Florida's largest Civil War battle. Among the units participating in that fight were three contingents of U.S. Colored Troops, including the 54th Massachusetts, made famous in the movie Glory. Ocean Pond has 67 first-come, first-served campsites. Nineteen sites have water and electric hook-ups, while 27 have just water. There is a potable water source and a dump station. Note that Ocean Pond is a popular year-round destination that accommodates about 100,000 campers annually. So, plan to arrive early.
Click for more information about Ocean Pond Campground in Osceola National Forest
St. George Island State Park
Eastpoint, FL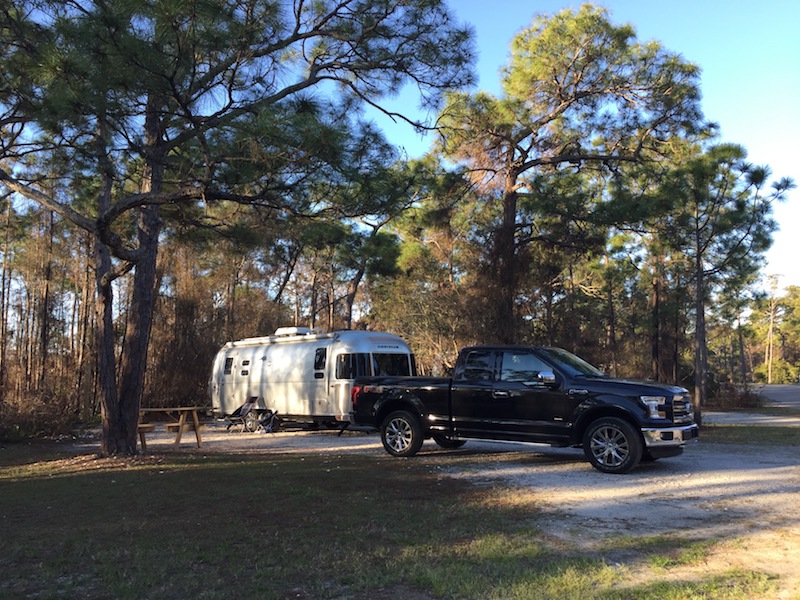 When someone mentions islands in Florida, the keys likely pop to mind. But the Sunshine State is home to other offshore delights, including St. George Island, which is located off the northern Gulf Coast, south of Tallahassee. The state park is located at the north end of this barrier island and is a popular destination for beachgoers, birdwatchers and anglers. The miles of undeveloped beach are perfect for canoeing, kayaking, boating, fishing, hiking, camping and nature watching. It's Florida, so even a little early Spring sunbathing isn't out of the question. The park's Gulf side features blue water, sugary white sands, and the occasional sight of dolphins cavorting in the waves. The island's bayside marshes are home to wading birds and saltwater fish. Nature trails take visitors through vast scrubs and pine forests, where red-cockaded woodpeckers and bald eagles are often spotted. Airstreamers Zamia Ventures rave about St. George Island. "This was our second stay at this campground, and after two years and over a hundred other campsites, we love it just as much as during our first visit. Both of our visits were in the winter, and we never had any issues with mosquitoes or other insects. If your visit coincides with the new moon, you can see some of the darkest skies in Florida." St. George State Park has 60 sites with partial hook-ups. There are restrooms, showers and a dump station.
Click for more information about St. George Island State Park
Favor-Dykes State Park
St. Augustine, FL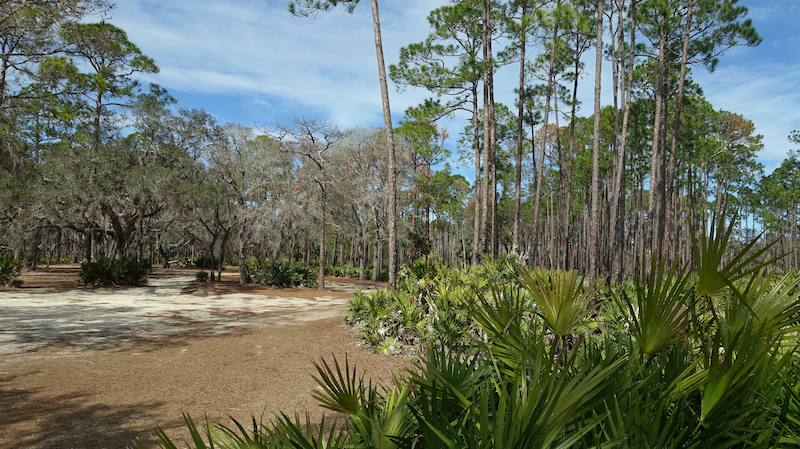 Hard to believe, but there was a time when St. Augustine was the hub of Florida's tourism industry. In the 1880's Henry Flagler, who made a fortune alongside John D. Rockefeller at Standard Oil, fell in love with the town on his honeymoon. He stepped away from Standard Oil and started a new career developing St. Augustine and then the rest of Florida's Atlantic coast all the way down to Miami. Today, St. Augustine is a quaint beachside town packed with restaurants, shops, museums and a history dating back the establishment by the Spanish in 1565. Favor-Dykes State Park is located about 30 minutes south of downtown St. Augustine making it a good base to explore America's oldest city. When you want a break from city touring, the park has four nature trails and additional backcountry trails that can only be used with the park staff's permission. The bird watching is fantastic. Several nearby beach communities are convenient for dinner and an evening stroll on the beach. Favor-Dykes has 30 campsites with water and electricity. Amenities include restrooms, showers and a dump station.
 Click for more information about Favor-Dykes State Park
Key Largo Kampground and Marina
Florida Keys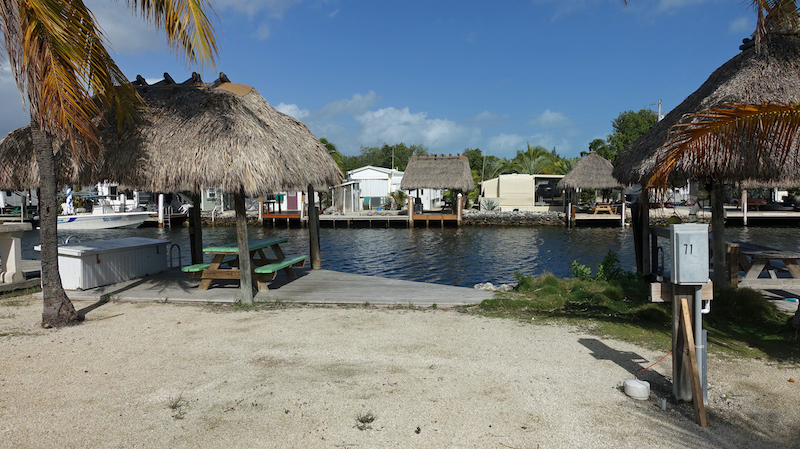 If winter's last gasp has you on the run, Key Largo is a great place to hideout. The Florida Keys aren't really known as a place where one goes to "do stuff." The chill vibe is perfect for relaxing and recharging, especially if you've been battling the winter elements. That said, there is plenty to do in Key Largo, or more specifically, in the waters around the island. Swimming, fishing, boating are on the menu, along with snorkeling and diving in the Florida Keys National Marine Sanctuary. If you really want to get out and adventure, you can double back to the mainland and check out Everglades National Park. Key Largo Kampground has about 80 sites with full hook-ups. If you're bringing all your toys on this trip, consider one of the campground's waterfront-with-boat-slip sites. Airstreamers Wilma's Keeper call Key Largo Kampground "one of the best places we've stayed in the Florida Keys."
Click for more information about Key Largo Kampground and Marina
New Smyrna Beach RV Park and Campground
New Smyrna Beach, FL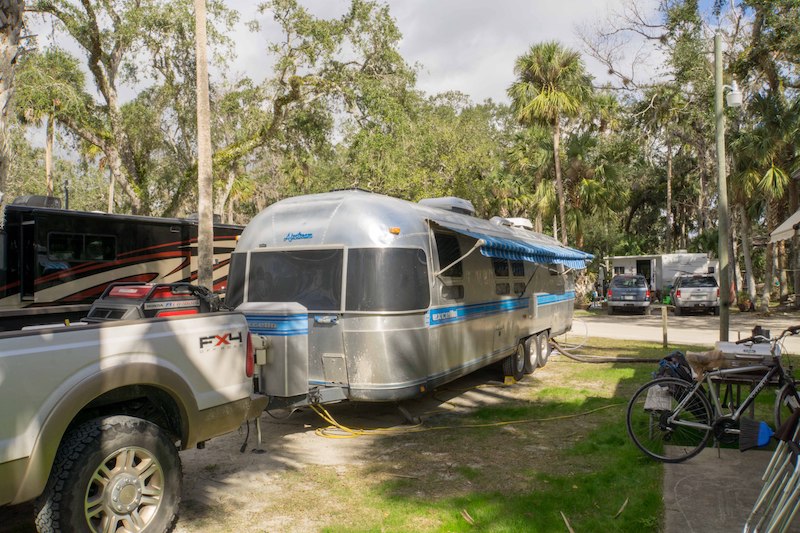 This campground is an ideal migratory stop-over for both snowbirds and those heading back north after a brief respite from the cold. The park is located off I-95, 15 miles south of Daytona. Indeed, if you're thinking about checking out the Daytona 500 next February, New Smyrna would make a nice home base. The Kennedy Space Center is about an hour south of New Smyrna Beach, and the nearby Canaveral National Seashore is a popular spot for watching rocket launches. The park hosts regular social events and group outings as a service to its many winter-long residents. There are 200 full hook-up sites at New Smyrna Beach RV Park and Campground, many with cable TV. Amenities include laundry, fitness center, recreation hall, swimming pool and propane fill station.
Click for more information about New Smyrna Beach RV Park and Campground